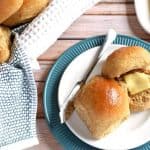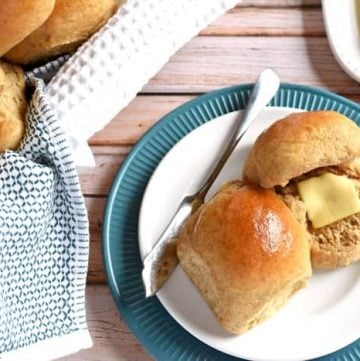 Print
The Very Best Homemade Whole Wheat Dinner Rolls
Adapted from our incredibly popular Homemade Whole Wheat Bread recipe, these 100% whole wheat dinner rolls are soft, pillowy, moist, easy to make, and truly the BEST!
Total Time
1
hour
20
minutes
3 1/2

cups

white whole wheat flour

1/3

cup

vital wheat gluten

4

teaspoons

instant/quick-rise yeast

2 1/2

cups

very warm water

120°F to 130°F
2 1/2

cups

white whole wheat flour
In the bowl of a stand mixer fitted with a dough hook, mix together first three ingredients. Add water and mix for one minute, scraping down bowl halfway through if necessary. Cover bowl with a kitchen towel and allow to rest for 10 minutes.

Add salt, melted butter, honey, and lemon juice; beat for 1 minute. Add remaining 2 1/2 cups of flour, 1 cup at a time, beating between each cup. Knead dough in mixer using dough hook for 10 to 15 minutes or until dough pulls away from the side of the bowl and feels smooth rather than sticky.

Grease a 12x18x1-inch baking sheet with softened butter and set aside. Turn dough out onto a lightly floured surface and knead a few more times. Form into a rough rectangle and cut into 24 approximately equal pieces (if one piece is significantly larger than another piece, pinch a bit off the larger piece to add to the smaller piece). Roll each piece of dough into a ball and arrange on prepared baking sheet in four rows of six rolls.

Preheat oven to lukewarm by setting it to 350°F and then turning it back off after exactly 1 minute. Place baking sheet in warm oven and allow to rise for 20 to 40 minutes or until nicely risen (don't rush it!).

Remove baking sheet from oven to rest while preheating the oven to 350°F. Once oven comes to temperature, bake rolls for 15 to 20 minutes or until golden brown, watching closely towards the end of the baking time.

Remove baking sheet from the oven and immediately brush each roll with melted butter (which will keep the exterior of the rolls soft). Allow rolls to cool for a few minutes before transferring to a bread basket and serving warm. Alternately, transfer rolls to a wire rack to finishing cooling completely and then store in an airtight container (at room temperature for a few days and in the refrigerator after that...these will eventually mold as they contain no preservatives). Rolls may be reheated under a damp paper towel for a few seconds in the microwave before serving.
You may cut this recipe in half and bake a dozen rolls in a buttered 9- by 13-inch baking dish.
I initially lined my baking sheet with parchment paper but, on my second batch, discovered that it wasn't necessary (so ignore the parchment paper in some of the photos...simply butter your pan).
Calories:
158
kcal
|
Carbohydrates:
26
g
|
Protein:
6
g
|
Fat:
4
g
|
Saturated Fat:
2
g
|
Cholesterol:
9
mg
|
Sodium:
302
mg
|
Potassium:
56
mg
|
Fiber:
4
g
|
Sugar:
4
g
|
Vitamin A:
110
IU
|
Vitamin C:
0.3
mg
|
Calcium:
25
mg
|
Iron:
0.8
mg