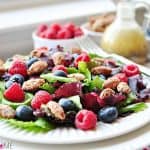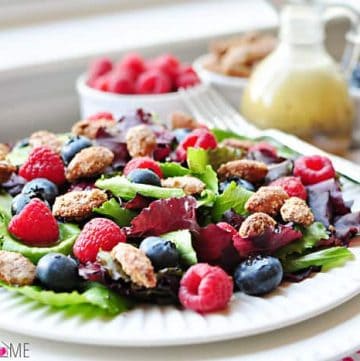 Print
Spring Salad with Mixed Berries, Candied Almonds, & Honey Citrus Vinaigrette
The flavors of spring mingle in this beautiful and tantalizing mixed greens salad, studded with plump blueberries, juicy raspberries, crunchy candied almonds, and a sweet, poppy seed-infused Honey Citrus Vinaigrette.
FOR HONEY CITRUS VINAIGRETTE:
1/4

cup

orange juice

1/4

cup

honey

3

tablespoons

apple cider vinegar

1

teaspoons

Dijon mustard

1/4

teaspoon

salt

1/3

cup

vegetable oil

2

teaspoons

poppy seeds
For Candied Almonds:
Preheat oven to 300°F. Line a 13- by 18-inch sheet pan (that has sides) with heavy duty aluminum foil. Pour on melted butter and spread out so that pan is evenly coated.

In a large bowl, use an electric mixer to beat egg white and water until stiff peaks just start to form. Blend in sugar and salt. Fold in almonds and spread mixture in a single layer onto prepared pan.

Bake for approximately 40 minutes total, stirring and flipping almonds every 10 to 15 minutes. Watch nuts very closely during the last 10 minutes of cooking time, removing them from oven sooner if they are getting too dark. Nuts are done when they are mostly dry and golden brown.

Allow almonds to cool on pan until they are completely dry and crunchy, stirring occasionally to break them up. Store in an airtight container for two to three weeks.
For Honey Citrus Vinaigrette:
Add all ingredients to a jar with a tight-fitting lid. Shake vigorously until mixture is well-blended. Alternatively, you may mix in a blender, food processor, or by hand in a bowl with a whisk.
The almond and egg white mixture will be very wet and goopy at first. Just do your best to flip the almonds and spread them back out into a single layer the first couple of times that you stir them. I find it helpful to clean my spatula between flipping them.
To make a large bowl of salad for approximately 8 to 10 servings, use about 10 ounces of mixed greens, a 6-ounce carton of raspberries, a 6-ounce carton of blueberries, a cup of nuts, and dressing to taste (tweak amounts as desired).
Calories:
1124
kcal
|
Carbohydrates:
82
g
|
Protein:
25
g
|
Fat:
84
g
|
Saturated Fat:
11
g
|
Cholesterol:
23
mg
|
Sodium:
541
mg
|
Potassium:
864
mg
|
Fiber:
14
g
|
Sugar:
61
g
|
Vitamin A:
295
IU
|
Vitamin C:
7.8
mg
|
Calcium:
323
mg
|
Iron:
4.4
mg