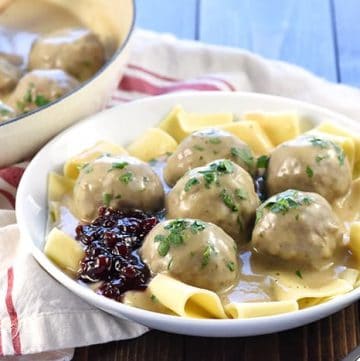 Print
Swedish Meatballs
Swedish Meatballs are baked in the oven and then simmered in a skillet of easy homemade gravy for a delicious, family-pleasing dinner!
Preheat oven to 400°F. Line a large rimmed baking sheet with foil or parchment paper and set aside.

In a large bowl, combine ground beef, breadcrumbs, milk, egg, salt, onion powder, allspice, nutmeg, and pepper. Use your hands to gently mix ingredients until thoroughly combined but not packed down. Scoop meat into 3-tablespoon mounds (I use a 3 T. cookie scoop) and gently roll into balls (which should measure between 1 1/2 and 2 inches across).

Arrange meatballs on the prepared baking sheet, at least an inch apart. Bake meatballs for 20 minutes or until golden brown and cooked through to the center (cut into a meatball to check for doneness). Remove meatballs to a paper towel-lined plate to drain any grease.

While meatballs are baking, prepare the gravy. Heat a large pan or deep skillet over medium-high heat; add butter. Once the butter is melted, whisk in the flour. Cook for 2 minutes while continuously whisking. Continue to whisk while slowing pouring in the beef broth, Worcestershire sauce, and apple cider vinegar. Bring the mixture to a boil, reduce to a simmer and cook, still whisking, for about 5 minutes or until it has thickened. Measure the sour cream into a bowl or large measuring cup and stir in a ladle full of hot gravy. Stir in another ladle full of gravy until smooth. Then pour the sour cream/gravy mixuture into the skillet of gravy and whisk to combine. Taste and adjust the seasoning of the gravy with salt and pepper, adding 1/4 teaspoon salt at a time until adequately seasoned.

Once meatballs are cooked and drained, carefully place them in the skillet of warm gravy, turning each meatball so that all sides are coated. Serve hot over pasta or mashed potatoes. Garnish with fresh minced parsley, if desired.
I make my Swedish Meatballs with all ground beef because that's what I typically have on hand. However, traditional Swedish Meatballs are often made with a mixture that includes half ground beef and half ground pork. Feel free to use this ratio, if you wish.
Adding hot gravy to the sour cream (before stirring the sour cream into the skillet of gravy) tempers it. This prevents the sour cream from curdling, which can happen if you add cold sour cream directly to hot gravy.
Calories:
607
kcal
|
Carbohydrates:
47
g
|
Protein:
42
g
|
Fat:
26
g
|
Saturated Fat:
11
g
|
Cholesterol:
177
mg
|
Sodium:
1321
mg
|
Potassium:
765
mg
|
Fiber:
2
g
|
Sugar:
2
g
|
Vitamin A:
305
IU
|
Vitamin C:
0.3
mg
|
Calcium:
104
mg
|
Iron:
5.9
mg