Hi there!
I'm Samantha Skaggs...blog creator, recipe developer, writer, photographer, and mastermind behind pretty much everything that goes on around here.
I'm so excited to welcome you to Five Heart Home!
Meet Samantha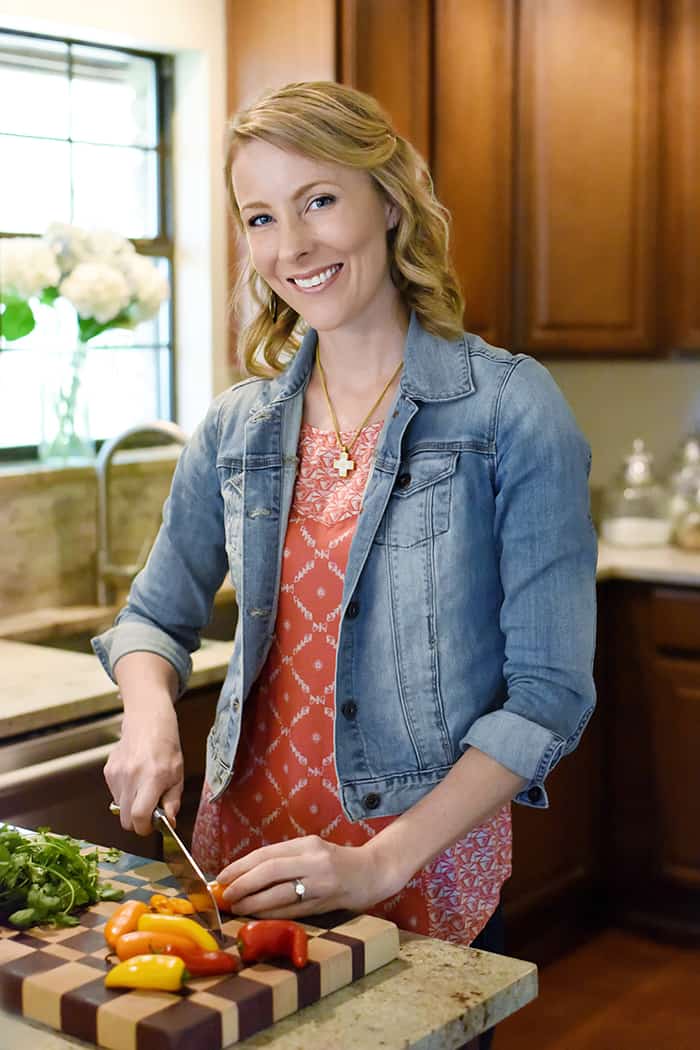 I've enjoyed cooking and baking since I was a child. Growing up in Texas, my German-born mother cooked from scratch, and we ate dinner together as a family every evening at 5:30 p.m. I have fond childhood memories of concocting cake batters and cookie doughs in the trusty, avocado green KitchenAid...of winning ribbons in 4-H Food Shows...and of orchestrating fancy, multi-course dinners (with the help of my "sous chef" little brother) when my parents' anniversary rolled around each year.
As a young newlywed, I stretched my kitchen skills and experimented with new techniques and ingredients. I set up a booth at the local farmer's market for a while to sell homemade cookies: "Samantha's Sweets: Gourmet Bake Shop." I hosted family celebrations and catered my own parties.
However, my kitchen creations had no choice but to evolve once I became a mother myself. Fixing so many meals for so many mouths, day-in and day-out, was exhausting and uninspiring. I went from having plenty of time for creativity to needing to get each meal prepared as efficiently as possible...while simultaneously tending to three young children and a hectic schedule. Not to mention the fact that I was very conscientious about feeding my family real food made from real ingredients.
Fortunately, with time, I figured out shortcuts and systems and tried-and-true, family-friendly recipes! So in 2013, I decided to start a recipe website while continuing to stay home and care for our three little ones (whom, at the time, ranged from baby to Kindergartener). Back then, I never could have imagined that what began as a creative outlet for my tired mama brain would gradually evolve into a thriving business and a full-time job.
And So Began Five Heart Home!
From family-pleasing dinners to easy, wholesome breakfasts to indulgent sweet treats, you'll find a little bit of everything here at Five Heart Home.
Most of the recipes I share are quick and simple, utilizing fresh (and, ideally, in-season) ingredients.
On shopping trips, I try to avoid products with ingredients I can't pronounce.
I make as much as I can from scratch, including a variety of kitchen staples and homemade pantry mixes.
I've figured out lots of tips and tricks to make it all doable, and I'm always excited to share those with y'all. If I can do it, I promise that you can, too!
Why "Five Heart Home"?
Well, it's pretty simple. There are five hearts that make up our home.

Most of the time, it's crazy chaos around here! But at the end of the day, our life and our family are full of love and I wouldn't change a thing.
Stats & Features
Five Heart Home has grown and evolved over the years, currently reaching around 2 million readers per month, plus millions of additional monthly viewers between Pinterest, Facebook, and Instagram.
We've been featured in print in Cooking Light, Redbook, Women's World, and Country Sampler Farmhouse Style magazines, as well as in the Austin American Statesman newspaper.
Online features have included MSN, PBS, Today, Parade, Country Living, People, Walmart, HuffPost, BuzzFeed, PopSugar, The Kitchn, Delish, The Pioneer Woman, and many more.
My Cookbook
In case you're a fan of easy, slow cooker dinner recipes, my first cookbook was published in 2016: Real Food Slow Cooker Suppers.
Best of 5HH
Wondering where to start?
Here are some of the MOST POPULAR RECIPES at Five Heart Home:
And here are a few more of MY FAVORITE RECIPES:
Let's Stay in Touch!
If you like what you see at Five Heart Home, I would be thrilled to have you follow along for more fun!
Join my FREE e-mail list and never miss a recipe!
Facebook | Pinterest | Instagram | Twitter
I always love hearing from you! >>> samantha {at} five heart home {dot} com
❤︎ ❤︎ ❤︎ ❤︎ ❤︎
Click below for: