Making a homemade, flaky, all-butter pie crust from scratch is unbelievably easy with just a few tricks and tips…and it's so delicious that you'll never want to buy a pre-made pie crust again!

Pie crust is one of those things that many people are intimidated to make from scratch. Believe me, I get it…I used to be right there, too, thinking that my best option was to buy a frozen or refrigerated pie crust every time I wanted to make a pie.
But one day I decided to face my pie crust phobia head-on. I mean, what could be so difficult about flour, salt, butter, and water? If Marie Callender could do it, by golly, so could I!
And the verdict? Y'all, making your own pie crust really is easy. On top of that, the flavor of a flaky, buttery, homemade pie crust far surpasses anything you can buy pre-made. And yes, I am firmly in the all-butter pie crust camp. I know that vegetable shortening has its merits when it comes to pie crust, but it's an ingredient that I prefer to avoid when possible. I've found that I can get a perfectly flaky crust using only butter, but it does involve a few tricks.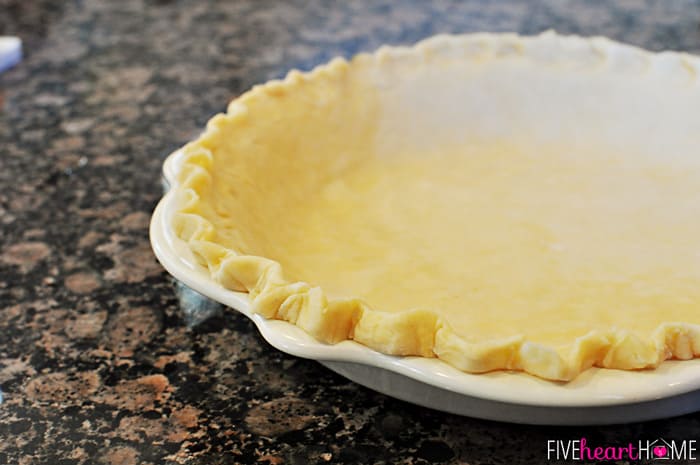 There are two secrets to my success with making homemade pie crust: cold ingredients, and a food processor. That's right, folks, I let the food processor do the grunt work for me. Now if you don't have a food processor, you can certainly achieve a perfect pie crust without one. After all, I don't think our grandmothers relied on a Cuisinart. You'll just have to cut your ingredients together using a pastry blender (for just a few dollars, it's a worthwhile investment), and then use a spatula to work in the water. It takes a bit more elbow grease and patience, but making your crust by hand can still yield great results. The key is starting with ice-cold butter and water, and just as importantly, keeping the ingredients cold by working them quickly and not using your hot little hands except when necessary.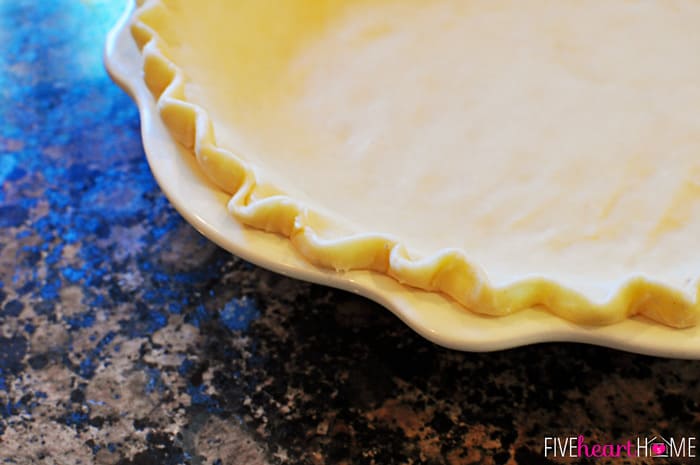 The reason? Because once your dough is all rolled out and popped into the oven, those still-intact pieces of cold butter will melt and steam and burst, creating little air pockets that yield the flakiness in your pie crust. That doesn't happen if all of your butter has already melted into the dough before hitting the oven.
Alrighty now, enough chit chat. Let's get on with our crust-making, shall we?
Start by dicing your butter into small cubes, and then popping those cubes into the freezer for awhile. You want it to be nice and cold, even partially frozen.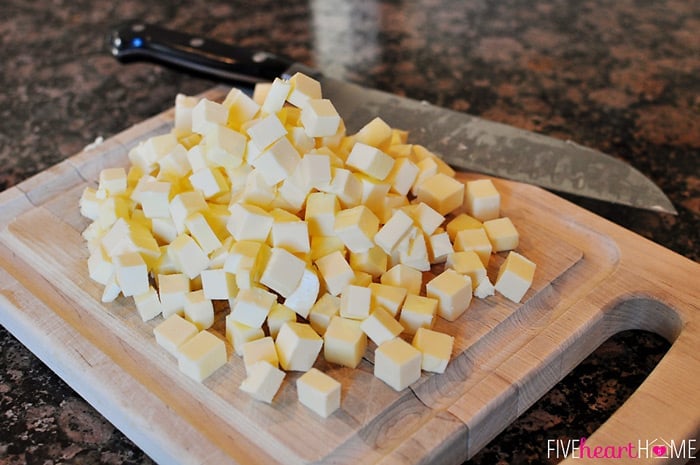 Next, measure your flour and salt into the bowl of your food processor, and dump the butter on top. I like to make sure my cubes of butter are fairly broken up and not all clumped together when I do this.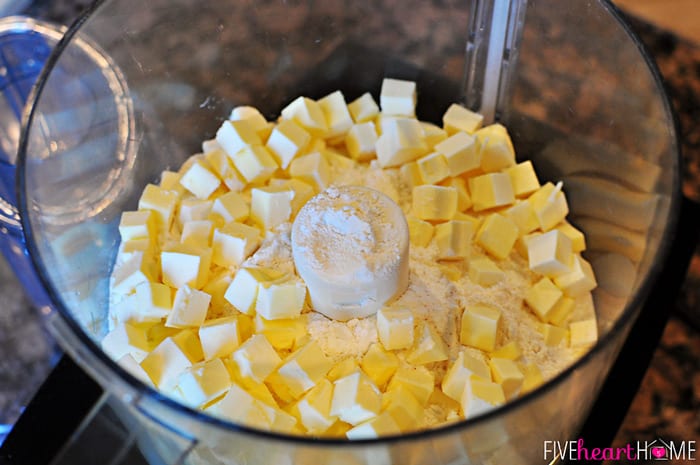 Pulse the mixture until it resembles coarse, sandy crumbs. It's preferable for there to be some recognizable bits of butter remaining, but they shouldn't be larger than pea-sized.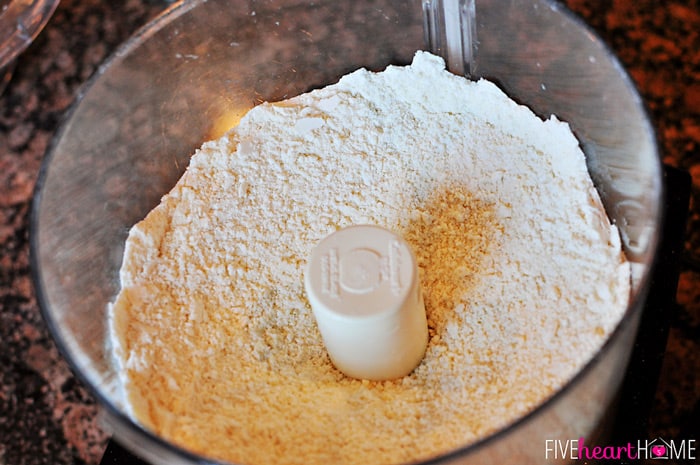 With the lid of the food processor on, pour 1 tablespoon of ice water through the feed tube, and pulse a few times. Repeat this step, pulsing between each tablespoon of water until the dough starts clumping together and pulling away from the sides of the bowl. Be careful not to add too much water! Eight tablespoons is usually just right for me, but you could require a tad more. Just pay attention to your dough and stop before it gets too wet.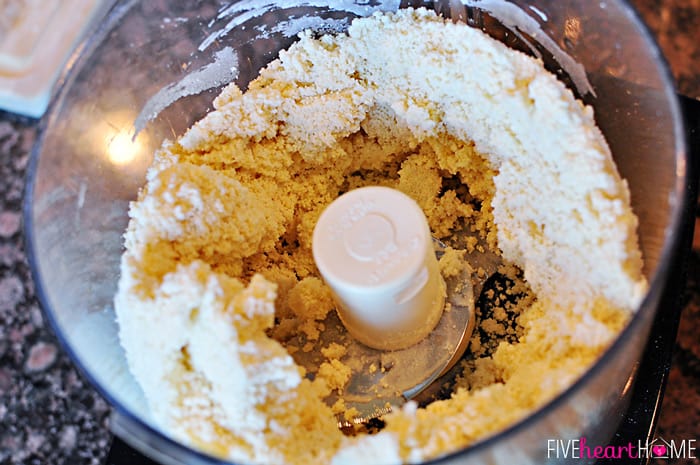 Once you've reached the right consistency, dump the mixture onto a large cutting board or clean countertop, quickly form it into two balls, and then flatten the balls into disks. Remember not to overwork the dough with your hands…you don't want to warm the dough and melt the butter!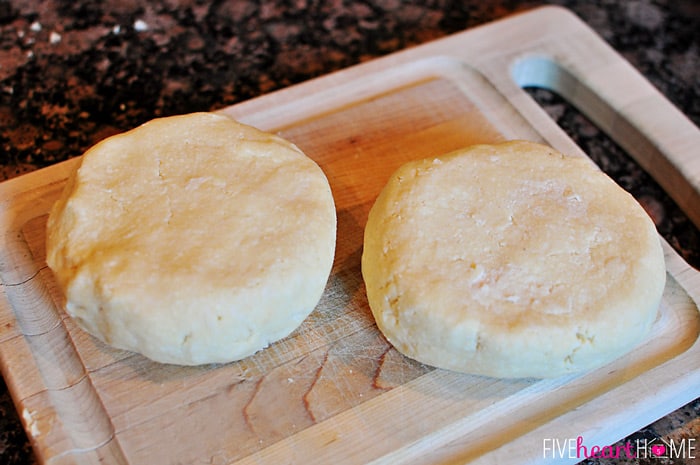 Place each disk of dough in a plastic baggie (or wrap it tightly in plastic wrap) and put them in the refrigerator for at least an hour and up to 4 days. Another bonus of this recipe is that it makes a double crust. So if you need two crusts for your pie, you're good to go. But if you just need a bottom crust, you have another whole crust to stash in the refrigerator or freezer until you're ready for it.
Once your dough is nice and chilled, take it out of the refrigerator and let it sit on the counter for a few minutes so that it warms up just enough to soften a bit before rolling (remember, you still want it to stay cold!). After chilling, your dough shouldn't be too sticky, but you'll still want to lightly dust your work surface and rolling pin with flour. Just remember that if you use too much flour, you might end up with a tough pie crust.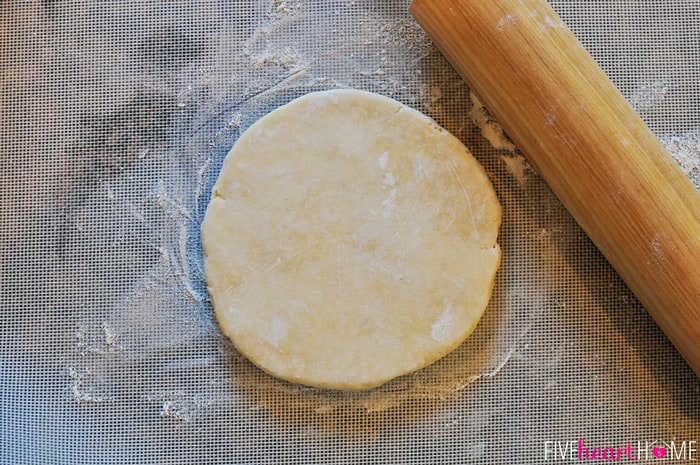 Take your time rolling out your crust. Start at the center and roll outward, turning your dough a quarter turn and repeating until the diameter of the whole crust is about 4 inches larger than the pie pan. If the edges of the crust start to split, pinch them together before continuing.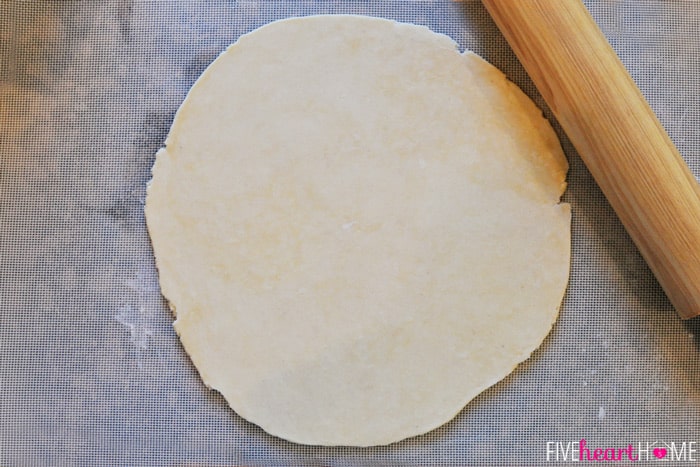 Transfer the crust by rolling it over the rolling pin, and then unrolling it evenly over the pie pan. Carefully lift the edges of the crust so that its center can be lowered into the corners of pan. Gently press the sides of the crust onto the sides of the pie plate, and finish the edges of the pie with your preferred decorative edge. Clearly, I was going for a rustic look with my imperfect, asymmetrical crust here…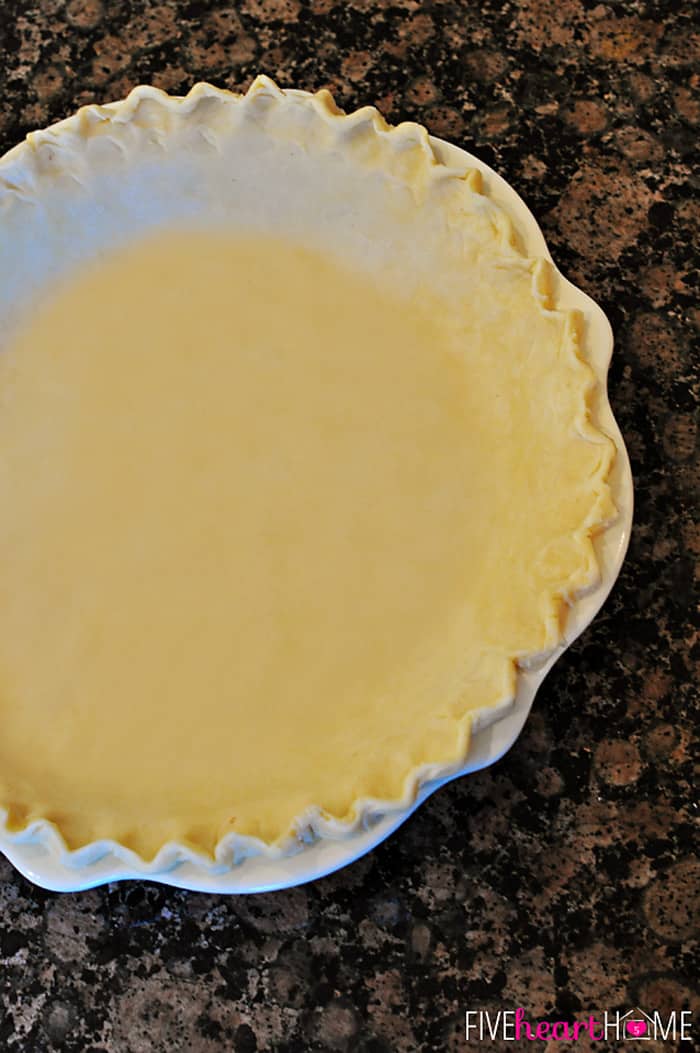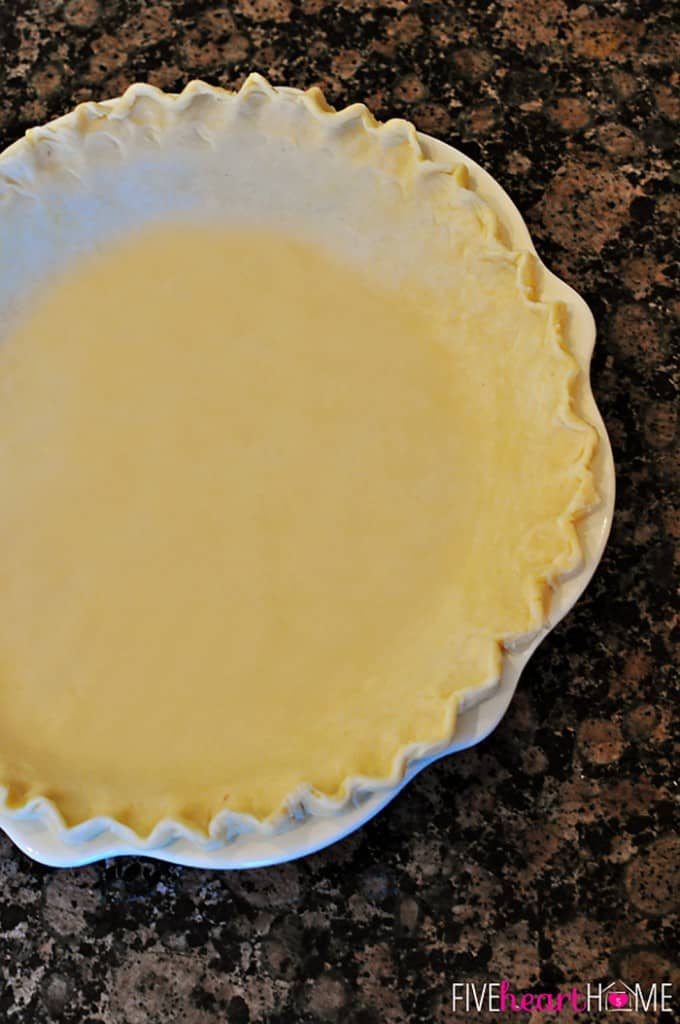 Now all you have to do is fill and bake your pie according to whatever recipe you're making!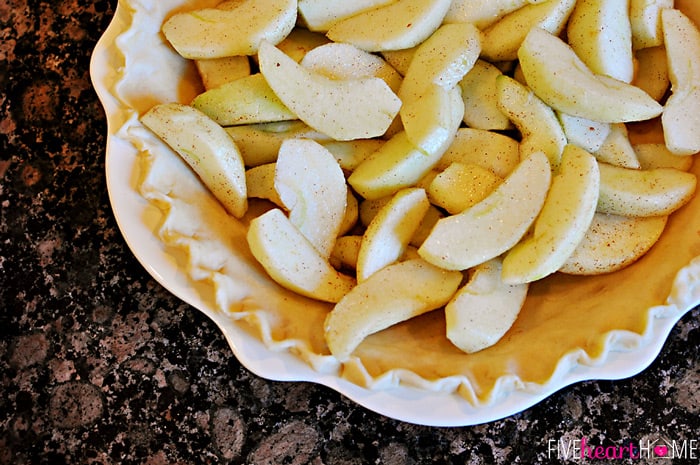 Voila! Can you believe it? Together, we just made a tender, buttery, flaky, homemade pie crust! That wasn't so bad now, was it?
The holiday season is right around the corner, and with it, many occasions calling for pie (yippee!). I have quite a few pies planned for you over the next few months, but before I post those, I felt like it was my duty to share this all-time favorite pie crust of mine with you, which incidentally, happens to be just as good complementing a savory pie (think chicken pot pie) as a sweet one.
Even if you're already a pie crust professional, I think that you will enjoy this bursting-with-butter, melt-in-your-mouth version. And even if you've never attempted a pie crust from scratch before, this is a great place to start. You can do it! Pinky swear. And after you do, you'll see how easy it was and how buttery it tastes…and you'll wonder what took you so long to make your own homemade pie crust in the first place. 😉
Fool-Proof Flaky Butter Pie Crust
Making a homemade, flaky, all-butter pie crust from scratch is unbelievably easy with just a few tricks and tips, and it's so delicious that you'll never want to buy a pre-made pie crust again!
Ingredients
1 cup (2 sticks) unsalted butter, cut into 1/4-inch pieces and chilled
2 1/4 cups all-purpose flour
1 teaspoon salt
8 to 10 tablespoons ice water
Instructions
Pulse the butter, flour, and salt in a food processor until the mixture resembles coarse sand, with some small lumps of butter (no larger than pea-sized) remaining.
Feed one tablespoon of ice water at a time through the feed tube of the food processor, pulsing 4 to 5 times after each addition. Stop adding water when the mixture begins to form large clumps and pulls away from sides of the food processor bowl.
Dump the mixture onto a work surface and push it together into a big lump using your hands. Quickly form the dough into two balls and flatten them into 4-inch disks. Place each disk in a plastic baggie or wrap it in plastic wrap, and refrigerate for at least an hour and up to 4 days. Remove the dough from the refrigerator 3 to 4 minutes ahead of time so that it just starts to soften and is easier to roll.
Lightly flour your work surface and rolling pin. Roll out the disk of dough from the center moving outward, turning it a quarter turn and repeating until the diameter of the whole crust is about 4 inches larger than the pie pan. If the edges of the crust start to split, pinch them together before continuing.
Carefully transfer pie crust to the pie pan and continue with pie recipe as directed.
Notes
Remember...try not to handle the dough too much or your hands will warm it and start to melt the butter, resulting in a less-flaky crust.
Wrapped in an air-tight plastic baggie or several layers of plastic wrap, a disk of this pie dough may be stored in the freezer for up to 3 months. Thaw in the refrigerator for a day or two before rolling out.
https://www.fivehearthome.com/fool-proof-flaky-butter-pie-crust/
https://www.fivehearthome.com ~ All recipes and images on Five Heart Home are copyright protected. Please do not use without my permission. If you would like to feature this recipe, please rewrite the directions in your own words and give proper attribution by linking back to this blog.
More fool-proof desserts…
Snickers Cheesecake Bars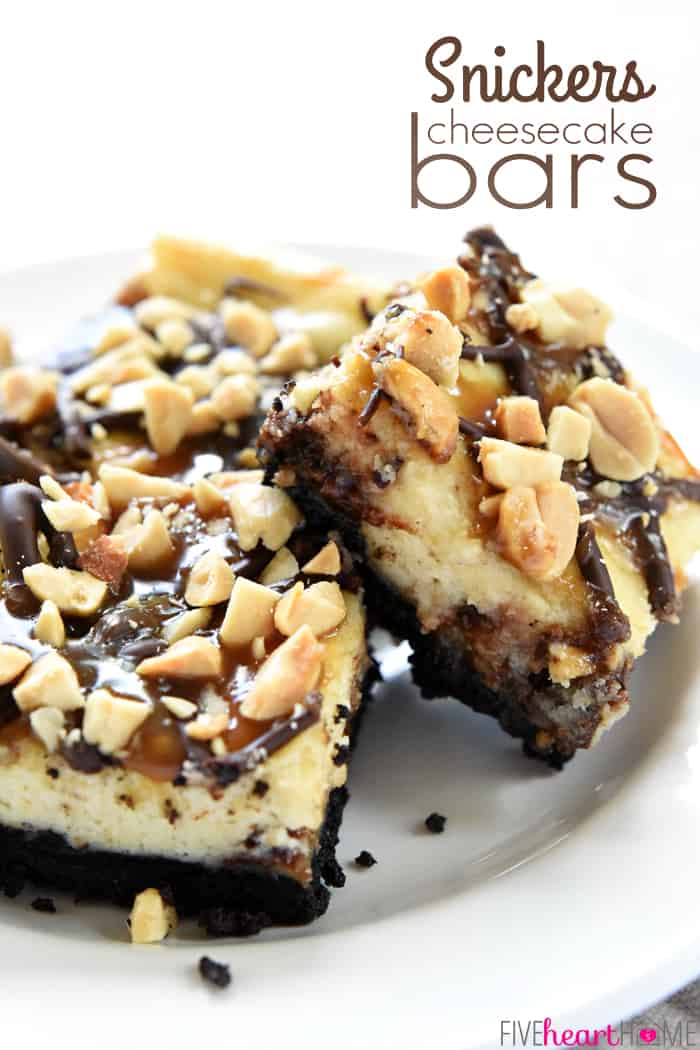 Mini Pecan Pies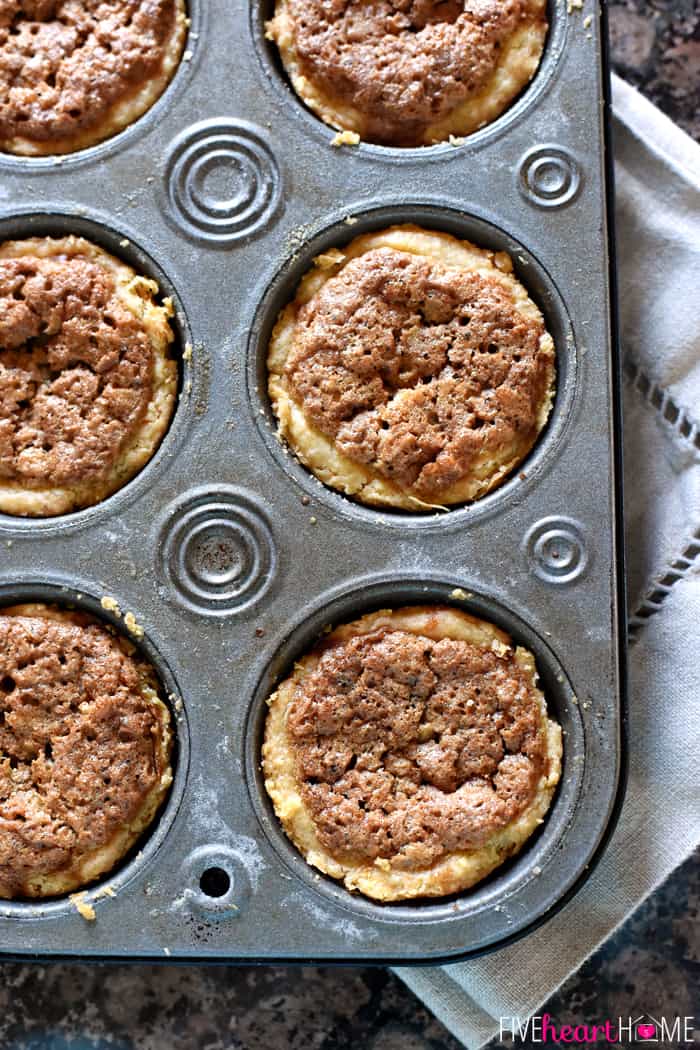 One-Bowl Coconut Cupcakes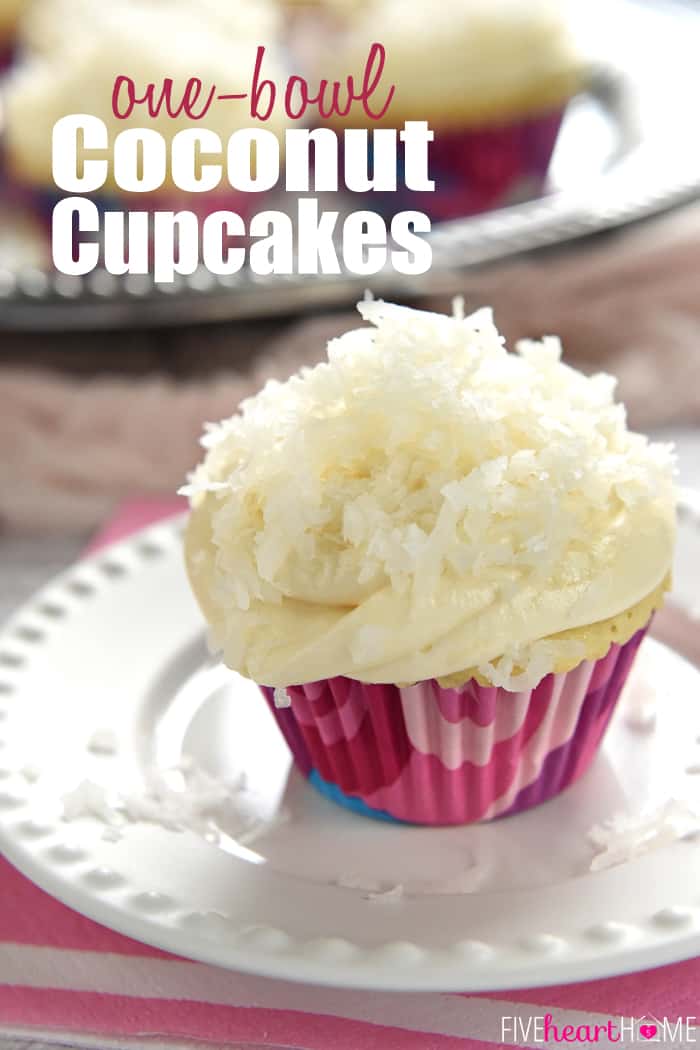 Warm Chocolate Cobbler