Sweet and slightly tangy, this quick and easy Cream Cheese Frosting comes together with just FOUR ingredients and complements a variety of cakes & cupcakes!

Happy Friday, friends! I'm coming at you today with a simple, staple recipe that I make at least once a month. Classic Cream Cheese Frosting is, hands down, my favorite frosting EV-AH. More specifically, it's my favorite cupcake frosting recipe, as the perfect complement to these famous vanilla sheet cake cupcakes. It's also delicious on carrot cake and Italian Cream Cake and red velvet cake. It's amazing on chocolate cake and lemon cake and pumpkin cake. Really, it's just flat-out fabulous.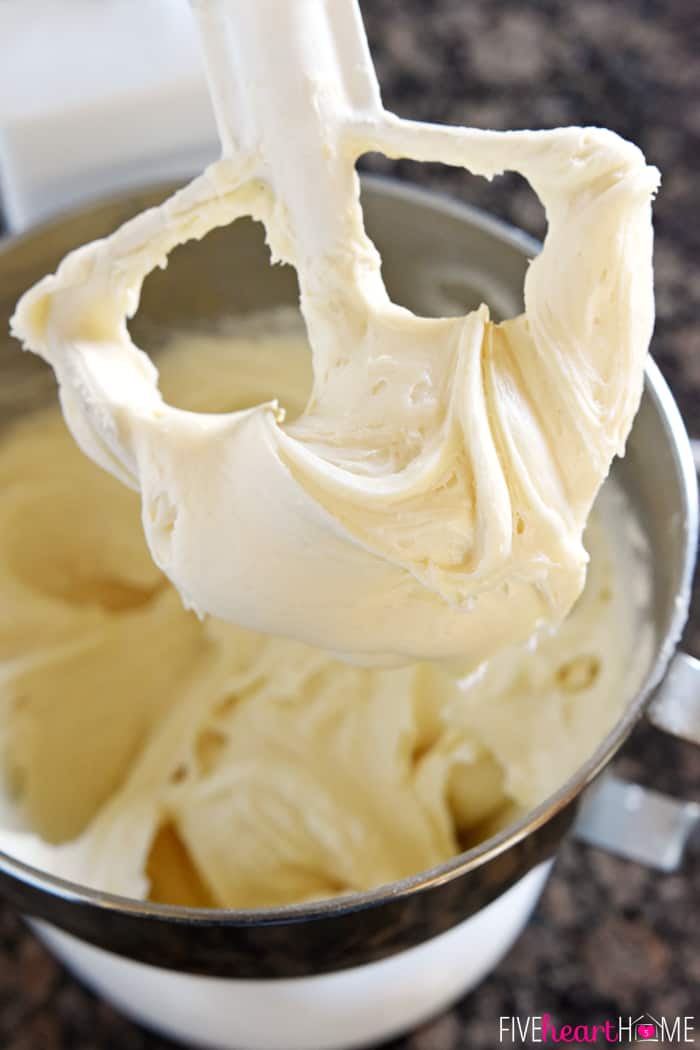 And even though I already shared it on the blog not long after I first started blogging (way back in '13), I posted it then as part of that aforementioned vanilla cupcake recipe, which means it kind of gets buried on the site. But by golly…this easy Cream Cheese Frosting needs to stand alone so that people searching for a great frosting recipe have a chance to find it!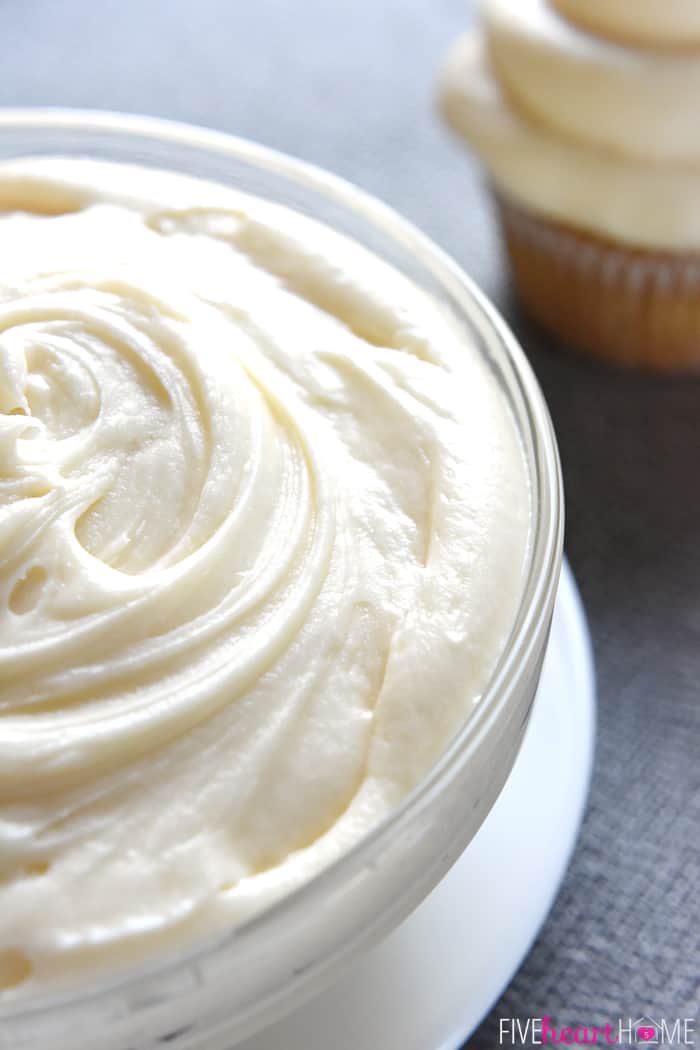 Cream Cheese Frosting Ingredients
There are four simple ingredients required to make fabulous Cream Cheese Frosting:
Butter. I prefer salted.
Cream cheese. It needs to be completely at room temperature.
Powdered sugar. The amount is negotiable.
Vanilla. Pure extract of a good quality, please.
I realize this isn't rocket science, folks. It's a really simple recipe with minimal ingredients. It's done in a matter of minutes. But as a cream cheese frosting connoisseur, these are the proportions that I've found to render the yummiest results.
That being said, feel free to tweak the sweetness if you like by increasing or decreasing the powdered sugar. I actually prefer that my cream cheese frosting is not overly sweet, because I like the slight tang from the cream cheese to come through. In fact, I think that's why I adore this frosting so much. I'm not a fan of cloyingly sweet frostings, and this isn't one of 'em.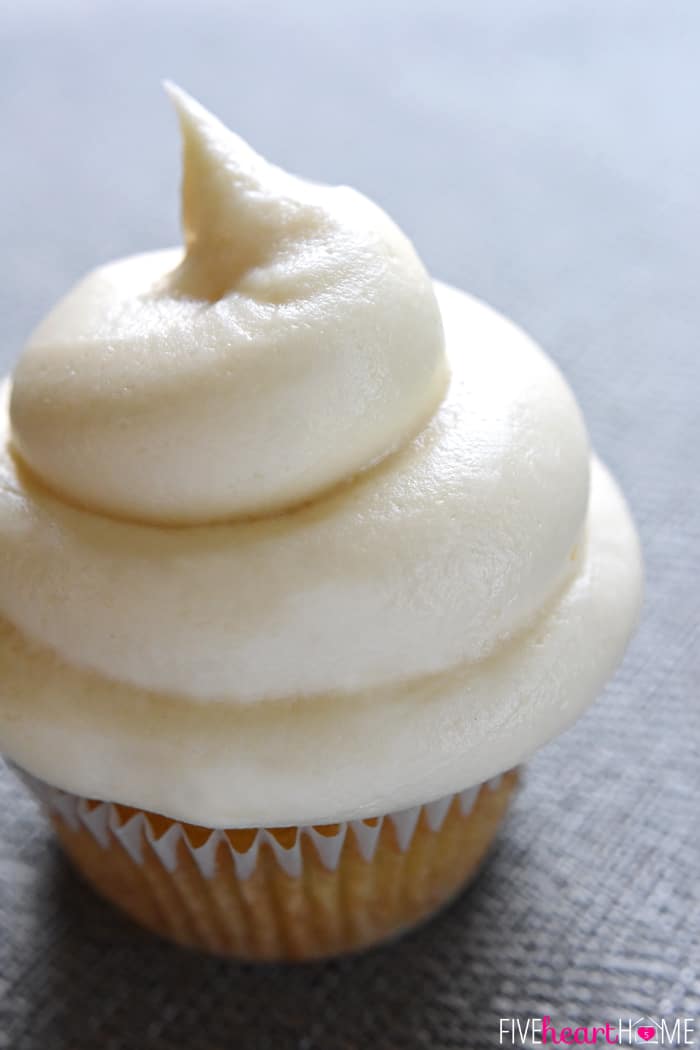 In my humble opinion, the key to taking this frosting from good to great lies in the vanilla you use. For the love of all that is good and holy, use pure vanilla extract! No imitation stuff here, please. And to take it up a notch more, invest in high quality pure vanilla extract. I'm telling you…it might cost a bit more, but it will make all the difference in your baked goods.
(And forgive me if you've heard me rave about this before, but my most favorite, most beloved, most obsessed-with vanilla extract is Nielsen-Massey Madagascar Bourbon Vanilla. The end.)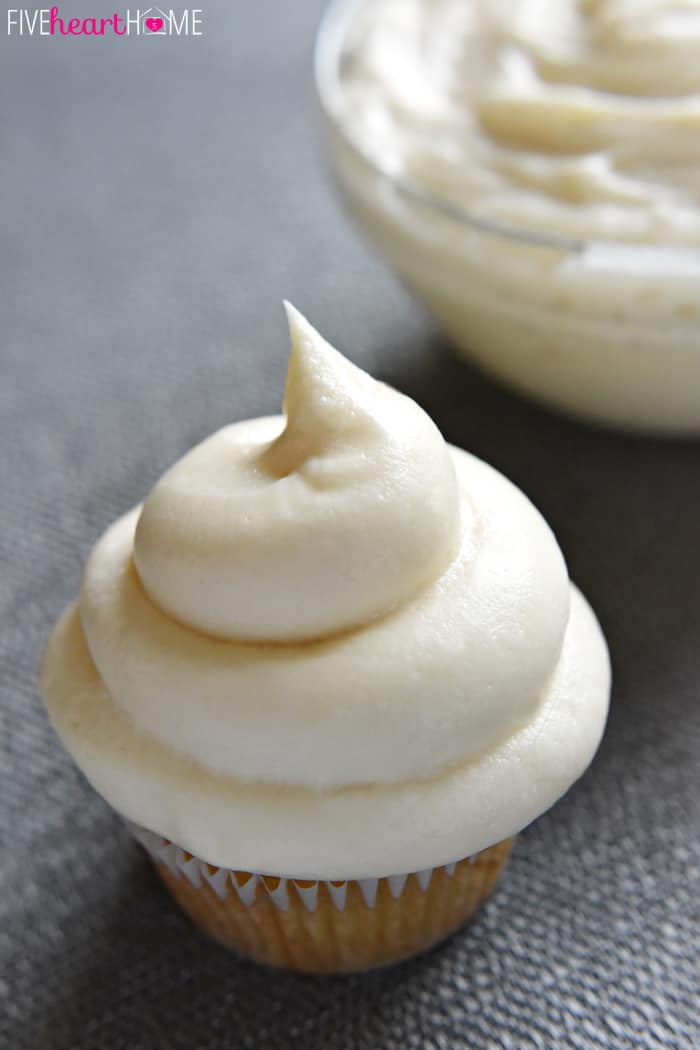 Cream Cheese Frosting for Cupcakes
I made this particular batch of frosting last week to put on cupcakes for my 7-year-old's school Valentine's party, and when I did, I shared my quick and easy cupcake frosting method with my Instagram followers (I hope you're one of them, because it's my favorite social media for sharing…and over-sharing?). Rather than slopping on your frosting with a knife, you just need a gallon-sized freezer bag and about five minutes…hop over to read the details if you don't already know this trick!
Speaking of cupcakes, one batch of this recipe should make enough frosting to ice 24 cupcakes with a knife…and this means spreading each cupcake with a reasonable amount of frosting. 😉 But if you really want to pile on the frosting (such as by using the bag trick mentioned in the previous paragraph) for cupcakes with sky-high frosting like those pictured in this post, you will probably need to make 1.5 or even 2 times the recipe to cover 24 cupcakes.
How to Make Cream Cheese Frosting White
I'm sometimes asked how to get this frosting white. Well, cream cheese frosting isn't likely to ever be truly white, but there are some tricks that you can try if white frosting is important to you:
Butter can range from pale to dark yellow, so obviously, use the lightest shade of butter that you can find.
While I don't really recommend using anything but pure vanilla extract, you can use a clear imitation vanilla extract for an even lighter shade of frosting if that's most important to you.
Also, the longer you whip your frosting, the lighter and fluffier it will become and the lighter in color it will appear.
Adding a teeeensy drop of violet food coloring can also help yellow-ish frosting appear more white. Fully incorporate a very small dot or drop before determining if you need to add more. Be careful not to add too much or your frosting will turn gray or purple!
Any questions about the yummiest frosting that ever was? Actually, I have one for you…what are you going to use this on? I might have to bake something this weekend just to have an excuse to whip up another batch, and I'm lookin' for idears…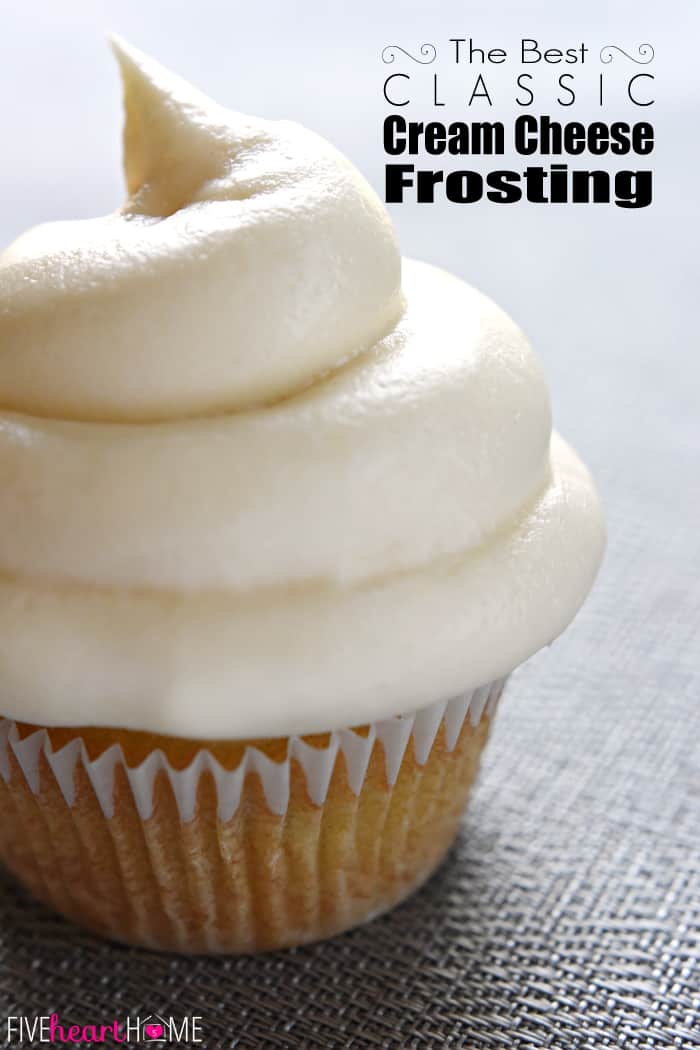 P.S. If you have any frosting left over and you decide to take a spoon to it, it's particularly tasty if you sprinkle some chocolate chips on top. Or so I've heard…
Helpful Tips, Tricks, & Equipment

(some affiliate links below)
Vanilla prices have skyrocketed over the past couple of years because of a worldwide vanilla bean shortage. I used to buy my beloved Nielsen-Massey by the 32-ounce jug on Amazon…but the current price for a mass quantity like that is rather heart stopping. So these days, I buy a smaller bottle of "the good stuff" and only use it in my favorite recipes (like this one!) where the vanilla flavor truly shines through.
This frosting recipe holds up best when chilled. It is pretty soft at room temperature, meaning it's not the best choice for frosting an elaborate cake that needs strength and structure.
I usually frost my cake or cupcakes ahead of time, refrigerate, and then let them come to room temperature for about 30 minutes before serving.

Cream Cheese Frosting Recipe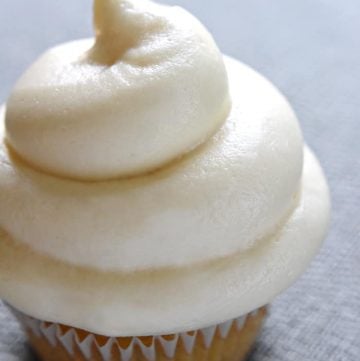 Classic Cream Cheese Frosting
Sweet and slightly tangy, this quick and easy Classic Cream Cheese Frosting comes together with four ingredients and complements a variety of cakes & cupcakes!
Print
Pin
Rate
Servings:
24
cupcakes (3 cups of frosting)
Ingredients
1/2

cup

(1 stick) salted butter

,

softened

8

ounces

cream cheese

,

softened

3 to 4

cups

powdered sugar

,

depending on your desired consistency & sweetness of frosting

2

teaspoons

pure vanilla extract
Instructions
Using an electric mixer, beat together the butter and the cream cheese. Slowly blend in the powdered sugar and vanilla, then beat on high until well-combined, smooth, and creamy.
Notes
The longer you whip this frosting, the lighter and fluffier it will become.
Calories:
67
kcal
|
Fat:
7
g
|
Saturated Fat:
4
g
|
Cholesterol:
20
mg
|
Sodium:
64
mg
|
Potassium:
13
mg
|
Vitamin A:
245
IU
|
Calcium:
10
mg
Post originally published on February 19, 2015.
More Recipes Using this Frosting