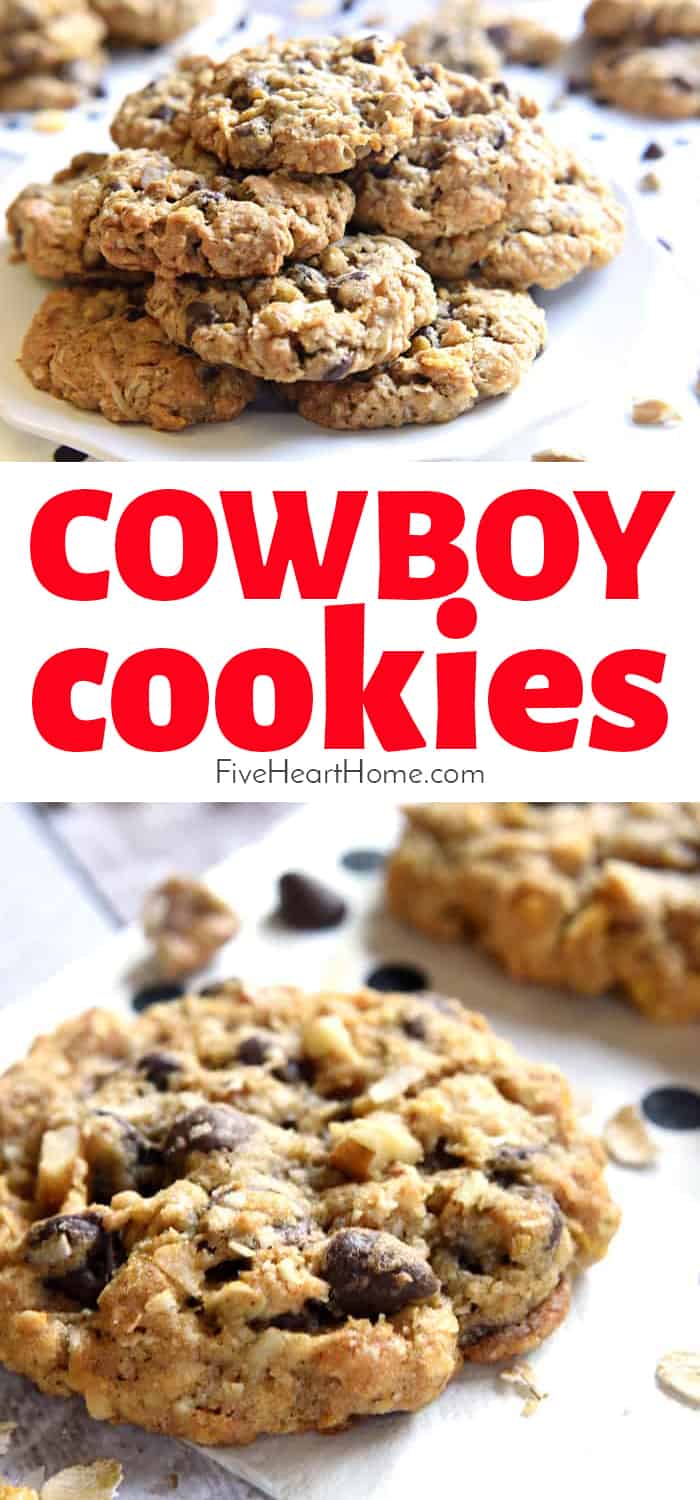 Cowboy Cookies are soft, chewy, and totally addictive, loaded with a variety of flavors and textures -- from oats and coconut to chocolate chips and pecans!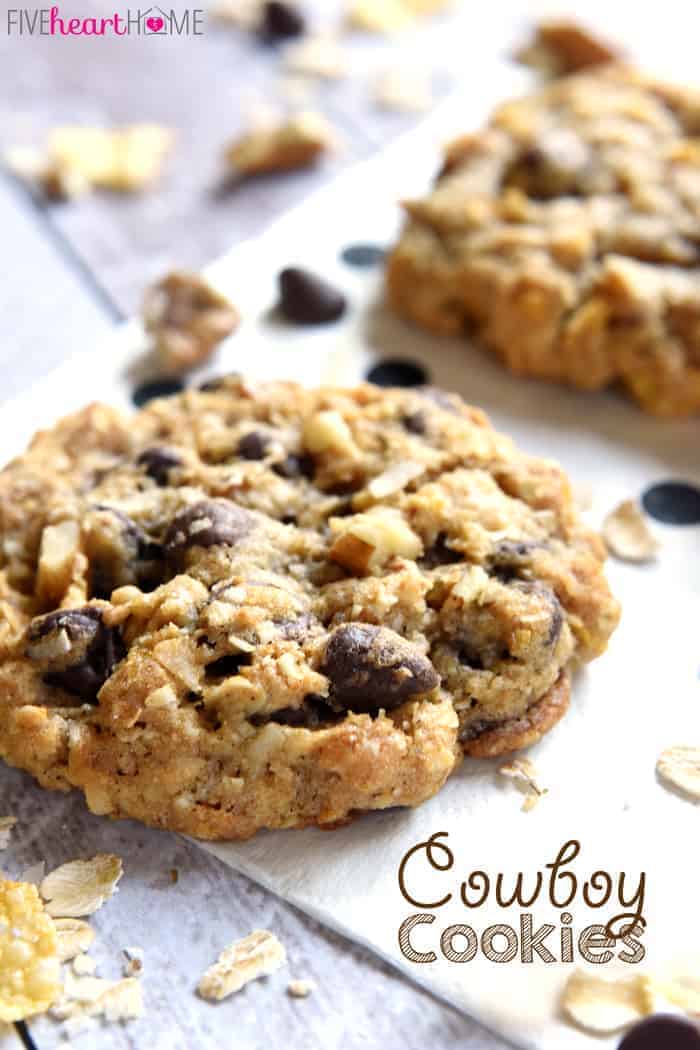 A few days ago I had a craving for cookies, which happened to coincide with my need to come up with a little sweet treat for an upcoming Girls' Night Out. However, I knew that if I made cookies for my mom get-together, I'd have to ensure that there would be enough extras for my demanding whiny hungry minions at home. So I decided to bake Cowboy Cookies because, not only does this recipe make a huge batch, but they're also so loaded with goodies that there's a little somethin' in there to please everyone.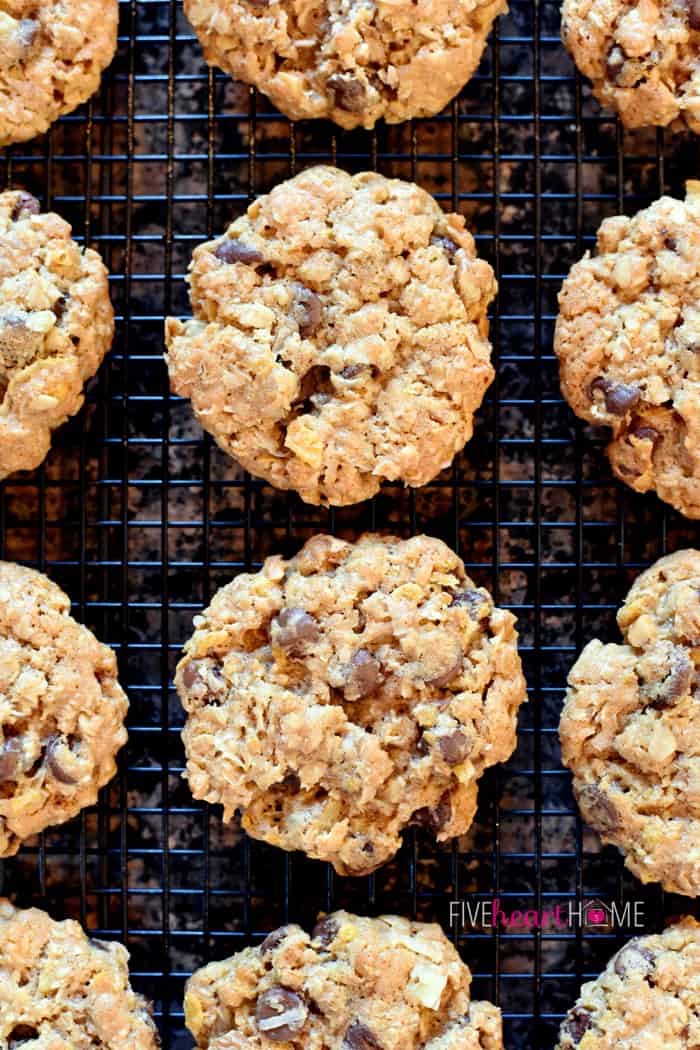 What Are Cowboy Cookies?
If you've never had the pleasure of sinking your teeth into a big, chewy Cowboy Cookie before, allow me to introduce you to these everything-but-the-kitchen-sink wonders. They're kind of like super loaded oatmeal cookies full of contrasting textures and flavors. First you have the oats, of course. But there's also chewy coconut, creamy chocolate chips, crunchy pecans, and -- the secret ingredient -- oh-so-humble cornflakes! I know it sounds crazy, but the flakes add surprising little pockets of crispness to these soft, chewy treats. Yum.
Chewy is definitely a key word in describing these Cowboy Cookies, which hopefully explains why I've used it no less than five times in these first few short paragraphs. No, my thesaurus ain't broke...there's simply not a more fitting adjective for these cookies. They key to ensuring their chewy (sorry) texture, however, is to make sure they don't spread too thin or become overly brown and crispy due to an extended baking time.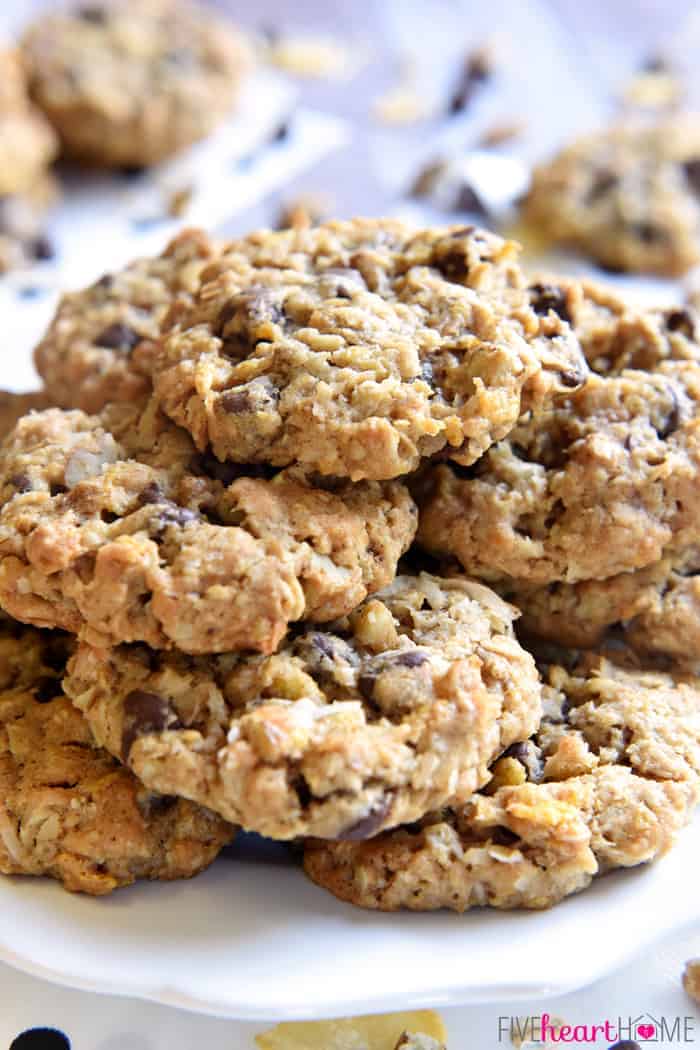 How to Make 'em Chewy
If you bake your cookies immediately, simply scoop the cookie dough into mounds on the cookie sheet without flattening. There should be some spread as they bake but not too much.
If you make your cookie dough ahead of time and end up refrigerating it before baking (which I did with this batch because tantruming two-year-old), let it come to room temperature for a few minutes before forming into balls and slightly flattening.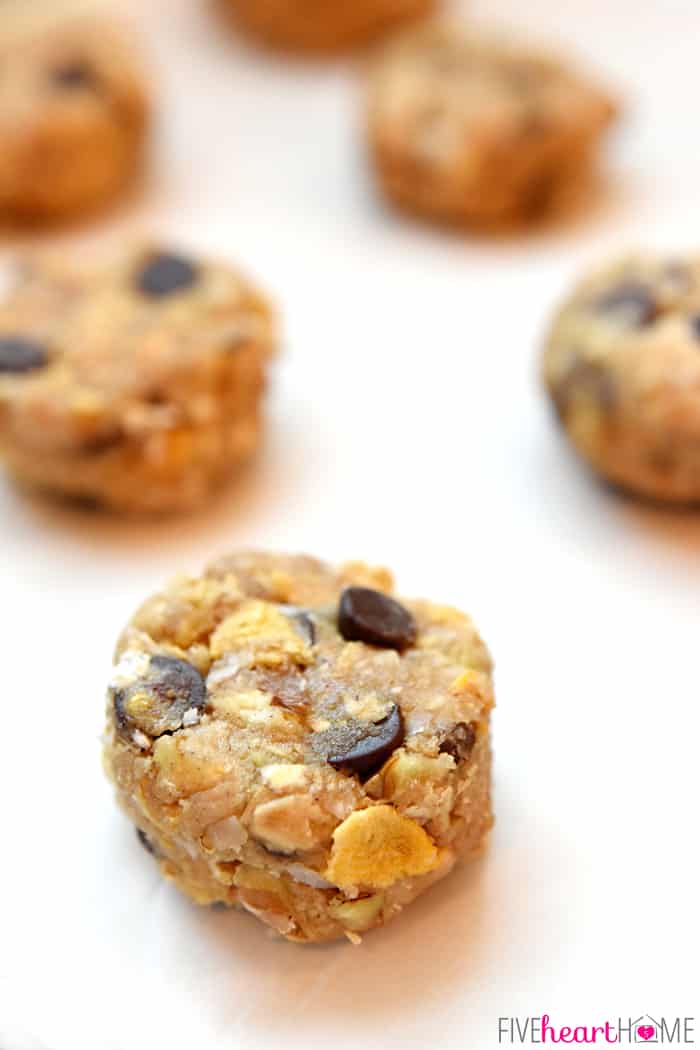 How to Keep Your Bowl from Overflowing
Have I already mentioned that this recipe makes a ton? We're talking 4 dozen or so thick, not-exactly-small cookies here. In fact, with all of the ingredients packed into this recipe, I sometimes have a hard time keeping everything contained in the bowl of my stand mixer. So here's my little trick...
As usual, I start out the recipe in my KitchenAid, creaming the butter and sugars together, adding the eggs and vanilla, and then blending in the flour mixture.
At that point, however, I transfer this basic cookie dough into a giant bowl (I actually use a huge stock pot, because it's the biggest receptacle I have), where I then add the masses of chunky ingredients. I use a big wooden spoon to incorporate everything and then it's time to scoop and bake, with nary a chocolate chip ricocheted onto the kitchen floor.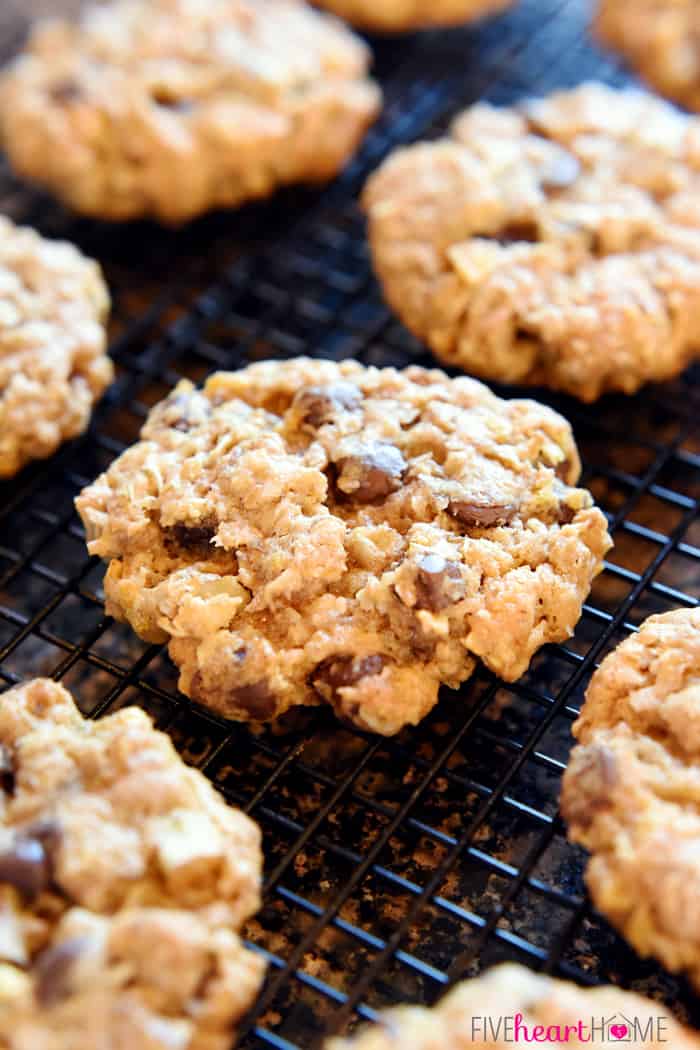 Believe me, this method is way better than watching your mixer do the macarena across the countertop as it tries to incorporate all of those chunks in its overloaded mixing bowl.
And there you have it, folks...these Cowboy Cookies are everything you've ever wanted in a cookie and more! They will satisfy your inner Cookie Monster while making your friends (because there's enough to share!) and family members (meltdown-prone toddlers included) very happy.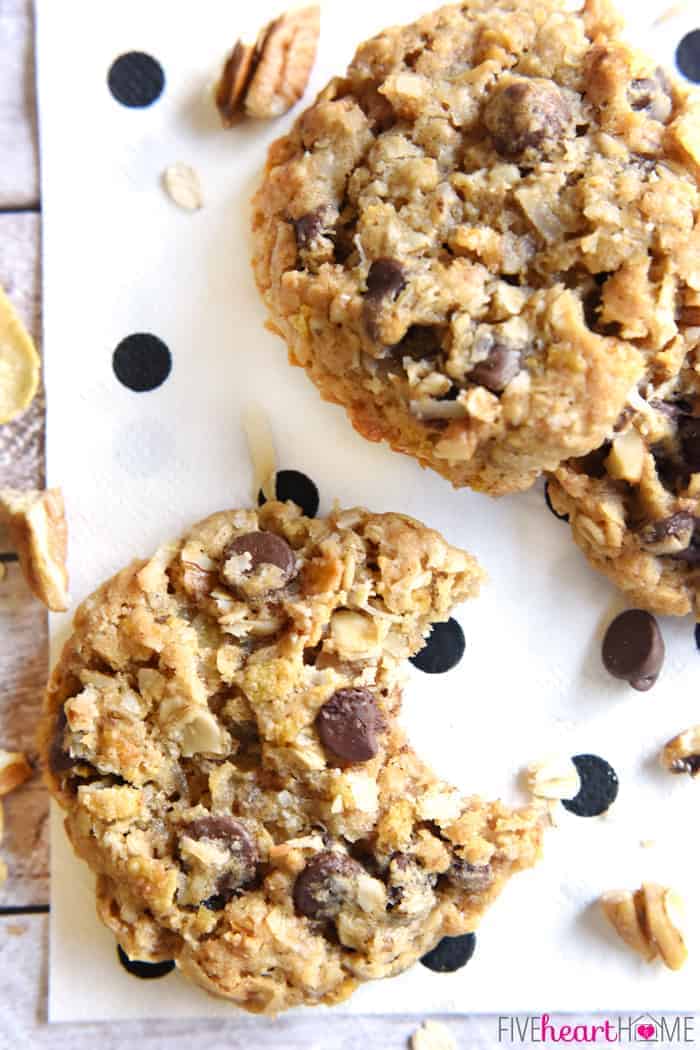 Speaking of certain meltdown-prone toddlers, while I was at my get-together last night, her Daddy apparently gave her a bite or seven of one of the Cowboy Cookies I left behind. Lo and behold, when it was time for breakfast this morning, she ate half a spoonful of oatmeal before announcing, "I wan a coo-ie. Peese can I haf coo-ie?"
(Sweetly and patiently) "No, my precious darling. You may not have a cookie for breakfast." (Nevermind the fact that I sometimes make you Wholesome Breakfast Cookies, because we don't do mixed signals around here or anything.) "But you may certainly have one later if you eat all of your lunch."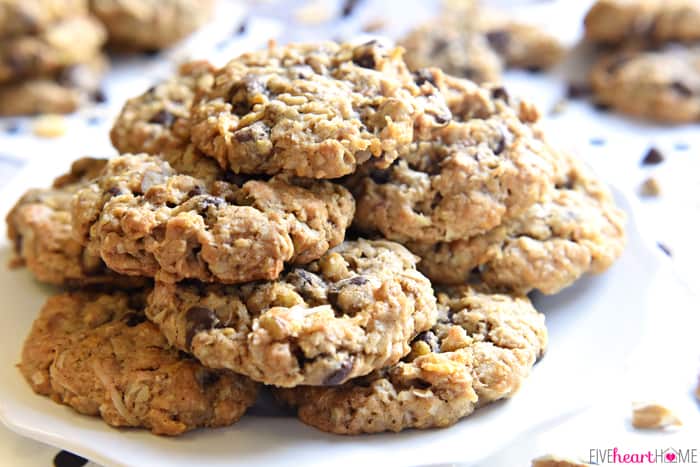 That must not have been the answer her little heart was longing to hear, because after having this identical exchange approximately two dozen more times, she proceeded to scream for a cookie for the next hour. I fortified myself with an extra cup of coffee and stood strong, friends. But she probably sensed that I will most likely cave if she engages me in battle for a second day in a row.
So if I post an Instagram pic tomorrow morning of my daughter, with victory in her eyes and chocolate smeared around her mouth, I hope you won't deem me a bad parent. The truth is, by Friday, my kids have worn me down and there's pretty much no fight left in this Mama. And since I totally deserve a breakfast-time Cowboy Cookie tomorrow for surviving yet another week, it's either scarf it down while hiding in the pantry, or allow my daughter to join me. Oh, to be the (irresistibly cute) baby of the family... 😉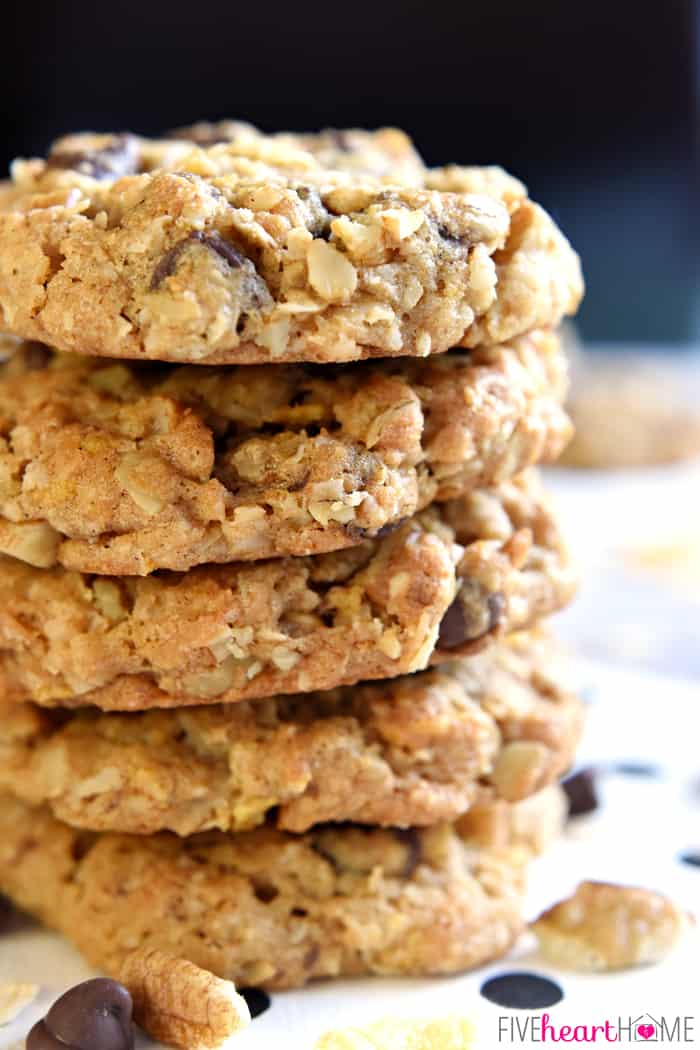 More Chocolate Chip Cookies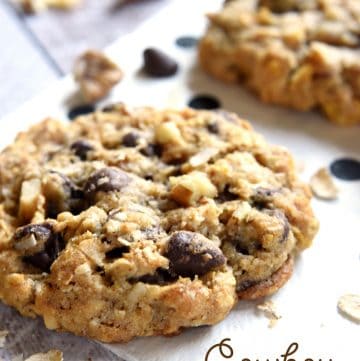 Cowboy Cookies
Cowboy Cookies are soft, chewy, and totally addictive, loaded with a variety of flavors and textures -- from oats and coconut to chocolate chips and pecans!
Print
Pin
Rate
Servings:
48
cookies (approximately 4 dozen)
Ingredients
2

cups

all-purpose flour

2

teaspoons

baking powder

2

teaspoons

baking soda

1

teaspoon

cinnamon

¾

teaspoon

salt

1

cup

(2 sticks) unsalted butter

,

at room temperature

1

cup

packed brown sugar

¾

cup

sugar

2

eggs

2

teaspoons

pure vanilla extract

2

cups

rolled oats

2

cups

chocolate chips

,

semisweet and/or milk chocolate

1 ½

cups

sweetened shredded coconut

1 ½

cups

crushed cornflakes

1

cup

chopped pecans
Instructions
Position oven rack in center of oven and preheat to 350°F. Line cookie sheets with parchment paper.

In a medium bowl, whisk together flour, baking powder, baking soda, cinnamon, and salt. In a very large bowl, use an electric mixer to cream together butter and sugars. Beat at medium-high speed until light and fluffy. Scrape down sides, reduce speed to medium-low, and blend in eggs, one at a time. Add vanilla and beat until well incorporated.

With mixer on low speed, blend in flour mixture until just combined. Use a large wooden spoon to stir in oats, chocolate chips, coconut, cornflakes, and pecans.

Use a cookie scoop or large spoon to scoop mounds of dough (approximately 3 tablespoons per cookie) onto prepared cookie sheets, spacing about 2 inches apart. Bake for 12 to 15 minutes or until cookies are set and edges are beginning to turn golden brown. Allow cookies to cool on baking sheet for 5 minutes before transferring to a wire rack to cool completely.
Notes
For extra flavor and crunch from the pecans, I recommend toasting them by spreading them on a baking sheet and baking at 350°F for 7 to 10 minutes or until lightly browned, watching carefully.
If you use a stand mixer and you don't think all of the ingredients will fit in the bowl, prepare the cookie dough through the step of blending the flour mixture into the butter mixture. Then scoop the dough into a larger bowl (or pot) and mix in the oats, chocolate chips, coconut, cornflakes, and pecans using a wooden spoon.
Cookie dough may be tightly covered, refrigerated, and baked later. Allow the cookie dough to sit at room temperature until it's warm enough to work with, and then form into 1 ½-inch balls. Space out the balls of dough on the cookie sheet and slightly flatten them until they're about 2-inches across. Bake as directed.
Calories:
192
kcal
|
Carbohydrates:
27
g
|
Protein:
2
g
|
Fat:
8
g
|
Saturated Fat:
4
g
|
Cholesterol:
18
mg
|
Sodium:
153
mg
|
Potassium:
75
mg
|
Fiber:
1
g
|
Sugar:
14
g
|
Vitamin A:
280
IU
|
Vitamin C:
1.7
mg
|
Calcium:
27
mg
|
Iron:
2.8
mg