Homemade Greek Salad Dressing is tangy, easy to make, and delicious drizzled over a Greek salad with tomatoes, cucumbers, Kalamata olives, onions, and Feta!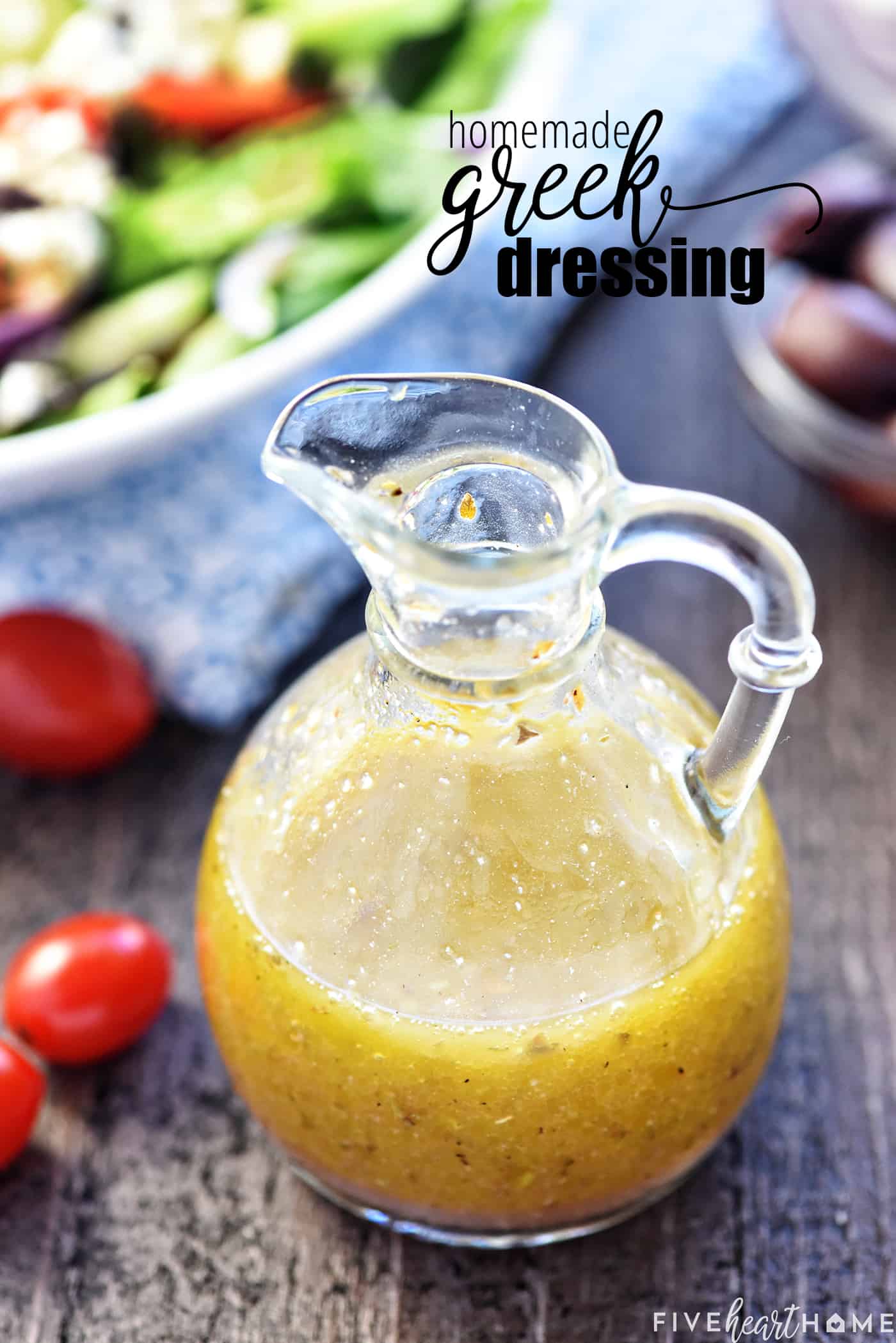 Homemade salad dressings are always a hit when I share them on Five Heart Home. However, while perusing the ones I've already posted, I realized that there was a big ol' hole where a nice Greek Salad Dressing should be! So I decided to remedy that today by sharing my favorite recipe for homemade Greek dressing that's zippy, zesty, and loaded with flavor.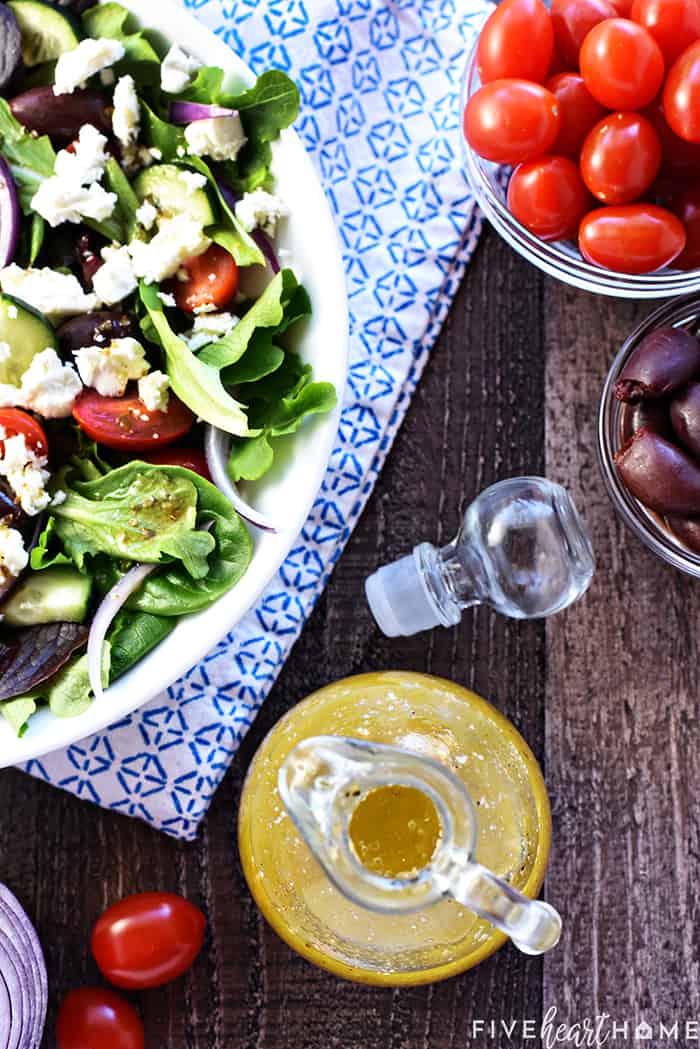 In recent years, I've developed an affinity for Mediterranean food that sometimes feels like a betrayal to my Tex-Mex loving identity. But that's okay...where there is queso, there's also room for hummus (and sometimes even Tex-Mex-inspired hummus).? I've realized that not only is Mediterranean food indescribably delicious, but it's also one of the healthier cuisine options out there. And so with each passing year, I incorporate more and more Mediterranean recipes into my repertoire.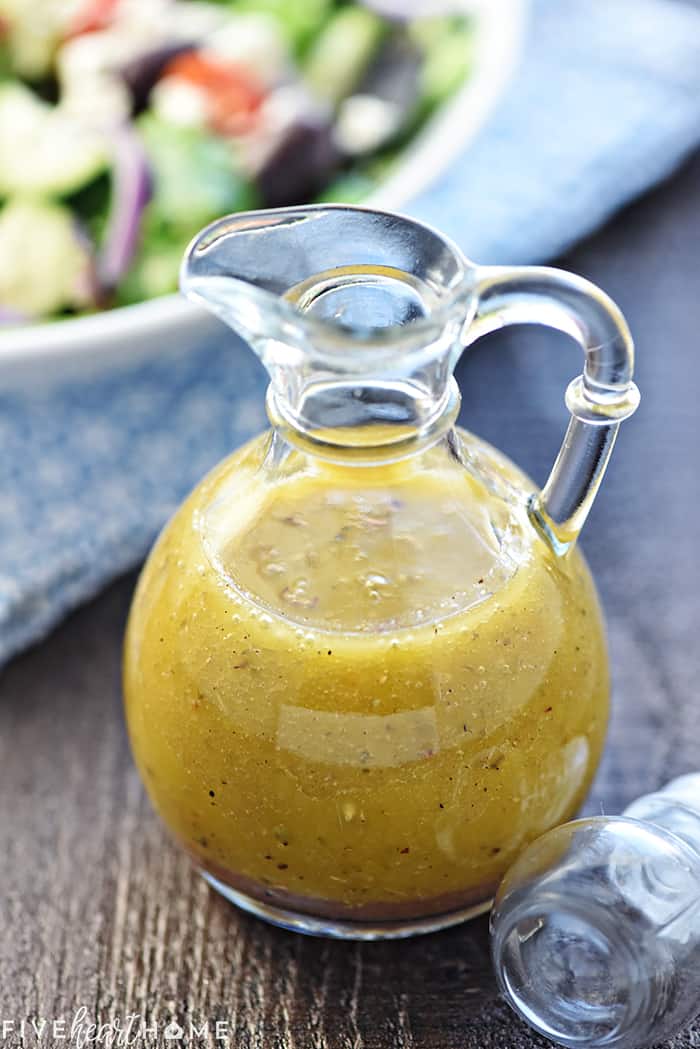 And one of my favorites is (surprise!!!) a traditional Greek salad! You know the kind I'm talking about...a bed of salad greens generously topped with crunchy cucumbers, juicy tomatoes, briny Kalamata olives and creamy crumbles of Feta cheese. Of course, there are often thin slivers of raw red onion on Greek salads as well. But while I include those in my styled salad photos, y'all know I pick them off before eating said salad. 😉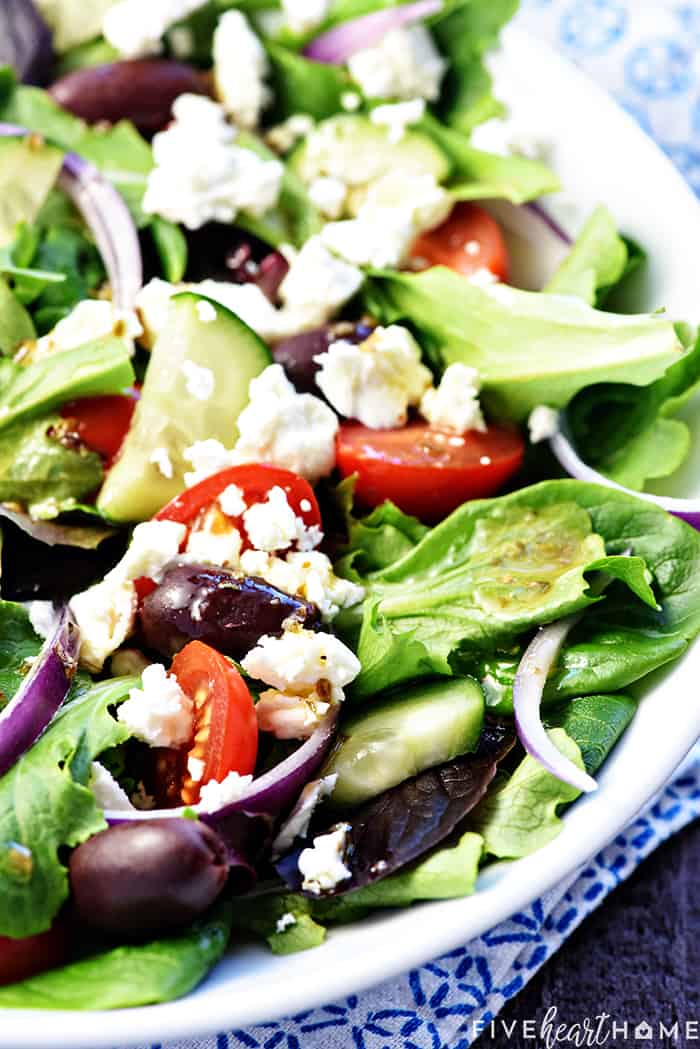 Ingredients
But what really makes a good Greek salad is the dressing!
Fundamentally just a basic vinaigrette, this Greek dressing recipe features extra-virgin olive oil, red wine vinegar, lemon juice, Dijon mustard, garlic, and dried oregano.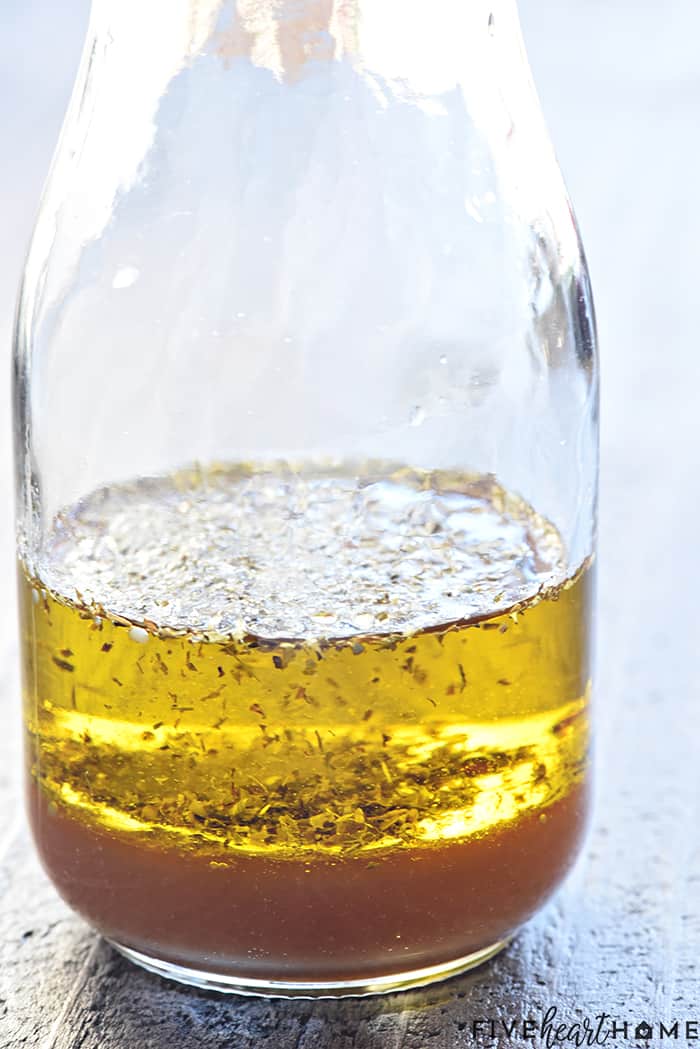 How to Make Greek Salad Dressing
Simply combine the ingredients in a bowl with a wire whisk...
or shake them up in a jar...
or whiz them together in a mini food processor.
And that's it!
See? Easy-peasy.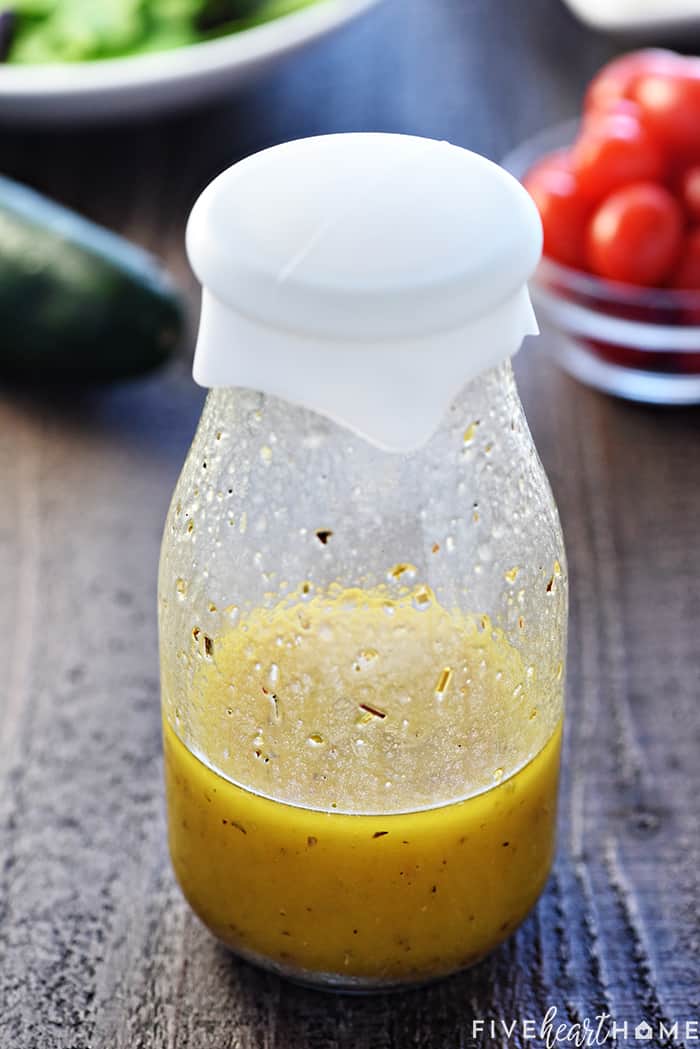 Why Make Homemade Dressings
I love making my own from-scratch salad dressings at home because I can use high-quality ingredients and I know exactly what's going in there. There are no preservatives or weird, icky additives to worry about!
In addition, homemade dressing tastes fresher and can always be tweaked and customized to your liking.
Ways to Enjoy Greek Dressing
This recipe is perfect on a salad to accompany just about any type of meal.
Or you can top your salad with some protein to make it a meal in and of itself.
This dressing also makes a mean marinade for chicken or flank steak or shrimp.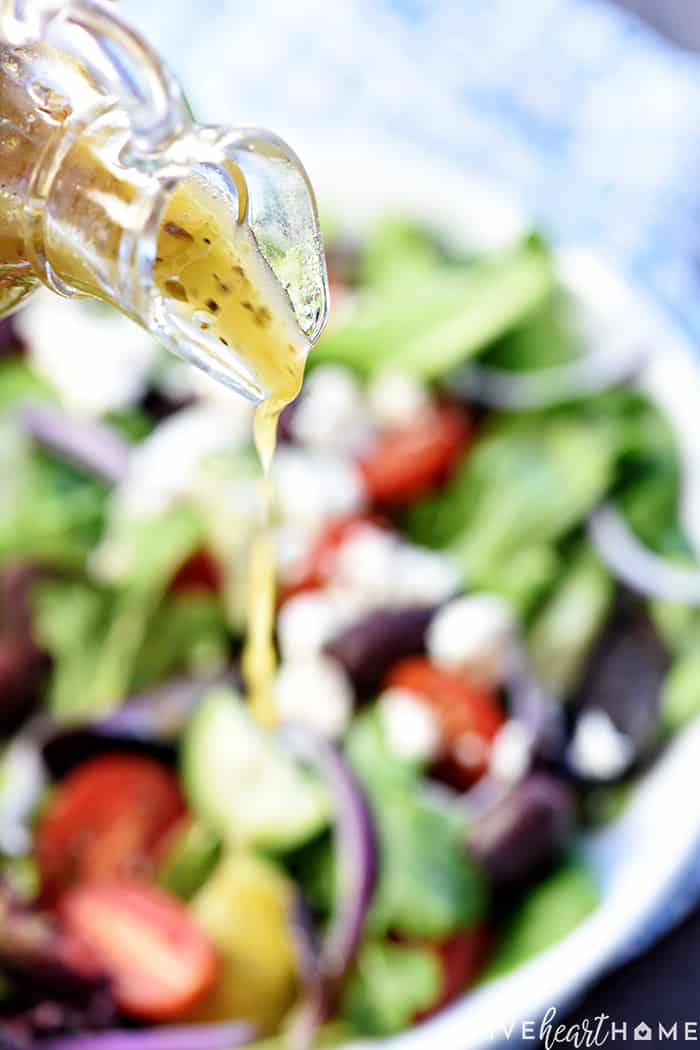 So are you a fan of Mediterranean cuisine?
Do you adore a good Greek salad?
Either way, I've got your back with this tangy, tasty Greek Salad Dressing recipe!
I hope you'll add it to your homemade dressing regular rotation as I've added it to mine.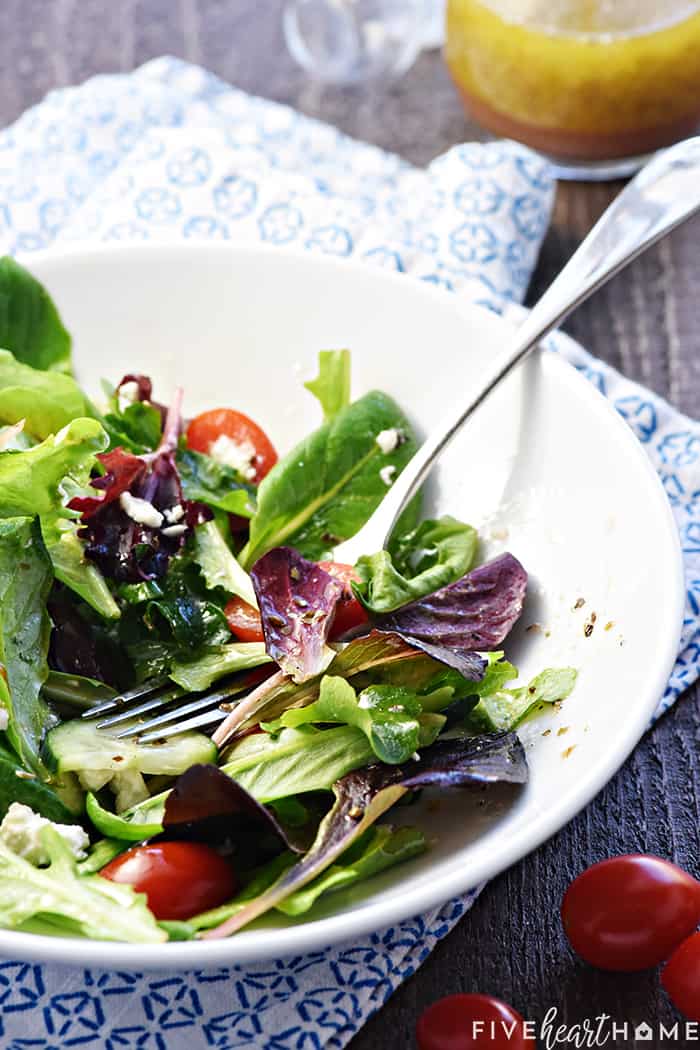 Helpful Tips, Tricks, & Equipment
Be sure to use a high-quality extra-virgin olive oil (that you like the taste of!) in any salad dressing, as the flavor will shine through.
When using fresh garlic in a salad dressing, I like to make sure it's very finely minced. If I'm going to whisk or shake my dressing, I push a garlic clove through a garlic press, or finely mince and then mash with the side of my knife. If I'm using my mini food processor to assemble my dressing, I pulse the garlic clove first to chop it up before adding the rest of the ingredients and processing.
That being said, if fresh raw garlic is too strong for your taste, you may substitute ¼ to ½ teaspoon garlic powder instead.
I typically make my dressing with dried oregano, but if you'd like to substitute fresh chopped oregano, use three times the amount...1 tablespoon fresh instead of 1 teaspoon dried.
Fresh-squeezed lemon juice is best, but you can also use bottled lemon juice as long as "lemon juice" is the only ingredient.
If you find this vinaigrette to be too tangy or acidic, you can add a small pinch of sugar or a tiny squeeze of honey. It won't be enough to make the dressing sweet, but just enough the mellow out the acidity.
For a Creamy Greek Salad Dressing, you may incorporate 2 to 3 tablespoons of Greek yogurt. However, if doing so, you may need to slightly increase the salt.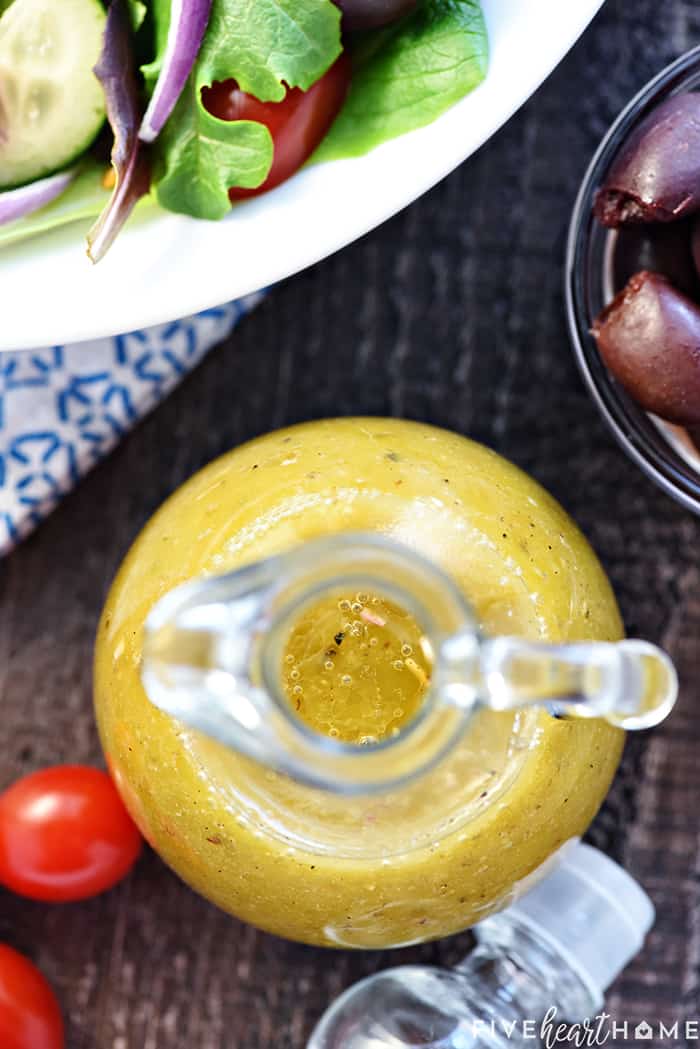 More Homemade Salad Dressing Recipes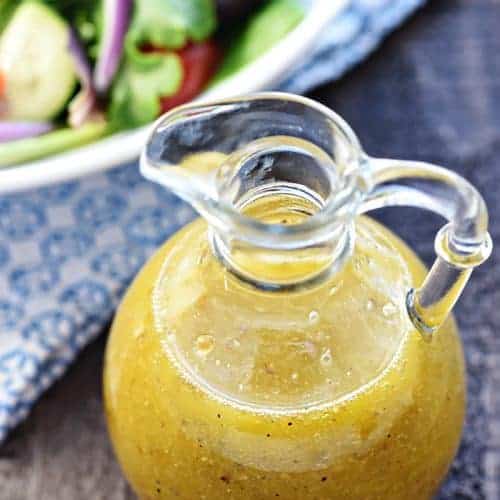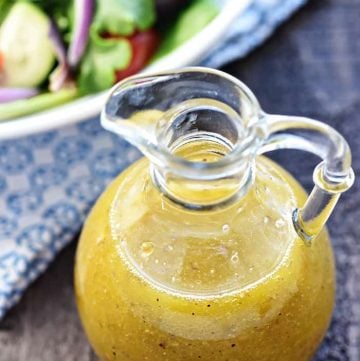 Greek Salad Dressing
Homemade Greek Salad Dressing is tangy, easy to make, and delicious drizzled over a Greek salad with tomatoes, cucumbers, Kalamata olives, onions, and Feta!
Print
Pin
Rate
Servings:
6
(approximately ¾ cup)
Ingredients
1

large clove garlic

,

finely minced

½

cup

extra-virgin olive oil

3

tablespoons

red wine vinegar

1

tablespoon

fresh-squeezed lemon juice

½

teaspoon

Dijon mustard

1

teaspoon

dried oregano

½

teaspoon

salt

Freshly ground black pepper

,

to taste
Instructions
Measure all ingredients into a jar with a tight-fitting lid. Shake vigorously until well-blended and emulsified. Taste and adjust seasonings, adding more salt and pepper if necessary. (Alternatively, you may whisk the ingredients together in a bowl, process the ingredients in a mini food processor, or blend them together in a blender.) Store leftovers in a sealed container in the refrigerator; allow to come to room temperature and shake well before using.
Calories:
163
kcal
|
Fat:
18
g
|
Saturated Fat:
2
g
|
Sodium:
199
mg
|
Vitamin C:
1.2
mg
|
Calcium:
5
mg
|
Iron:
0.3
mg