Mellow roasted garlic is blended with chickpeas, tahini, olive oil, and lemon juice for a fresh, creamy Roasted Garlic Hummus that's delicious with homemade pita chips or crunchy veggie dippers!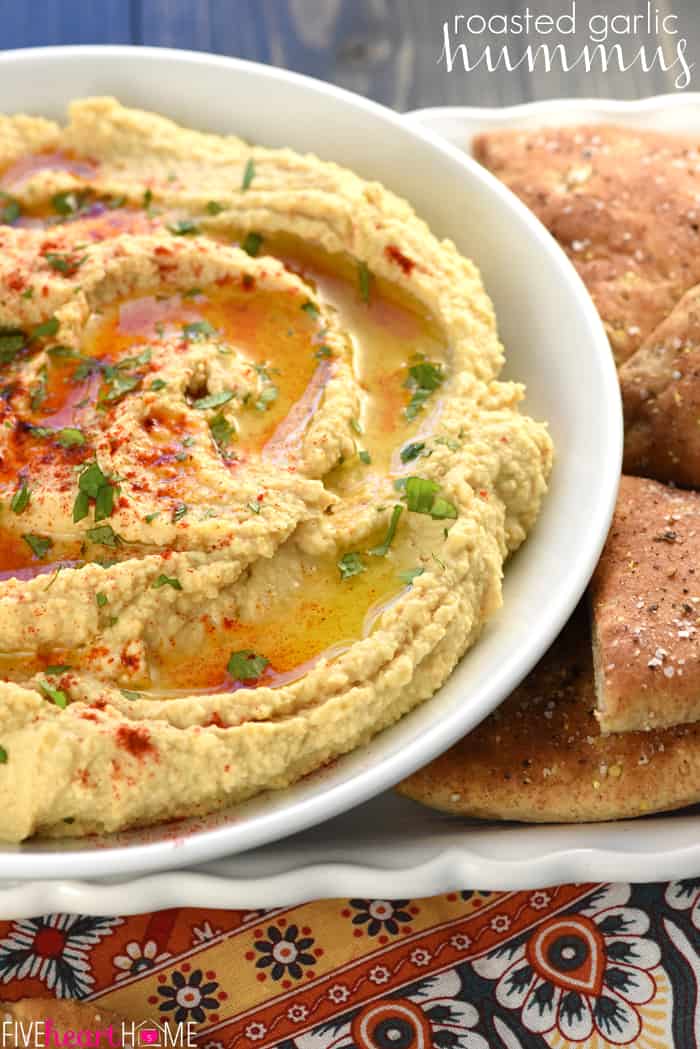 If you're a fan of healthy, tasty dips, you'll also enjoy Jalepeño Hummus, Greek Yogurt Dip, or Zesty Black Bean Dip!
I don't know about you, but I ate a few too many jellybeans and Cadbury Creme Eggs over the past couple of weeks. So instead of reaching for the candy basket again the next time I start feeling a little snack-y, I decided to whip up a much healthier, more filling, and more satisfying alternative -- homemade Roasted Garlic Hummus!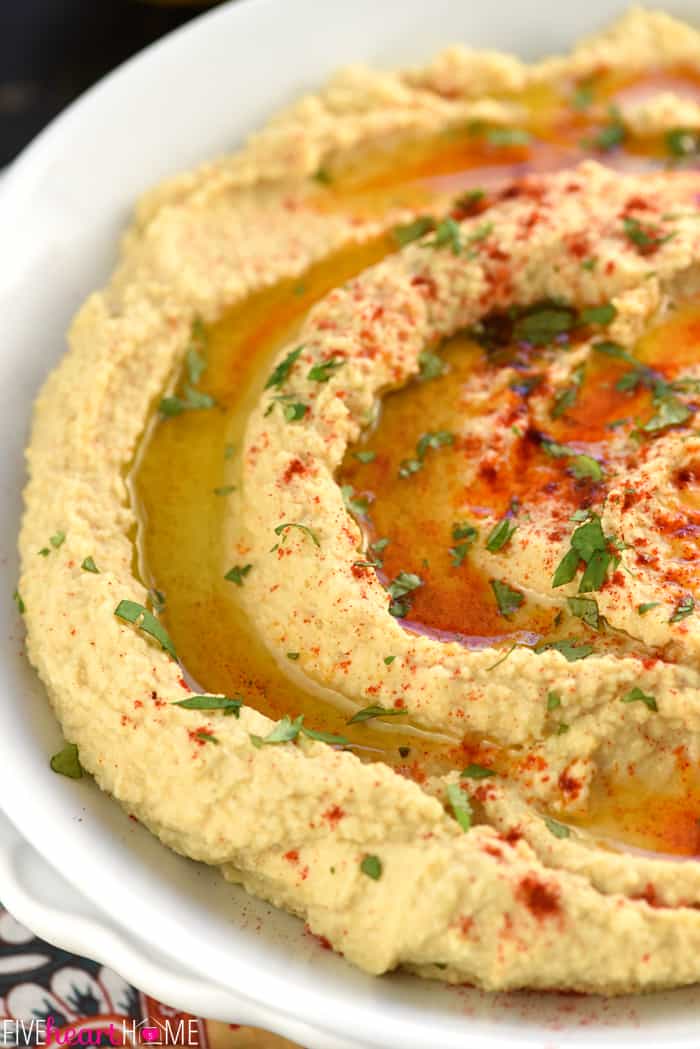 Why Make Your Own Hummus
Have you ever made your own hummus? It's ridiculously simple. And it's every bit as good as -- no, better than -- the fresh hummus that they sell in those little tubs at the grocery store.
Plus, that stuff is expensive! I'm telling you...you can whip up a giant batch of hummus for a fraction of the price of one of those little tubs.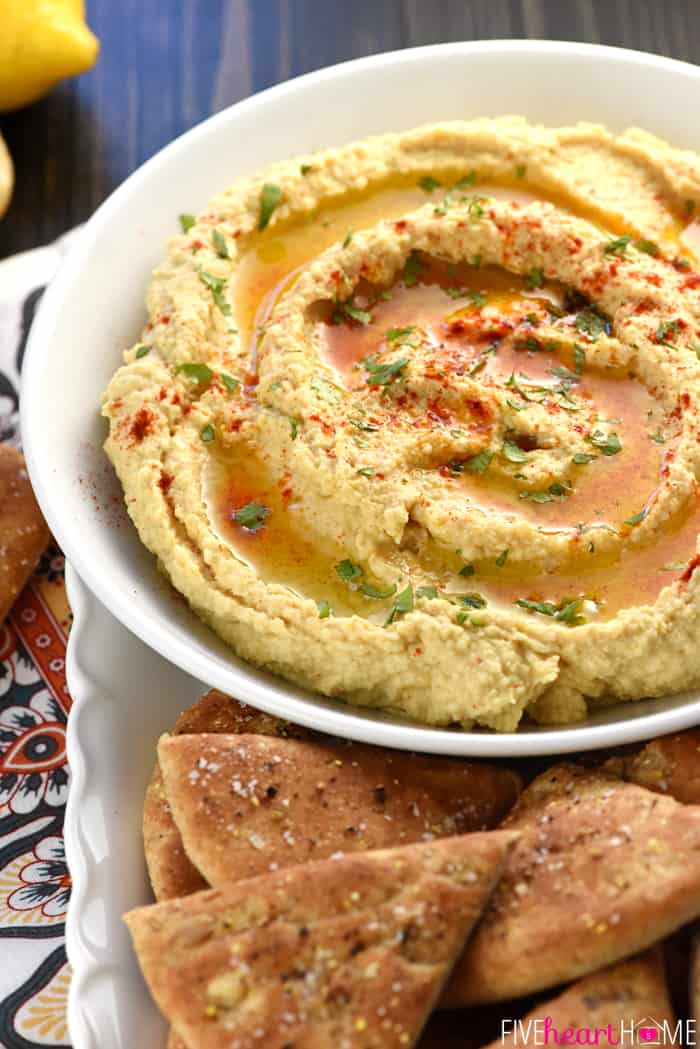 How to Make It
So here's the breakdown for this Roasted Garlic Hummus deliciousness:
Roast the garlic. Slice off the top of a head (that's one whole head, not just one clove) of garlic. Drizzle it with olive oil, wrap it in foil, and pop it in the oven. About 40 minutes later, all of that raw, overpowering garlic will have darkened and transformed into a creamy garlic paste that's mellow and almost sweet.
Puree everything together. Once cool, squeeze the roasted garlic paste into a food processor or blender along with a couple cans of drained chickpeas (AKA, garbanzo beans), a big dollop of tahini, extra-virgin olive oil, freshly-squeezed lemon juice, salt, and a dash of cayenne. Just enough reserved liquid from the canned chickpeas will need to be added until the hummus reaches a perfectly thick, creamy consistency.
And that's it. Seriously, how effortless is that?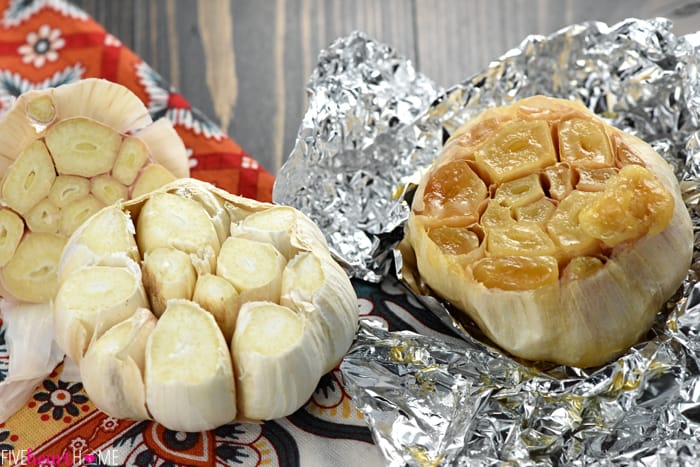 Dippers
My kids highly enjoy hummus as an after-school snack and I typically serve it to them with carrot sticks, celery sticks, or other veggies...because I regard covertly upping their vitamin intake as an ongoing personal challenge.
But truth be told, this self-confessed carb lover's favorite way to scoop up Roasted Garlic Hummus is with homemade pita wedges. They only take a few minutes to whip up (you can hop over to my Dreamy Dill Dip recipe to check out the easy directions) and boy are they yummy.
It should be noted, however, that when I make those pita wedges to go with this hummus, I sprinkle them with coarse salt and freshly ground black pepper and leave off the garlic powder, since there's already plenty of garlic *power* in the Roasted Garlic Hummus. 😉
Do You Have to Peel the Chickpeas?
One final point of debate and then I'll leave you to the recipe: to peel or not peel the chickpeas?
Honestly, I never do because I'm lazy I'm impatient I'm always short on time. And nobody has ever complained about the texture of my homemade hummus. I have a fairly high-powered food processor which purees it smooth enough to please our palates.
However, if you are intent on achieving the silkiest, most luxurious of hummus textures, you may certainly peel your chickpeas before blending them. That's right...every single one of them. Individually.
It doesn't actually take as long as it sounds and it's pretty straightforward. Just pinch each chickpea and the skin should pop and slip right off. Discard the skins and proceed with the recipe as directed for amazingly smooth hummus.
But again, if you don't mind a bit of texture, feel free to skip this step. I typically don't peel my chickpeas unless I'm feeling energetic I'm feeling extra patient I have extra time that day.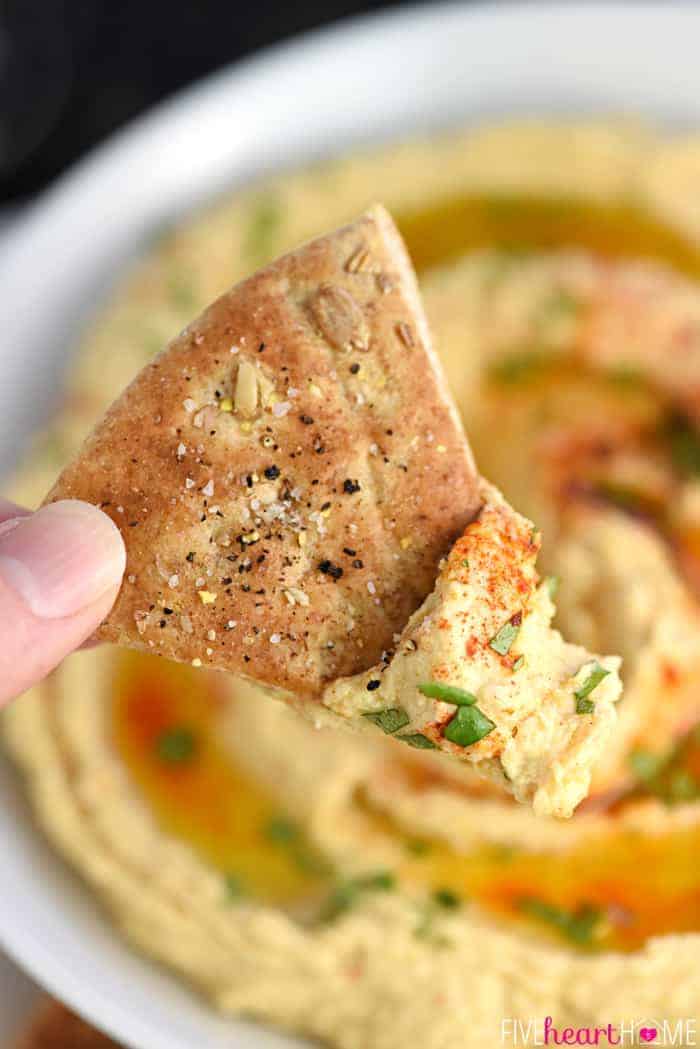 Garnishes
Either way, top off your finished Roasted Garlic Hummus with a drizzle of good-quality extra-virgin olive oil. For a bit more color and flavor, you may also sprinkle the dish with some smoked paprika and minced parsley. And that's it!
Get ready for a fresh, flavorful snack that's, incidentally, way healthier than reaching for that 7th Cadbury Creme Egg. Not that I know anything about that. 😉

More Yummy Dips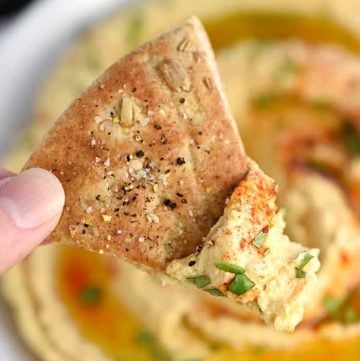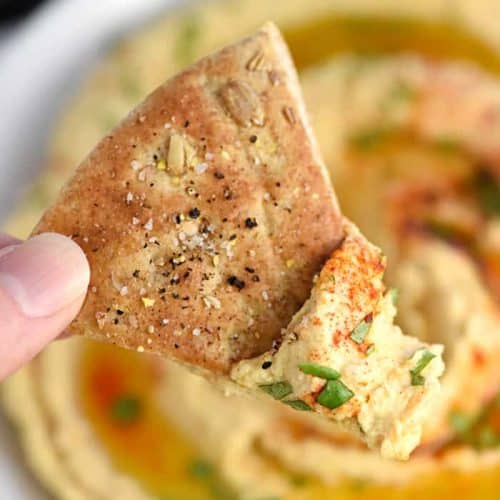 Roasted Garlic Hummus
Mellow roasted garlic is blended with chickpeas, tahini, olive oil, and lemon juice for a fresh, creamy Roasted Garlic Hummus that's delicious with homemade pita chips or crunchy veggie dippers!

Print
Pin
Rate
Servings:
12
servings (approximately 3 cups total)
Ingredients
1

large head of garlic

1

tablespoon

extra-virgin olive oil

2

(15-ounce) cans chickpeas/garbanzo beans (about 3 cups total)

,

liquid drained & reserved

¼

cup

tahini (sesame paste)

¼

cup

extra-virgin olive oil

,

plus additional for garnish

¼

cup

freshly-squeezed lemon juice

,

from about 2 lemons

¾

teaspoon

salt

,

plus additional to taste

⅛ to ¼

teaspoon

cayenne

3 to 4

tablespoons

reserved liquid from canned chickpeas

,

plus additional as needed

Smoked paprika and minced fresh parsley

,

for garnish (optional)

Homemade Pita Wedges, pita chips, crackers, and/or raw vegetable dippers

,

for serving
Instructions
Place the oven rack in the center position and preheat the oven to 400°F. Peel away the outer skin of the head of garlic while leaving all of the cloves intact. Cut a ½-inch slice off the top of the head of garlic so that the cloves are exposed; discard the top. Set the head of garlic on a square of foil, drizzle with 1 tablespoon extra-virgin olive oil, and wrap in the foil. Set on a pan and roast for 40 minutes. Carefully open the top of the foil packet (watch for hot steam!) and use a sharp knife to pierce down into a clove; the garlic should be completely softened and golden brown. If it's not, re-wrap the foil and continue to roast, checking every 5 minutes or so, until garlic is done. Unwrap the garlic and set aside to cool.

Once the garlic is cool enough to handle, squeeze the resulting garlic paste into the bowl of a high-powered blender or large food processor. Add the drained chickpeas, tahini, olive oil, lemon juice, salt, and cayenne, plus 3 tablespoons of the reserved chickpea liquid. Puree until smooth, adding additional chickpea liquid 1 tablespoon at a time until a desirable consistency is reached. Continue to puree for another minute or two until completely smooth, scraping down the sides as needed and seasoning with additional salt to taste, if necessary. At this point, you may discard any leftover reserved chickpea liquid.

Transfer the hummus to a serving dish and swirl the surface. Drizzle the top with extra-virgin olive oil and sprinkle with smoked paprika and minced parsley. Serve with pita wedges or chips, crackers, and/or raw vegetable dippers.
Notes
When I opened my jar of tahini, it was extremely separated and stirring it with a spoon wasn't going to be effective. So I scraped the whole mess into my food processor before beginning the recipe, pureed until the tahini was smooth and incorporated, and then transferred all of it back into the tahini jar. At that point, I proceeded with my recipe (without cleaning out the food processor first), measuring ¼ cup tahini from the jar back into the food processor when the time came.
Calories:
202
kcal
|
Carbohydrates:
22
g
|
Protein:
7
g
|
Fat:
10
g
|
Saturated Fat:
1
g
|
Sodium:
153
mg
|
Potassium:
246
mg
|
Fiber:
6
g
|
Sugar:
4
g
|
Vitamin A:
45
IU
|
Vitamin C:
4
mg
|
Calcium:
47
mg
|
Iron:
2.3
mg