Cook a pot of rice using chicken broth, tomato sauce, and seasonings to make quick and easy Spanish Rice, a delicious side dish for a variety of entrees!

Cinco de Mayo is on the horizon, and a quick search of the blog will reveal that you're already set when it comes to appetizers, main dishes, beverages, heck, even breakfasts! Alas, the only Tex-Mex side dish that I've shared as of yet is the recipe for my simple, flavorful Slow Cooker Charro Beans. But you know what pairs beautifully with those beans? Spanish Rice!
Now I'm not going to get into a debate about what constitutes "authentic" Spanish Rice or why we're talking about Spanish Rice in the first place when Cinco de Mayo is a holiday celebrating old Mexico. All I can tell you is that in Texas, pretty much every Mexican food restaurant serves reddish-orange, tomato-sauce tinged rice as a side dish along with charro or refried beans…and for some reason, it's commonly referred to as Spanish, rather than Mexican, Rice. While some of the restaurants inexplicably adulterate their rice with frozen mixed veggies (???), I think the best versions are plain, with perhaps a few flecks of tomato, and delicately flavored with the same spices you might find in taco seasoning.

MY LATEST VIDEOS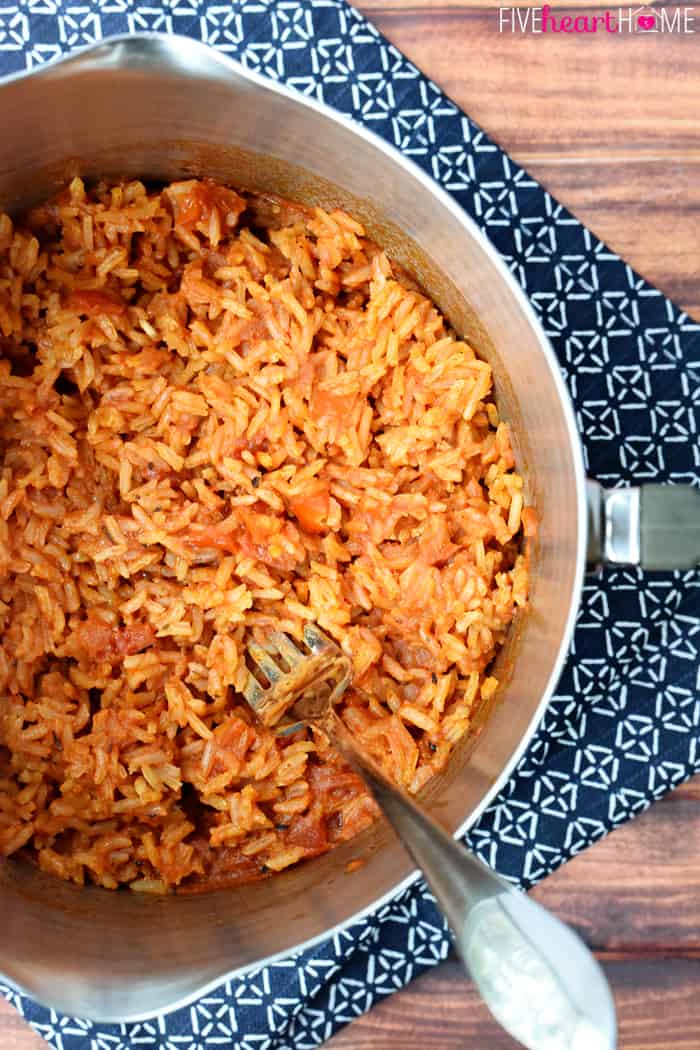 So that, my friends, is how I'm going to demonstrate cooking Spanish Rice today. But here's the thing…over the years, I've had rather inconsistent results when cooking this dish. But the good news is I FINALLY FIGURED OUT WHY. Drumroll, please…
You see, I was always cooking my Spanish Rice according to a set recipe, but I never took into account that different varieties/brands of white rice may have cooking directions that call for varying amounts of water and a whole range of cooking times. So it finally occurred to me that, instead of cooking my rice with a certain amount of liquid for a set amount of time each go-round, it might make more sense to pay attention to the directions on the back of the bag of rice.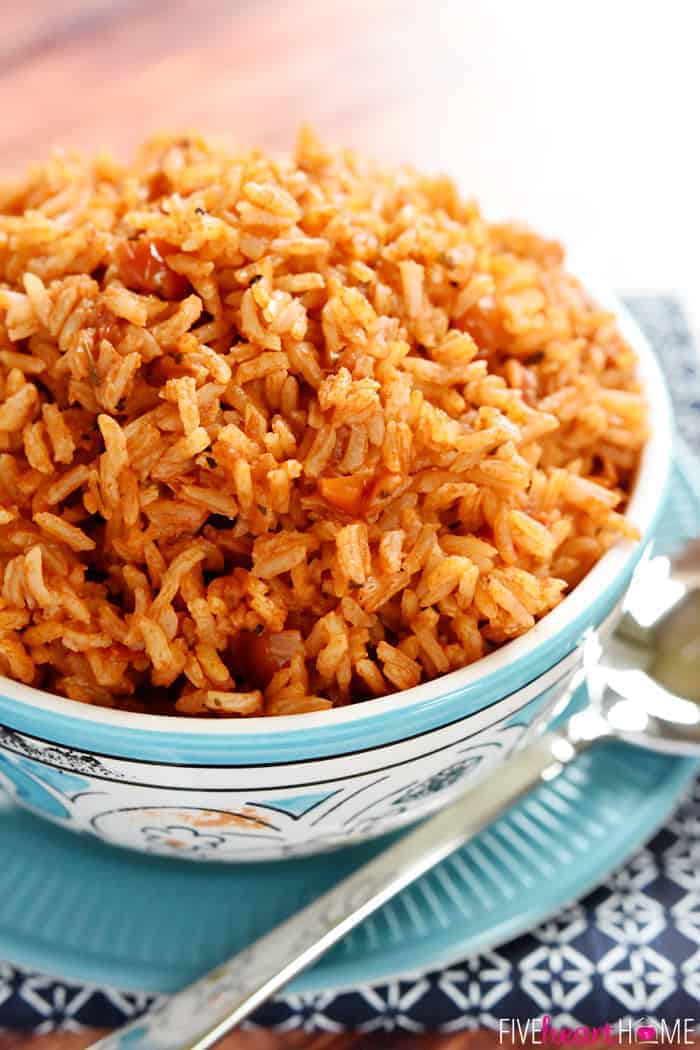 That's right, y'all…this Spanish Rice is basically like cooking a regular ol' pot of rice according to the package directions. But instead of just cooking the rice in water with a bit of salt and possibly butter, you're going to make this Mexican-inspired version by cooking the rice in a combo of chicken broth and tomato sauce. And instead of just flavoring with salt, you're going to add chili powder, cumin, garlic salt, and dried oregano. But the key is you're going to use the total amount of liquid dictated by the particular brand of white rice that you're using, and you're also going to follow its specified cooking time!
I like to keep my chicken broth to tomato sauce ratio at about 50/50, leaning towards slightly more chicken broth/slightly less tomato sauce depending on my measurements. So if my bag of rice called for 1 cup of rice to 2 cups of water, I would use 1 cup of rice, 1 cup of chicken broth, and 1 cup of tomato sauce. The brand of rice that I have in my pantry right now calls for 1 cup of rice to 1 3/4 cups of water. So to make today's Spanish Rice, I used 1 cup of rice, 1 cup of water, and 3/4 cup of tomato sauce. Does that make sense?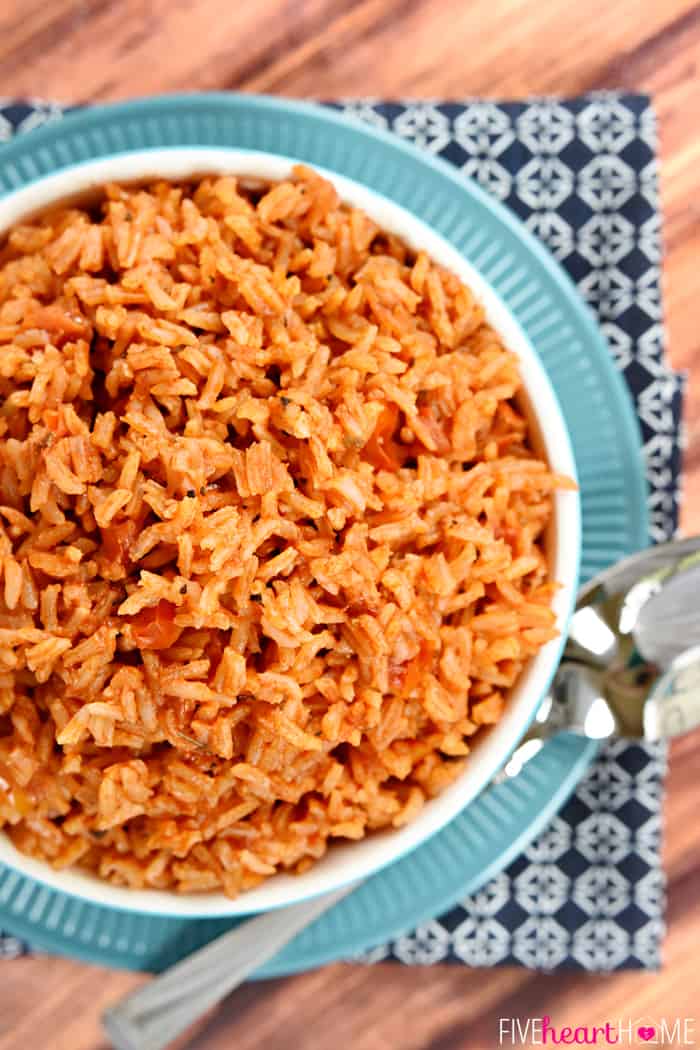 The same goes for cooking time…I initially toast my rice in oil for a few minutes, but then I just follow the directions on the bag of rice, which today dictated simmering for 20 minutes or so. The final result? Perfectly cooked rice every time!
Oh, and as one final side note, this rice need not merely serve as a side dish. On the day that I made it for the blog, I happened to have some leftover Slow Cooker Chicken & Black Bean Taco filling in the fridge, which we'd already enjoyed in tacos earlier in the week. So when I found myself with this fluffy pot of Spanish Rice, I decided to serve it rice bowl-style, topped with the leftover shredded chicken, as well as big chunks of creamy avocado, generous dollops of salsa, and a shower of fresh chopped cilantro. It was so darn tasty that my family went crazy over it…and I felt pretty clever at my new dinnertime invention. 😉
So are you a fan of red/Spanish/Mexican/whatever-you-prefer-to-call-it rice? Have you ever made it yourself at home? Whether it's Cinco de Mayo or Taco Tuesday, I encourage you to give it a try! It's simple to make as well as simply tasty, and who's going to argue with that?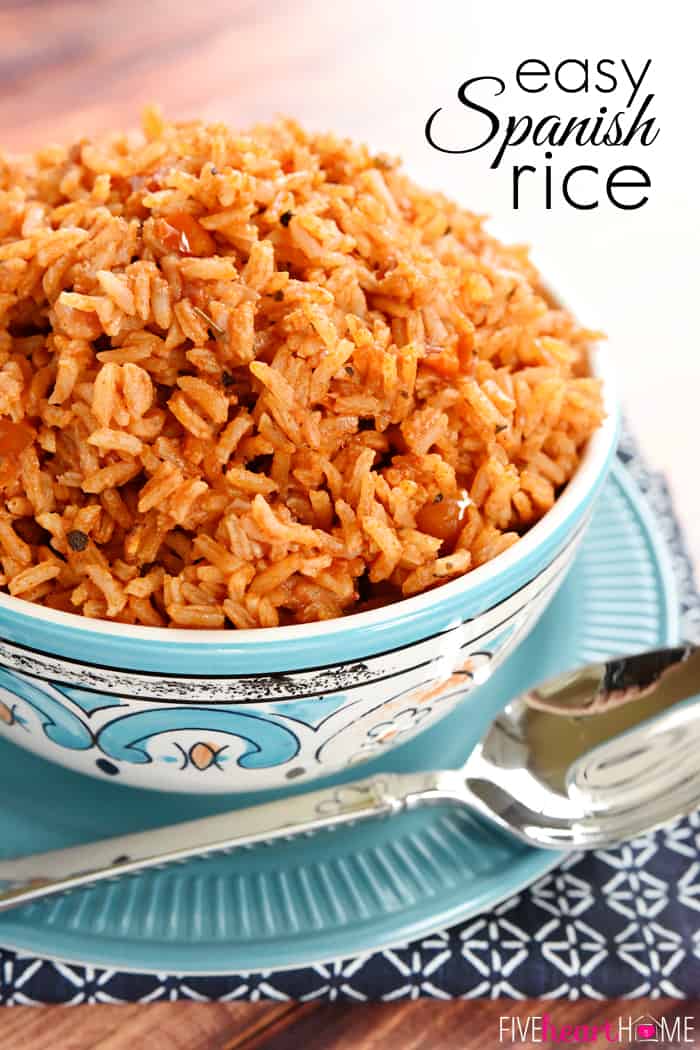 Helpful Tips, Tricks, & Equipment
(some affiliate links below)
The amounts of liquid in this recipe should be considered a guideline. Follow the directions on your bag of rice to determine how much liquid to use (per 1 cup of rice) when you make your Spanish Rice. For example, if your bag of rice calls for 2 cups of water to every 1 cup of rice, substitute 1 cup chicken broth and 1 cup tomato sauce for that water. I keep the ratio of chicken broth/tomato sauce at about 50/50, leaning towards more chicken broth and less tomato sauce, if necessary. So if my rice called for 1 3/4 cups of water for cooking, I'd use 1 cup chicken broth and 3/4 cup tomato sauce to make this Spanish Rice.
After you have toasted your rice, stirred in the remaining ingredients, brought it to a boil, and then reduced it to a simmer, finish cooking your rice based on the number of minutes listed in the directions on the bag of rice.
If you'd like to add some diced, drained green chiles (mild) or jalapenos (hot), stir those in at the same time as the diced tomatoes.
Garnish this rice with fresh cilantro and/or salsa, if desired. Serve as a side dish or as a base for a rice bowl.
Recipe video below…hope y'all enjoy!
Cook a pot of rice using chicken broth, tomato sauce, and a few seasonings to make this quick and easy Spanish Rice. It's the perfect base for rice bowls or a delicious side dish to your favorite Mexican entrees!
Ingredients
1 tablespoon extra-virgin olive oil
1 tablespoon butter
1 cup white rice
Approximately 1 cup chicken broth or stock (see

Tips & Tricks

below)
Approximately 1 cup tomato sauce or puree (see

Tips & Tricks

below)
1 1/2 teaspoons chili powder
1 teaspoon cumin
1/2 teaspoon garlic salt
1/2 teaspoon dried oregano
1/4 cup diced fresh tomatoes, seeded & drained (optional)
Instructions
In a medium saucepan set over medium heat, melt together olive oil and butter. Add rice and stir to coat with oil/butter. Cook, stirring frequently, for about 2 to 3 minutes, until rice is toasted.
Stir in chicken broth, tomato sauce, chili powder, cumin, garlic salt, oregano, and diced tomatoes (if using). Increase heat to high and bring to a boil, stirring occasionally. Stir well, reduce heat to low, place lid on pot, and cook at a gentle simmer for 20 minutes (see

Tips & Tricks

below). If rice is not quite tender or liquid is not absorbed after 20 minutes, replace lid and cook for 2 to 4 minutes longer. Remove from heat, leave covered, and allow to rest for a few minutes. Fluff rice with a fork and serve.
https://www.fivehearthome.com/easy-spanish-rice/
https://fivehearthome.com ~ All recipes and images on Five Heart Home are copyright protected. Please do not use without my permission. If you would like to feature this recipe, please rewrite the directions in your own words and give proper attribution by linking back to this blog.
Post originally published on April 30, 2015.
More Tex-Mex favorites…
 Mexican Martini {Trudy's Copycat}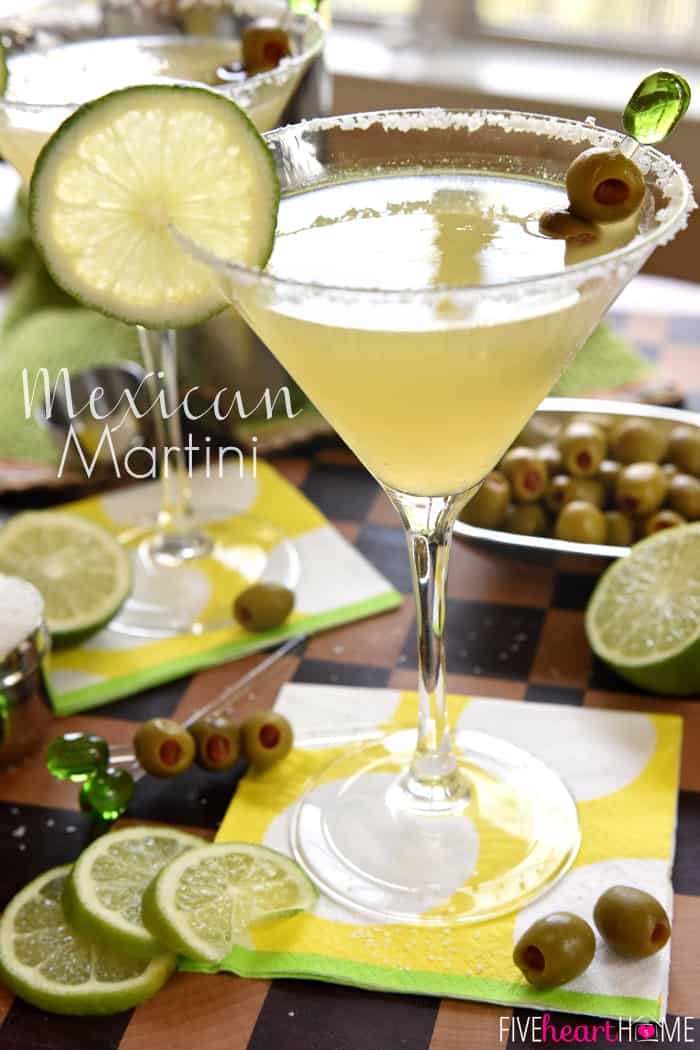 Slow Cooker Carnitas Tacos {Mexican Pulled Pork}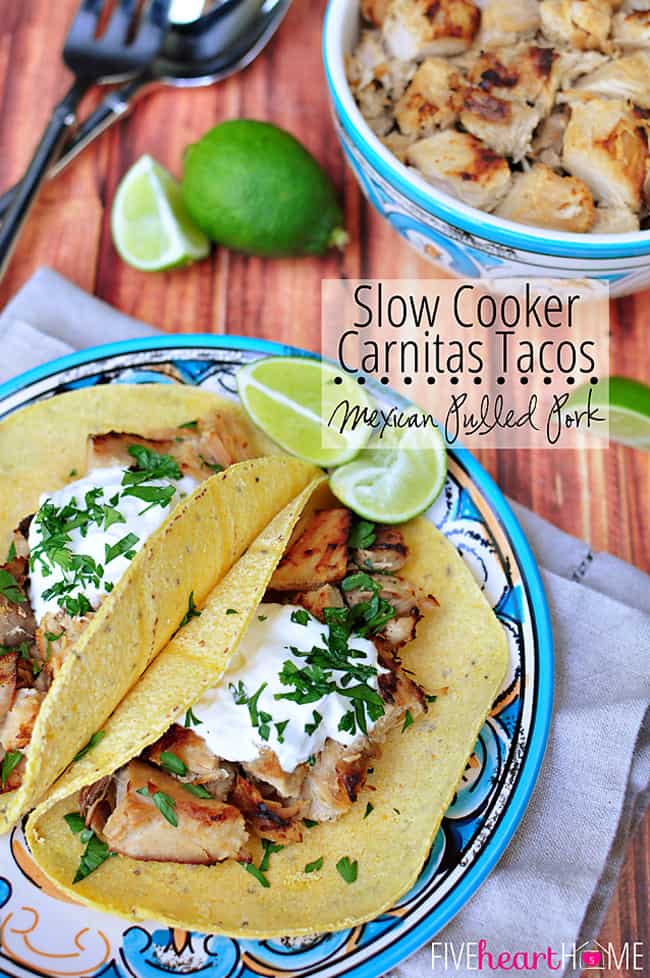 Creamy Dreamy Chicken Enchiladas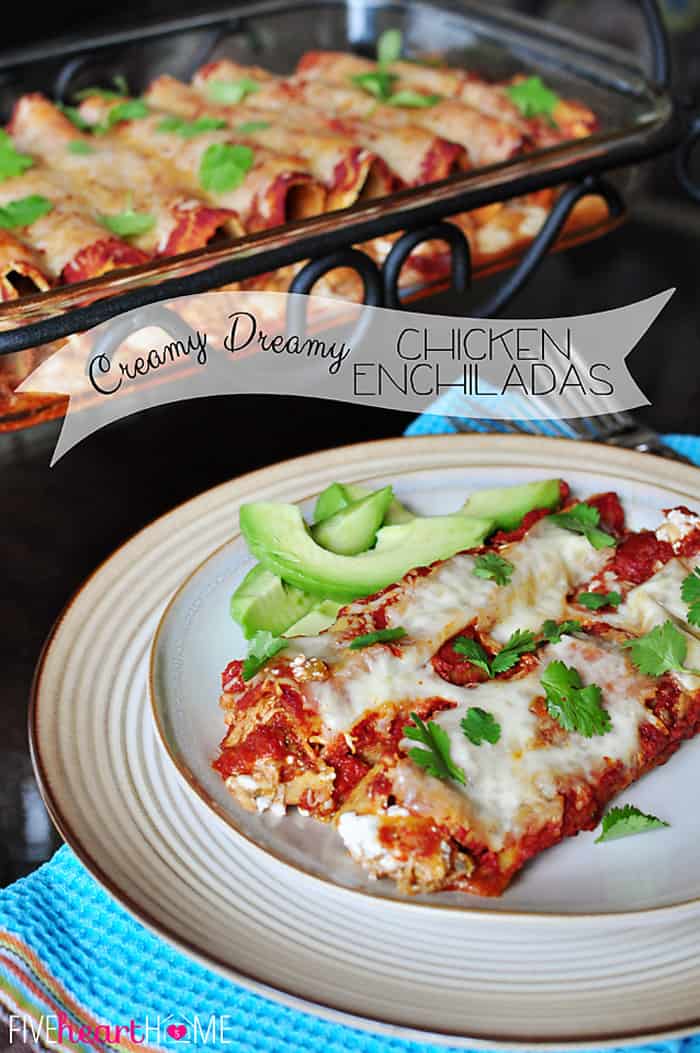 Roasted Texas Salsa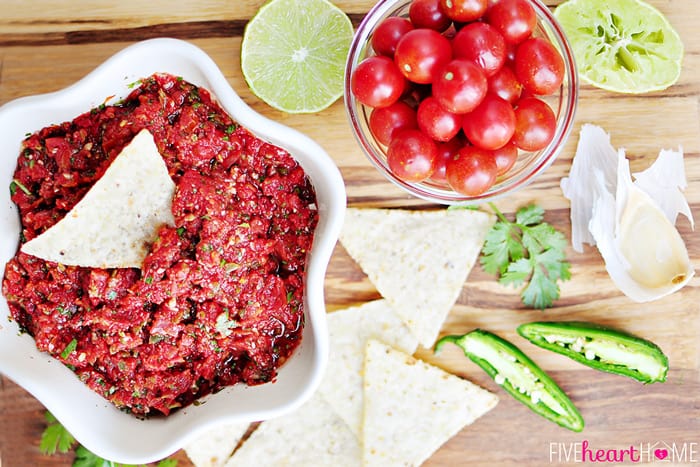 637