Twice-Baked Sweet Potatoes are the perfect Thanksgiving side dish, featuring a smooth, creamy filling and a topping of either toasty marshmallows or crunchy pecan streusel!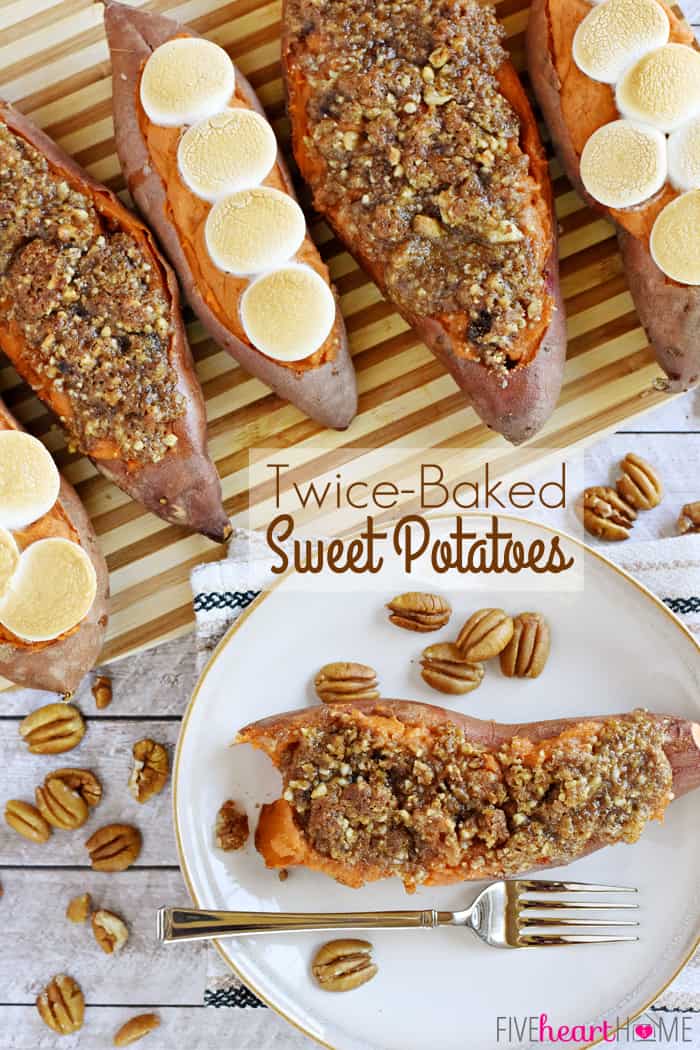 If you enjoy sweet potatoes, you'll also love Slow Cooker Sweet Potato Casserole and Savory Roasted Sweet Potatoes with Rosemary & Parmesan!
November has arrived and that means one thing...time to start thinking about the ol' Thanksgiving menu. And this year, that menu is going to include these delectable Twice-Baked Sweet Potatoes!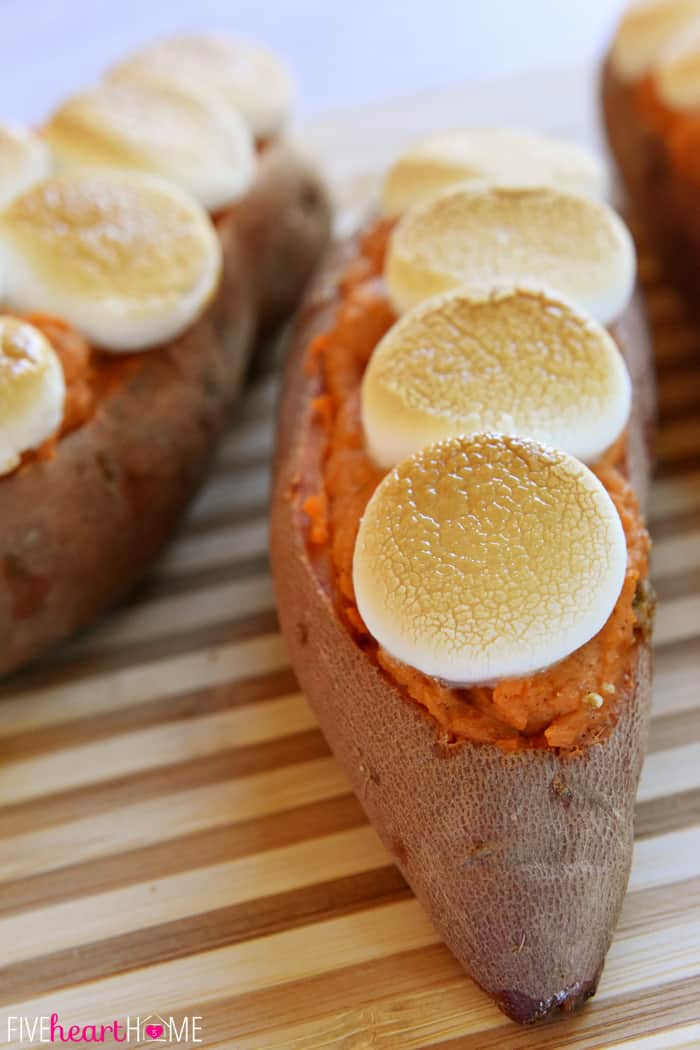 I don't know about y'all, but one of the dishes I must have on my Turkey Day table each year is sweet potatoes. I realize that some people are solidly in the mashed potatoes camp -- and don't get me wrong, I love those, too! But growing up, my mom always had some sort of sweet potato side dish to accompany the turkey. So to me, Thanksgiving just wouldn't feel like Thanksgiving without them!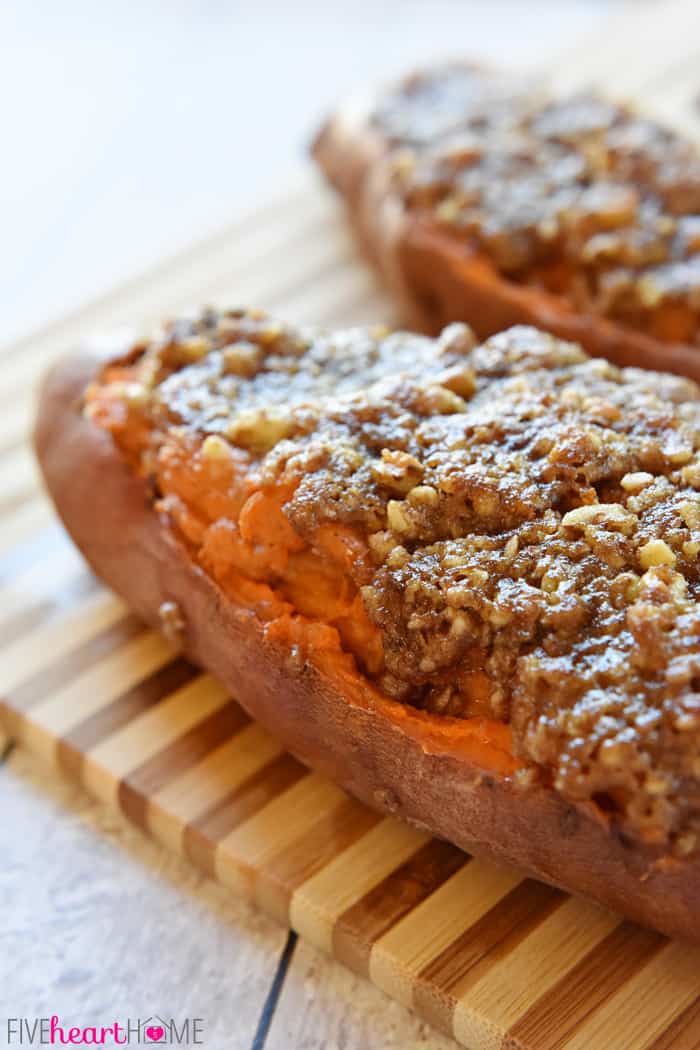 Topping Options
When I was a kid, our sweet potato casserole was typically crowned with fluffy, puffy marshmallows. And as yummy as those were, in recent years, I've taken to finishing off my sweet potatoes with a pecan streusel topping instead.
So when I had the idea to create some Twice-Baked Sweet Potatoes for y'all today, I couldn't decide which direction to go with the topping...gooey, toasty marshmallows or buttery, sugary pecan streusel?
So guess what? I did both! What's nice about this recipe is that you can make as many individual potatoes as you need, and you can top some with marshmallows and some with pecan-packed streusel so that everybody gets what they want. And while the filling tastes like smooth, creamy, sweet potato casserole, the presentation is a bit more special.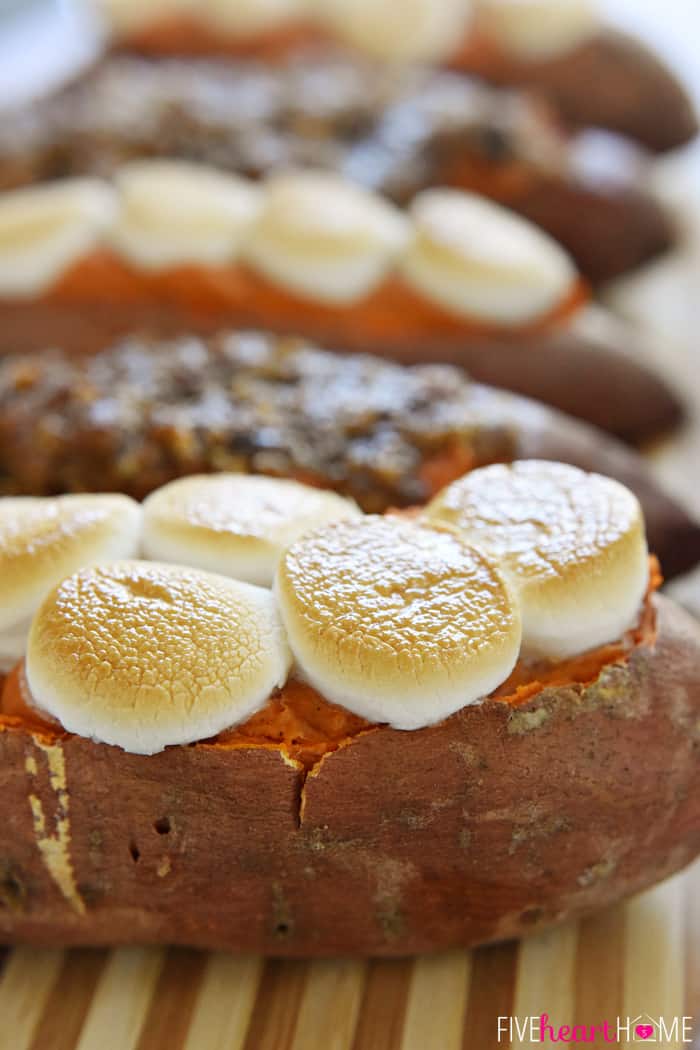 How to Make Them
I started out prepping these babies in the same way you would fix regular twice-baked potatoes.
First, simply scoop out the flesh of the sweet potatoes, making sure to leave a sturdy shell.

Mash the sweet potato flesh and add maple syrup, vanilla, cinnamon and spices, butter, and a touch of cream cheese (for extra creaminess). Then whip until light and fluffy.
Scoop it into a gallon-sized plastic baggie...
...and snip a hole in the corner, creating an easy, disposable piping bag.
This allowed me to pipe the sweet potato filling back into the shells. Now I didn't do this step to get all fancy on you…I just found it to be quicker, easier, and less messy than using a spoon to get all of the sweet potato filling where it belonged.

Now it's time for the best part...the topping! If you prefer to go the marshmallow route, simply cram as many as you can fit on top of the filling. Mini marshmallows would work great, but I only had jumbo marshmallows on hand, so I sliced them in half and placed them cut-side-down onto my sweet potatoes.If streusel is more your thing, all you need to do is cut together some butter, flour, brown sugar, pecans, cinnamon, and salt, and pile it on top for a caramelized veneer of pecan deliciousness. Doesn't get much easier than that!

A final stint in the oven and your Thanksgiving menu is complete!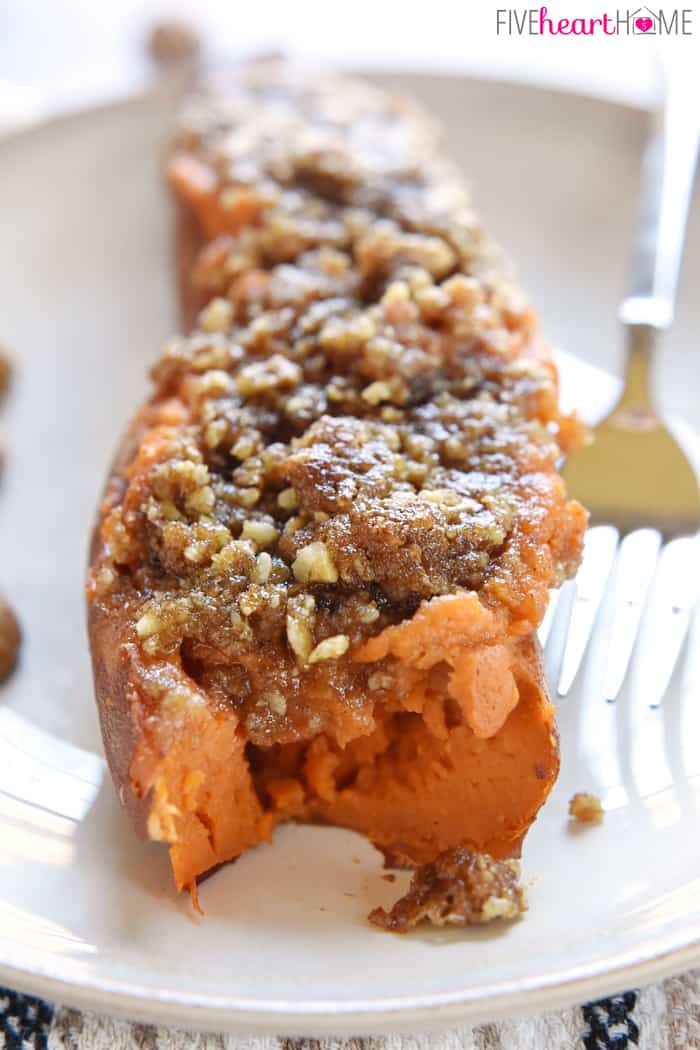 Actually, these would make a tasty accompaniment to just about any meal, whether it's a special occasion, a holiday, or just a regular weeknight dinner.
Because not only are those toasty marshmallow tops pretty, and not only is that crunchy pecan streusel to-die-for...but who's going to argue with a side dish that tastes like dessert?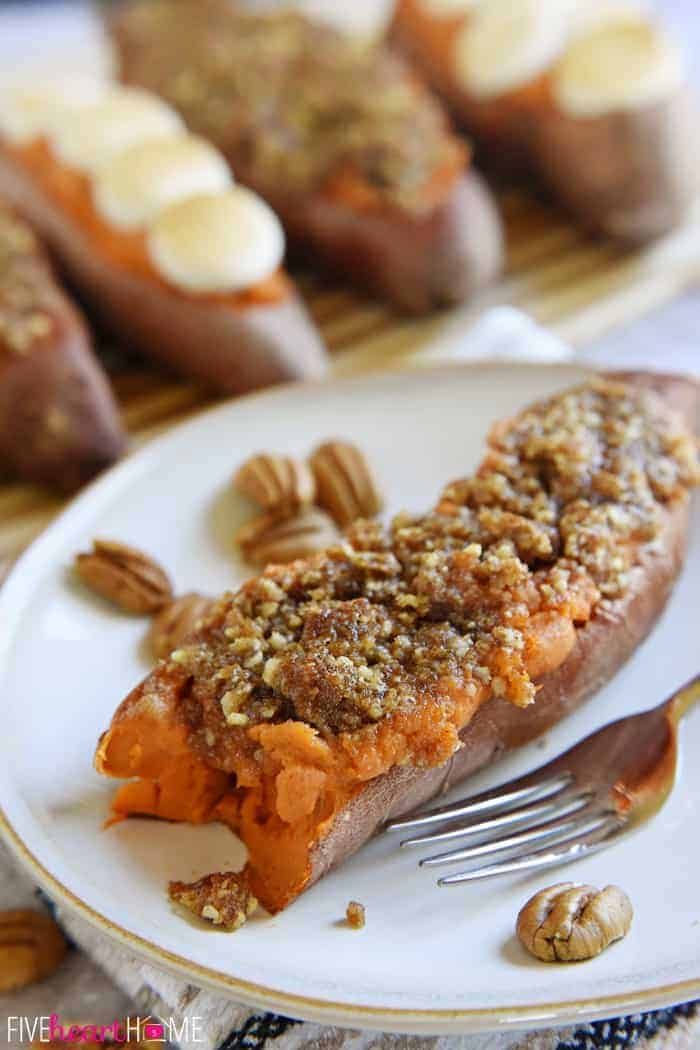 And now I've got to know...what's your preference? Marshmallows, pecans, or are you indecisive like me and planning on going for both? 😉
More Thanksgiving Recipes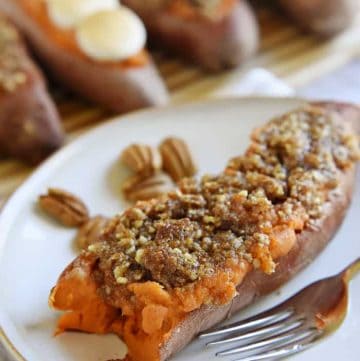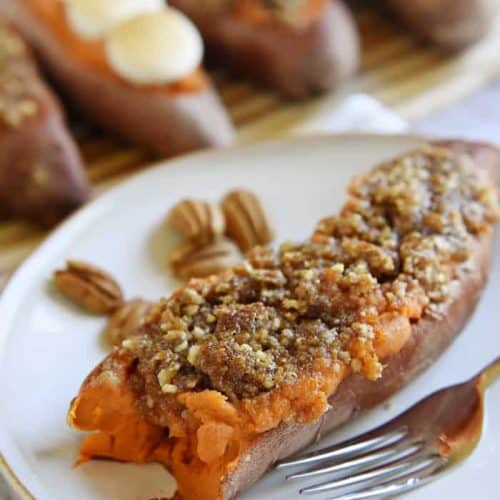 Twice-Baked Sweet Potatoes
Twice-Baked Sweet Potatoes are the perfect Thanksgiving side dish, featuring a smooth, creamy filling and a topping of either toasty marshmallows or crunchy pecan streusel.
Print
Pin
Rate
Ingredients
6

medium-sized sweet potatoes

6

tablespoons

maple syrup

4

tablespoons

unsalted butter

,

at room temperature

2

ounces

cream cheese

,

at room temperature

2

teaspoons

vanilla

1

teaspoon

cinnamon

½

teaspoon

salt

¼

teaspoon

nutmeg

¼

teaspoon

ground ginger
FOR PECAN STREUSEL:
6

tablespoons

unsalted butter

,

at room temperature

6

tablespoons

brown sugar

½

c.

finely chopped pecans

3

tablespoons

flour

¼

teaspoon

cinnamon

⅛

teaspoon

salt
FOR MARSHMALLOW TOPPING:
Mini marshmallows or jumbo marshmallows

,

cut in half
Instructions
Adjust oven rack to center position and preheat oven to 375°F. Line a large rimmed baking sheet with foil. Wash sweet potatoes, scrubbing off any dirt, and pat dry. Arrange potatoes on baking sheet and cook for 1 hour.

While the potatoes are baking, prepare pecan streusel by using a fork or pastry blender to cut together butter, brown sugar, pecans, flour, cinnamon, and salt until well blended. (Or you may pulse the streusel together in a food processor, if that's easier.)

After an hour of cooking time, insert a fork into the center of each potato. If potatoes are not done, bake for 15 more minutes or until completely tender.

Using an oven mitt or kitchen towel to handle hot potatoes, slice a thin piece off the top of each sweet potato and discard. Scoop out the flesh from each sweet potato, leaving a ¼-inch layer intact to create a sturdy shell. Transfer the potato pulp to a bowl and mash well with maple syrup, butter, cream cheese, vanilla, cinnamon, salt, nutmeg, and ginger, stirring until smooth and well blended (I use an electric stand mixer for this step).

Scoop the sweet potato mixture into a gallon-sized plastic baggie and twist the top closed to create a piping bag. Cut a 1-inch piece off one corner of the bag and pipe the mixture into the sweet potato shells, evenly dividing it between them (alternatively, you may use a spoon to fill the shells).

Top each sweet potato with pecan streusel. Bake for 10 minutes. If desired, broil for an additional 1 to 2 minutes or until lightly browned. If using marshmallows, bake for 7 to 10 minutes, watching closely until desired level of toastiness is reached.
Notes
If some of your potatoes are larger than others, you may have to pull the smaller ones out of the oven after an hour and bake the remainder for an additional 15 minutes.
Since the size and sweetness of sweet potatoes can vary, add the ingredients gradually and adjust the maple syrup and seasonings to taste. I typically start with 4 tablespoons maple syrup and ¼ teaspoon salt. I add additional maple syrup (1 tablespoon at a time) and more salt (¼ teaspoon at a time) until everything tastes just right.
The pecan streusel recipe above is enough to top 6 sweet potatoes. If you want to top some of your sweet potatoes with marshmallows, reduce the streusel recipe accordingly.
Calories:
566
kcal
|
Carbohydrates:
58
g
|
Protein:
5
g
|
Fat:
36
g
|
Saturated Fat:
15
g
|
Cholesterol:
61
mg
|
Sodium:
352
mg
|
Potassium:
593
mg
|
Fiber:
6
g
|
Sugar:
30
g
|
Vitamin A:
19165
IU
|
Vitamin C:
3.3
mg
|
Calcium:
103
mg
|
Iron:
1.6
mg
This recipe was originally shared as a contributor post at Lil' Luna.