Slow Cooker Honey Cinnamon Carrots are a sweet, buttery, addictive side dish and an easy recipe for freeing up the oven, on a holiday or any day!

Apparently I don't keep resolutions very well. When I wrapped up my final recipe for the cookbook a few weeks ago, I swore off slow cookers for awhile. In fact, I actually put away the three slow cookers that have been in constant use and permanently residing on my kitchen counter for the past, ohhh, six months. And after such a long separation, it was nice to revisit my oven for awhile.
But wouldn't you know it? Look who's back. Because really, how can anyone stay away from such a handy dandy kitchen appliance for very long? Let's face it…slow cookers just make life easier. Sometimes they mean that dinner is ready when you are, without the 5:00 what-the-heck-am-I-going-to-make dilemma or the hectic evening cooking rush. Other times, slow cookers equal salvation when holiday menu completion has you short on oven space and stove top real estate.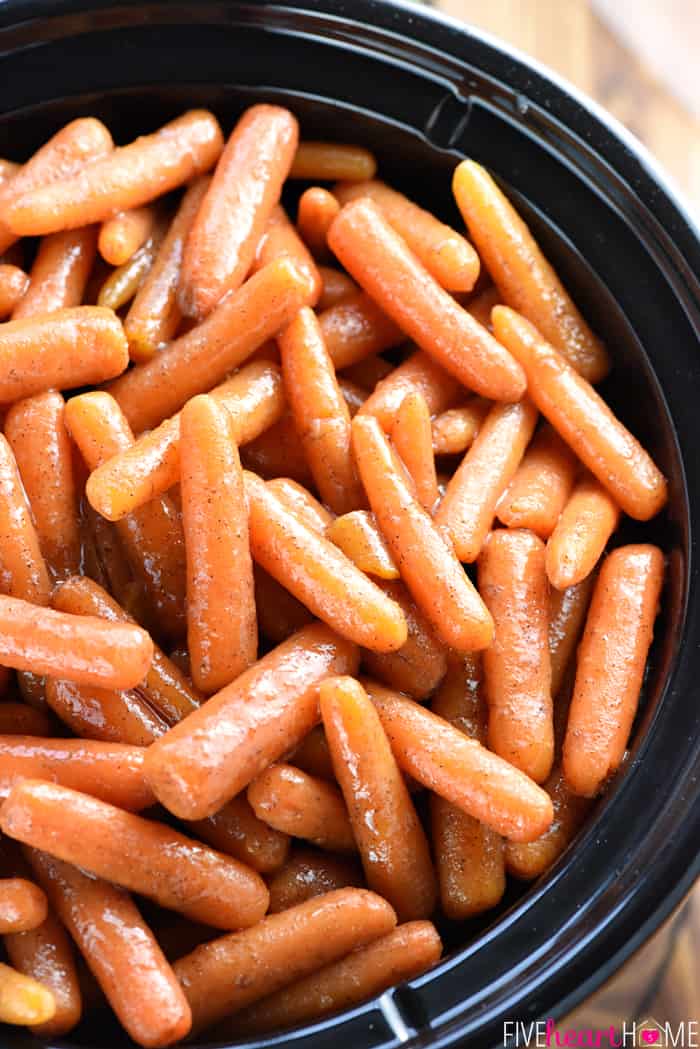 MY LATEST VIDEOS
The latter case is where these Slow Cooker Honey Cinnamon Carrots come in. Have you heard that Easter is right around the corner? Well, my friends, these sweet and glossy little beauties would make the perfect accompaniment to ham. Their cinnamon-kissed honey butter glaze makes them not only delectable, but addictive. We may as well just refer to them as carrot candy from here on out, y'all.
The combination of honey and cinnamon always reminds me of a sopapilla, yet cinnamon gives carrots an almost sweet potato casserole or pumpkin pie-like quality. So guess what that means? This recipe is not limited to Easter. It would also be a popular accompaniment to Thanksgiving or Christmas dinner. For that matter, this is not simply a holiday recipe! I have no doubt that your family would be thrilled to pile their plates with some Slow Cooker Honey Cinnamon Carrots on any ol' Tuesday.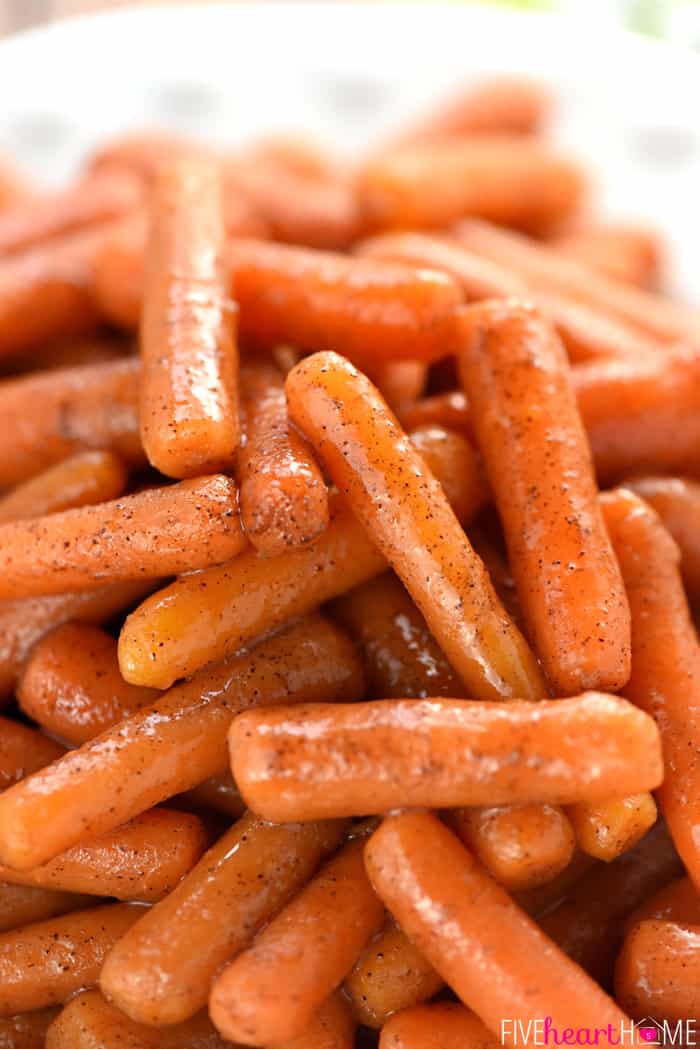 Now for a few recipe notes. To get the obvious out of the way, these carrots are so easy to make. They're initially slow cooked in melted butter, a bit of salt, and an optional splash of bourbon, which adds a layer of flavor without making the carrots overtly taste like whiskey. And I should know, because I strongly dislike bourbon and would not enjoy these carrots if they tasted like it. But they don't, so I do, and I think you will, too! (Confused much?)
After the carrots are tender, golden honey is stirred in, along with cinnamon and a bit of pure vanilla extract, which combine with the butter to create a glorious glaze. From there, you can just set your slow cooker to WARM until mealtime. Gently stir the carrots before serving, and don't forget an extra drizzle of glaze over your plated carrots, because cinnamonhoneybutterYUM.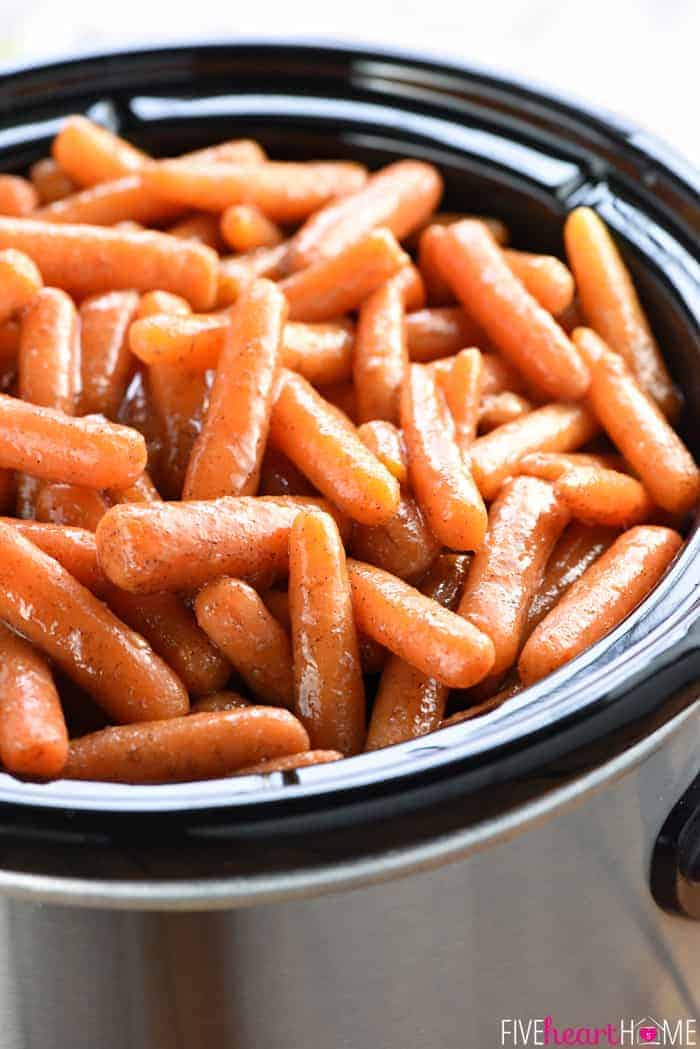 Speaking of stirring, I feel the need to quickly explain the photos accompanying this post. I actually cooked my carrots in a large, oval, 6-quart slow cooker. I only transferred them to this smaller, 3-quart slow cooker for photography purposes, because the carrots were down at the bottom of the larger slow cooker and it was hard to take pictures with all of those shadows.
While the carrots would have easily fit in my smaller slow cooker, I preferred cooking them in my larger model because it gave me room to carefully stir them after adding the honey. By that point, of course, the carrots were soft and tender, and a small, crowded slow cooker could have resulted in them becoming inadvertently chopped up while trying to incorporate the sticky honey with a spoon. I probably wouldn't have cared about slightly mutilated carrots if we were just going to be eating them, but again, blog photos. It's really up to you as to what size slow cooker to use, but I think the carrots are a bit easier to stir in a larger one.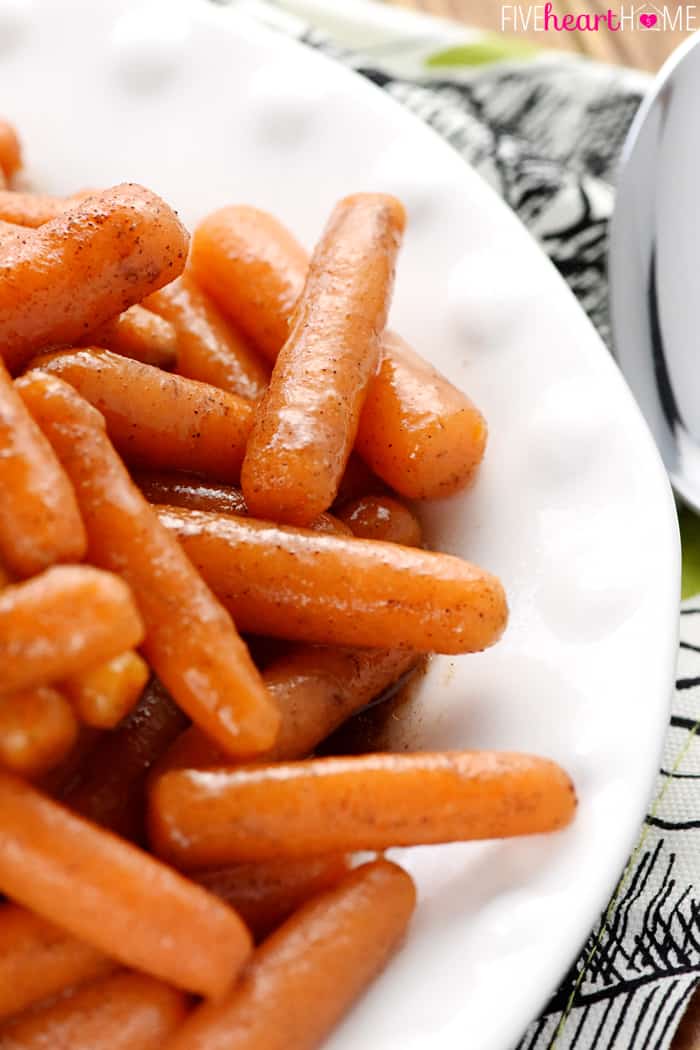 So it's decided. You'll be making Slow Cooker Honey Cinnamon Carrots for Easter! But hmmm…with what are you going to serve them? Well, you juuust may be in luck! My little family o' five has some Spring Break'in to do this week, and between getting ready for our travels and book deadlines this past week, I ran out of time to whip up a recipe for my next post. So instead, I do believe I'll be putting together a drool-worthy, comprehensive, totally helpful Easter Recipe Meal Planner round-up for y'all! In other words? A plethora of spring-inspired main dishes, sides, drinks, and desserts, all in one super convenient place! So I'll see you back here next week for that. In the meantime, if you'd like to see where our imminent Texas road trip takes us, I'd love to have you follow along on Instagram. 🙂 And if you're heading somewhere for Spring Break, have a safe and fun one!
Now for those yummy, effortless carrots…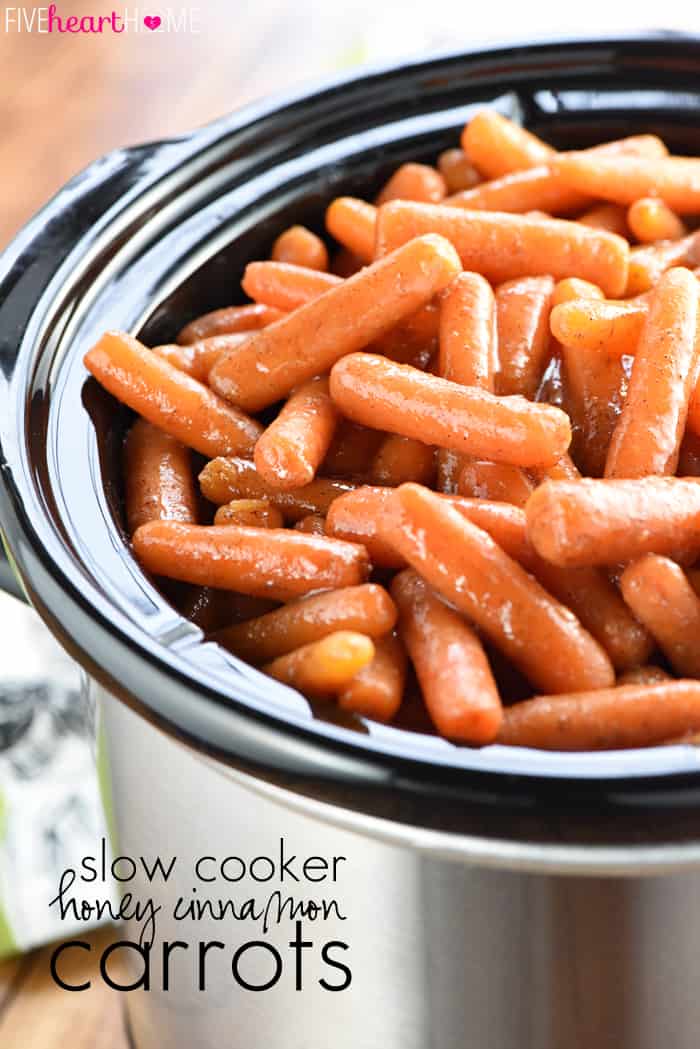 See how easy it is to make this recipe in the below video…
…or, if you prefer, here's a recipe for making the same glazed carrots in the pressure cooker! >>> INSTANT POT HONEY CINNAMON CARROTS
Slow Cooker Honey Cinnamon Carrots
Slow Cooker Honey Cinnamon Carrots make a sweet, buttery, and addictive side dish...the perfect easy recipe for freeing up the oven and feeding a crowd, on a holiday or any day!
Ingredients
2 pounds baby carrots (or whole carrots, peeled & sliced into 2-inch chunks)
1/4 cup melted butter
3/4 teaspoon salt
1 tablespoon bourbon whiskey (optional)
1/4 cup honey
1/2 teaspoon pure vanilla extract
1 teaspoon ground cinnamon
Instructions
Place carrots in the bottom of a slow cooker (I used a 6-quart...choose a size that's large enough to allow room for stirring). Stir salt and bourbon into the melted butter. Pour over the carrots in the slow cooker and toss until evenly coated. Cover and cook for 6 to 8 hours on LOW (or 3 to 4 hours on HIGH) until carrots are tender.
Drizzle cooked carrots with honey and vanilla and sprinkle with cinnamon. Gently stir until carrots are evenly coated with butter/honey/cinnamon mixture. Set slow cooker to WARM until ready to serve and stir well before stirring.
Notes
Adding 1 tablespoon bourbon does not make these carrots taste like whiskey. However, feel free to stir in additional bourbon if you'd like a stronger, more noticeable flavor.
https://www.fivehearthome.com/slow-cooker-honey-cinnamon-carrots-holiday-easter-side-dish-recipe/
https://fivehearthome.com ~ All recipes and images on Five Heart Home are copyright protected. Please do not use without my permission. If you would like to feature this recipe, please rewrite the directions in your own words and give proper attribution by linking back to this blog.
Post originally published on March 10, 2016.
More Easter recipe ideas…
The ULTIMATE Easter Recipe Menu Planner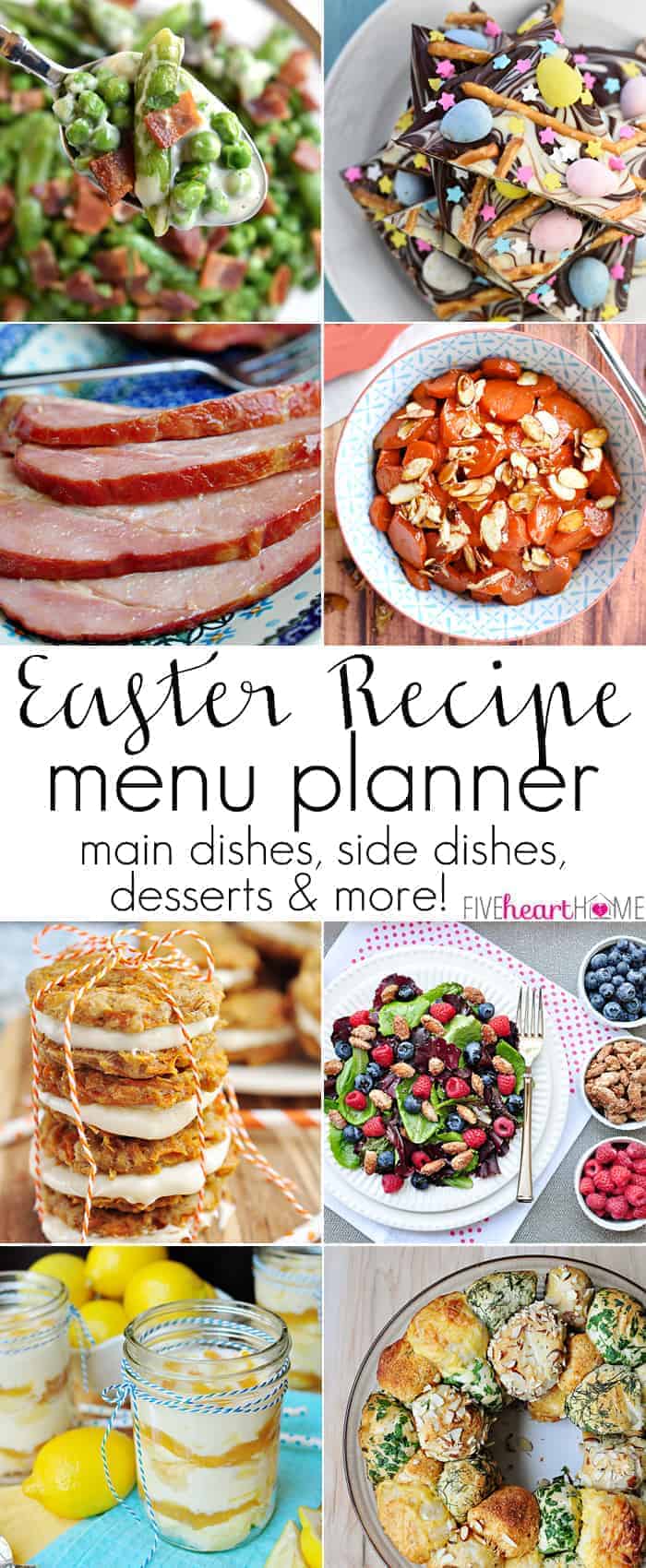 124