With warm, tender red potatoes and a sweet, tangy dressing loaded with bacon and garlic, this German Potato Salad is a perfect side dish for any occasion, from a grilled dinner to a summer holiday potluck.

My kids still have two more weeks of school to go before summer vacation commences, but I understand that some schools across the country have already let out. Well, between that and Memorial Day weekend coming up, I would say that summer grilling season is upon us! And what goes better with dinner from the grill than potato salad?!
If you are on the hunt for a classic, mayonnaise-based potato salad, I shared a family-favorite recipe for that one last summer. Please just promise me that you won't judge that post too harshly! I had only been blogging for less than a month, my photography was sub-par (though I recognize that, almost a year later, I still have a long way to go!), and an unfortunate incident involving my 3-year-old left me with only one photo to post. Go ahead…hop over and read what happened…I'll wait here until you get back. 🙂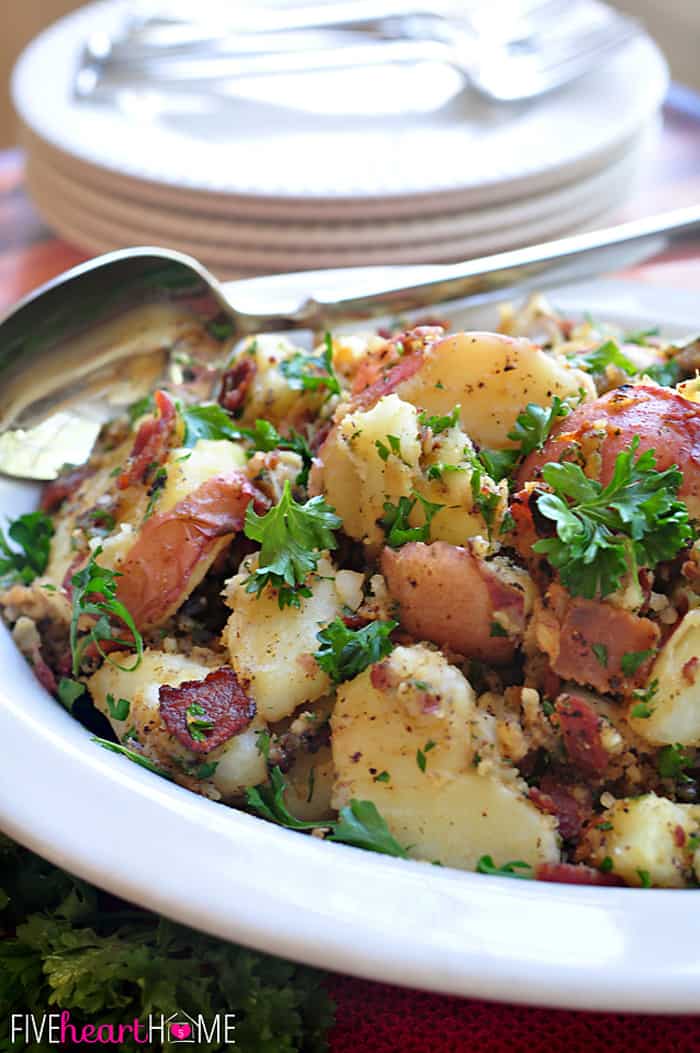 Back already? Well aren't you a speedy reader! Anyway, let's just say that I made sure that my now-4-year-old was in preschool before putting together and photographing this recipe. No treasured glass bowls were harmed in the making of today's potato salad… 😉
Ah, yes…today's potato salad. It's actually my take on a famous variety of German Potato Salad…and if you've never enjoyed this variation, please promise me that you will change that this summer! What's funny is that my mom is from Germany, yet growing up, she only ever made us traditional, American potato salad. This type of German Potato Salad, on the other hand, is not creamy nor loaded with mayonnaise. Rather, it features red potatoes and bacon. You could stop at the mere mention of bacon and that would be enough for me. But this recipe takes it even further!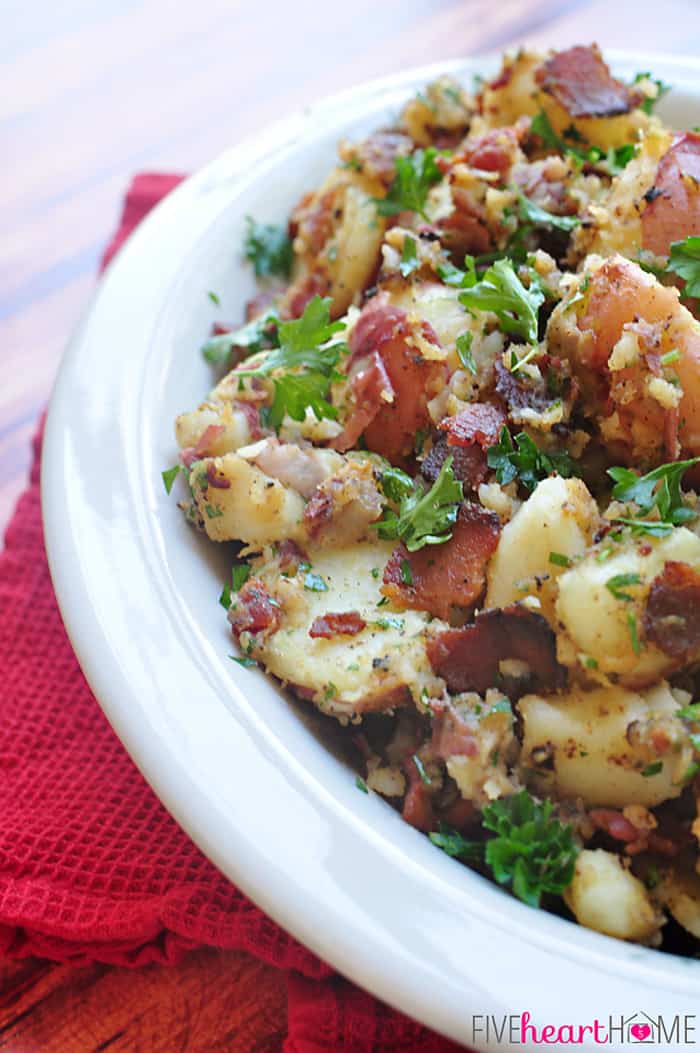 Once you fry your bacon, you actually add apple cider vinegar, Dijon mustard, and sugar to the leftover hot bacon grease. After allowing the mixture to simmer for a couple of minutes, you throw in some garlic and then toss your cooked potatoes in the sizzling mixture. The result is that the potatoes soak up all of that bacon-y, vinegar-y, sugary goodness, leaving you with potato salad that's tangy, salty, and sweet all at the same time. Oh, and don't forget to stir in your cooked, crumbled bacon and some fresh chopped parley as well. Yes, friends, this potato salad is (in one word…or three syllables): DE-LI-CIOUS!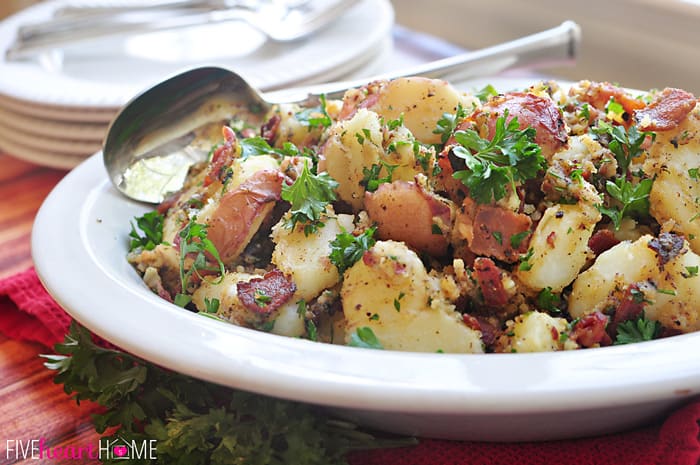 I think that this salad is best served hot or warm, but it's also tasty at room temperature if it starts to cool down before serving. It's a side dish that can readily go from grillside to potluck to picnic without too much stress over keeping it iced down. Of course, this potato salad (as well as any food prone to spoiling) should not sit at room temperature for more than two hours before being refrigerated.
So have I convinced you to try German Potato Salad this summer and/or add it to your Memorial Day or Independence Day menu? Whatever the occasion, I guarantee that it will disappear like that! The batch you see here vanished in a flash…and fortunately, this time, that was thanks to ravenous appetites and not toddler-induced spillage. 😉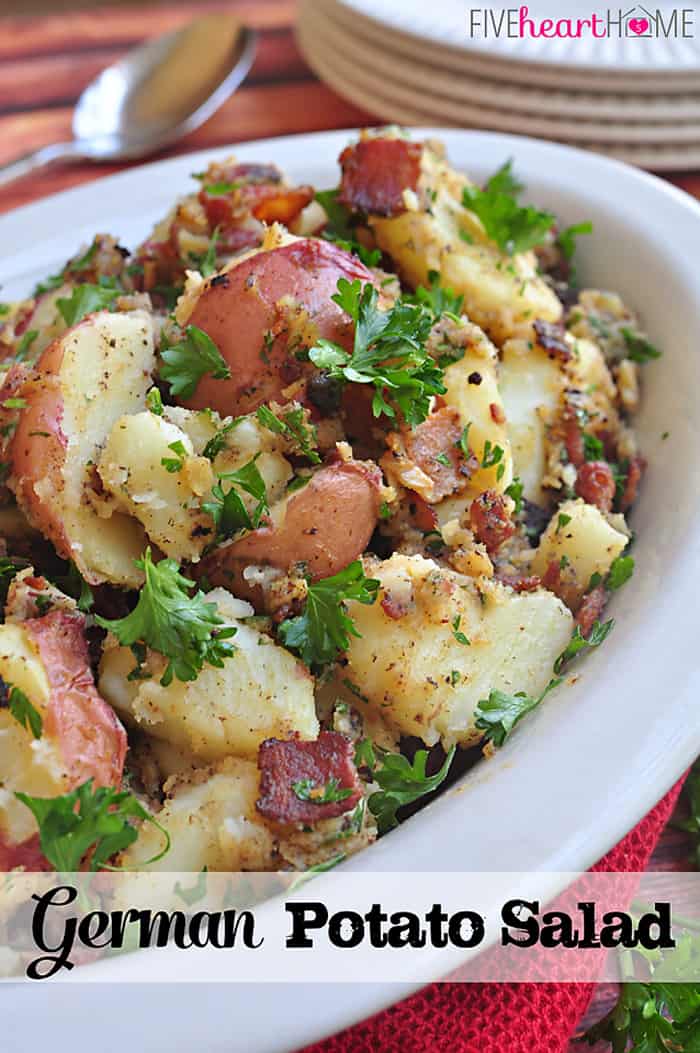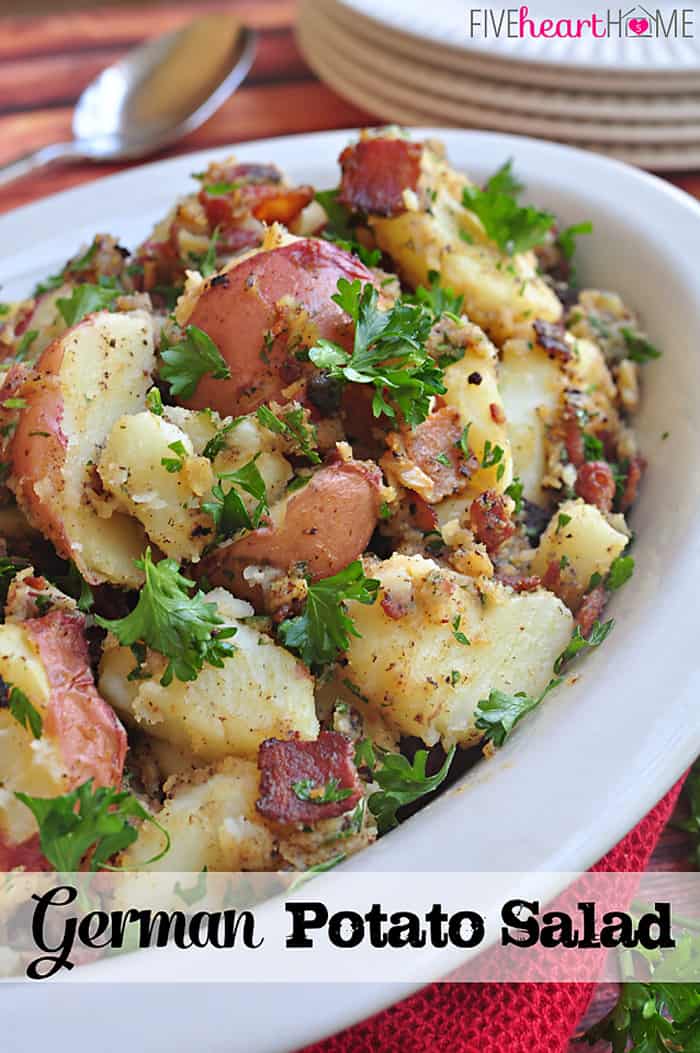 With warm, tender red potatoes and a sweet, tangy dressing loaded with bacon and garlic, this German Potato Salad is a perfect side dish for any occasion, from a grilled dinner to a summer holiday potluck.
Ingredients
2 pounds red potatoes
1 teaspoon salt (for boiling potatoes)
12 ounces bacon
1/3 cup apple cider vinegar
3 tablespoons sugar
1 tablespoon Dijon mustard
1/2 teaspoon salt
Freshly ground black pepper
1 tablespoon minced fresh garlic (about 3 large cloves)
1/2 cup chopped fresh parsley
Instructions
Scrub potatoes and cut any very large potatoes in half so that all potatoes are of approximately equal size. Place potatoes in a large pot and cover with cold water. Bring to a boil and stir in 1 teaspoon of salt. Reduce heat and simmer potatoes for 15 to 20 minutes or until potatoes are tender when stabbed with a fork. Drain water. Leaving potatoes in pot, return pot to still-hot (turned off) burner. Leave lid off of pot and allow potatoes to steam dry for a few minutes.
Set a large pot over medium heat and use kitchen shears over pot to cut bacon strips into approximately 1-inch pieces. Cook bacon, stirring occasionally, until crispy. While bacon is cooking, cut potatoes into 1/2-inch thick slices. Cut any extremely large slices in half. Set aside. Once bacon is done, remove pot from stove and use a slotted spoon to remove bacon to a bowl while leaving bacon grease in the pot (I had about 1/4 cup).
To the bacon grease, slowly and carefully add vinegar, sugar, Dijon, salt, and pepper. Place pot back on burner, bring mixture to a simmer, and stir for a couple of minutes. Stir the minced garlic into the mixture and cook for 30 seconds to 1 minute, or until garlic starts to turn a light golden. Remove pot from heat and toss in the sliced potatoes, gently mixing until potatoes have absorbed all of the liquid. Carefully fold in the cooked bacon pieces and chopped parsley. Transfer potato salad to a serving dish and serve hot or warm. Potato salad should not sit at room temperature for more than two hours before refrigerating any leftovers.
Notes
Make sure that the pot is off of the burner and the bacon grease has slightly cooled before slowly and carefully adding the vinegar (in order to prevent the mixture from potentially bubbling up).
https://www.fivehearthome.com/german-potato-salad/
https://fivehearthome.com ~ All recipes and images on Five Heart Home are copyright protected. Please do not use without my permission. If you would like to feature this recipe, please rewrite the directions in your own words and give proper attribution by linking back to this blog.
More German treats…

Simple German (Swabian) Potato Salad ~ Schwäbischer Kartoffelsalat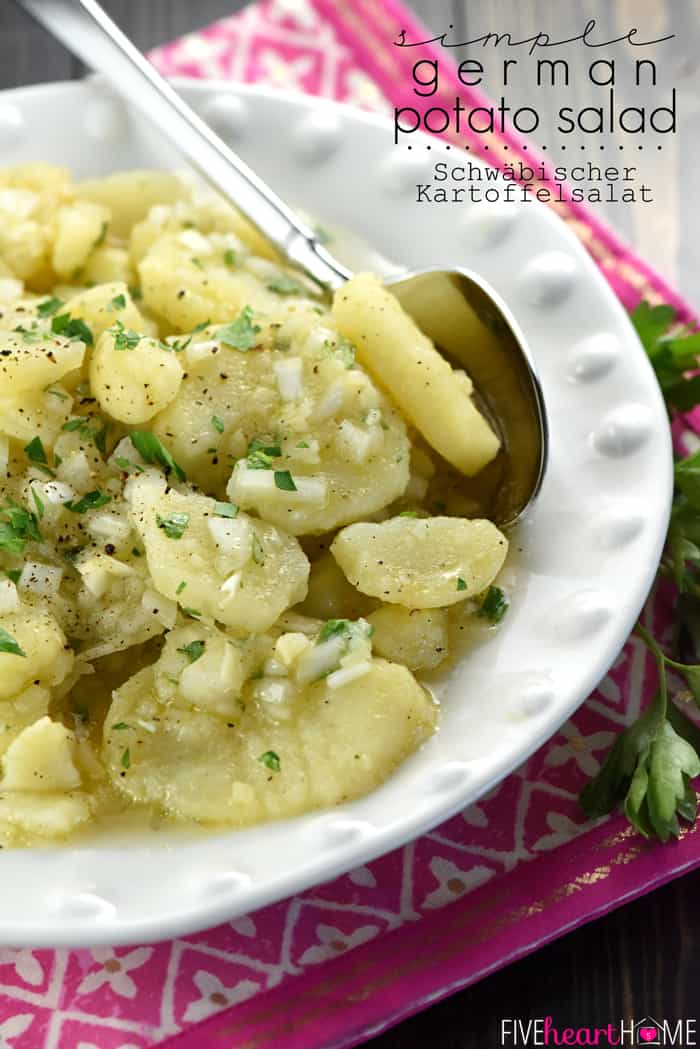 Creamy German Cucumber Salad ~ Gurkensalat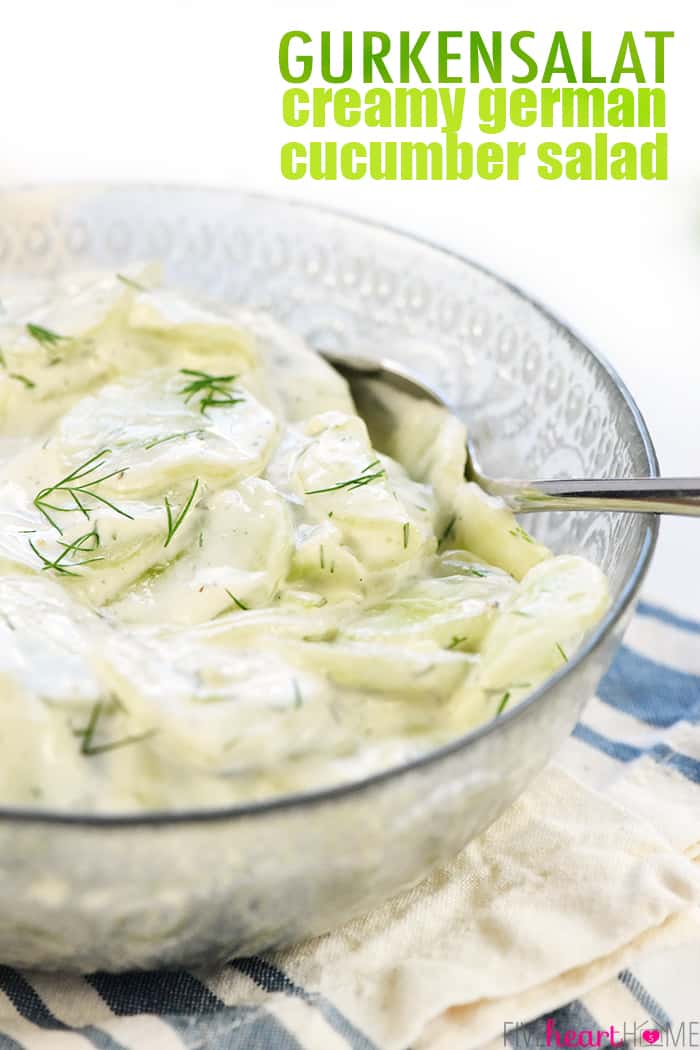 Instant Pot German Lentil Soup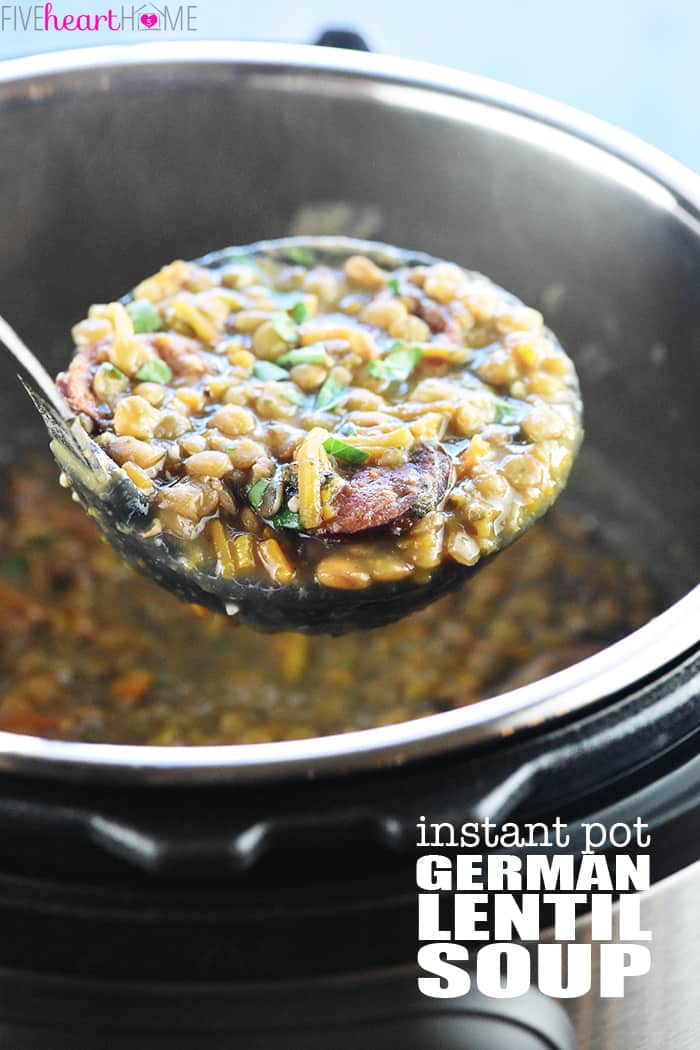 Save
414