Instant Pot German Lentil Soup is a savory, hearty pressure cooker recipe with wholesome lentils, healthy carrots, and the option of adding sausage or ham!

Well, friends, I finally got brave enough to take my Instant Pot out of its box. I received it for Christmas -- LAST Christmas? -- so after spending over a year sitting on a shelf in our garage, I suppose it was high time I got over my childhood phobia of the noisy, profusely steaming, alarmingly rattling pressure cookers of the 80s. As it turns out, though, my new and modern pressure cooker was so easy to use -- and I was ultimately so excited about the results -- that I totally regret not giving it a whirl sooner!
I figured I should probably start my Instant Pot experimentation with a familiar recipe that I could not only make with my eyes closed, but that my family eats with enthusiasm. So today's Instant Pot German Lentil Soup is the happy result of taking one of my family's all-time favorite crock pot recipes -- Slow Cooker German Lentil Soup with Sausage -- and adapting it for the pressure cooker.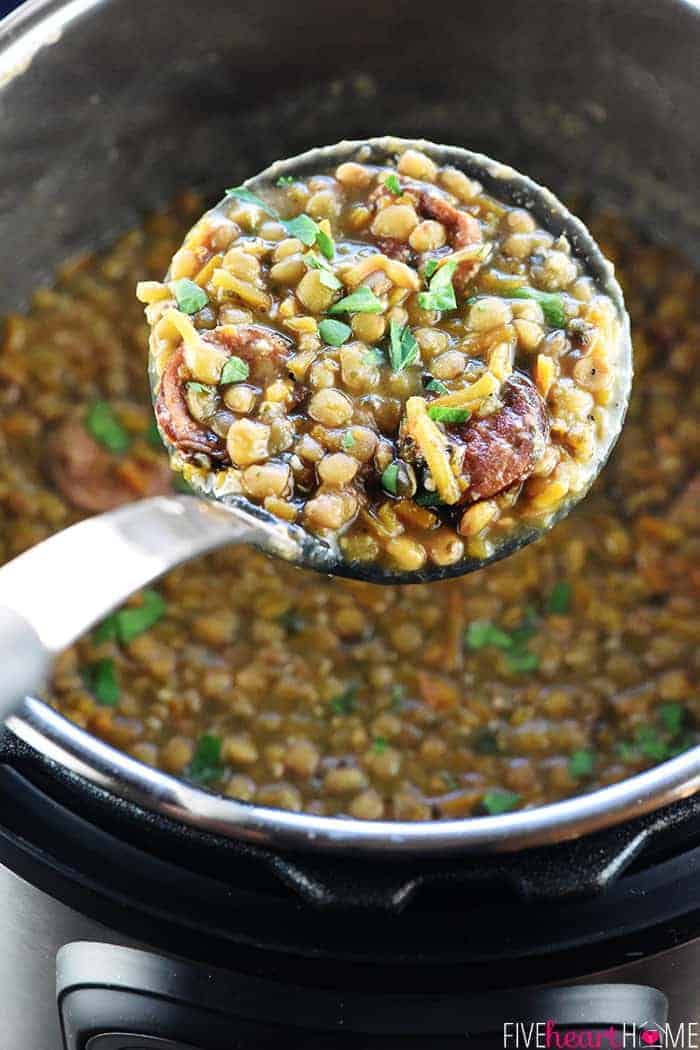 Now lots of folks aren't particularly familiar with German dishes, but let me assure you that this soup is widely appealing, even for those unacquainted with German cuisine...it's thick and hearty and oh-so-flavorful. Even my pickiest of eaters loves it. As for lentils, well, I've always enjoyed them...but over the past year, I learned to view them in a whole new light!
I make this lentil soup quite regularly during the fall and winter months, and boy was I excited at the prospect of having another hands-off way to prepare them, for those days when I don't have the time or the forethought to fill up the slow cooker in the morning.
So I dutifully studied my instruction manual, carefully measured my ingredients, and got to work! Or rather, the pressure cooker got to work, since I didn't have to do much at all.
The first thing I loved (and never realized) about an Instant Pot is that you can sauté directly in the stainless steel insert. I often make German Lentil Soup with ham. However, when I make it with sausage, I prefer browning it before adding it the the pot, but I'm typically too lazy. Using my Instant Pot, I was able to quickly sauté the sausage without needing to dirty another pan!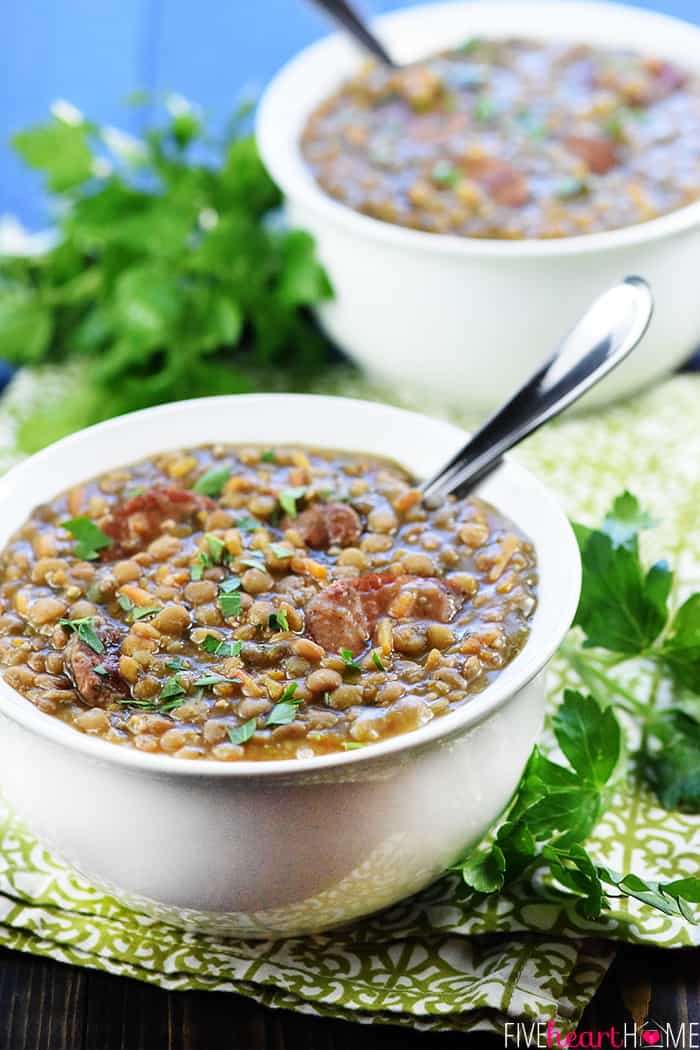 After browning the sausage, I cancelled the SAUTÉ function and tossed the rest of the ingredients into the pot...dried lentils (no soaking necessary!), shredded carrots, minced garlic, broth, parsley, and seasonings. Then I consulted my owner's manual again. I decided on a 15-minute cooking time. At first, it seemed that nothing was happening. But then I figured out that it took several minutes for the pressure to build up before the time started ticking.
In the meantime, I fretted about whether or not I'd done everything correctly. Did I get the settings right? Did I properly seal it? Is it going to blow up my house?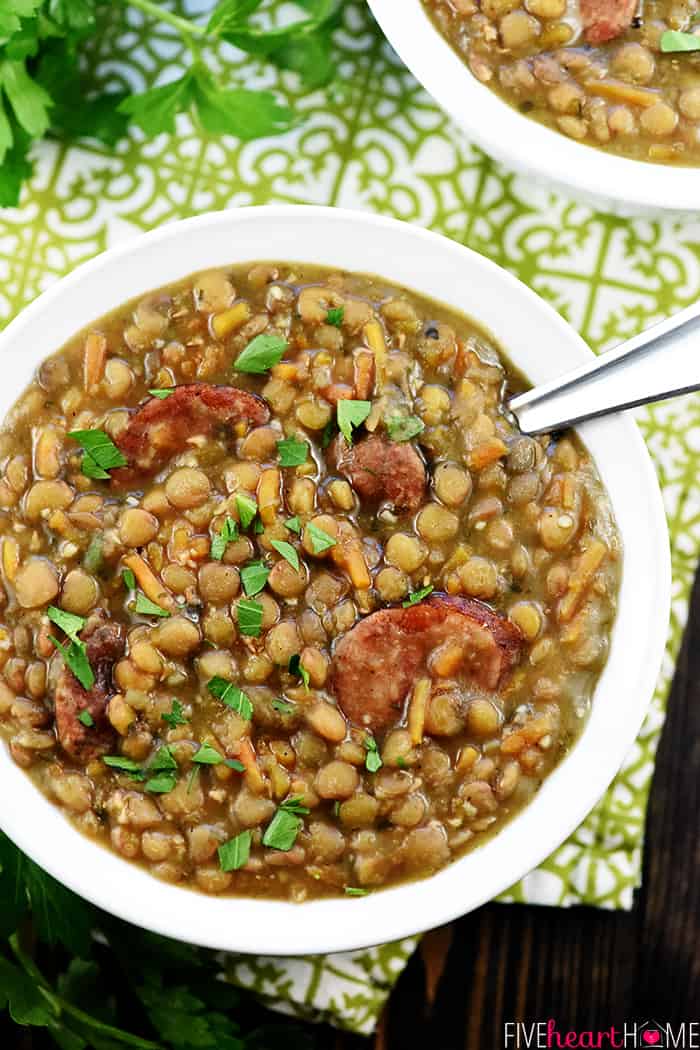 Once the timer stopped, I allowed the pressure to release naturally for 10 minutes (again, consult the owner's manual for your particular pressure cooker if you're a novice like myself). I nervously opened the lid...and I was absolutely floored at the perfectly cooked soup before me, with creamy lentils and tender carrots and that familiar, gloriously flavorful broth. Why-oh-why did I wait so long to take my Instant Pot for its inaugural spin?!
If you're already a fan and frequent user of the Instant Pot, well, I'm happy to be the newest member of your team and I have big plans to bring lots of recipes your way...yippee! But if you're intimidated by the thought of a pressure cooker -- or you just haven't gotten around to trying one out because you're not sure what all the hype is about -- I'm here to tell you...don't be afraid and do believe the hype! If I can do it, you can do it. And if this amazing kitchen contraption is useful to me, I'm pretty sure you're going to find it handy, too.?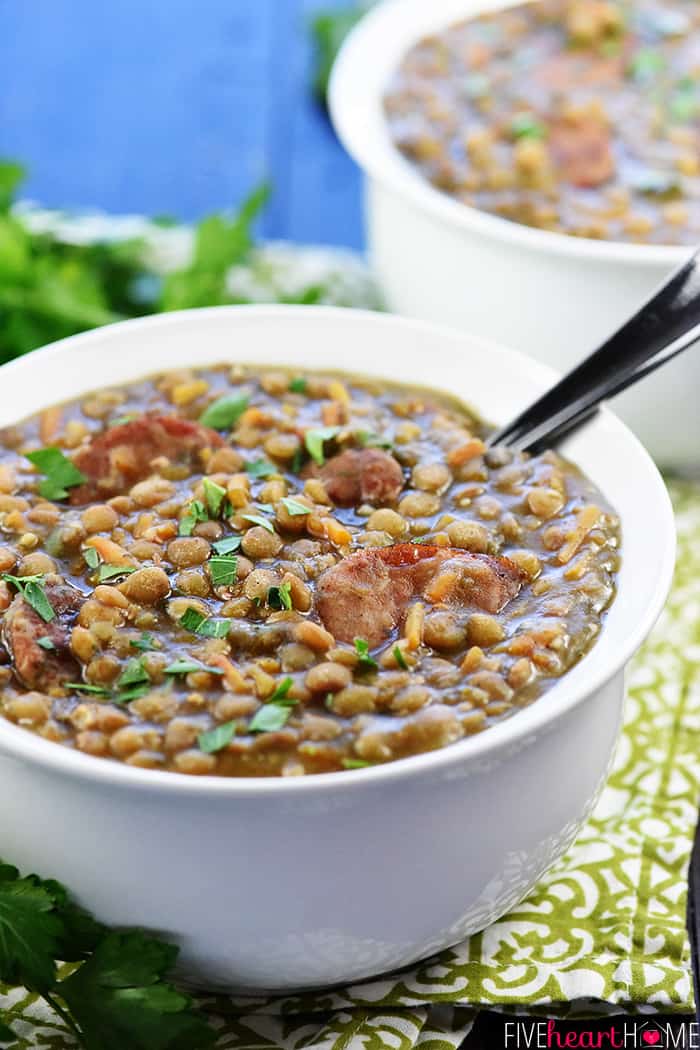 I realize now that this whole blog post probably sounds like one long advertisement for an Instant Pot. But I can assure you, it's not! Y'all know I'm not giving up my slow cooker (or my slow cooker cookbooks -- heh) any time soon. But I'm very excited to have another tool in my kitchen arsenal to put healthy, real food dinners on the table in the most efficient way possible!
So who's ready for some warm, wholesome, delicious soup? Instant Pot German Lentil Soup, that is! It's hearty, it's comforting, and -- thanks to the magic of the pressure cooker -- it's simply a matter of tossing everything in and walking away. No monitoring, no stirring, no fussing...one-pot, and ready in a flash! Please join me, friends...the line to the bandwagon starts here.?
Helpful Tips, Tricks, & Equipment
This is the Instant Pot that I have. Of course, since mine sadly spent its first year in its box, there may already be a newer model out there.?
When making this recipe with sausage, I typically use 1/2 (or even 1/3) of a 1-pound link of German smoked sausage or Kielbasa (I dice and freeze the unused portion for a future batch of soup). And even thought this post shows sliced sausage (which is more aesthetically pleasing for photos, after all), I usually dice it instead of slicing it for smaller bits of sausage throughout the soup.
Alternatively, you may make this soup with diced ham. This recipe is great for using up leftover ham after the holidays.
Feel free to use shredded, matchstick, or diced carrots. I typically use a 10-ounce bag of shredded carrots, but if you measure out your carrots, be sure to pack them into the measuring cup. The carrots will become very tender while cooking, and smaller pieces will practically melt into the soup.
If you wish to add other veggies to the soup, such as chopped onion or celery, you may use the sauté function to cook and soften them (in a little olive oil or butter) before adding the other ingredients.
You may make this recipe with your favorite chicken broth or stock. I actually used 1 1/2 tablespoons of Organic Chicken Better Than Bouillon plus water for my broth.
Or you can make this recipe vegetarian by omitting the sausage/ham and using vegetable broth instead of chicken broth.
Speaking of the broth, I used 7 cups this go-round. However, I felt like the soup turned out slightly too thick, so I called for 8 cups in the recipe below. If you prefer a thicker soup, you can certainly cut the broth back down to 7 cups. If you prefer a looser, "soupier "soup, you can add extra broth (up to 10 cups max). Or you can always cook the soup as directed and then stir in more broth at the end. Reheating leftovers will probably also require adding an extra splash of broth or water.
Since the type of broth you use can dictate the saltiness of the dish, taste at the end of the cooking time and add more salt then, if necessary.
For extra depth of flavor, I love adding a tiny splash of apple cider vinegar to individual bowls of German Lentil Soup. Just be sure not to add too much...a little bit goes a long way! My husband likes adding extra hot pepper sauce (like Tabasco) to his bowl. And we often enjoy this soup with a few crackers crushed on top.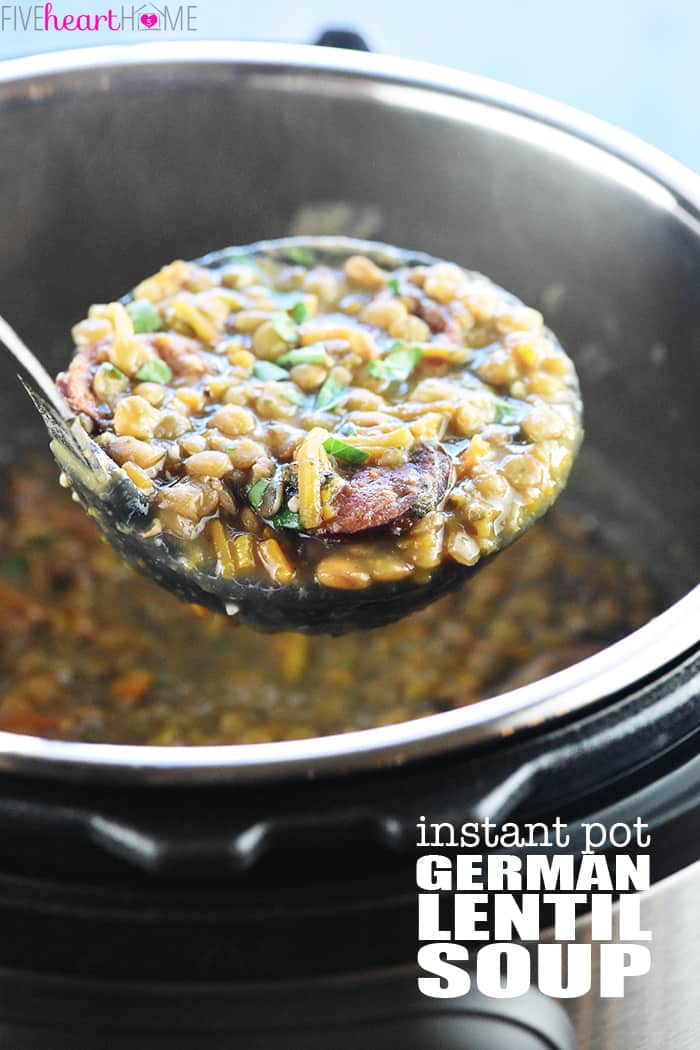 More Slow Cooker Bean Soups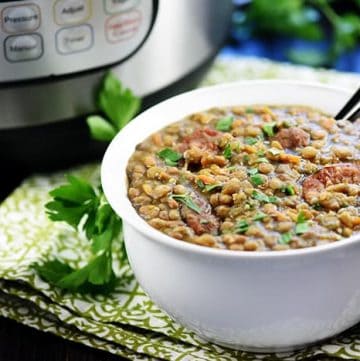 Instant Pot German Lentil Soup
Instant Pot German Lentil Soup is a savory, hearty pressure cooker recipe with wholesome lentils, healthy carrots, and the option of adding sausage or ham!
Print
Pin
Rate
Servings:
6
to 8 servings
Ingredients
1 to 2

cups

cubed smoked kielbasa sausage OR ham

1

pound

dried green or brown lentils

,

picked over, rinsed & drained

3

cups

(packed) diced/shredded/matchstick carrots

,

about 10 ounces

3

large cloves garlic

,

minced

1

teaspoon

Worcestershire sauce

1/4

teaspoon

hot pepper sauce

1/3

cup

packed fresh chopped parsley (OR 2 tablespoons dried parsley)

,

plus additional fresh parsley for garnish

1/2

teaspoon

celery salt

1/2

teaspoon

garlic powder

1/4

teaspoon

onion powder

1/4

teaspoon

ground nutmeg

Freshly ground black pepper

,

to taste

1

bay leaf

8

cups

low-sodium chicken OR vegetable broth/stock

Apple cider vinegar for serving

,

optional
Instructions
Set Instant Pot to SAUTÉ function. Add the sausage and cook, stirring occasionally, for a few minutes or until browned. Press CANCEL after sautéing. (If using cubed ham, you may skip the sauté step.)

Add the lentils, carrots, garlic, Worcestershire sauce, hot pepper sauce, parsley, celery salt, garlic powder, onion powder, nutmeg, black pepper, and bay leaf to the pot. Pour in the chicken broth and stir to combine. Seal the lid according to the owner's manual and cook on HIGH pressure for 15 minutes.

When the timer is done, allow the pressure to release naturally for 10 minutes, then carefully vent to release the remaining pressure (consult your owner's manual for more specific instructions). Open the lid, stir well, and serve hot. If desired, stir a small splash of apple cider vinegar into individual bowls of soup and garnish with fresh parsley.
Calories:
575
kcal
|
Carbohydrates:
58
g
|
Protein:
35
g
|
Fat:
22
g
|
Saturated Fat:
7
g
|
Cholesterol:
53
mg
|
Sodium:
989
mg
|
Potassium:
1371
mg
|
Fiber:
24
g
|
Sugar:
5
g
|
Vitamin A:
11000
IU
|
Vitamin C:
12
mg
|
Calcium:
89
mg
|
Iron:
7.6
mg