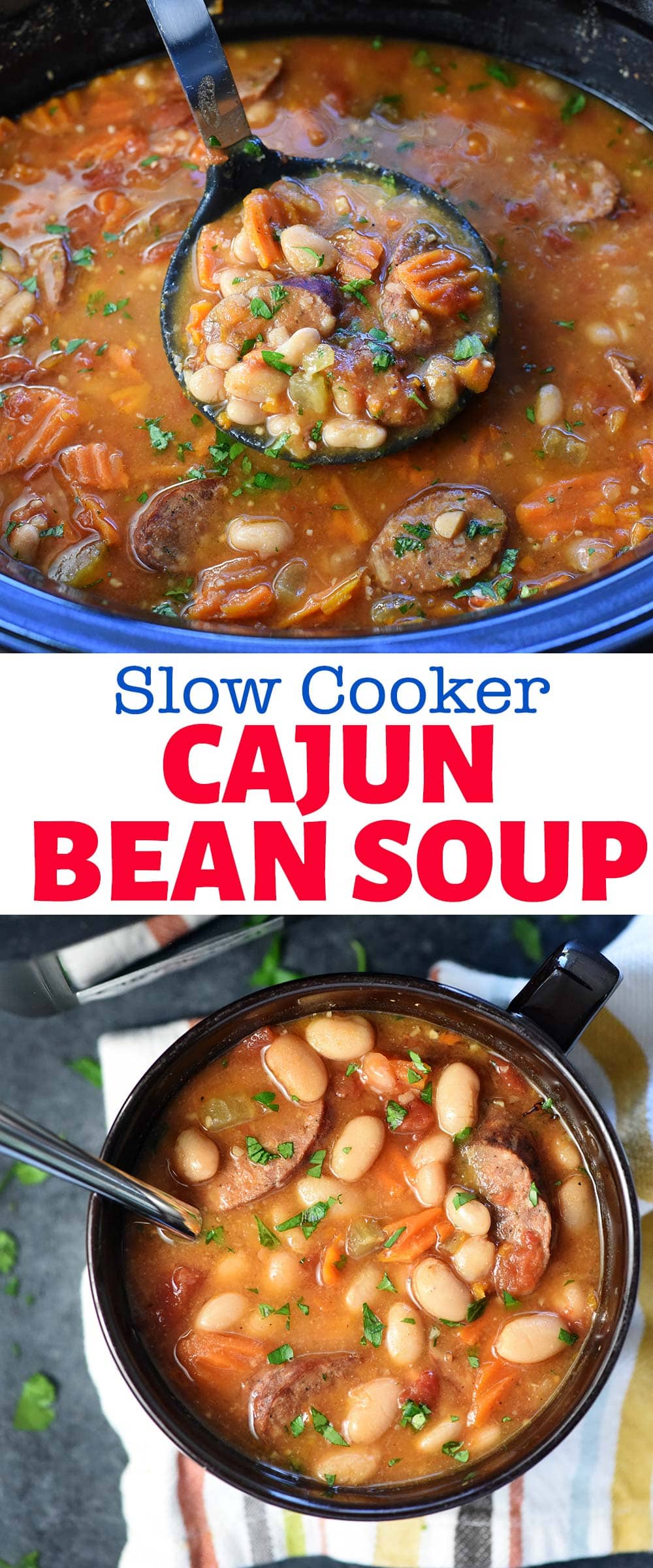 Cajun Bean Soup is a cozy slow cooker recipe loaded with white beans, andouille sausage, veggies, and a flavorful broth to warm you up!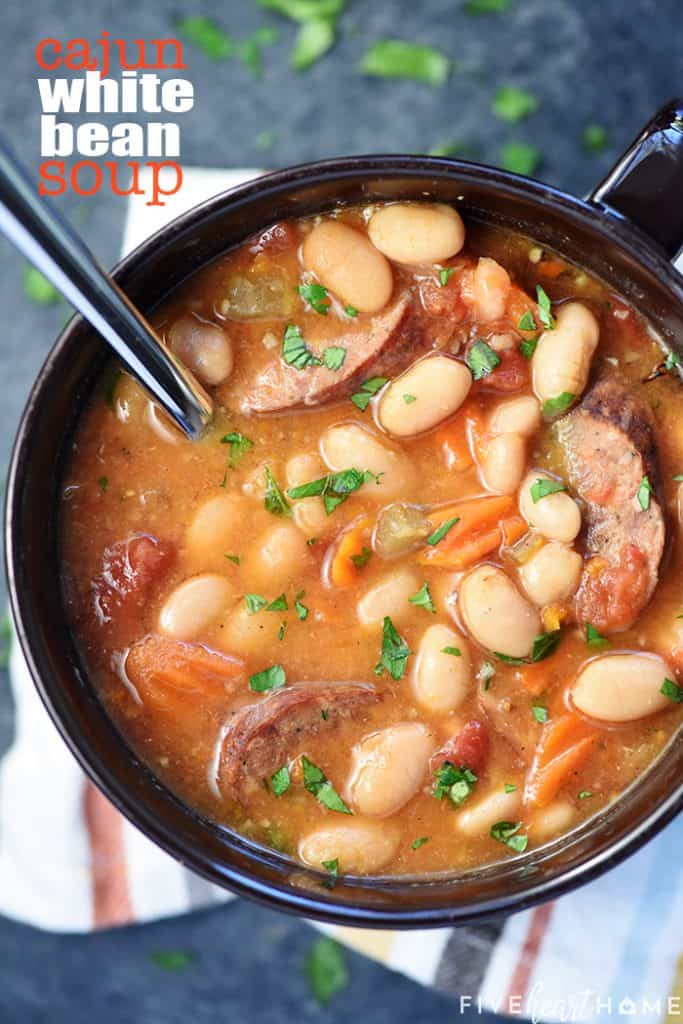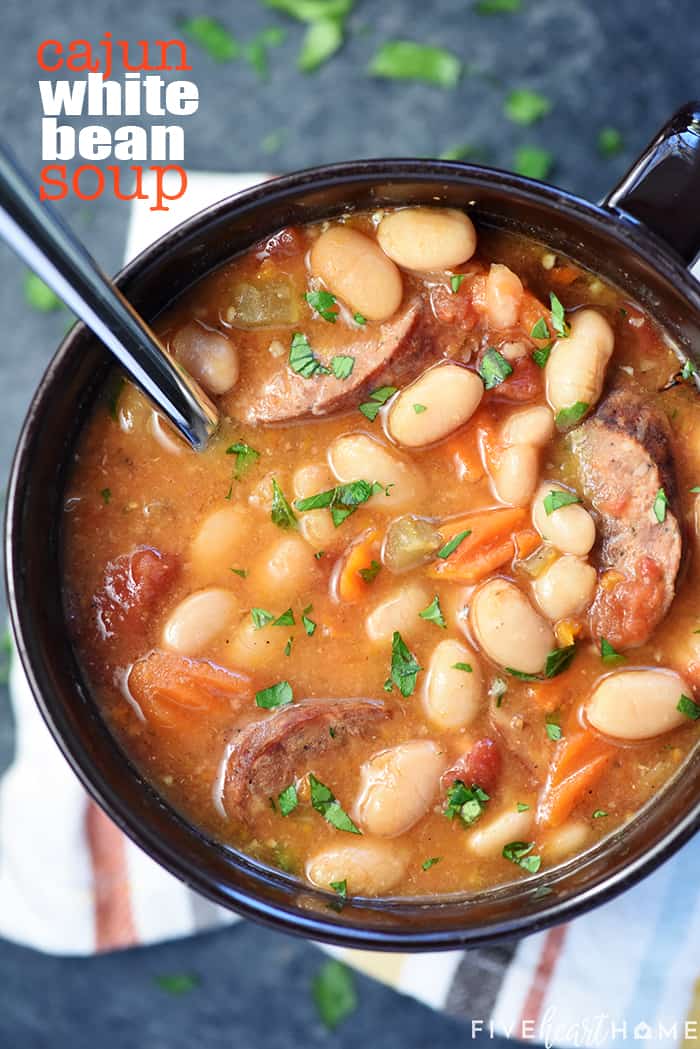 If you enjoy cozy bean soup recipes, you'll also love Slow Cooker Chicken Black Bean Soup, Easy White Bean, Kale, & Sausage Soup, and Instant Pot German Lentil Soup!
Spring has officially arrived! However, the temperatures across much of the country apparently have yet to get the memo. Texas just had an unprecedented March cold snap and I know that many of you are still blanketed in snow, so I'm going to make the executive decision that a few more soup recipes seem appropriate before we launch into spring recipes! So today that means a big crock pot of warm, cozy Cajun Bean Soup. 🙂
The best thing about this recipe is that it'll warm you up from the inside out. Yes, it's nice and hot temperature-wise (as most soups tend to be). But it's also got a zippy kick of Cajun soup heat from spicy seasonings and andouille sausage. As a result, you're guaranteed to feel toasty warm from the tip of your tongue to the tips of your toes!
Ingredients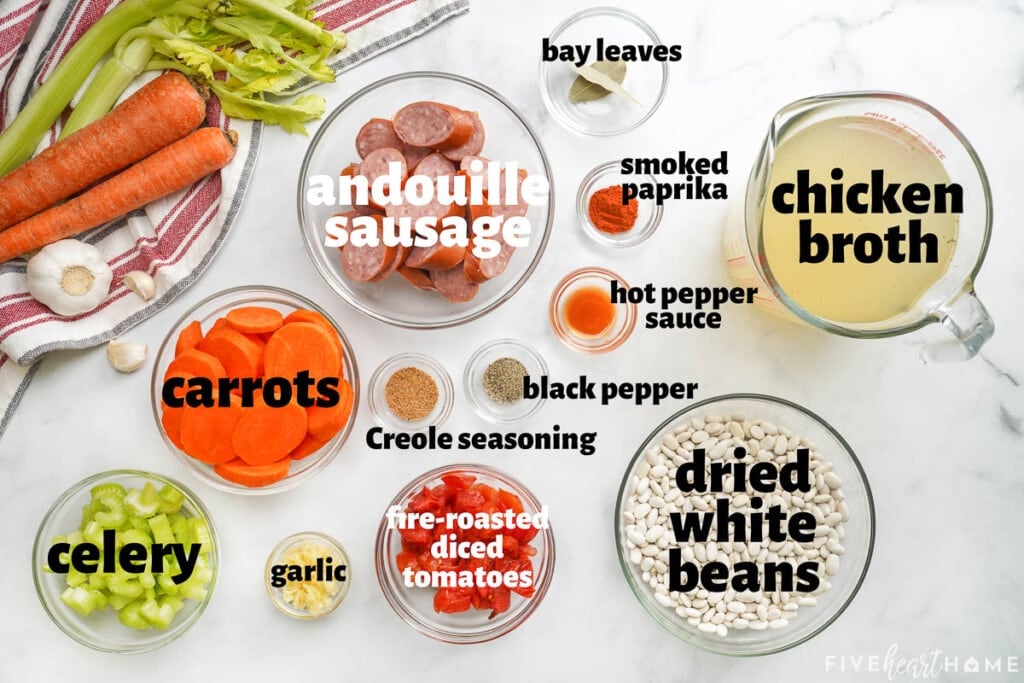 Dried white beans. I typically use dried Great Northern beans, but navy beans work just dandily as well.
Andouille sausage. You may use smoked sausage instead, if you wish. For efficiency's sake, I add the sausage to the soup at the beginning of the recipe. However, this does result in softer slices by the end of the cooking time. So if your prefer a firmer texture, you can brown the sausage slices in a pan and stir them into the soup just before serving.
Carrots. They can be shredded, sliced, or diced. To save time, I sometimes use half a bag of organic "carrot chips" from Whole Foods.
Diced tomatoes. I always recommend fire-roasted over regular diced tomatoes for deeper flavor in slow cooker recipes. I also recommend looking for cans with non-BPA linings (or even glass jars). Tomatoes are very acidic, meaning that any chemicals in the lining of the can are more likely to leach into a tomato product. Luckily, it's getting much easier these days to find canned goods with BPA-free linings.
Sliced celery and minced garlic.
Low-sodium chicken broth. When I don't have chicken broth or stock on hand, I use water plus Organic Better Than Bouillon Chicken Base (which I always keep in my fridge). But since it's salty, I taste the recipe and stir in additional salt at the end, only if needed. This gives more control than adding a pre-measured amount of salt while the dish is cooking.
Flavorings. What's a Cajun soup without bay leaves, Creole seasoning (such as Tony Chachere's), smoked paprika, freshly ground black pepper, and hot pepper sauce (such as Louisiana Hot Sauce or Tabasco)?!
And after slow cooking on low all day, each of the ingredients turns tender in a perfectly seasoned broth. And feel free to adjust the ingredients in this soup to your liking! If you don't like celery, leave it out. If you enjoy onion, add some in.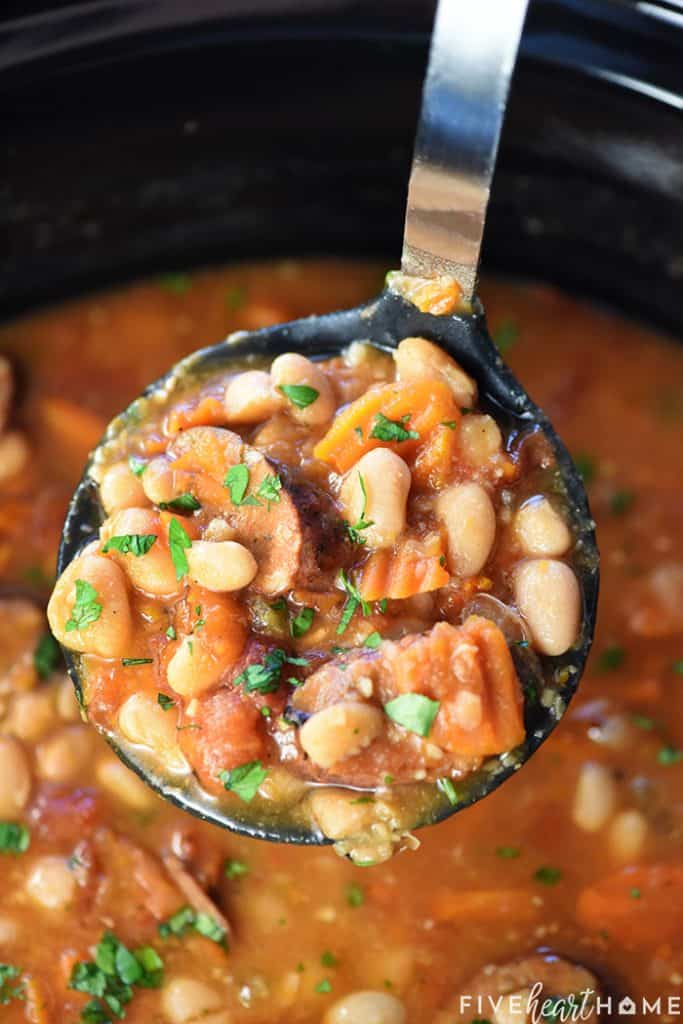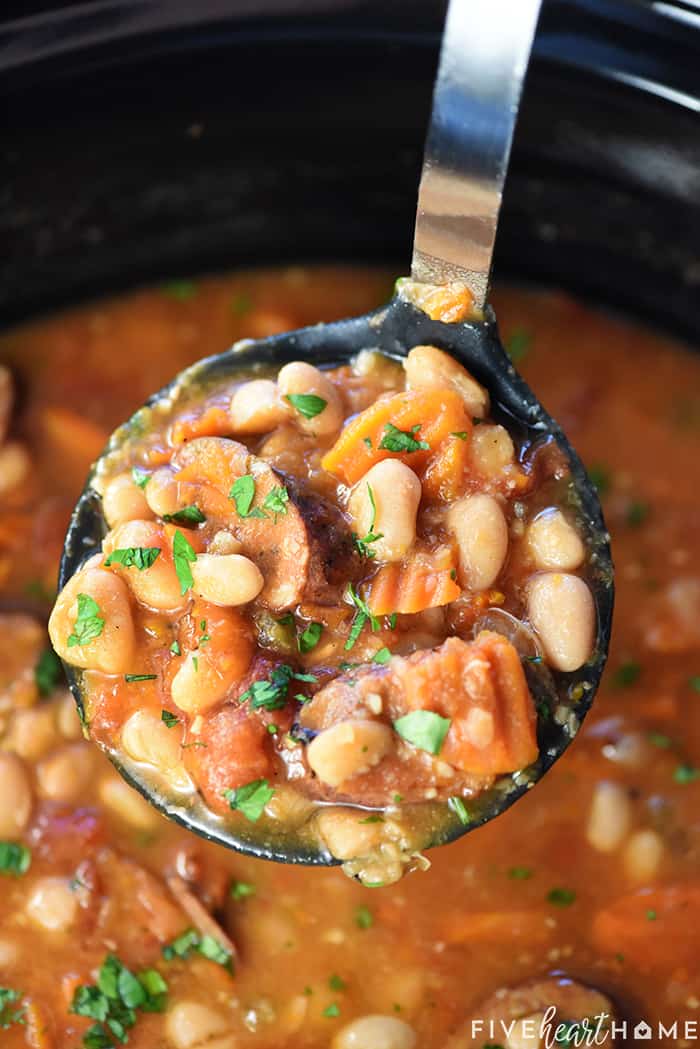 A Note About Dried White Beans
While dried cannellini beans (also known as white kidney beans) would taste good in this soup, they contain a high level of a naturally occurring toxin called phytohaemagglutinin (say that ten times real fast...or real slow). And phytohaemagglutinin can cause severe food poisoning.
White kidney beans contain far less of this toxin than red kidney beans. However, it's still necessary to bring any dried kidney beans to a rolling boil for 10 minutes in order to remove this toxin and make them safe to eat.
Since some slow cookers run cooler than others, the only way to guarantee safe cannellini/kidney beans is to boil them on the stove before draining and transferring the beans to the slow cooker. So for a recipe like this, I think it's just easier to use Great Northern or navy beans from the get-go.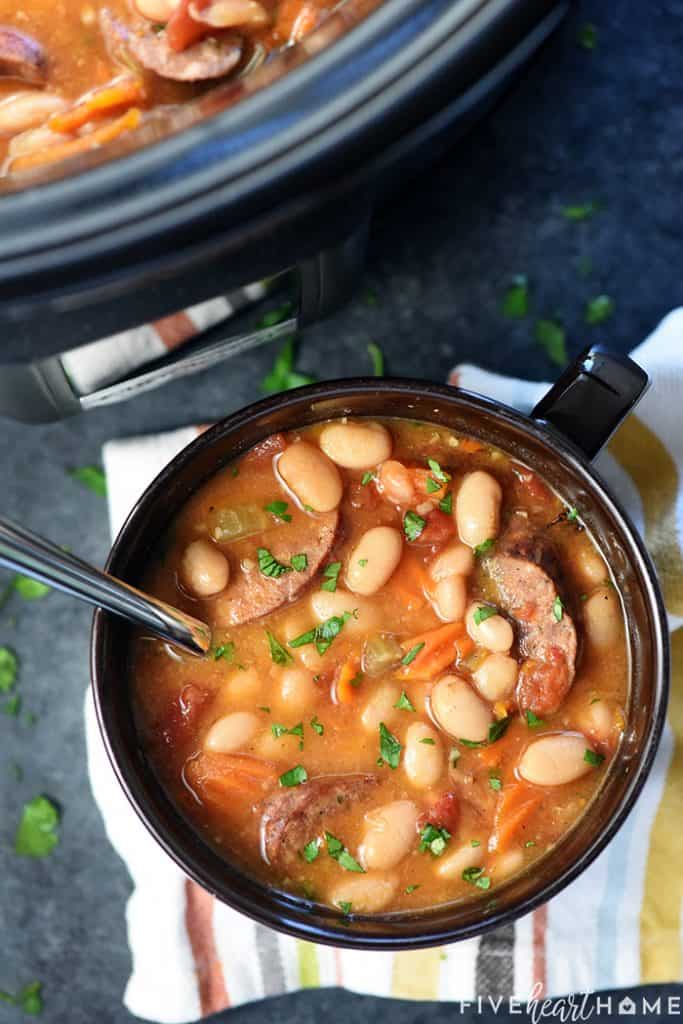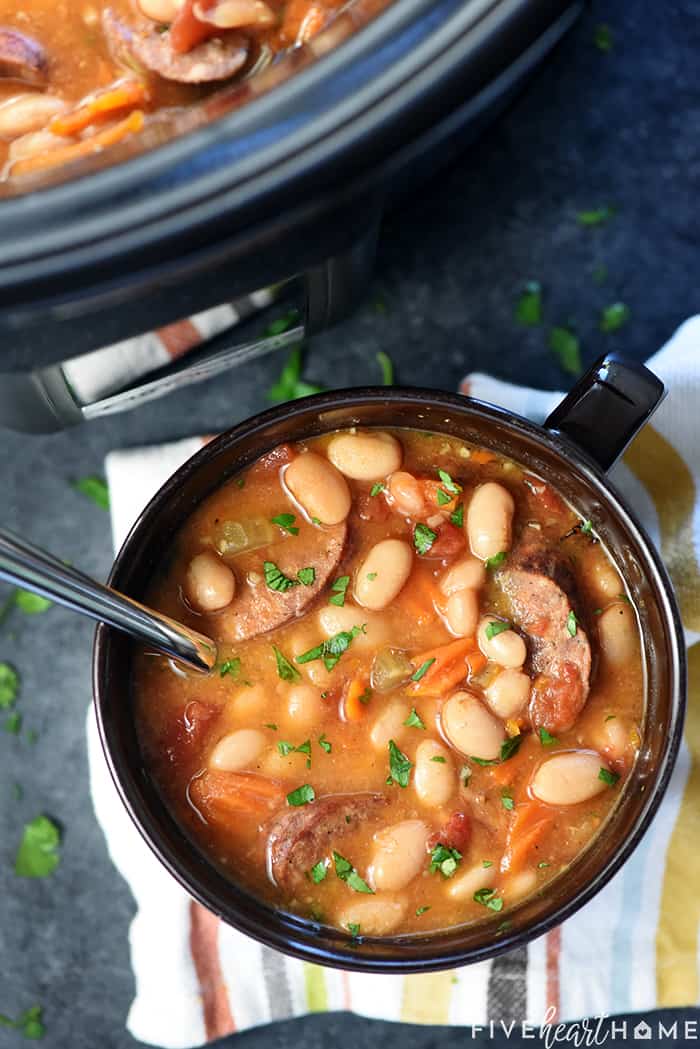 How to Make Cajun Soup
(The below photos are intended to be helpful, but please refer to the recipe card at the bottom of this post for FULL DIRECTIONS.)
Pick over, rinse, and drain your dried white beans.
Place them in the bottom of a large slow cooker along with the sausage, carrots, celery, tomatoes, and garlic.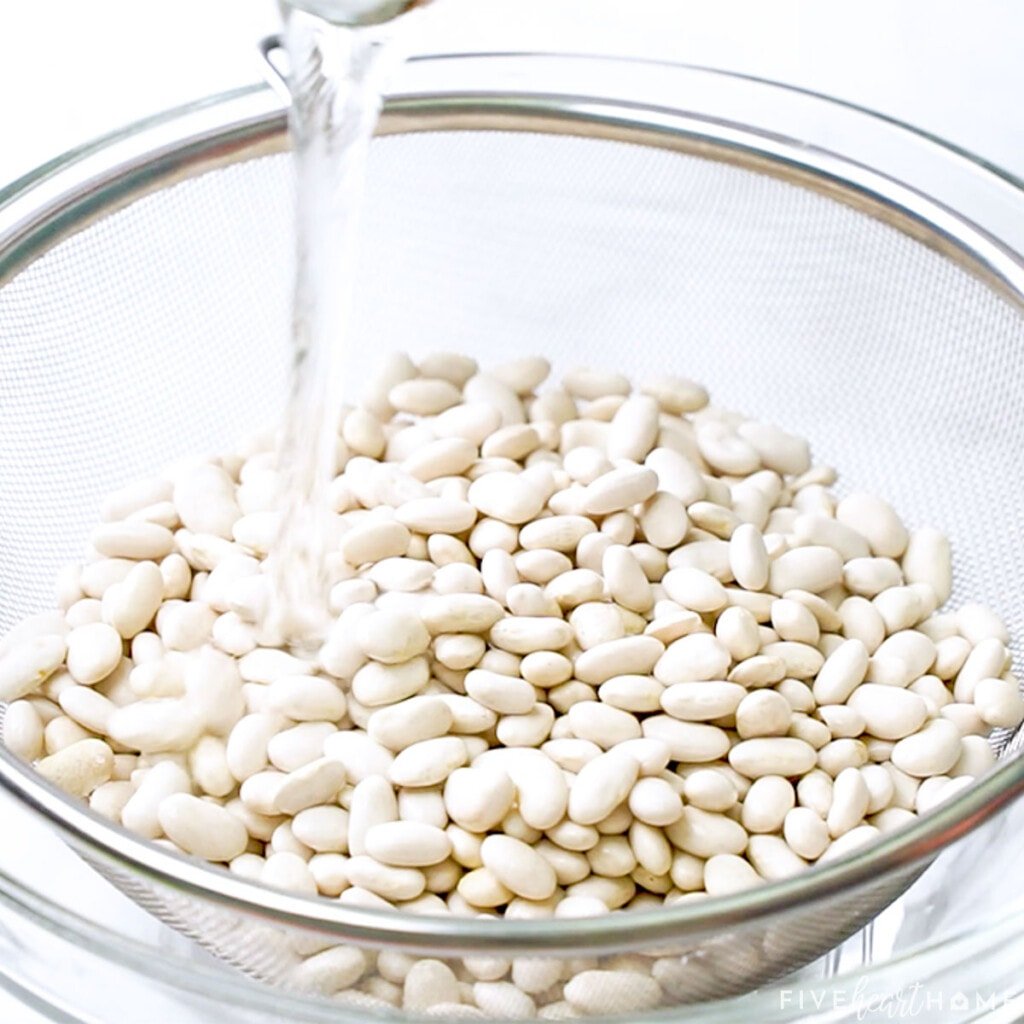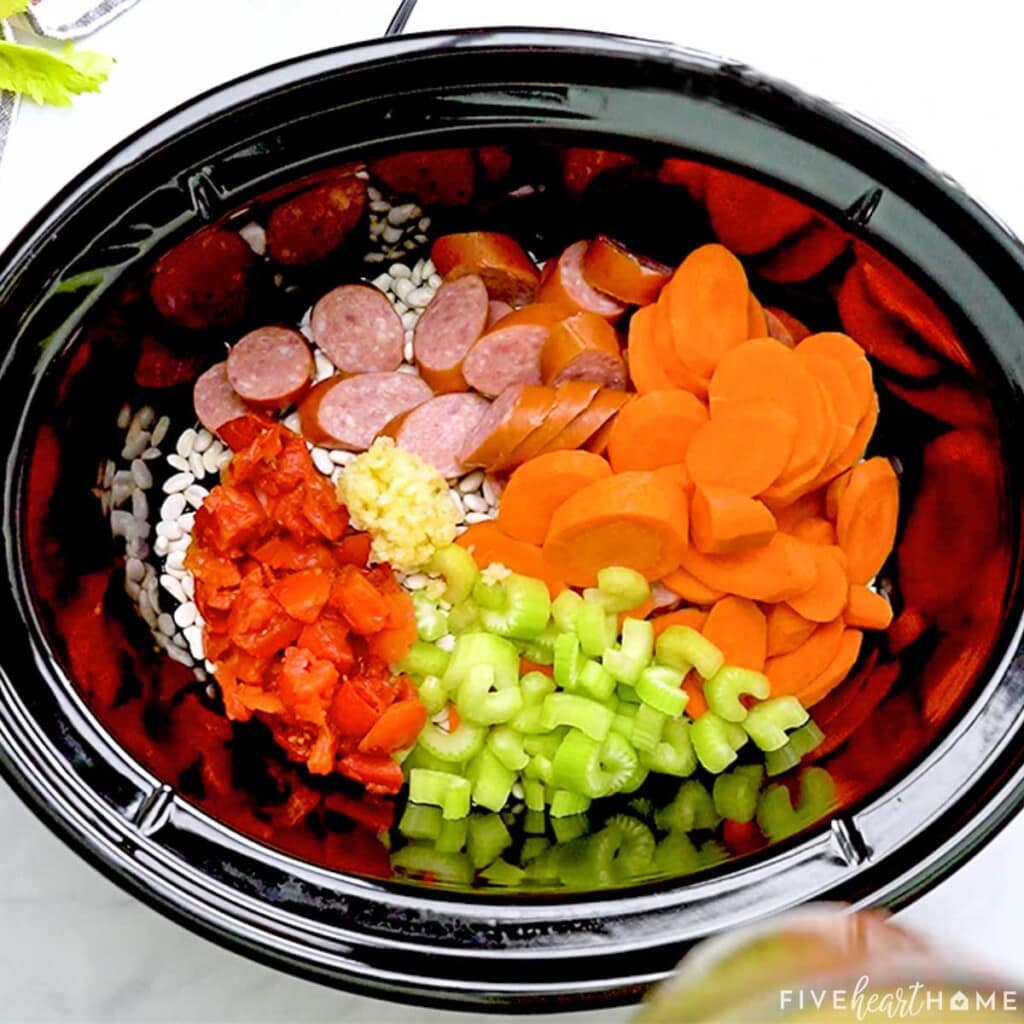 Carefully pour the chicken broth over the ingredients in the crock pot.
Sprinkle with the bay leaves, Creole seasoning, smoked paprika, and black pepper.
Cover and cook on low for 8 to 10 hours or until the beans are tender.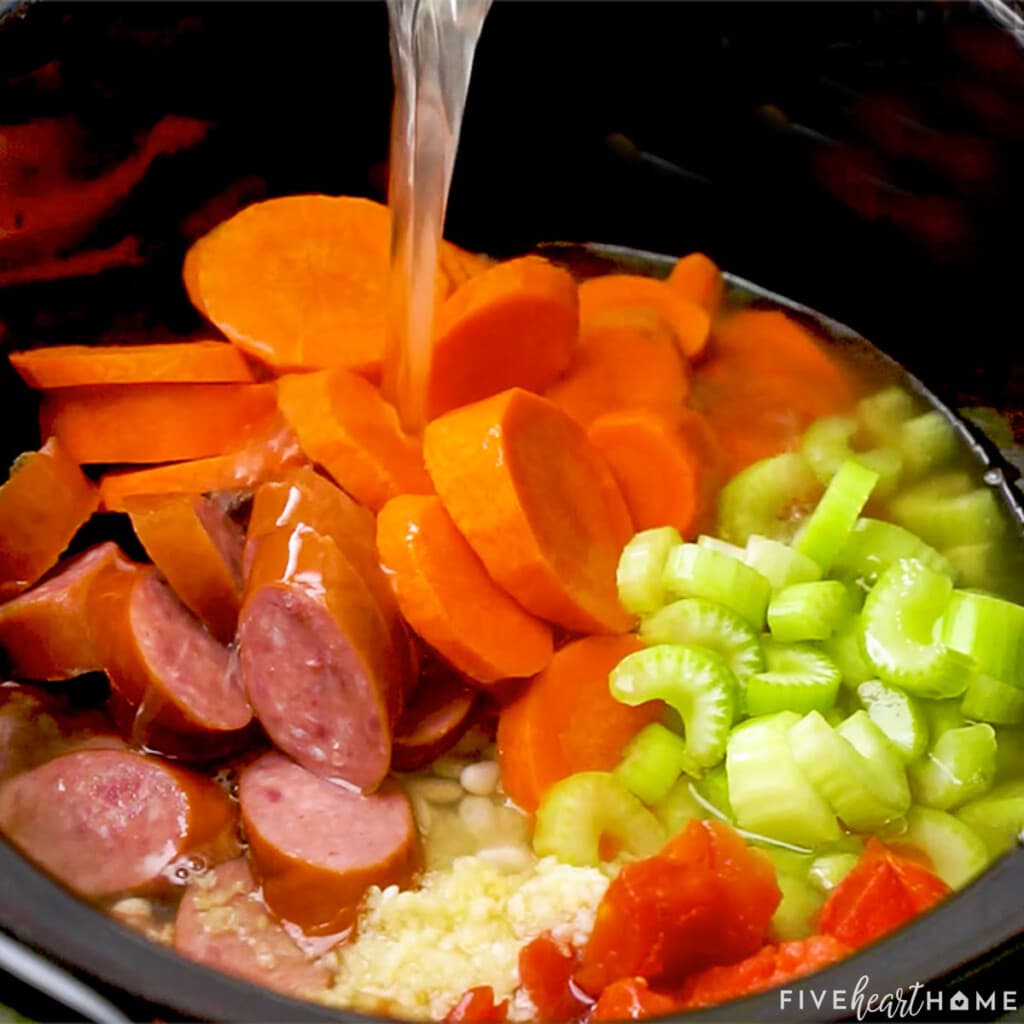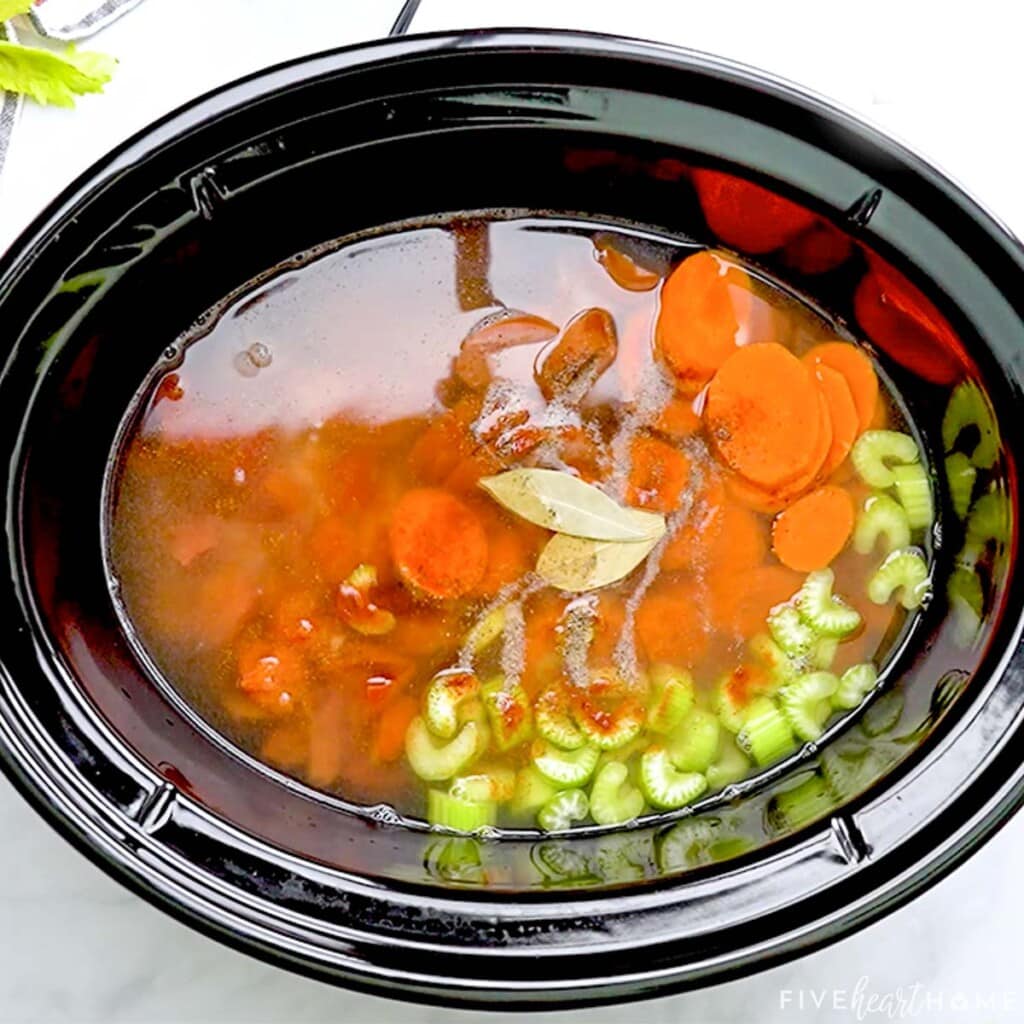 Just before serving, I recommend using an immersion blender to puree some of the soup for a thick, creamy consistency:
Since the sausage is cooked directly in the soup, simply scoop about 3 cups of beans/carrots/broth into another bowl. This is the best way to avoid accidentally shredding any of the sausage!
Puree with an immersion blender until smooth. Alternatively, you can use a potato masher to mash.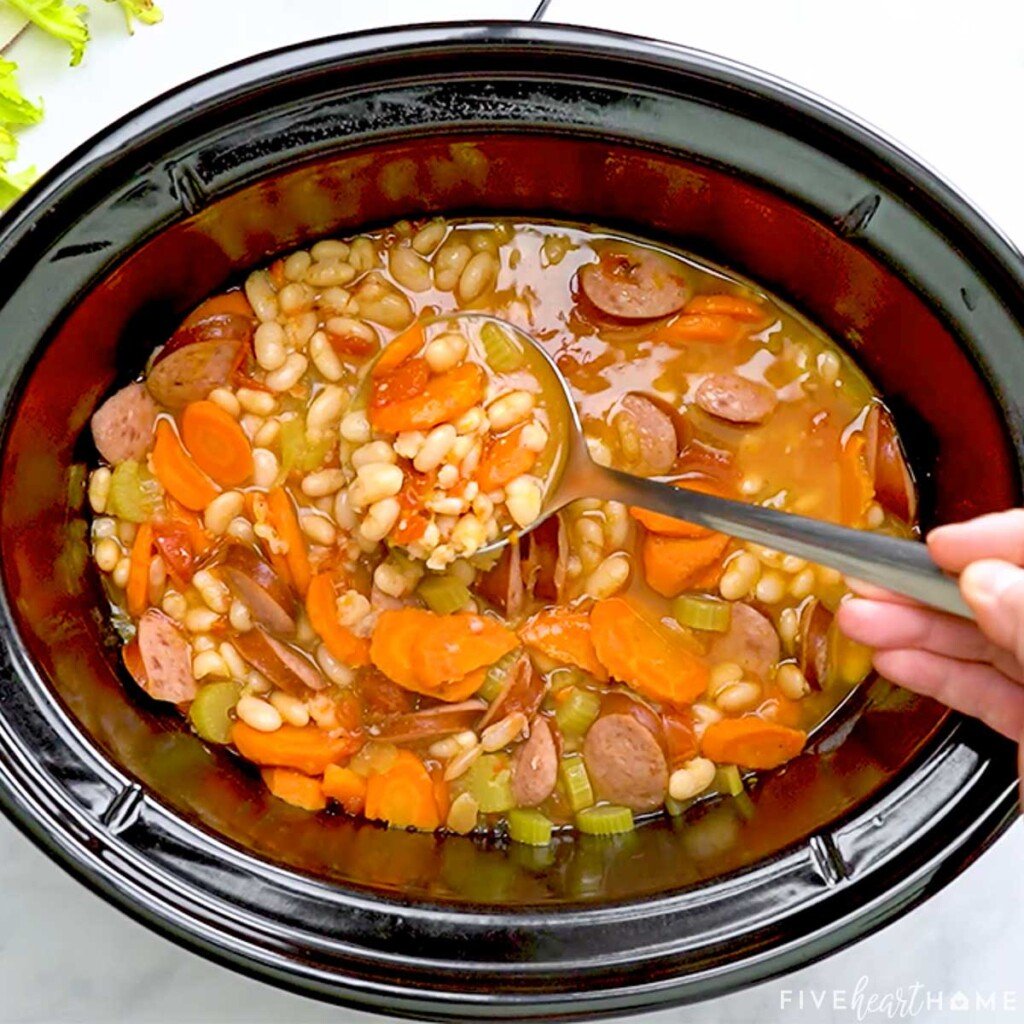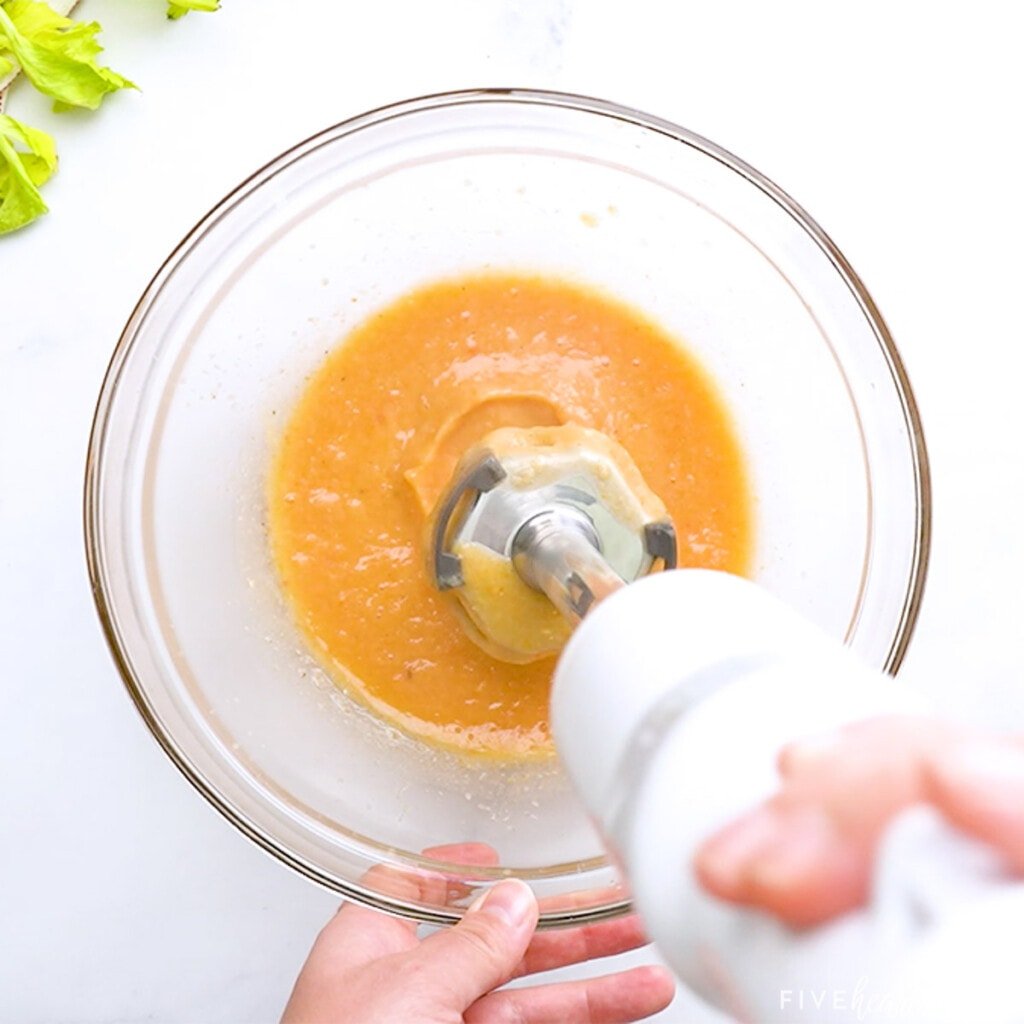 Pour the puree back into the crock pot and stir to combine.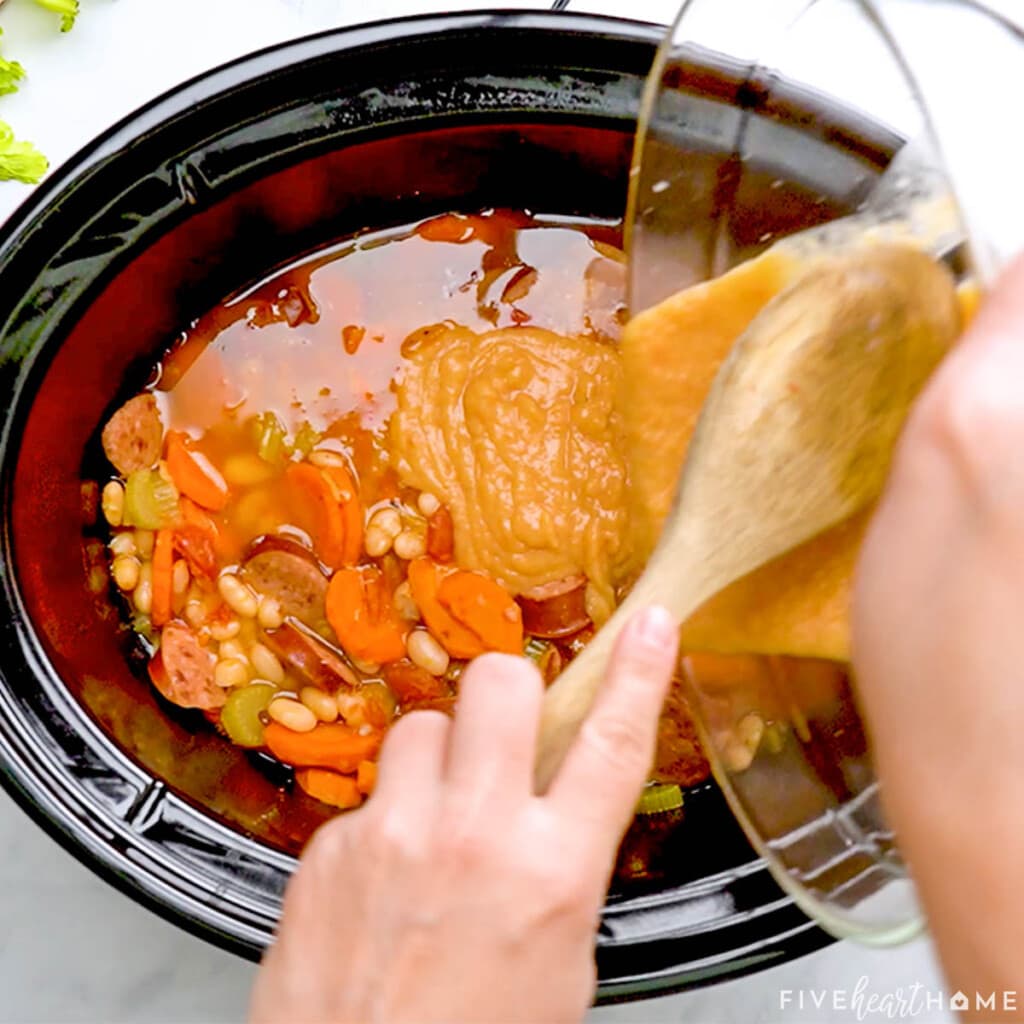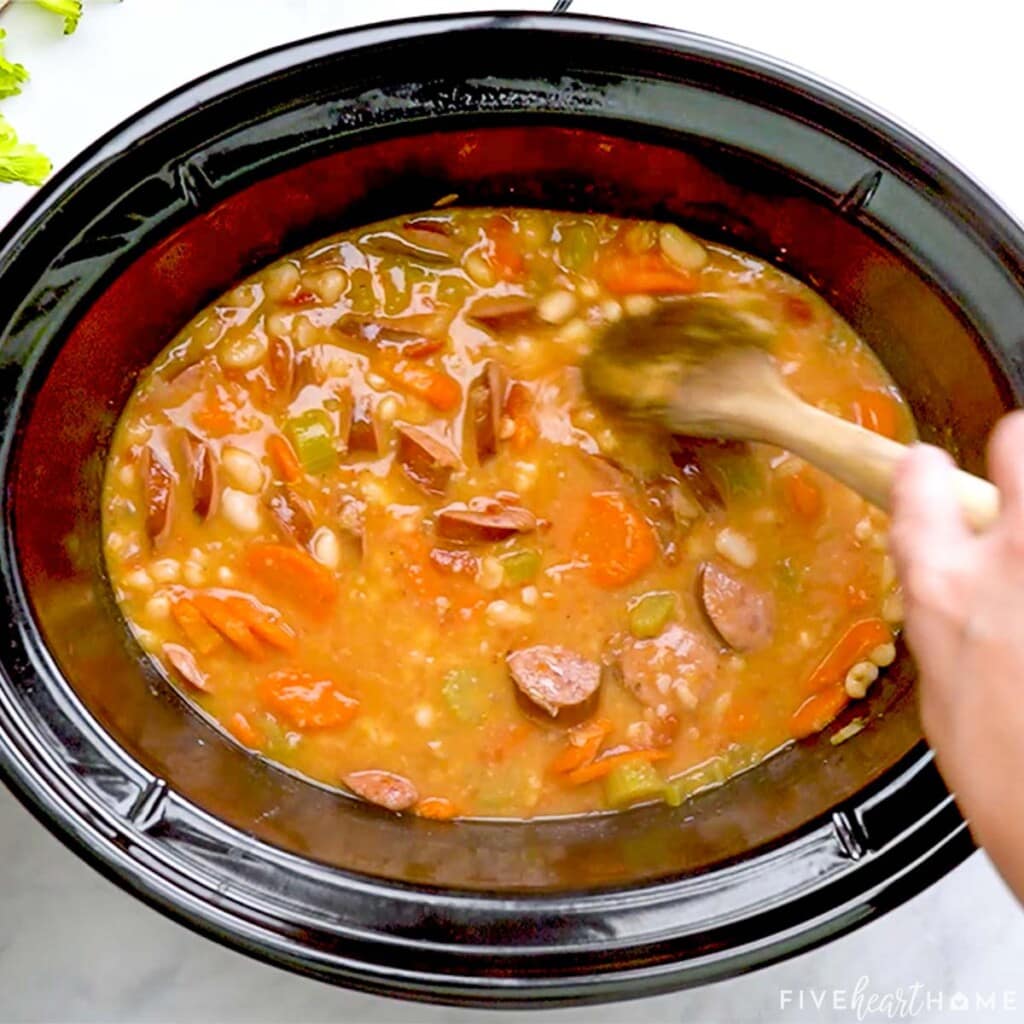 Enjoy!
Tweaking the Heat
Have I mentioned that you have the power to control the heat of this Cajun Bean Soup?
Making this crockpot o' soup with some Creole seasoning and a medium-heat andouille sausage gives it a nice-but-not-overwhelming spiciness...AKA, my youngest child is able to eat it without a problem.
The rest of us, however, like to add hot sauce or cayenne to our individual bowls, allowing everyone to customize the heat level to our individual preferences.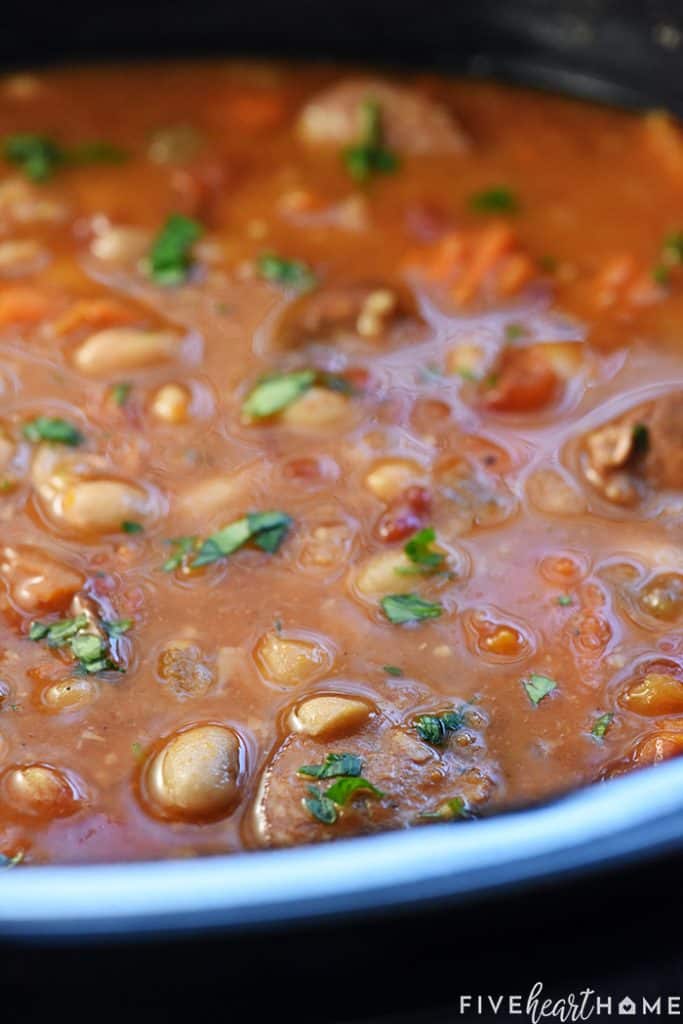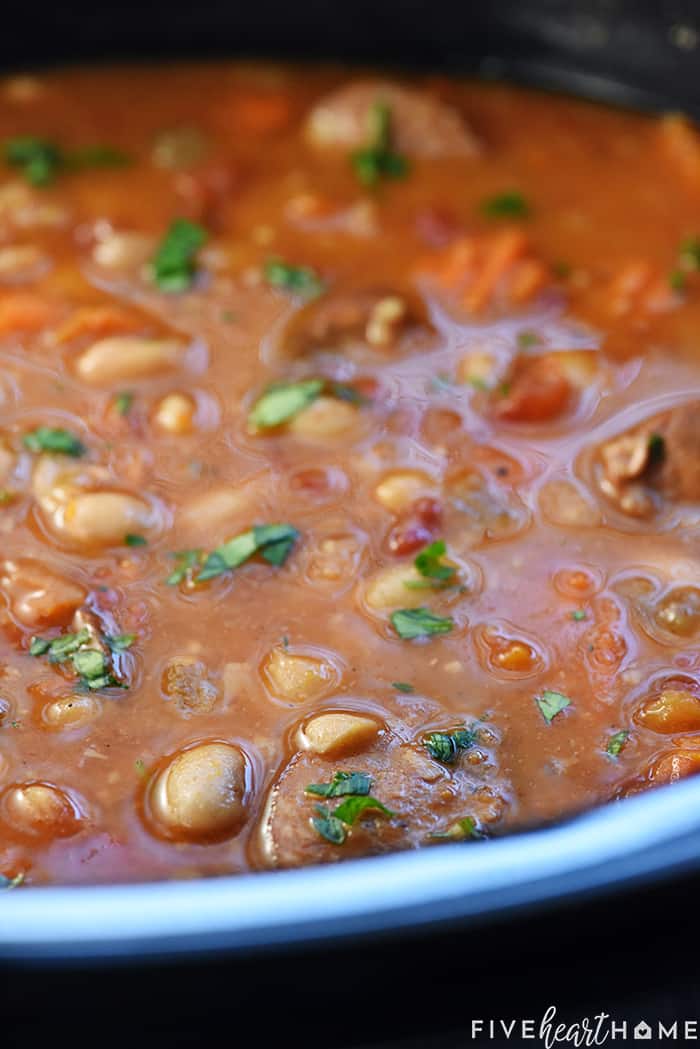 I'm telling you, this Cajun Bean Soup is a tasty, hearty bowl of comfort! My family always gobbles it down. Everyone fights over the leftovers. And every time I make it, we can't wait to enjoy it again...you know, when our Texas "spring" decides to fake us out yet again. 😉
Helpful Tips, Tricks, & Equipment
I never soak my beans (partially because I'm lazy and partially because I don't feel like it makes a difference). But if you're a loyal bean soaker, feel free to soak and drain your dried beans before proceeding with the recipe.
When making slow cooker recipes, please keep in mind that not all slow cookers are created equal. What I mean by that is older models of slow cookers really do cook slow. Newer, modern-day slow cookers, however, have a higher wattage. As a result, they run "hotter" than they used to in order to meet current USDA food safety guidelines. Therefore, you need to be familiar with how your slow cooker cooks. And, if necessary, adjust the cooking time of slow cooker recipes accordingly.
I highly, highly recommend investing in an immersion blender if you don't already have one. They're pretty affordable and very handy. I use mine all the time...for instance, in Baked Potato Soup and a bunch of other recipes in my cookbook. Much easier and less messy than transferring your Cajun soup to a blender or food processor to puree!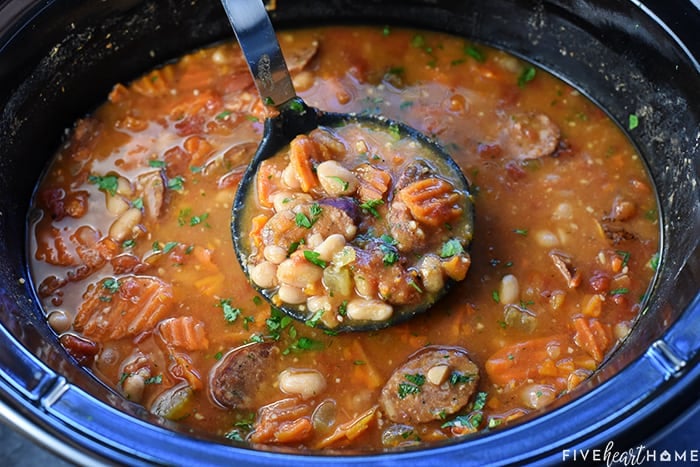 More Slow Cooker Soups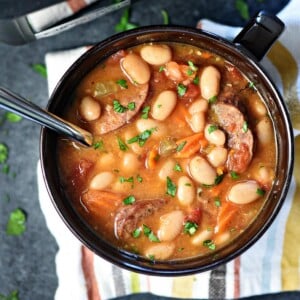 Slow Cooker Cajun Bean Soup
Cajun Bean Soup is a cozy slow cooker recipe loaded with white beans, andouille sausage, veggies, and a flavorful broth, with plenty of Cajun soup spices to warm you up!
Print
Pin
Rate
Servings:
6
to 8 servings
Ingredients
1

pound

dried Great Northern OR navy beans

,

picked over

8 to 12

ounces

andouille sausage

,

sliced

2

cups

(approximately 8 ounces) sliced carrots

2

medium stalks celery

,

sliced

1

(15-ounce) can fire-roasted diced tomatoes

,

drained

5

cloves

garlic

,

minced

8

cups

low-sodium chicken broth OR stock

2

bay leaves

1 ½

teaspoon

Creole seasoning

,

such as Tony Chachere's

½

teaspoon

smoked paprika

Freshly ground black pepper

,

to taste

Hot pepper sauce

,

such as Tabasco or Louisiana Hot Sauce, to taste (optional)
Instructions
Rinse and drain the beans and place them in the bottom of a large (7- to 8-quart) slow cooker. Add the sausage, carrots, celery, tomatoes, and garlic on top. Carefully pour the chicken broth over the ingredients in the slow cooker, and then sprinkle with the bay leaves, Creole seasoning, smoked paprika, and black pepper. Cover and cook on low for 8 to 10 hours or until the beans are tender.

Remove and discard the bay leaves. Use a ladle to scoop about 3 cups of soup (without sausage) into a separate bowl and use an immersion blender to puree until smooth (or use a potato masher to mash). Stir the pureed soup back into the slow cooker. Adjust the seasonings to taste, adding additional Creole seasoning if desired or adding hot pepper sauce or cayenne for heat (to the entire slow cooker or to individual bowls).
Notes
Another option for upping the spice of this recipe is to stir in a bit of cayenne pepper (but add it slowly and gradually, tasting in between!).

Calories:
474
kcal
|
Carbohydrates:
59
g
|
Protein:
31
g
|
Fat:
13
g
|
Saturated Fat:
4
g
|
Cholesterol:
31
mg
|
Sodium:
579
mg
|
Potassium:
1586
mg
|
Fiber:
17
g
|
Sugar:
5
g
|
Vitamin A:
7710
IU
|
Vitamin C:
9.2
mg
|
Calcium:
189
mg
|
Iron:
5.9
mg
Post originally published on October 11, 2018, and updated on October 23, 2020, and March 20, 2023.