Hi, friends! This may very well be the most exciting news I've ever posted on Five Heart Home, becaaaause...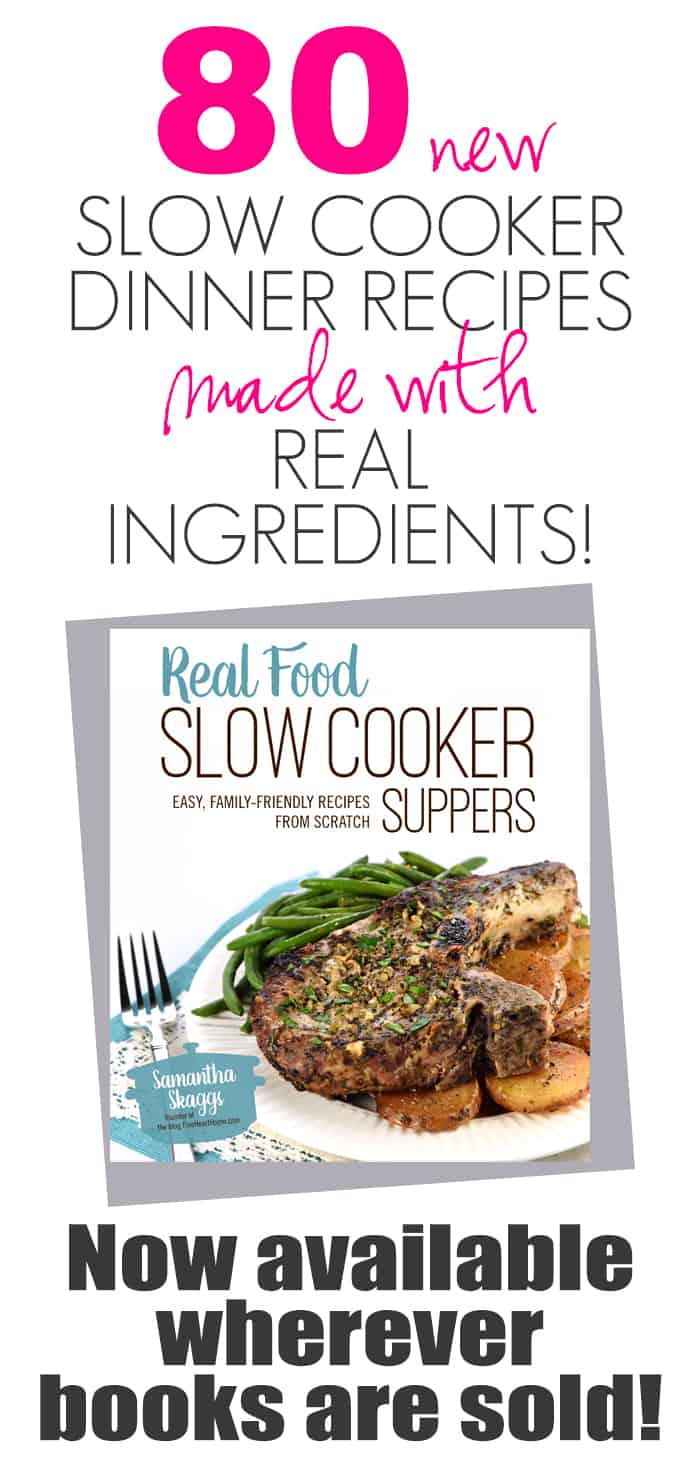 ...Real Food Slow Cooker Suppers is really, finally, OFFICIALLY HERE!
(And you can ORDER IT NOW!!!)

Those of you who have been along for the ride over the past year have been privy to the hard work (and stress) that it's taken to reach this big day. But after all is said and done, I am so dang proud of this cookbook, and I'm extremely excited that it's now available for you all to cook from!
I've said from the very beginning that, above all else, I want Real Food Slow Cooker Suppers to be USEFUL to those who buy it. I want this cookbook to make getting dinner on the table easier and more convenient for all of you with busy schedules. I want this cookbook to help you feed yourselves and your families slow cooker meals made with real, unprocessed ingredients. And I want this cookbook to get bent and stained and worn out because you enjoy the recipes so much that you cook them all the time!
So what types of recipes will you find in Real Food Slow Cooker Suppers? Let's take a little sneak peek of the chapters, shall we?

The cookbook kicks off with an introductory chapter that's positively packed with helpful and important information. It walks you through modern-day slow cookers, real-food ingredients, and getting to know your slow cooker. I share my favorite kitchen tools to enhance your slow cooker's performance. I cover general slow cooker (and cooking) tips, and then I discuss how specific ingredients perform in a slow cooker and my recommendations for what works best. Read this chapter before you begin and you'll be equipped for success with the recipes in this cookbook!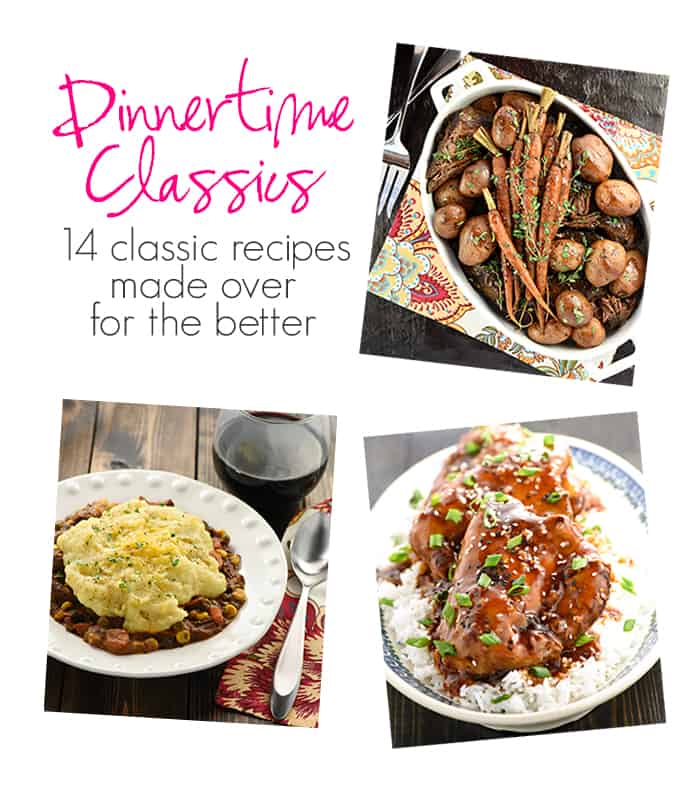 From Comforting Pot Roast (pictured above) to Swedish Meatballs to Cheeseburger Macaroni, these are classic dinner recipes that have traditionally been made in the slow cooker using not-so-natural ingredients...but I reinvented them using only real, unprocessed ingredients!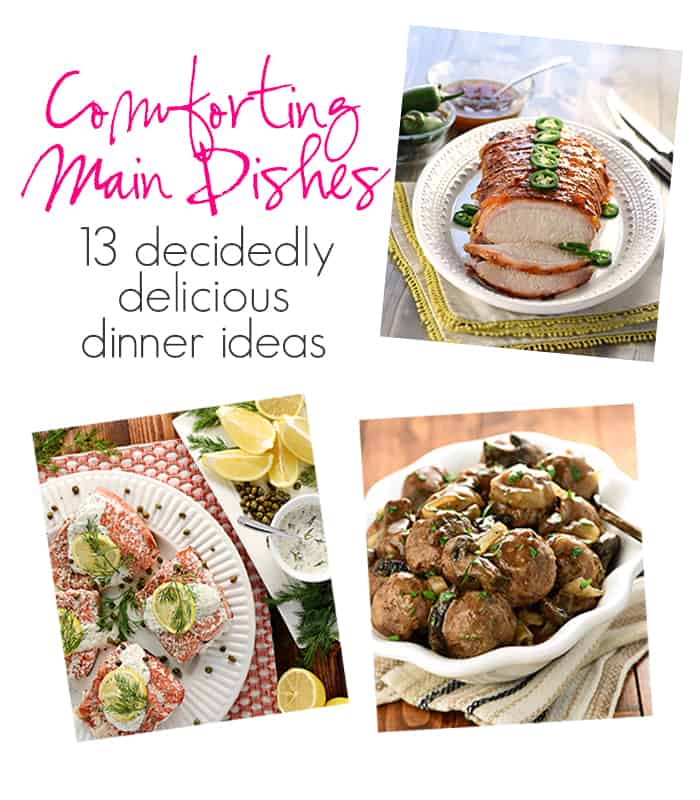 This chapter is full of recipes that you may not associate with a slow cooker, like Honey-Garlic Baby Back Ribs and Lemon Dill Poached Salmon (pictured above). It also features creative spins on familiar family favorites, such as Salisbury Steak Meatballs (pictured above) and Chicken Alfredo Tortellini.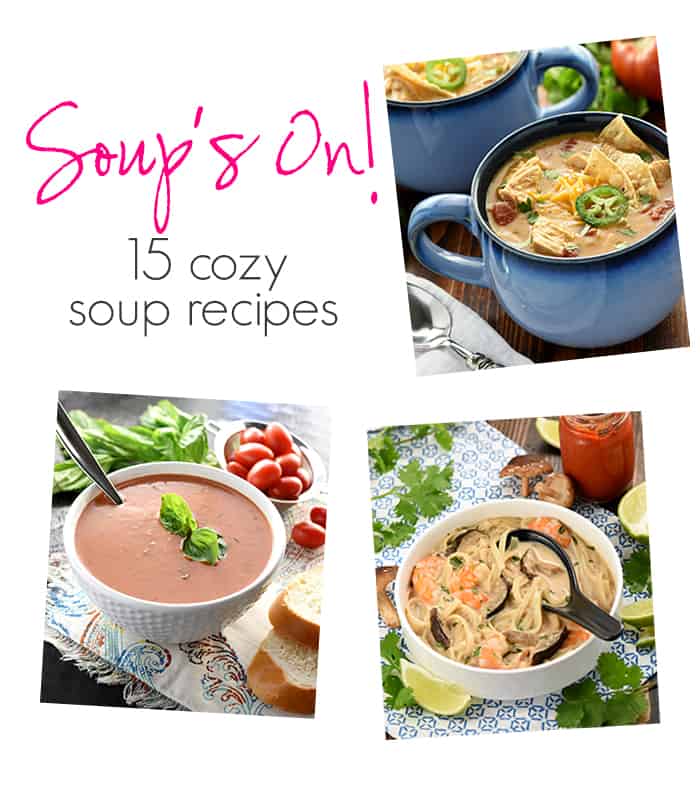 From classic soups (like Split Pea Soup with Sausage and Lightened-Up Tomato Basil Soup, pictured above) to soups inspired by popular main dishes (including Chicken Cordon Bleu Soup, Bacon Cheeseburger Soup, Chicken Pot Pie Soup, and King Ranch Chicken Soup, pictured above) -- the cozy recipes in this chapter will leave your tastebuds happy and your tummy satisfied!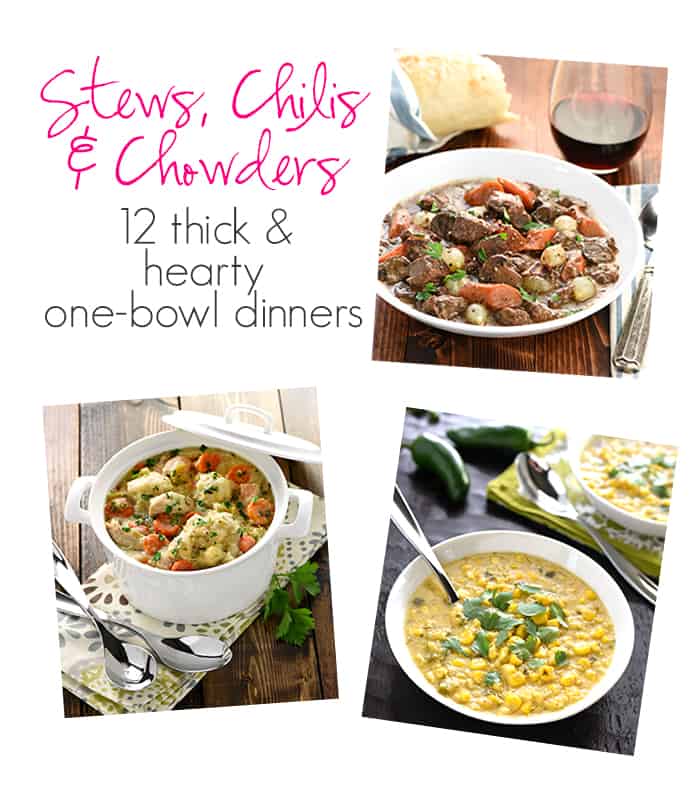 These slow cooker wonders are the definition of hearty, filling, comfort food! From Chicken & Dumplings (pictured above -- no condensed soup or refrigerated biscuits here!) and Pork & Hominy Stew...to Daddy's Texas Chili and Sweet Potato & Black Bean Chili...to Creamy Clam Chowder and Irish Lamb & Potato Stew...this chapter has something for everyone!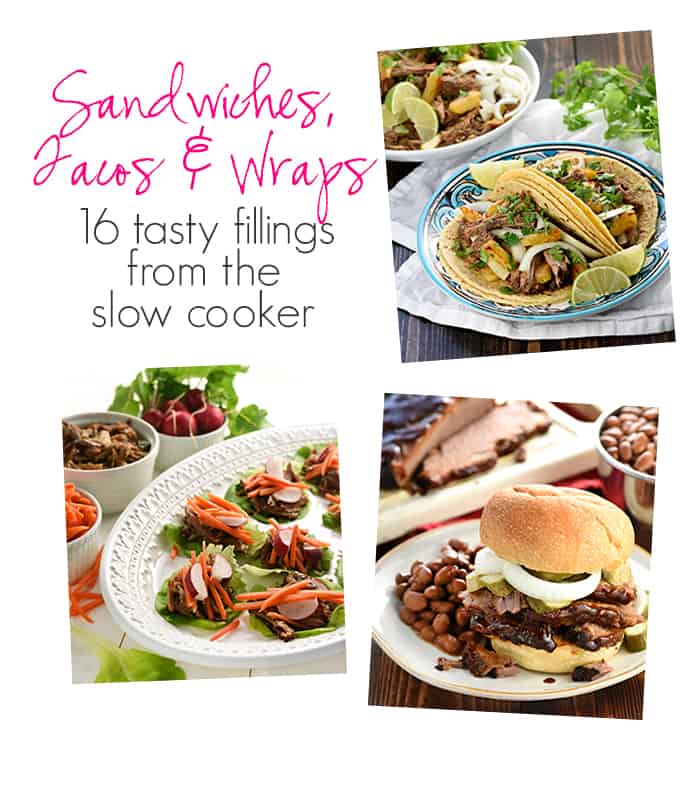 Slow cookers are ideal for whipping up a variety of savory fillings for sandwiches, tacos, wraps, and more...and the choices in this chapter range from Raspberry Chipotle Chicken Sliders to French Dip Tacos with Caramelized Onions & Blue Cheese to General Tso's Pulled Pork Lettuce Wraps (pictured above)!
Holiday meals mean lots of competition for oven racks and stove top space, and these recipes rely on the slow cooker for that special main dish, whether Herbed Turkey Breast (pictured above) or Cran-Cherry Glazed Ham (pictured above). This chapter also has tasty ideas for using up leftovers, such as Turkey & Wild Rice Soup and Cheesy Potato Soup with Ham.

Each of the 80 dinner recipes in the cookbook has metric conversions and is accompanied by a full-page, full-color photo (taken by yours truly 😉 ). But there's also a bonus chapter at the back with seven different homemade seasoning blends and stocks that can be used when making the other recipes in the cookbook!
Soooo...who's ready to get cooking???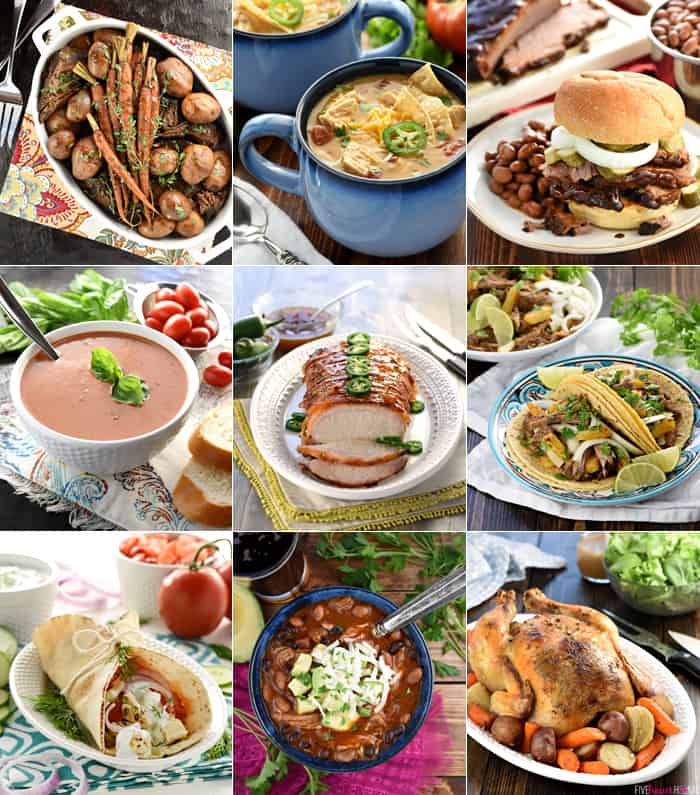 A HUGE THANK YOU (and a big virtual hug) to everyone who already pre-ordered Real Food Slow Cooker Suppers...y'all are the best! It should be getting to you very soon, and hopefully even today(!), depending on where you ordered. 🙂 As for those of you who may have been waiting for the official release date to buy the book, THAT DATE IS TODAY! Woo-hoo!
If you'd like to view a video sampling of the recipes,
you can watch the cookbook's QVC debut HERE!
I feel so fortunate to have had the chance to create Real Food Slow Cooker Suppers for my readers, followers, family, and friends, and I can't adequately express my appreciation for all of your support along the way. It's a privilege and an honor to share a little piece of my kitchen with y'all, and I've never felt that more than I do today. ♥
* * * * * * * * * *


Save
Save
Save
Save
Save
Save
Save
Save
Save
Save
Save