Happy Thursday, y'all! It's been a little over a week since my cookbook appearance on QVC, and I thought it might be fun to share a behind-the-scenes sneak peek of what the experience was like. So who's ready to fly to Philly? 😉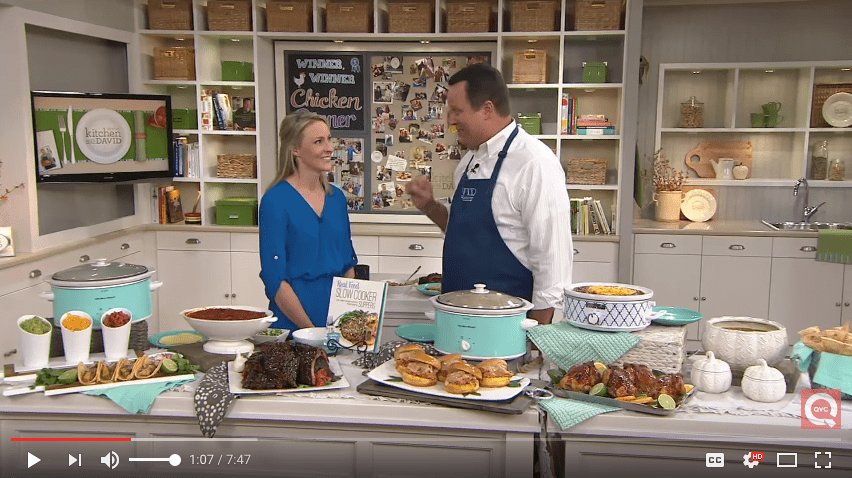 Some of you might remember that I was in Philadelphia about a month ago to attend QVC Guest Excellence Training, which certified me to appear on QVC's In the Kitchen with David to represent my cookbook, Real Food Slow Cooker Suppers. And while I made that training trip all by my lonesome, my husband came along for moral support when I flew up last week for the actual show. Since we were traveling from Texas and needed to allow for any potential flight delays, we were set to arrive in Philadelphia on Tuesday afternoon, the day before my Wednesday evening QVC appearance. Our flight actually was delayed, and so we arrived later in the evening than anticipated. But despite being beyond ready for dinner, we couldn't resist our overly-enthusiastic Uber driver's offer to take a few stereotypical tourist pics of us on the Rocky steps -- ha.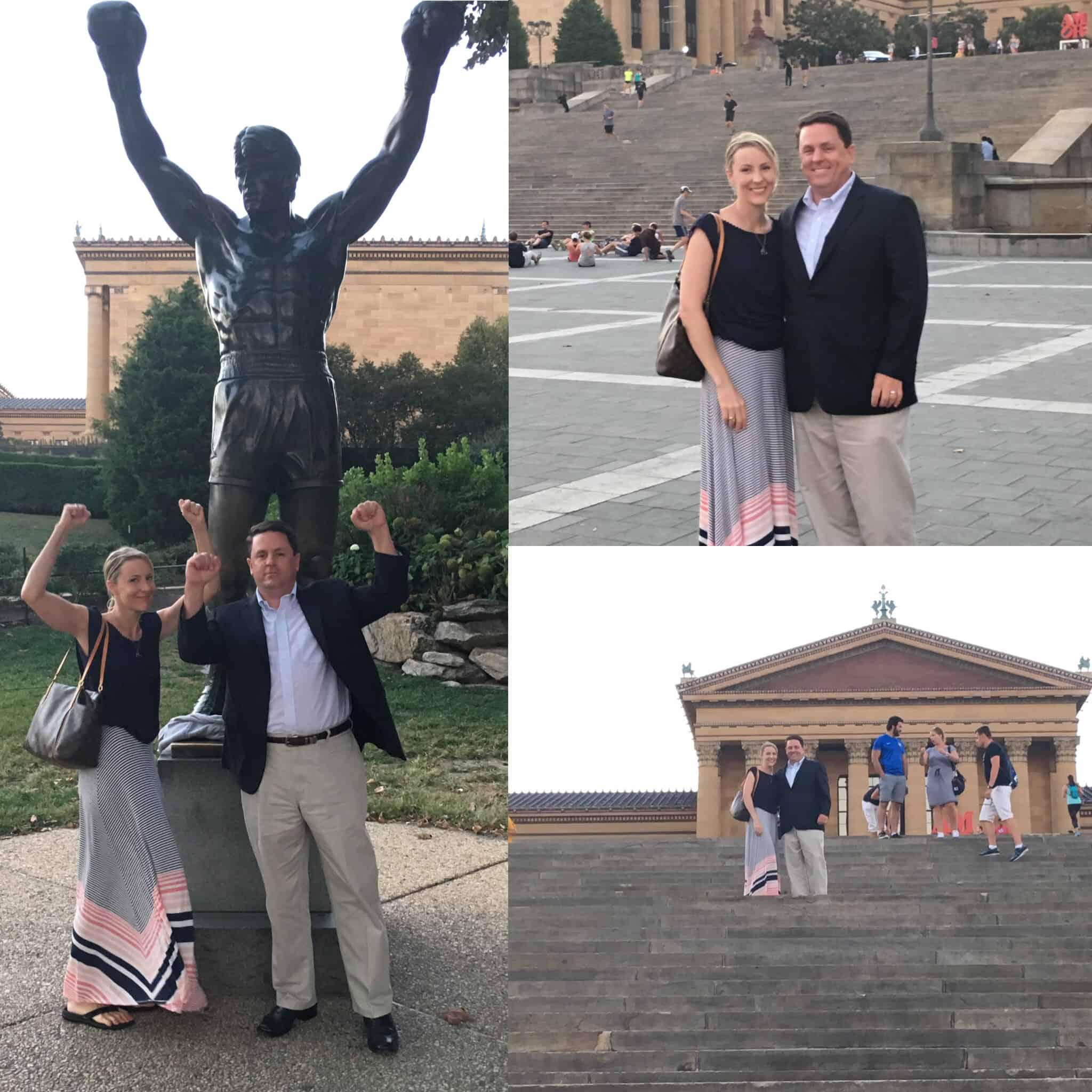 The next morning, we had a bit of time to kill before heading to QVC Studio Park, which is located about an hour west of Philadelphia. So we knocked out the Liberty Bell, Independence Hall, Benjamin Franklin's grave, and Philly Cheesesteaks, all in just a couple of hours. I was extremely nervous about being on TV, so taking in some history (and a yummy lunch!) was a good distraction.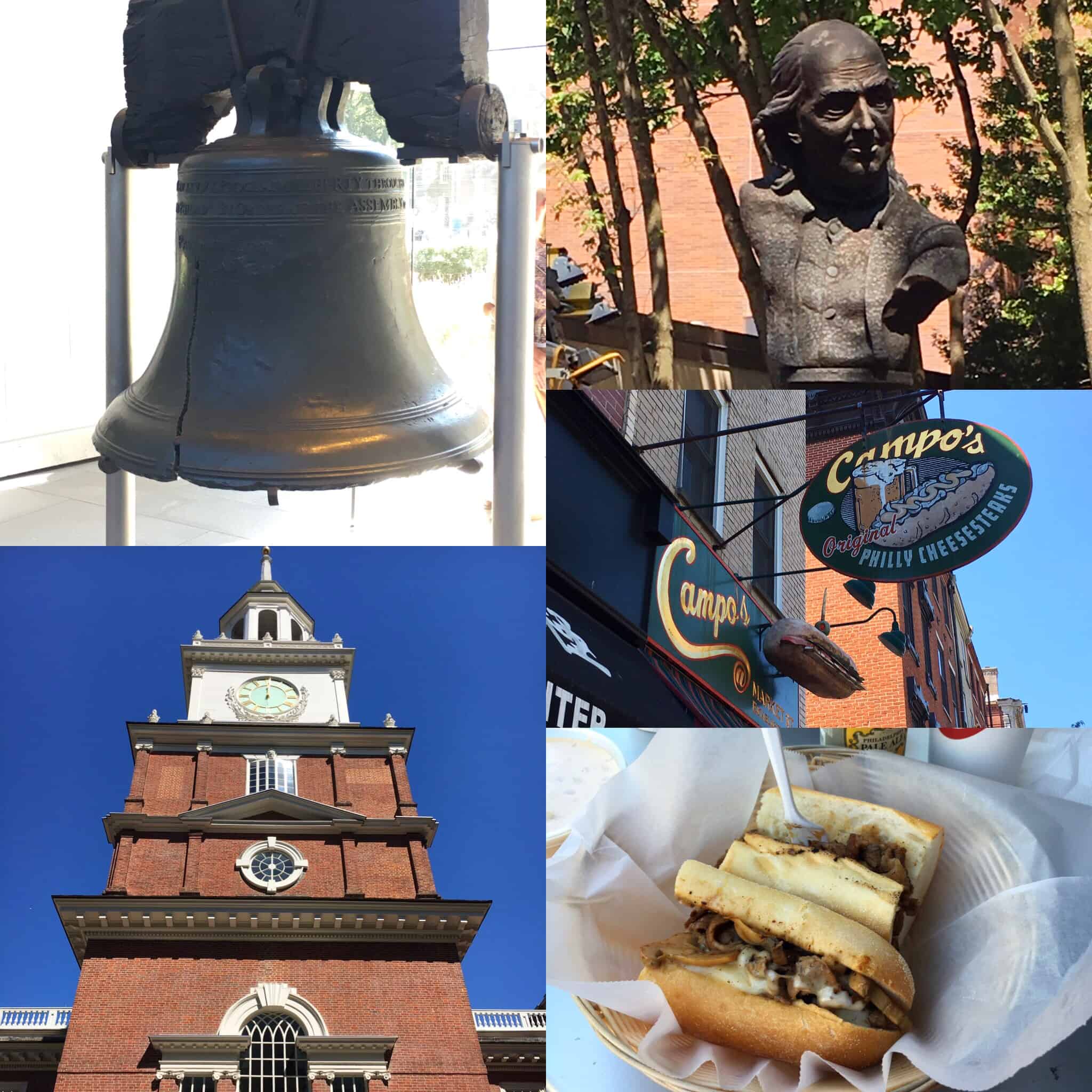 Then it was back to the hotel to get myself ready. I spent about two hours obsessing over my hair, make-up, whether my clothes were perfectly pressed, and whether I had remembered to pack everything that I would need for our trek to the studio. Finally, around 3:30 p.m., we were off! While my husband drove, I "studied" for my segment. Basically, I wanted to make sure that not only did I know my cookbook inside and out, but that I would be able to answer any question that could possibly be thrown at me. I had read and re-read my cookbook and typed up notes the entire trip over on the plane the day before, as well as in the prior weeks, and I honestly felt like I was cramming for a test. Once a nerd, always a nerd... 😉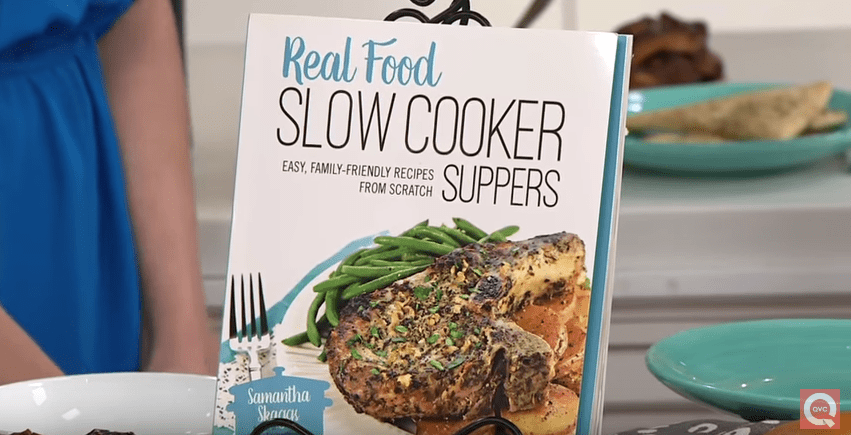 Once we arrived at QVC, we checked in and made our way to the green room, which would be my home-away-from-home for the next several hours. I'm pretty sure I was the only guest in the green room that night who was a novice. Many of the presenters on QVC regularly represent the same product(s) and appear on a weekly basis. But nope, not this girl...this was my first time ever on TV, and I was trying to act like that wasn't the case. I really wanted to take tons of pictures to document the entire experience, but I did my best to play it cool and subdue the big, flashing, neon arrow over my head that said NEWBIE.
I was set to meet with David Venable, the host whose show on which I would be appearing, at 5:30 p.m. Now, if you aren't already familiar with David, let me just tell you that you are missing out. My mother-in-law happens to be a QVC superfan to rival all QVC superfans. So at my house, we were introduced to David years ago -- long before I ever imagined that I would be writing a cookbook, much less appearing on his show -- and we have known him and loved him ever since. My kids can inform you that macaroni and cheese is David's favorite food, and they all know how to Happy Dance. David is enthusiastic, he is entertaining, he is real and warm and personable. And after having spent a little time with him, I can tell you that he is a consummate professional...and boy is he good at his hosting gig!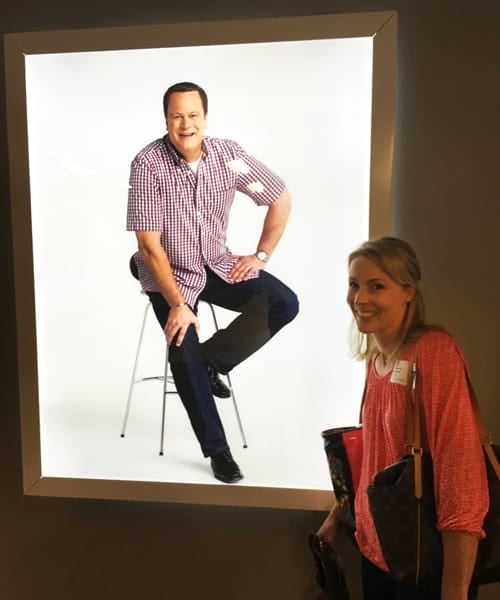 Anyway, at 5:30 p.m. I was ushered back to the set where I finally located my "table," AKA, the rolling countertop that was set and styled with an assortment of my cookbook recipes. Now, if you saw the show, you might be wondering whether I had to personally prepare all of those recipes. And the answer is no...fortunately, I did not! QVC has an amazing on-location Culinary Department, and I consulted on a menu with the manager before my appearance. Then a food stylist (hi, Jeri!) from the team prepared and styled my recipes, and she was still finishing everything up when I arrived on set to meet David. While I stood there, my Honey-Garlic Baby Back Ribs were being plated, and boy did they smell incredible!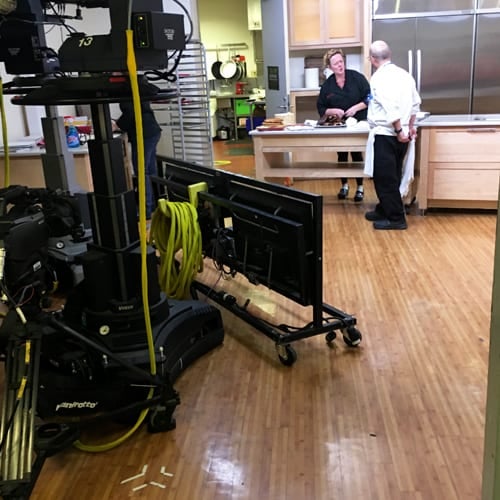 Anyway, here's a pic of my lonely table still waiting for all of its food...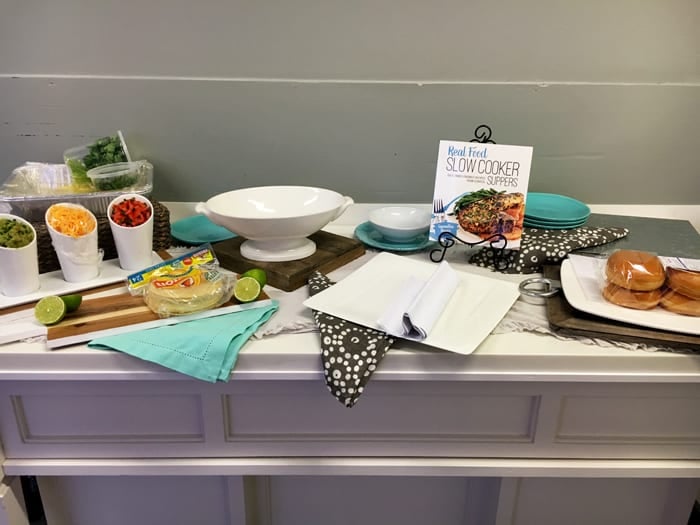 David came over and we chatted for a few minutes about my blog and my cookbook and the evening's featured recipes. David was friendly, he was focused, and boy was he tall! I fancy myself on the tall-ish side for a gal at 5'9", and he towered over me. Soon we had a game plan for my segment and then he was off again, headed to meet his next guest.
After I met with David, I had a 15-minute appointment at the QVC Salon so that they could touch up my makeup and primp my hair. Then I returned to the green room to nervously wait my turn and study my spiel and watch the live show on a big TV monitor. The show started at 7 p.m. and I couldn't believe that it opened with a preview of my cookbook! However, I wasn't set to go on until around 9 p.m., so I was thankful that I had my hubby to wait with me. While passing the time, I received lots of encouraging texts and messages from family and friends back home, and that was a great distraction as well.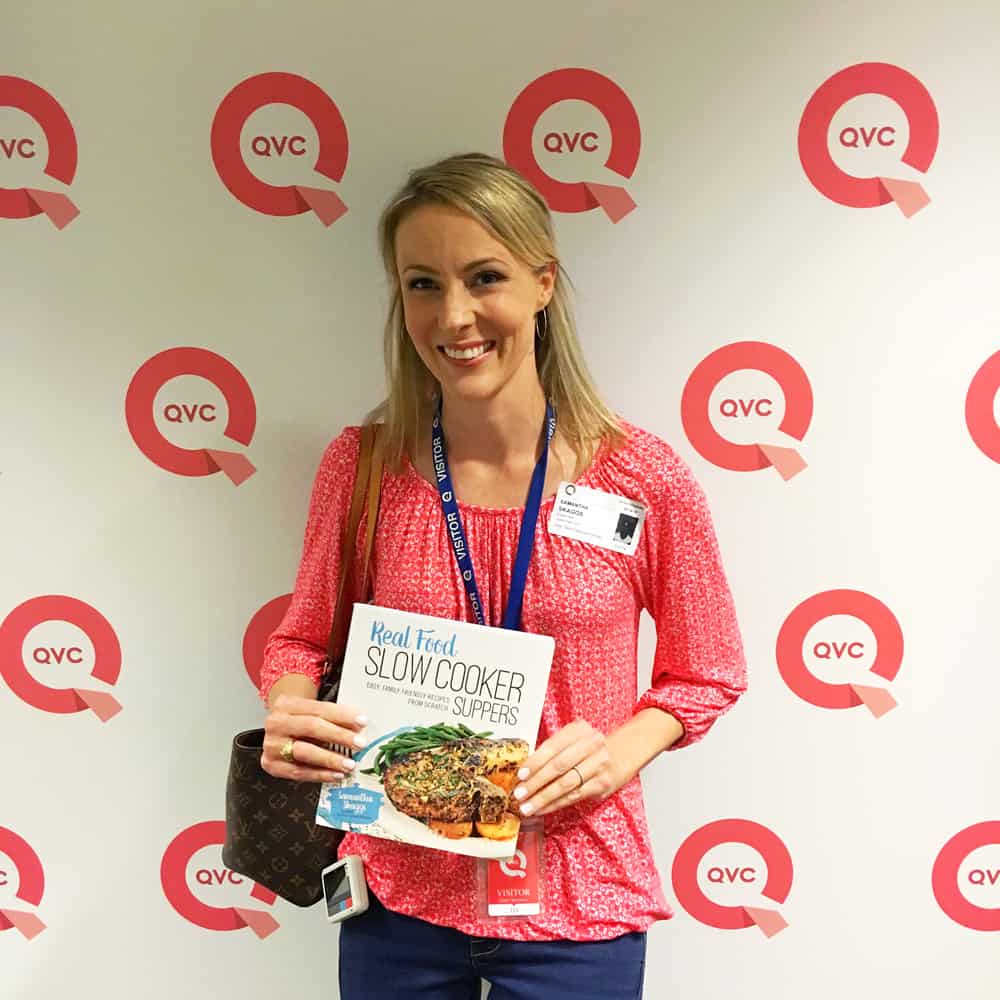 Eventually, it was time to kiss my husband goodbye and get mic-ed up to go on set for a little teaser segment with the adorable Stacey Stauffer. I was trying to keep my voice from shaking and I was doing my best to figure out which camera to look at, but it was over in a flash. Then I stood in the wings and waited for David to finish up the presentation that came before mine. I took deep breaths and crossed my fingers that I wouldn't make a fool of myself. And before I knew it, David was standing behind my beautifully styled table of slow cooker recipes and inviting me to come on down!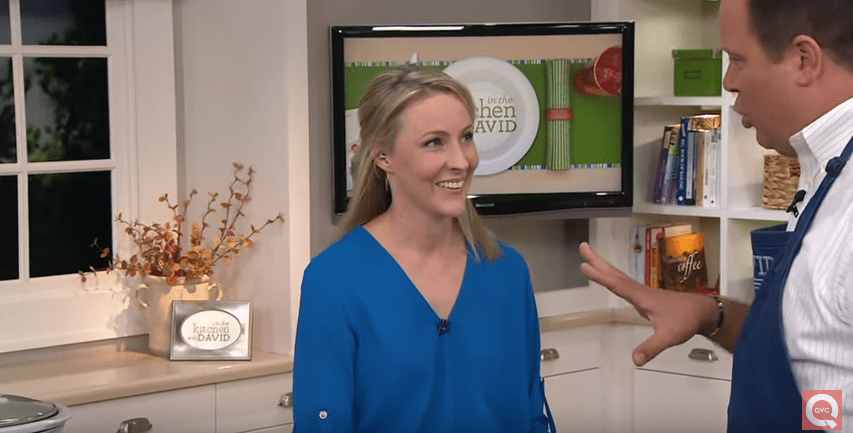 What happened next pretty much felt like an out-of-body experience. In fact, I didn't really remember what I did or said on camera until I watched the video back hours later. But I do know that I felt a sense of total calm come over me before I walked on set to meet David. I wasn't shaking, as I'd anticipated I would be. I didn't stutter or stammer or trip or drop anything. I responded with relatively appropriate comments and answered questions in a way that made sense (I think). 😉 I actually smiled and had fun! I'm telling you, as nervous and anxious as I had been feeling in the weeks and days and hours leading up to my appearance, IT WAS A QVC MIRACLE. I'm so thankful to have had such a positive experience, and I know that much of that can be owed to how effortlessly David guided me through the segment.
I was on for about 7 ½ minutes, but the whole thing felt like it flew. During that time, David and I chatted about my blog and my family and, of course, all about Real Food Slow Cooker Suppers. David tried my Cheeseburger Macaroni and it got a Happy Dance -- woo-hoo!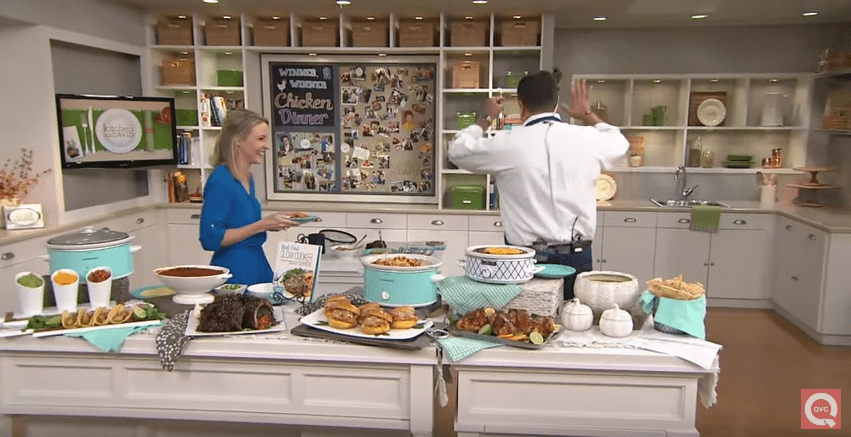 He also ended up sampling the cookbook's Honey-Garlic Baby Back Ribs, Chicken Pot Pie Soup with Pie Crust Dippers, and Shepherd's Pie. We talked about the Tacos al Pastor and the Hawaiian Chicken Sandwiches, but unfortunately, we ran out of time before we could cover my Daddy's Texas Chili or the Citrus-Glazed Cornish Hens. David flipped through the cookbook and showed viewers a sampling of recipes as well as the full-color photos. And then, with over 4,000 cookbooks sold in just a few short minutes, it was time to say goodbye.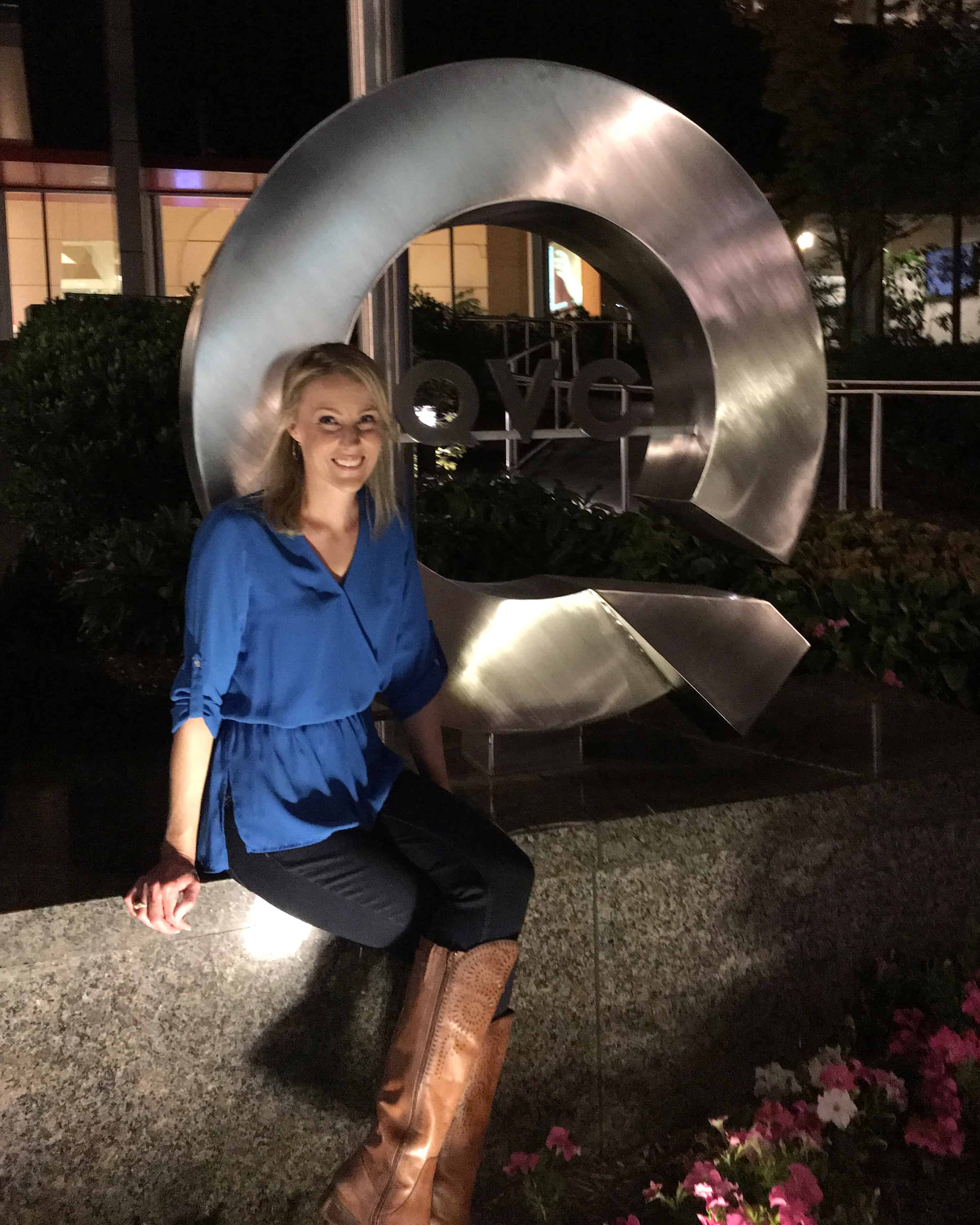 I was so happy and relieved that I practically skipped back to the green room. While I gathered my things, my husband kept an eye on the computer that showed my cookbook stats, and we watched as the number sold passed 5,000. What an honor and a thrill! Then, elated and exhausted and famished, we checked out at the security desk, hopped in our rental car, and headed back to our hotel in Philly...where we ate a very late celebratory dinner and watched the segment on YouTube (as I covered my eyes and peeked through my fingers) when it was posted a few hours later. Eeek!
Thanks so much to everyone who tuned in and cheered me on that night, including the family and friends at home who got together for watching parties. I was so touched and I felt all of you supporting me and lifting me up that night...I truly think that's why my nerves vanished in one big poof right before I walked out on live national television. And thanks also to everyone who bought a cookbook that night (or at any point before or since)...y'all are THE BEST!
If you missed the segment, you can view it here...just promise me you'll cover your eyes and watch through your fingers. 😉
And if you'd like to pre-order Real Food Slow Cooker Suppers, you can find it on QVC...or on Amazon...or at Barnes & Noble...or wherever books are sold! And then it will only be a couple of weeks before you get to hold the real live book in your hot little hands...yippee!
Thanks again, everyone, for making this entire cookbook experience possible. And thank you to Page Street Publishing Company, Macmillan, QVC, and David Venable for my once-in-a-lifetime experience last week! I wouldn't be here right now without all of you. ♥
Save
Save
Save
Save
Save
Save
Save
Save
Save
Save
Save
Save
Save
Save
Save
Save
Save
Save
Save
Save
Save
Save
Save
Save
Save