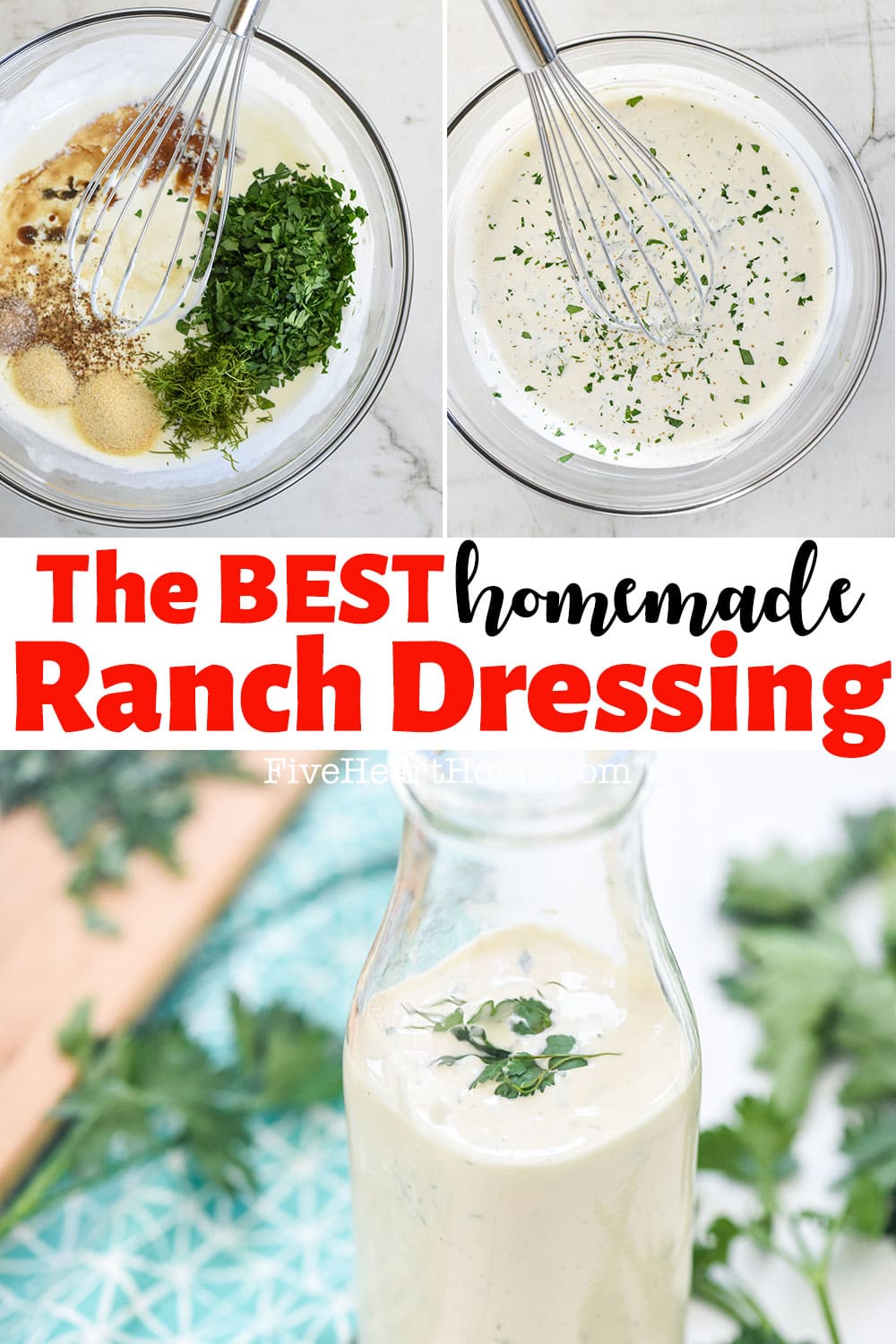 Homemade Ranch Dressing is all-natural, loaded with buttermilk and fresh herbs, quick and easy to make, and SO delicious that you'll never go back to store-bought again!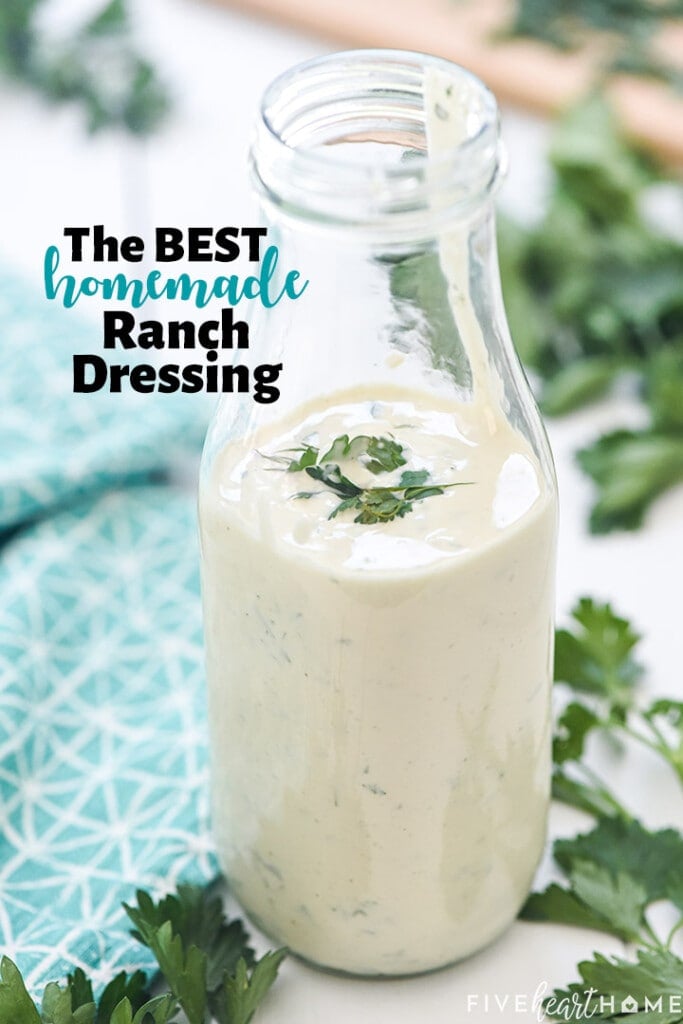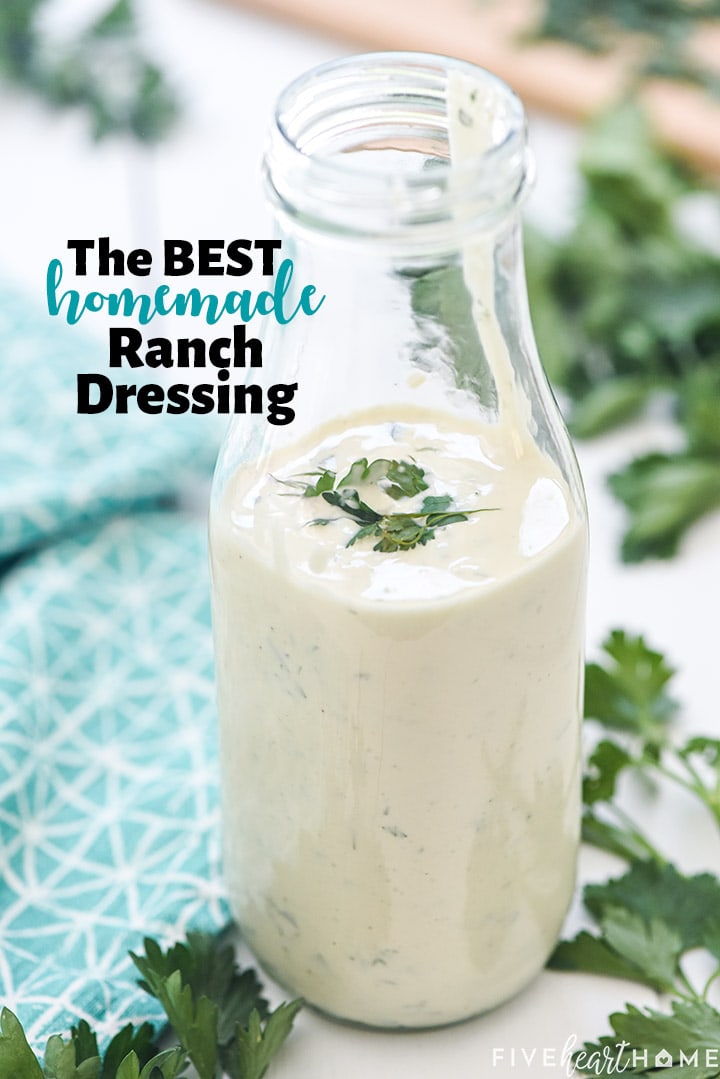 If you enjoy homemade salad dressings, you don't want to miss this versatile Ranch Dressing Mix, this zesty Homemade Italian Salad Dressing, or this classic Balsamic Vinaigrette!

Who loves creamy, flavorful Ranch Dressing?! I've coined this ranch dressing recipe "the best" because...well, I honestly think it is, y'all.
As in, I could drink it straight out of the jar, no lettuce required.
As in, my kids have scarfed down giant, veggie-loaded salads with nary a complaint every day this week.
And as in, ranch salad dressing and I go waaaay back...and I've never had better.
When I was a kid, my mom always made "homemade" ranch dressing using those (not homemade) dry seasoning packets. In college, I was introduced to glorious Hidden Valley Ranch goodness in a bottle. In fact, my roommates and I always had a jumbo jug in the fridge. We didn't keep it on hand for salads, mind you...everyone back then knew it was for dipping our pizza. 😉
But once I had kids and began to pay more attention to the quality of food that I was feeding my family, I started religiously reading labels. And consequently, I was aghast to discover some not-so-natural ingredients in my beloved HV.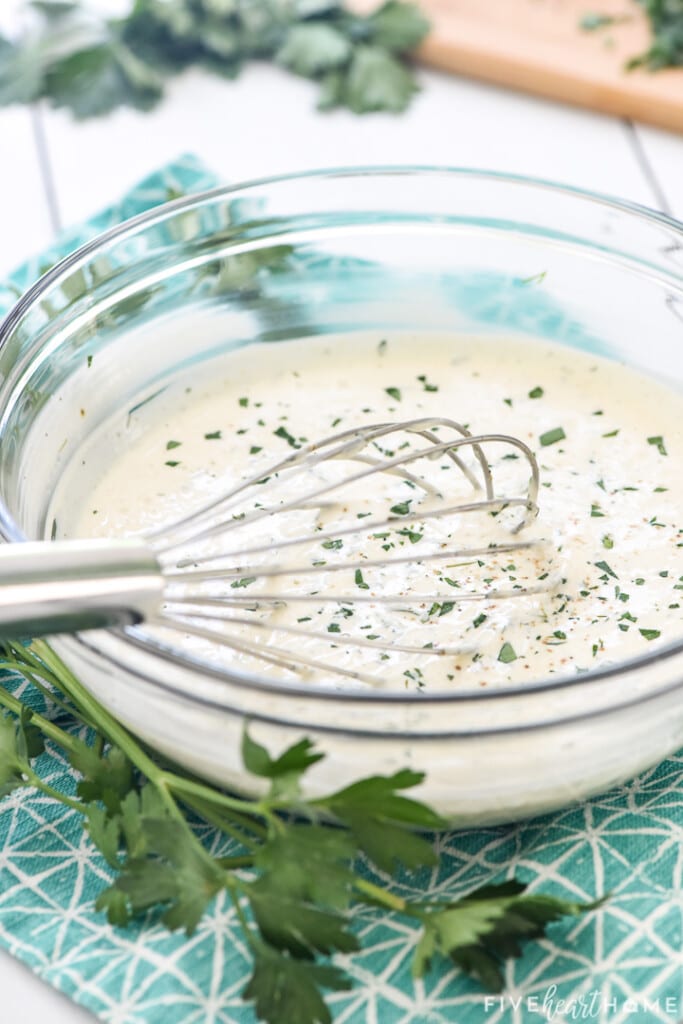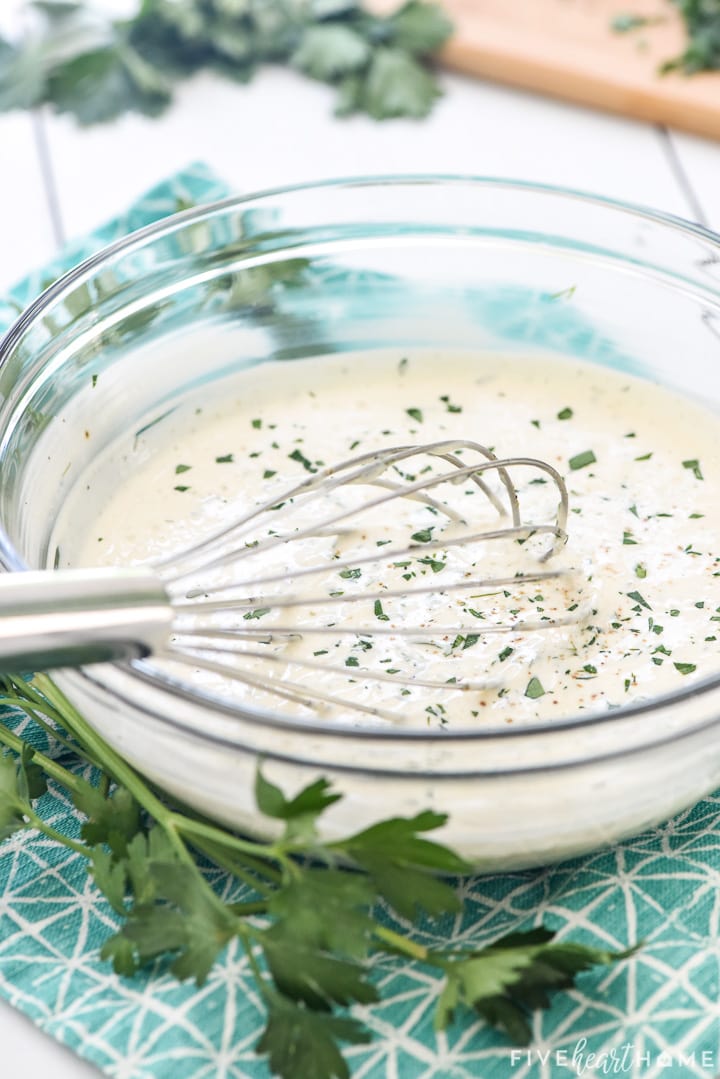 I tried other varieties of all-natural or organic ranch dressing, but they all tasted terrible to me. So if I couldn't have the "authentic" ranch taste that had been training my taste buds for so many years, I begrudgingly decided that I would just go without ranch altogether.
And then one day, it occurred to me that maybe it would be a worthwhile experiment to attempt my own from-scratch Homemade Ranch Dressing, in hopes of recapturing my ranch-loving days of yore. And you know what? The dressing I whipped up was surprisingly good. So I just kept on adjusting and tweaking until I arrived at a ranch dressing recipe that honestly puts every store-bought brand to shame!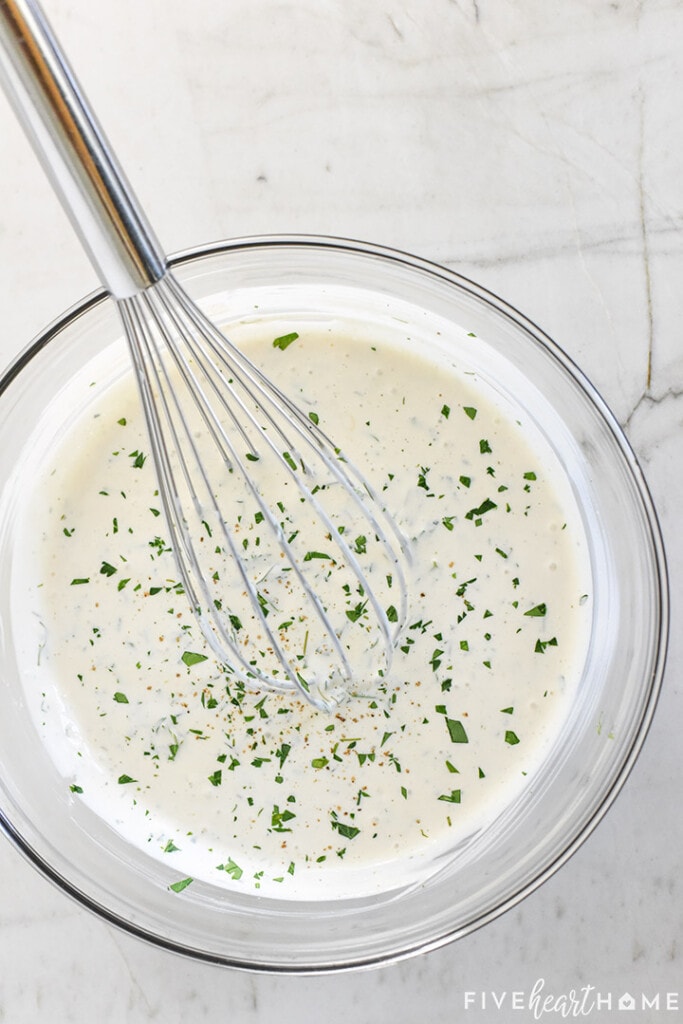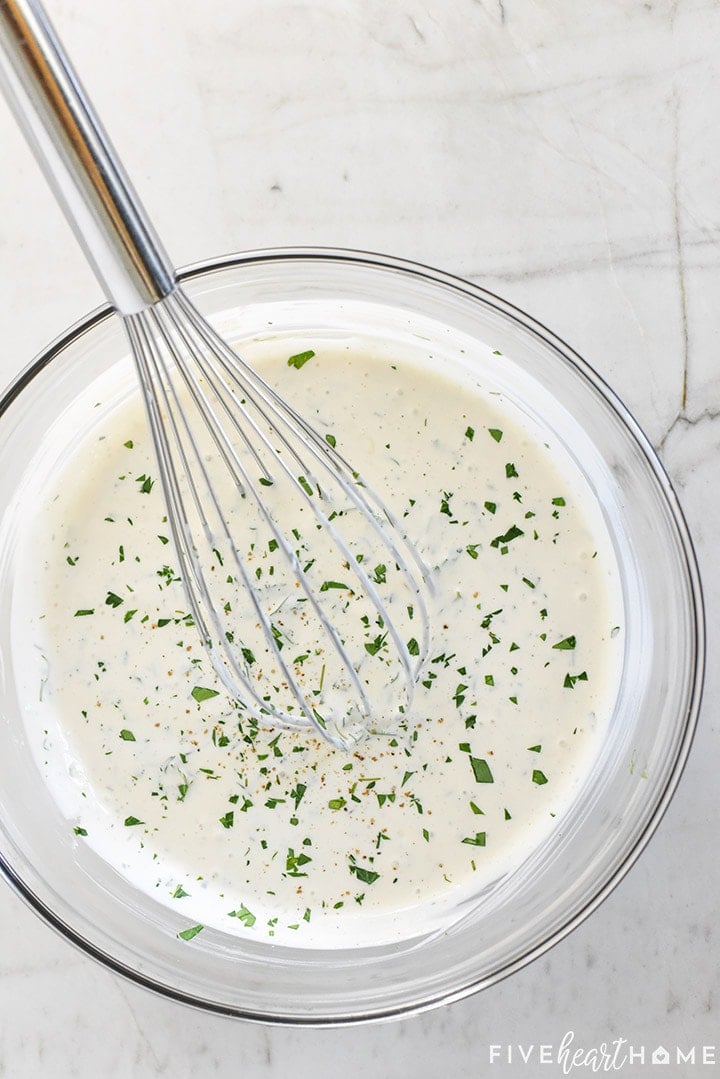 Homemade Ranch Dressing Ingredients
I truly believe that the perfect balance of complementary ingredients in this ranch recipe is what makes it SO gosh darn good.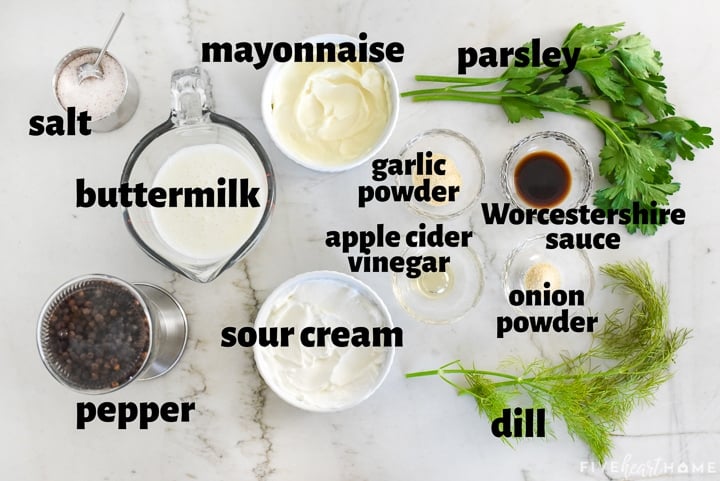 Mayonnaise. Now I'm going to sound like my good buddy Ina for a minute here and recommend that you use "good quality." While the flavor of the mayo certainly fades into the background after a suitable chilling time, you still want to enjoy those hints of its underlying flavor.
Sour cream. Depending on how decadent you're feeling, you can use regular, low-fat, or fat-free.
Buttermilk. Regular milk will work, of course. But I think buttermilk adds a nice undertone of tang, not to mention creaminess (that's why Buttermilk Ranch Dressing is so popular)! And no worries if you don't have any buttermilk on hand! Simply scroll down a bit for instructions on how to make your own.
Parsley and dill. Fresh herbs contribute such lovely flavor and color to this dressing if you have 'em. But if you don't, no worries...you can substitute ⅓ the amount of dried herbs (which are more potent, so you use less) instead.
Apple cider vinegar and Worcestershire sauce. Don't leave these ingredients out, because just a tiny amount of each contributes to the delicious flavor of this dressing.
Garlic powder and onion powder. While I looooove fresh garlic, I feel like it (and fresh onion) would overpower this recipe. So using powders instead is the perfect compromise.
Salt and freshly-ground black pepper. In particular, don't skimp on the salt...it's what makes all of the other flavors in the dressing pop.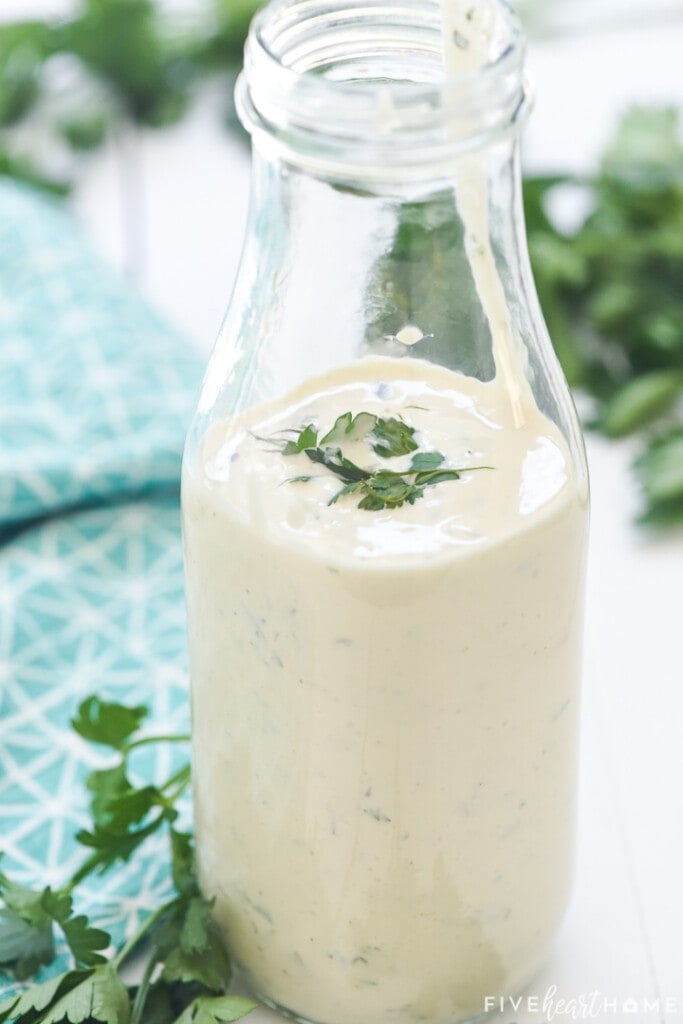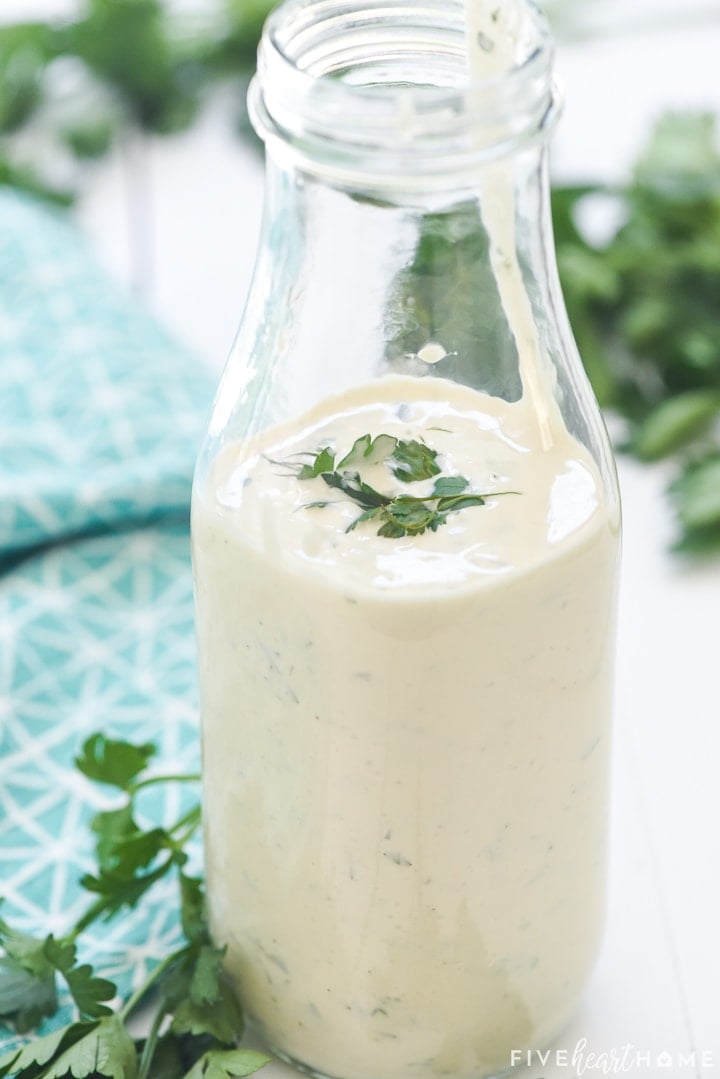 How to Make Ranch Dressing
Sometimes making the things you love at home from scratch can be a bit intimidating, but I promise that this ranch dressing recipe is worth the minimal effort. It's healthier (as in, no additives or preservatives), more budget-friendly, and quick and easy to whip up in a flash.
In fact, here's how straightforward it is:
Whisk together the mayo, sour cream, and buttermilk.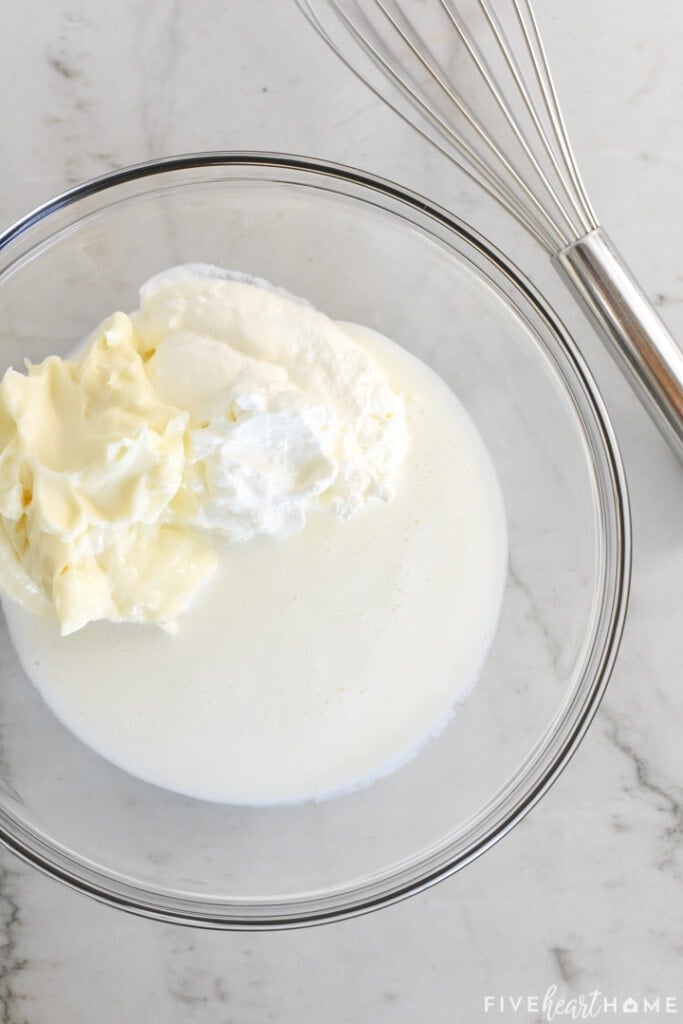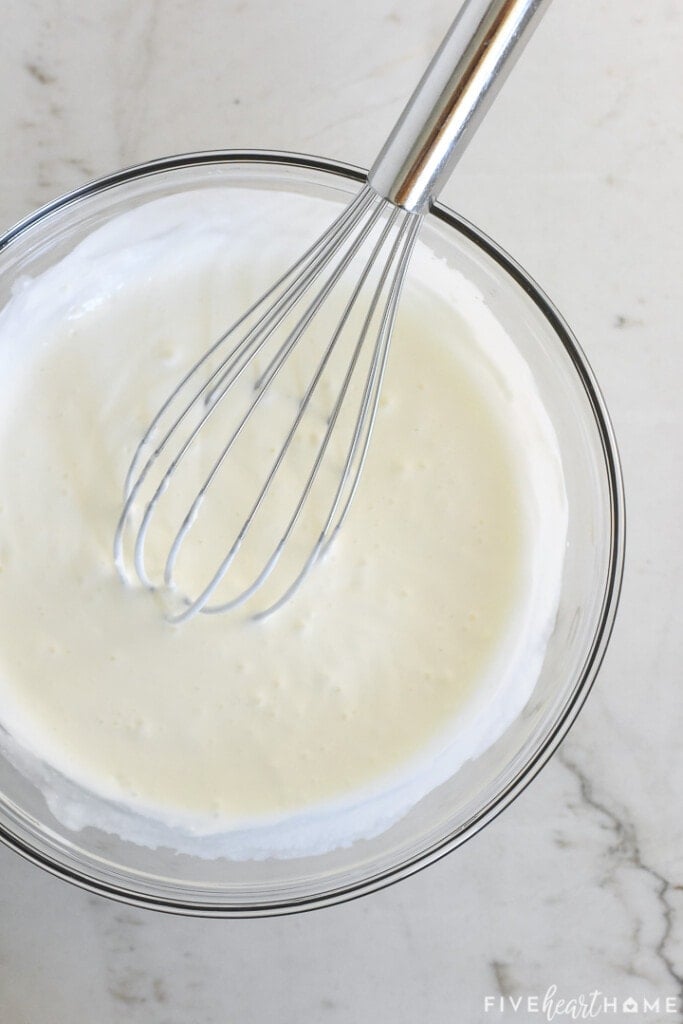 Blend in the herbs, flavorings, and spices.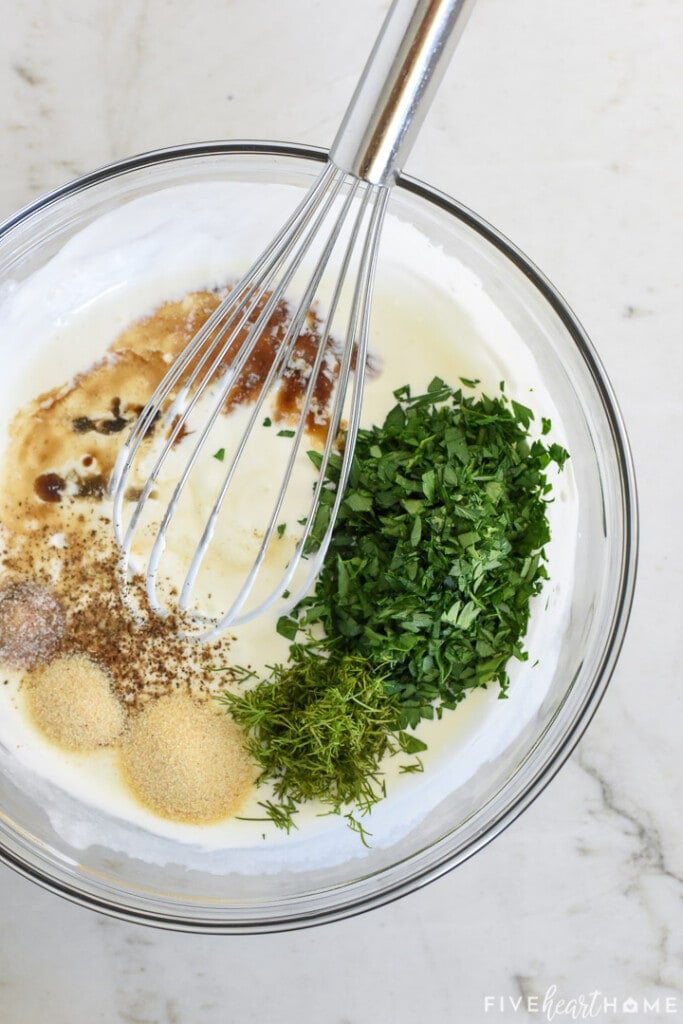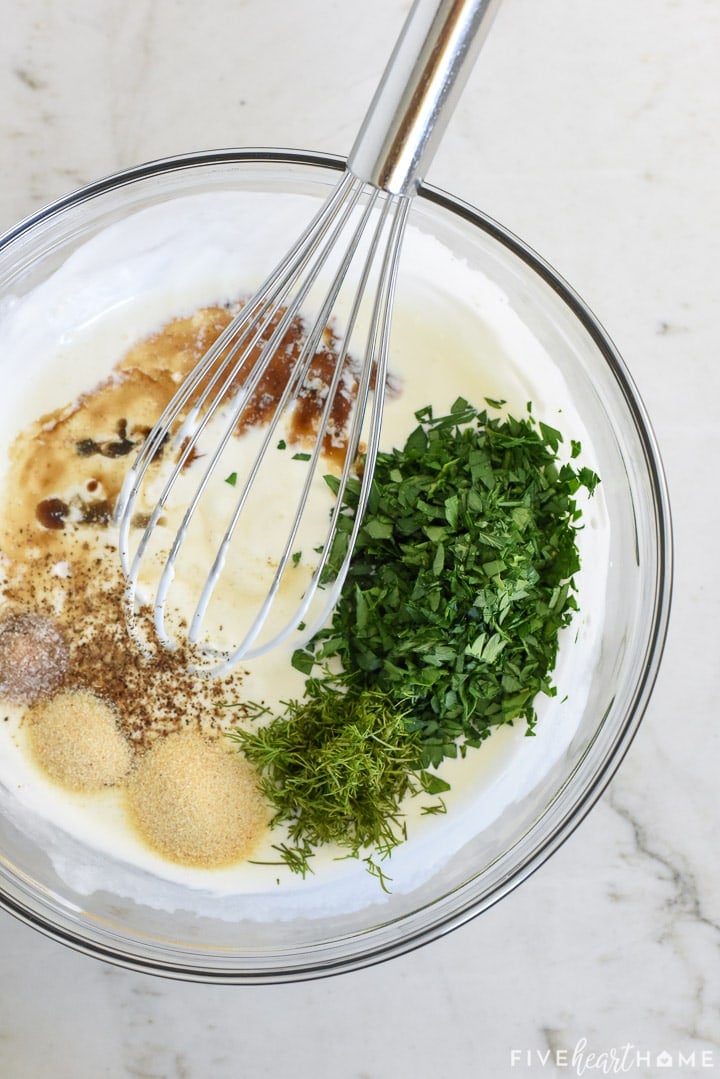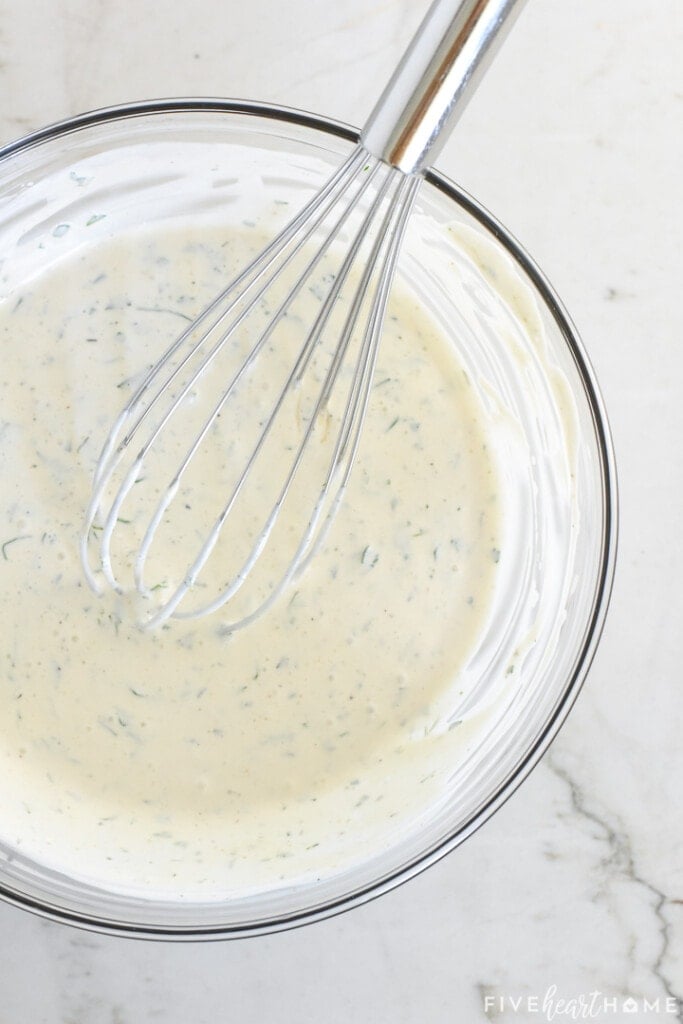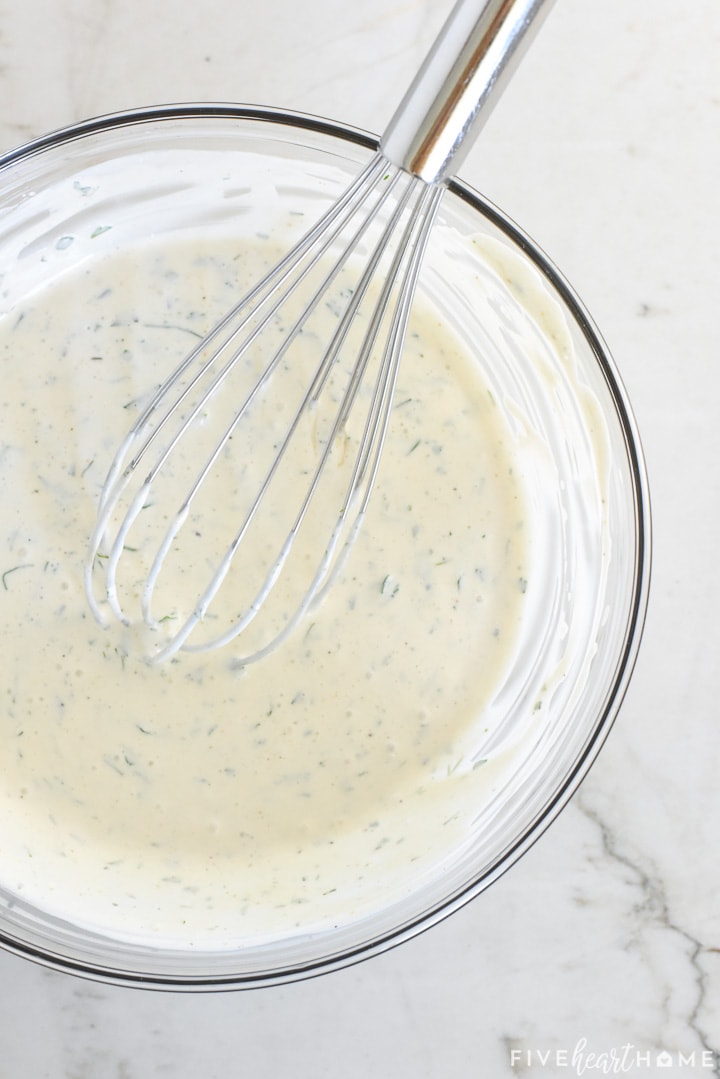 See? Couldn't be any simpler.
However, there is one final, very important step that does require a bit of planning ahead and/or patience:
Refrigerate your ranch dressing for four hours (or ideally, overnight) to let the flavors come together.
I promise, Homemade Ranch Dressing just won't taste good until you allow it to chill.
And if, in the process, it thickens too much, you can always stir in a little extra buttermilk before serving to thin it back out.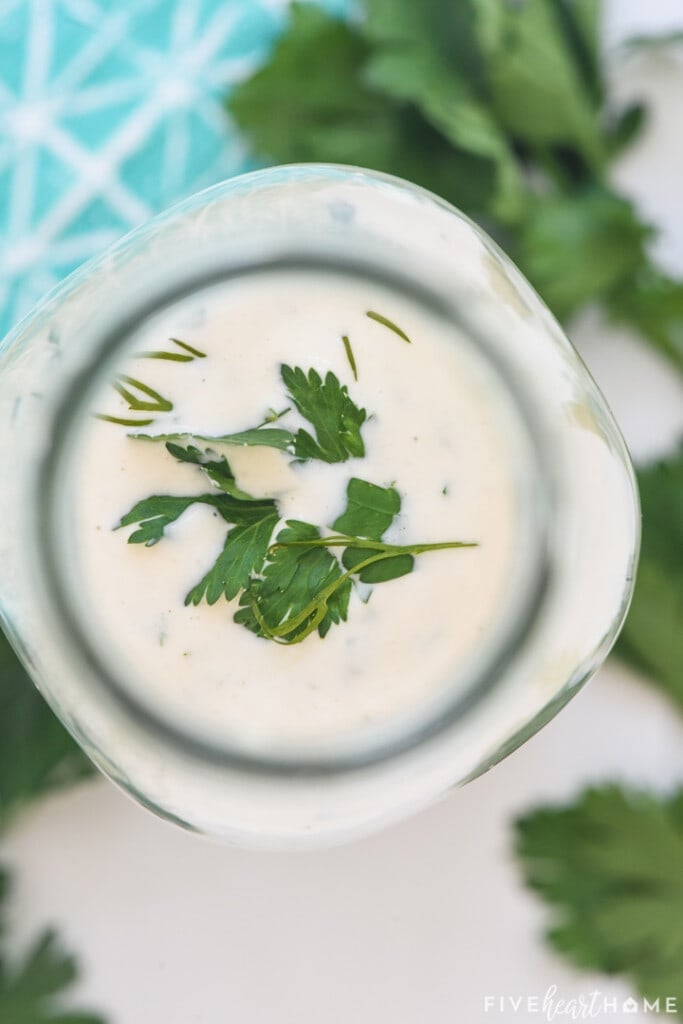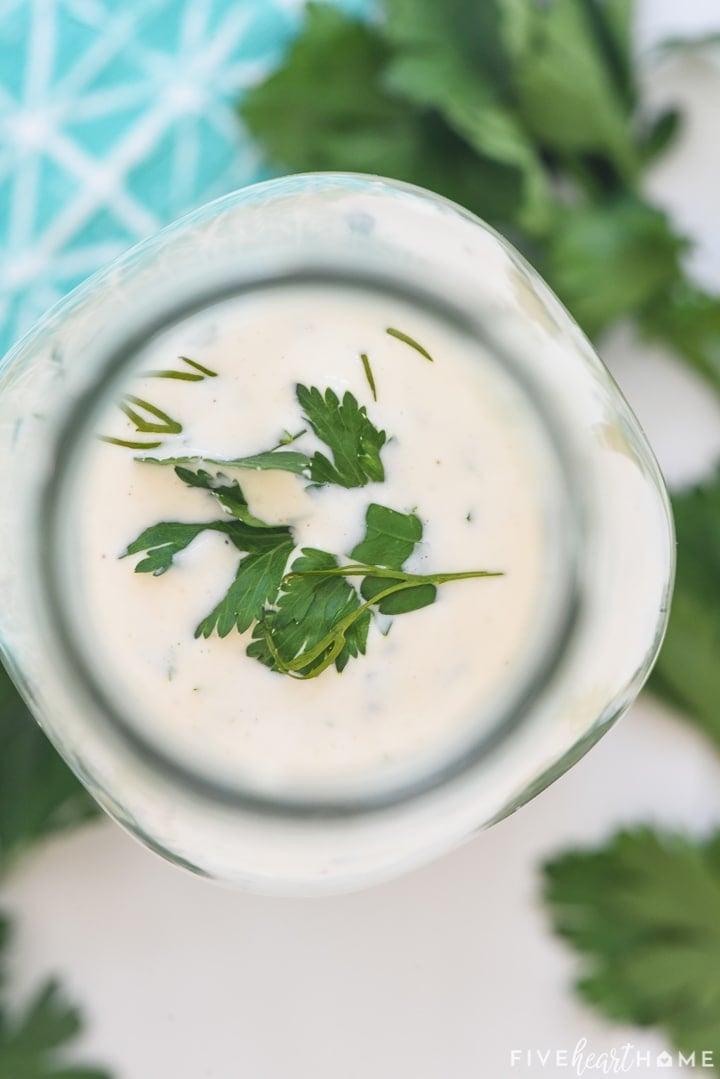 How to Make Buttermilk
Buttermilk is one of those ingredients that most people don't keep in their fridge. But I do feel like it's an integral part of this recipe, as it gives ranch dressing its slightly tangy taste. The good news is that you can easily make your own buttermilk!
Making buttermilk is as easy as using 1 tablespoon of acid for every cup of milk.
So for this recipe:
Add 1 ½ teaspoons of lemon juice (or white vinegar) to a 1-cup measuring cup.
Fill the rest of the way to the half-cup mark with whole milk and stir to combine.
Let the mixture sit for five to ten minutes, stir, and it will have thickened and curdled, turning into buttermilk!
Is Mayonnaise Really Necessary?
And now to address another common question about making your own ranch...
I should say that, first of all, I don't like to taste the mayonnaise in my ranch dressing, which is the problem I have with most of the bottled ranch dressings out there. Yet I find mayonnaise to be a necessary component in ranch.
Fortunately I've discovered that by using equal parts mayo, sour cream, and buttermilk -- and allowing the flavors to blend while the dressing chills (!!!) -- the prominent notes of mayonnaise disappear, the flavor of the dressing is balanced, and its consistency is perfect for salads.
Just keep in mind that if you want to keep your Homemade Ranch Dressing "real food" quality, you need to pay attention to the ingredients in the mayonnaise that you buy. If you're feeling really gung-ho, you can even make your own from scratch! But don't feel obligated...there are store-bought jars of mayo with decent ingredients, so just be sure to read the labels.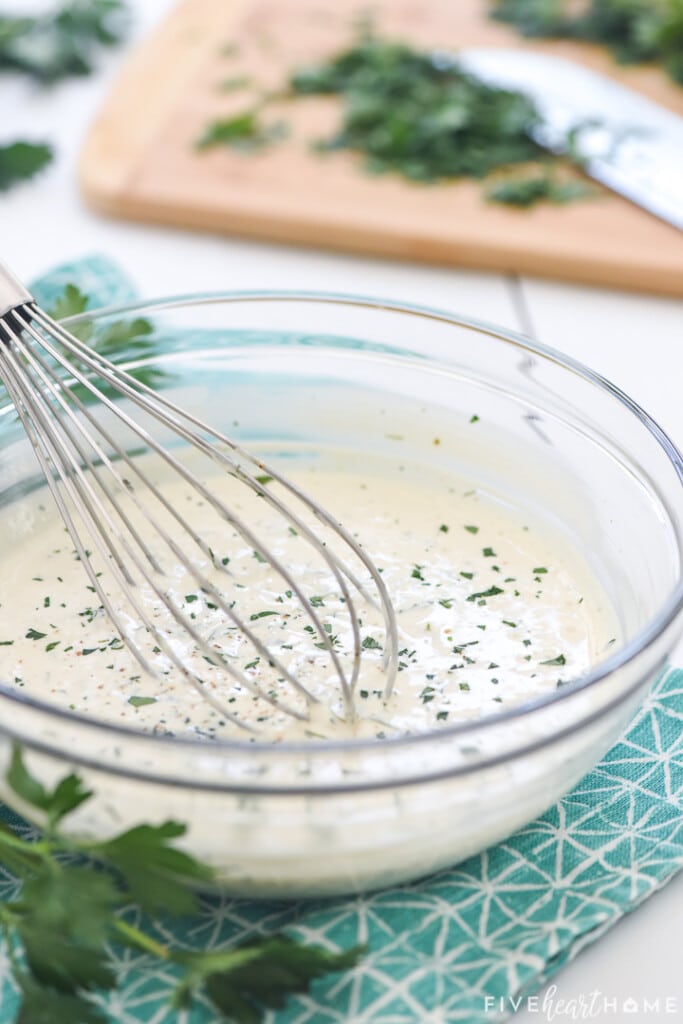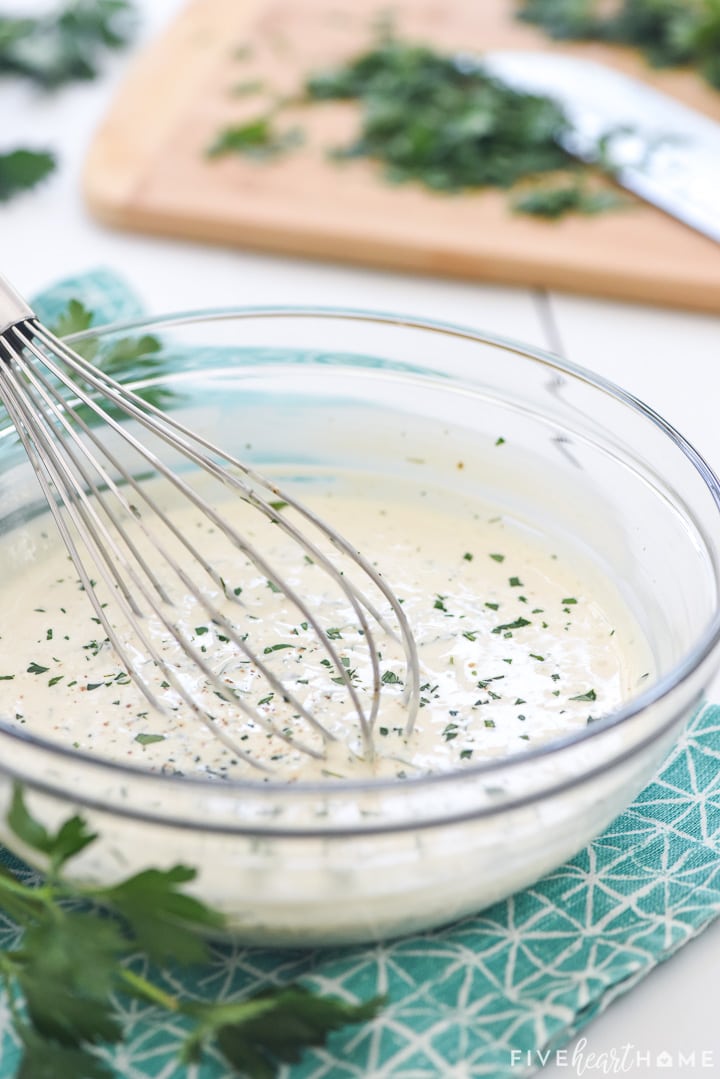 All About the Herbs
When I have fresh herbs at my disposal, I love to use them in my ranch. But dried herbs work just fine as well. In fact, I've learned to always keep Homemade Ranch Dressing Mix -- which features dried herbs -- in my pantry for whipping up homemade dressing any time.
I often find myself with fresh parsley on hand, but no fresh dill. So in those instances, I happily stir fresh parsley and dried dill into my ranch dressing recipe. Works swimmingly!
I think this buttermilk ranch dressing is perfect using parsley and dill as its only herbs. However, feel free to toss in your favorites and experiment with the flavors. Chives add a nice little bite if you're into onions (which I am vehemently not). Or you can even add a bit of basil or cilantro for a totally different twist!
How Long Does Ranch Dressing Keep?
Because this ranch recipe contains mayo, sour cream, and buttermilk, it definitely needs to stay chilled.
And it will be fine in the fridge for up to a week or so...if you can keep from eating it all before then, that is! I typically pay attention to the expiration date of the buttermilk and sour cream to know if my ranch will keep for less than a week.
How Do I Make Ranch Dip?
If you enjoy Ranch Dip, adapting this recipe is as simple as leaving out the buttermilk and subbing extra mayo and sour cream in its place. I can assure you that your carrot sticks will never be so happy!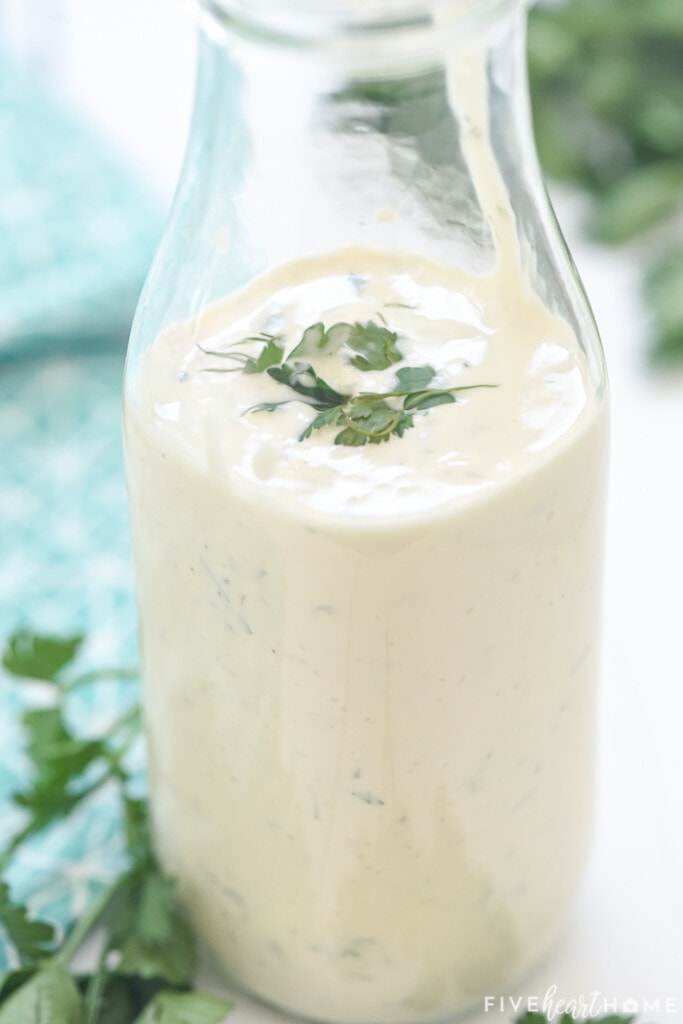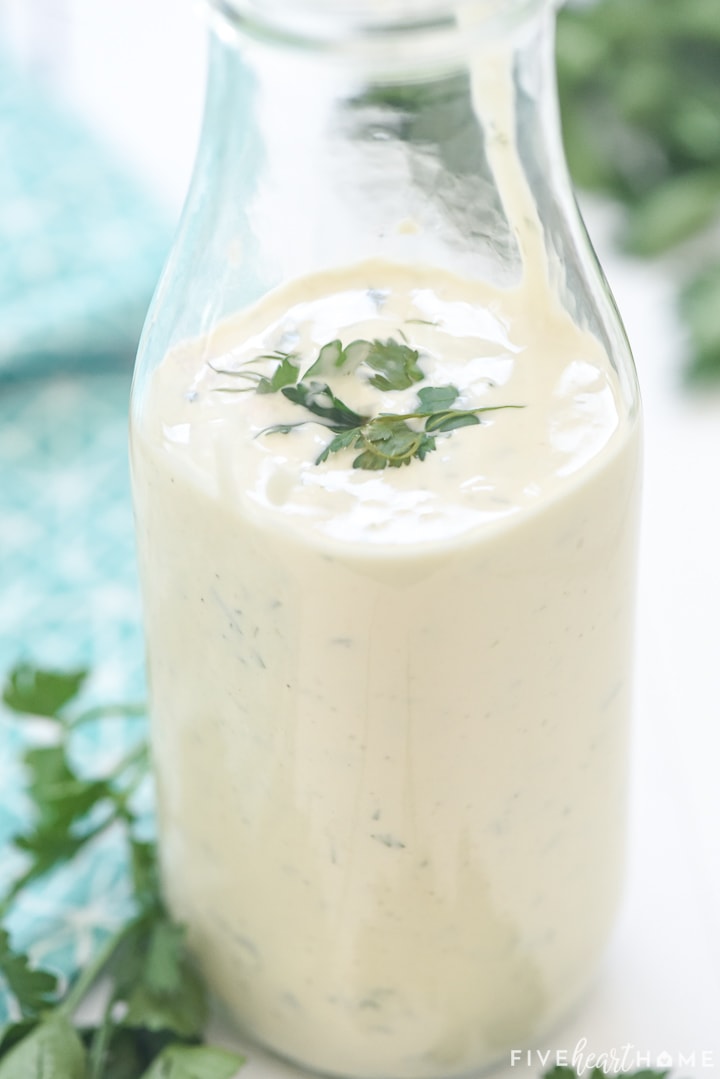 I really hope y'all give this Homemade Ranch Dressing a try! It's soooo simple to make and it's absolutely delicious. The most time-intensive step is chopping the herbs, if you happen to be using fresh. Other than that, it's just a matter of measuring, whisking, and then remaining patient as the dressing chills.
So if you're a fan of ranch, I encourage you to make this recipe STAT!
It'll have your family and friends begging for more.
It'll make you crave salad for breakfast.
Heck, it may even infiltrate your dreams!
Because -- let's be honest -- the best recipes always do. 😉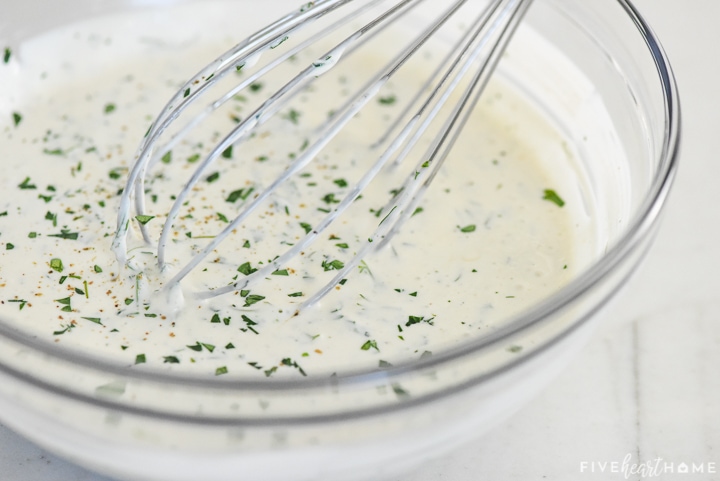 More Homemade Salad Dressings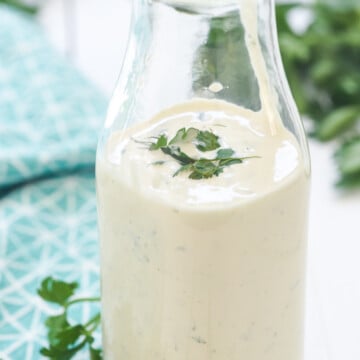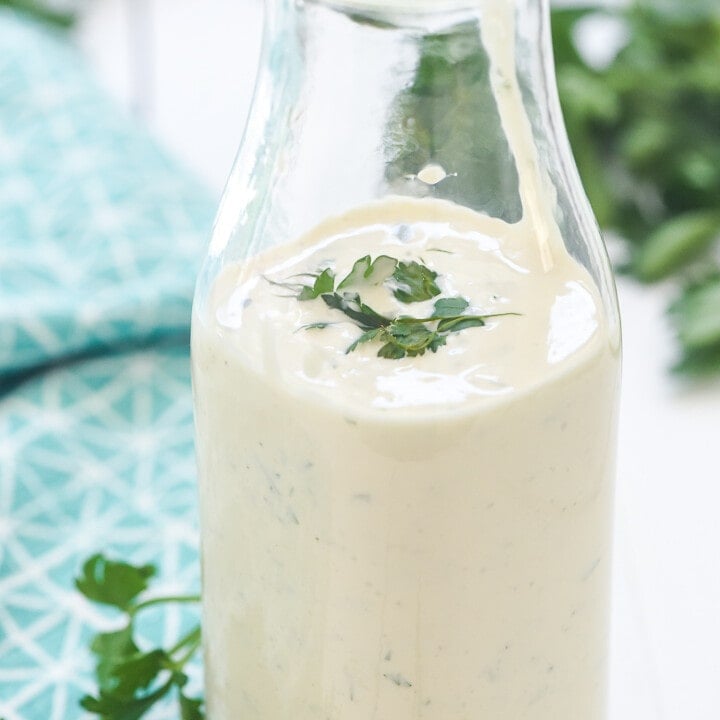 Homemade Ranch Dressing
The BEST Homemade Ranch Dressing is all-natural, loaded with buttermilk and herbs, quick and easy to make, and so good that you'll never go back to store-bought again!
Print
Pin
Rate
Servings:
12
(2-tablespoon) servings (about 1 ½ cups dressing total)
Ingredients
½

cup

good-quality mayonnaise

½

cup

sour cream

½

cup

buttermilk

3

tablespoons

fresh minced parsley

,

OR 1 tablespoon dried parsley

1 ½

teaspoons

fresh minced dill

,

OR ½ teaspoon dried dill

½

teaspoon

apple cider vinegar

½

teaspoon

Worcestershire sauce

½

teaspoon

garlic powder

¼

teaspoon

onion powder

¼

teaspoon

salt

Freshly ground black pepper

,

to taste
Instructions
In a medium bowl, whisk together mayonnaise, sour cream, and buttermilk until smooth. Stir in parsley, dill, vinegar, Worcestershire sauce, garlic powder, onion powder, salt, and pepper. Blend well and adjust seasonings, to taste.

Cover and refrigerate for ideally 8 hours (4 hours at a minimum) or overnight. If the consistency is too thick after chilling, thin out the ranch dressing with a splash of additional buttermilk.
Notes
If you don't have any buttermilk on hand, you can make your own by pouring 1 ½ teaspoons of lemon juice (or white vinegar) into a 1-cup liquid measuring cup. Fill the measuring cup up to the ½-cup line with milk (whole milk is preferred but low-fat/skim milk will work). Allow to sit for 5 to 10 minutes and stir before proceeding with recipe.
To make Ranch Dip (instead of dressing), use a total of ¾ cup mayonnaise, ¾ cup sour cream, and eliminate the buttermilk.
Calories:
89
kcal
|
Carbohydrates:
1
g
|
Fat:
9
g
|
Saturated Fat:
2
g
|
Cholesterol:
10
mg
|
Sodium:
129
mg
|
Potassium:
32
mg
|
Vitamin A:
165
IU
|
Vitamin C:
1.4
mg
|
Calcium:
23
mg
|
Iron:
0.1
mg
Post originally published on May 7, 2015. Updated on April 16, 2019, and again on May 2, 2020.