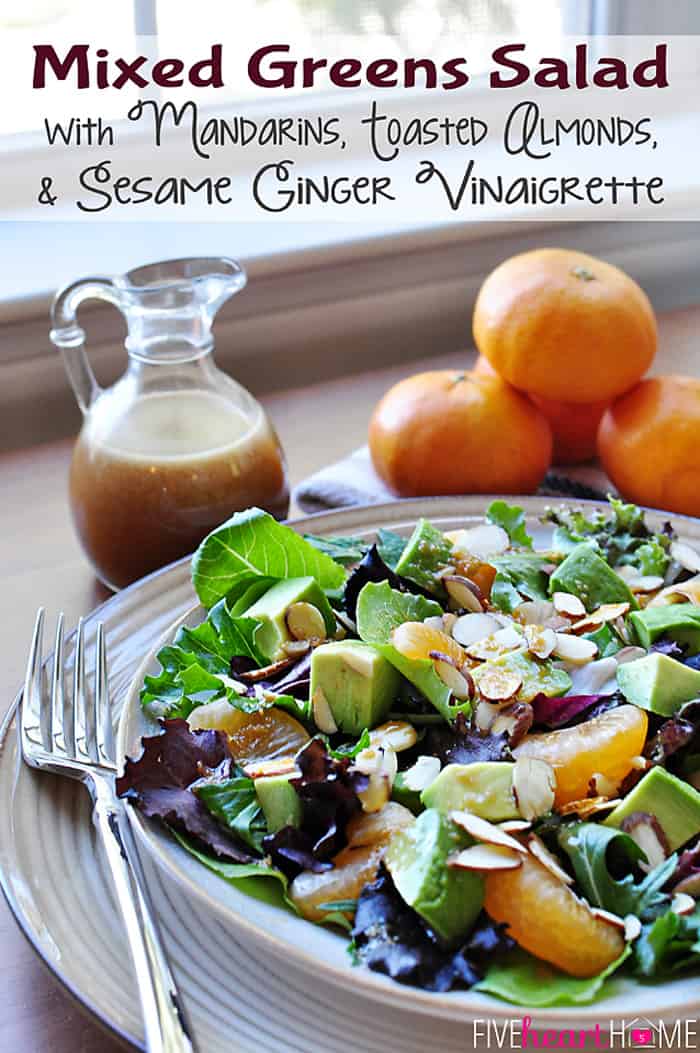 This tasty salad features mixed greens topped with sweet orange segments, crunchy almonds, creamy avocado chunks and a Sesame Ginger Vinaigrette that's bursting with flavors of ginger, garlic, sesame, soy sauce, rice vinegar, and honey!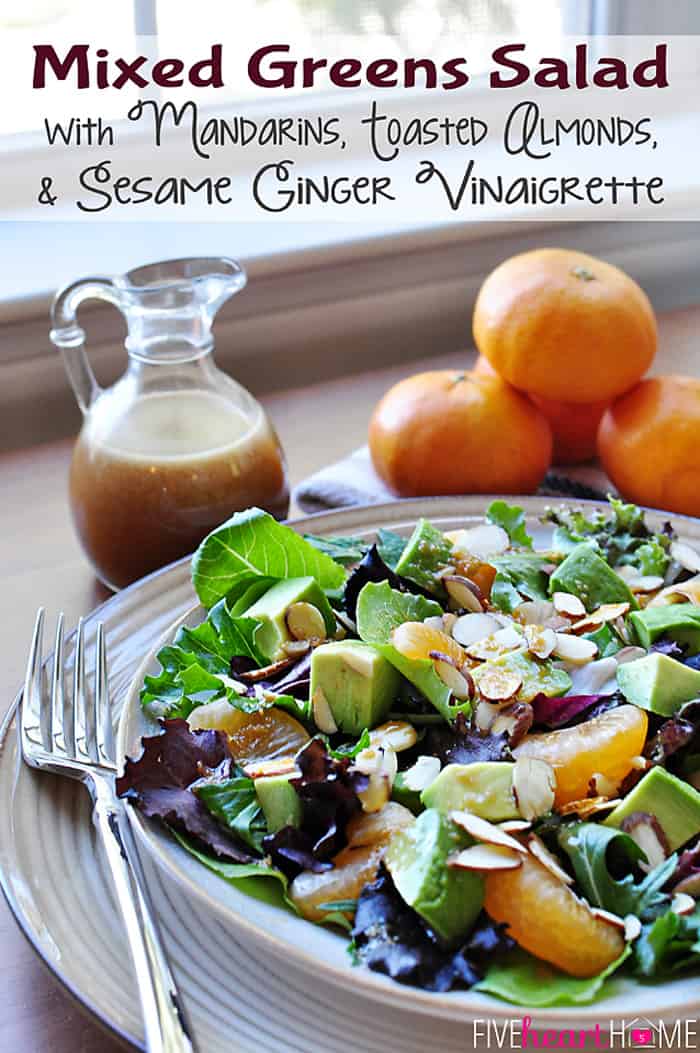 I realize that it's fall and that we're in the throes of comfort food/casserole/crock pot season here, but sometimes I still get a hankering for a good salad. Regardless of season, this vibrant salad with Sesame Ginger Vinagirette is one of my favorites.
Ingredients
Regardless of the greens or add-ins used, this Sesame Ginger Vinaigrette is one of my favorites. I think you could put it on various combinations of greens/veggies/fruit/nuts and it would be delicious.
But in my humble opinion, it's perfectly complemented by mandarin or clementine oranges, which are conveniently in season through the late fall and winter months. Oranges go especially nicely with almonds (don't you think?), so I toss those in as well. And while avocado has a relatively neutral flavor, I love the richness and creamy texture that it adds to a salad while mellowing out the vinaigrette.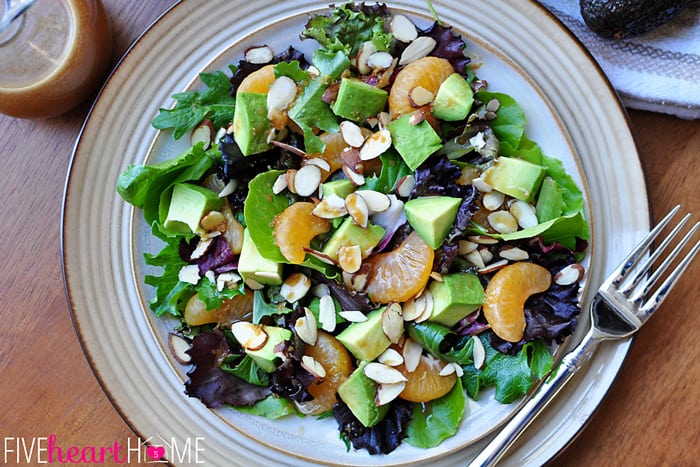 Sesame Ginger Vinaigrette
This Sesame Ginger Vinaigrette is one of the best I've ever had. Back when I was a first grade teacher, one of my student's sweet moms once brought me a salad with a jar of this dressing and the accompanying recipe. From that point on, I was hooked. This gingery vinaigrette has an "Asian salad dressing" flair that's salty from the soy sauce, nutty from the sesame oil, tangy from the rice vinegar, warm from the ginger and garlic, and sweet from the honey.
In summary? It's a party in your mouth. I really can't describe to you how perfectly all of those flavors meld together. You're just going to have to take my word for it and try it for yourself!
Yessiree, Bob...you can turn an ordinary salad special just by dressing it with this vinaigrette. But if you also toss some sweet, juicy mandarin segments, cool cubes of avocado, and toasty almond slices onto your bed of greens, your salad course will instantly be elevated to the next level.
I'm a sucker for adding fruit and nuts to salads, and this strategy always seems to appeal to my kids as well. However, I have yet to meet anyone who doesn't love this particular fruity/nutty salad at first bite, even those who previously professed to prefer their greens unadultered.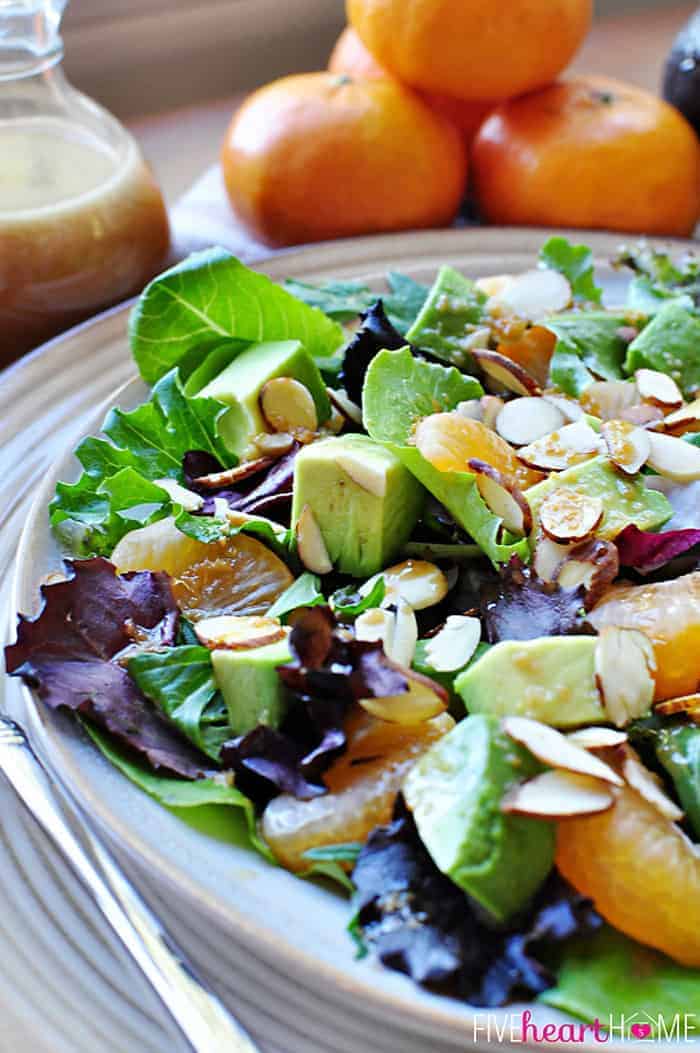 Serving Options
When I made this salad last night, I decided to turn it into an entree by slicing up some tasty leftover Panko Crusted Chicken I had hanging out in the refrigerator, and laying it on top. Would you believe that my kids left nary a leaf of salad on their plates? It was good, y'all.
In the past, we've also enjoyed this Sesame Ginger Vinaigrette drizzled over various raw veggies (think red peppers, shredded cabbage, even broccoli!).
But if you're not feeling your greens, this dressing is particularly outstanding at giving an Asian flair to grilled or roasted salmon and seared tuna. If you're a fan of Ahi Tuna + Ginger, this combo will be right up your alley. Yum.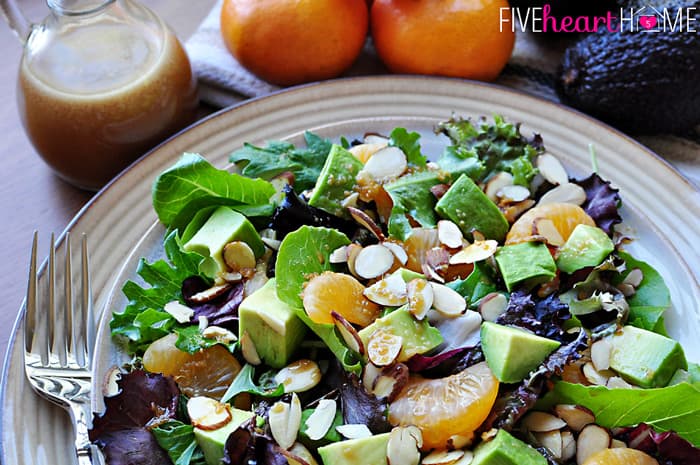 A Few Notes on the Vinaigrette
I like to use my mini food processor when I make vinaigrettes. I toss in my garlic cloves and chunks of ginger and process until they're minced to smithereens. Then I add my other ingredients and whir it all together until everything is well blended.
However, you can certainly finely mince (or even grate) your garlic and ginger, and then shake everything up a tightly sealed Mason jar (or rapidly whisk it all together in a big bowl).
Some of the ingredients that comprise this vinaigrette might not be ones that you already have laying around, but if you buy them once, I promise you'll be using them to make this vinaigrette time and time again.
As for the type of sesame oil recommended, I've used regular and toasted before and they both work great.
And as with any salad dressing recipe, tweak amounts of this and that according to your tastes. For instance, after you blend everything together and give it a taste, you can always add another squeeze of honey if you prefer your dressing a tad sweeter.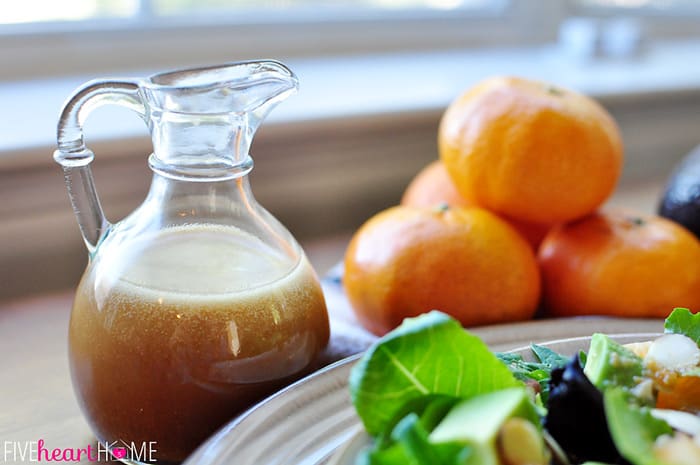 Don't get me wrong, folks...my crock pot and I are BFFs this time of year. But on a crisp fall day, this fresh Salad with Sesasme Ginger Vinaigrette can also be surprisingly refreshing.
If you're drawn to a variety of textures and flavors, I think you'll really enjoy this salad. And if you like ginger, sesame, and all flavors Asian, you are going to downright love it.
More Salad Goodness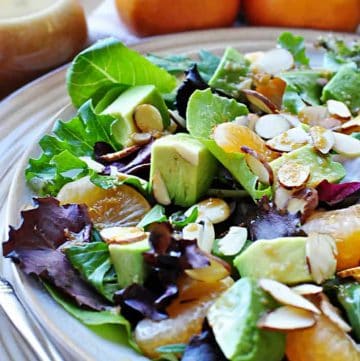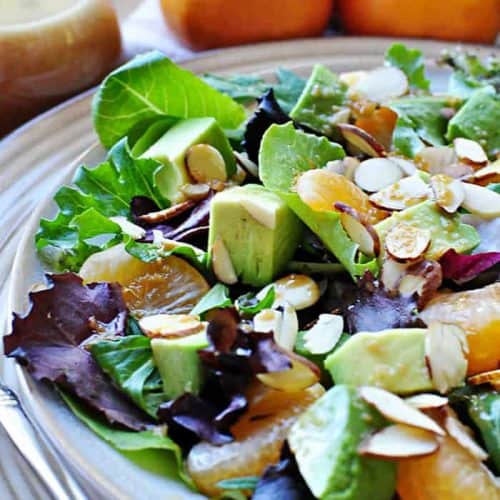 Asian Salad
Asian Salad features mixed greens topped with sweet orange segments, crunchy almonds, creamy avocado chunks and a Sesame Ginger Vinaigrette that's bursting with flavors of ginger, garlic, sesame, soy sauce, rice vinegar, and honey!
Print
Pin
Rate
Ingredients
For the vinaigrette:
2

cloves

garlic

,

finely minced

1

tablespoon

fresh ginger

,

peeled and finely minced or grated

2

tablespoons

sesame oil

2

tablespoons

soy sauce

2

tablespoons

rice vinegar

1

tablespoon

honey

¼

cup

canola oil
For each salad:
Mixed greens

1

small orange

,

such as a mandarin, clementine, Cutie, tangerine, etc.

½

avocado

,

cubed

2

tablespoons

toasted almonds
Instructions
For the vinaigrette:
Add all ingredients to a jar with a tight-fitting lid. Shake vigorously until mixture is well-blended. Alternatively, you may chop garlic and ginger in a mini food processor, then add remaining ingredients and process until blended.

Store dressing in the refrigerator and remove it 30 minutes before serving to allow it to come to room temperature. Shake well before serving.
For each salad:
Place your desired amount of mixed greens on a plate. Arrange orange segments and avocado chunks over the top. Sprinkle with toasted almonds and drizzle with vinaigrette, to taste.
Notes
To toast your sliced almonds, spread them out on a sheet pan and bake them in a preheated 350° oven, checking every 2 minutes. You will know they are done when they are fragrant with just a hint of color. Mine were toasted after about 5 minutes, but watch them carefully as they can burn in an instant!
Use a spoon, rather than a knife, to scrape the soft skin off of your ginger.
The estimated nutrition information for this recipe was calculated for one serving of salad, made with several cups of mixed greens, 1 small orange, ½ of an avocado, 2 tablespoons sliced almonds, and 2 tablespoons Sesame Ginger Vinaigrette.
Calories:
372
kcal
|
Carbohydrates:
31
g
|
Protein:
9
g
|
Fat:
27
g
|
Saturated Fat:
3
g
|
Sodium:
198
mg
|
Potassium:
912
mg
|
Fiber:
11
g
|
Sugar:
11
g
|
Vitamin A:
1655
IU
|
Vitamin C:
54
mg
|
Calcium:
119
mg
|
Iron:
2
mg