Thai-Inspired Chicken Chopped Salad is exploding with contrasting flavors and textures of crunchy Napa cabbage, juicy chicken, colorful peppers, sweet carrots, salty peanuts, & fresh cilantro, all finished off with an amazing Peanut Dressing!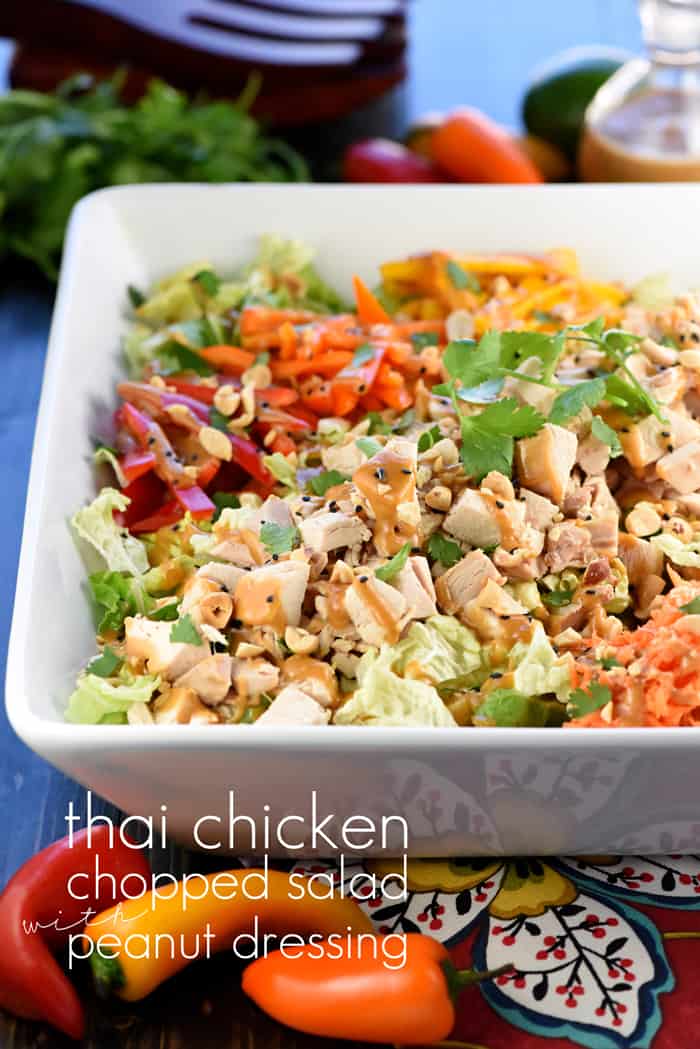 So how fabulous and gorgeous is this Thai-Inspired Chicken Chopped Salad?! Let me assure you that it tastes even better than it looks.
It's a pseudo-copycat, inspired by the Thai Chicken Salad at Panera Bread. But I decided to swap out a few of the ingredients for additions that I liked more.
And instead of mimicking their Thai Chili Vinaigrette, I borrowed a page from one of my most popular ever crock pot recipes -- Slow Cooker Thai Peanut Chicken -- and adapted that peanut sauce into a dressing. I'm telling you...it's so good it's downright drinkable.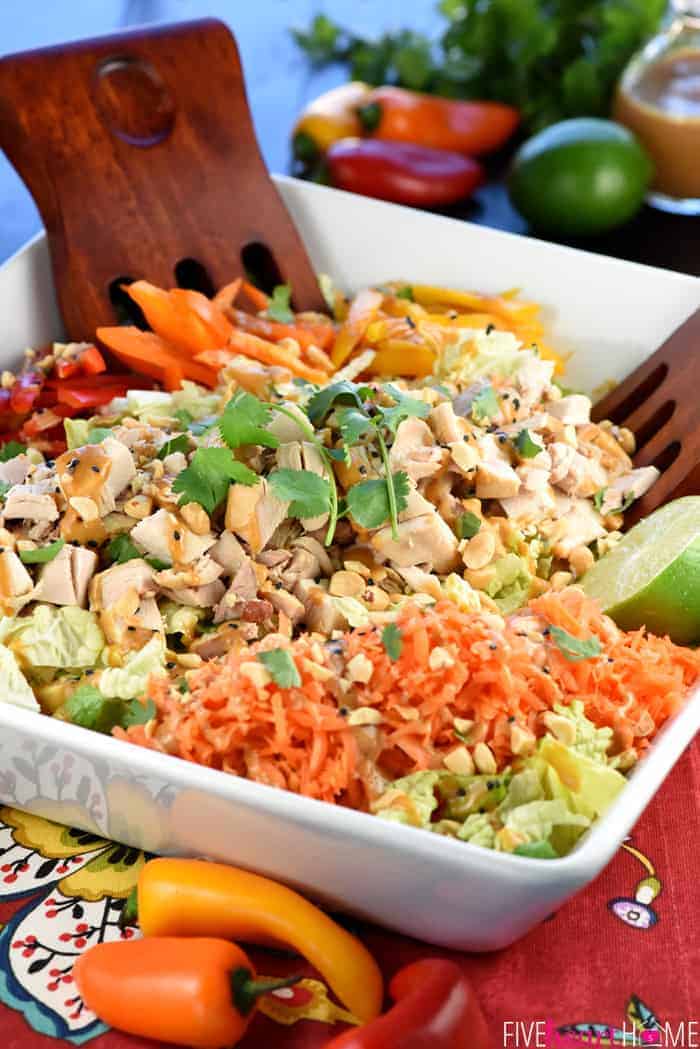 Incidentally, I found it a bit confusing that Panera calls their salad "Thai Chicken Salad." Because when I think chicken + salad I think this or this or THIS (<--insert heart eyes emoji here).
So I decided to call today's recipe Thai-Inspired Chicken Chopped Salad with Peanut Dressing, since all of the ingredients are chopped or semi-chopped. Hopefully that alleviates any confusion for my chicken salad and chopped salad aficionados out there. 😉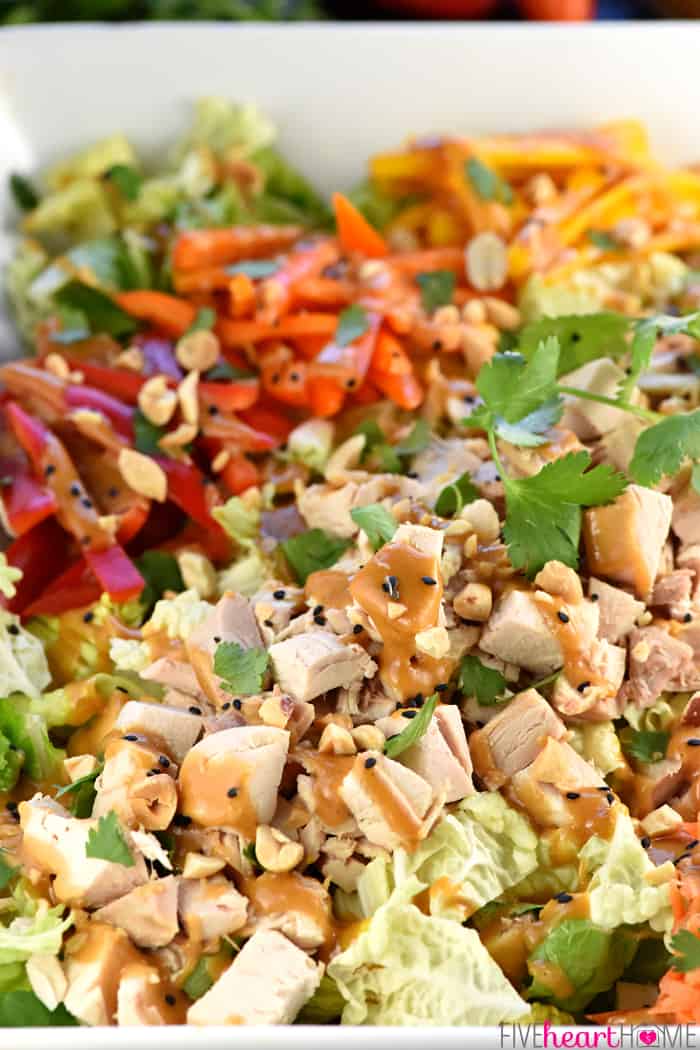 Napa Cabbage
The base of this salad is a head of Napa cabbage. Have you tried it before? I meant to take a picture of the Napa cabbage that I bought in case some of you weren't sure what to look for in the grocery store...but I forgot, dang it. Basically, though, it looks similar to a large head of romaine lettuce except it's the same firm texture and light green color as regular cabbage. The great thing about Napa cabbage is that it's nice and crunchy, which means that it complements the other ingredients in this salad while holding up nicely to the dressing.
Alternatively, if you can't find Napa cabbage, you may make this salad with chopped hearts of romaine. Or, as I did for the salad pictured here today, use half Napa cabbage and half romaine (after all, that tub of hearts of romaine in my fridge wasn't getting any younger). Any which way you make it, your salad is guaranteed to be delicious.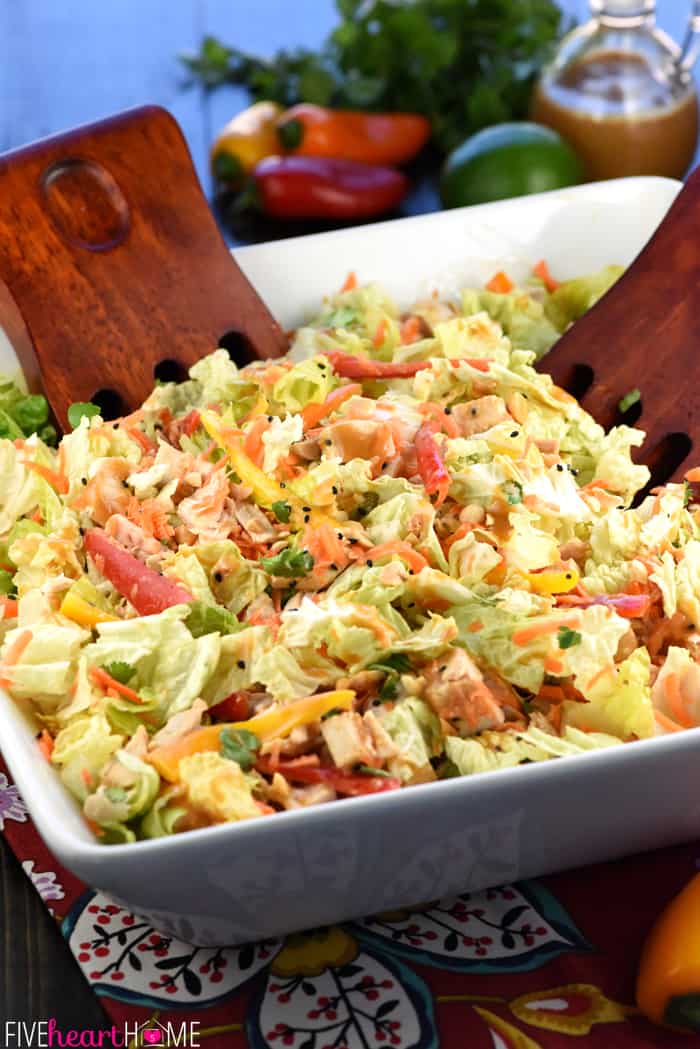 Other Ingredients
As for the toppings?
Chicken. I typically just use a rotisserie chicken for this recipe. The one I picked up this time was from Whole Foods -- whose rotisserie chickens are usually on the smaller size -- but it produced about 3 ½ cups chopped chicken which was the perfect amount for this salad.
During the summer, I'm more likely to grill a few chicken breasts to slice and lay across the top of the salad.
I've also been known to use leftover chopped chicken or turkey.
Whatever's easy and available is the name of the game.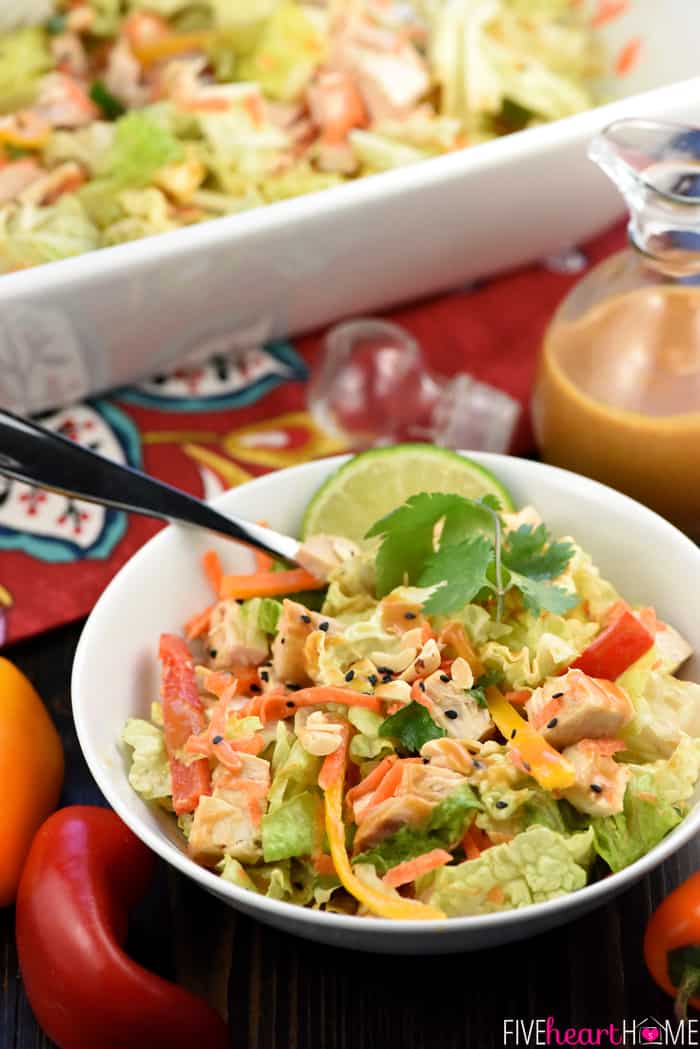 Red bell pepper. You'll notice that this recipe calls for a large red bell pepper, which should yield about 1 ¼ to 1 ½ cups, sliced.
But during my last trip to the grocery store, I spied one of those cellophane bags of multicolored mini sweet peppers, and I figured if one color is good, three colors are better, right? So I sliced up about 6 mini peppers for my salad.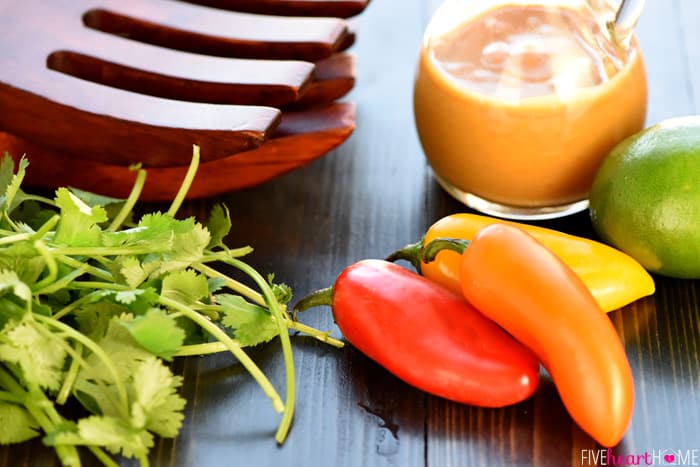 Carrots. Onto the next ingredient...you may buy a bag of julienned carrots (or julienne them yourself), but I opted for quickly grating some whole carrots in my food processor.
And if you'd like to add even more goodies to your salad, go for it:
Sliced cucumbers
Chopped celery
Edamame
Sliced green onions
Beansprouts
Fried wonton strips
...the possibilities are endless!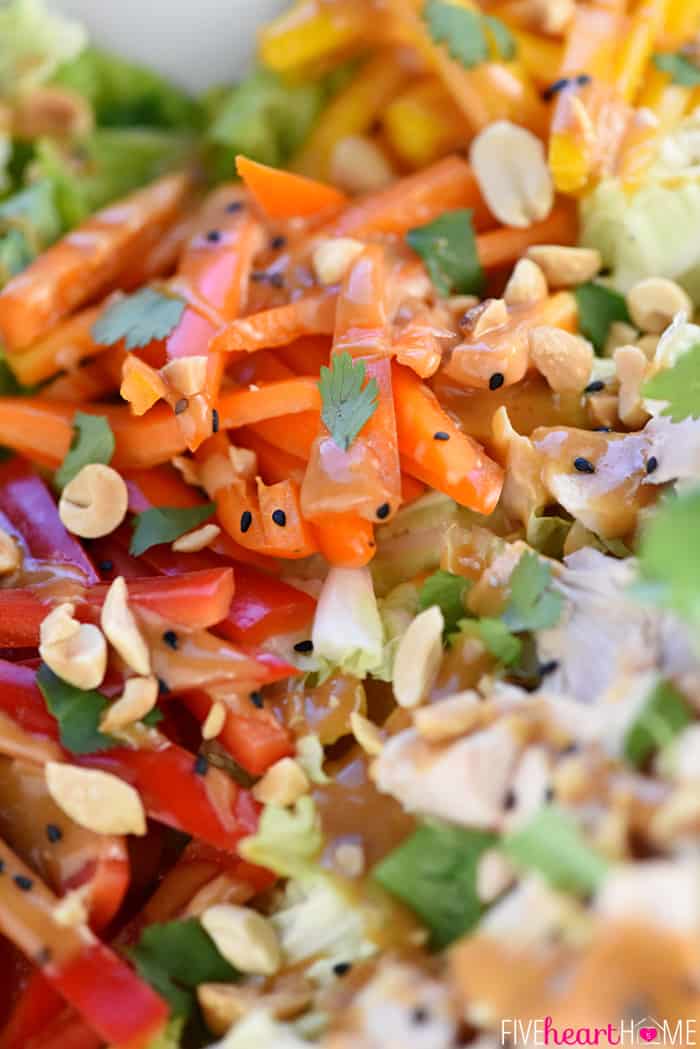 The Peanut Dressing
The Peanut Dressing is perhaps my favorite part of this salad. A base of creamy peanut butter is flavored with honey, soy sauce, freshly-squeezed lime juice, rice vinegar, sesame oil, and sriracha. And, of course, you can easily tweak the ratios to your tastes!
I'd recommend making the dressing as directed to start. But then, should you so desire, feel free to add more soy sauce, honey, and/or sriracha to make it saltier, sweeter, and/or hotter. Also, as tempting as it may be to add more garlic (and believe me, I loveloveLOVE garlic), I find that including too much raw garlic in a salad dressing can result in that garlic revisiting me (*urp*) for the next 12 hours. So that ingredient I'd leave as is. 😉
Garnishes
Finally -- as I request with so many of my recipes -- please don't leave off the garnishes!
Yes, the salad is fabulous already. But sprinkle it with salty peanuts, fresh cilantro, a squeeze of lime juice, and cute little sesame seeds (I had black ones in the cupboard), and ohmygosh. Even. Better!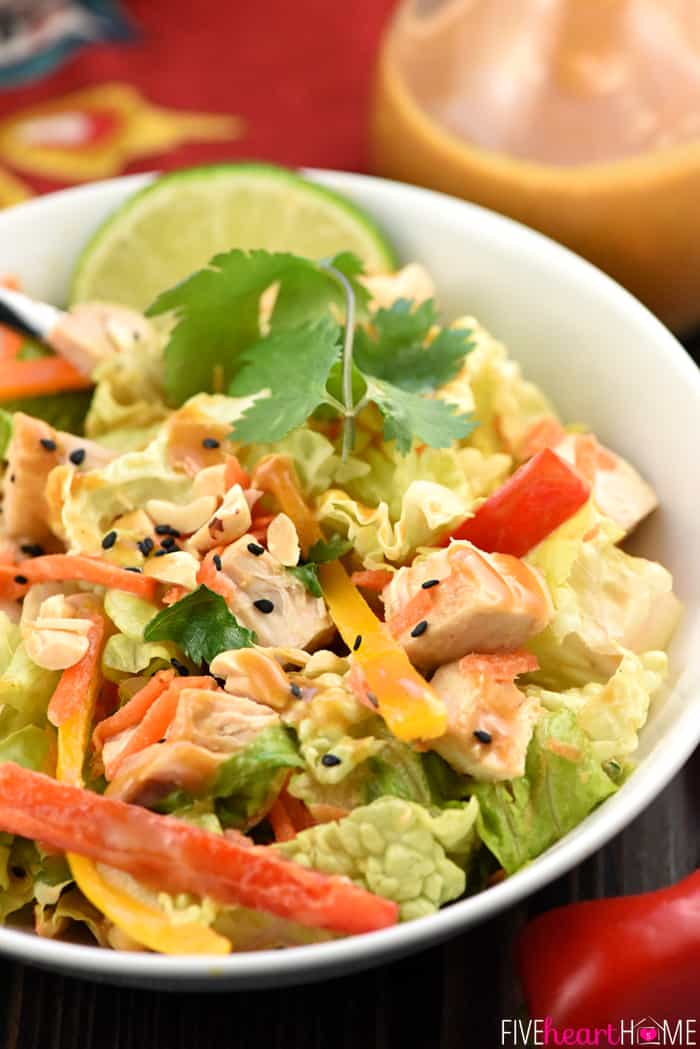 So are you excited to give this Thai-Inspired Chicken Chopped Salad with Peanut Dressing a whirl? My 3-year-old daughter won't yet touch salad (I'll change her mind yet), but my big boys ate three servings each! And if a 3rd grader proclaiming that he's going to recommend this recipe to his salad-loving teacher is not a glowing endorsement, I don't know what is. 😉
More Smashing Salads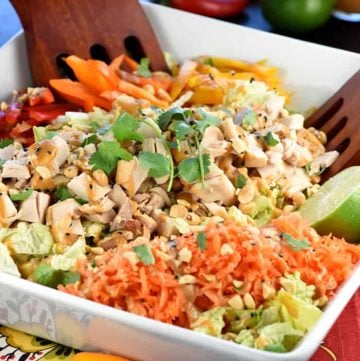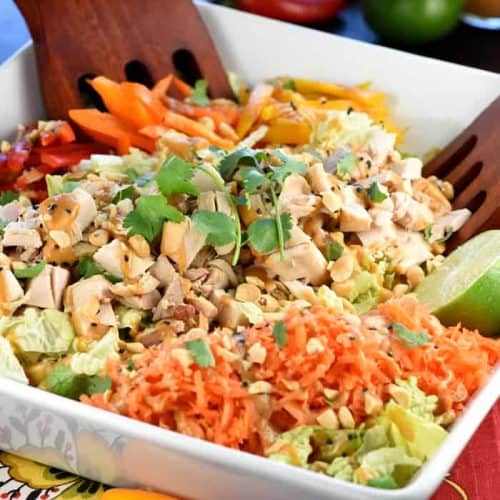 Thai-Inspired Chicken Chopped Salad with Peanut Dressing
Thai-Inspired Chicken Chopped Salad is exploding with the contrasting flavors and textures of crunchy cabbage, juicy chicken, colorful peppers, sweet carrots, peanuts, and cilantro, all finished off with an amazing Peanut Dressing.
Print
Pin
Rate
Ingredients
FOR THE DRESSING:
1

large clove of garlic

⅓

cup

creamy peanut butter

3

tablespoons

honey

2

tablespoons

low-sodium soy sauce

2

tablespoons

freshly-squeezed lime juice

2

tablespoons

rice vinegar

2

tablespoons

sunflower oil (OR another light vegetable oil)

1

teaspoon

sesame oil

,

regular or toasted

¼

teaspoon

sriracha

Warm water

,

1 teaspoon at a time, to thin dressing to desired consistency (only if needed)
FOR THE SALAD:
16

ounces

chopped Napa cabbage (OR hearts of romaine, OR a combo of the two)

3 to 4

cups

chopped or shredded cooked chicken

1 ½

cups

thinly sliced red bell peppers (OR multi-colored mini sweet peppers)

1 ½

cups

julienned or shredded carrots

FOR SERVING: cilantro leaves (chopped or torn), chopped salted peanuts, sesame seeds, and lime wedges
Instructions
To prepare the dressing, place the clove of garlic in a small food processor or blender. Pulse until garlic is finely minced. Add the peanut butter, honey, soy sauce, lime juice, rice vinegar, canola oil, sesame oil, and sriracha. Process or blend until completely smooth and combined. If dressing is too thick, add 1 teaspoon warm water and blend again. Repeat until desired consistency is reached. Taste the dressing and adjust to taste by adding a bit more soy sauce (for saltier), honey (for sweeter), or sriracha (for hotter). (Alternatively, finely mince the garlic by hand, combine all of the ingredients in a large bowl, and briskly whisk until the dressing is smooth and emulsified.)

To prepare the salad, place the chopped Napa cabbage in a large bowl. Arrange the chicken, peppers, and carrots on top. Drizzle with desired amount of dressing, toss to combine, and garnish with cilantro leaves, peanuts, sesame seeds, and freshly-squeezed lime juice. Serve immediately.
Notes
Heads of Napa cabbage can vary in size, so I recommend weighing it when you buy it to determine if it's around 1 pound or if it's much heavier, in which case you may not want to use the whole thing. When I made this salad, I needed to use up a 7-ounce tub of hearts of romaine that was nearing its expiration date in my fridge. To that I added ½ of a Napa cabbage -- chopped -- which brought the total amount of my salad greens to about 16 ounces.
I used a small rotisserie chicken. Once chopped, it measured 3 ½ cups. Alternatively, you may bake or grill 3 large (or 4 medium-sized) chicken breasts to use in this recipe.
Calories:
169
kcal
|
Carbohydrates:
9
g
|
Protein:
10
g
|
Fat:
10
g
|
Saturated Fat:
2
g
|
Cholesterol:
32
mg
|
Sodium:
108
mg
|
Potassium:
377
mg
|
Fiber:
2
g
|
Sugar:
6
g
|
Vitamin A:
5125
IU
|
Vitamin C:
54.3
mg
|
Calcium:
60
mg
|
Iron:
0.8
mg