Slow Cooker Thai Peanut Chicken features tender chicken stewed in a flavor-infused coconut milk and peanut sauce, served over rice or rice noodles!

Okay, y'all…I have to apologize for the dearth of dinner ideas and crock pot recipes on the blog in recent weeks. But I'm going to rectify that today with this Thai Peanut Chicken made in the slow cooker! And I hope you'll forgive me for my transgressions, because it's amaaaazing.
The truth is, it's been a little crazier than usual around here lately. May is always a busy month anyway, due to end-of-school-year festivities. The hubby's job is particularly hectic at this time of year as well. And I'm already juggling quite a bit as it is between three kids and a pretty-much-full-time-at-this-point food blog. However, we decided to really up the crazy ante and (rather spontaneously) sell our house right now as well!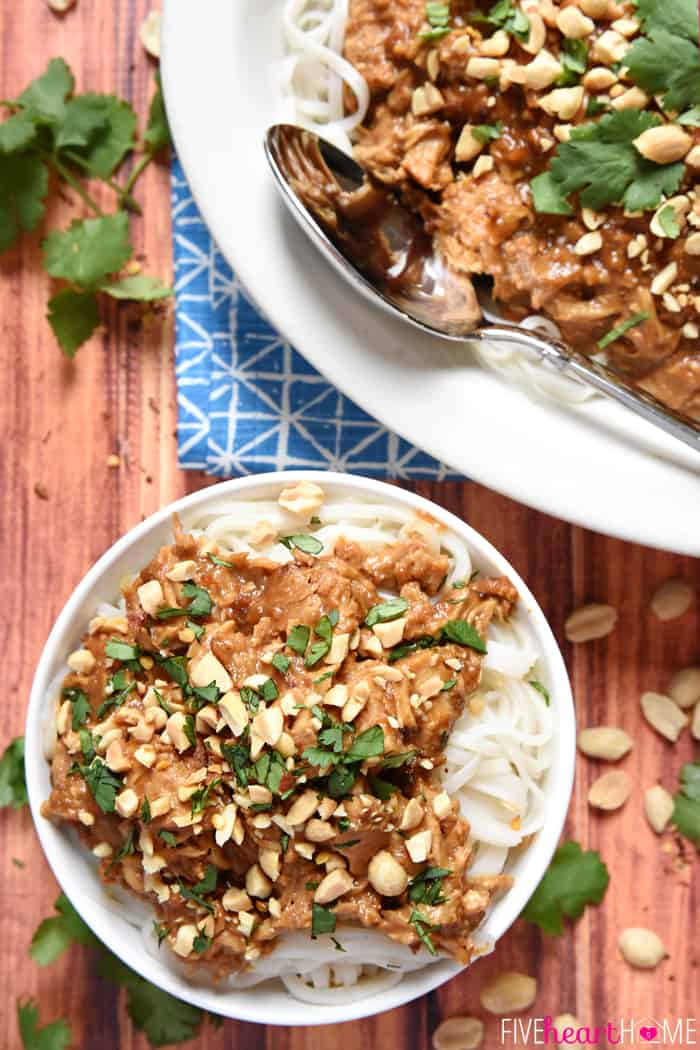 Thai Peanut Sauce Chicken
All of that is to explain that the reason you haven't seen as many dinner recipes on Five Heart Home lately is because those recipes usually take a bit longer to develop. I have to make them multiple times in order to get them juuuuust right. And lately, all I have time to do is make something once (preferably something that I already know will turn out well), feed it to my family, and move on! But when I recently got a hankering to make an Asian-influenced recipe in the crock pot, I figured that if it turned out great on the first try, I may as well snap a few quick photos to share it with y'all.

And guess what? This crock pot spin on Thai Peanut Chicken turned out soooo yummy, friends. As a bonus, it was ridiculously easy to make. Chicken breasts are slow cooked in a sauce of coconut milk, peanut butter, garlic, lime juice, soy sauce, and honey. Once cooked through and fall-apart tender, the chicken is shredded and briefly returned to the sauce to soak up all of the goodness. Then it's simply a matter of topping with cilantro, chopped peanuts, and (optional) crushed red pepper flakes before serving over rice noodles (seen here) or white or brown rice. If you're feeling especially virtuous, you can even use this recipe as a filling for lettuce wraps!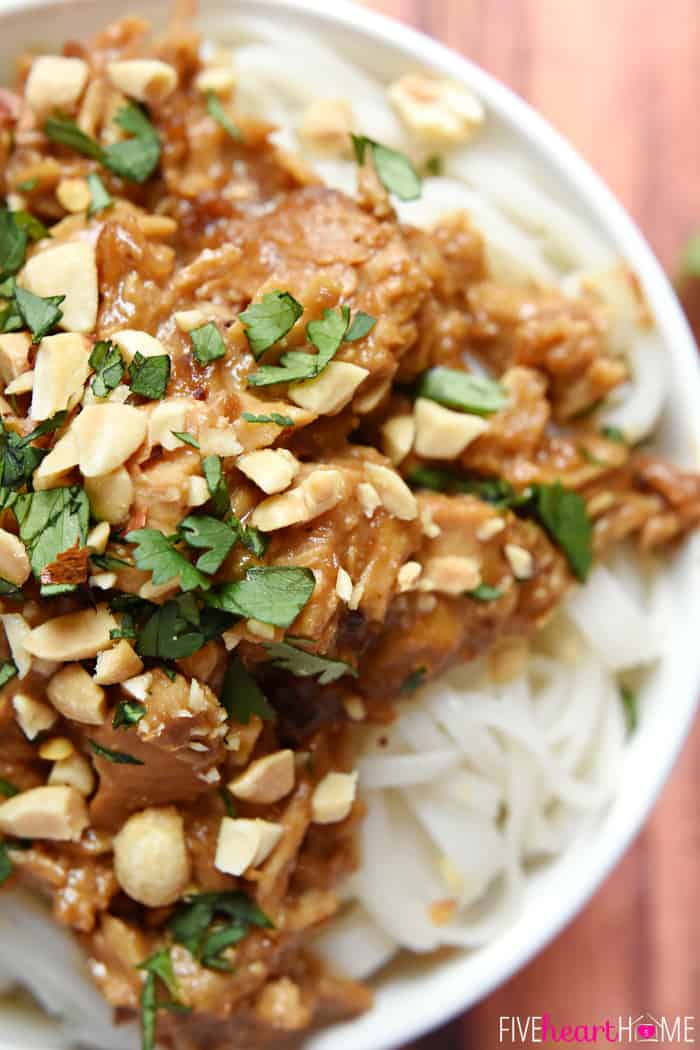 The flavors in this dish actually remind me a lot of Pad Thai, but there are no eggs or tofu or fish sauce involved. Along those lines, though, I like my Pad Thai rather spicy. So while I kept this recipe fairly mild for the kiddos, I particularly enjoyed it myself when I generously sprinkled my portion with extra crushed red pepper flakes. If you like a little spice, there are other ways you could jazz it up as well (sriracha, anyone?), so feel free to experiment. But only if you think you can handle the heat!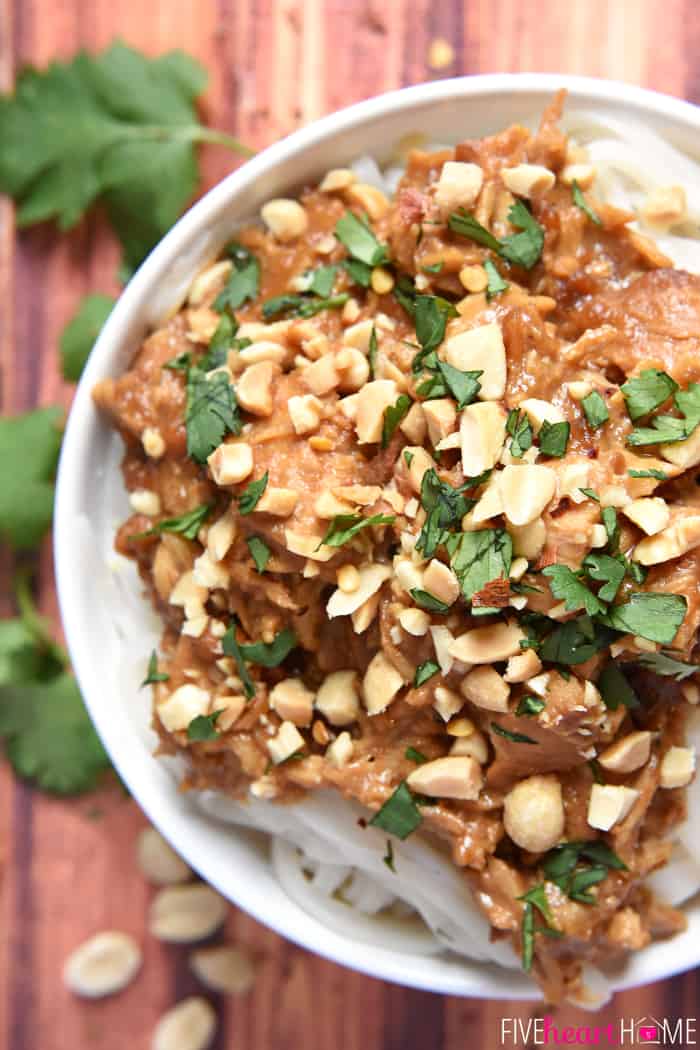 Well, I have a closet to organize, so I suppose I better wrap this up. If you like Asian flavors, I hope you love this Slow Cooker Thai Peanut Chicken! And thanks in advance for your patience with my posting schedule as I navigate the next few crazy months…I appreciate y'all sticking with me more than you know. 🙂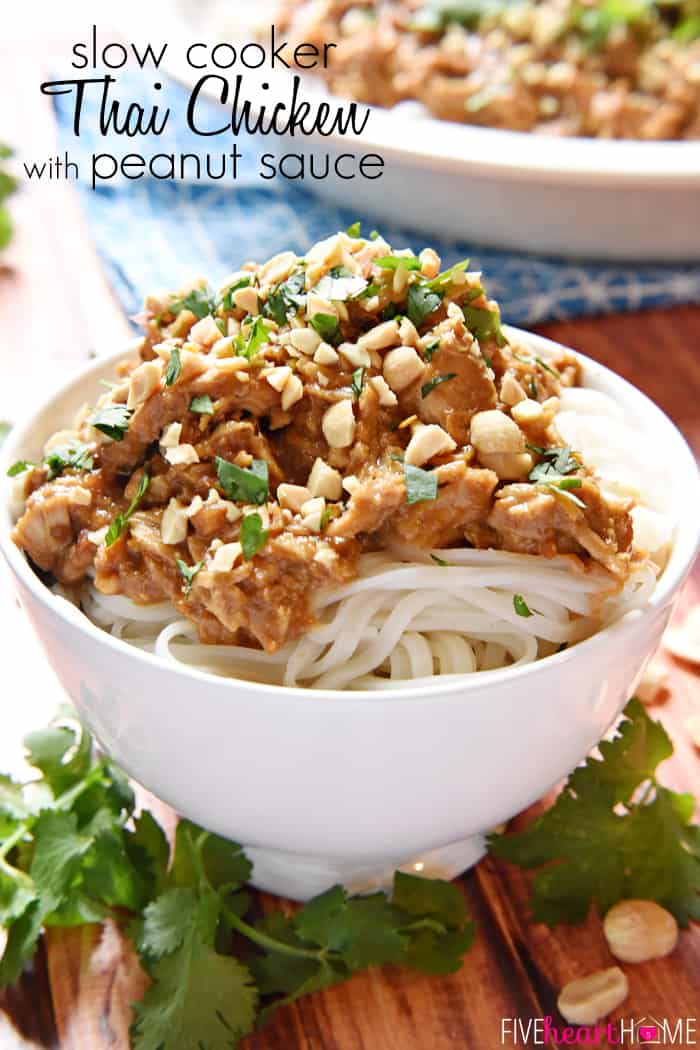 Helpful Tips, Tricks, & Equipment
(some affiliate links below)
If you don't have rice wine vinegar, you may use apple cider vinegar instead.
For moister chicken, use bone-in chicken breasts or thighs (with or without the skin), then remove and discard the skin/bones before shredding. Bone-in chicken requires a longer cooking time than boneless chicken, and thighs require a longer cooking time than breasts.
Edited January 2018 ~ A few commenters have noted that when they made this recipe, their sauce burned or their chicken dried out. I apologize to anyone who had that problem.
As a general rule, cooking time for boneless, skinless chicken breasts in a slow cooker is totally dependent on your model of slow cooker and how hot it runs. Older model, cooler running slow cookers take longer to cook and can go for 6 to 8 hours without burning the sauce or drying out the chicken. Newer model, hotter running slow cookers can cook chicken breasts as quickly as 3 hours. You need to be familiar with your slow cooker in order to determine the appropriate cooking time for this recipe (or any slow cooker recipe involving boneless, skinless chicken breasts).
When I first developed this recipe, I was using a 10-year old slow cooker and a 6 hour cooking time was appropriate. However, I now have a newer model slow cooker that runs hotter and cooks faster and, as a result, when I make this recipe now, I cook it for a shorter duration.
Therefore, I decreased the overall cooking time in the recipe instructions above, since many people these days own modern (hotter running) slow cookers. If you still have an old, cooler running slow cooker, you may need to cook your chicken closer to 6 hours (or longer).
Hope you enjoy the recipe video below showing just how easy it is to make this recipe!
Thai Peanut Chicken Recipe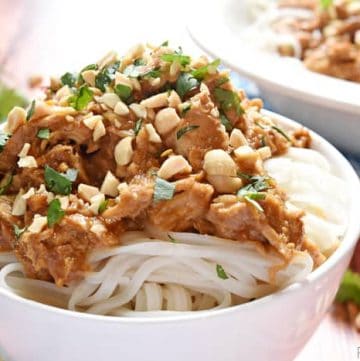 Slow Cooker Thai Peanut Chicken
Slow Cooker Thai Peanut Chicken features tender chicken stewed in a flavor-infused coconut milk and peanut sauce, served over rice or rice noodles!
Print
Pin
Rate
Total Time:
5
hours
10
minutes
Ingredients
1 1/2

pounds

boneless skinless chicken breasts

1

cup

canned coconut milk

3/4

cup

chunky natural peanut butter

4

cloves

garlic

,

minced

3

tablespoons

honey

3

tablespoons

soy sauce

2

tablespoons

lime juice

2

tablespoons

rice wine vinegar

1/2

teaspoon

crushed red pepper flakes

,

more or less to taste

1/3

cup

chopped peanuts

,

for garnish

Chopped fresh cilantro

,

for garnish

Rice, rice noodles, or lettuce leaves

,

for serving
Instructions
Arrange chicken breasts in the bottom of a large slow cooker. In a medium bowl, stir together coconut milk, peanut butter, garlic, honey, soy sauce, lime juice, rice wine vinegar, and red pepper flakes; mix until (mostly) smooth) Pour over chicken.

Cover and cook on LOW for 3 to 5 hours (or until chicken is cooked through and tender but not overcooked, depending on the strength of your slow cooker). Reduce slow cooker temperature to WARM. Remove chicken from slow cooker, cut into chunks, and shred. Return shredded chicken to slow cooker to allow it to absorb sauce and heat through.

Serve chicken and sauce over cooked white or brown rice, cooked rice noodles, or stuffed inside large lettuce leaves, as wraps. Garnish with chopped peanuts, fresh cilantro, and additional red pepper flakes, if desired.
Calories:
448
kcal
|
Carbohydrates:
18
g
|
Protein:
34
g
|
Fat:
28
g
|
Saturated Fat:
12
g
|
Cholesterol:
72
mg
|
Sodium:
788
mg
|
Potassium:
755
mg
|
Fiber:
2
g
|
Sugar:
13
g
|
Vitamin A:
35
IU
|
Vitamin C:
4.5
mg
|
Calcium:
31
mg
|
Iron:
1.9
mg
Recipe originally published on May 14, 2015
More Crock Pot Dinners