With chipotles, garlic, cilantro, & Mexican spices, Slow Cooker Beef Barbacoa is a tender, juicy addition to tacos, burritos, rice bowls, salads, & more!


Happy Taco Tuesday, friends! Well, by the time you read this, it will most likely already be Wednesday, but no matter…tacos are a welcome dinner around these parts any day of the week. So are burritos, enchiladas, quesadillas, tostadas…and those are exactly a few of the things that you can make with this Slow Cooker Beef Barbacoa. You can even sprinkle this beef over salads or rice bowls, à la the ever-popular Chipotle restaurant chain. Regardless of how you choose to enjoy it, this juicy, melt-in-your-mouth beef is just brimming with flavor thanks to fresh garlic, cilantro, and lime, Mexican spices, and spicy chipotles in adobo…and it would be happy to play a starring role in all of your Tex-Mex favorites!
I've previously shared my effortless slow cooker chicken taco filling with y'all. I've also already posted a recipe for slow cooker pork carnitas. So it's only fitting that today, we're talking beef, baby.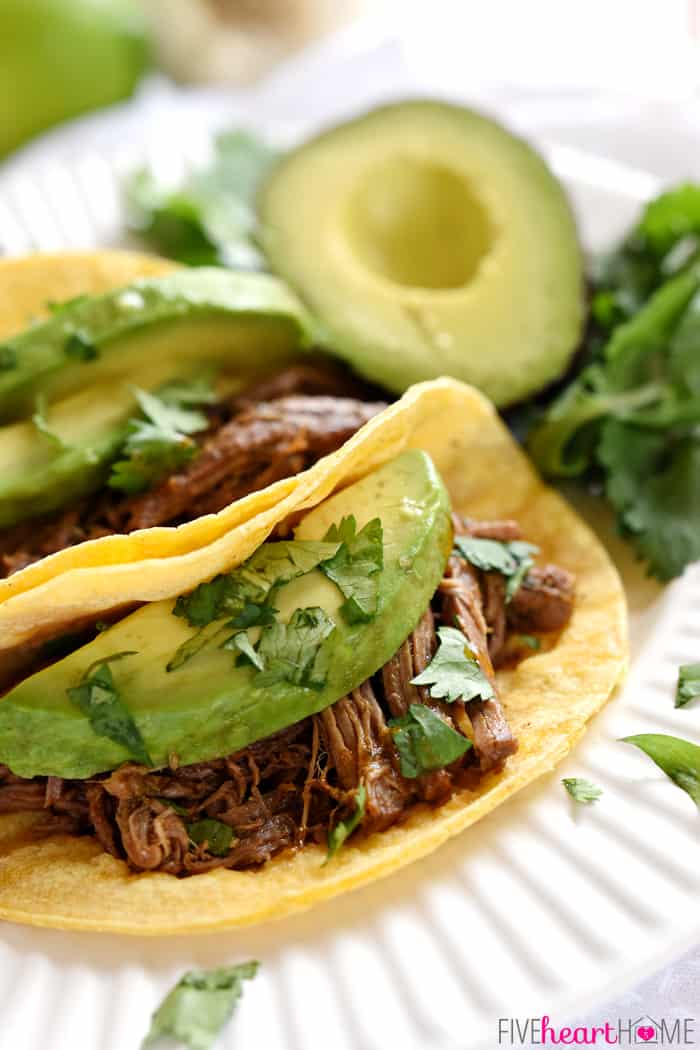 My version of (Americanized 😉 ) Beef Barbacoa starts with a big hunk of beef, AKA a roast…shoulder or chuck or rump, top or bottom round, or even a brisket would work. Your roast-o'-choice is seasoned, slathered with a mixture of fresh garlic, cilantro, puréed chipotles in adobo, lime juice, and seasonings and then slow cooked in a bath of beef broth and Mexican beer. Once the meat is fall-apart tender, it's shredded, returned to its juices to soak up even more flavor, and then presented center-stage at the dinner table.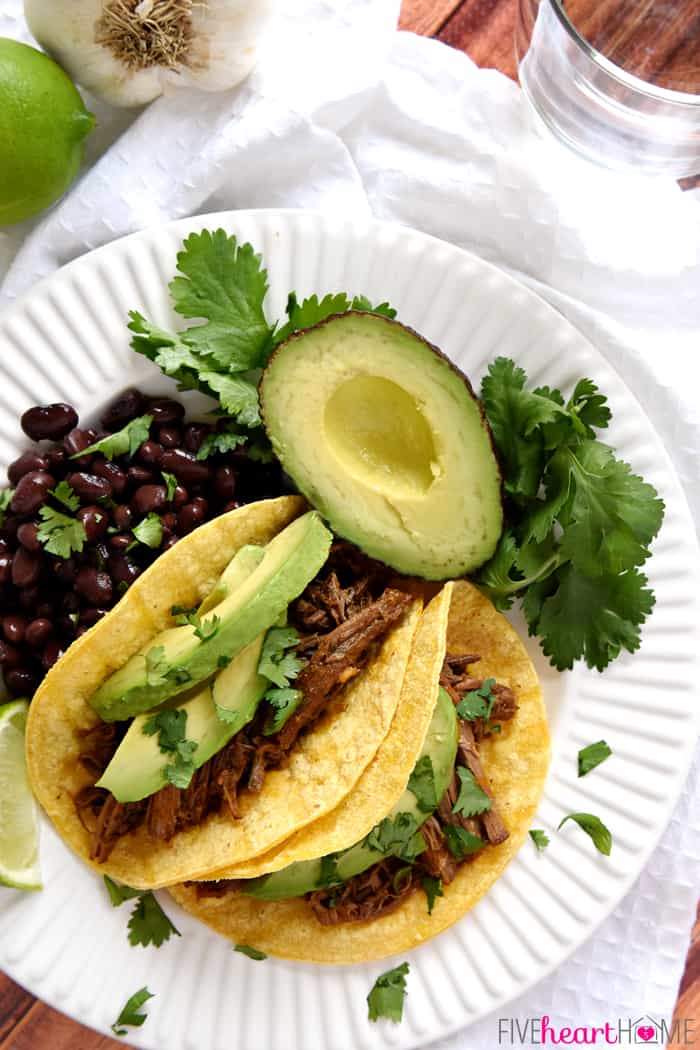 I'll be honest in that we almost always initially eat this crock pot meal as tacos. But there are inevitably leftovers, which often find their way into cheesy quesadillas or atop a taco salad. I've even piled this meat on a sandwich roll and dipped the whole shebang in the cooking liquid for a Mexican spin on a French Dip Au Jus.
And now for few notes about the recipe, because y'all know I like to over-explain everything. 🙂 If you've never bought chipotles in adobo, I'm talking about that little can of dried, smoked jalapeños soaking in a spicy red sauce (you should be able to find them in the Mexican foods section of the ethnic foods aisle of your grocery store). Chipotles in adobe are packed with heat and flavor, and a little bit can go a long way.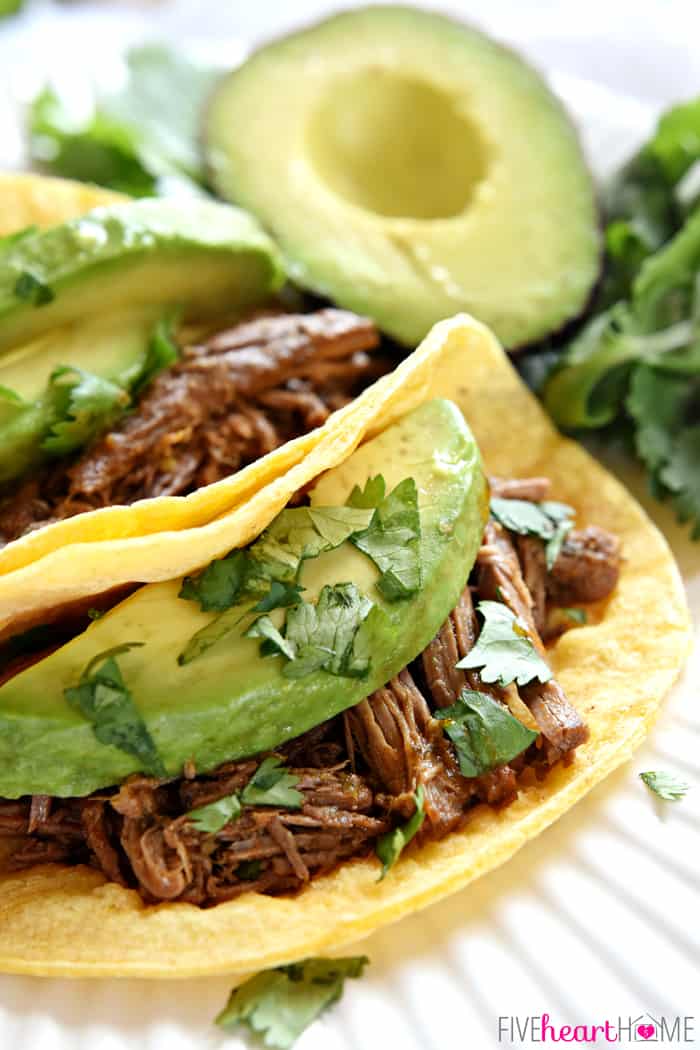 But in a recipe like this where you're seasoning a lot of meat, you shouldn't have to be too conservative. If you're worried about too much spice, use just one pepper plus a spoonful of adobo sauce the first time you make this recipe. At that amount, you should get flavor but nobody's mouth will catch on fire. If you think you can handle the heat, however, feel free to toss in three or four chipotles plus a couple spoonfuls of sauce.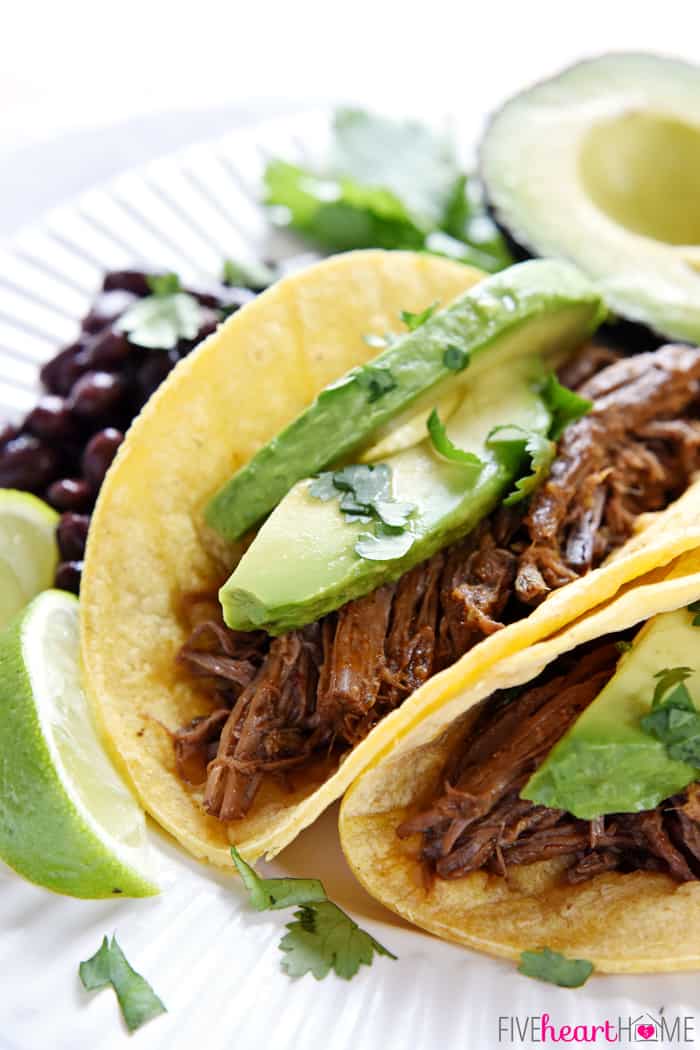 As for the cilantro, I know that there are people out there who think it tastes like soap. If you are one of those people, by all means, leave it out. But if you looooove cilantro like my family, cooking the beef with it and then using additional fresh cilantro to garnish your tacos will make you very happy.
As for whether or not you have to use beer in this recipe…no, you do not. I like using a 50/50 combo of beef broth and beer, but you can certainly use all beef broth instead. If you do use beer, however, please use a Mexican beer and, if you have the option, darker is better. Coors Light just won't cut it in this recipe…no offense to Coors Light.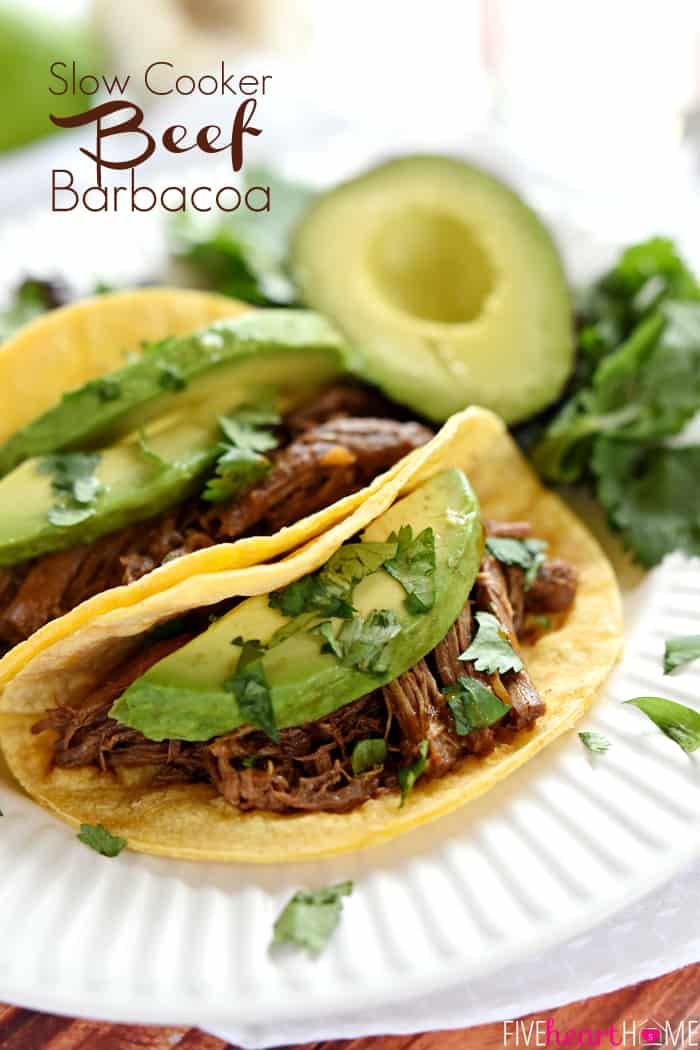 I think the rest of the recipe is pretty straightforward, and the resulting Beef Barbacoa is simply scrumptious. After all, who needs Chipotle when you can just wake up, toss a few ingredients in your crock pot, and then, at the end of the day, stuff your face with as many glorious tacos as you so desire?! Sounds like a plan to me.
Slow Cooker Beef Barbacoa Recipe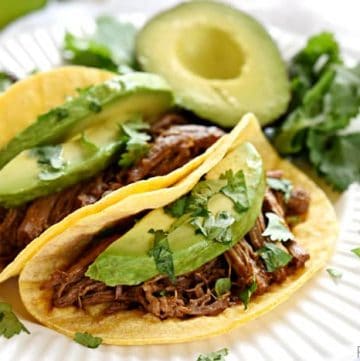 Slow Cooker Beef Barbacoa
Slow Cooker Beef Barbacoa is flavored with smoked chipotles in adobo, fresh garlic and cilantro, and Mexican spices, resulting in a tender, juicy filling for tacos, burritos, and quesadillas, or a tasty topping for salads and rice bowls!
Print
Pin
Rate
Total Time:
8
hours
15
minutes
Servings:
4
to 6 servings
Ingredients
2

pounds

boneless beef chuck roast

Salt & freshly ground black pepper

6

large cloves garlic

1/2

cup

packed cilantro leaves

1 to 4

chipotle peppers in adobo

,

plus 1 to 2 tablespoons reserved sauce

2

tablespoons

freshly squeezed lime juice

1

tablespoon

tomato paste

1

tablespoon

cumin

2

teaspoons

chili powder

2

teaspoons

garlic salt

1

teaspoon

dried oregano

1

bay leaf

6

ounces

beef broth

6

ounces

Mexican beer
Instructions
Generously season beef roast on both sides with salt and freshly ground black pepper. Place in the bottom of a large slow cooker.

In a mini or regular-sized food processor, pulse garlic until chopped. Add cilantro leaves and pulse until minced. Add chipotle peppers plus adobo sauce, lime juice, tomato paste, cumin, chili powder, garlic salt, and oregano. Secure lid and process until just blended. (Alterntively, you may use a knife to mince garlic, cilantro, and chipotle(s), then stir in remaining ingredients until well mixed.)

Spread half of chipotle mixture over the top of the roast. Carefully flip roast over and spread remaining mixture over other side. Pour beef broth and beer into the bottom of the slow cooker (without washing the chipotle mixture off the roast). Drop in bay leaf. Cover and cook on low for 8 to 10 hours.

Remove roast to a cutting board. Skim fat off top of cooking liquid, if necessary, and remove bay leaf. Slice beef into chunks and then shred pieces with two forks. Return to slow cooker, stir meat to soak up liquid, and reheat on Warm for 20 to 30 minutes. Serve as a filling for tacos, burritos, enchiladas, quesadillas, or on top of a rice bowl or salad. Refrigerate leftover meat in reserved cooking liquid.
Notes
Adjust amount of chipotle pepper and adobo sauce, to taste. You may substitute all beef broth for the Mexican beer, if desired.
Calories:
451
kcal
|
Carbohydrates:
6
g
|
Protein:
45
g
|
Fat:
26
g
|
Saturated Fat:
11
g
|
Cholesterol:
156
mg
|
Sodium:
1558
mg
|
Potassium:
902
mg
|
Vitamin A:
540
IU
|
Vitamin C:
5
mg
|
Calcium:
75
mg
|
Iron:
6.3
mg
Post originally published on February 3, 2015.
More Quick and Easy Dinners