A. Slow Cooker Olive Garden Chicken Gnocchi Soup is a creamy, lightened-up copycat recipe of the famous classic, made easy thanks to the crockpot!


Last week I threw up a little poll on my Instagram Stories and, I have to admit, I was honestly surprised by the results! I asked my IG peeps if -- given the choice -- they would prefer to see slow cooker (Crockpot) recipes or pressure cooker (Instant Pot) recipes. And not only did the slow cooker option get the most votes, but it actually "won" by a 70% to 30% margin!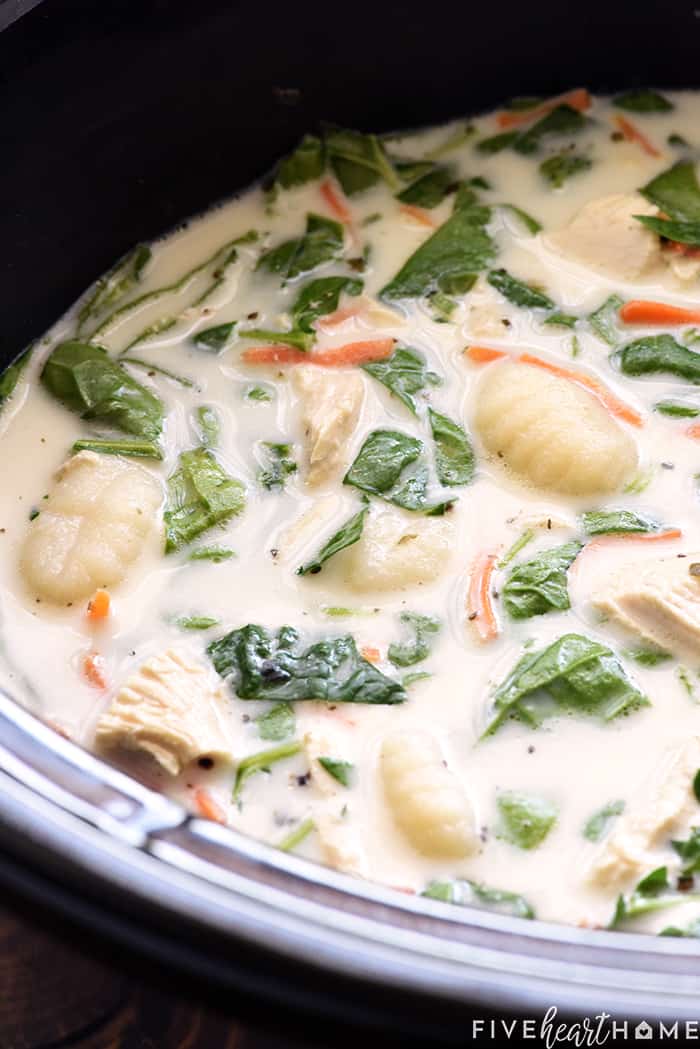 I was not expecting those numbers. But I was also okay with them, because I had actually already made and photographed this Slow Cooker Olive Garden Chicken Gnocchi Soup. And that means that I'm totally justified in sharing it with y'all today -- ha.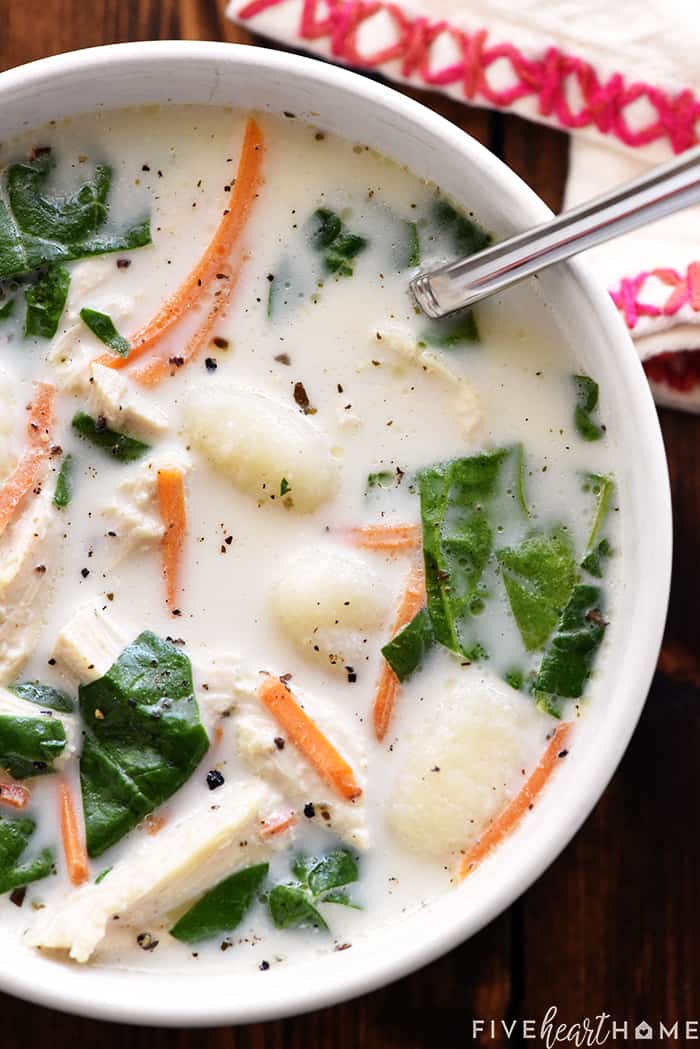 Better than the Original
Have you had this Olive Garden classic before? Well, I think my copycat version is even better for a few very important reasons...
It's made in the slow cooker! Because what's easier than tossing ingredients into your crockpot early in the day, well ahead of that pre-dinner witching hour when cooking can be rather challenging...between juggling after-school activities, helping with homework, and/or dealing with hungry/tired child meltdowns. (*Please note: this recipe is also great for lazy weekends and make-ahead lunches.)

You can make homemade soup healthier and lighten it up! Olive Garden Chicken Gnocchi Soup is known for its thick, creamy consistency. And guess what? Odds are that consistency is achieved (at least in part) by using heavy cream. This copycat recipe, on the other hand, achieves its silky creaminess from just 1 cup of half-and-half and a quick cornstarch slurry. Divided between eight or so servings, that amount of half-and-half doesn't end up being overly decadent. And if you wish, you can even substitute fat-free half-and-half or whole milk!
You can tweak the ingredients to your liking! I included garlic, carrots, and spinach in my version of Olive Garden Chicken Gnocchi Soup. But if you're a fan of onions and/or celery, feel free to throw those in as well. In the same way, you can use fresh herbs (instead of dried) if you've got 'em.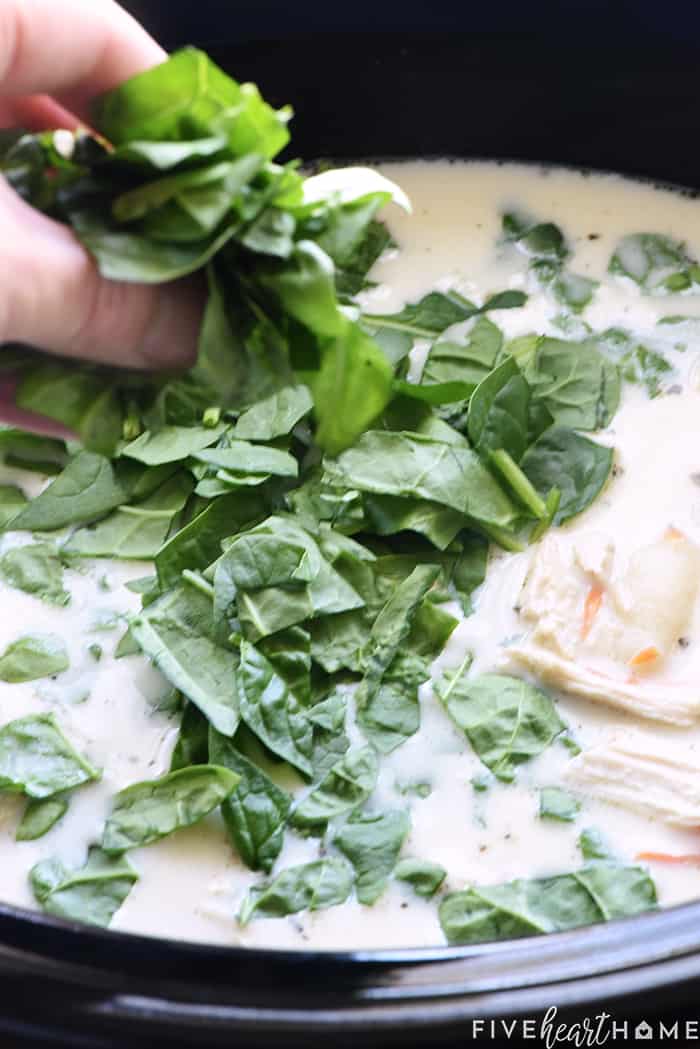 The other bonus of making soup in the slow cooker is that it's just, well, cozy. On a cool fall day (which we'll hopefully have a chance to experience by, ohhhh, November or so), what's better than coming home to a bubbling crockpot of warm, comforting soup? The house will smell heavenly, 'tis true. But even better, after just a few quick steps to finish up the soup, dinner will be ready!
I also love that this soup is pretty much a complete meal on its own. Of course you could serve it with a crisp green salad and a loaf of crusty bread. But you don't have to! It's already brimming with meat, carbs, and veggies, between chunks of plump chicken, soft potato gnocchi, tender carrots, and fresh spinach.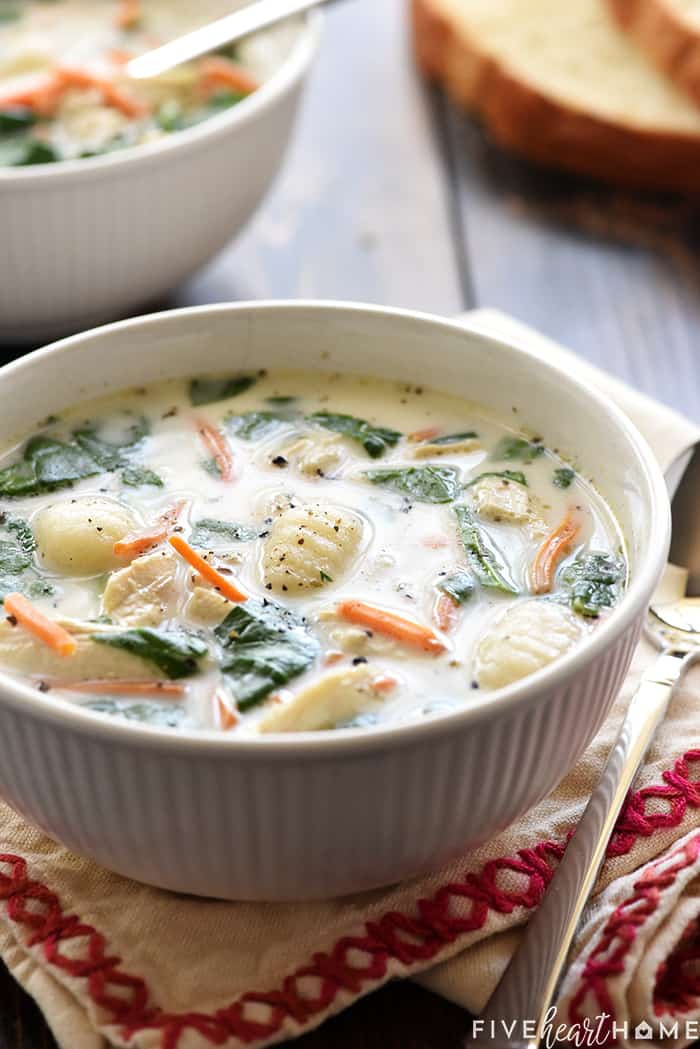 Speaking of which, are you already familiar with those little pillows of Italian potato dumpling goodness known as gnocchi? I've long been a fan of gnocchi in just about any preparation, but Olive Garden really knew what they were doing with this particular combo of ingredients. And better yet, you can use whatever type of gnocchi best works for you, whether homemade, fresh, packaged, or frozen.
My whole family loved this Slow Cooker Olive Garden Chicken Gnocchi Soup. Particular offspring of mine may have picked around particularly large pieces of spinach, but overall, everyone happily scarfed it down. The middle child and the hubby even went for second and third helpings, and I've already been asked when I can make it again! So I'd say that's a winner winner of a chicken soup dinner...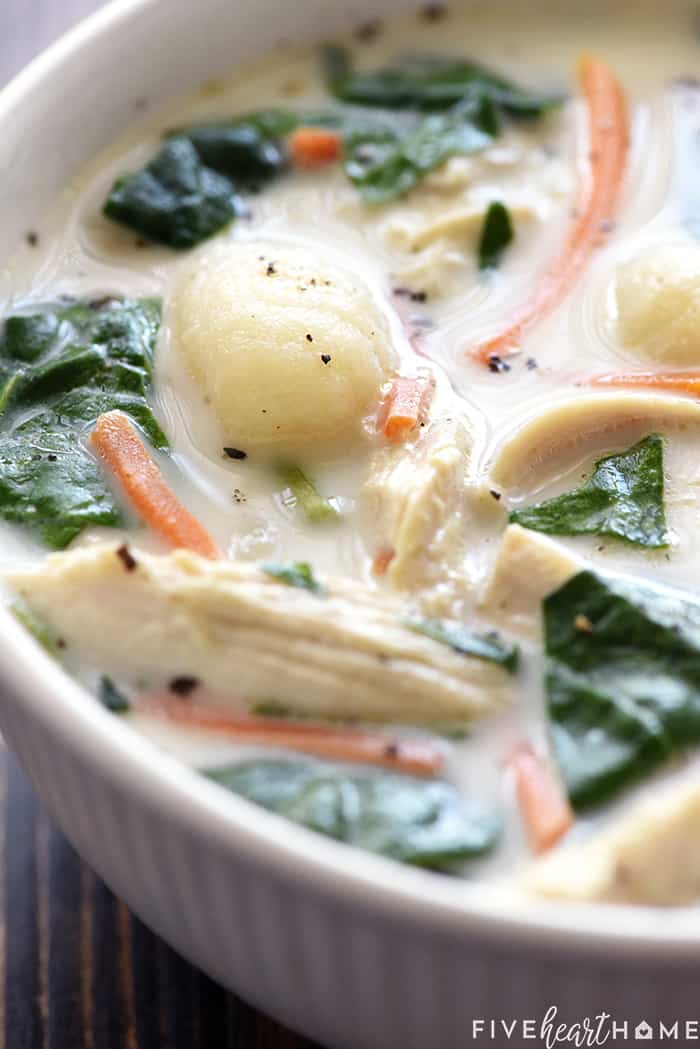 So what do y'all think? Did you get to participate in my IG poll? Do you align with the majority in loving your Crockpot more than your Instant Pot? Or would you have voted the other way?
Rest assured that I'll continue to bring you alllll kinds of dinner (and non-dinner!) recipes, from slow cooker to pressure cooker to plain ol' stovetop and oven. Because variety is the spice of life, right?? But just know that you're always free to let me know if you have requests for a specific or a certain type of recipe. I aim to please, y'all!
In the meantime, I hope you enjoy this Slow Cooker Olive Garden Chicken Gnocchi Soup!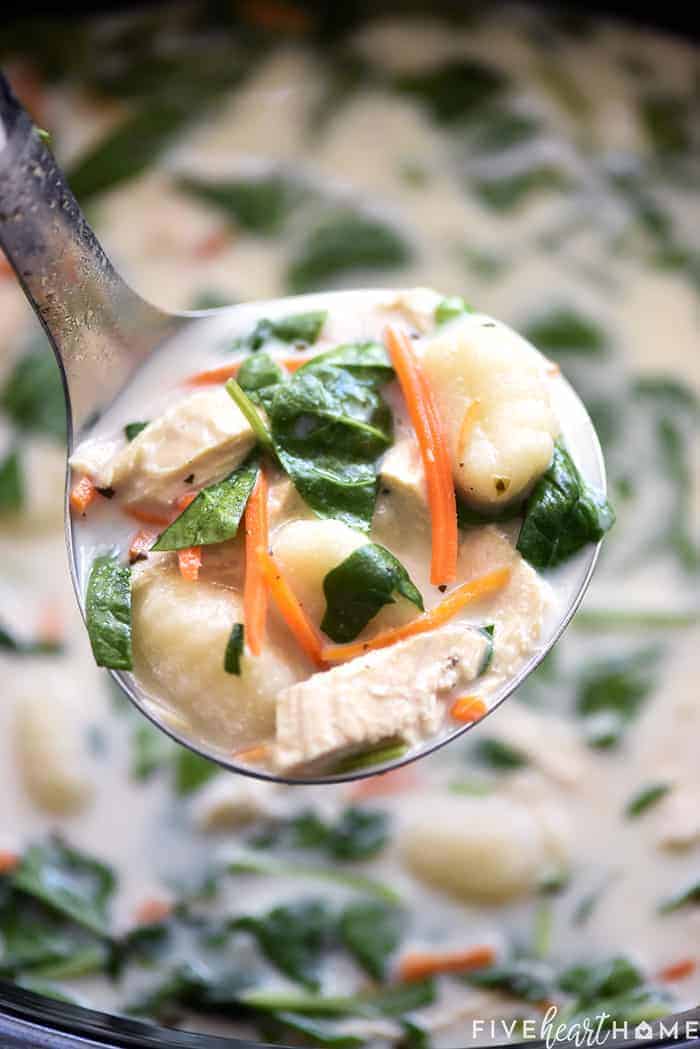 Helpful Tips, Tricks, & Equipment
When making slow cooker recipes, please keep in mind that not all slow cookers are created equal. What I mean by that is older models of slow cookers really do cook slow. Newer, modern-day slow cookers, however, have a higher wattage and run "hotter" than they used to, in order to meet current USDA food safety guidelines. Therefore, you need to be familiar with how your slow cooker cooks and, if necessary, adjust the cooking time in slow cooker recipes accordingly.
Of the four different slow cookers that I own (and after using them to write an entire slow cooker cookbook), my favorite model of current slow cookers is this one. I love that it doesn't get as hot as my other newer-model slow cookers. It still runs hotter than my trusty 15-year-old slow cooker, mind you…but on the other hand, it's not boiling after an hour like one of the other new/modern slow cookers that I own. In fact, out of all of my slow cookers, it gives the most consistent results and is the least likely to burn or overcook.
Use fat-free half-and-half or whole milk for an even lighter soup. Or use heavy cream to make it more decadent!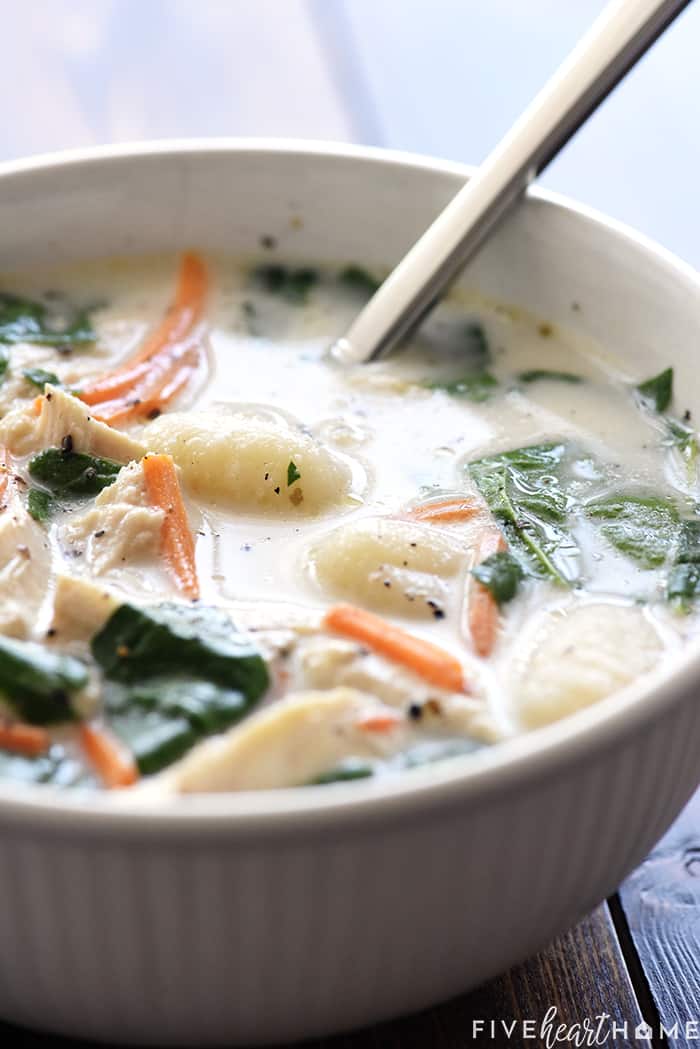 Feel free to use frozen gnocchi instead of fresh or packaged. You just may need to bump up the cooking time at the end until it's cooked through.
When I don't have chicken broth or stock on hand, I use water plus Organic Better Than Bouillon Chicken Base (which I always keep in my fridge). But since it's salty, I taste the recipe and stir in additional salt at the end, only if needed. This is preferable to adding a pre-measured amount of salt while the dish is cooking.
You may add an additional tablespoon of cornstarch if you prefer an even thicker soup. Just don't stir cornstarch directly into the hot soup or it will clump up! You should always whisk cornstarch into a small amount of cool liquid (water, broth, milk) until dissolved. Then stir the resulting slurry into your hot soup before allowing it time to thicken.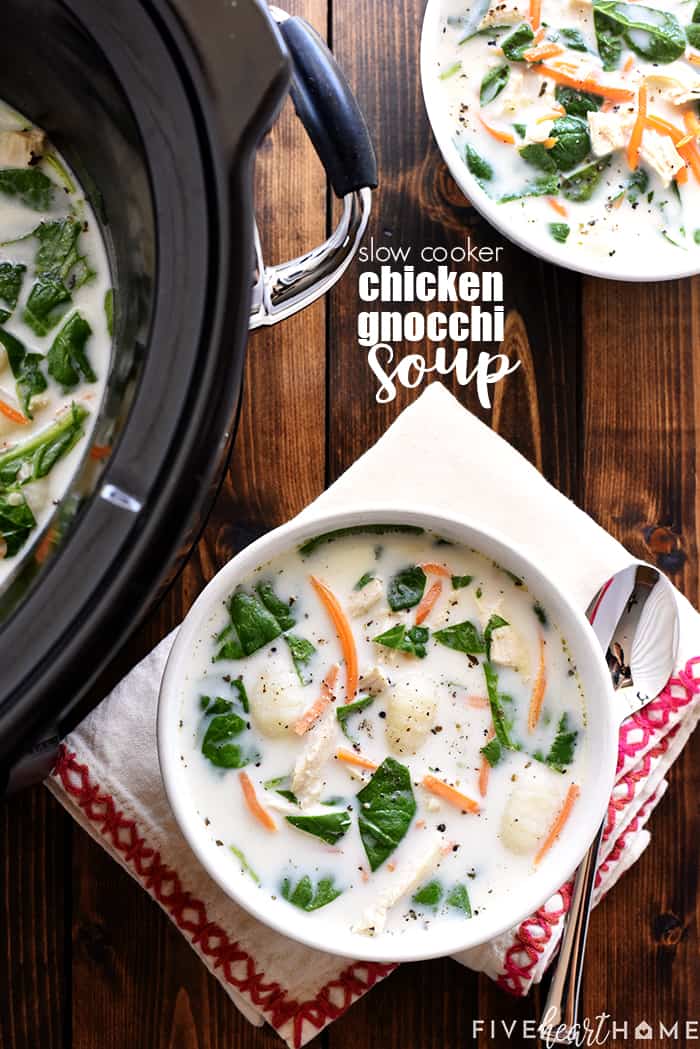 More Comforting Chicken Soups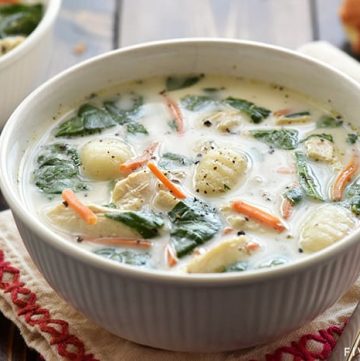 Slow Cooker Olive Garden Chicken Gnocchi Soup
Slow Cooker Olive Garden Chicken Gnocchi Soup is a creamy, lightened-up copycat recipe of the famous classic, made easy thanks to the crockpot!
Print
Pin
Rate
Ingredients
1 1/2 to 2

pounds

chicken breasts

,

3 to 4 large chicken breasts

1 1/2

cups

shredded carrots

3

cloves

garlic

,

minced

1

teaspoon

dried parsley

1/2

teaspoon

dried basil

1/2

teaspoon

celery salt

1/4

teaspoon

ground nutmeg

1

bay leaf

Salt and freshly ground black pepper

,

to taste

5

cups

chicken stock or broth

1

cup

half-and-half

2

tablespoons

cornstarch

1

(16-ounce) package potato gnocchi

1

cup

chopped fresh spinach
Instructions
Arrange chicken breasts in the bottom of a large (6-quart) slow cooker. Add carrots and garlic on top, then sprinkle with parsley, basil, celery salt, nutmeg, and bay leaf. Season with 1/4 to 1/2 teaspoon salt (depending on the saltiness of your chicken broth) and freshly ground black pepper. Pour chicken stock/broth over ingredients in slow cooker, cover with lid, and cook on LOW for 6 to 8 hours or until the chicken is tender.

At the end of the cooking time, remove the chicken to a cutting board and discard the bay leaf. Using a fork, whisk the cornstarch into the half-and-half until dissolved and then stir the slurry into the soup, along with the gnocchi. Cover the slow cooker and increase the heat to HIGH.

Chop or pull the chicken into bite-sized pieces. Stir it back into the slow cooker, cover, and continue to cook for 15 to 30 more minutes, until the gnocchi is cooked through and the soup is thickened. Just before serving, stir in the chopped spinach and cover for a few more minutes until wilted. Adjust the seasonings, to taste, with additional salt and pepper (if needed) and serve immediately.
Calories:
335
kcal
|
Carbohydrates:
31
g
|
Protein:
31
g
|
Fat:
8
g
|
Saturated Fat:
3
g
|
Cholesterol:
88
mg
|
Sodium:
716
mg
|
Potassium:
718
mg
|
Fiber:
2
g
|
Sugar:
3
g
|
Vitamin A:
4500
IU
|
Vitamin C:
4.8
mg
|
Calcium:
68
mg
|
Iron:
3
mg