Easy Minestrone Soup is healthy, flavorful, and simple to customize using your favorite vegetables!

I feel like today's recipe is a perfect soup for transitioning from winter to spring. Minestrone Soup is delicious any time of year, of course, but what makes it really nice right about now is that it's cozy and comforting enough for the dreary, drizzly days we've been having…but the veggies can easily be swapped out to take advantage of the spring bounty that's about to hit grocery stores and farmers markets!
Maybe I'm simply justifying the timing of this Easy Minestrone Soup, since it was actually a recipe request from a friend of mine back in December (hi, Elizabeth!) and it's only taken me three months to get around to making it (sorry?). But the good news is that we've enjoyed this vegetarian delight a couple different meatless Fridays now during Lent, and that's what I like to call killing two birds with one stone…or creating one recipe with two (actually, multiple) purposes.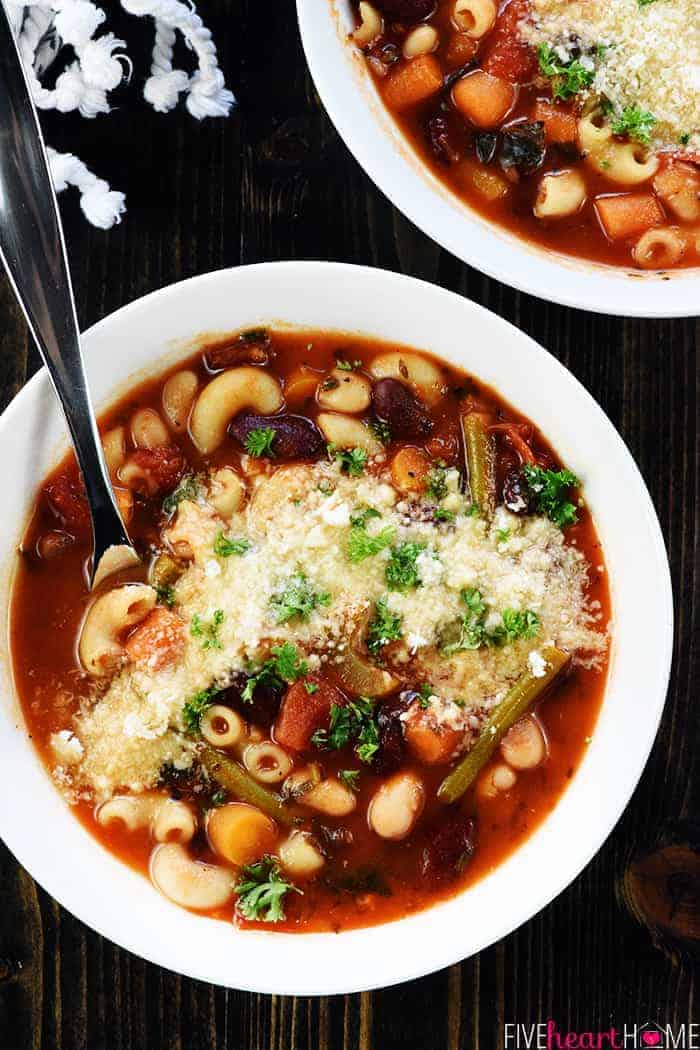 So! Minestrone Soup. I debated whether to make this a slow cooker recipe or an Instant Pot recipe. But the truth is, it's so quick and easy to throw together on the stovetop, there's really no reason to reinvent the wheel!
(I'm apparently going for one overused idiom per paragraph today.)
I did lots of research on Minestrone Soup to figure out the "standard" or "classic" ingredients. And you know what I determined? There aren't completely consistent veggies from recipe to recipe…there are a whole lot of variations! So while I made this recipe using a few of my favorite things, I hope you feel free to adapt it to your liking (and I'll include some substitution ideas in the Tips & Tricks section below).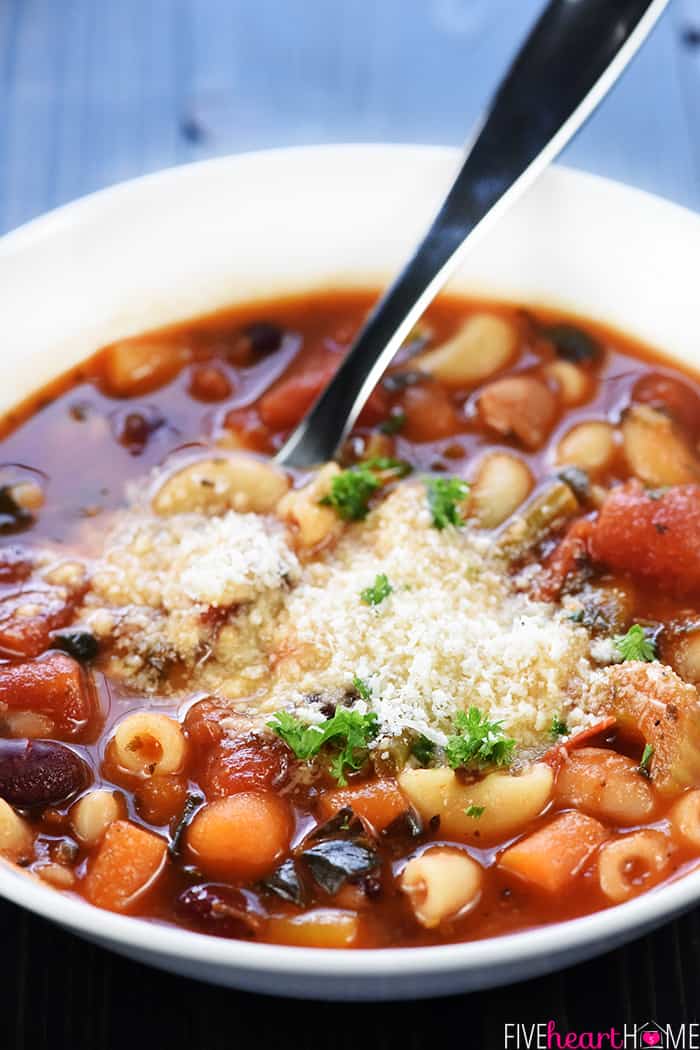 I started out by sautéeing some garlic, carrots, and celery in extra-virgin olive oil. This is where you'd traditionally throw in a diced onion as well (and I did include one in the recipe)…but I don't actually like onions, so I threw tradition out the window here. See??? THE FREEDOMS OF CUSTOMIZATION!
Next I added herbs and spices, canned tomatoes (crushed and diced, for texture), and some broth. I let everything simmer for about 20 minutes to soften the tomatoes and allow the flavors to meld, and then I stirred in the canned beans, pasta, green beans, and spinach.
I opted for a combo of kidney beans and Great Northern beans, half a cup of whole wheat elbow pasta, frozen haricots verts (AKA, long, skinny green beans, which I cut in half), and frozen chopped spinach. Frozen spinach is hard to measure, so I eyeballed it. Had I used fresh baby spinach, I probably would have stirred it in towards the very end of the cooking time, so as not to overcook it. And again, you can switch out the types of beans, the shape of pasta, and the fresh or frozen veggies!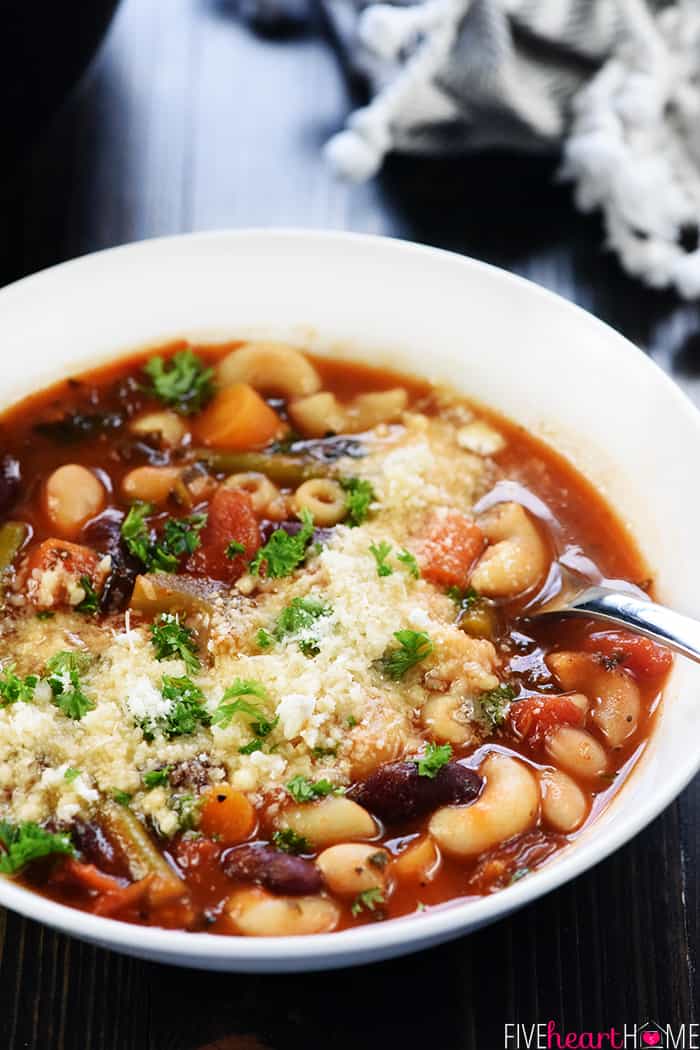 Once the pasta was tender, I simply adjusted the seasonings, stirred in a splash of balsamic vinegar (optional but recommended), and served with a shower of freshly grated Parmesan and a sprinkle of fresh parsley. Delicious!
This Easy Minestrone Soup is a warm, wholesome recipe that's relatively quick — and definitely easy — to whip up. It's tasty and cozy while also being pretty darn healthy. Nope, no guilt involved with this type of comfort food! And finally, it's a recipe that should serve you well regardless of whether you're still relishing winter or already thinking spring. 😉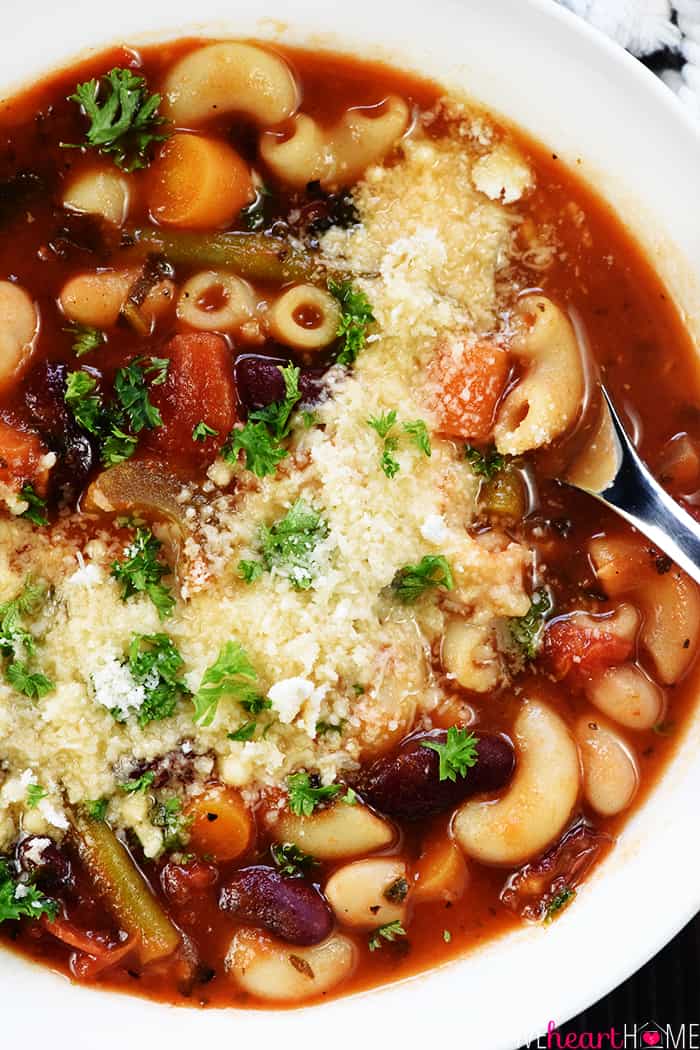 Helpful Tips, Tricks, & Equipment

(some affiliate links below)
Feel free to add your favorite seasonal veggies (or whatever vegetables you have on hand) to make this soup your own. A few ideas:

1 medium-sized yellow squash or zucchini, cut in half lengthwise and sliced (for half circle-shaped pieces)
1 or 2 cubed yellow potatoes
1 cup sliced or shredded cabbage
1 cup fresh or frozen peas

Depending on the vegetables you add, you can sauté them at the beginning of the recipe along with the carrots and celery (such as squash or zucchini), add them to simmer along with the broth and tomatoes (such as potato or cabbage), or add them at the end with the pasta and beans (such as peas).
You can swap out the spinach in this recipe for chopped kale or collard greens.
You can also vary the types of canned tomatoes you use. I prefer using one can of crushed tomatoes (OR a can of tomato puree) plus one can of petite diced tomatoes. But you can use two cans of petite diced (or regular diced) tomatoes instead. Or, if you have kids who pick out chunks of tomatoes, go for two cans of crushed tomatoes.
I generally prefer fire-roasted canned tomatoes for extra flavor. And since tomatoes are so acidic, I always buy tomato products in cans with BPA-free linings (pretty easy to find these days) or — for certain products like tomato paste or tomato puree — in glass jars.
If you have a Parmesan rind on hand, throw it in to simmer with the tomatoes and broth for even more flavor.
Dried herbs are more potent than fresh. So if you'd like to use fresh herbs, increase the amounts to use three times more fresh herbs.
Any tiny pasta will work in this soup, from small elbows to ditalini (tubular) to orecchiette (small ears) to small shells. You may use regular pasta or whole wheat. Make sure it cooks as long as necessary to become tender before serving. And 1/2 cup dried pasta won't seem a lot when you first add it, but keep in mind that it will expand as it cooks. I didn't want the pasta to overtake the soup with so many other ingredients to be enjoyed, but if you'd prefer to add more pasta to your soup, be aware that you may have to add a bit more broth (or water) to compensate for extra absorption of the pasta. Same thing goes for leftovers…pasta can continue to absorb liquid once refrigerated, so you may have to add a splash of extra broth when reheating your soup.
To make this recipe vegetarian, use vegetable broth (or stock) instead of chicken broth. To make it vegan, also leave out the Parmesan cheese.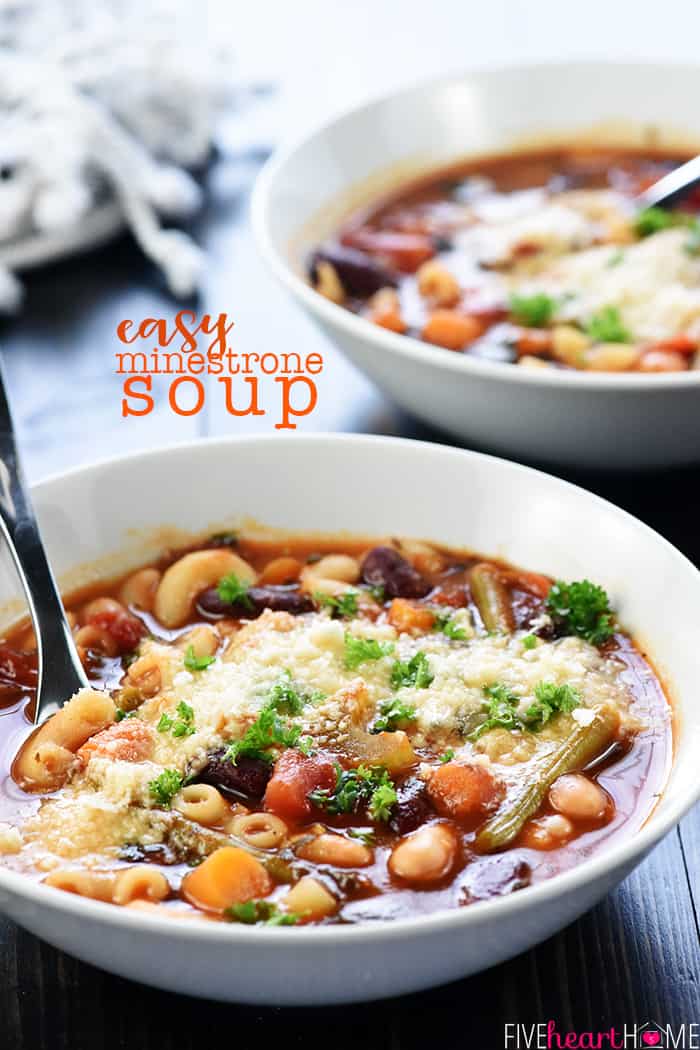 Easy Minestrone Soup Recipe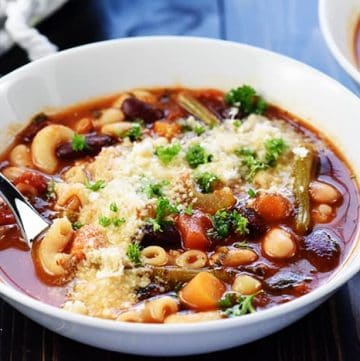 Easy Minestrone Soup
Easy Minestrone Soup is healthy, flavorful, and simple to customize using your favorite vegetables!
Print
Pin
Rate
Ingredients
3

tablespoons

extra-virgin olive oil

1

small onion

,

diced

5

cloves

garlic

,

minced

1

large carrot

,

diced (about 1 cup)

1

medium stalk celery

,

thinly sliced (about 1/2 cup)

6

cups

low-sodium chicken OR vegetable broth/stock

1

(14.5-ounce)

can fire-roasted crushed tomatoes

1

(14.5-ounce)

can fire-roasted petite diced tomatoes

2

tablespoons

tomato paste

1 1/2

teaspoons

dried oregano

1

teaspoon

dried basil

1/2

teaspoon

dried rosemary

1/4

teaspoon

dried thyme

Salt & freshly ground black pepper

1

(15-ounce) can Great Northern beans

,

rinsed & drained

1

(15-ounce) can red kidney beans

,

rinsed & drained

1/2

cup

dried small elbow pasta

,

regular OR whole wheat

1

cup

fresh OR frozen green beans

1

cup

packed fresh baby spinach OR frozen spinach

1/2

tablespoon

balsamic vinegar

,

optional

Freshly grated Parmesan cheese and fresh minced parsley

,

for serving
Instructions
In a large pot or Dutch oven set over medium-high heat, heat the extra-virgin olive oil. Saute the onion until translucent, 3 to 5 minutes. Add the garlic, carrot, and celery and cook for 5 more minutes, stirring frequently, or until the vegetables are just tender.

Stir in the broth, crushed tomatoes, diced tomatoes, tomato paste, oregano, basil, rosemary, thyme, 1 teaspoon salt, and black pepper to taste. Bring to a boil and reduce to a simmer. Stir well and place a lid on the pot, leaving it cracked about an inch for steam to escape; cook for 20 minutes. Add the canned beans, pasta, green beans, and spinach to the pot; stir to combine. Bring to a boil and reduce to a simmer once more. Stir well and cook uncovered for 10 to 15 minutes, stirring regularly, until the pasta is tender. Adjust the seasonings, adding more salt (1/4 teaspoon at a time) and pepper if necessary, and stir in the balsamic vinegar, if using. Serve hot topped with fresh Parmesan and parsley.
Calories:
358
kcal
|
Carbohydrates:
53
g
|
Protein:
19
g
|
Fat:
9
g
|
Saturated Fat:
1
g
|
Sodium:
496
mg
|
Potassium:
1305
mg
|
Fiber:
13
g
|
Sugar:
10
g
|
Vitamin A:
2710
IU
|
Vitamin C:
21.9
mg
|
Calcium:
167
mg
|
Iron:
5.9
mg
More Cozy Soups
13