Slow Cooker Loaded Baked Potato Soup is a smooth and creamy crock pot soup garnished with a variety of tasty toppings, from sour cream and shredded cheese to crispy bacon and green onions!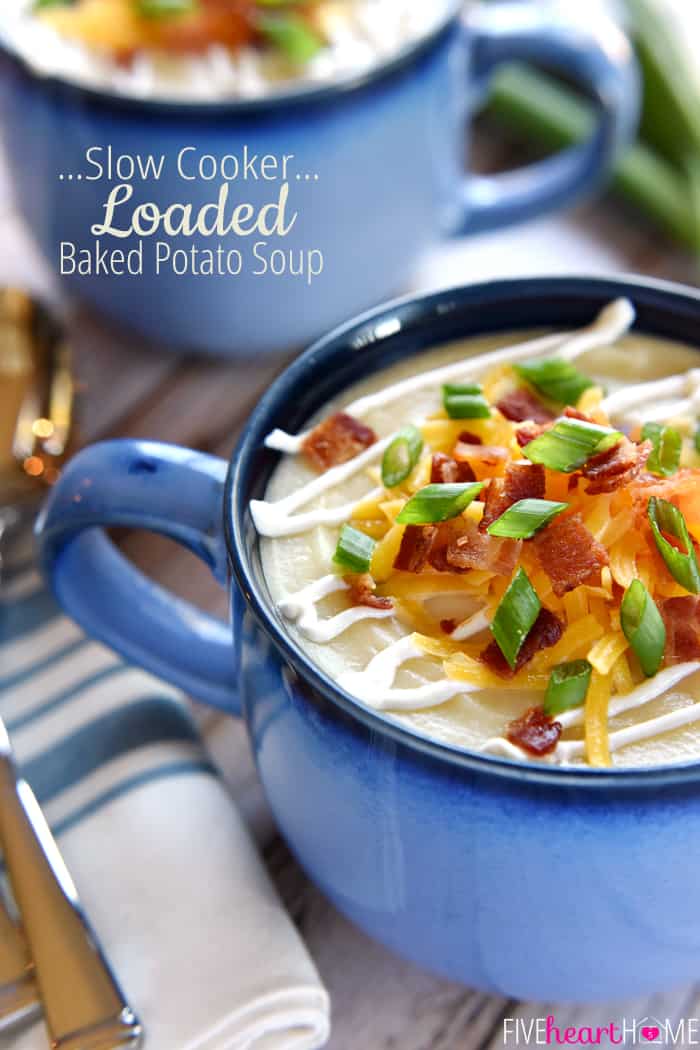 Oh, soup...how I love thee. We flirt in October, when other parts of the country have dropping temps while we Texans are still wearing shorts and flip-flops. You become a part of our regular rotation come November and December, because it just feels like soup season...even when the weather isn't cooperating. But in January and February? Well, it's finally legitimately chilly enough around these parts to enjoy you for your cozy, warming effects!
So as I sit by a (sadly de-Christmas-ified) fireplace with flames a-cracklin', I can't help but think back to the delicious, filling, comforting Crock Pot Loaded Baked Potato Soup that we relished this past weekend. I make a quick and easy Parmesan Potato & Cauliflower Soup and a Slow Cooker Corn & Potato Chowder with Ham quite regularly, but cold weather and a post-holiday haze had me craving something a bit more decadent in the potato department. And what's more decadent than silky, sour-cream-and-butter-laced Loaded Baked Potato Soup, drizzled with more sour cream and generously topped with freshly grated cheddar and crispy diced bacon?!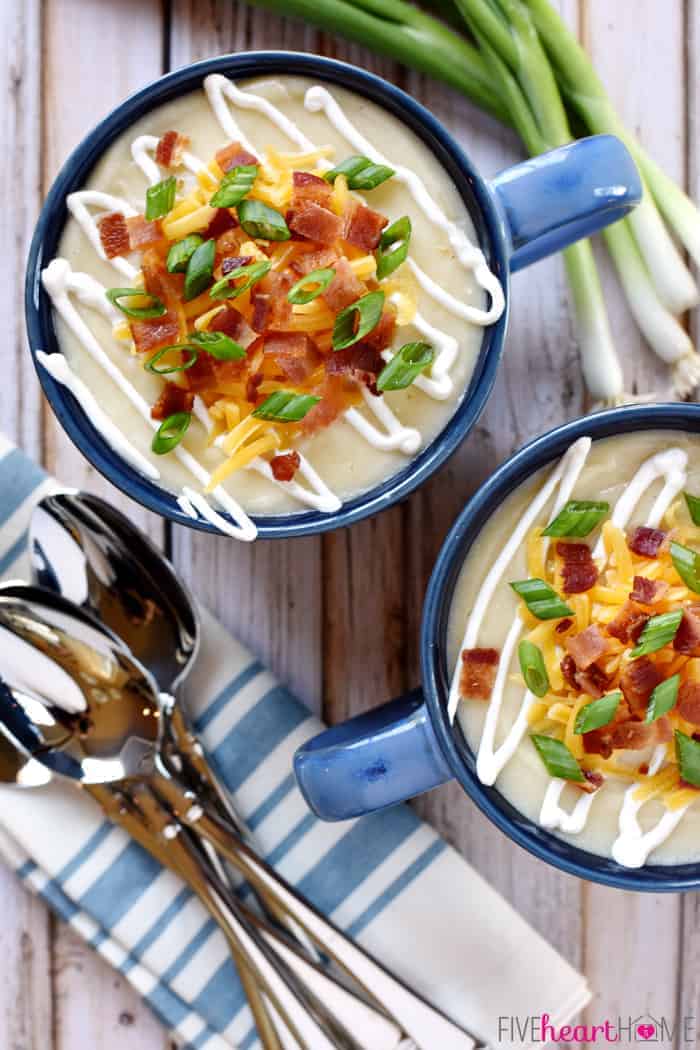 I don't know what took me so long to make Loaded Baked Potato Soup, but I can assure you that it's going to be a regular menu item around here now that I have.
How to Make It
I'd enjoyed Loaded Baked Potato Soup at luncheons and potlucks a few times over the years, but I'd never made it myself. So when I decided to concoct my own variation, I decided to make it as easy as possible by using the crock pot. Here's the breakdown:
Slow cook potatoes until tender.
Purée.
Stir in a variety of dairy-centric additions for silky richness. And then garnish to your heart's delight...à la a real baked potato!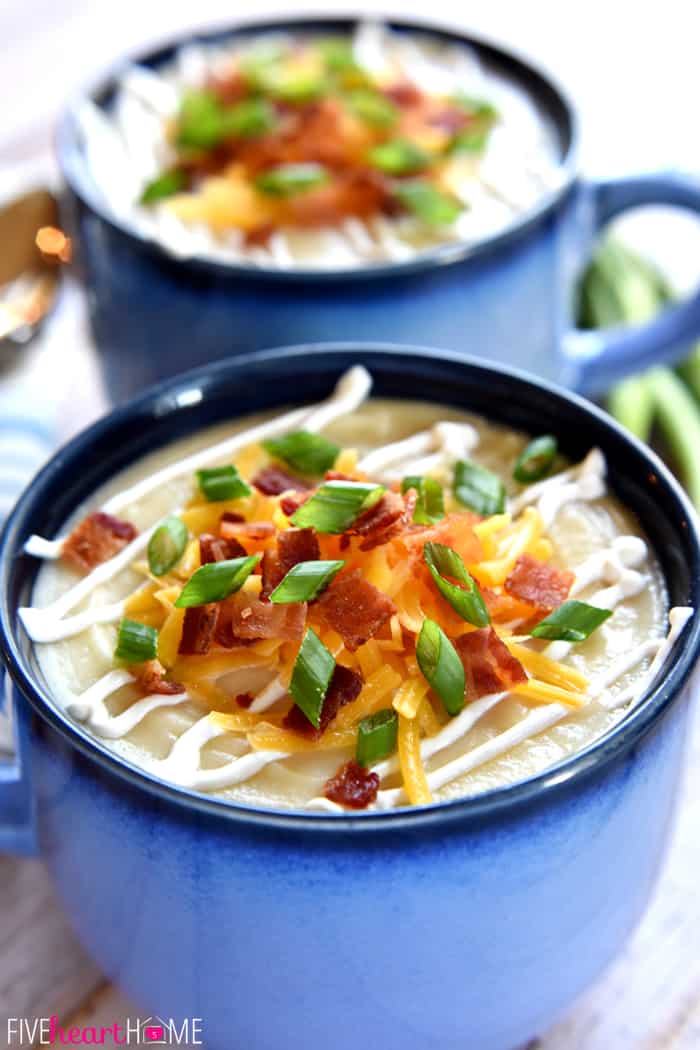 Ingredients
So what are the simple ingredients that make this soup so magical?
Potatoes. I prefer using Russets. Peel 'em and cut 'em into large chunks for quicker and more even cooking.
Chicken broth or stock, to flavor the potatoes as they cook. Alternately, you may use vegetable broth for a vegetarian version.
Minced garlic, salt, and pepper. To season the broth, and thereby the potatoes.
Milk, sour cream, and butter, for that true baked potato decadence. Of course, you can choose how light or decadent you'd like to go with these (by choosing skim milk vs. whole milk vs. half-and-half, for example, or fat-free sour cream vs. low-fat or full fat). You can also opt to decrease or leave out the butter. Just keep in mind that higher fat options = a richer, more decadent soup.
Grated cheddar cheese. Again, this is optional...but highly recommended. 😉
Garnishes
As for the toppings...well, you can see I didn't skimp on those. 😉 Once again, think baked potato!
I recommend extra sour cream and grated cheese, as well as crumbles of crispy bacon.
Feel free to sprinkle on some chopped green onions or chives if you like those as well.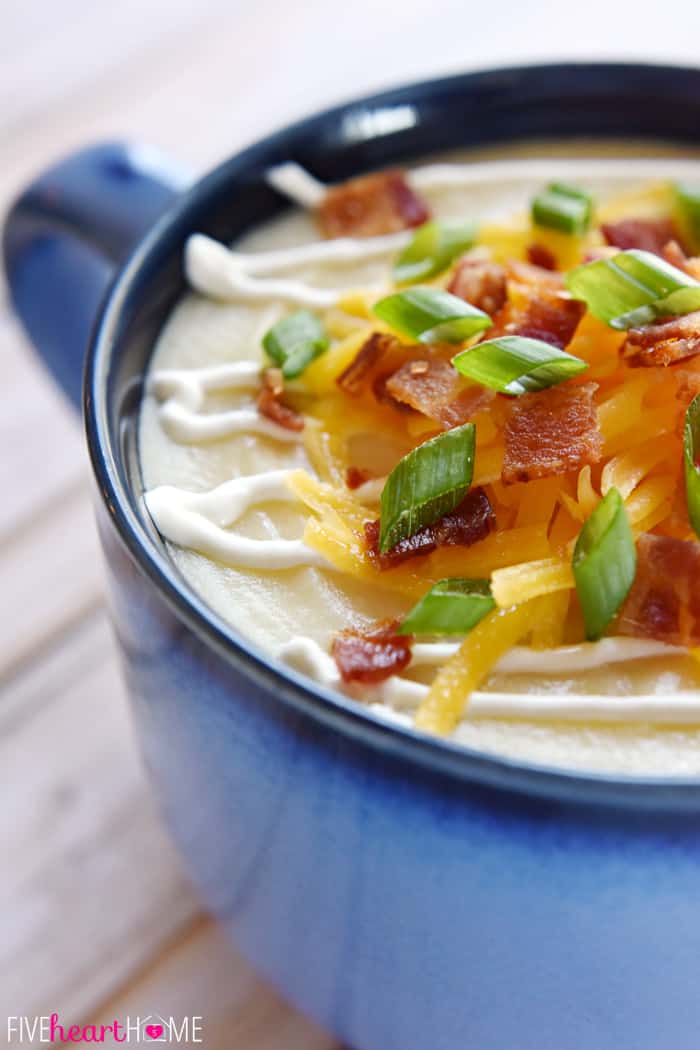 Immersion Blender to the Rescue
One last note and then I'll get on with the recipe.
If you don't have an immersion blender, I highly recommend investing in one or putting one on your wish list! They're not too expensive, but they are invaluable when it comes to puréeing hot soups like today's recipe.
Before I got an immersion blender, I used to transfer such soups to a blender in several batches...and let me tell you from experience that puréeing hot tomato soup in a blender can lead to a kitchen full of tomato soup splatters that you will continue to discover years later. Ahem.

So who's ready to put your crock pot to work making a savory supper of Slow Cooker Loaded Baked Potato Soup?
It's guaranteed to please.
It's guaranteed to warm you up.
And I promise to look the other way if you decide to garnish it with green onions. Blech. 😉
More Cozy Soups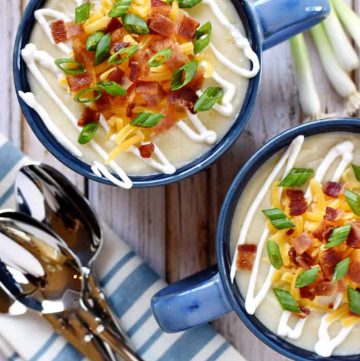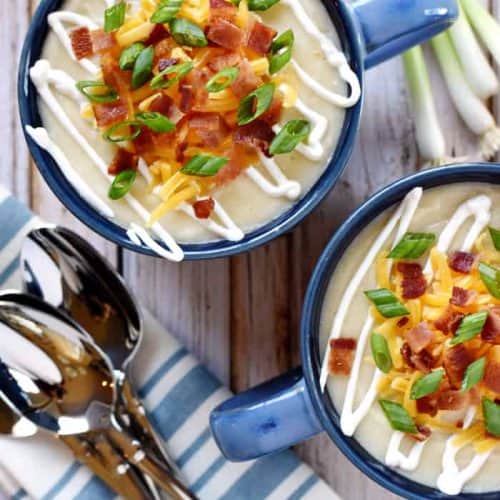 Slow Cooker Loaded Baked Potato Soup
Loaded Baked Potato Soup is a smooth and creamy crock pot recipe garnished with a variety of tasty toppings, from sour cream and shredded cheese to crispy bacon and green onions.
Print
Pin
Rate
Servings:
6
to 8 servings
Ingredients
4

pounds

baking potatoes (such as Russets)

,

peeled and cut into 1 ½-inch chunks

6

cups

chicken broth OR stock

1

tablespoons

fresh minced garlic

1

teaspoon

garlic salt

Freshly ground black pepper

1

cup

milk

½

cup

sour cream

4

tablespoons

butter

1

cup

grated cheddar
GARNISHES:
Sour cream

Grated cheddar

12

ounces

bacon

,

cooked and crumbled/chopped

Diced green onions or chives
Instructions
Place cubed potatoes, chicken stock, and garlic in large slow cooker. Season with garlic salt and freshly ground pepper. Cover and cook for 8 hours on low or 4 hours on high (or until potatoes are completely tender).

Turn heat to warm and use an immersion blender to purée potatoes until smooth and creamy. Stir in milk, sour cream, butter, and grated cheese. Stir until all ingredients are melted and incorporated. (You may add a bit more milk if you prefer the consistency of your soup to be thinner.) Taste soup and, if necessary, season with additional salt and pepper. If soup is not hot enough at this point, place lid back on slow cooker and heat on warm for 5 to 10 more minutes (don't heat too long after the dairy is added or the soup may turn brown around the edges of the pot).

Ladle soup into bowls and top with your favorite baked potato toppings: a drizzle or dollop of sour cream, grated cheese, chopped bacon, and/or diced green onions.
Notes
You may use vegetable stock and omit the bacon if you would like to make this soup vegetarian.
You can use skim milk, 2%, whole milk, half-and-half, heavy cream...it's up to you! But obviously, the fattier the milk product you use, the richer and creamier the final soup is going to be.
The type of stock or broth you use is going to dictate whether or not you need to add additional salt at the end.
If you don't have an immersion blender, you may purée this soup in batches using a food processor or blender. Just allow it to cool down a bit before doing so, work with small batches at a time (don't fill your blender more than half way!), and leave the top of the blender cracked so that steam can escape and soup doesn't explode everywhere!
To drizzle sour cream, I stir it until smooth, scoop into a plastic sandwich baggie, and snip off a tiny piece of one corner. Then I use it like a piping bag for drizzling.
Calories:
456
kcal
|
Carbohydrates:
66
g
|
Protein:
14
g
|
Fat:
16
g
|
Saturated Fat:
9
g
|
Cholesterol:
41
mg
|
Sodium:
846
mg
|
Potassium:
1594
mg
|
Fiber:
4
g
|
Sugar:
8
g
|
Vitamin A:
420
IU
|
Vitamin C:
18.3
mg
|
Calcium:
118
mg
|
Iron:
3.1
mg
Recipe adapted from Five Heart Home
Post originally published on January 4, 2015.