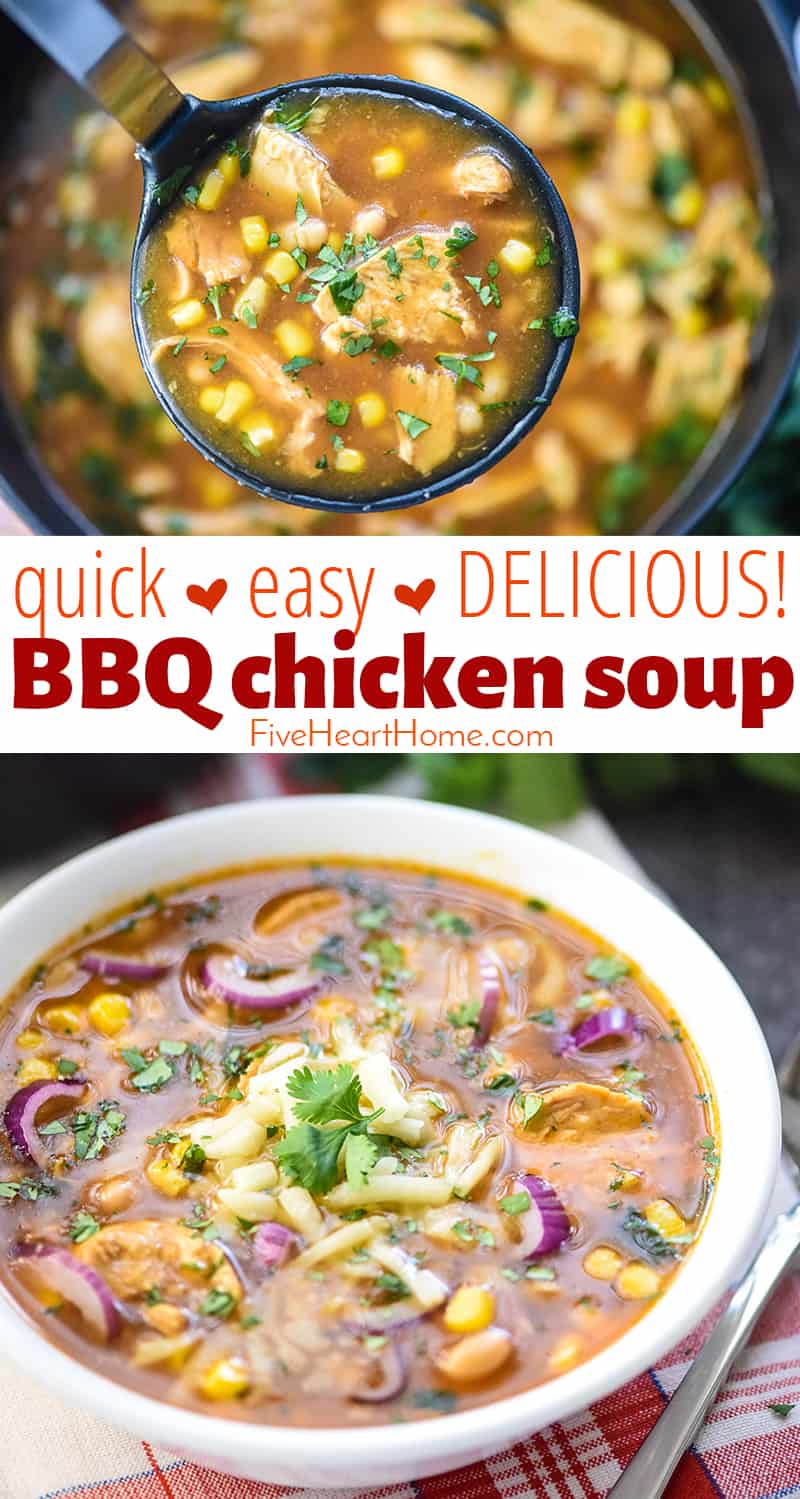 BBQ Chicken Soup is an easy, delicious chicken soup recipe that comes together quickly and tastes just like BBQ chicken pizza!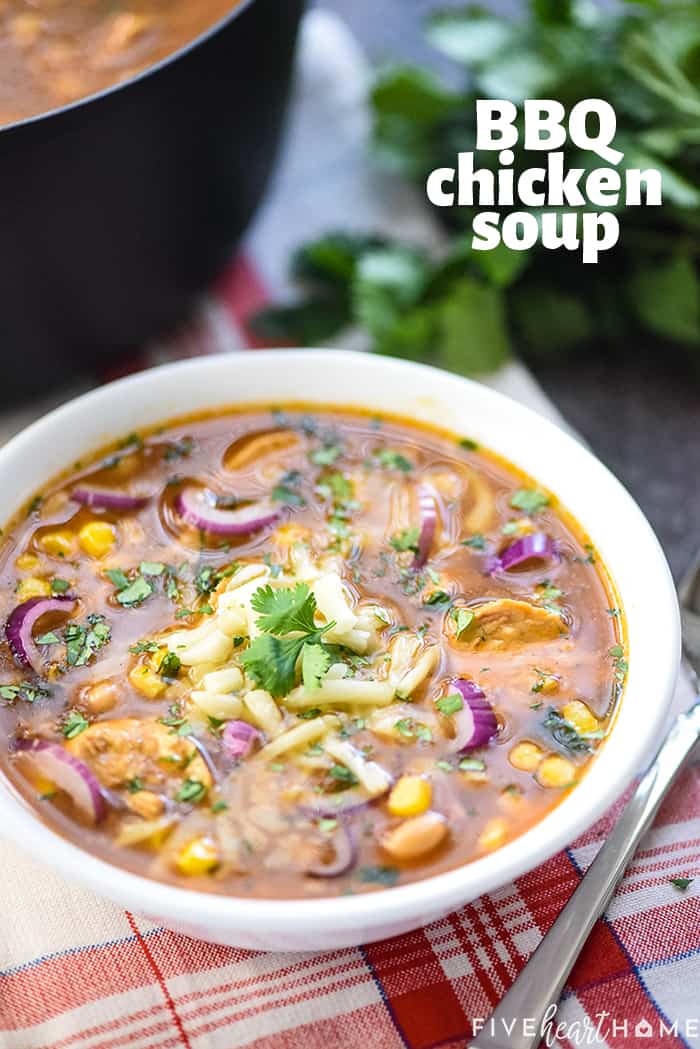 I know, I know...it's still hotter than blazes outside. But "fall" officially arrives this week so I suppose that means soup recipes are now fair game. You know, even if the temperature doesn't follow suit 'round some parts for a few months yet. But just so you're prepared when that first cold front (finally) hits, I figured today would be the perfect opportunity to share my new favorite soup recipe...BBQ Chicken Soup!
If you're anything like me, you're already a big fan BBQ Chicken Pizza. In fact, that combo of ingredients first made famous by California Pizza Kitchen is one of my favorites, seeing as how I already turned it into BBQ Chicken Tortilla Pinwheels and BBQ Chicken Dip.
So that got me a'thinkin'...what better way to enjoy those same flavors alllll fall and winter long than in a cozy, flavorful soup?
Ingredients
So what makes BBQ Chicken Pizza -- and hence, BBQ Chicken Soup -- so yummy? Allow me to enumerate the ingredients...
Chicken. I like to use a combo of breasts and thighs in this soup, but you can use whichever floats your boat.
Garlic. Because, flavor.
Chicken broth or stock. I prefer low-sodium. Cans or cartons work fine here, but by all means break out the homemade stuff if you've got it.
BBQ sauce. The dominant flavor in this soup's broth comes from the BBQ sauce. Since the sauce adorning a BBQ Chicken Pizza is typically on the sweeter side, I used a Kansas City barbecue sauce when I made this soup recipe. I found it to be the perfect choice, lending a sweet, smoky, and slightly spicy flavor to the broth.
White beans. Wait, you may be saying right about now. There aren't beans on a BBQ Chicken Pizza! And you would be right. But with just chicken floating around in the broth all by its lonesome, this soup seemed to be missing some substance. And canned white beans were a healthy, neutral-tasting addition to bulk it up! I used Navy beans but Great Northern would also work.
Corn. I added frozen corn to this soup recipe for the same reason I added white beans. It added some nice texture and complemented, rather than detracted from, the other flavors.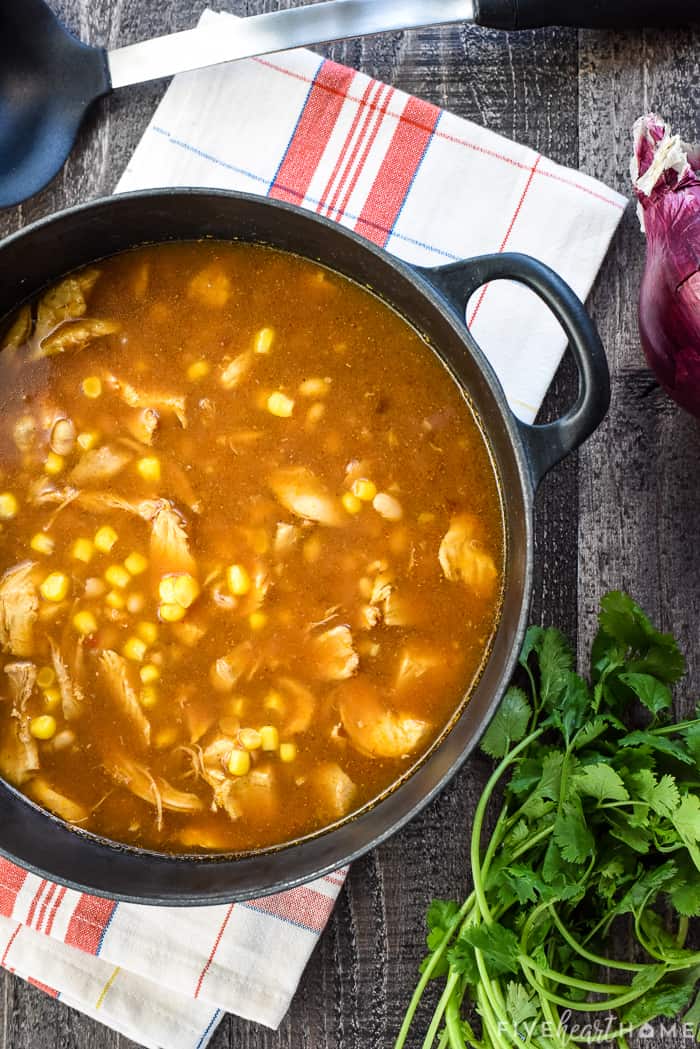 Garnishes
But where are those other ingredients typically found on a BBQ Chicken Pizza? Well, I thought that those were best added as fresh garnishes atop of the finished soup.
Red onions. I'm not personally an onion fan, but if you must... 😉
Cilantro. On the other hand, I will happily inhale me some cilantro. The more the merrier! I actually stir some chopped cilantro directly into the soup and then sprinkle more on top as a garnish. But again, add it to your liking.
Mozzarella cheese. I mean, we're mimicking pizza here, right?
Tortilla chips. I actually forgot to include the chips in the soup pics featured in this post. Forgive me for my transgressions. However, before we ate this BBQ Chicken Soup for dinner on the night that I made it, I topped each bowl with some crushed tortilla chips. Everyone loved the crunchy texture, so yes...I would highly recommend.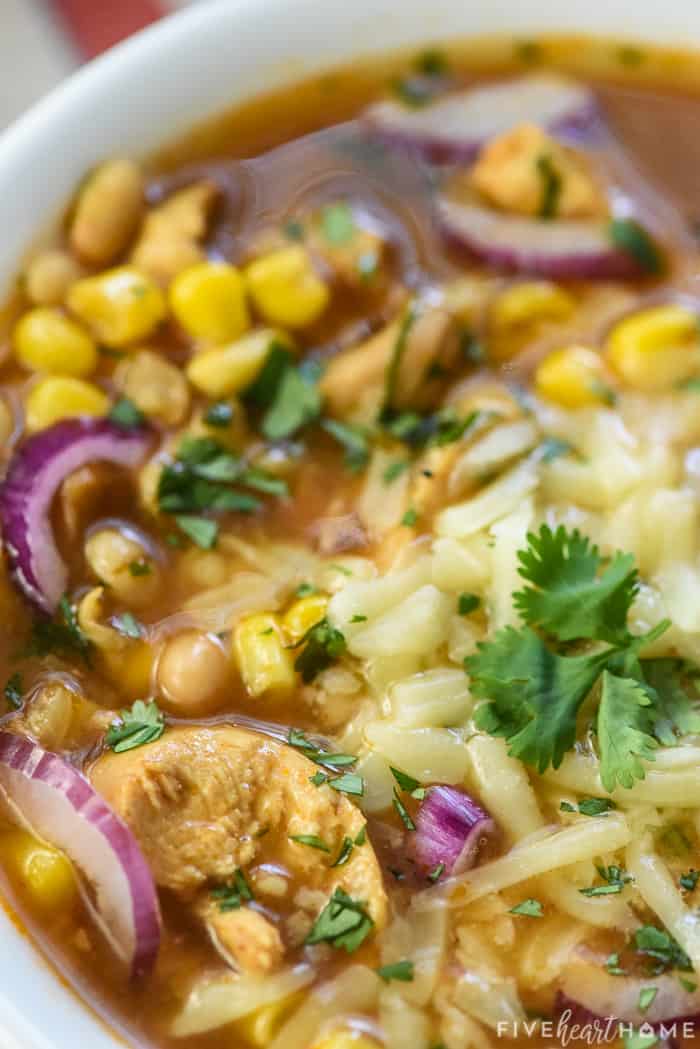 How to Make BBQ Chicken Soup
This soup recipe is super quick and easy to throw together on the stovetop.
Place the chicken pieces in a large soup pot and add the minced garlic and spices. Pour chicken broth and barbecue sauce over the top.
Simmer until the chicken is just cooked through.
Remove the chicken to a plate to pull it. In the meantime, add the beans and corn to the broth in the pot to heat through.
Return the chicken to the pot and adjust the seasonings. Stir in chopped cilantro. And then ladle into bowls and garnish with thinly sliced onions, additional cilantro, shredded mozzarella, and crushed tortilla chips.
That's it! A quick, easy-peasy soup recipe that's loaded with flavor.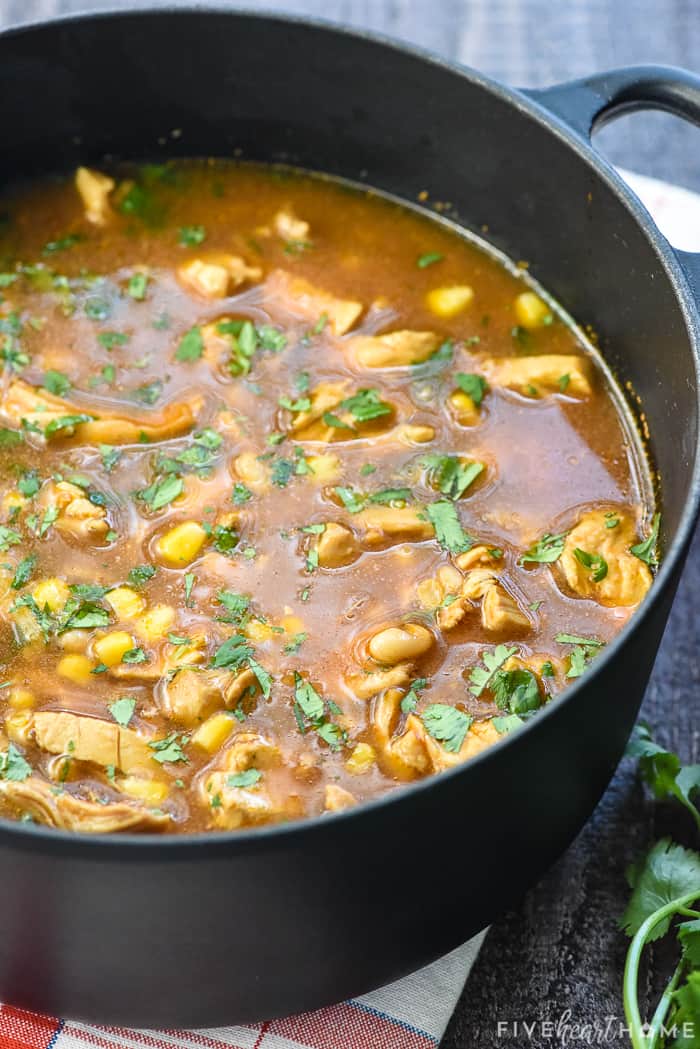 Changing It Up
This BBQ Chicken Soup is adaptable, too!
Instead of boneless, skinless chicken breasts and/or thighs, you may instead opt to use bone-in, skin-on chicken pieces. Some people prefer to simmer the chicken with bones and skin intact for optimal flavor. Just keep in mind that you may have to increase the cooking time a bit to cook whole pieces of chicken through. And obviously, you'll need to remove and discard the bones and skin (and skim the fat from the surface of the soup, if necessary) before eating.
If you wish, it would also be a cinch to whip up this recipe in the slow cooker or pressure cooker instead of on the stovetop.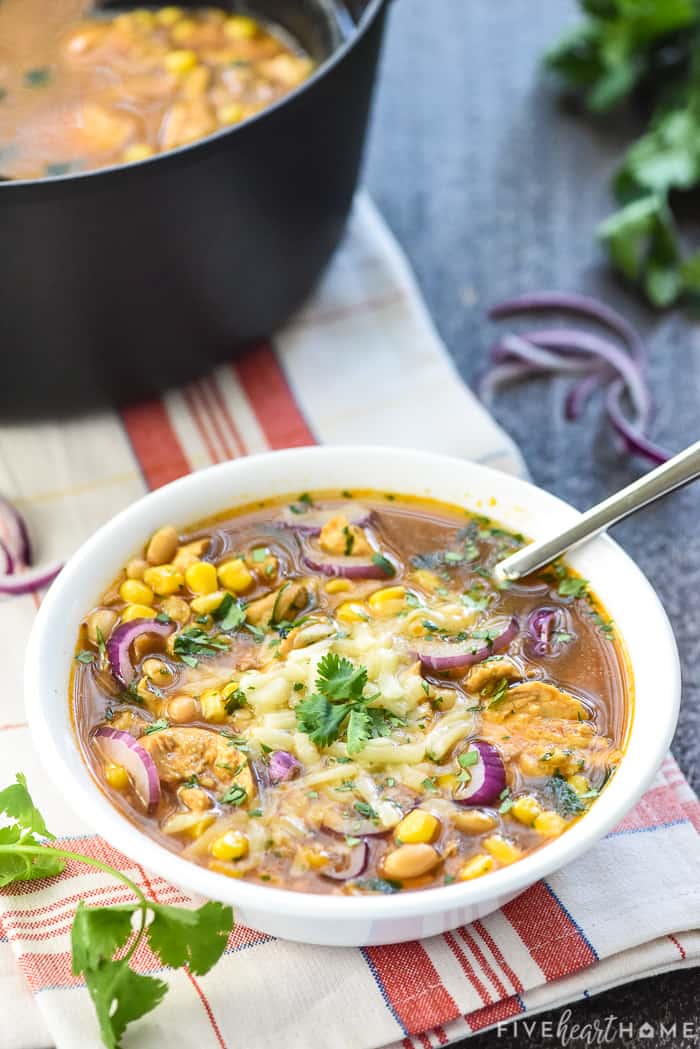 Slow Cooker Directions
Combine all of the ingredients in your slow cooker (except for the garnishes). Cook for around 6 hours (depending on how hot your crock pot runs and the cuts of chicken you choose to use). The soup is done when the chicken is cooked through and tender but not dry or overcooked.
Since there is no evaporation when you make soup in a slow cooker (as opposed to cooking it on the stove), I'd recommend reducing the chicken broth by 1 cup (so use 7 cups instead of 8).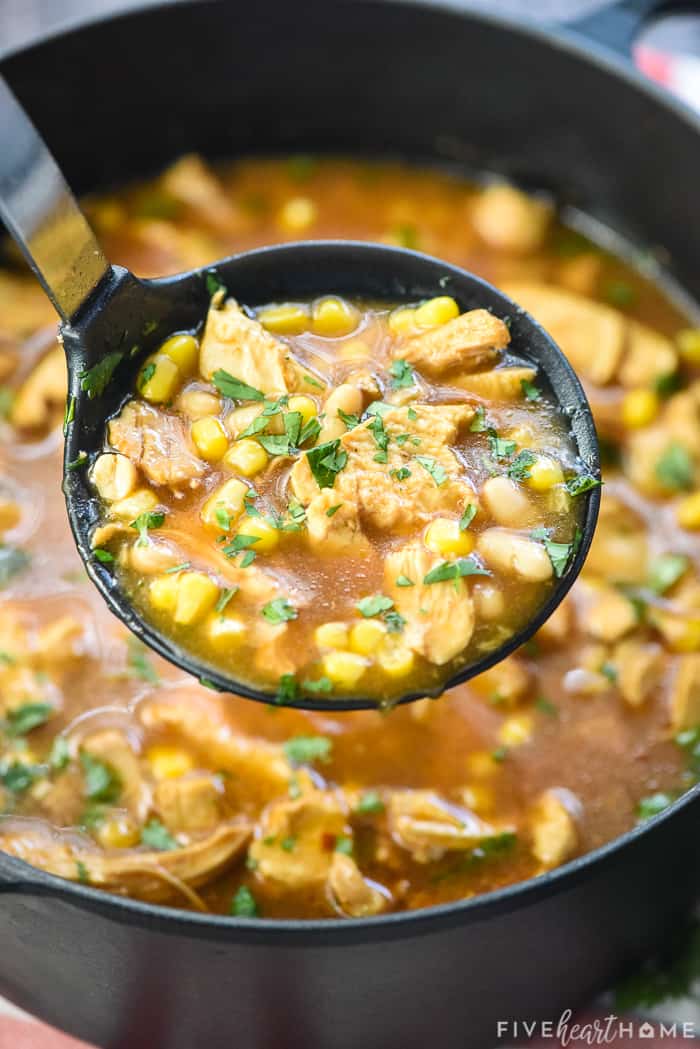 Pressure Cooker Directions
I've also made this recipe in my 8-quart Instant Pot by combining all of the ingredients, with the exception of using only 7 cups of broth instead of 8 cups. Seal according to the manufacturer's directions. Cook on the SOUP setting for 10 minutes and then allow the pressure to naturally release (which will take at least 10 to 15 additional minutes). If you attempt a quick release, your soup may come spewing out of the valve!
Also, if your Instant Pot is a 6-quart model instead, you may want to reduce the broth by yet another cup (using 6 cups broth total). You don't want to overfill your pot. And you can always stir in a little extra broth just before serving if you feel there's not enough liquid after adding the chicken back to the pot.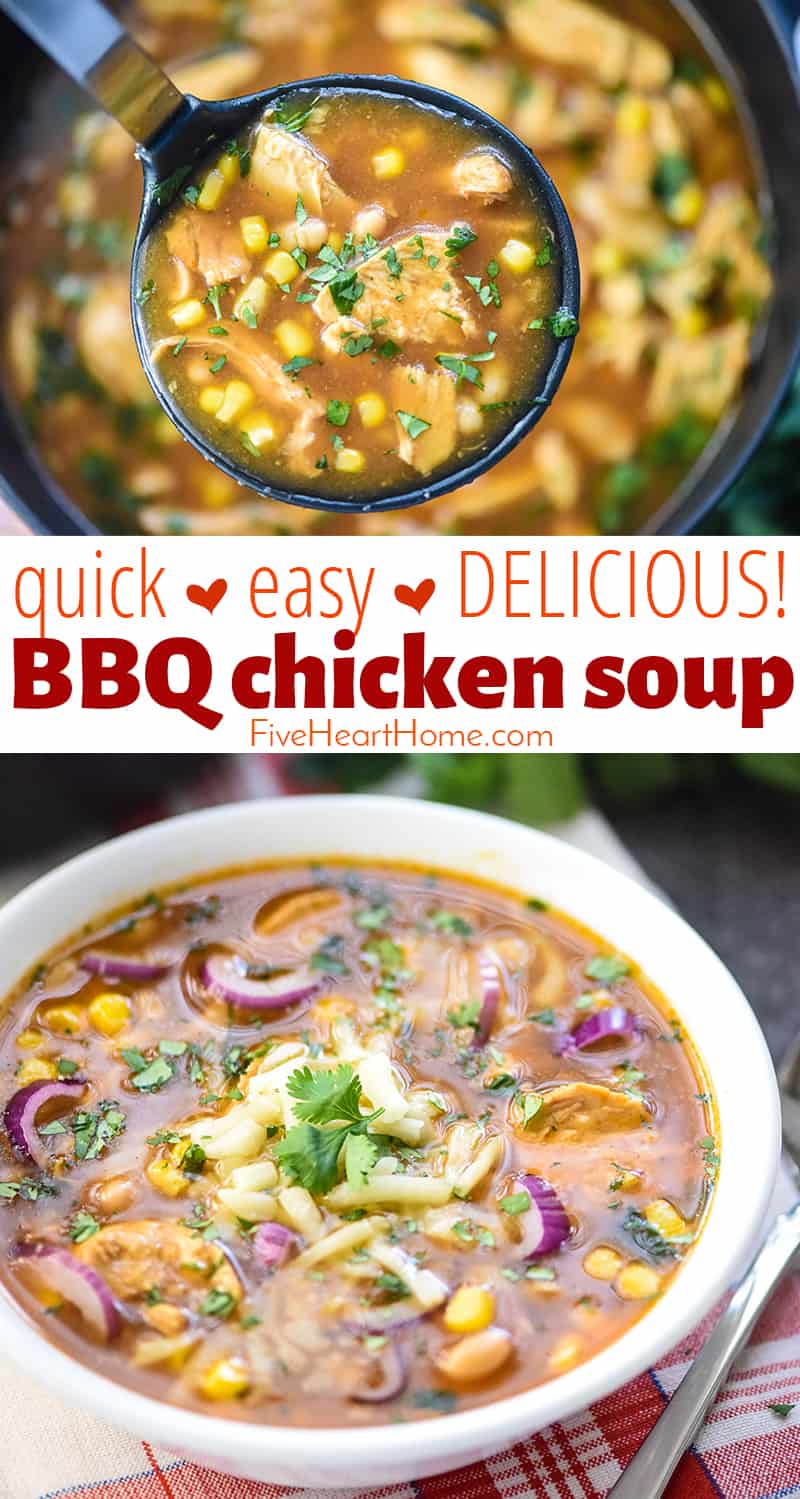 This BBQ Chicken Soup is easy, speedy, and extremely tasty. It's one of my family's favorite new spins on chicken soup, and I hope you enjoy it as much as we do! 🙂
More Yummy Chicken Soup Recipes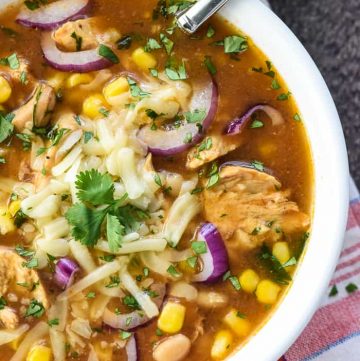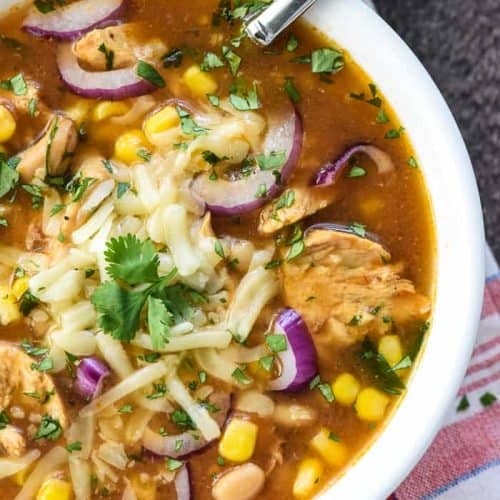 BBQ Chicken Soup
BBQ Chicken Soup is an easy, delicious soup recipe that comes together quickly and tastes just like BBQ chicken pizza!
Print
Pin
Rate
Ingredients
2

pounds

boneless, skinless chicken thighs and/or breasts

4

cloves

garlic

,

minced

½

teaspoon

garlic powder

½

teaspoon

onion powder

Freshly ground black pepper

,

to taste

8

cups

low-sodium chicken broth or stock

1 ½

cups

barbecue sauce

2

cups

frozen corn

,

thawed

1

(15-ounce) can Navy beans

,

rinsed & drained

½

cup

cilantro leaves

,

chopped, plus additional for garnish
Garnishes
Shredded mozzarella cheese

Red onion

,

finely sliced or diced

Tortilla chips

,

crushed
Instructions
Arrange chicken pieces in the bottom of a large soup pot. Add garlic, garlic powder, onion powder, and pepper. Carefully pour the chicken broth and BBQ sauce over the top. Bring to a boil and then reduce to a simmer. Cook, covered, for 10 to 15 minutes or until the chicken is cooked through.

Remove the chicken pieces from the broth. Add the corn, Navy beans, and cilantro and bring to a gentle simmer. In the meantime, shred or cut the chicken into chunks, discarding any fat.

Return the chicken meat to the pot and adjust the seasonings with salt and pepper, to taste. Serve hot, sprinkled with mozzarella cheese, red onion, additional cilantro, and crushed tortilla chips, as desired.
Notes
You may use any type of chicken pieces that you prefer. Bone-in and/or skin-on would work fine as well. You may just need to increase the cooking time a bit to make sure it's cooked through. And consequently, you may also have to add a bit of extra broth to make up for extra evaporation from a longer cooking time.
I prefer using a Kansas City-style BBQ sauce that's on the sweeter side, because that's the type of sauce typically associated with BBQ chicken pizza. But feel free to use your favorite type of BBQ sauce.
I quickly thaw my frozen corn by putting it in a colander and running under warm water. You can always toss the corn in the soup still frozen...just plan on a few extra minutes for the soup to heat back up. And if you only have canned corn on hand, you may use that instead (drained).
Instead of Navy beans, you may use another canned white bean such as Great Northern or Cannellini (white kidney) beans. Or if you're feeling really wild and crazy, you could substitute black beans instead!
Cilantro adds another layer of flavor to this soup, but of course, you may leave it out if you don't care for it.
Calories:
364
kcal
|
Carbohydrates:
46
g
|
Protein:
35
g
|
Fat:
5
g
|
Saturated Fat:
1
g
|
Cholesterol:
73
mg
|
Sodium:
759
mg
|
Potassium:
1121
mg
|
Fiber:
4
g
|
Sugar:
18
g
|
Vitamin A:
222
IU
|
Vitamin C:
5
mg
|
Calcium:
76
mg
|
Iron:
3
mg