In Texas, barbecue is practically a food group, but no matter where you live, summertime and barbecue go hand in hand.  Of course, where there is barbecue, there must be sauce!  Different regions of the country have decidedly distinct takes on which ingredients constitute the best barbecue sauce, and this Texas girl does favor a bit more sweetness than a true Texas barbecue sauce would probably dictate.  So after a lot of experimenting and tweaking, I finally came up with a recipe that exemplifies my idea of a perfectly balanced barbecue sauce.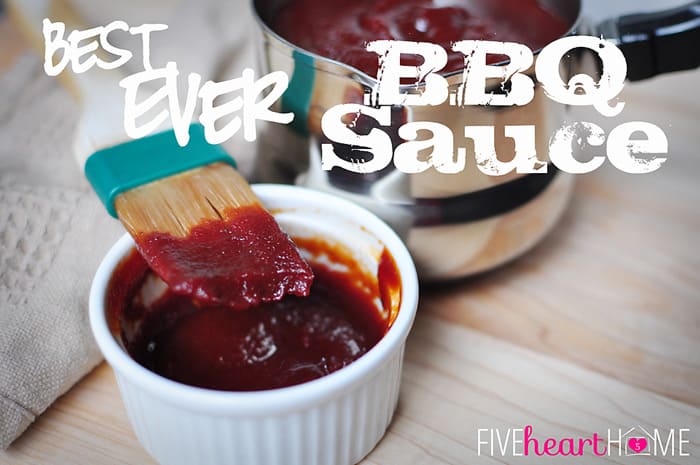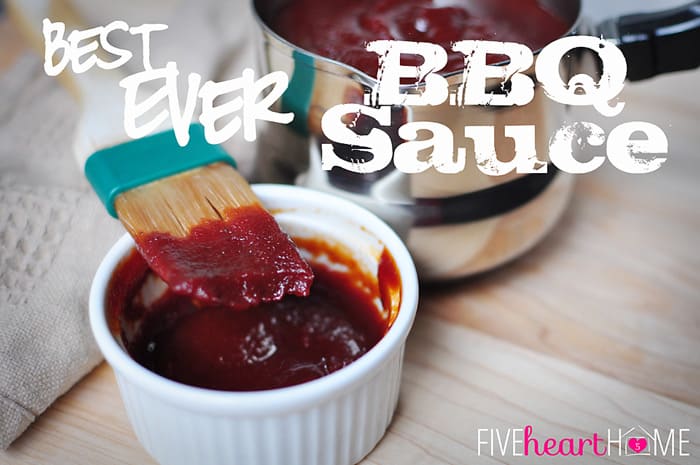 This versatile sauce is slightly sweet, slightly smoky, and slightly spicy, making it mouthwatering on everything from brisket to ribs to chicken to pulled pork.  But the best thing about it is that you can adjust it to your taste just as easily as I did to mine.  How strong is your sweet tooth?  Increase or decrease the brown sugar and honey accordingly.  Do you gravitate towards a smoky sauce?  Tweak the amount of smoked paprika, or substitute regular paprika in its place if you don't care for the taste of smoke.  In the same way, you can achieve more or less heat by adjusting the cayenne and black pepper.
In addition to being able to create a barbecue sauce that perfectly pleases your palate, you will simultaneously avoid all of the icky ingredients that can be found in the bottled variety.  Once you make homemade barbecue sauce yourself and figure out how easy and delicious it is, you'll never again buy a bottle at the grocery store.  Seriously, I could almost eat this stuff with a spoon.  It's that good.  So what are you waiting for?  Barbecue season is upon us, and the fruits of your grill will thank you for this one.
This barbecue sauce is slightly sweet, slightly smoky, slightly spicy...and 100% delicious!
Ingredients
1 tablespoon olive oil
4 cloves garlic, minced
2 cups ketchup
8 ounces tomato sauce
8 ounces tomato paste
1/2 cup brown sugar
1/4 cup honey
1/2 cup unsulfured molasses
1/2 cup apple cider vinegar
1 tablespoon Worcestershire sauce
1 teaspoon garlic powder
1 teaspoon smoked paprika
1/2 teaspoon onion powder
1/2 teaspoon chile powder
1/4 teaspoon cumin
1/4 teaspoon cayenne pepper
1 teaspoon salt
1 teaspoon freshly ground black pepper
Instructions
In a medium sized pot, heat olive oil over medium heat. Sautee garlic for a minute until it turns a light golden brown.
Add the rest of the ingredients to the pot. Mix together until thoroughly incorporated. Simmer over low heat for 30 minutes, stirring frequently, until thickened and glossy.
Store leftover sauce in an airtight jar in the refrigerator for up to two weeks.
Notes
You know those icky ingredients I was referring to? In order to avoid them, make sure the ketchup you use for this recipe is natural or organic.
The sauce is even better the next day after the flavors have mingled for awhile!
https://www.fivehearthome.com/best-ever-bbq-sauce/
https://fivehearthome.com ~ All recipes and images on Five Heart Home are copyright protected. Please do not use without my permission. If you would like to feature this recipe, please rewrite the directions in your own words and give proper attribution by linking back to this blog.
 Adapted from Allrecipes.com
This post is linked to Pin It Monday Hop #14 at Pursuit of Functional Home.