Frozen blueberries are cooked down into glossy Blueberry Compote, sweetened with maple syrup and delicious over waffles, pancakes, pound cake, yogurt, ice cream, and so much more!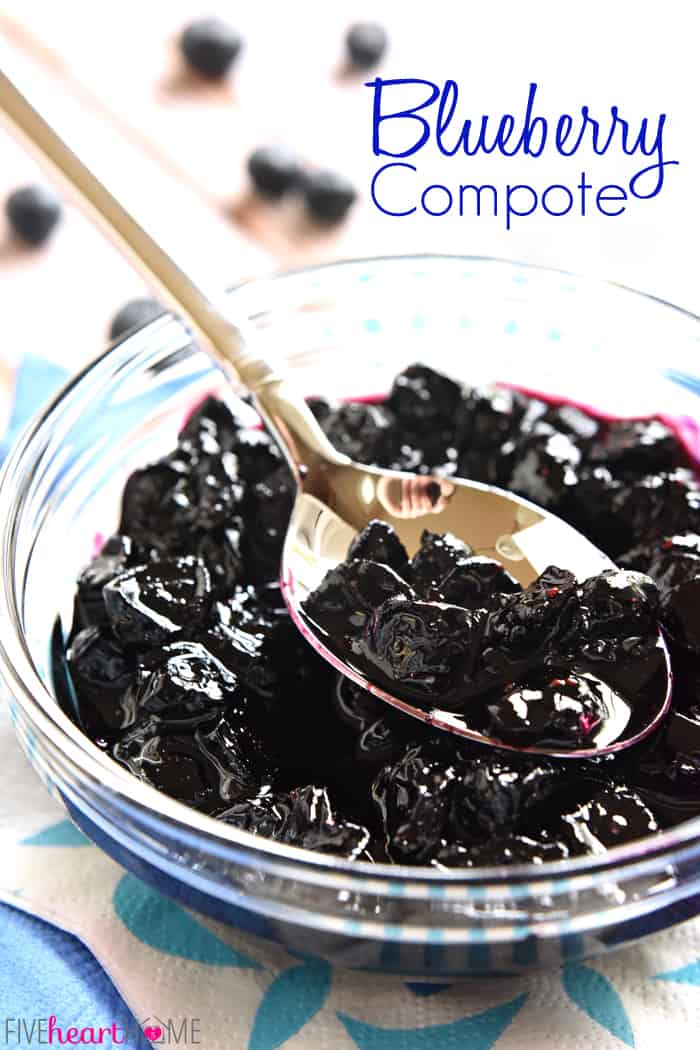 Who loves blueberries as much as I do? I mean, a plump, sweet, juicy blueberry is undoubtedly one of the simple pleasures in life. My family enjoys snacking on fresh blueberries, and I always keep a couple bags of frozen blueberries in the freezer for smoothies and muffins. I also enjoy incorporating blueberries into other recipes on a pretty regular basis.
So one morning, while cooking a batch of homemade waffles, I decided that I wanted to top them with something a tad more special than maple syrup. And it should come as no surprise that a quick survey of the fridge and freezer gave me the perfect answer...Blueberry Compote!
This recipe took me back to my childhood days of eating Smucker's fruit syrups on my pancakes and waffles. However, unlike the store-bought stuff, this Blueberry Compote is all-natural and includes chunks of stewed blueberries in addition to the sticky, deep purple, blueberry syrup. In other words? It's way better than my beloved fruit syrups of yesteryear.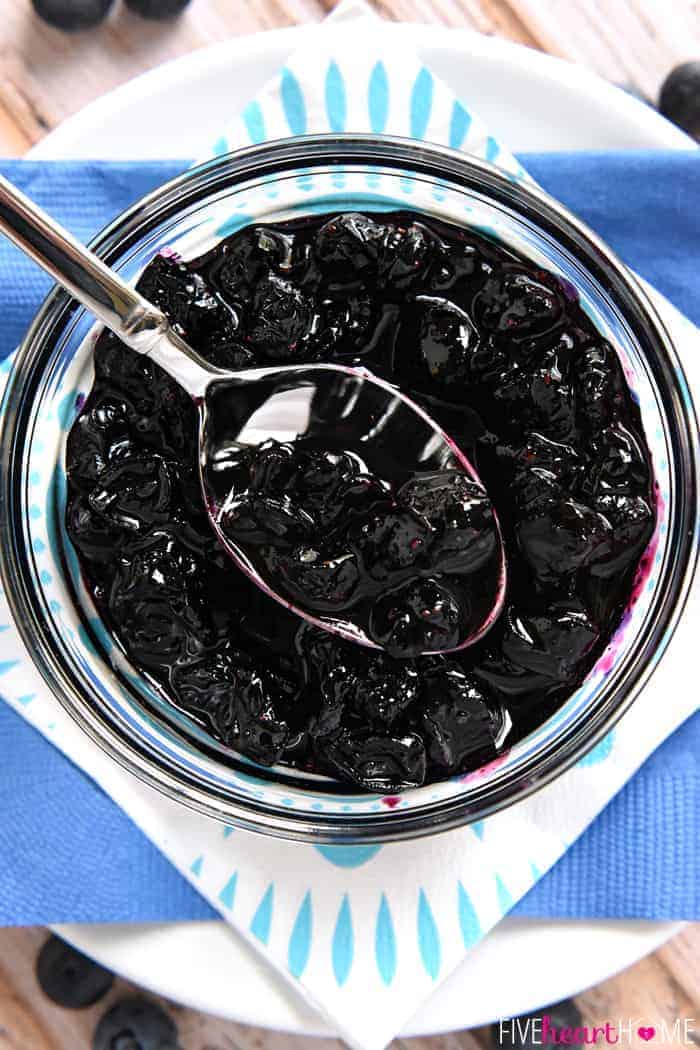 Ingredients
You won't believe how simple this Blueberry Compote is to throw together.
I started with frozen blueberries, but you may certainly use fresh...you'll probably just want to shave a few minutes off of the total cooking time.
I decided to sweeten my compote with pure maple syrup in lieu of sugar.
I also added a squeeze of fresh lemon juice to brighten the flavor, cinnamon for a touch of spice, and vanilla extract...because vanilla makes just about anything better.
Then you basically just cook and stir for awhile until your plump, frozen blueberries turn into a gorgeous, sticky-sweet compote of deliciousness. 🙂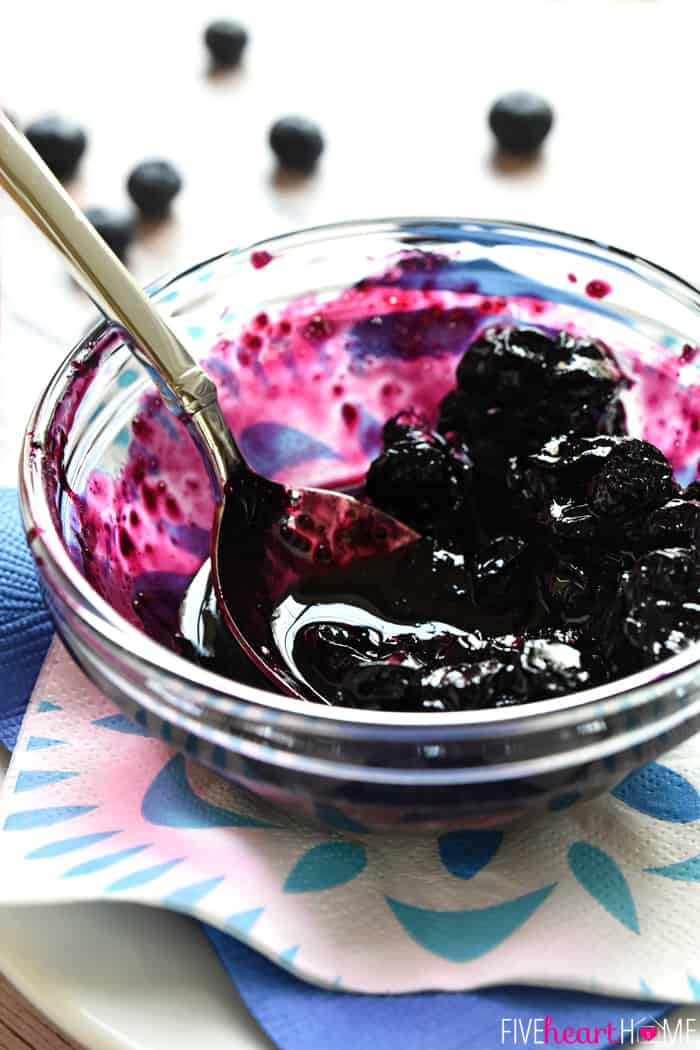 Ways to Enjoy It
If you're skilled at multi-tasking, you could certainly whip up a batch of Blueberry Compote while simultaneously manning the waffle iron.
But this treat would also be fabulous over pancakes, French toast, or crepes (if we're talking breakfast).
Or (for the dessert-minded amongst you), use it to top vanilla pound cake, ice cream, or pudding!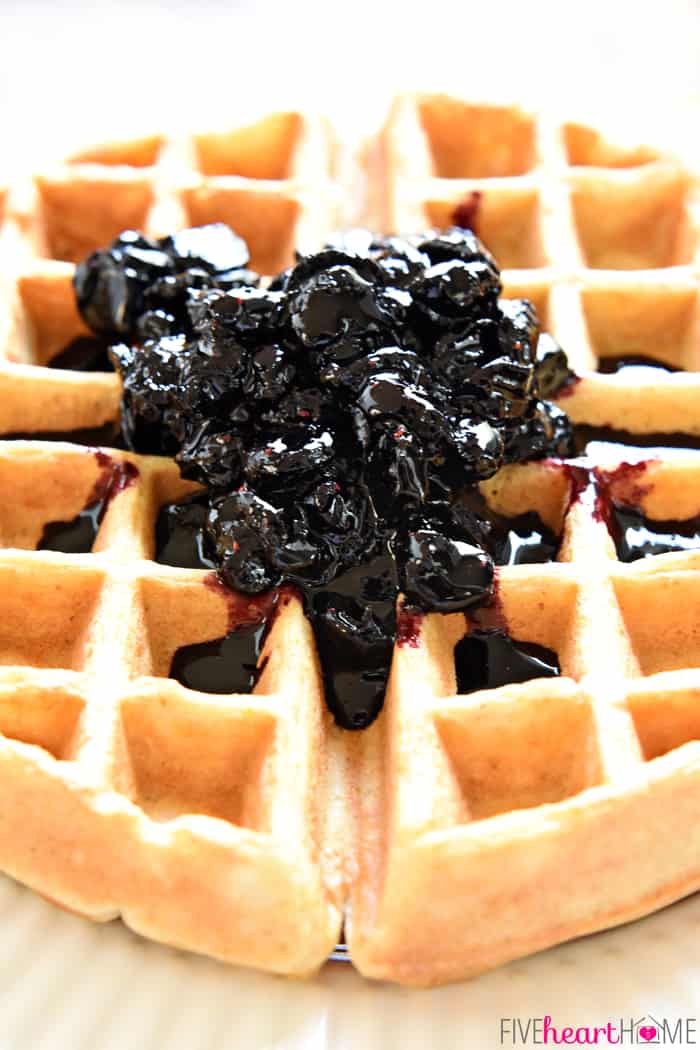 Flavoring Yogurt
And I discovered one more idea that I feel obliged to share. In the same way that I ingested mass quantities of fruit syrup as a child, I also have fond memories of a refrigerator bearing copious amounts of fruit-on-the-bottom yogurt. (Do they even make that stuff anymore? Sorry...I should pay more attention at the grocery store but, with a two-year-old attempting acrobatic feats in the cart, I have tunnel-vision for the specific type of yogurt on my list and I don't notice much else when I swoop in to grab it. But I digress...)
For those of you who aren't familiar with it (or aren't skilled at deciphering complex context clues), fruit-on-the-bottom yogurt involves individual servings of plain yogurt with -- wait for it! -- fruit on the bottom! You simply mix the (questionably gelatinous) fruit into your plain yogurt for fruit-infused yogurt. I don't particularly understand why this would be considered appealing (can't you just buy fruity yogurt pre-mixed?), but clearly my mother thought it was, because I have vivid memories of regularly eating it in the 80s.
ANYWAY. If you like the idea of flavoring your yogurt with as much or as little fruit as you like, this Blueberry Compote is the right recipe for the job! And as a bonus, just look how pretty it is swirled into the yogurt...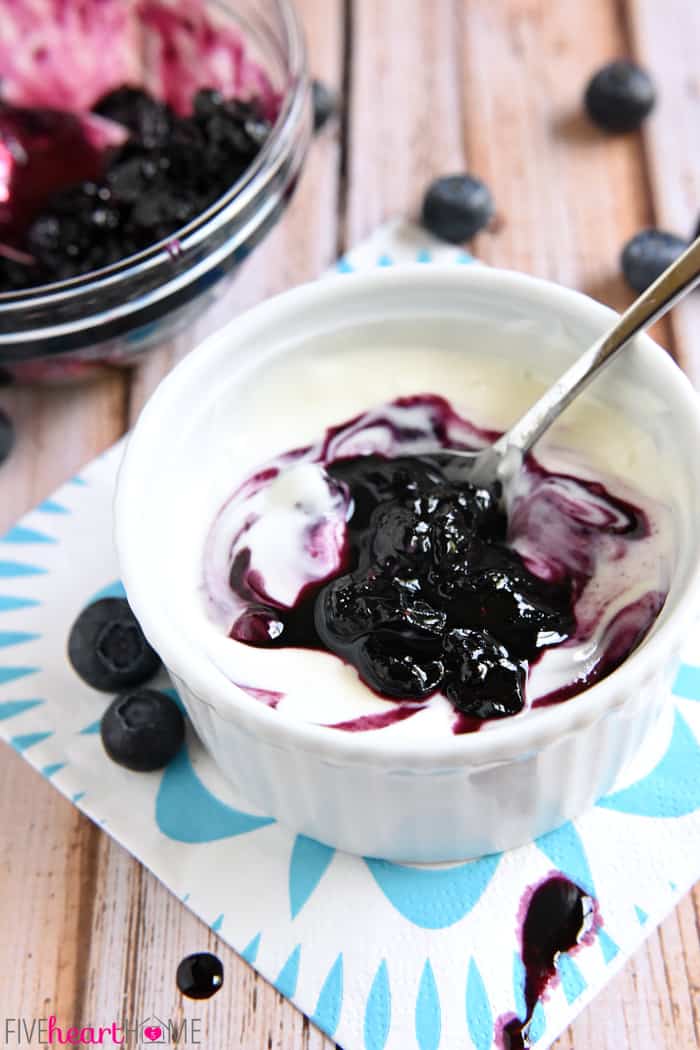 So there you have it! A simple, scrumptious recipe with multiple applications, from breakfast to dessert!
What more can you ask of the humble blueberry than that? 😉
Recipes for Using Your Blueberry Compote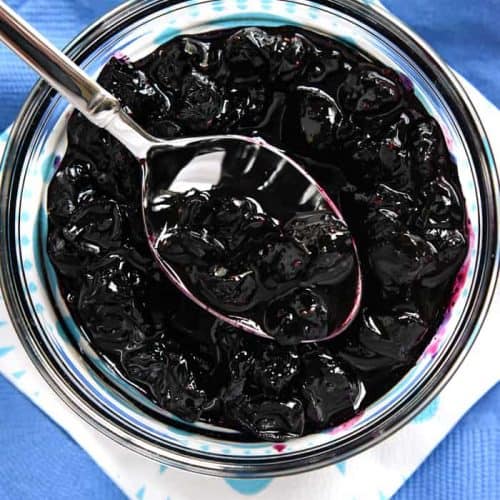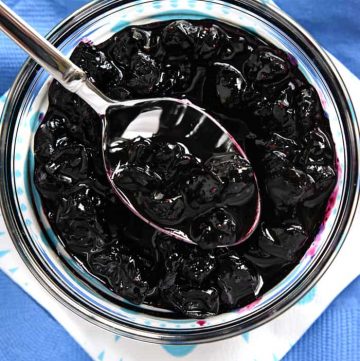 Blueberry Compote
Frozen blueberries are cooked down into glossy Blueberry Compote, sweetened with maple syrup and delicious over waffles, pancakes, pound cake, yogurt, ice cream, and so much more!
Print
Pin
Rate
Servings:
8
servings (recipe yields approximately ¾ to 1 cup compote total)
Ingredients
3

cups

frozen blueberries

,

divided

⅓

cup

pure maple syrup

2

tablespoons

water

1

tablespoon

fresh-squeezed lemon juice

¼

teaspoon

ground cinnamon

½

teaspoon

pure vanilla extract
Instructions
In a medium saucepan set over medium heat, combine 2 cups blueberries, maple syrup, water, lemon juice, and cinnamon. Cook for 10 minutes, stirring occasionally. Reduce heat to medium-low, add the remainder of the blueberries, and cook for 5 to 8 more minutes (or until compote reaches your desired consistency), stirring frequently. Remove from heat and stir in vanilla. Serve warm.
Notes
The frozen blueberries do not need to be thawed. You may use fresh blueberries if you wish, but you will probably want to reduce the total cooking time by a few minutes.
If your berries are particularly sour or sweet, you may increase or decrease the maple syrup.
This compote is not necessarily thick...when it's finished cooking, it's a mixture of stewed berries with a bit of syrup.
This recipe only makes ½ cup, but it's very concentrated, so a little bit goes a long way.
Calories:
69
kcal
|
Carbohydrates:
17
g
|
Protein:
1
g
|
Fat:
1
g
|
Saturated Fat:
1
g
|
Polyunsaturated Fat:
1
g
|
Monounsaturated Fat:
1
g
|
Sodium:
2
mg
|
Potassium:
75
mg
|
Fiber:
1
g
|
Sugar:
14
g
|
Vitamin A:
30
IU
|
Vitamin C:
6
mg
|
Calcium:
19
mg
|
Iron:
1
mg
Adapted from Food Network.
Post originally published on April 14, 2015.