No-Bake Oatmeal Peanut Butter Energy Bars quickly come together with wholesome ingredients like oats, nuts, chia seeds, dried fruit, peanut butter, and honey!

One of my daughter's favorite snacks are energy bites, and consequently, she frequently asks if we can whip up a batch. She loves energy bites because they're yummy and cute, and she thinks it's fun to help me make them. I love them because they're wholesome, filling, and easily adaptable to whatever ingredients I have on hand, meaning that I can switch out the type of nut, nut butter, or dried fruit that I use. My boys enjoy energy bites…and my husband is a fan of them…and I like them, too…soooo we make them a lot!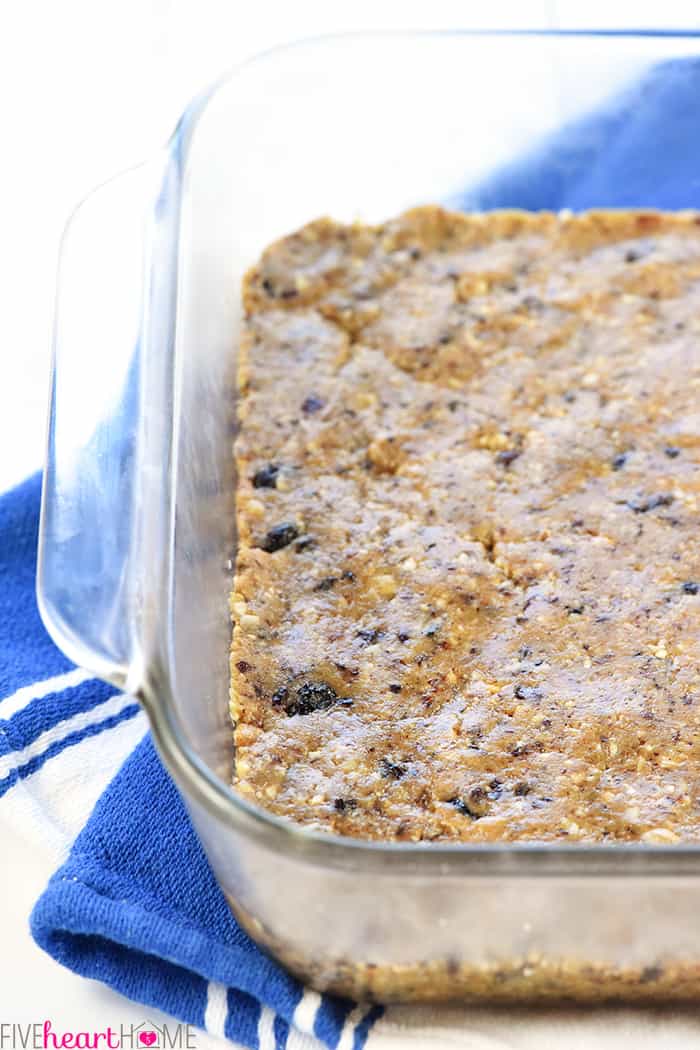 But I have to admit that this past summer, I got a teensy bit tired of making them — ha. So one day it occurred to me that perhaps I could blend up the ingredients as usual and then, instead of rolling them into little balls, I could quickly press the mixture into a baking dish. And thus we arrived at Oatmeal Peanut Butter Energy BARS!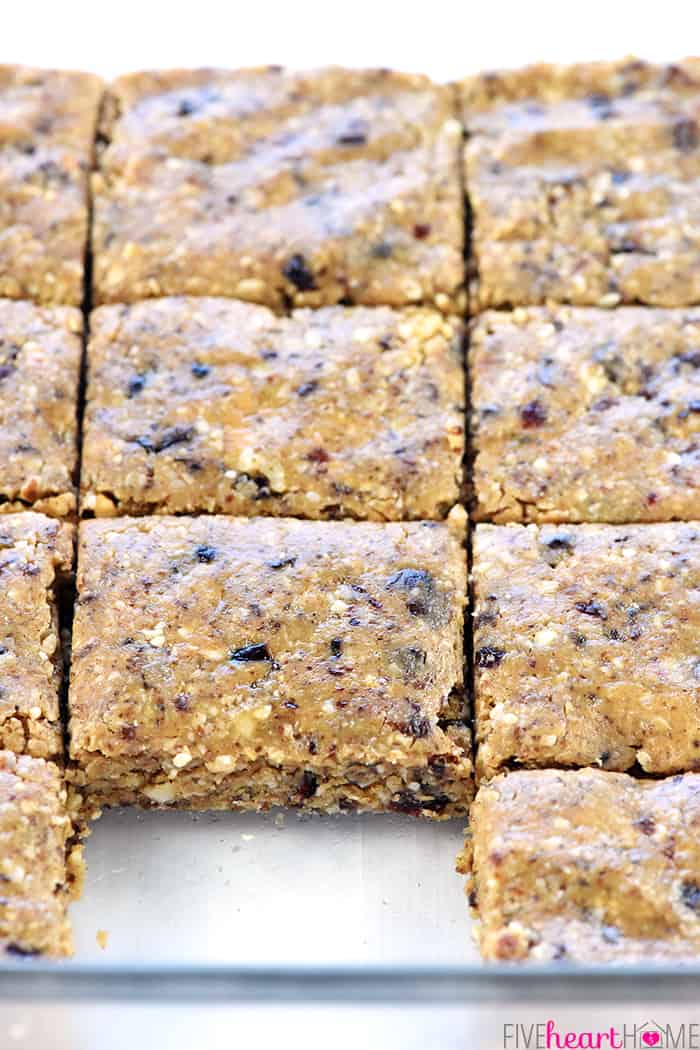 The first time I made these, I wasn't sure the recipe would work in bar form. But sure enough, it did! The important thing to understand is that since the no-bake mixture needs to be chilled to hold its form, these energy bars should be stored in the refrigerator.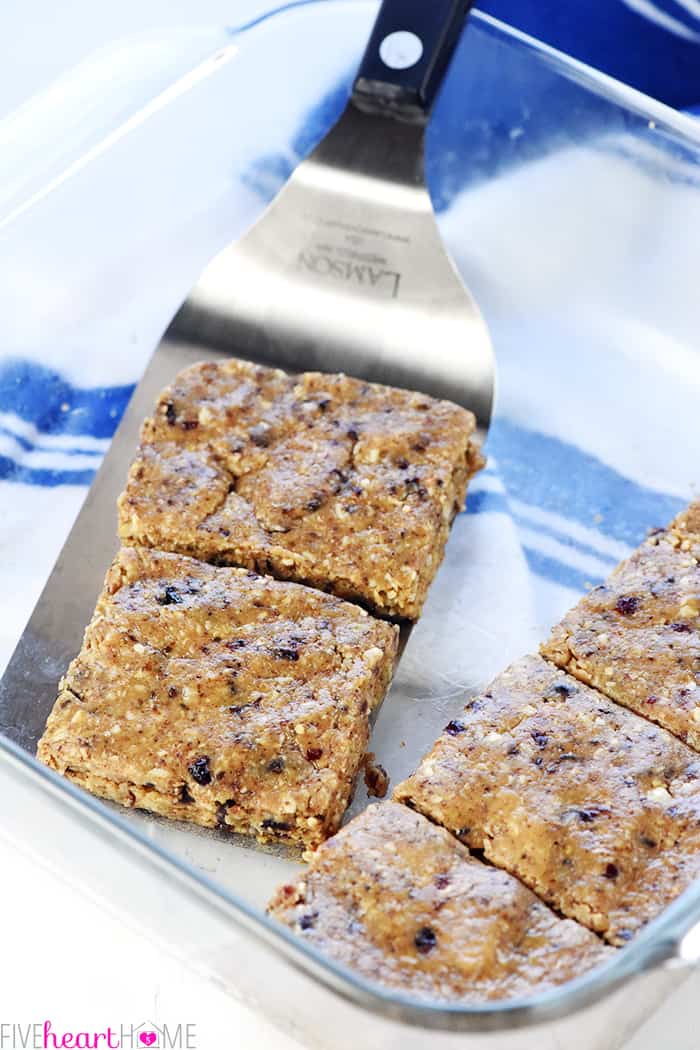 While they're not ideal to toss in a purse or backpack, they can definitely be popped in a lunchbox with an ice pack, and they're great straight out of the fridge for breakfast or as an after-school snack. My husband even tends to sneak them for dessert…shhhhh!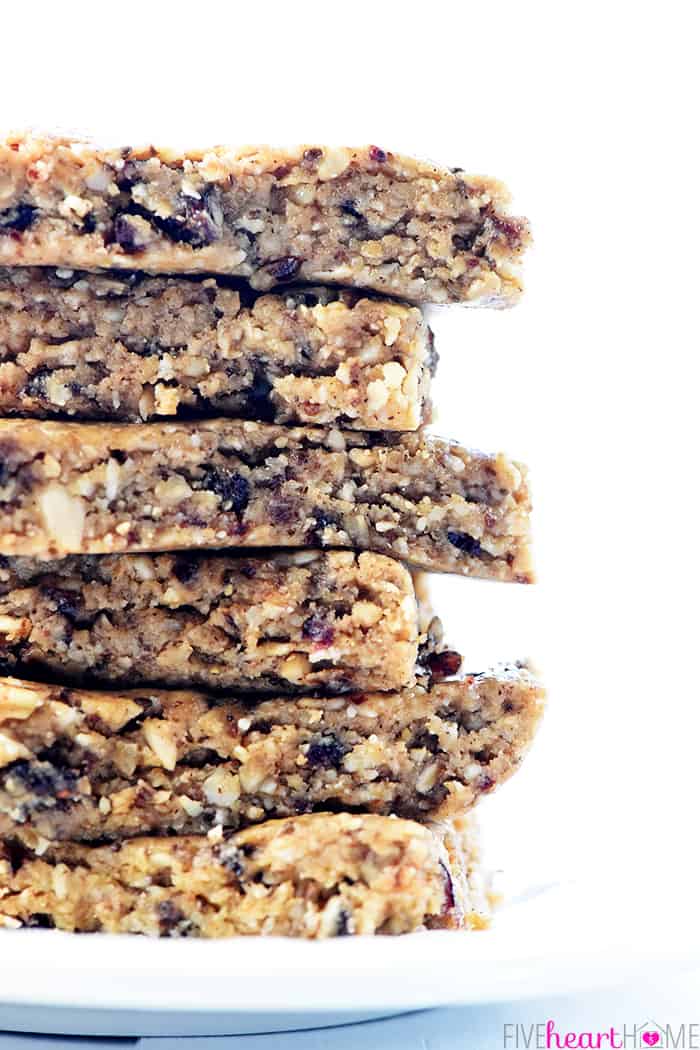 Even though their name references peanut butter, these energy bars turn out beautifully using any nut (or nut-free) butter…almond butter, cashew butter, sunflower seed butter, whatever floats your boat!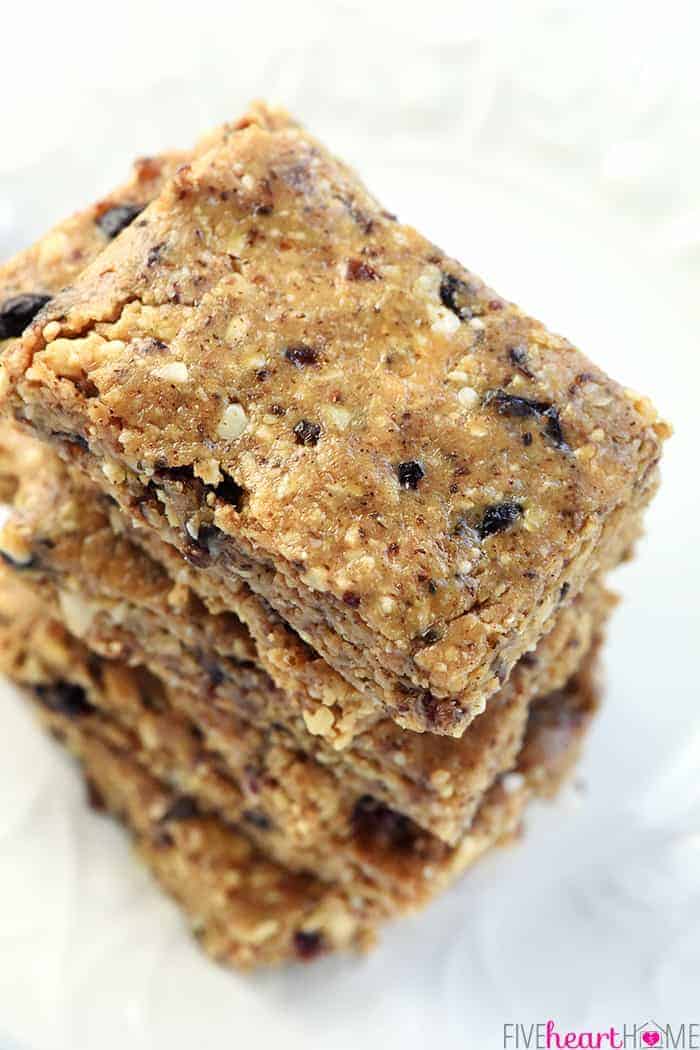 Same can be said for the nuts…make 'em with pecans, walnuts, almonds, cashews, or any combination of the above. And as for the dried fruit, I typically go for raisins or dried cranberries, but feel free to use your favorite.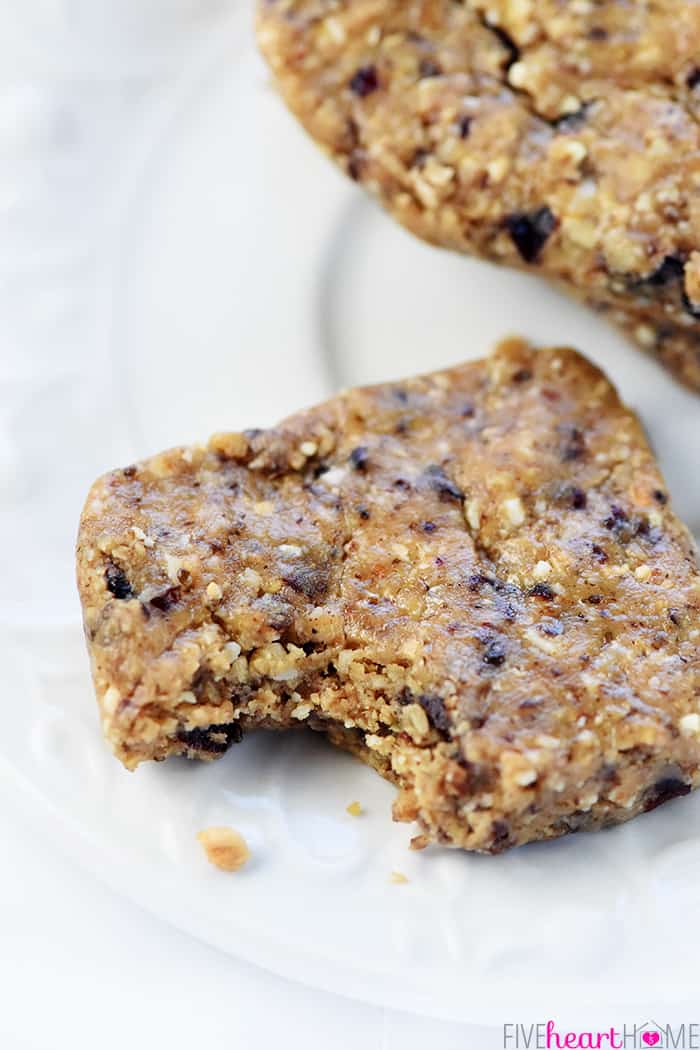 So three cheers for Oatmeal Peanut Butter Energy Bars! Because who wouldn't love a recipe with the appealing flavor and nutrition of energy bites…but without the manual labor?! 😉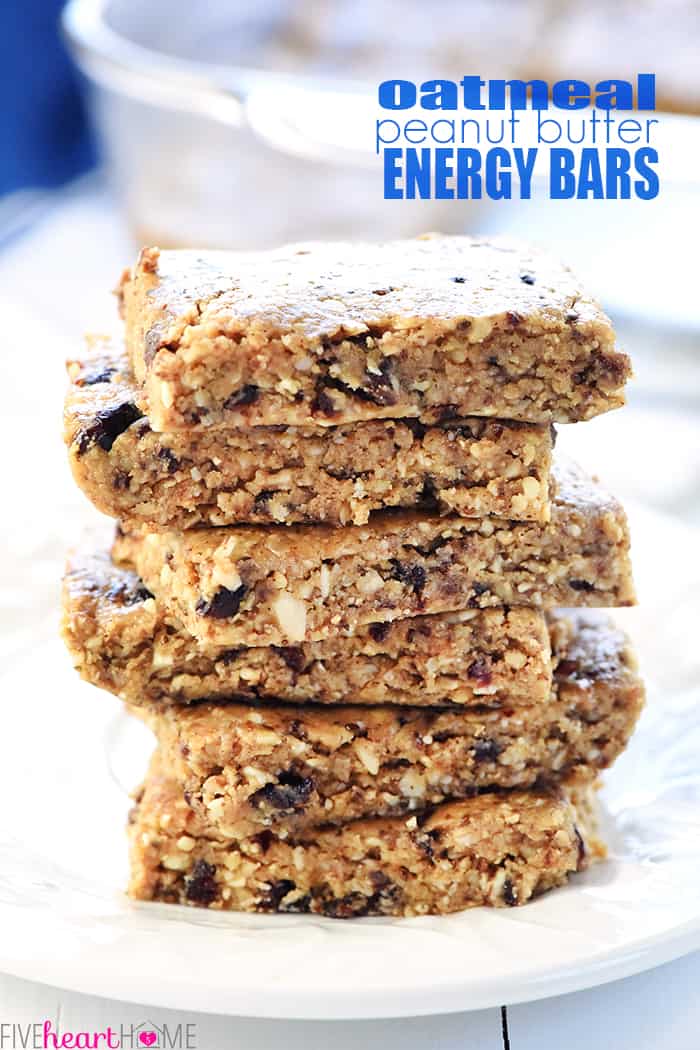 Oatmeal Peanut Butter Energy Bars
No-Bake Oatmeal Peanut Butter Energy Bars quickly come together with wholesome ingredients like oats, nuts, chia seeds, dried fruit, peanut butter, and honey!
Ingredients
1 cup nuts (such as pecans, walnuts, cashews, almonds, etc.)
1 cup old-fashioned oats
½ cup raisins (OR dried cranberries)
2 tablespoons chia seeds
½ teaspoon ground cinnamon
Pinch of ground nutmeg
½ cup peanut butter (OR alternative nut butter)
¼ cup honey
1 teaspoon pure vanilla extract
Instructions
In the bowl of a large food processor, pulse the nuts until finely ground (but stop before they start turning to nut butter!). Add the oats, raisins, chia seeds, cinnamon, and nutmeg to the nuts; pulse five (1-second) pulses to combine. Add the peanut butter, honey, and vanilla to the mixture; pulse until all of the ingredients are well blended, scraping the sides of the bowl as necessary.
Scrape the mixture into an 8- by 8-inch baking dish; firmly press into an even layer. Cover and chill for two hours or until firm. Use a knife to slice into bars. Store leftovers in an airtight container in the refrigerator.
Notes
Recipe may be doubled and pressed into a 9- by 13-inch dish.
https://www.fivehearthome.com/no-bake-oatmeal-peanut-butter-energy-bars-recipe/
https://fivehearthome.com ~ All recipes and images on Five Heart Home are copyright protected. Please do not use without my permission. If you would like to feature this recipe, please rewrite the directions in your own words and give proper attribution by linking back to this blog.
♥More wholesome bars…

Soft-Baked Banana Oatmeal Bars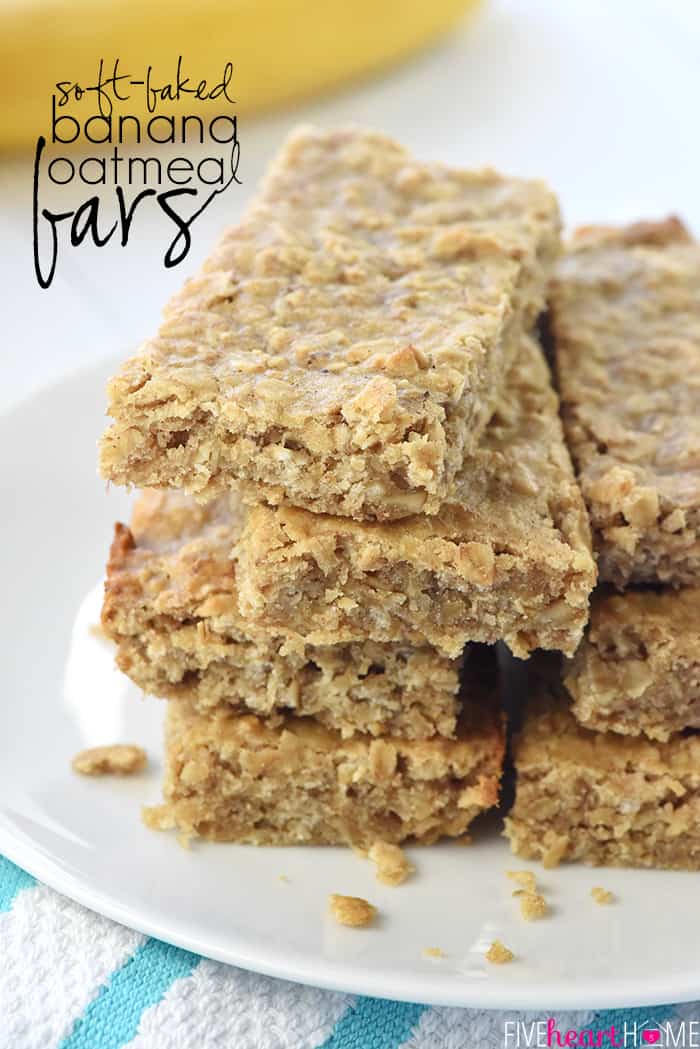 Chewy No-Bake Granola Bars with Coconut Oil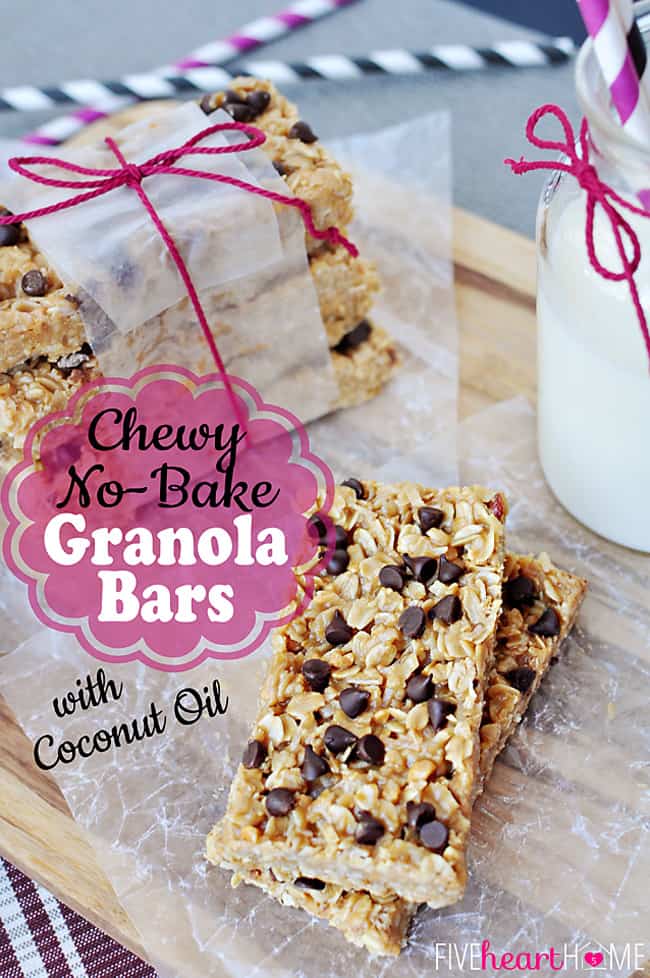 Peanut Butter Oatmeal Bars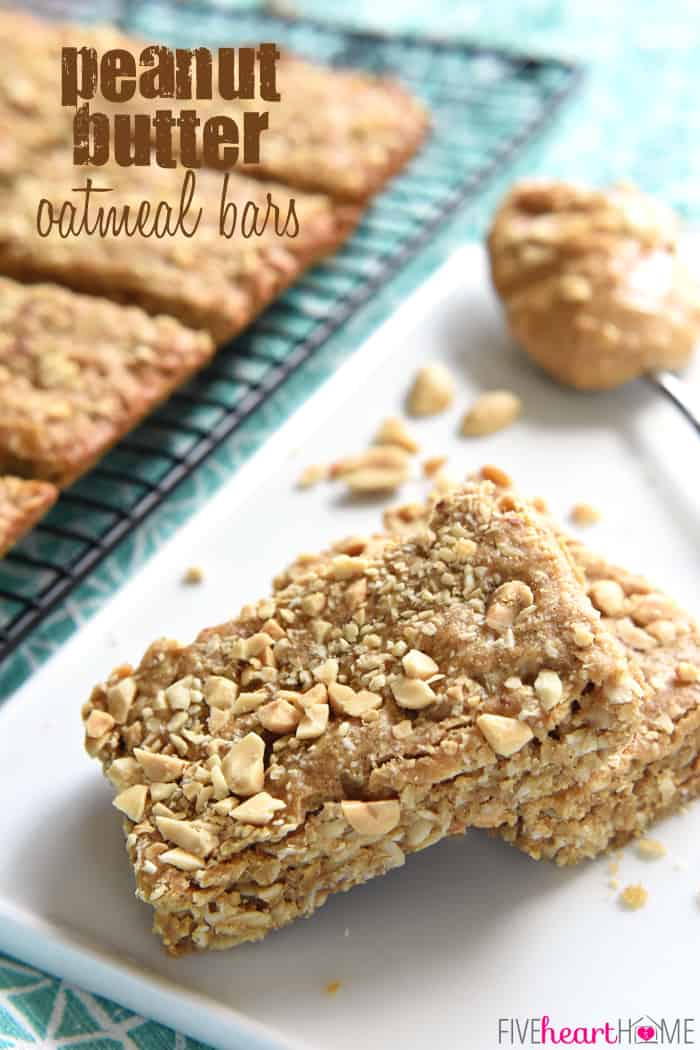 Oats & Honey Granola Bars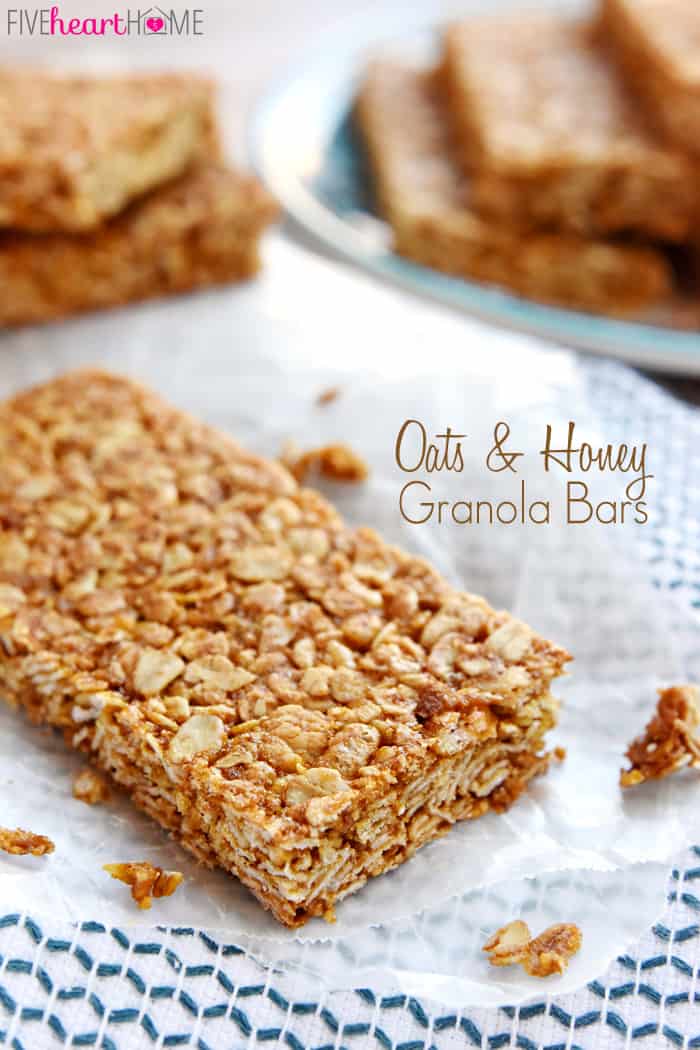 Save
Save
215