Cheesy Beef & Quinoa Bake is a simple, wholesome, easy-to-make casserole featuring just a handful of ingredients including ground beef, quinoa, Greek yogurt, and cheddar...perfect for picky eaters and busy weeknights!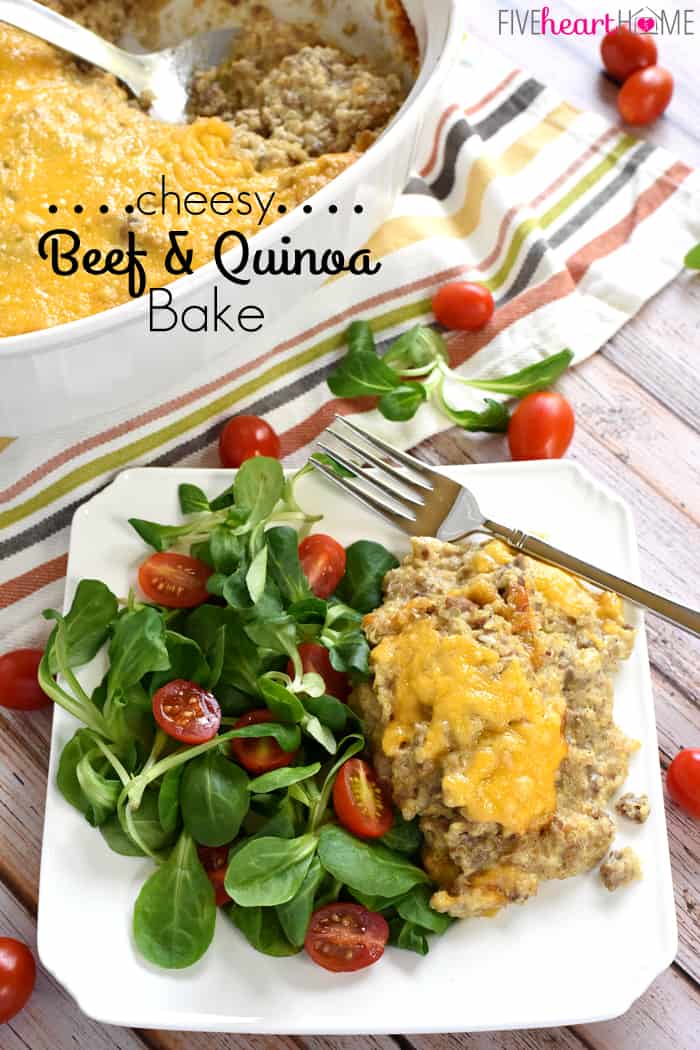 Okay, y'all, I'm going to shoot straight with you for a minute. This Cheesy Beef & Quinoa Bake is a meal that my family enjoys and looks forward to...but I hesitated to share it here. Will people think it's too plain? It's not the prettiest thing to photograph, as casseroles go. Am I going to get comments from people who don't like quinoa that it tastes too quinoa-y...or from people who don't like yogurt that it tastes too yogurt-y? Should I add a bunch of extra ingredients to jazz it up?
But then I decided that if I find it extremely easy to make and if my whole clan likes it, then surely it will appeal to some of you out there, right? Picky children (and adults), in particular, appreciate uncomplicated food...and this recipe is about as plain and straightforward as you can get. So here goes nothing! Hopefully the quinoa and yogurt haters out there will forgive me... 😉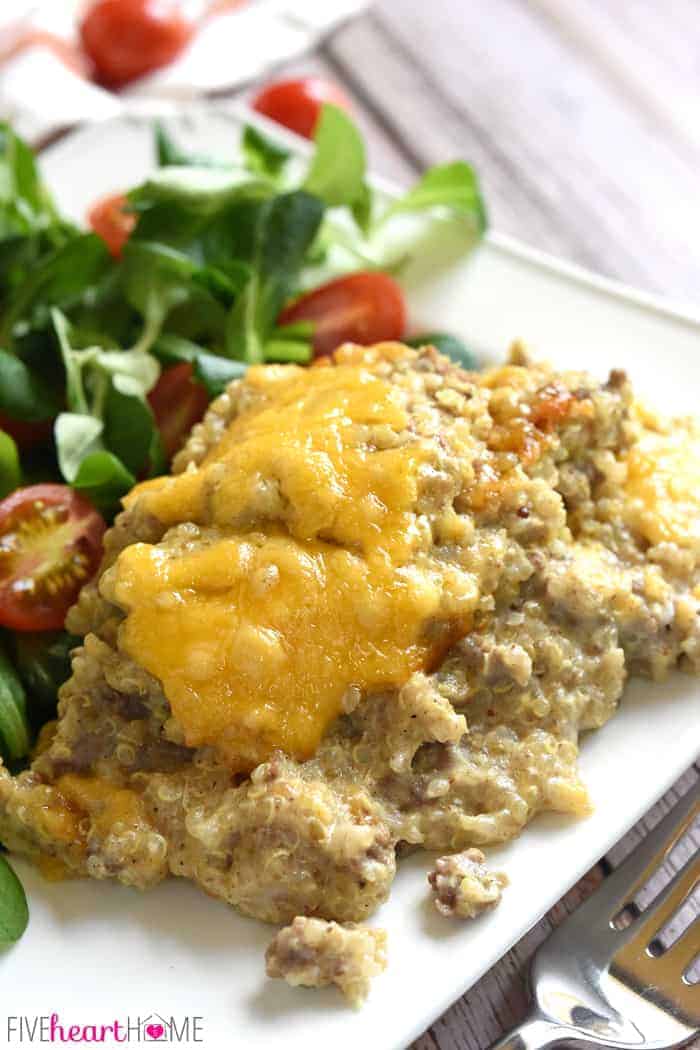 Ingredients
This is a simple, comforting recipe, but that's honestly how and why my kids like it. We're only talking about a handful of ingredients here. It starts ground beef. And when I first started serving this dish, I made it using brown rice and sour cream.
But over the years, I decided to lighten it up with Greek yogurt in place of the sour cream, and I boosted the protein and fiber by using quinoa instead of rice.
You'll want to be careful not to initially overcook your quinoa, however, as it does soften even further as the whole casserole bakes off in the oven. Making this with brown rice instead of quinoa gives the dish a bit more "bite," texture-wise, but my family enjoys it both ways.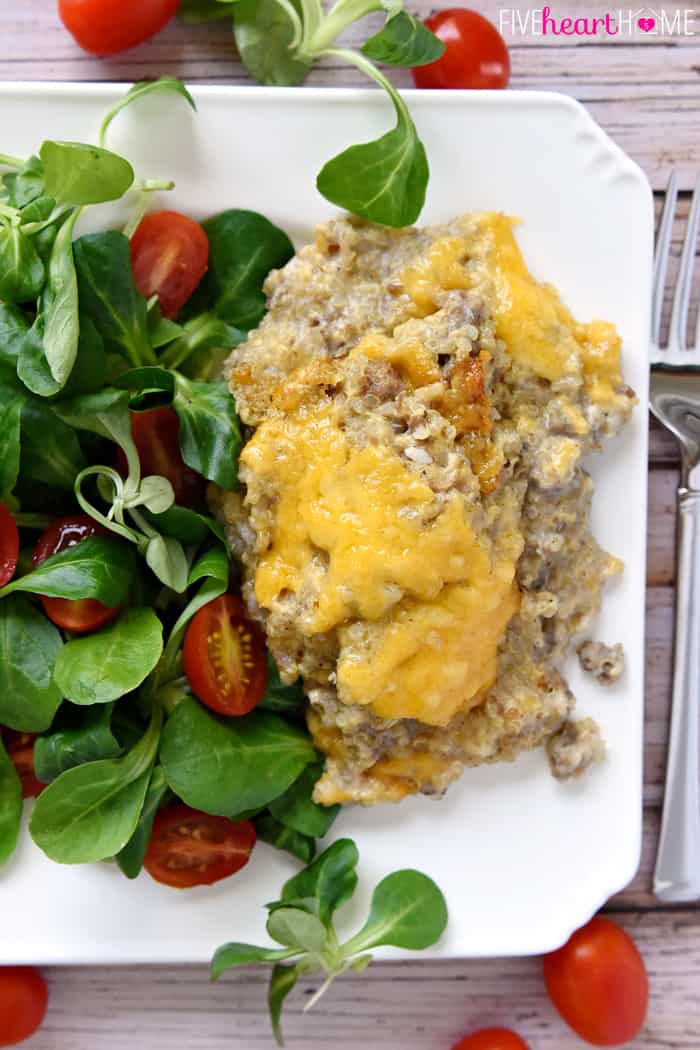 Tweaking the Recipe
If you are interested in dressing up this recipe beyond beef, quinoa, yogurt, and cheddar, it's pretty easy to customize.
First off, this recipe is amenable to sneaking in hidden veggies that your kids won't even notice.
Or, if you want to be more overt, you can add sauteed onions and mushrooms to your beef mixture.
You could even season the beef with taco seasoning and throw in some corn and black beans for a southwestern twist.
Use your imagination to change it up, or leave the recipe as is and revel in its simplicity! 😉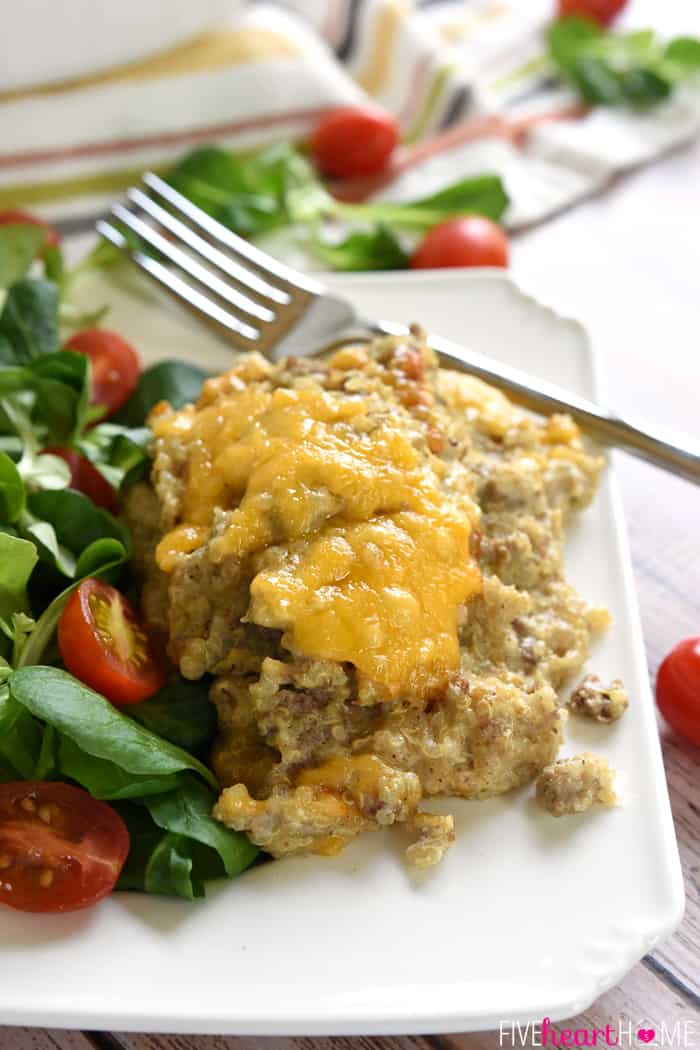 Make-Ahead Option
Another thing that I love about this recipe is that I can assemble it ahead of time, pop it in the fridge, and then bake it later that evening (or even a day or two later). This is great for those busy days when I have a bit of time to cook in the middle of the day but won't get home until shortly before dinnertime.
So the next time you have some leftover quinoa or rice to use up -- or the next time you need an easy, wholesome, non-fussy casserole recipe for a busy weeknight -- this Cheesy Beef & Quinoa Bake just might fit the bill!
It's not fancy, but it's effortless and comforting and good. And sometimes that's all we really need in a recipe, right?
P.S. If you're really feeling on a quinoa kick, feel free to follow up this dinner with a batch of creamy, dreamy Quinoa Pudding! 🙂

More Quick and Easy Dinners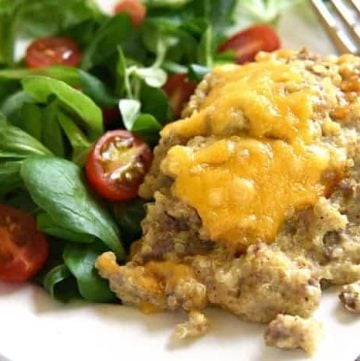 Cheesy Beef & Quinoa Bake
Cheesy Beef & Quinoa Bake is a simple, wholesome, easy-to-make casserole featuring just a handful of ingredients including ground beef, quinoa, Greek yogurt, and cheddar...perfect for picky eaters and busy weeknights!
Print
Pin
Rate
Ingredients
1

cup

dry quinoa

,

rinsed & drained (or about 4 cups leftover cooked quinoa)

2

cups

beef broth

1

pound

ground beef

2

teaspoons

fresh minced garlic

Salt & freshly ground black pepper

,

to taste

1 ½

cups

plain Greek yogurt

,

or regular yogurt

¼ to ½

cup

milk

2

cups

shredded extra-sharp cheddar cheese

,

DIVIDED
Instructions
Rinse the quinoa in a fine-mesh strainer under cold running water for a couple of minutes. In a medium saucepan set over high heat, stir together quinoa and beef broth. Bring to a boil; reduce heat, cover with a lid, and simmer until liquid is absorbed and grains are translucent and "spiraled out," about 15 mintues (do not overcook, as quinoa will soften a bit more in the oven). Cover quinoa and set aside.

Preheat oven to 350°F. In a large pot set over medium heat, brown the ground beef. Stir in minced garlic and cook, while continuing to stir, until garlic is fragrant. Drain grease and season generously with salt and pepper.

Stir in cooked quinoa, Greek yogurt, and just enough milk to make the mixture creamy. Stir in 1 cup of grated cheddar and season with additional salt and pepper, to taste. Transfer mixture to a 3-quart baking dish and top with remaining cheddar.

Bake for 20 minutes or until hot, bubbly, and cheese is melted. Serve immediately.
Notes
Since this recipe includes pretty simple ingredients, don't skimp on the seasonings. Cooking the quinoa in beef broth (as opposed to water) gives it more flavor, as does using extra-sharp cheddar instead of mild. You'll also need to add enough salt and pepper to keep the casserole from tasting bland. If you prefer, you may use garlic salt in place of regular salt.
You may substitute brown rice for the quinoa. You may substitute sour cream for the yogurt.
Calories:
414
kcal
|
Carbohydrates:
22
g
|
Protein:
37
g
|
Fat:
19
g
|
Saturated Fat:
10
g
|
Cholesterol:
92
mg
|
Sodium:
463
mg
|
Potassium:
729
mg
|
Fiber:
2
g
|
Sugar:
3
g
|
Vitamin A:
425
IU
|
Vitamin C:
0.3
mg
|
Calcium:
383
mg
|
Iron:
3.4
mg