Swedish Meatballs are baked in the oven and then simmered in a skillet of easy homemade gravy for a delicious, family-pleasing dinner!

There's just something appealing about meatballs. They're versatile and hearty…easy to make and fun to eat. It didn't take me long to figure out that my family will eagerly eat pretty much any variation of meatball, so it was just a matter of time before I added Swedish Meatballs to our repertoire.
Anyone who has ever strolled through the IKEA food court is probably already familiar with these guys. Tender, lightly spiced, homemade meatballs get smothered in a creamy gravy, sprinkled with parsley, and optionally served with lingonberry jam (another Swedish delicacy akin to cranberry sauce). They're homey, comforting, and oh-so-good!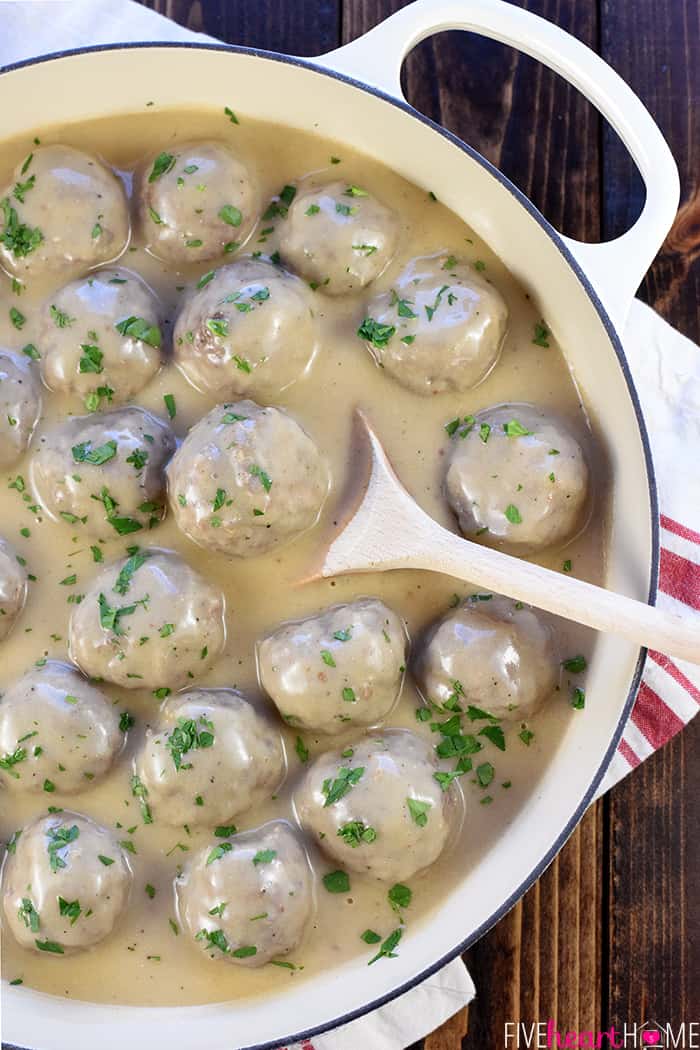 I actually have a funny story about lingonberry jam. If you have my Real Food Slow Cooker Suppers cookbook (and if you don't, it's been almost 50% off on Amazon lately!), you may recall that it includes a crock pot version of Swedish Meatballs. Yes, I actually developed my version of Swedish Meatballs over a year ago when I was working on the cookbook manuscript. In the process of perfecting that recipe, I served it to my chief taste testers — AKA, my family. And my kids thought it was so strange when I offered them lingonberry jam with their meatballs!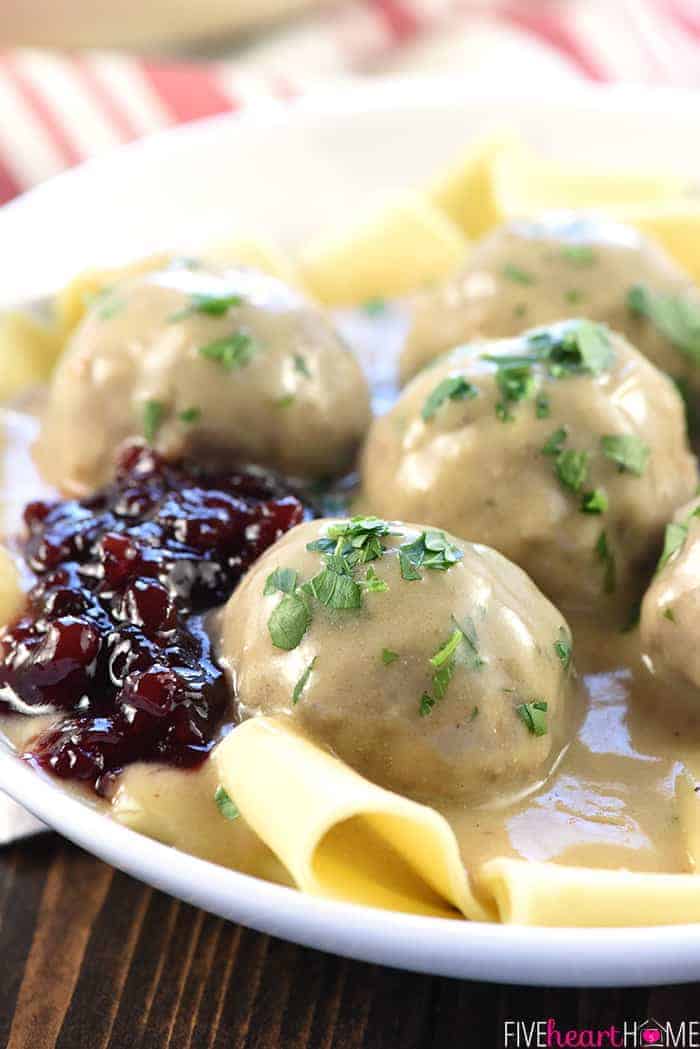 My ever-picky (then-3-year-old) daughter is skeptical about new foods in general. But something about jam on her dinner plate apparently piqued her interest so she conceded to try it. And wouldn't you know…she loved her Swedish Meatballs dipped in fruity preserves!
However, I wasn't expecting that the next time I made a different ground beef recipe — little fried hamburger patties in a dark brown gravy, to be exact — she asked me if I could put jam on her plate again. Same thing the next time I made meatloaf muffins. You can probably see where this is going…my daughter still insists on dipping anything related to a meatball in lingonberry (or, okay, sometimes strawberry) jam. And honestly? As long as she's ingesting protein at the same time, I don't even care. What's a spoonful of jam going to hurt her? 😉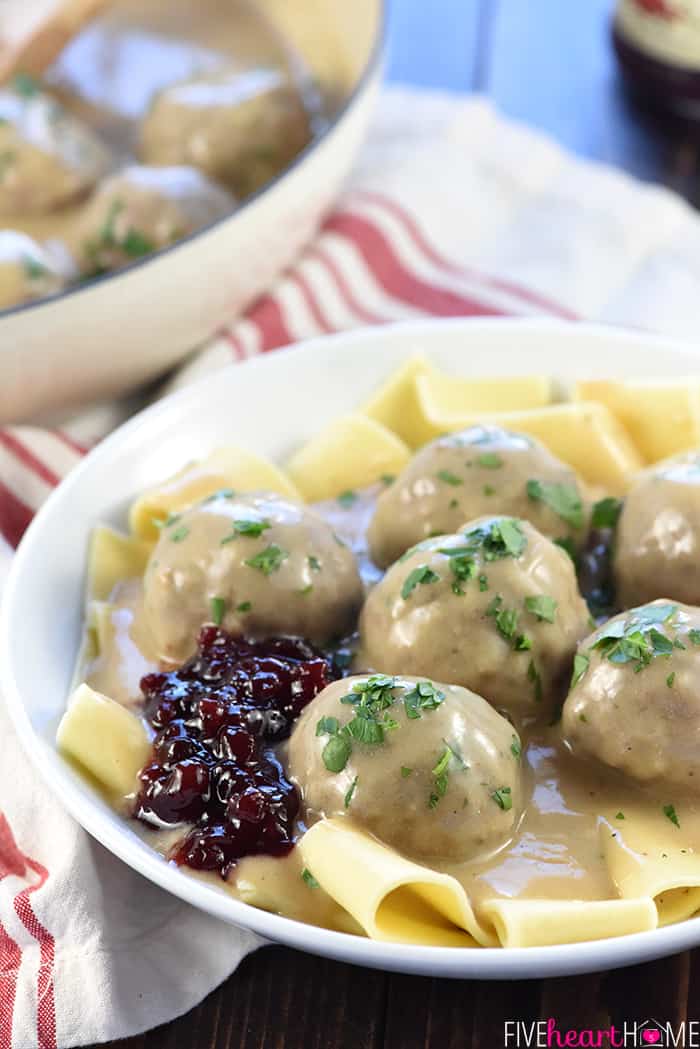 So today's Swedish Meatballs recipe is an oven + stovetop version of the slow cooker recipe I developed for my cookbook. What can I say? I like having both options…for the days I plan ahead as well as those days during which I'm operating a little more last-minute. 😉
I thought about cooking the meatballs on the stove and then making the gravy in the same skillet to reduce dirty dishes. But the truth is I prefer baking my meatballs in the oven! It's less messy and it's less work. Baked meatballs don't necessarily get those dark, crispy edges, but they do bake up beautifully as the grease drains out. And since I line my baking pan with heavy duty foil, there's nothing to clean there anyway!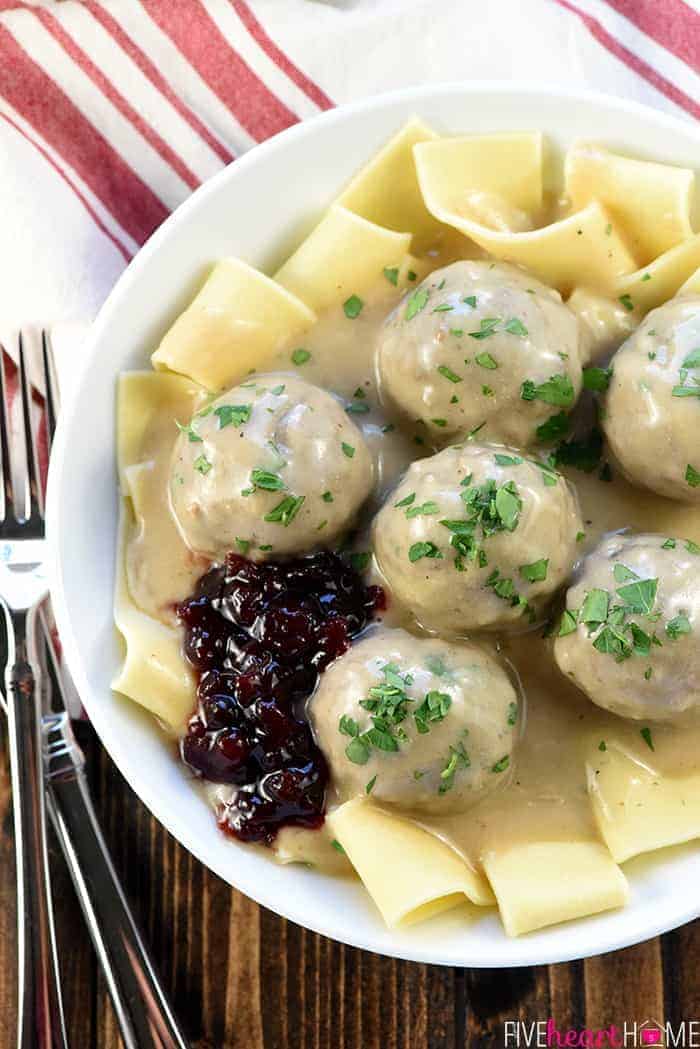 If you prefer frying your Swedish Meatballs in the skillet as opposed to baking them, you may certainly do so. But if you decide to go that route, I suggest removing the meatballs to a paper towel-lined plate to drain them while you make the gravy. If there's fat left in the skillet, pour it into a measuring cup and then add enough butter to equal 6 tablespoons. This can be used for the base of your gravy instead of solely butter, since everyone knows that grease = flavor. 😉
Once the gravy is ready, add the meatballs back to the skillet, simmer for a moment to heat through, and enjoy! You can spoon your Swedish Meatballs over egg noodles or mashed potatoes, or serve them with boiled new potatoes on the side. Just don't forget the lingonberry jam…my daughter offers her personal guarantee that it makes the dish. 🙂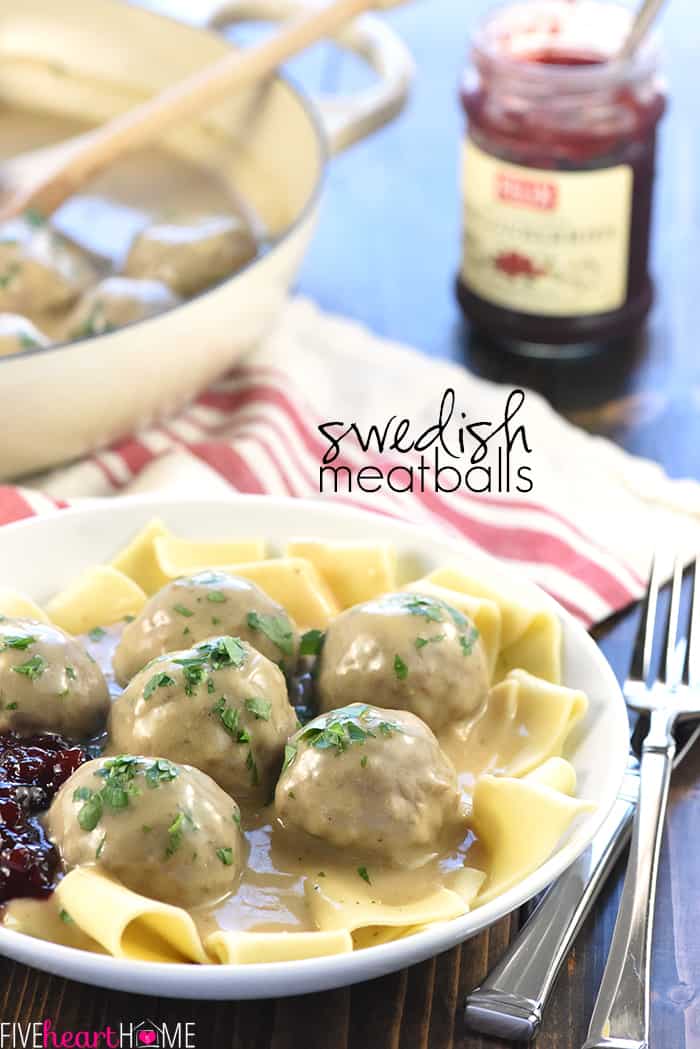 Swedish Meatball Recipe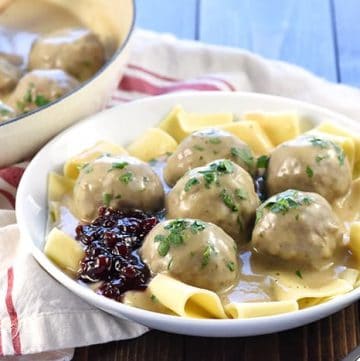 Swedish Meatballs
Swedish Meatballs are baked in the oven and then simmered in a skillet of easy homemade gravy for a delicious, family-pleasing dinner!
Print
Pin
Rate
Ingredients
2

pounds

lean ground beef

1

cup

unseasoned breadcrumbs

,

dried or fresh

1/4

cup

milk

1

egg

,

lightly beaten

1

teaspoon

salt

1/2

teaspoon

onion powder

1/4

teaspoon

allspice

1/8

teaspoon

nutmeg

Freshly ground black pepper

,

to taste
FOR THE GRAVY:
6

tablespoons

salted butter

6

tablespoons

all-purpose flour

4

cups

beef broth

1

tablespoon

Worcestershire sauce

1/2

teaspoon

apple cider vinegar

1/3

cup

sour cream

Salt & freshly ground black pepper

,

to taste
8

ounces

egg noodles

,

cooked per directions (OR prepared mashed potatoes)

Fresh minced parsley
Instructions
Preheat oven to 400°F. Line a large rimmed baking sheet with foil or parchment paper and set aside.

In a large bowl, combine ground beef, breadcrumbs, milk, egg, salt, onion powder, allspice, nutmeg, and pepper. Use your hands to gently mix ingredients until thoroughly combined but not packed down. Scoop meat into 3-tablespoon mounds (I use a 3 T. cookie scoop) and gently roll into balls (which should measure between 1 1/2 and 2 inches across).

Arrange meatballs on the prepared baking sheet, at least an inch apart. Bake meatballs for 20 minutes or until golden brown and cooked through to the center (cut into a meatball to check for doneness). Remove meatballs to a paper towel-lined plate to drain any grease.

While meatballs are baking, prepare the gravy. Heat a large pan or deep skillet over medium-high heat; add butter. Once the butter is melted, whisk in the flour. Cook for 2 minutes while continuously whisking. Continue to whisk while slowing pouring in the beef broth, Worcestershire sauce, and apple cider vinegar. Bring the mixture to a boil, reduce to a simmer and cook, still whisking, for about 5 minutes or until it has thickened. Measure the sour cream into a bowl or large measuring cup and stir in a ladle full of hot gravy. Stir in another ladle full of gravy until smooth. Then pour the sour cream/gravy mixuture into the skillet of gravy and whisk to combine. Taste and adjust the seasoning of the gravy with salt and pepper, adding 1/4 teaspoon salt at a time until adequately seasoned.

Once meatballs are cooked and drained, carefully place them in the skillet of warm gravy, turning each meatball so that all sides are coated. Serve hot over pasta or mashed potatoes. Garnish with fresh minced parsley, if desired.
Notes
I make my Swedish Meatballs with all ground beef because that's what I typically have on hand. However, traditional Swedish Meatballs are often made with a mixture that includes half ground beef and half ground pork. Feel free to use this ratio, if you wish.
Adding hot gravy to the sour cream (before stirring the sour cream into the skillet of gravy) tempers it. This prevents the sour cream from curdling, which can happen if you add cold sour cream directly to hot gravy.
Calories:
607
kcal
|
Carbohydrates:
47
g
|
Protein:
42
g
|
Fat:
26
g
|
Saturated Fat:
11
g
|
Cholesterol:
177
mg
|
Sodium:
1321
mg
|
Potassium:
765
mg
|
Fiber:
2
g
|
Sugar:
2
g
|
Vitamin A:
305
IU
|
Vitamin C:
0.3
mg
|
Calcium:
104
mg
|
Iron:
5.9
mg
More Meatball Love

Save
Save