In just a few minutes, stale bread plus herbs and seasonings are transformed into flavorful Homemade Italian Breadcrumbs, for a fraction of the price and without all of the preservatives of store-bought brands!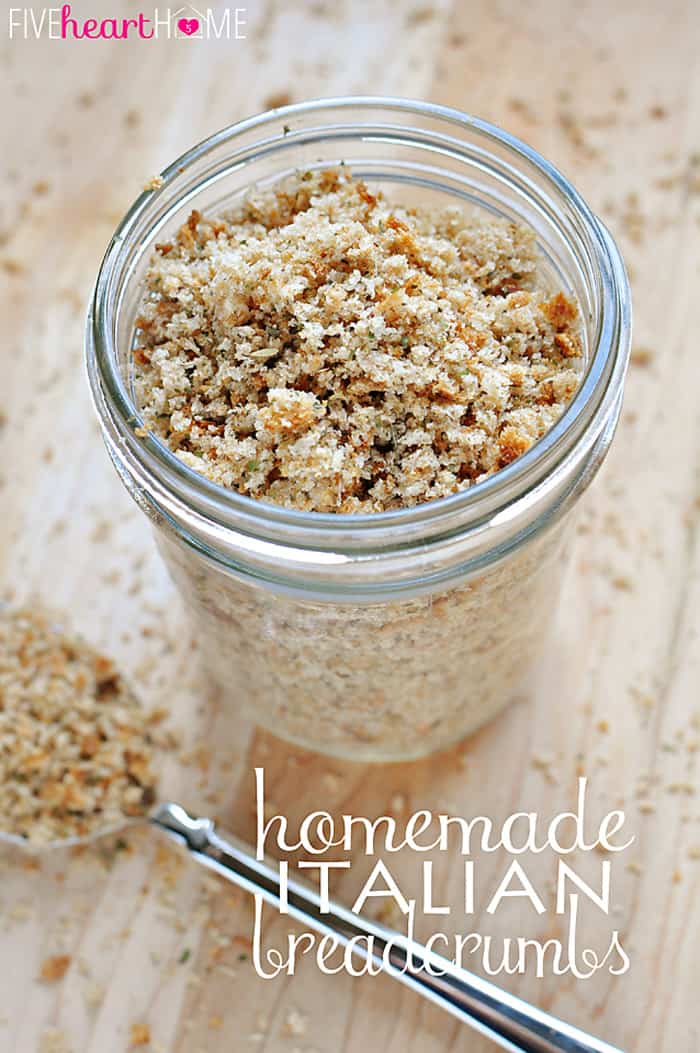 How was your Independence Day weekend? Hopefully full of family, friends, and FOOD!
Well, I'm going to take a break from the usual summer-inspired fare today to bring you a homemade pantry staple that can be used in countless recipes all year long.

MY LATEST VIDEOS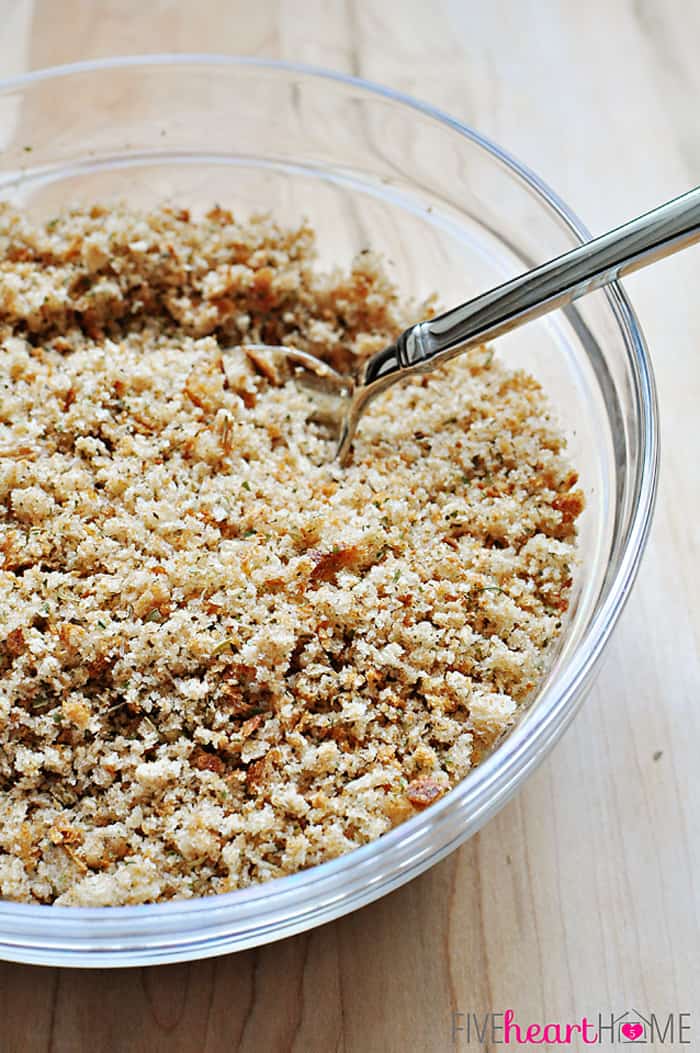 To be perfectly honest, y'all, this one is kind of silly. I mean, breadcrumbs? Who can't figure out how to make those? Yet plenty (most?) of us purchase them from the grocery store in a little canister, full of preservatives and artificial ingredients and far more expensive than the pennies that a few slices of bread would cost.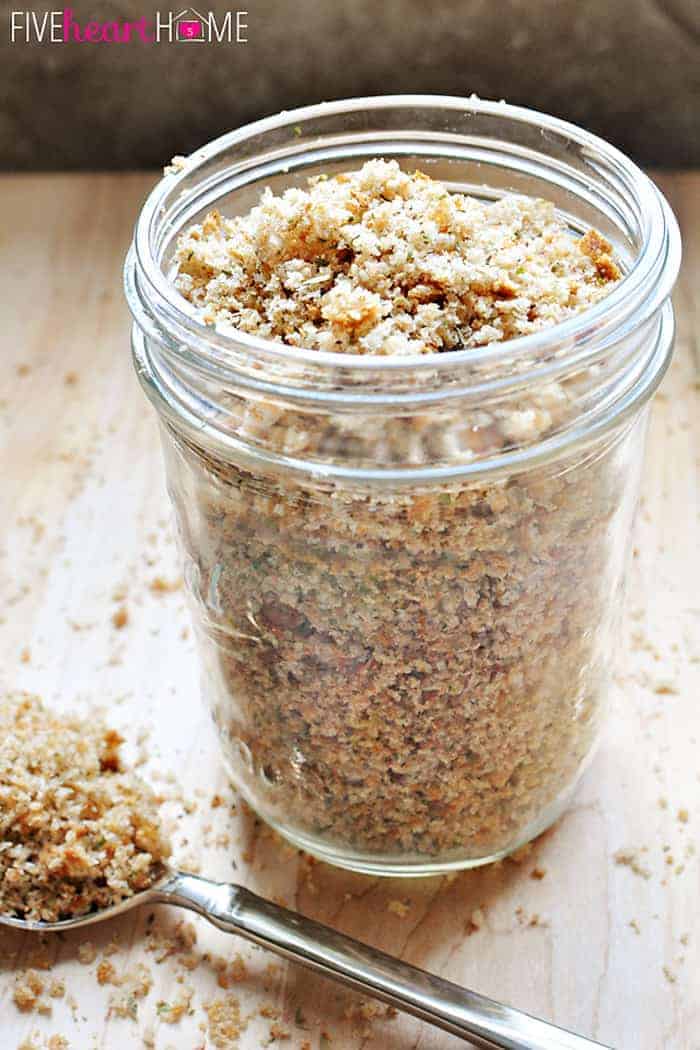 Furthermore, even if you already grind up your own bread into plain breadcrumbs, you might wonder what proportion of herbs to use for Italian Breadcrumbs, since plenty of recipes call for those. Well, no need to Google a recipe the next time you're wondering…I'm going to take care of you right here today!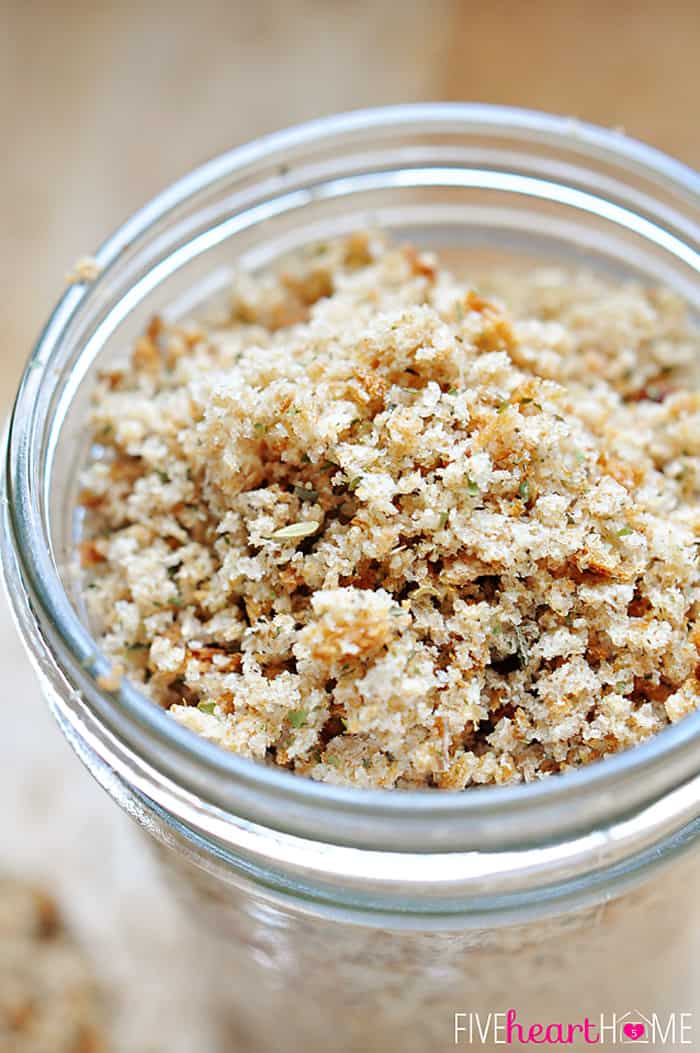 These Homemade Italian Breadcrumbs take, like, two minutes to make, after which they can immediately be used or you can pop them in the freezer until your next recipe that requires them. Super simple, no weird additives or preservatives (what exactly is calcium propionate anyway?), and totally economical, particularly since the bread you turn into these crumbs can be old, stale, and something you were probably about to throw away anyway. Just think of it as upcycling your bread! 😉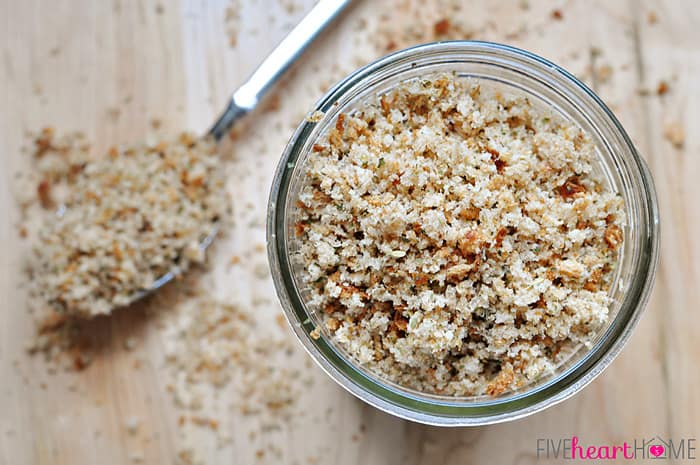 When you get to the end of a loaf of bread, whether it's this oh-so-popular The Very Best Homemade Whole Wheat Bread or your favorite store-bought variety, that last heel can be kind of dried out. So I typically toss it in a baggie in the refrigerator, where it hangs out until it's been joined by a few more rejected bread buddies. There may end up being a stale hamburger bun in there, an old dinner roll, a bit of leftover French bread, some of it 100% whole wheat, some made with white flour…whatever turns stale (but not molded, of course), I save in my trusty little baggie.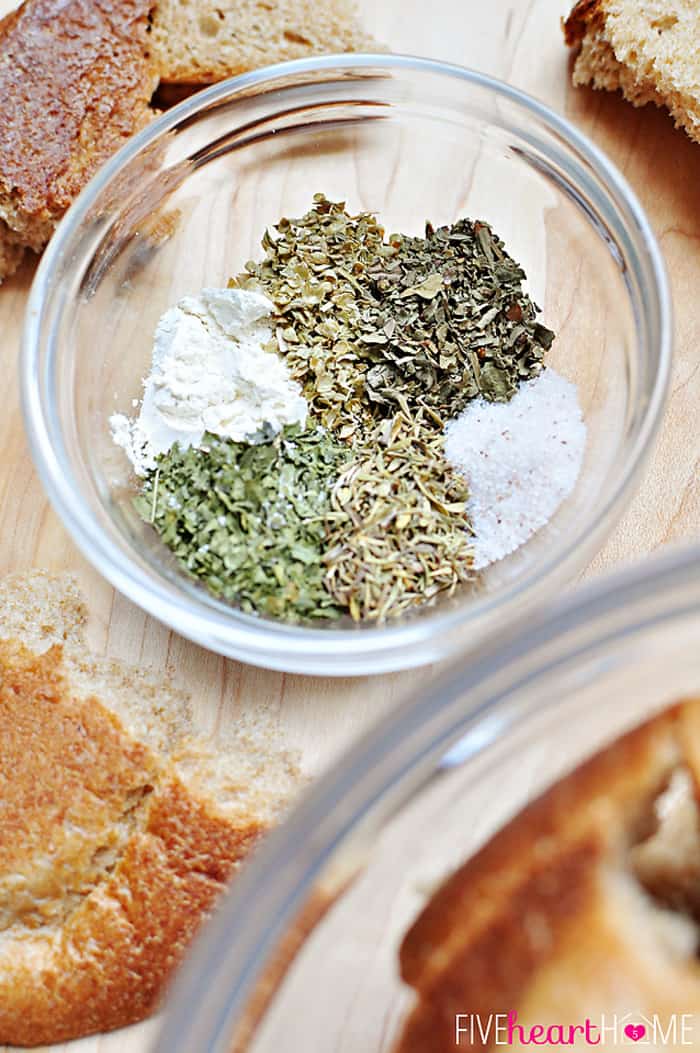 Then, when I have enough bread to make the dirtying of my food processor worth my while, I tear those stale bread rejects into large chunks, add my dried herbs and seasonings, and whiz everything up into fine breadcrumbs. You can also use a blender instead of a food processor, of course, if that floats your boat.
Embarrassingly easy, right? And not only are these homemade breadcrumbs less expensive and healthier (as previously mentioned), but you can also control the sodium and/or tweak the herbs. So if you're watching your salt intake, feel free to cut back on it. If you just loooove basil, go ahead and sprinkle in some extra. Oh, and if you happen to be a lucky duck with fresh herbs at your disposal, you may definitely incorporate those…just increase the amounts since dried herbs are more concentrated than fresh.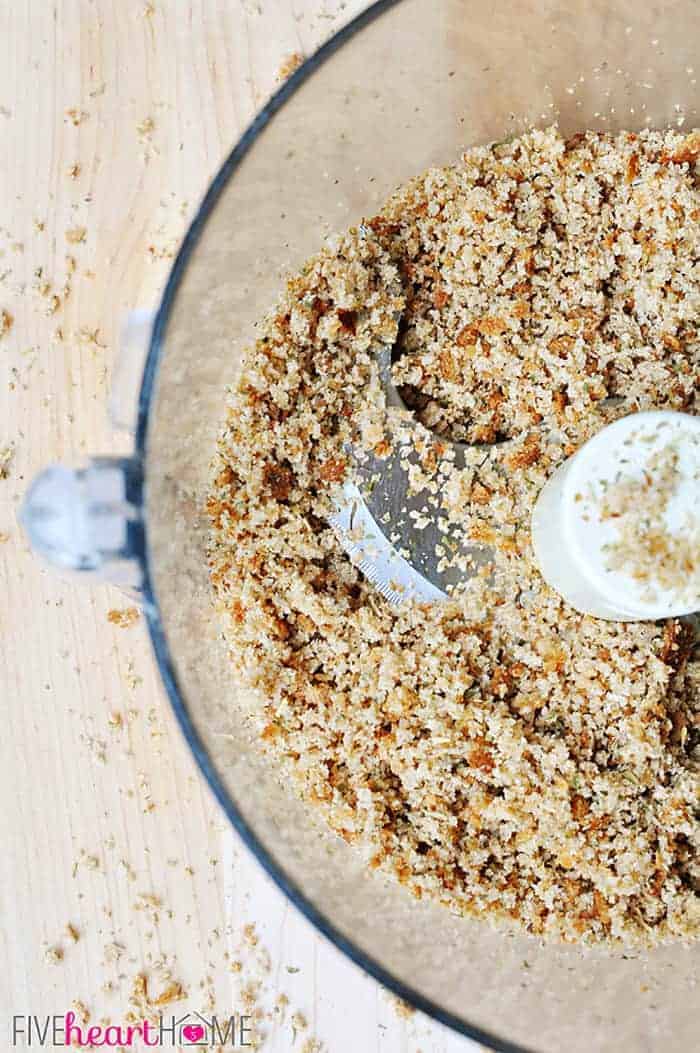 So your assignment today? Go forth and make Homemade Italian Breadcrumbs! Because the next yummy recipe I'm going to share this week my quick and easy Italian Baked Chicken calls for them, and it's one you definitely won't want to miss!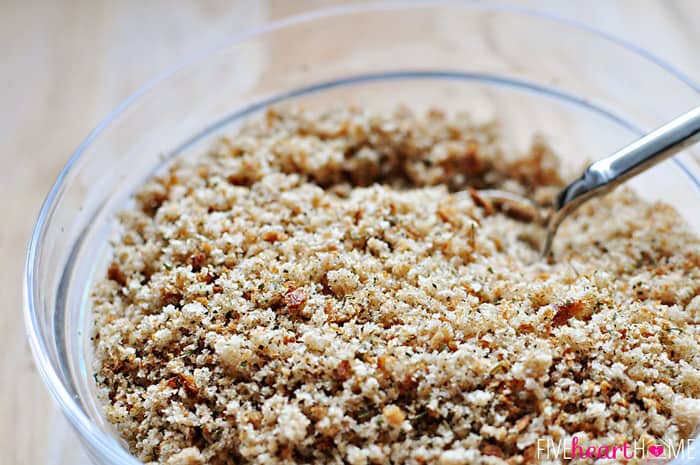 Homemade Italian Breadcrumbs
In just a few minutes, stale bread plus herbs and seasonings are transformed into flavorful Homemade Italian Breadcrumbs, for a fraction of the price and without all of the preservatives of store-bought brands!
Ingredients
6 ounces old, stale bread/rolls/buns/etc. (the approximate equivalent of 4 to 5 slices)
2 teaspoons dried parsley
1 teaspoon dried basil
1 teaspoon dried oregano
1 teaspoon dried thyme
1 teaspoon garlic powder
1/2 teaspoon salt
Freshly ground black pepper, to taste
Instructions
Tear stale bread into large pieces. Place in a large food processor or blender. Add dried herbs, garlic powder, salt, and pepper. Process/blend/pulse until fine crumbs form. Use immediately or store in an airtight container in the refrigerator or freezer (depending on how long before you use them).
Notes
If you are watching your sodium intake, feel free to decrease amount of salt. You can also make your breadcrumbs with 1/4 teaspoon of salt to begin with, taste, and then add the remaining 1/4 teaspoon if you feel it's necessary.
Tweak the herbs to your liking, or if you prefer to use fresh, be sure to increase the amount used since the flavor of dried herbs is more concentrated.
If you plan on using your breadcrumbs soon, they will keep in the refrigerator just fine.
If storing breadcrumbs in the freezer, place inside two freezer baggies and squeeze out any air. They will stay fresh for several months this way. Whenever you need breadcrumbs for a recipe, you can thaw for a few minutes at room temperature and then measure out. Or you can portion breadcrumbs by the cup or half-cup into small baggies before freezing.
https://www.fivehearthome.com/homamde-italian-breadcrumbs/
https://fivehearthome.com ~ All recipes and images on Five Heart Home are copyright protected. Please do not use without my permission. If you would like to feature this recipe, please rewrite the directions in your own words and give proper attribution by linking back to this blog.
More make-your-own kitchen staples…
Homemade Cornbread Mix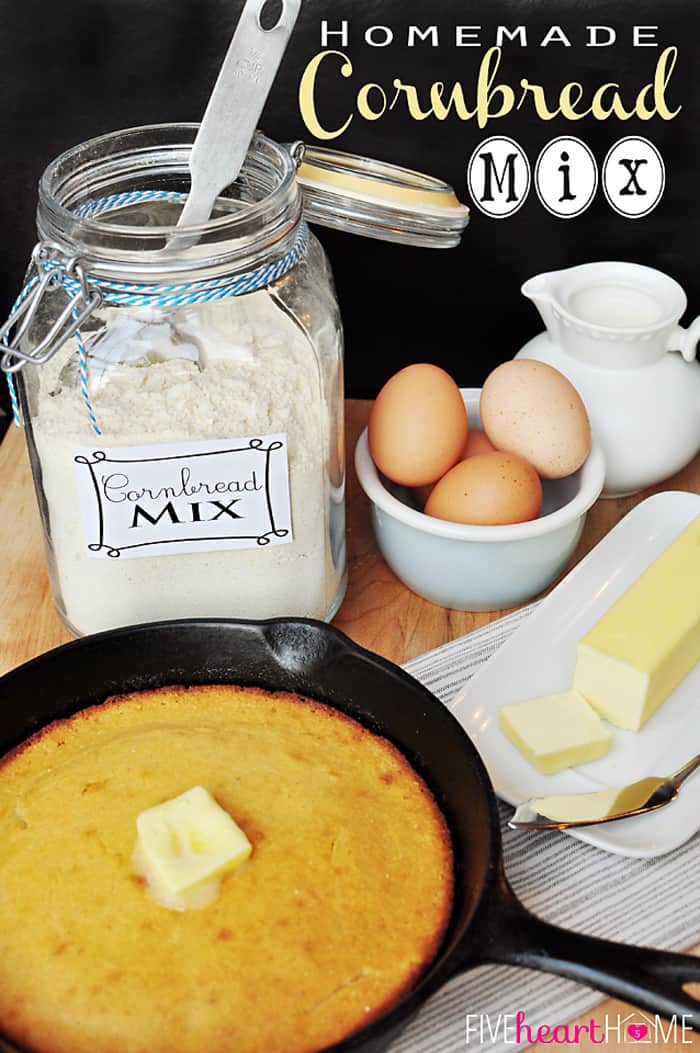 Best-Ever BBQ Sauce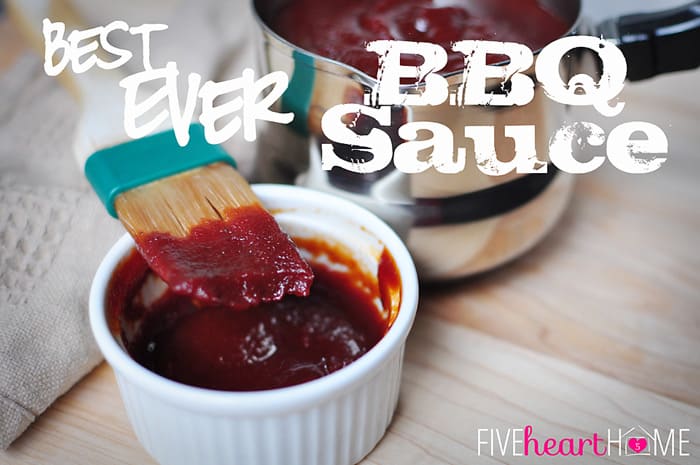 {5-Minute, 5-Ingredient} Homemade Caramel Sauce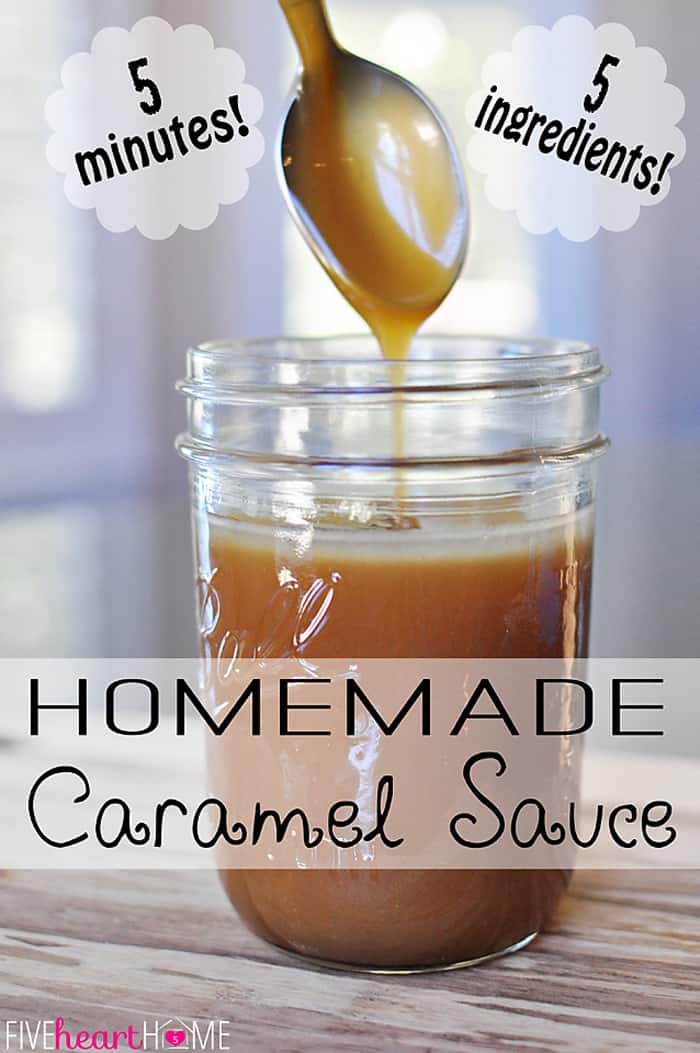 Homemade Chili Seasoning Mix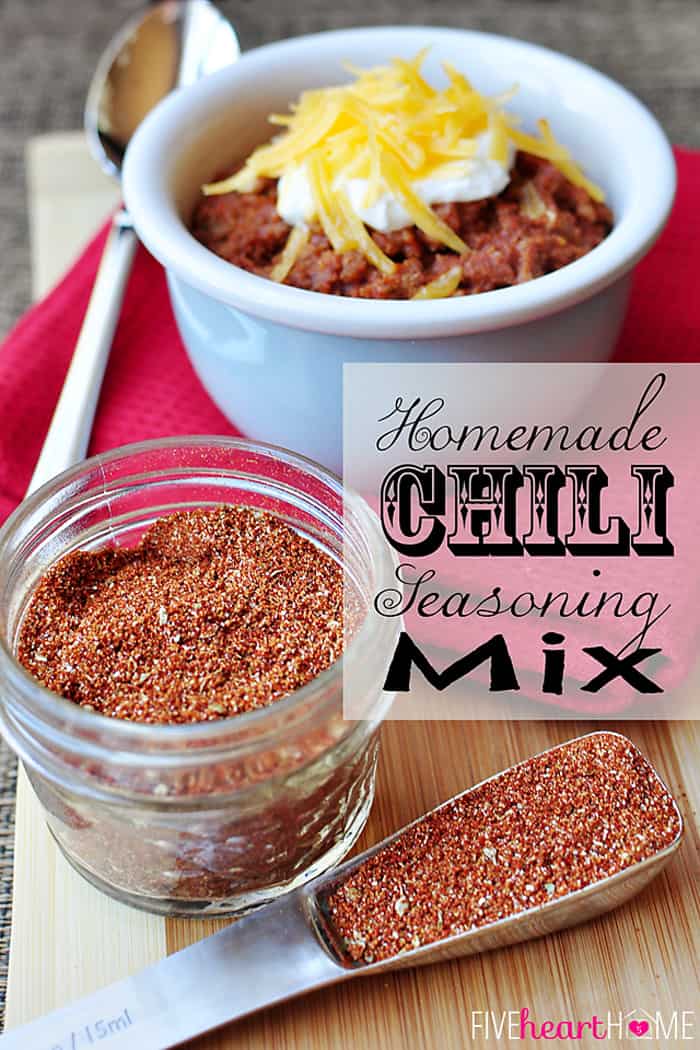 All-Natural & Homemade: Vanilla Coffee Creamer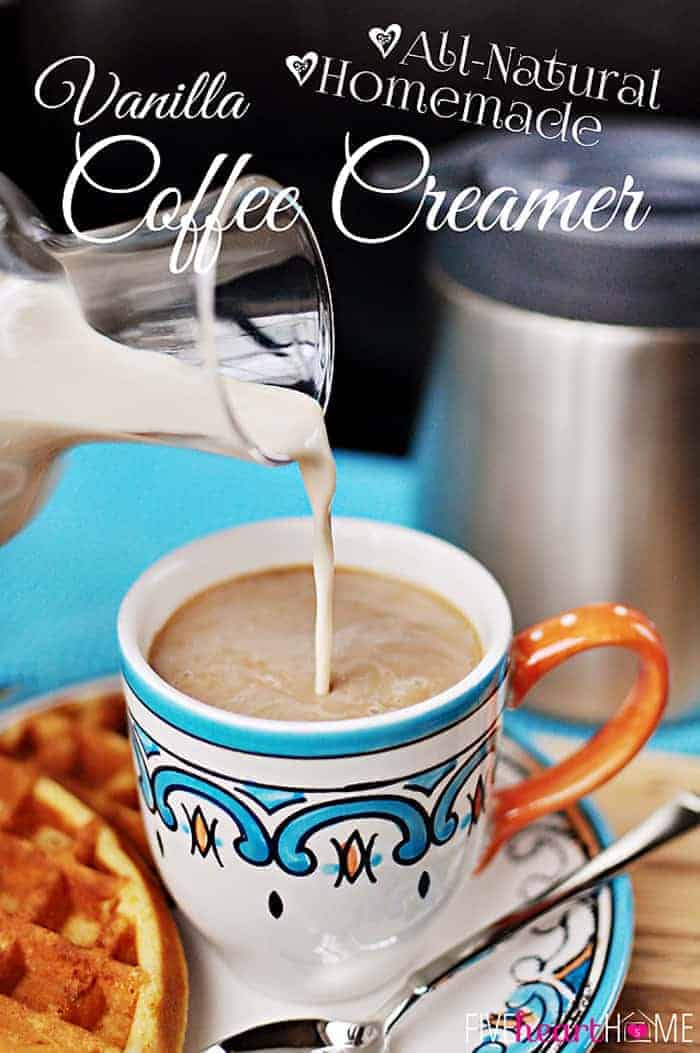 122