Adapted from our incredibly popular Homemade Whole Wheat Bread recipe, these 100% whole wheat dinner rolls are soft, pillowy, moist, easy to make, and truly the BEST!

Sometimes it takes awhile for the lightbulb to go on.
When I decided to share a homemade whole wheat dinner roll recipe with y'all in time for Easter, I experimented with several batches of rolls but wasn't completely happy with any of the results. I mean, they were fine…but not perfect. I knew I could do better. And so I kept trying…and in the meantime, my family was served lots of mini sandwiches assembled on sub-par dinner rolls.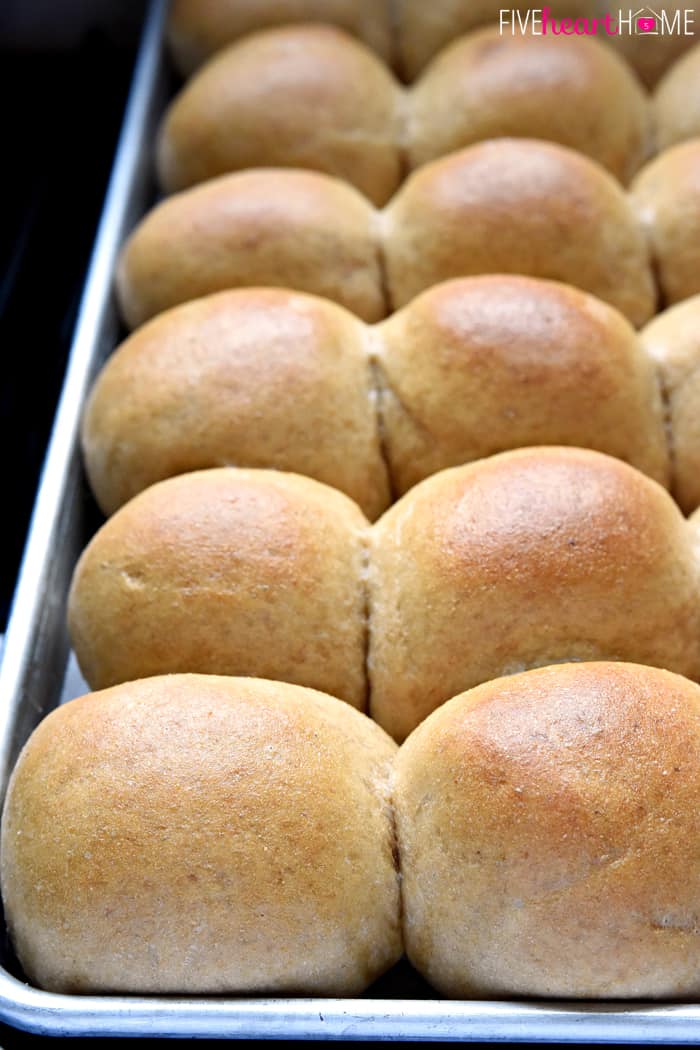 But then one day, it hit me! Why not take my recipe for The Very Best Homemade Whole Wheat Bread (which, incidentally, has had more pageviews and rave reviews than any recipe on the blog…ever) and turn it in a dinner roll recipe?! Doing so was actually so simple that I can't believe it took me so long to try it.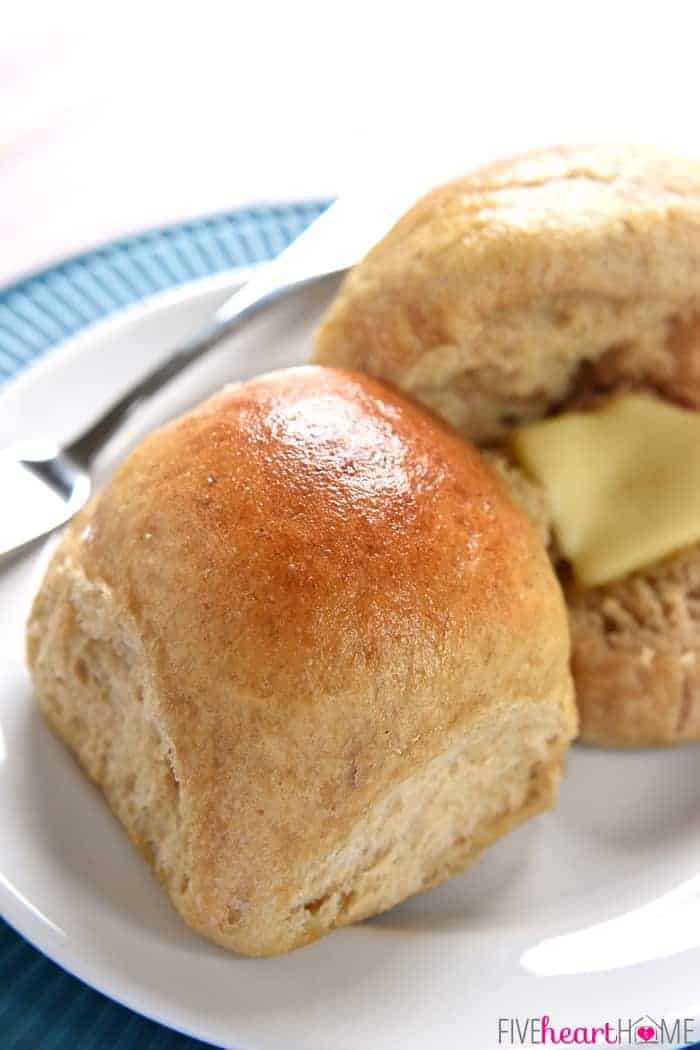 Just like my famous (infamous?) bread, the rolls resulting from the same recipe are 100% whole wheat. But because they call for white whole wheat flour, they don't end up heavy, dense, or overly wheat-y. As I explained in my bread recipe, white whole wheat flour is unrefined, 100% whole wheat flour ground from white wheat, yielding a milder flavor and lighter texture than traditional whole wheat flour (which is made from red wheat). Despite the differences in flavor and texture, the two varieties of whole wheat flour are nutritionally the same. I buy King Arthur brand unbleached white whole wheat flour because that's what's available at my local grocery store, but I'm sure there are other brands out there that would work just as well. And of course, grinding your own flour is going to result in nicely textured bread/rolls whether you use white whole wheat flour or not! 😉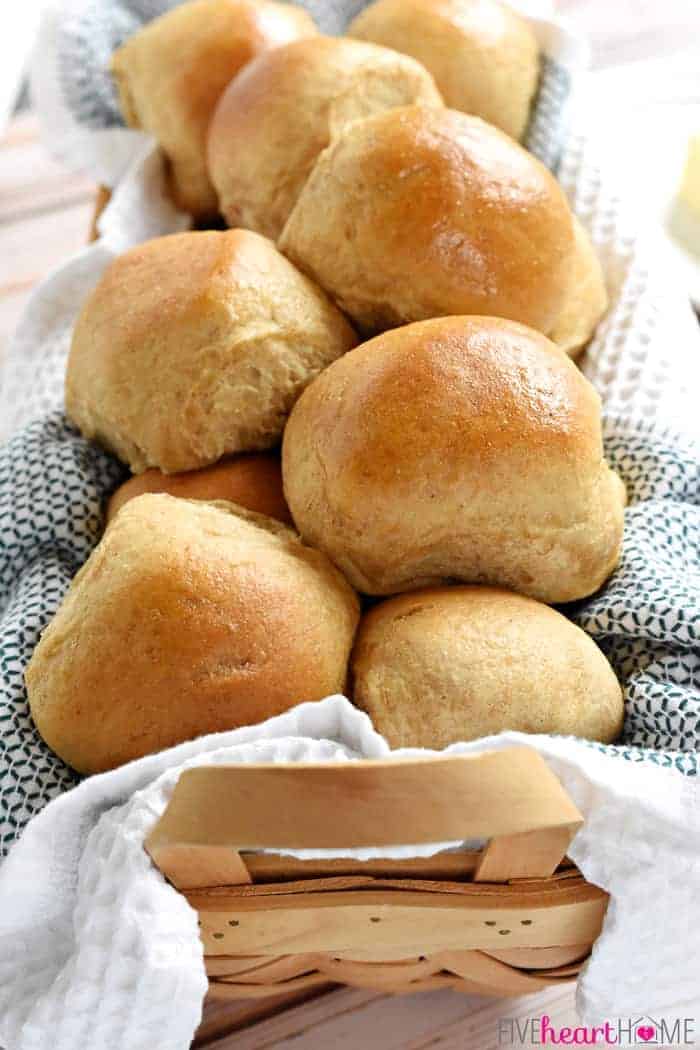 The Very Best Homemade Whole Wheat Dinner Rolls are fluffy but not particularly light-as-air. However, don't think for a minute that they're heavy. Rather, they are extremely soft and moist, like heavenly little pillows. For comparison's sake, the texture actually reminds me a bit of store-bought Hawaiian rolls, except these homemade rolls are (of course) all-natural.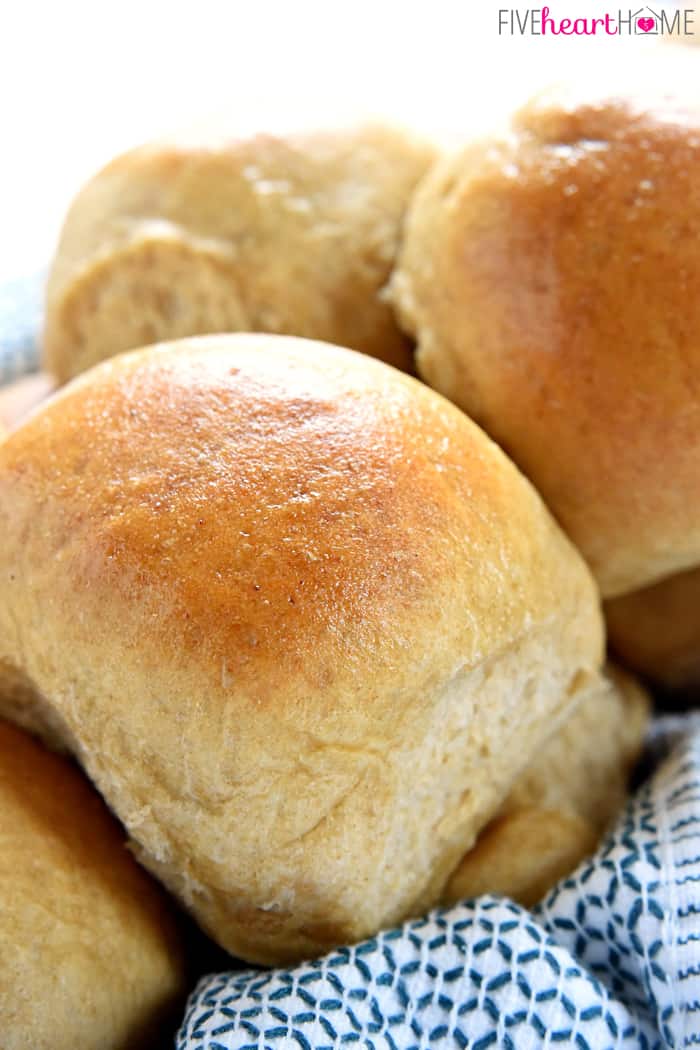 Their flavor is delicate with an undertone of wheat but nothing so in-your-face that anyone would believe they're 100% whole wheat. There is also a very slight sweetness from the honey. One difference I noticed is that when I bake my bread recipe using coconut oil, I don't really taste any lingering coconut flavor. On the other hand, I thought that it was slightly detectable in this dinner roll version (though not necessarily in a negative way). Dedicated food blogger that I am, however, I decided to make one more batch of rolls to see if they would turn out better with butter. And, sure enough, the butter gave them the neutral flavor I was going for. You may use vegetable oil (such as canola or safflower) in place of the butter, if you prefer.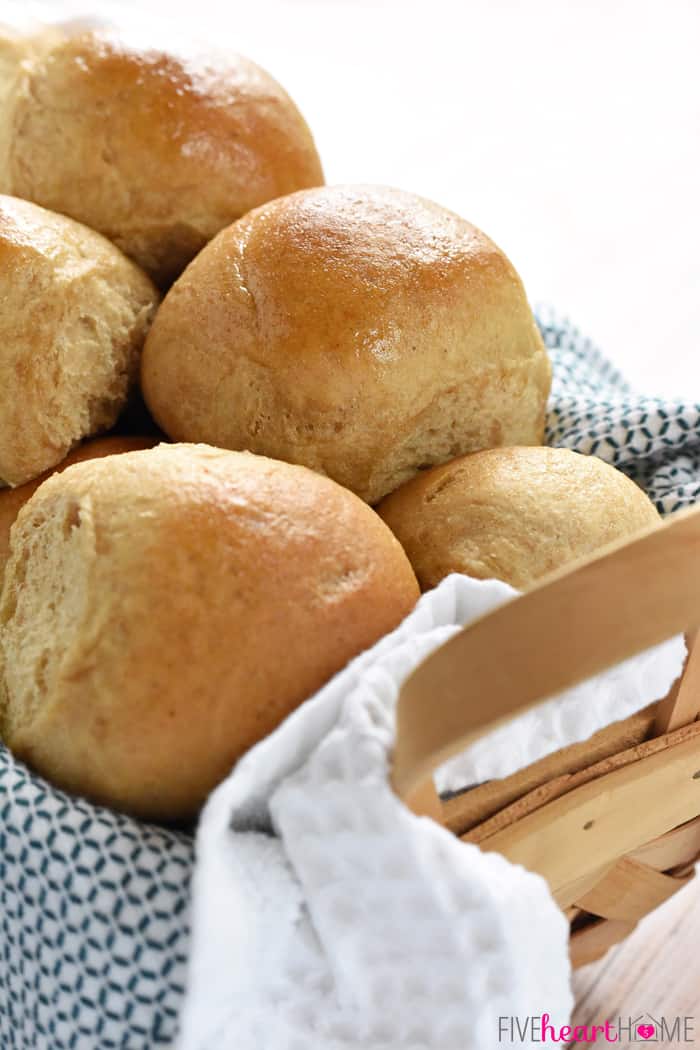 Since these rolls are adapted from a previously posted recipe, feel free to hop over there to read more specifics about how and why it works so well. The method is actually very simple and foolproof if you take it step-by-step. But in case you're a visual learner, I baptized my camera by flour and snapped a few pics to help you visualize how to form your rolls, and how they should look as they rise and bake.

Not only would these whole wheat dinner rolls be wonderful accompaniments to a special holiday meal (or a regular ol' weeknight dinner…who needs a holiday to enjoy bread?!), but I think they'd make great little slider buns. Pile them with chicken salad, sloppy joe filling, pulled pork, or your favorite mini burger patties and go to town!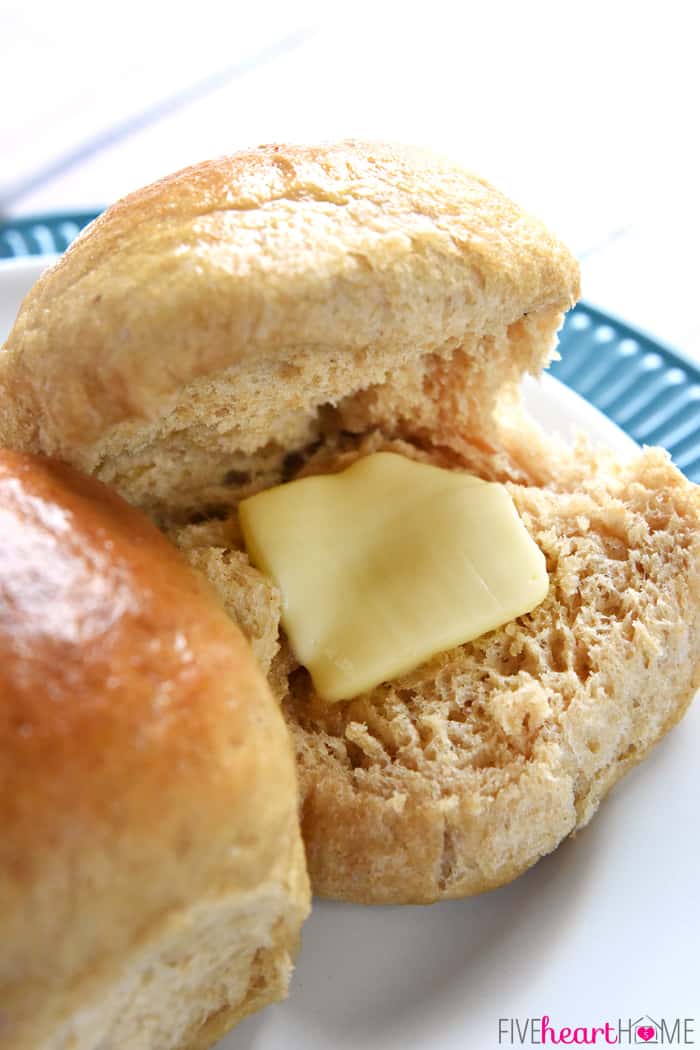 So do you have your Easter menu ready to go? If you're still looking for any last-minute recipes, I've shared a few of my favorites just below the dinner roll recipe. But if you're in the mood for some fresh, warm, wholesome, homemade dinner rolls? Well, you don't even have to leave this page to satisfy that craving… 😉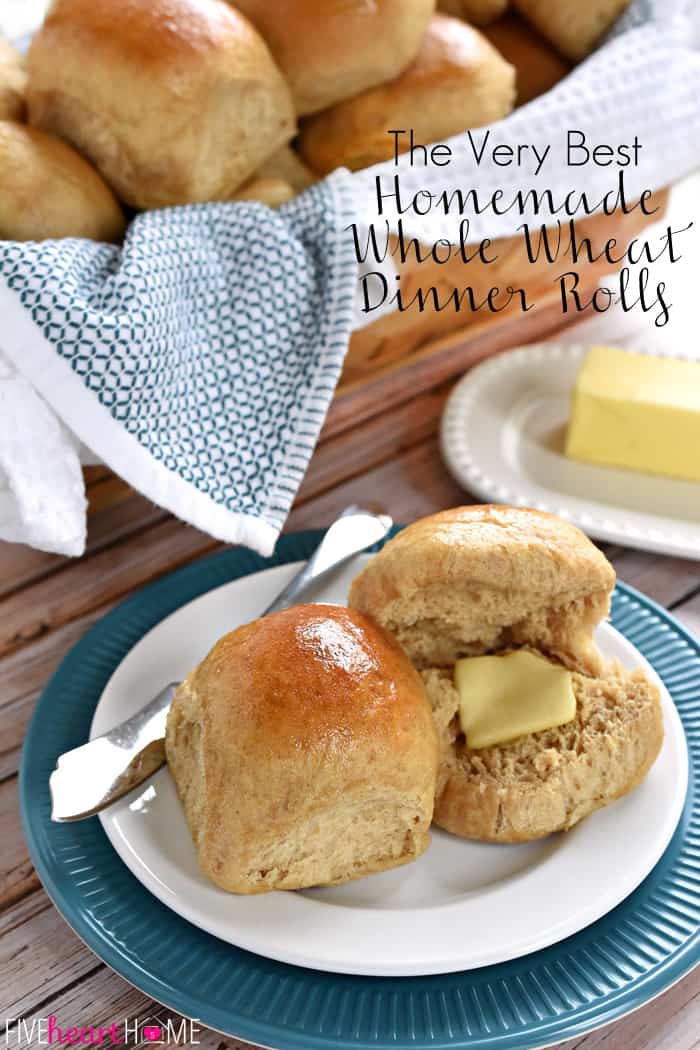 The Very BEST Homemade Whole Wheat Dinner Roll Recipe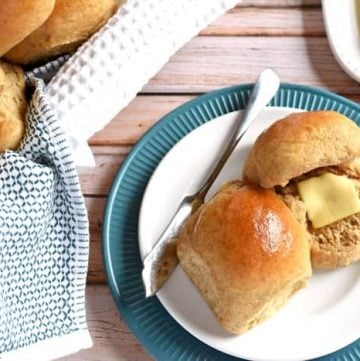 The Very Best Homemade Whole Wheat Dinner Rolls
Adapted from our incredibly popular Homemade Whole Wheat Bread recipe, these 100% whole wheat dinner rolls are soft, pillowy, moist, easy to make, and truly the BEST!
Print
Pin
Rate
Servings:
24
dinner rolls
Ingredients
3 1/2

cups

white whole wheat flour

1/3

cup

vital wheat gluten

4

teaspoons

instant/quick-rise yeast

2 1/2

cups

very warm water

,

120°F to 130°F
1

tablespoon

salt

1/3

cup

unsalted butter

,

melted and slightly cooled OR vegetable oil

1/3

cup

honey

4

teaspoons

lemon juice
2 1/2

cups

white whole wheat flour
2

tablespoons

butter

,

salted or unsalted, melted and cooled
Instructions
In the bowl of a stand mixer fitted with a dough hook, mix together first three ingredients. Add water and mix for one minute, scraping down bowl halfway through if necessary. Cover bowl with a kitchen towel and allow to rest for 10 minutes.

Add salt, melted butter, honey, and lemon juice; beat for 1 minute. Add remaining 2 1/2 cups of flour, 1 cup at a time, beating between each cup. Knead dough in mixer using dough hook for 10 to 15 minutes or until dough pulls away from the side of the bowl and feels smooth rather than sticky.

Grease a 12x18x1-inch baking sheet with softened butter and set aside. Turn dough out onto a lightly floured surface and knead a few more times. Form into a rough rectangle and cut into 24 approximately equal pieces (if one piece is significantly larger than another piece, pinch a bit off the larger piece to add to the smaller piece). Roll each piece of dough into a ball and arrange on prepared baking sheet in four rows of six rolls.

Preheat oven to lukewarm by setting it to 350°F and then turning it back off after exactly 1 minute. Place baking sheet in warm oven and allow to rise for 20 to 40 minutes or until nicely risen (don't rush it!).

Remove baking sheet from oven to rest while preheating the oven to 350°F. Once oven comes to temperature, bake rolls for 15 to 20 minutes or until golden brown, watching closely towards the end of the baking time.

Remove baking sheet from the oven and immediately brush each roll with melted butter (which will keep the exterior of the rolls soft). Allow rolls to cool for a few minutes before transferring to a bread basket and serving warm. Alternately, transfer rolls to a wire rack to finishing cooling completely and then store in an airtight container (at room temperature for a few days and in the refrigerator after that...these will eventually mold as they contain no preservatives). Rolls may be reheated under a damp paper towel for a few seconds in the microwave before serving.
Notes
You may cut this recipe in half and bake a dozen rolls in a buttered 9- by 13-inch baking dish.
I initially lined my baking sheet with parchment paper but, on my second batch, discovered that it wasn't necessary (so ignore the parchment paper in some of the photos...simply butter your pan).
Calories:
158
kcal
|
Carbohydrates:
26
g
|
Protein:
6
g
|
Fat:
4
g
|
Saturated Fat:
2
g
|
Cholesterol:
9
mg
|
Sodium:
302
mg
|
Potassium:
56
mg
|
Fiber:
4
g
|
Sugar:
4
g
|
Vitamin A:
110
IU
|
Vitamin C:
0.3
mg
|
Calcium:
25
mg
|
Iron:
0.8
mg
More Holiday Recipes