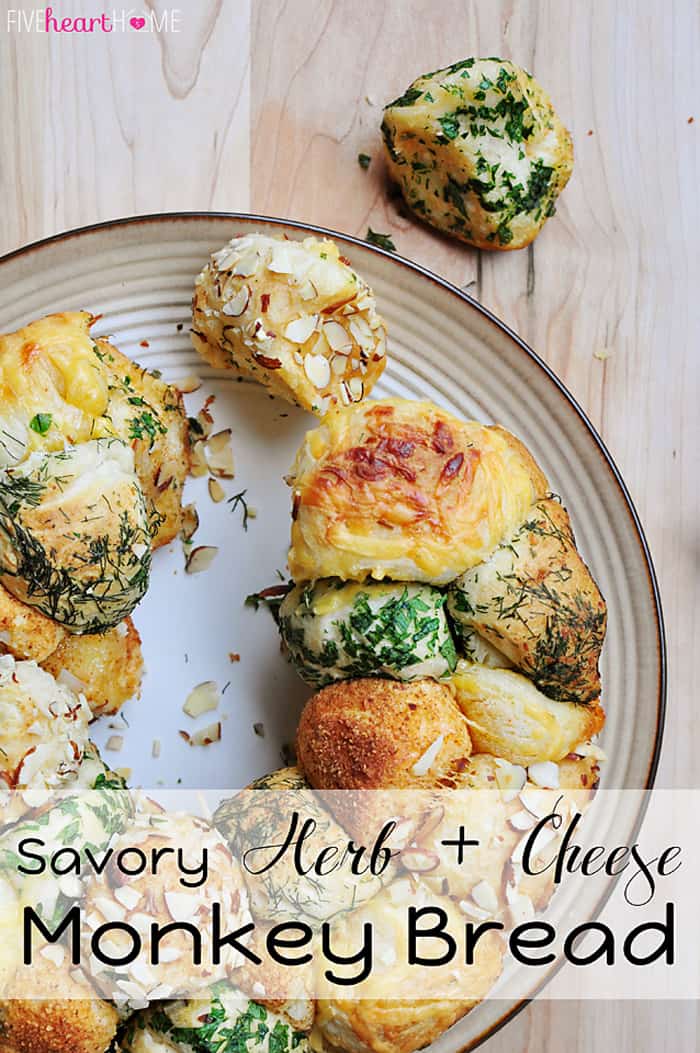 This savory monkey bread is quick and easy, thanks to refrigerated biscuits that are dipped in garlic butter and coated in herbs and cheese for a ring of rolls that are as festive as they are delicious.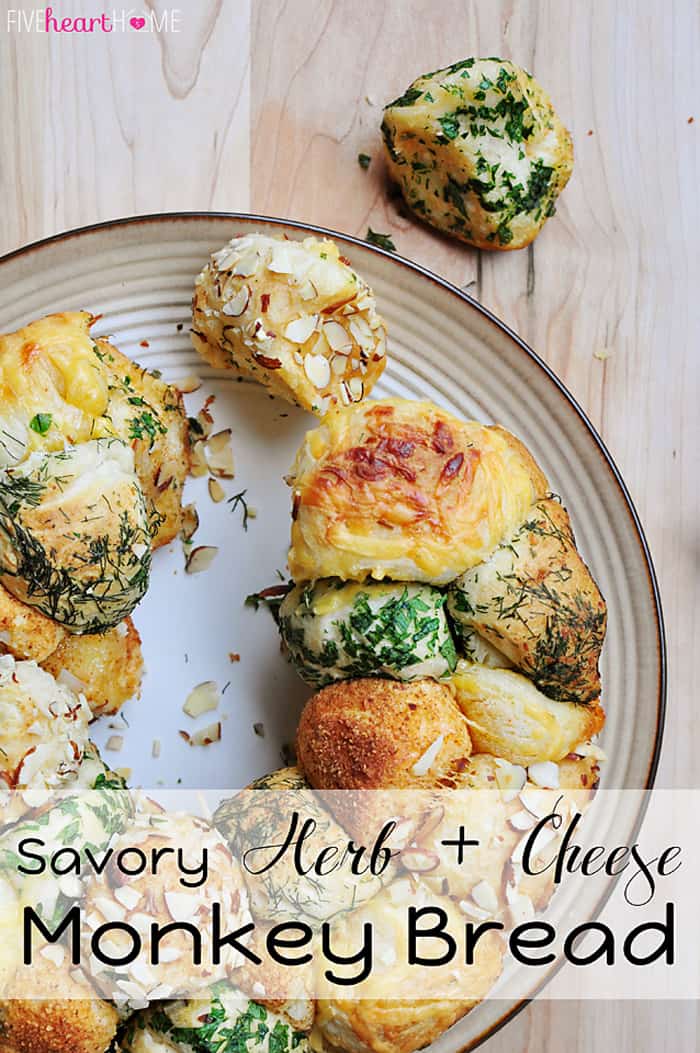 Have I mentioned to y'all that I joined Twitter last week? Well, I did, and if you'd like to follow my riveting tweets (along with my other 21 followers so far), I'd be honored to have you. I'm @FiveHeartHome. Creative, no?
I also joined Instagram on the same day and, hello? Where have I been all this time??? As much as I enjoy taking and sharing pictures, you'd think I would have discovered Instagram long, long ago (I'm FiveHeartHome on IG as well, if you care to join me as one of my photography-obsessed brethren –er, sistren?).
Now I'm sure you're wondering how any of that is relevant to this recipe, and I'm about to tell you. I promise this post does not merely involve shameless self-promotion. 😉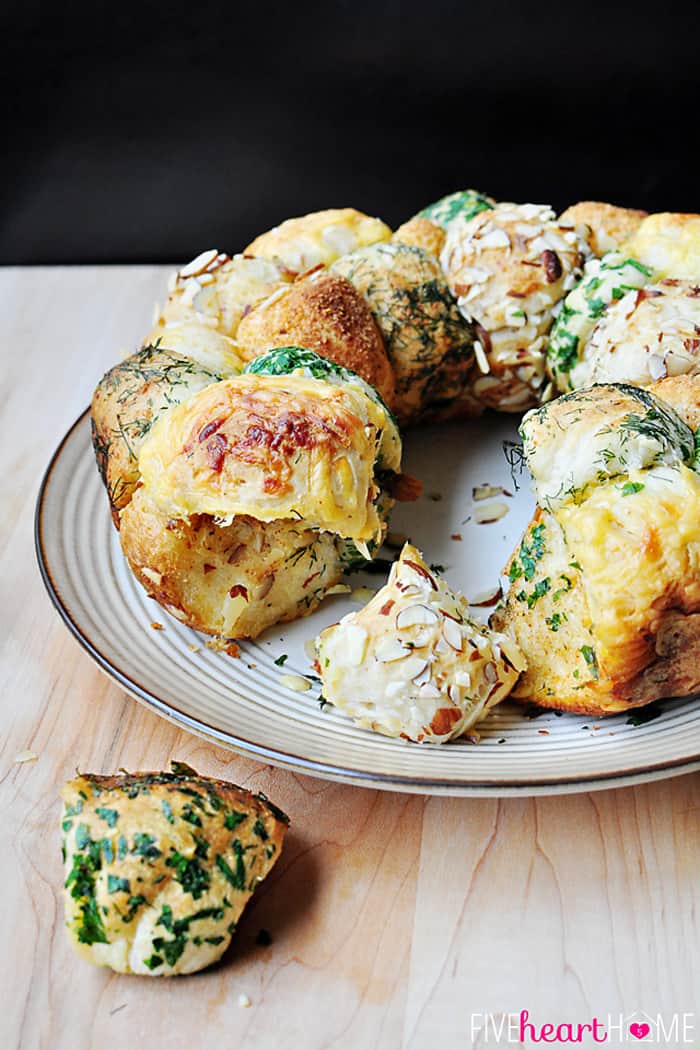 So…I was on my phone scrolling through my Twitter feed (is that what you even call it?) last week and the most mouth-watering photo popped up via a Food Network tweet. It depicted a colorful, savory monkey bread and I immediately thought to myself, "I must make that for Thanksgiving this year!"
Like any good Twitter newbie would do, I neglected to simply click on the link from my phone. Instead, I hopped on my laptop and pulled up the Food Network site, where I was able to quickly track down this monkey-bread-o'-my-dreams. Upon reading the recipe, however, I decided to make a few changes: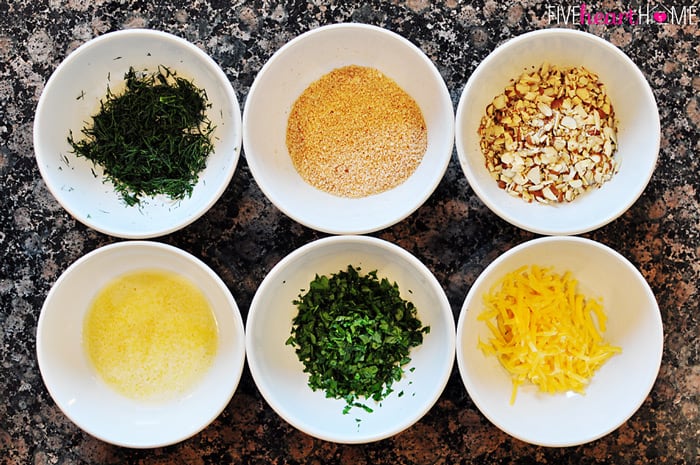 (1.) Instead of drizzling the layers with olive oil, I rolled each biscuit piece in butter, since that's how I'd always made sweet versions of monkey bread. And since I'm a fan of garlic, I decided to lace that butter with some garlic salt.
And (2.), instead of using refrigerated breadsticks, I uesd my favorite refrigerated biscuits, of which I already happened to have two cans in the fridge. Any old refrigerated biscuit or bread dough should work, but (as I've mentioned before) I'm partial to Immaculate Baking Company biscuits, because their ingredients are natural and straightforward. I used two 16-ounce cans of jumbo buttermilk biscuits (one happened to be the flaky buttermilk variety and the other was regular buttermilk, but they worked equally well), and that seemed to be the perfect amount.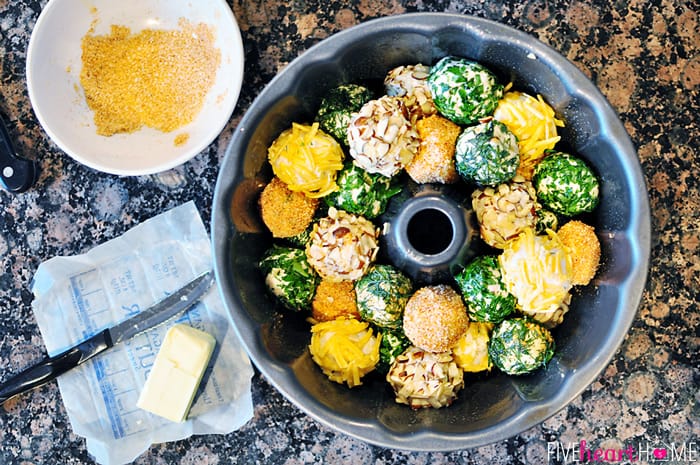 I'm happy to report that my monkey bread turned out fabulous! It's obviously not Thanksgiving quite yet, but my little test run went over swimmingly with my family. We pulled the rolls apart, split them open, and stuffed them with slices of sharp cheddar for a special Sunday lunch…yum.
What's extra fun about this recipe is that it's so customizable. You are in complete control of your biscuit coatings. Living in central Texas, we haven't had a freeze yet and my herb garden is still running rampant. So I rolled some of my biscuits in fresh parsley and fresh dill. But you could just as easily substitute dried herbs.
I also chose to use chopped almonds, shredded cheddar cheese, and grated Parmesan (mixed with some paprika for a deeper color). Don't you think this combo of herbs and cheeses makes for monkey bread with great flavor and eye appeal?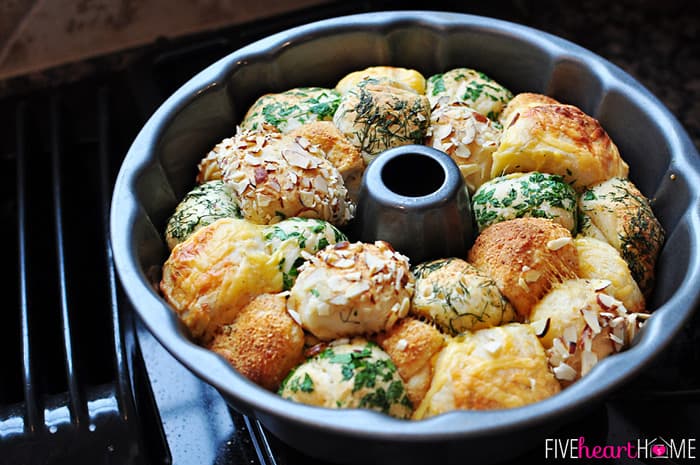 I can think of lots of yummy variations, however. You could do basil, oregano, parsley, and Parmesan to accompany an Italian meal. You could use cilantro, Monterrey jack, and taco seasoning for a Mexican theme. Or you could mix your cheese and herbs and coat each biscuit ball with the same mixture, or keep all of the coatings separate and alternate your biscuits like I did here today.
Do keep in mind that some herbs and spices are stronger than others. The dill I used in my variation was a bit overpowering, but my family loves dill so it didn't bother us at all (in fact, my boys fought over the dill-covered rolls). Also, dried herbs are generally going to be more concentrated than fresh, and whether it's dried or fresh, something like rosemary will fall under the umbrella of a little bit goes a long way.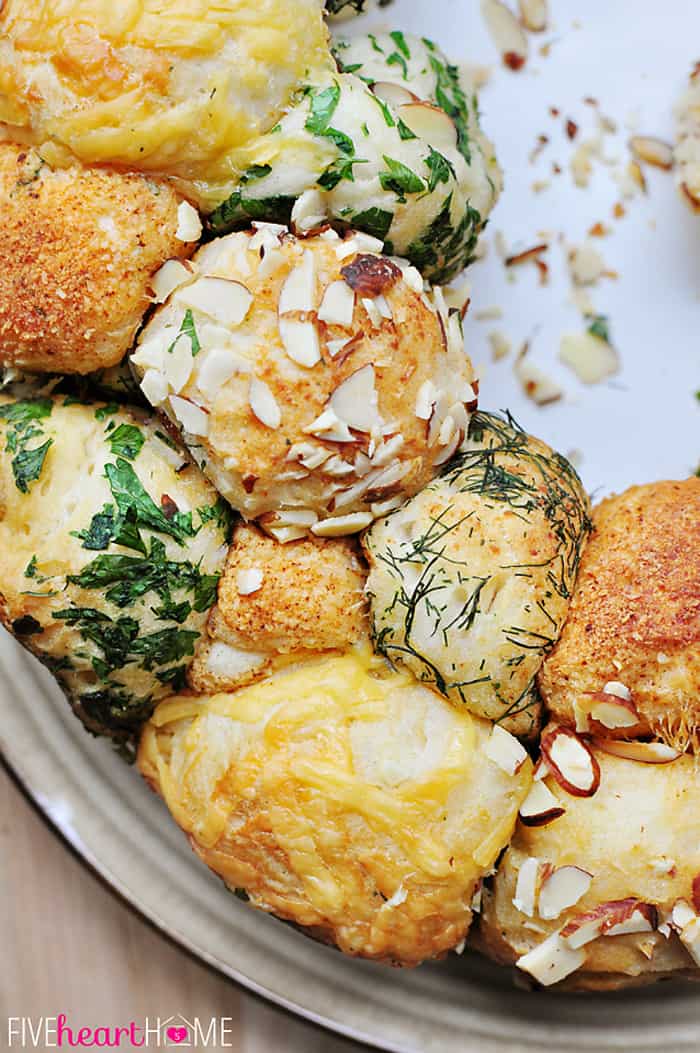 My other tip is to make sure you use a nonstick Bundt pan that has been well greased with butter or coated down with a thick layer of cooking spray. And then, before overturning your monkey bread, you might want to run a thin, soft rubber spatula around the edges and down the sides to make sure there aren't any spots of sticking cheese. Additionally, the bread at the top, open side of the pan ends up being the prettiest part, so after you flip the bread out onto a plate, flip it one more time onto your serving platter.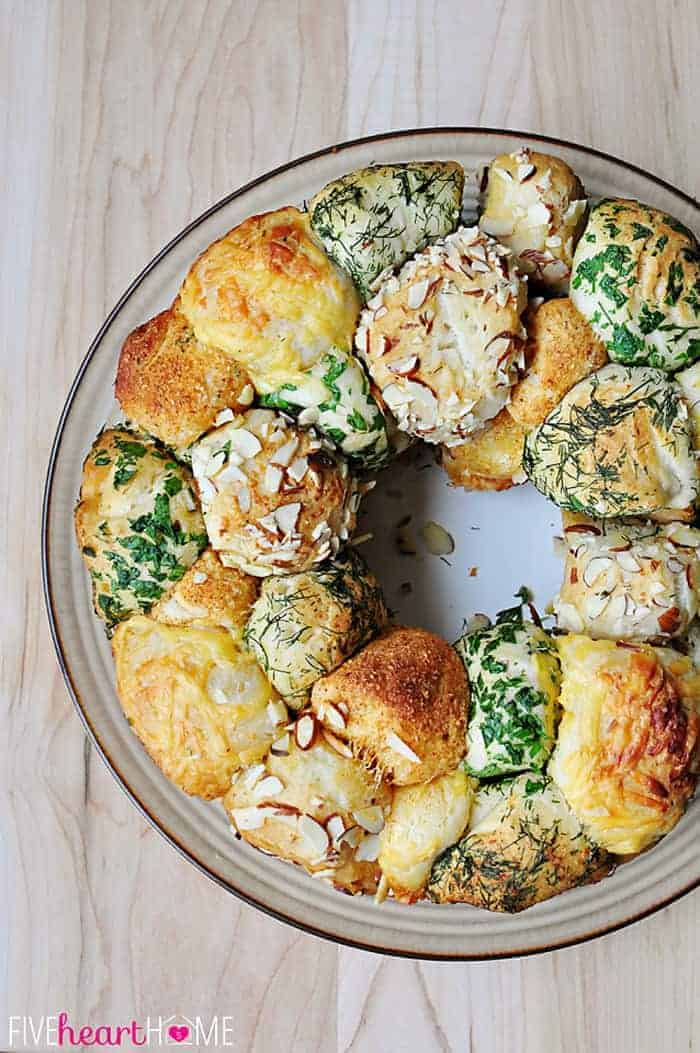 There you have it! A fun, festive take on dinner rolls that will liven up your holiday table, from Thanksgiving to Christmas to Easter. This savory monkey bread is sure to garner oohs and ahhs, and your dinner guests will never believe how quick and easy it is to make…meaning, of course, that you are under no obligation to tell them. 😉
Savory Monkey Bread Recipe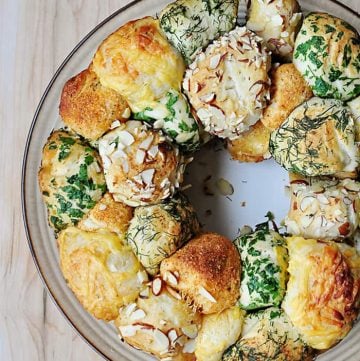 Savory Herb & Cheese Monkey Bread
This savory monkey bread is quick and easy, thanks to refrigerated biscuits that are dipped in garlic butter and coated in herbs and cheese for a ring of rolls that are as festive as they are delicious.
Print
Pin
Rate
Ingredients
2

(16-ounce) cans of jumbo refrigerated buttermilk biscuits

1/4

cup

(1/2 stick) butter

,

melted

1/2

teaspoon

garlic salt

5

or so different herbs and/or cheeses as coatings

,

(such as fresh chopped parsley, chopped dill, chopped almonds, grated Parmesan, and shredded cheddar)
Instructions
Preheat oven to 350°F. Generously grease a 9- to 10-inch Bundt pan with butter, or spray with nonstick cooking spray.

Stir garlic salt into melted butter. Cut each biscuit in half and roll into a ball. Dip each biscuit ball in butter, then roll in desired coating. Arrange biscuits in the pan so that the various coatings are alternated.

Bake for 30 to 35 minutes until biscuits are done and surface is golden. You may want to start checking bread at about 25 minutes, and if it's browning too quickly, lay a sheet of aluminum foil on top for the remainder of the baking time.

Cool in pan for 5 minutes. Run a thin, soft rubber spatula around the edge and down the sides of the pan to loosen any stuck cheese. Invert onto a plate, then lay serving platter on top and flip bread over onto serving platter so that the attractive side is on top.
Notes
If you wish to assemble the bread ahead of time, you may do so, then cover tightly with plastic wrap and refrigerate for several hours, up to overnight. Take the pan out of the refrigerator as you preheat the oven, and then bake as directed.
If you don't want to alternate your biscuit coatings, you can mix the cheese and herbs together and use the same coating for all of the biscuits. Whatever you decide, you need to use some sort of cheese on at least some of the pieces since that's what holds the monkey bread together once you unmold it.
Keep in mind that dried herbs are more concentrated than fresh herbs, so adjust amounts accordingly.
You may use just about any type of refrigerated biscuits or bread dough. You just want the total amount of dough used to be around 32 ounces.
Calories:
60
kcal
|
Carbohydrates:
2
g
|
Fat:
5
g
|
Saturated Fat:
3
g
|
Cholesterol:
12
mg
|
Sodium:
207
mg
|
Potassium:
12
mg
|
Vitamin A:
150
IU
|
Calcium:
4
mg
|
Iron:
0.2
mg
Adapted from Food Network.
More Thanksgiving Recipes