Bacon Cheeseburger Monkey Bread is loaded with ground beef, bacon, and cheddar...a gooey, savory, pull-apart snack that's perfect for Super Bowl or any party!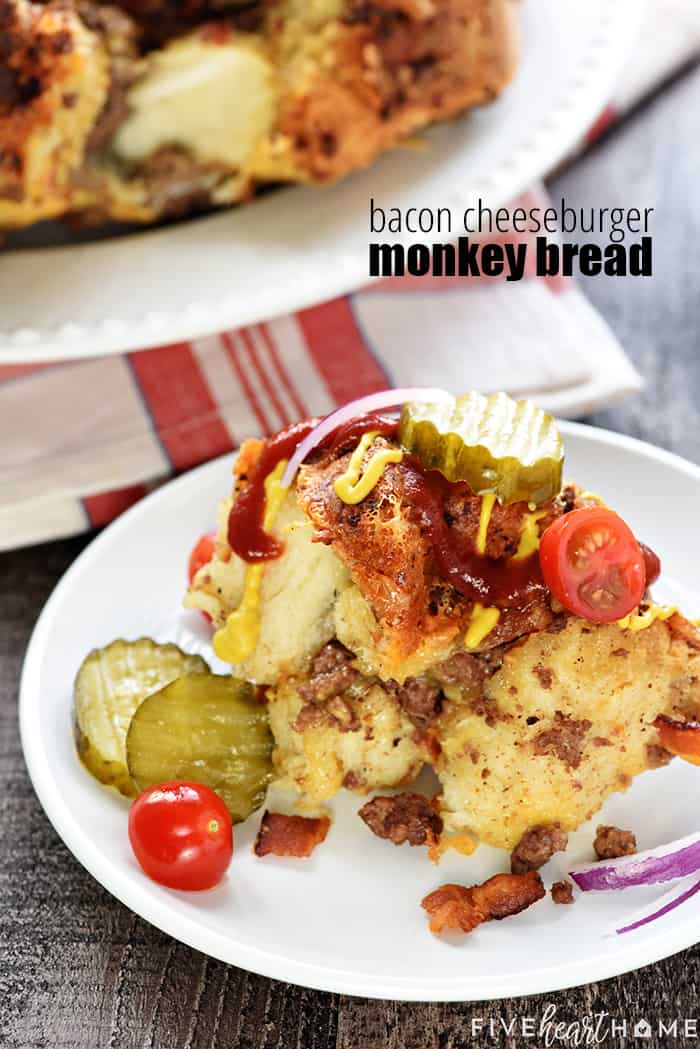 Who's ready for the Super Bowl??? I've got fresh batteries in the remote and my Cowboys jersey is perfectly pressed (ha) and our menu is all set, so the only thing left to do is run to the grocery store. And that will be quite a trip, because I'm planning on making a variety of dips and finger foods and sandwiches and desserts and THIS Bacon Cheeseburger Monkey Bread!
That's right, friends...even though I just made it last week for this blog post, my 11-year-old is insisting that I make it again for Super Bowl Sunday this weekend. And quite honestly, I'm happy to oblige! Because who's going to argue with a hearty, decadent snack that's basically bread + meat + cheese?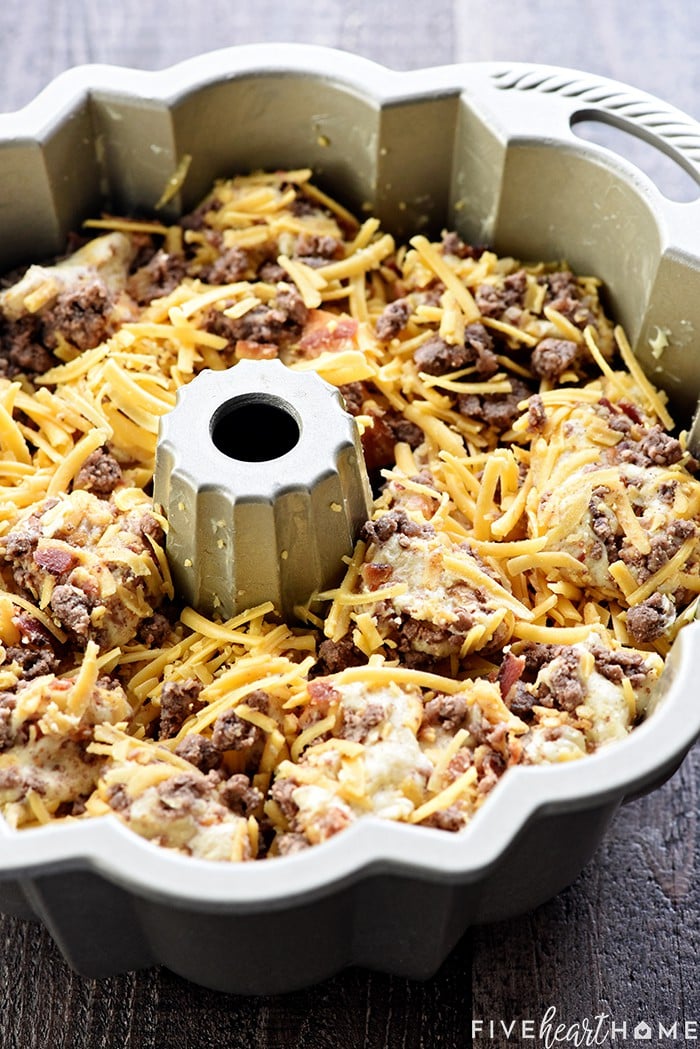 Did I ever tell y'all about the time I got to go to a real live Super Bowl? It was Super Bowl XXXIII in Miami in 1999. Denver beat Atlanta in the last game of John Elway's career. Cher sang the National Anthem. Gloria Estefan and Stevie Wonder performed at halftime. And I partied with Puff Daddy the night before the Super Bowl. True story.
And now this Bacon Cheeseburger Monkey Bread -- as well as my current existence -- seems much less glamorous.
Also, I suddenly feel very old.
Any-who. Unless you're attending this year's Super Bowl in person, Bacon Cheeseburger Monkey Bread could very well be the highlight of your night.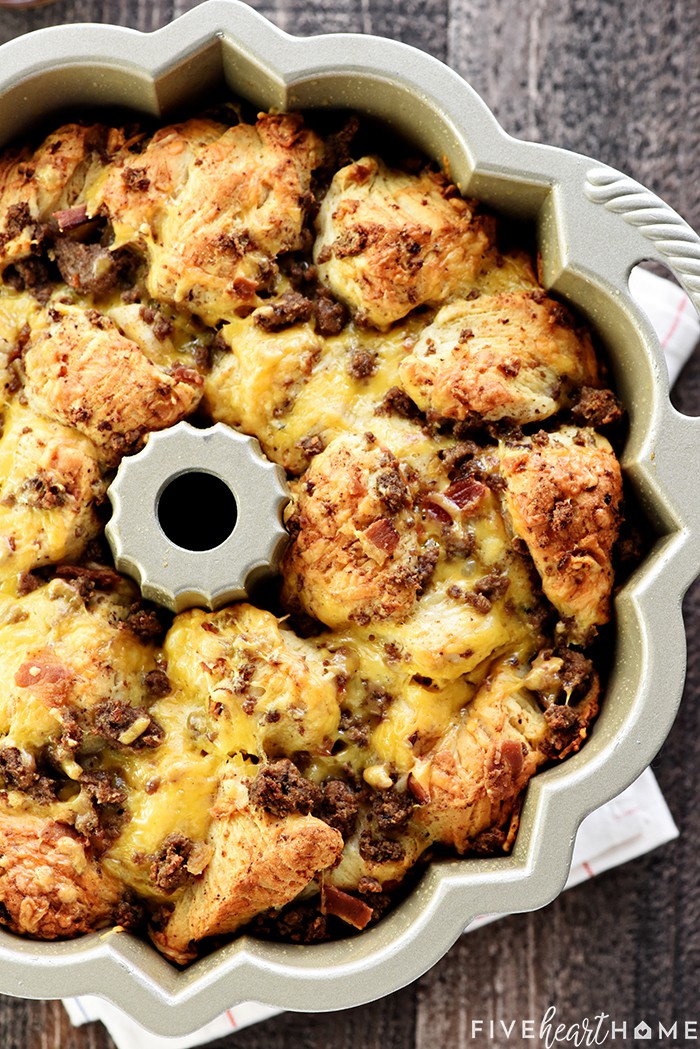 Ingredients
As is the case with traditional sweet monkey bread, this savory version starts with jumbo refrigerated biscuits (and it should be noted that this isn't my first go-'round with Savory Monkey Bread). Refrigerated biscuits are quick and easy to use and they bake up nice and soft. Plus there are "natural" brands readily available these days made with ingredients that you can actually pronounce. How could anyone resist that kind of convenience?
In addition to the biscuits, you'll need half a pound of bacon, a full pound of ground beef, and a couple cups of grated cheese...because you know we gotta put some bacon cheeseburger in our Bacon Cheeseburger Monkey Bread.
Oh, and butter. You could use olive oil instead, but since this recipe clearly isn't intended to be health food, I say go for the butter.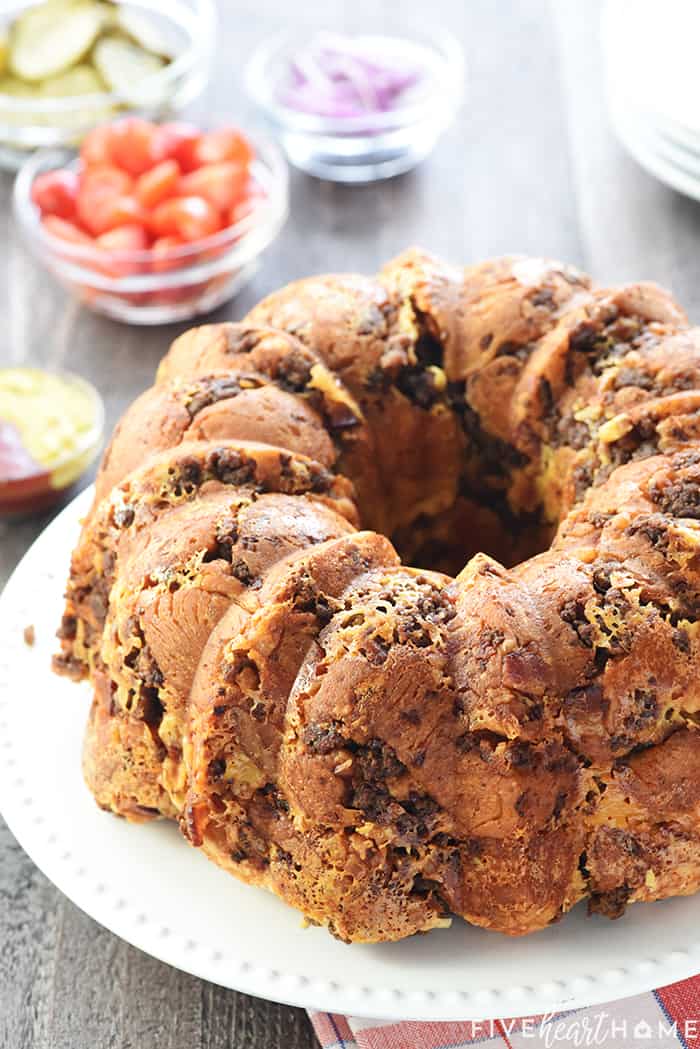 How to Make Cheesy Monkey Bread
To assemble the whole shebang, the steps are simple:
You start out by quartering the biscuits.
Toss them with the melted butter and the browned ground beef, cooked bacon, and shredded cheddar.
Then transfer the entire mixture to a greased bundt pan -- adding extra cheese, for good measure.
And finally, bake until the biscuits are golden brown.
Quick. Easy. Fight-over-the-last-piece-scrumptious.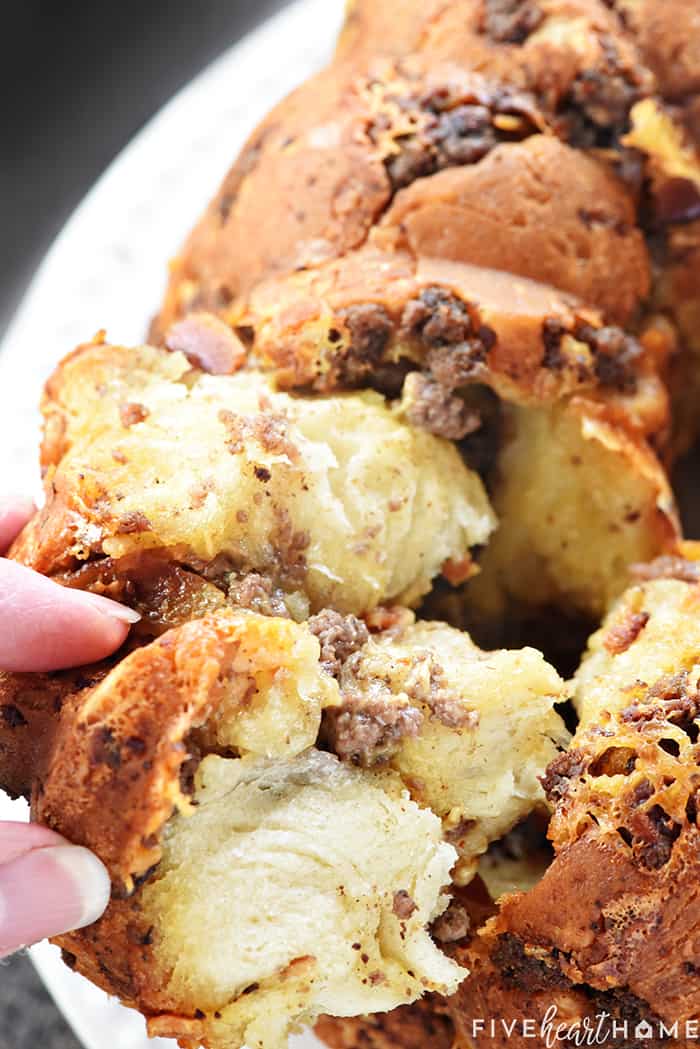 How to Serve It
To serve, overturn the warm monkey bread onto a platter and set it out with classic cheeseburger toppings like pickles, tomatoes, onions, mustard and ketchup.
You'll be amazed at how bacon cheeseburger-esque this monkey bread tastes once garnished!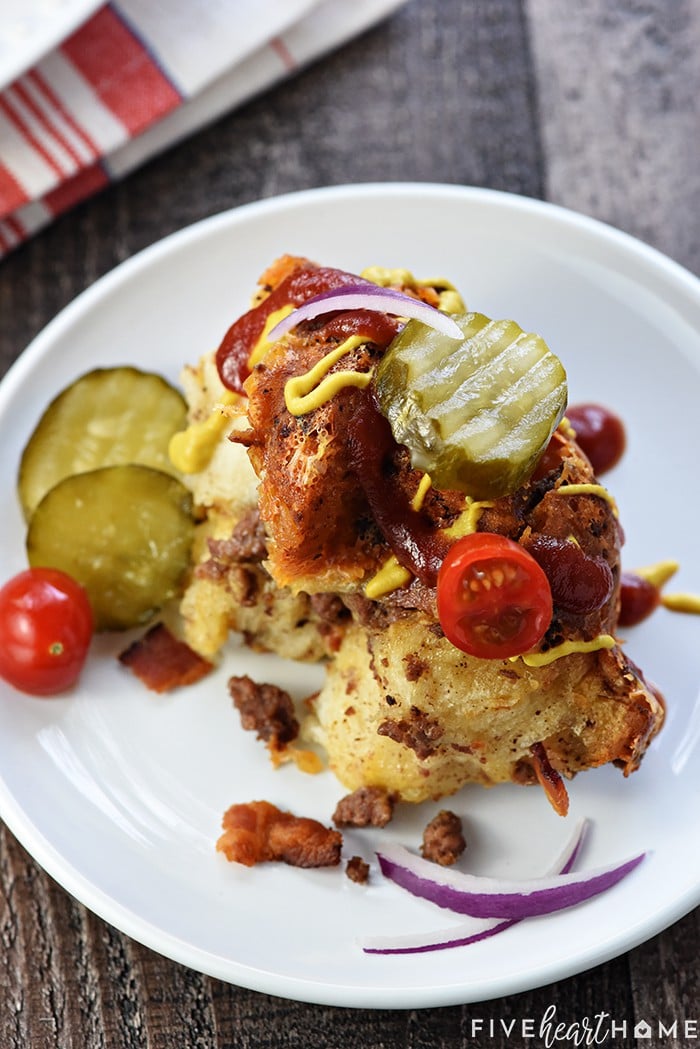 This appetizer is best served straight from the oven, but don't fret too much about keeping it warm...it'll be gone before you know it. The outside bakes up somewhat crunchy and the interior stays soft and gooey and there's a bit of meat and cheese in every bite.
Yes, indeed-y...Bacon Cheeseburger Monkey Bread is pretty much the most satisfying Super Bowl snack you'll have on your roster this Sunday.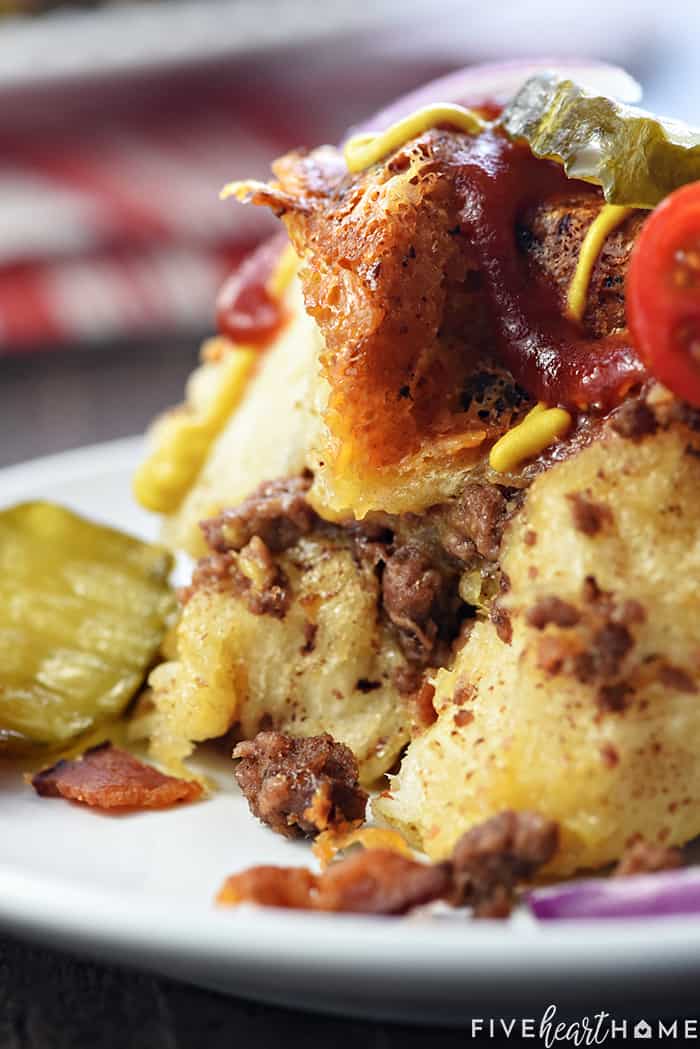 Unless, of course, you're dining on crab claws with Puff Daddy. Or P Diddy. Or Diddy. Or whatever he calls himself these days.
In which case, you'd be wise to enjoy some of this monkey bread on Monday morning instead... 😉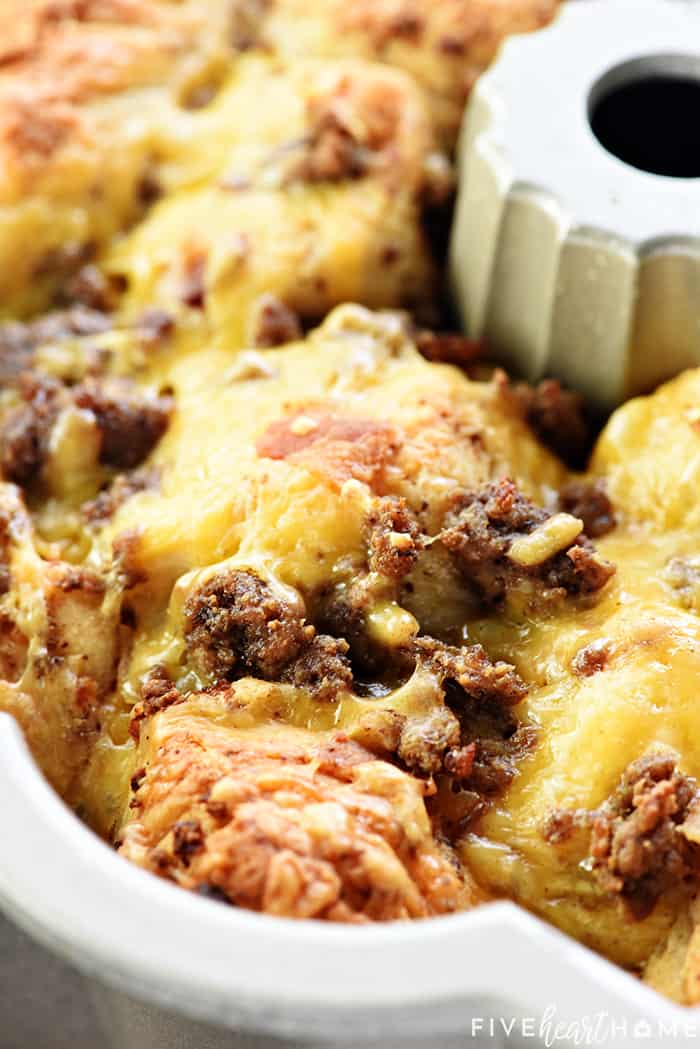 Tips, Tricks, & Equipment
This recipe will fit in a standard-sized bundt pan...here's my favorite one.
When you bake this monkey bread, you want to make sure your biscuits are done in the center. But you don't want them get too dark around the edges! I baked my pan for 45 minutes and I think that was about five minutes too long. But it all depends on your oven and the pan that you use.
Odd are you'll need to lay a sheet of foil on the top of your pan towards the end of the baking time to prevent your bread from turning too dark. Check the top at 25 minutes and then every 5 minutes after that until (and if) you think it needs to be covered.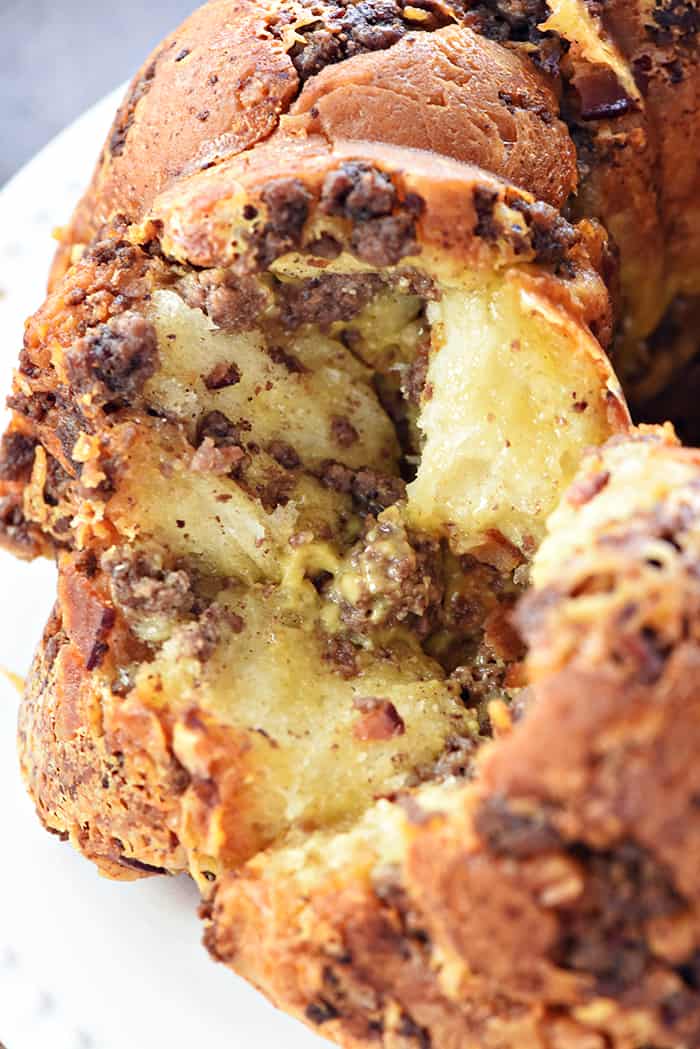 Before overturning it, I loosened my monkey bread with a plastic knife to avoid scratching the pan. Be sure to loosen the outer edge of the pan as well as around the center ring.
If you prefer not to cook your bacon on the stove, you can bake it. Arrange it in a single layer in a foil-lined 9- by 13-inch pan and cook at 400°F for 15 minutes or until crispy. Then drain and chop.

More Super Bowl Snacks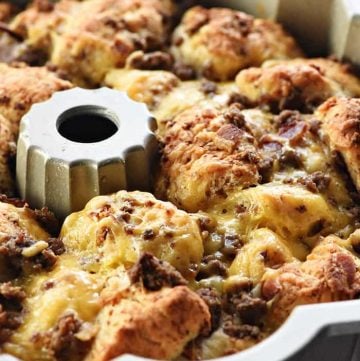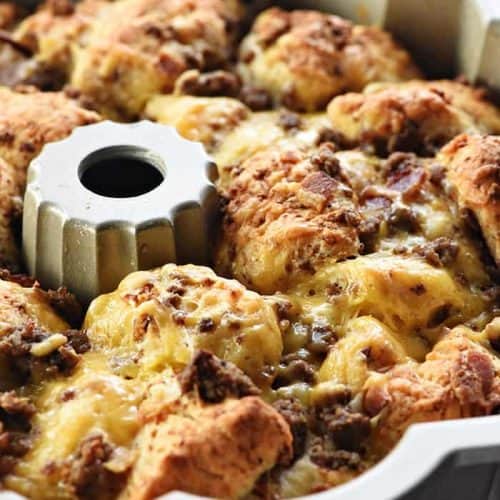 Bacon Cheeseburger Monkey Bread
Bacon Cheeseburger Monkey Bread is loaded with ground beef, bacon, and cheddar...a gooey, savory, pull-apart snack that's perfect for Super Bowl or any party!
Print
Pin
Rate
Ingredients
8

ounces

bacon

1

pound

ground beef

2

cloves

garlic

,

minced

Salt and freshly ground black pepper

2

(16-ounce) cans jumbo refrigerated biscuits

6

tablespoons

butter

,

melted (plus additional for greasing pan)

2

cups

(8 ounces) grated sharp cheddar cheese

Optional garnishes: chopped pickles, tomatoes, onions, mustard, ketchup
Instructions
Adjust oven rack to center position and preheat oven to 350°F. Generously grease a full-sized bundt pan with butter and set aside.

Use sharp kitchen shears to carefully snip the bacon into pieces into a large pot set over medium high heat. Cook, stirring frequently, until crispy. Drain bacon on a paper towel-lined plate and set aside; pour the grease from the pot. In the same pot, cook the ground beef until browned; stir in the minced garlic and cook for a minute more. Generously season with salt and pepper, to taste; set aside.

Quarter the biscuits and place in a large bowl. Pour the melted butter, cooked beef, cooked bacon, and half of the cheese over the top and immediately toss/stir to combine. Transfer the biscuit mixture into the prepared bundt pan, sprinkling more cheese between the layers until all of the cheese has been used up. Make sure the top of the biscuit mixture is fairly level once the pan is full.

Bake for 30 to 45 minutes, until the biscuits are cooked through and golden on top. Check frequently and cover with a sheet of foil if the tops start to get too dark. Allow the pan to rest on a cooling rack for 5 minutes before loosening the edges of the monkey bread with a plastic knife, placing a large plate or platter over the top, and overturning. Serve immediately, pulling apart and topping with optional garnishes.
Calories:
318
kcal
|
Carbohydrates:
2
g
|
Protein:
13
g
|
Fat:
27
g
|
Saturated Fat:
13
g
|
Cholesterol:
74
mg
|
Sodium:
359
mg
|
Potassium:
168
mg
|
Vitamin A:
370
IU
|
Vitamin C:
0.2
mg
|
Calcium:
148
mg
|
Iron:
1.1
mg
Originally published January 29, 2019.