I've been stuck in a rut. A zucchini rut.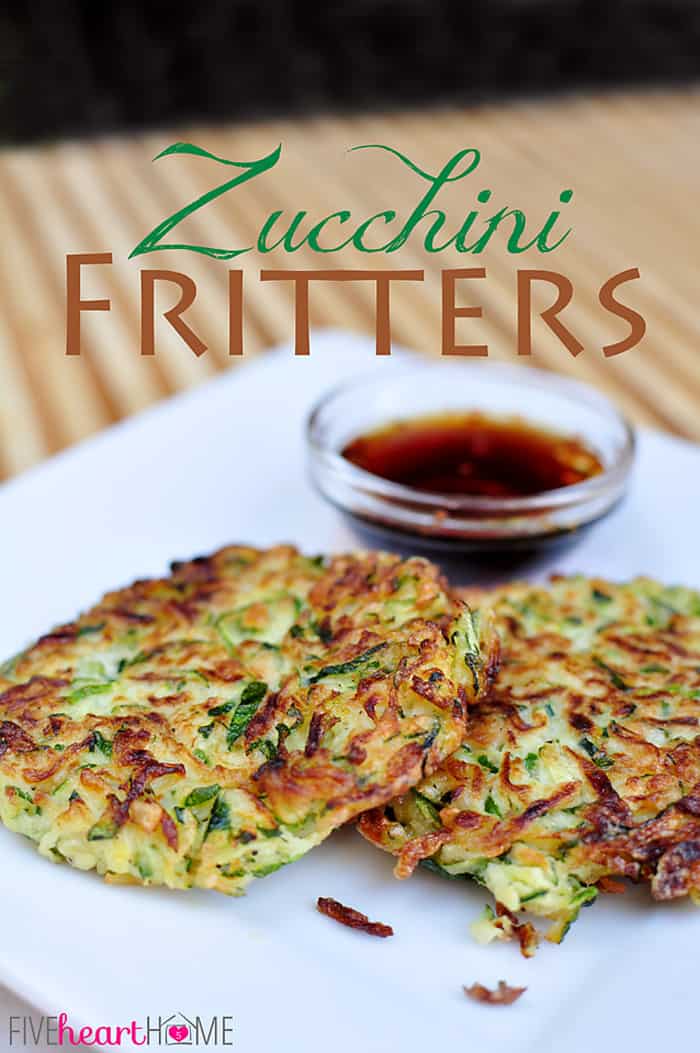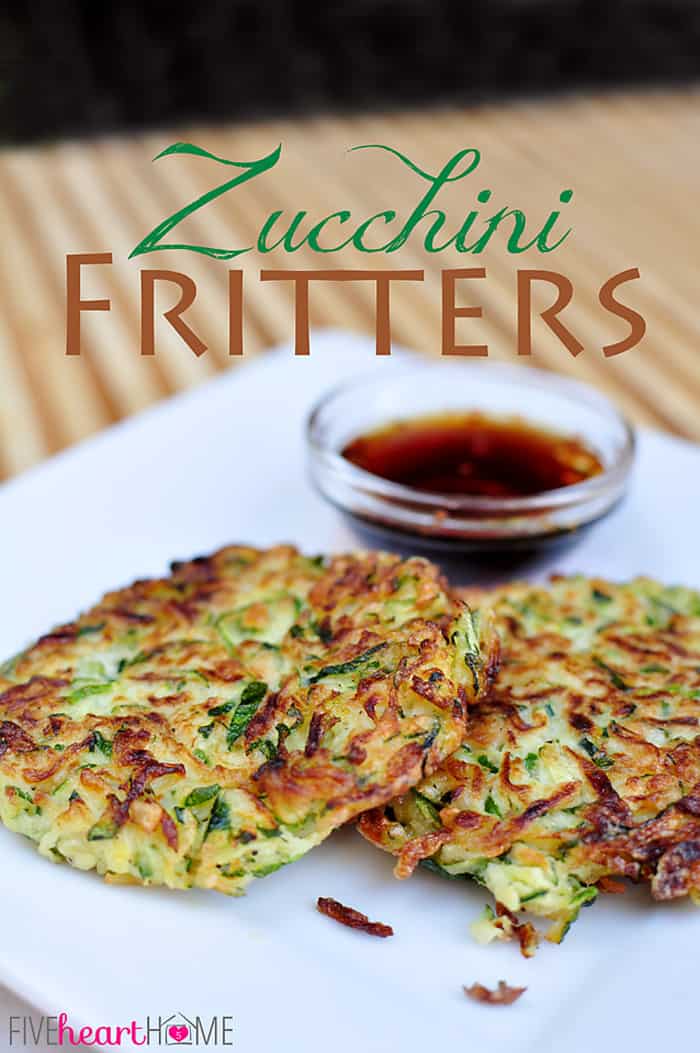 When this dark green summer squash lands in my kitchen, it invariably meets one of three fates:
1. I slice it into rounds and bake it topped with Parmesan cheese;
2. I shred it up and bake it into some form of zucchini bread or muffins; or
3. I shred it up and hide it in various meals consisting of ground beef plus some dark-colored sauce in order to trick my kids (and husband?) into eating more vegetables (sneaky tutorial found here!).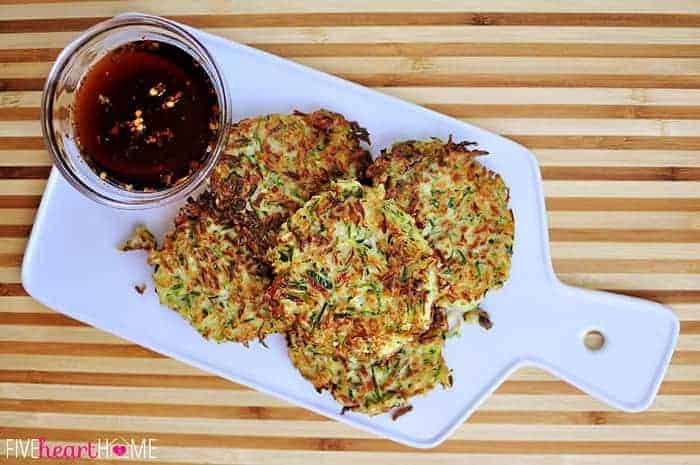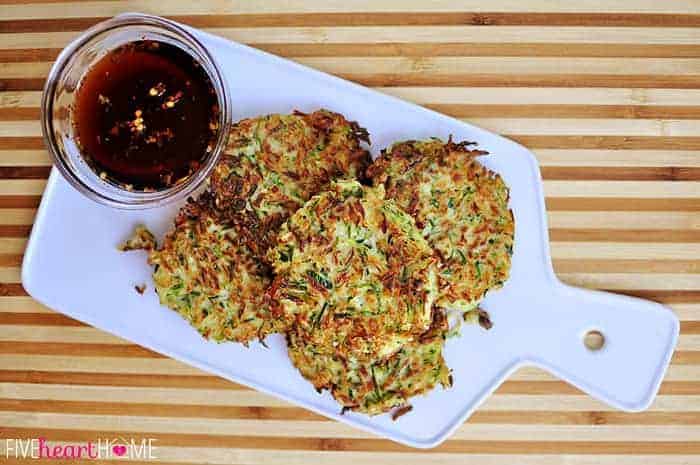 Now while all of these are perfectly acceptable and appetizing ways to use up an abundance of garden fresh zucchini, this past weekend I decided that I could do better. There had to be some form of zucchini recipe greatness out there that could be added into our currently stagnant rotation.
Enter Zucchini Fritters.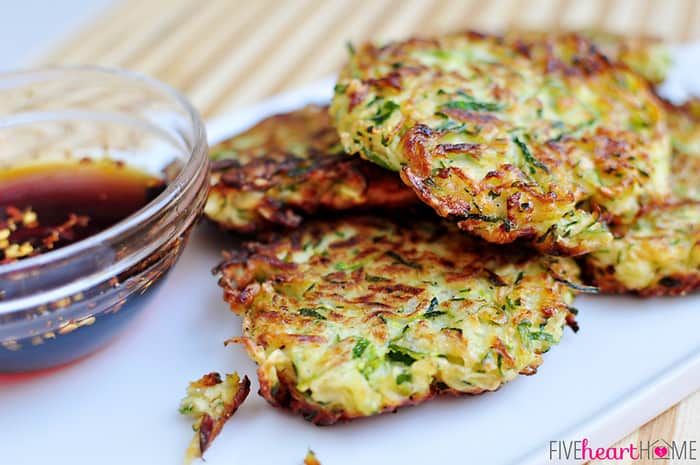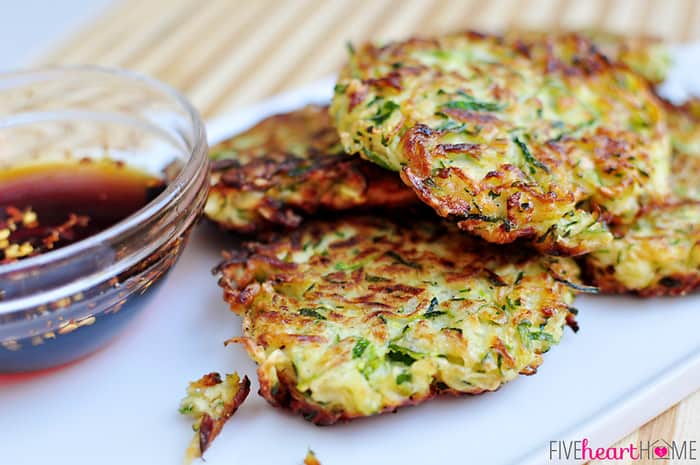 It's not very common that I fry up my family's veggies, but when I came across this recipe, it struck a chord as just what I'd been looking for to shake things up. Indeed, these golden beauties whipped up in no time, and between their crispy exteriors, creamy interiors, and savory sweet dipping sauce, they were just the thing to remedy my zucchini rut.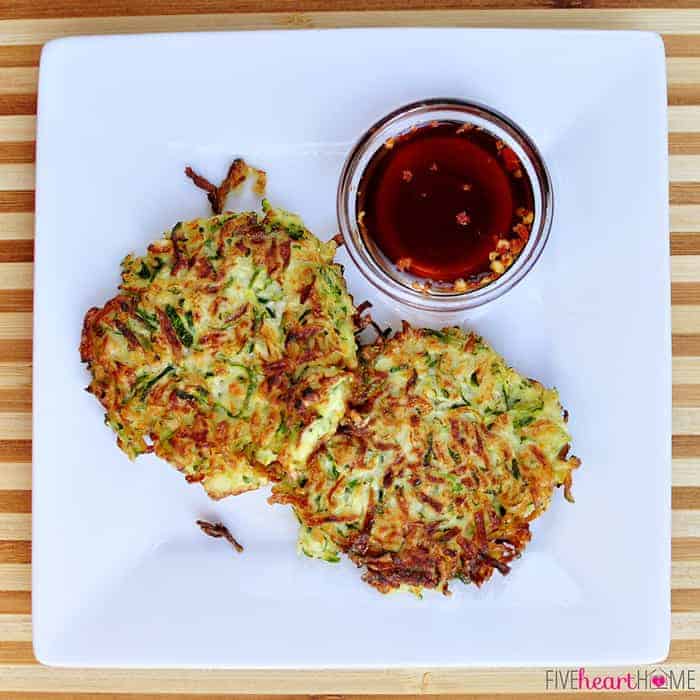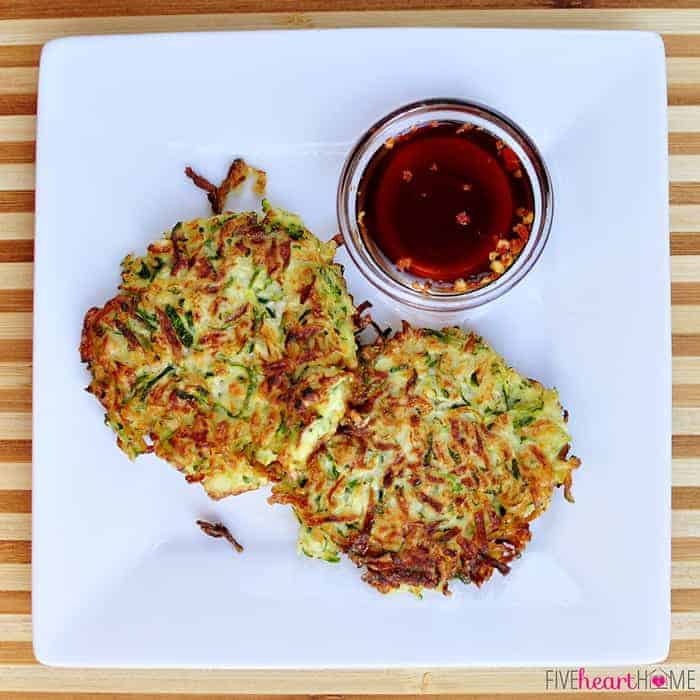 Reminiscent of potato latkes, these zucchini fritters are paired with an Asian-inspired dipping sauce in lieu of sour cream and applesauce. But you want to know the truth? My kiddos enjoyed them with ketchup instead (which comes as no surprise seeing as how my three-year-old has been known to dip his grapes in ketchup). But hey…whatever gets them to willingly eat zucchini is fine by me. As for the rest of you who are past the age of ketchup adoration, I highly recommend throwing together the dipping sauce. It elevates these already-tasty fritters to the next level, and I just don't think this recipe would be the same without it.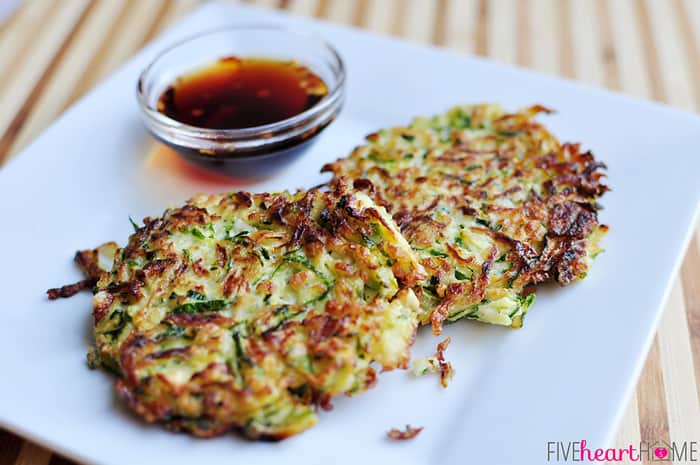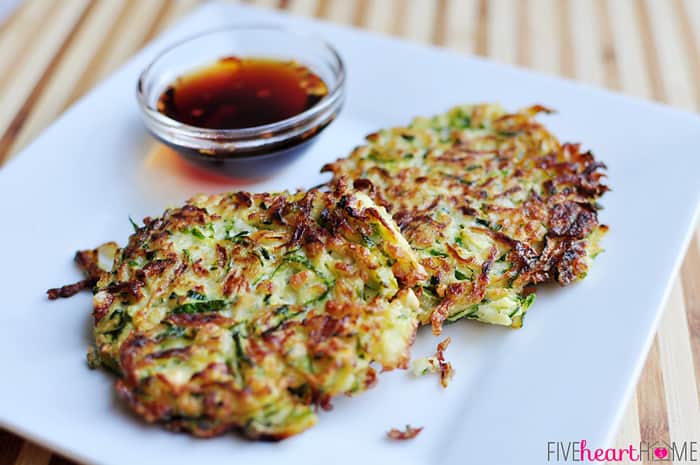 So if you're looking for a satisfying summer side dish that's a bit different than your typical fare, I highly recommend giving these fritters a whirl! Serve them hot and watch them vanish. What zucchini rut?
Adapted from Bon Appétit.
This post is linked to Give Me the Goods Monday #17 at Rain on a Tin Roof, Totally Tasty Tuesdays #15 at Mandy's Recipe Box, Pin It Monday Hop #17 at Pursuit of Functional Home, Tuesday Talent Show #93 at Chef-in-Training, Lil' Luna Link Party 136 at Lil' Luna, What's In Your Kitchen Wednesday #31 at Kitchen Meets Girl, and Wednesday Extravaganza #37 at Hungry Little Girl.