Baked Parmesan Summer Vegetables feature roasted zucchini, squash, and tomatoes topped with melty golden cheese for one of the BEST summer vegetable recipes!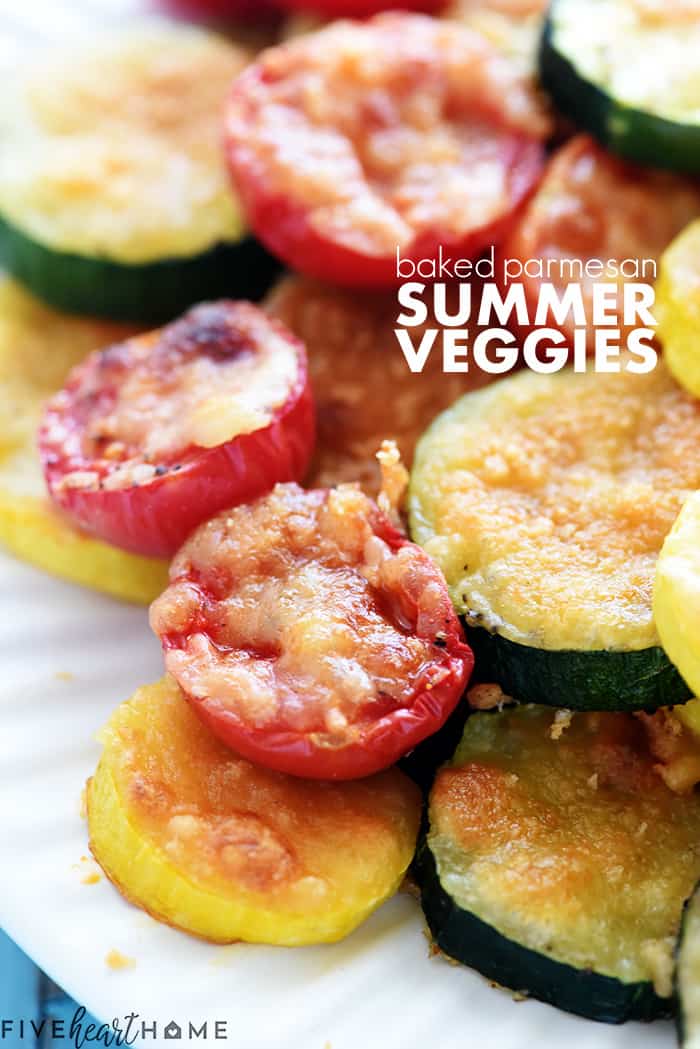 Today's scrumptious, addictive, veggie-loaded recipe is one you don't want to miss...Baked Parmesan Summer Veggies!
I don't know why I never attempted this particular combo of Baked Parmesan Summer Vegetables sooner. Because for over four years now, my Baked Parmesan Zucchini Rounds have been one of my top recipes each and every summer. And then last year, when I figured out that Baked Parmesan Yellow Squash Rounds were just as delicious, that recipe immediately took off, too.
But to roast Parmesan-showered zucchini and squash at the same time on the same pan? And throw in juicy little tomatoes for good measure? Preposterous!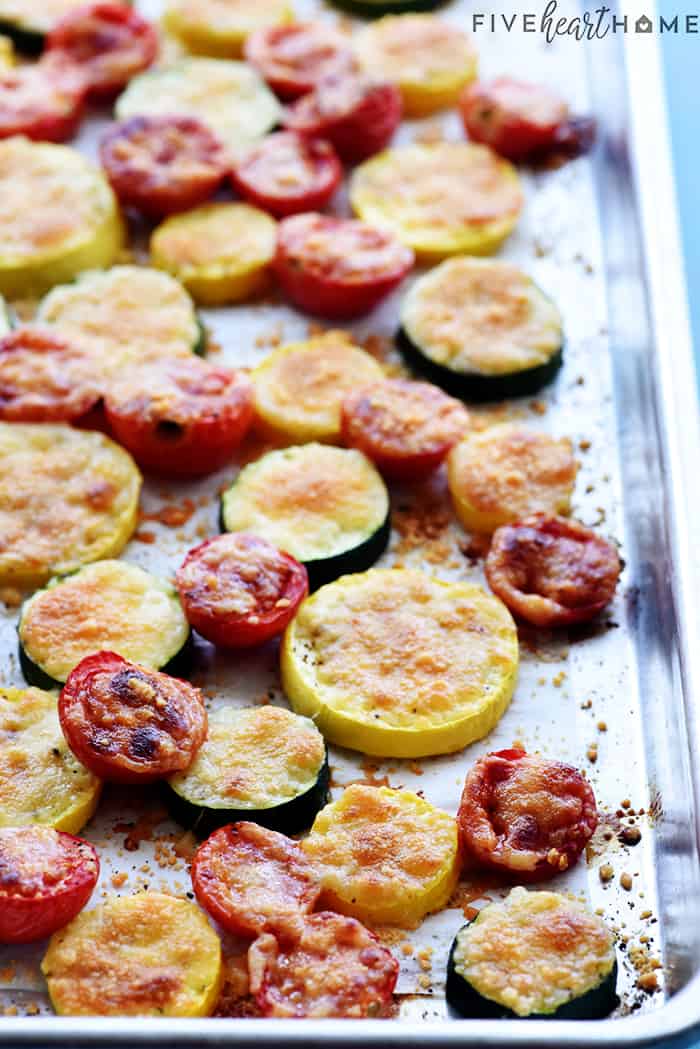 Actually, amazingly addictive.
Indescribably tasty.
Bordering on brilliant, if I do say so myself.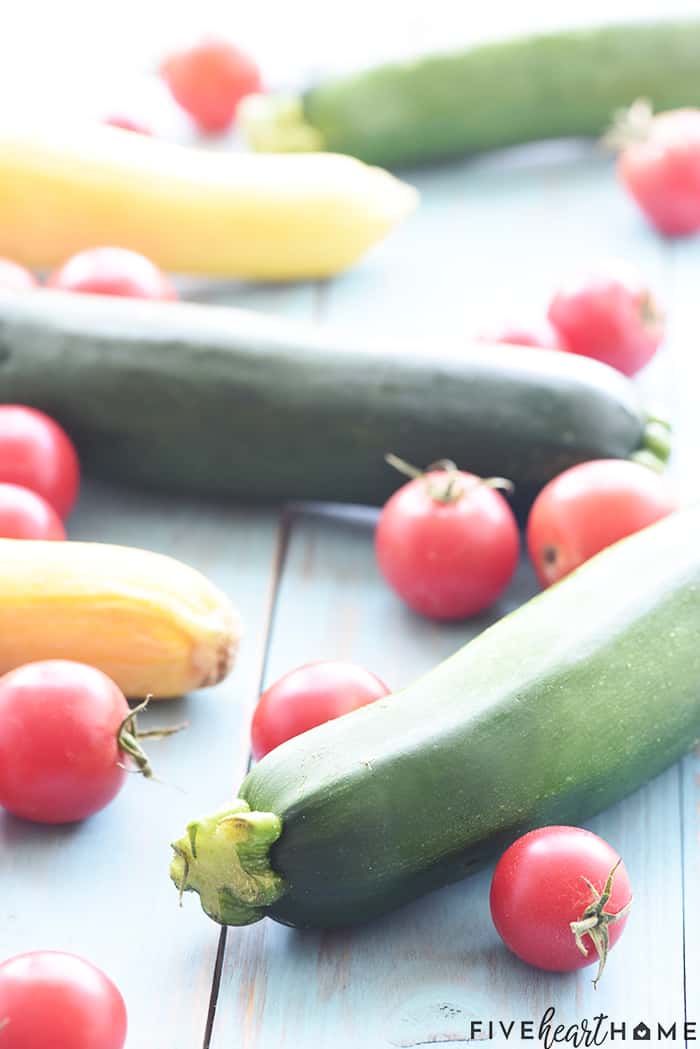 How to Make It
So how does it all work and what makes this recipe so gosh darn good?
Well, you start out by slicing fresh zucchini and yellow summer squash into rounds, about ¼-inch thick. And while you're at it, find some bright red, juicy little tomatoes and cut those into halves.
Scatter them all over a lined sheet pan into a mostly single layer (but a bit of overlap is fine).
Sprinkle 'em with garlic salt and pepper.
And then take a little spoon and put a small mound of freshly grated Parmesan cheese on top of each veggie.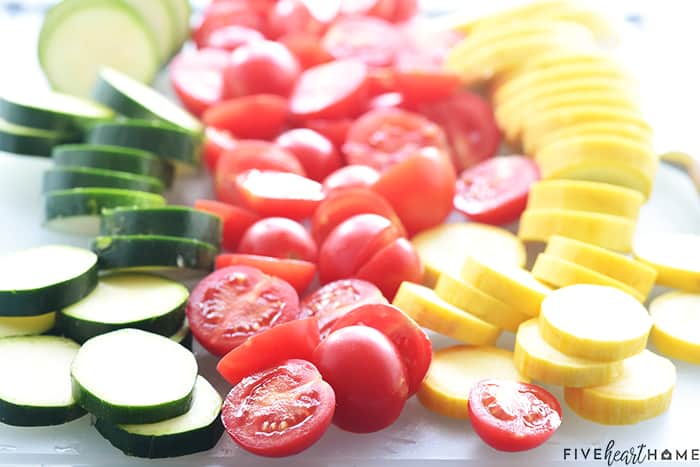 This is actually a quicker process than it sounds. I like to use a spoon as opposed to just sprinkling the whole pan with Parm so that most of it ends up on the actual vegetables. But you absolutely do not have to adhere to my spoon rule if you happen to be less Type A than I.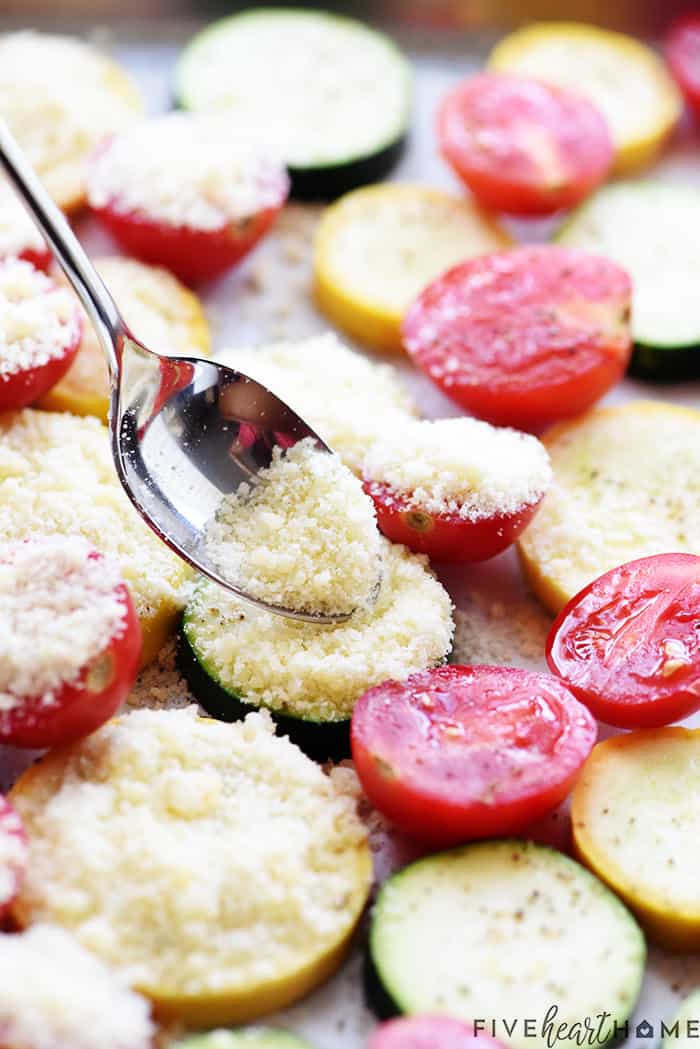 After your zucchini and squash and tomatoes are blissfully covered in cheese, pop the pan in the oven for about 20 minutes until the veggies are tender and the cheese is golden brown.
And then...DIG IN! I think this tasty summer side (or snack! or appetizer!) is best enjoyed warm out of the oven.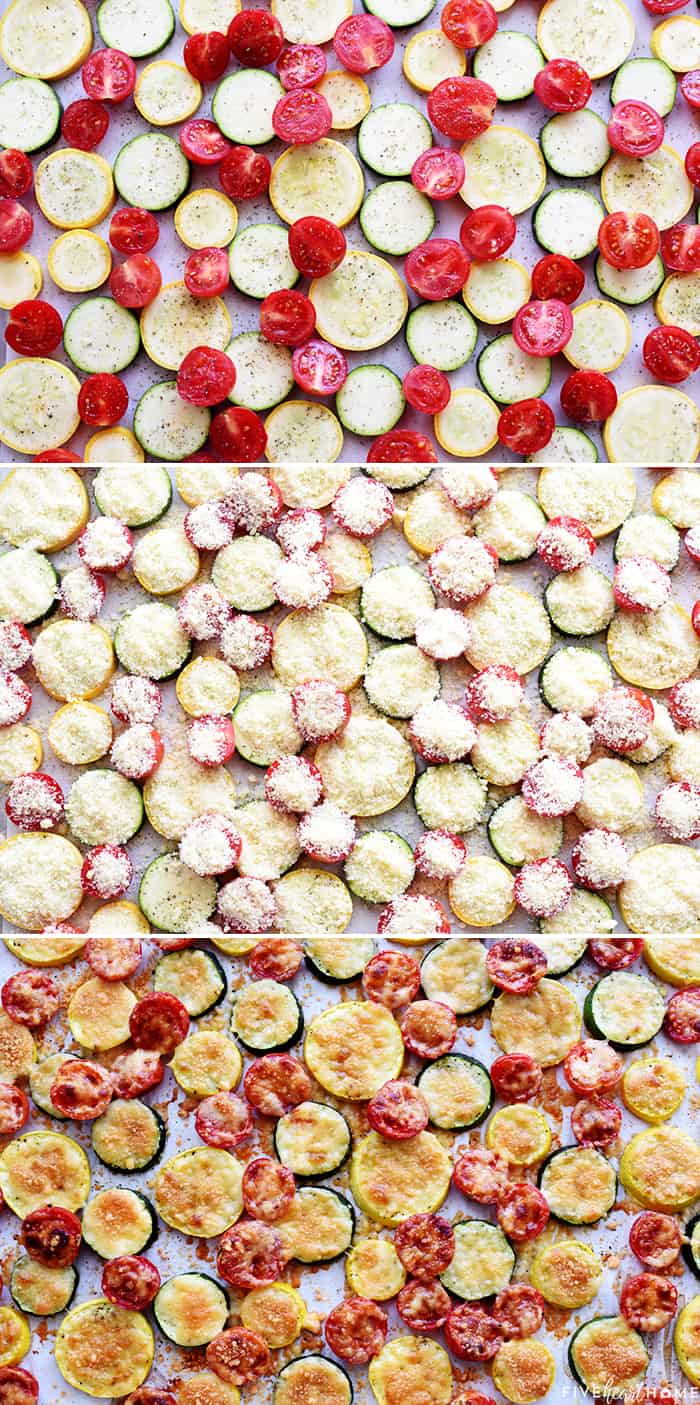 But my middle child can attest that it's quite yummy at room temperature as well.
Seriously, you know vegetables are good when your 8-year-old asks if he can have a bowl of them for a snack as soon as you're finished taking your pictures.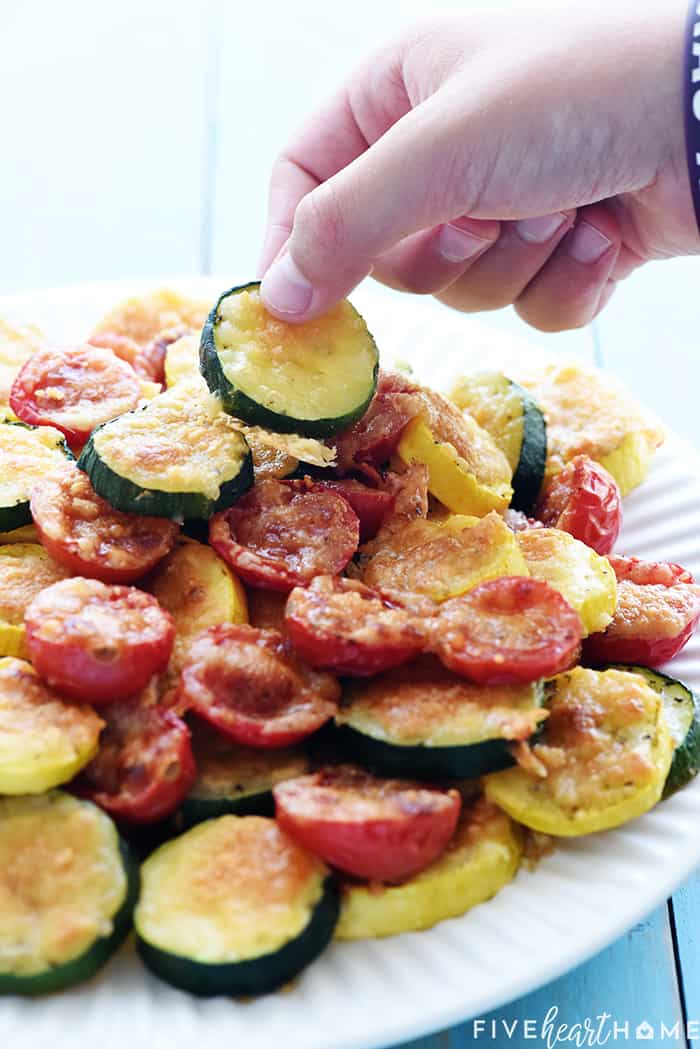 What Makes This Recipe Great
I actually think that I love these Baked Parmesan Summer Veggies even more than when I used to cook them separately.
First off, oven roasting vegetables at a high temperature brings out their natural sweetness. This is especially true of those little ruby gem tomatoes. The Parmesan cheese is salty and the zucchini and squash cook down nice and soft. So when you take a big, combined bite that includes a tomato? That pop of juicy sweetness is the perfect balance to the other veggies and the salty, chewy cheese.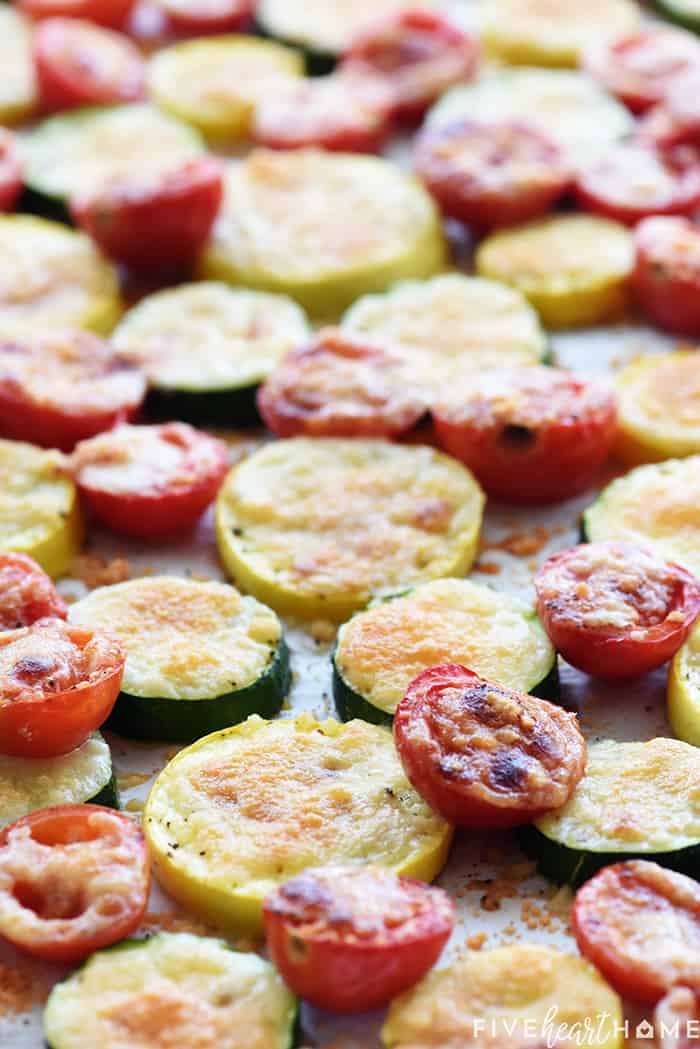 I also love this recipe because it's such a great, tasty way to use up an overabundance of garden produce. You know what I mean if you have a garden...or if your in-laws have a garden...or if your neighbors have a garden...or if any acquaintance within a 20-mile radius has a garden.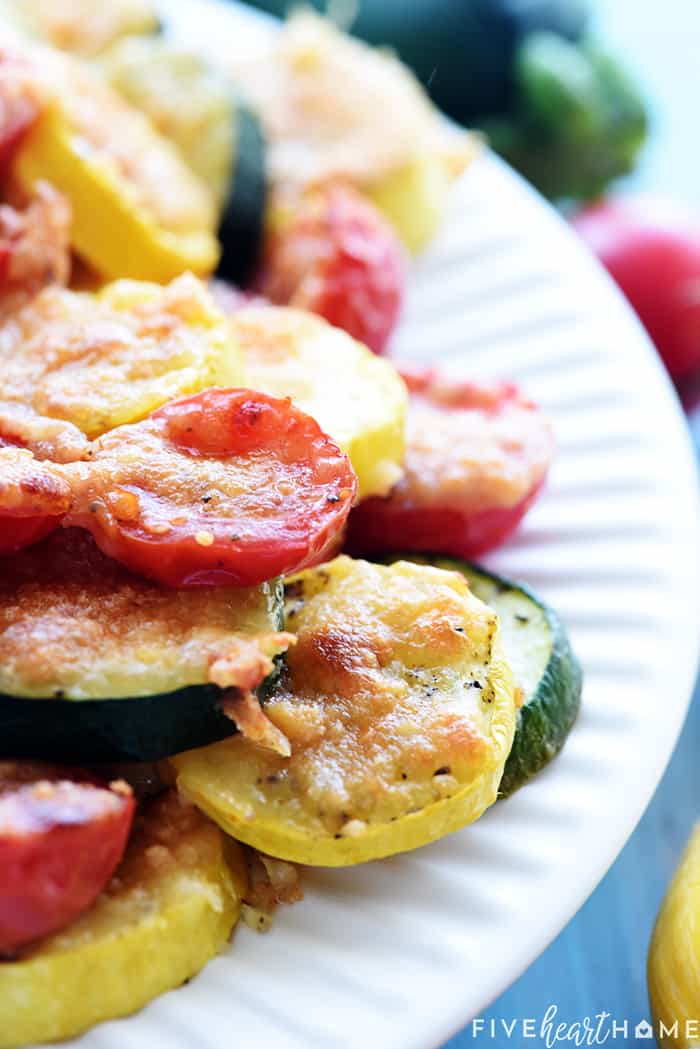 A Bounty of Summer Vegetables
When the zucchini and squash and tomatoes are ready to harvest, they don't come off the plants a bit at a time. You have masses, mounds, BOATLOADS of veggies ready to eat all at once! So you give away as many as possible to said relatives and neighbors and friends. And you preserve what you can. And then you eat the rest! Every night for a month, if need be.
But I promise that this Baked Parmesan Summer Veggies recipe is an amazing summer side dish that you won't mind eating repeatedly...straight on into the fall, since that's where we're headed soon. In fact, I think you're going to LOVE it!❤️
P.S. Summer vegetable recipes are still in full swing! But do you have any recipe requests for this fall and winter? I'm in Enthusiastic Planning Mode right now and I'd love to hear what you'd love to see!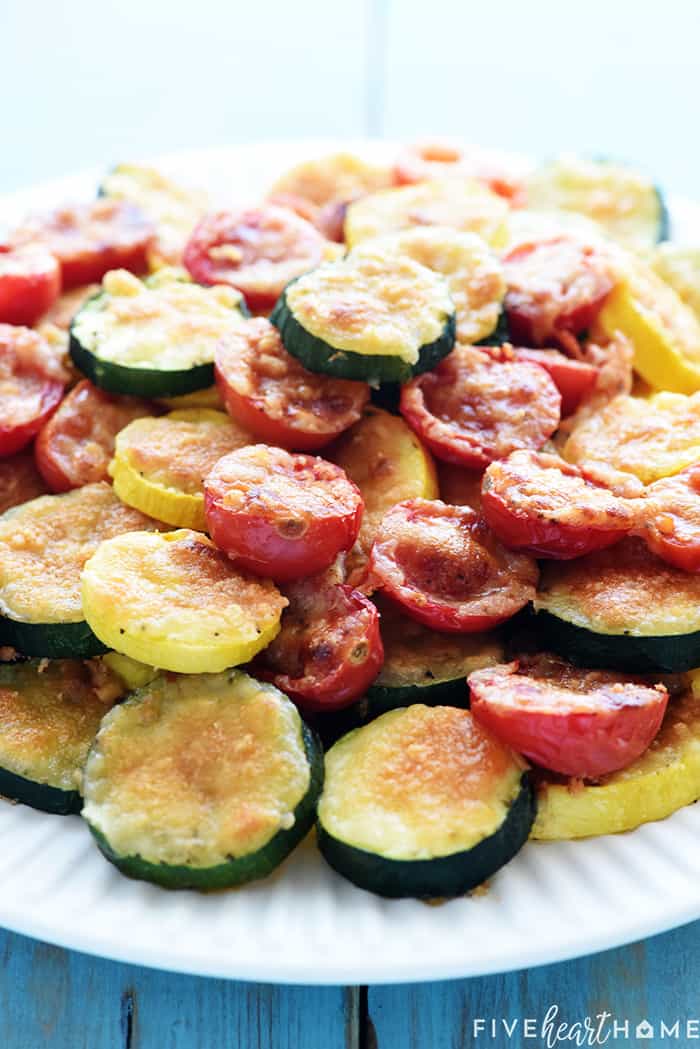 Helpful Tips, Tricks, & Equipment
The sheet pan used for this recipe measures 18- by 13- inches with a 1-inch rim, commonly referred to a half sheet pan. I lined mine with parchment paper for easier clean-up.
I prefer using zucchini and squash on the smaller/skinnier side so that I'm not dealing with a lot of seeds.
The zucchini and yellow squash should be sliced about ¼-inch thick. They will soften and shrink (in diameter and thickness) as they cook.
I recommend using small tomatoes (cherry or grape tomatoes) and cutting each one in half. You may use larger tomatoes instead, cut into slices, but you'll probably want to remove most of the seeds and juices so that the excess liquid doesn't soak into all of the other veggies on the pan.
If you don't have garlic salt, simply sprinkle the veggies with salt and pepper plus a little bit of garlic powder. Or leave off the garlic powder if you wish.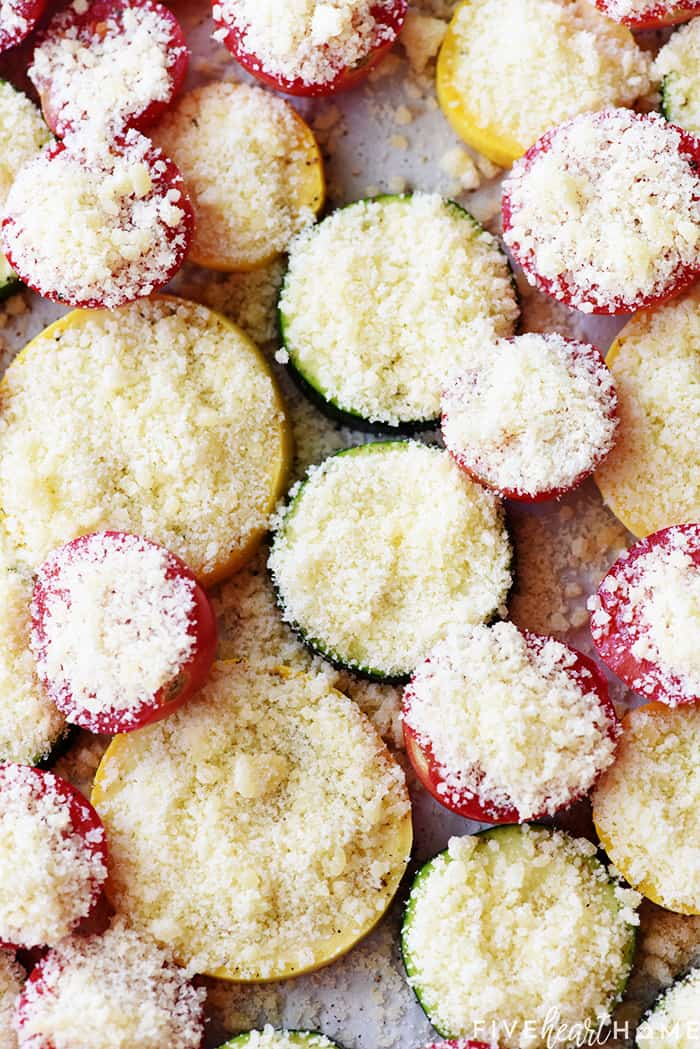 I usually broil these veggies for a minute or two at the end of the cooking time to get the cheese nice and golden brown. Just watch them carefully so they don't burn!
PLEASE use freshly-grated Parmesan for this recipe…you can either grate it yourself or buy it already-grated from the cheese counter area of your grocery store. Real, freshly-grated Parm melts more smoothly and results in the best flavor and texture. Fresh shredded Parmesan will work as well...it just may not melt as smoothly. If you use a different type of Parmesan (a tub or shaker with powdered cellulose or other preservatives added), be prepared for melting and browning (or non-melting and browning) that may look different than what you see in these pics.
You can use as little or as much cheese as you wish. I used close to ¾ cup to generously cover my whole pan of veggies. Just remember...Parmesan-covered vegetables are still healthier than Parmesan crisps without the vegetables!?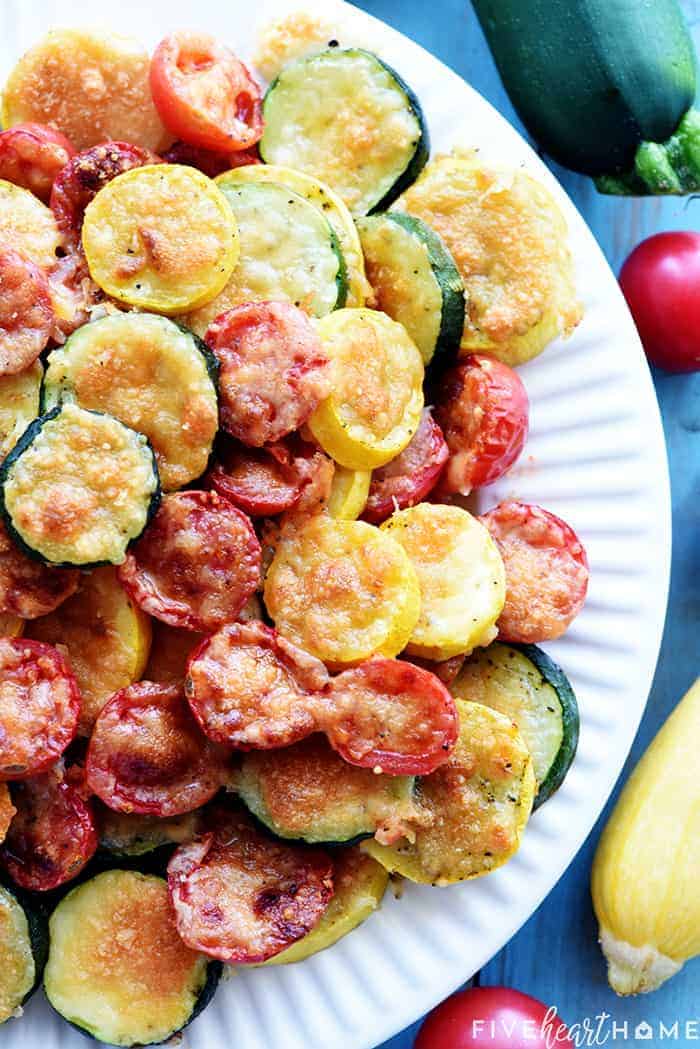 More Scrumptious Summer Vegetable Recipes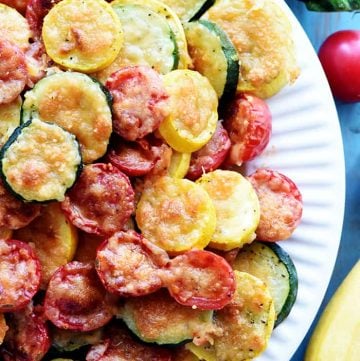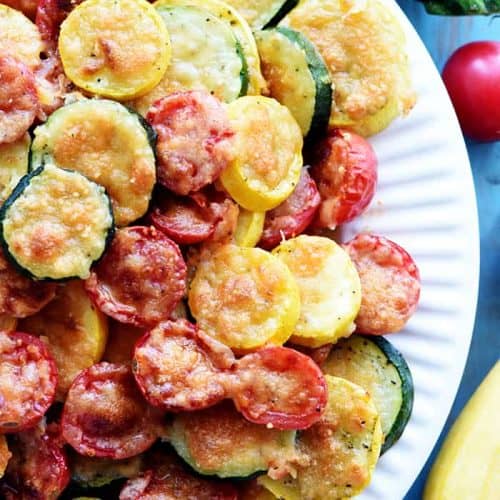 Baked Parmesan Summer Veggies
Baked Parmesan Summer Veggies -- featuring roasted zucchini, squash, & tomatoes topped with melty golden cheese -- are simple to make and absolutely addictive!
Print
Pin
Rate
Servings:
3
to 4 servings
Ingredients
1

medium-sized zucchini

1

medium-sized yellow summer squash

1

pint

of small tomatoes

Garlic salt & freshly ground black pepper

½ to ¾

cup

freshly grated Parmesan cheese
Instructions
Place an oven rack in the center position of the oven. Preheat the oven to 425°F. Line a baking sheet with foil (lightly misted with nonstick cooking spray) OR parchment paper.

Wash and dry the zucchini and squash, and then cut each one into ¼-inch thick slices. Evenly arrange the zucchini and squash rounds on the prepared pan. Wash, dry, and cut each tomato in half and place the tomato halves, cut sides up, in the empty spaces between the zucchini and squash rounds.

Lightly sprinkle the vegetables with garlic salt and freshly ground black pepper. Use a small spoon to spread a thin layer of Parmesan cheese on each veggie.

Bake for 15 to 20 minutes, or until the Parmesan melts and turns a light golden brown. (Watch these closely the first time you make them and pull them out of the oven early if the Parmesan is golden before 15 minutes. Alternatively, you may broil them for a minute or two at the end of the cooking time to speed up the browning.) Serve immediately.
Calories:
121
kcal
|
Carbohydrates:
11
g
|
Protein:
9
g
|
Fat:
5
g
|
Saturated Fat:
3
g
|
Cholesterol:
14
mg
|
Sodium:
269
mg
|
Potassium:
736
mg
|
Fiber:
3
g
|
Sugar:
7
g
|
Vitamin A:
1720
IU
|
Vitamin C:
44.4
mg
|
Calcium:
221
mg
|
Iron:
1
mg
Post originally published on August 15, 2018.