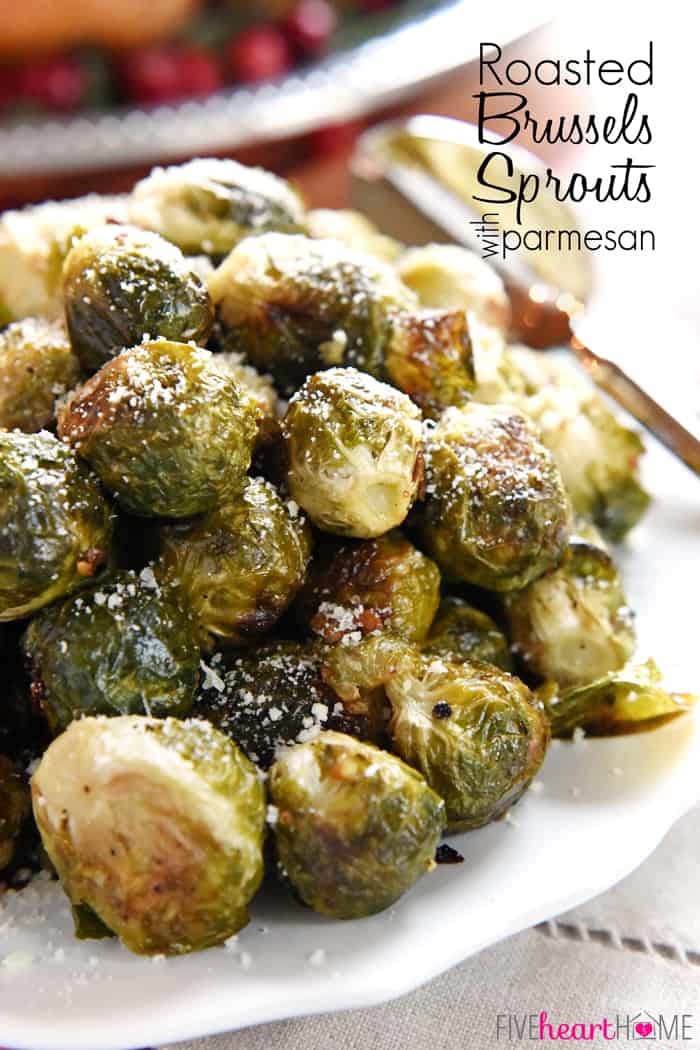 Simple seasonings boost flavor and roasting brings out the natural sweetness of these easy-to-prepare Roasted Brussels Sprouts with Parmesan!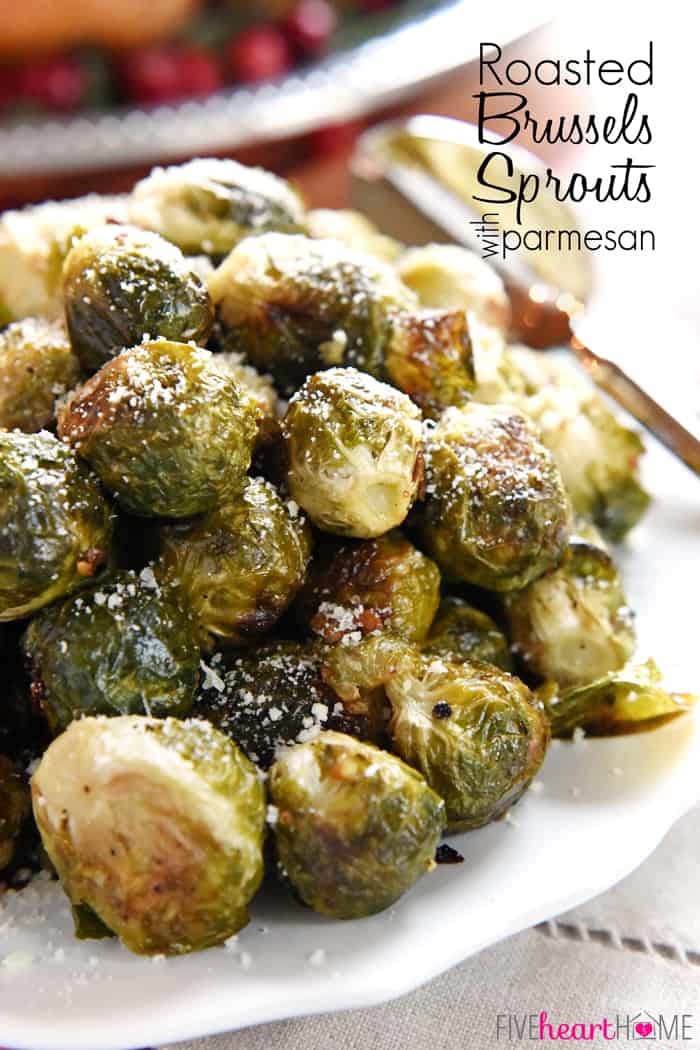 For many years, I was a proud member of the Not a Fan of Brussels Sprouts Club. After all, the ones I recalled from childhood originated from a can and were served on an avocado green melamine tray in my elementary school cafeteria. I mean, YUCK. Way to turn impressionable kids on to healthy green vegetables!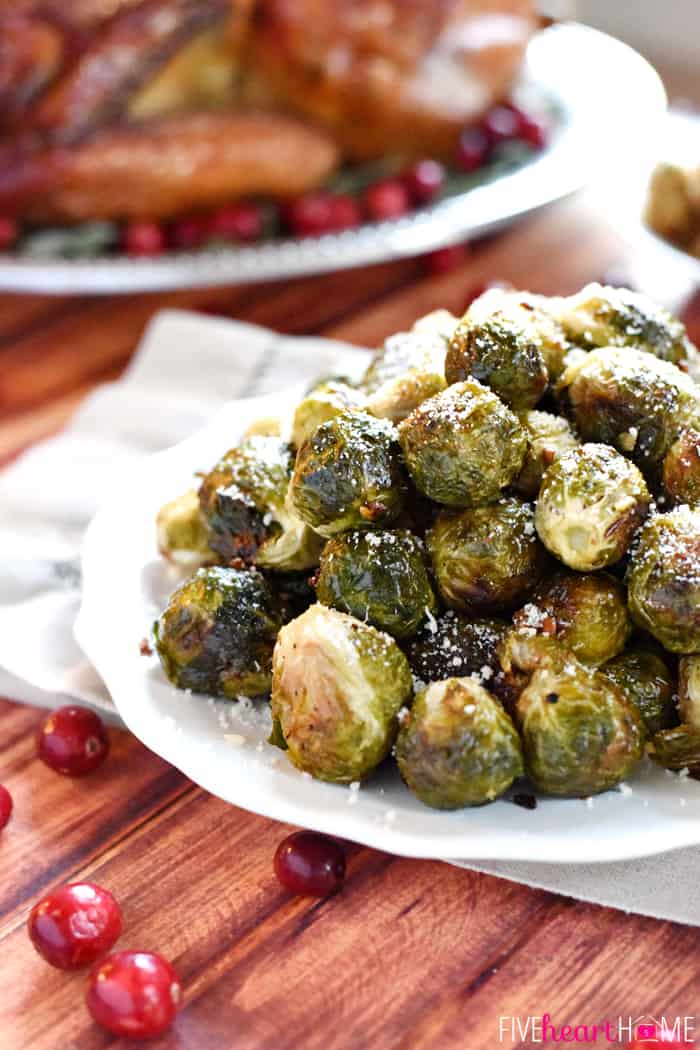 Anyway, it was many, many years before I conceded to give Brussels sprouts a fair chance, and boy was I glad I did! Shimmering with olive oil, seasoned with garlic powder, salt, and pepper, roasted until the edges turn brown and crispy, and then sprinkled with grated Parmesan cheese, these new-fangled Brussels sprouts bore no resemblance whatsoever to the pale, mushy lumps on my cafeteria lunch tray of yore. And Roasted Brussels Sprouts with Parmesan are not only delicious, but they're also easy to make! This is one of those recipes where basic ingredients and a straightforward preparation yield exponentially more flavor.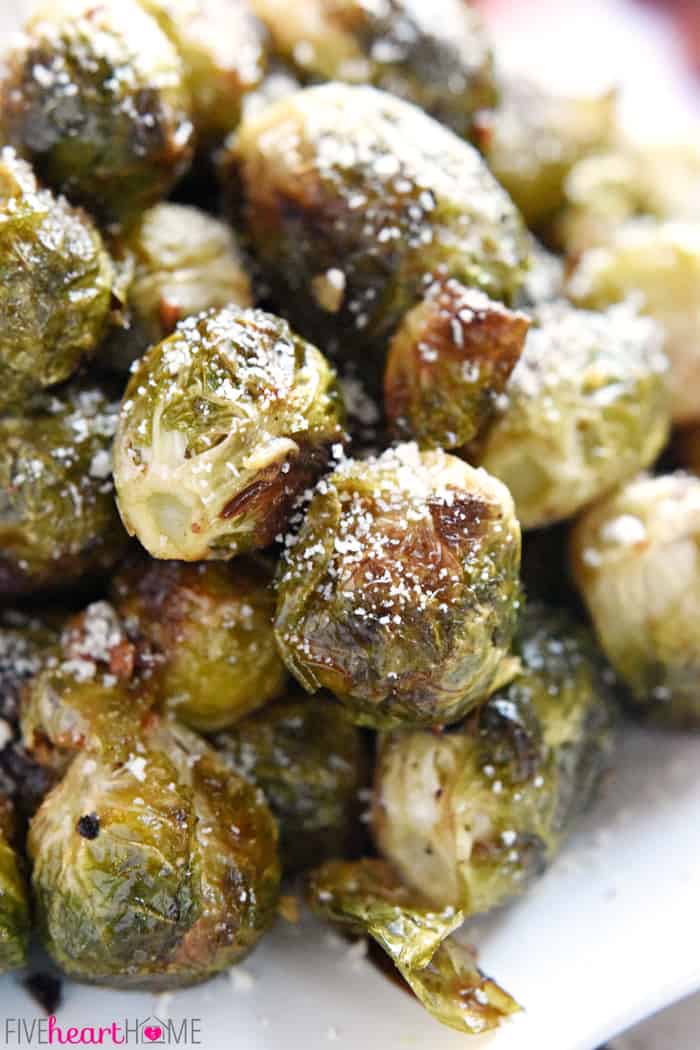 When I bought the Brussels sprouts for this batch, they were smaller than average. So while I typically cut my Brussels sprouts in half before roasting them, this time I left them whole. These intact 'sprouts still turned out tasty, but I have to admit that I prefer the results achieved by halving them. It just seems to me that the flat, sliced sides create more surface area to make contact with the baking sheet, which means more browning, which means more almost-burnt-but-in-a-good-way edges, which means YUM. Either way works, so experiment to see if you prefer halved or whole. If your Brussels sprouts are of varying sizes, you should probably cut the big ones in half anyway (while leaving the smaller ones whole) to ensure even cooking.
The key in either situation is monitoring them closely as they roast so that you can pull them out once they achieve that perfect shade of brown without becoming overcooked. And don't worry about some of the tiny leaves falling off and practically charring. Those are the best parts! If you don't see many in the photos here, it's because I ate them straight off the pan. (Ooops.)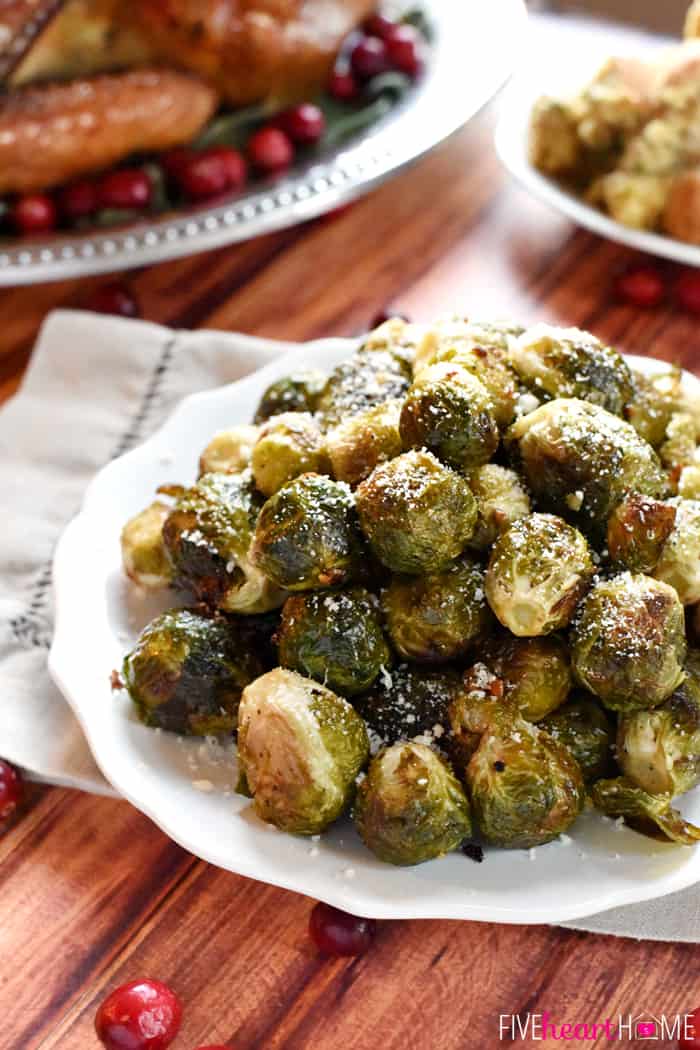 More often than not, I cook my Brussels sprouts with bacon because -- hellooo! -- bacon. But I decided not to do so here since this was a side dish for my Maple-Glazed Turkey with Bacon & Sage Butter, and clearly that's enough bacon for one meal. (Enough bacon for me? Not necessarily. Enough bacon to be considered socially acceptable? Perhaps.)
Anyhoo, if you'd like to bacon-ify these Brussels sprouts, just dice up about 8 strips of raw bacon into 1-inch pieces. After the Brussels sprouts have cooked for the first 10-minute increment, flip them over and sprinkle the bacon pieces on top (and then stir again every 10 minutes). The bacon will roast as the Brussels sprouts do, and everything should be nice and crispy by the end of the cooking time.
Similarly, if you want to add some fresh garlic to this recipe, toss a few cloves of minced garlic into your Brussels sprouts just before the last 10 minutes of cooking time (and you may have to stir everything around halfway through those 10 minutes to make sure the garlic doesn't burn).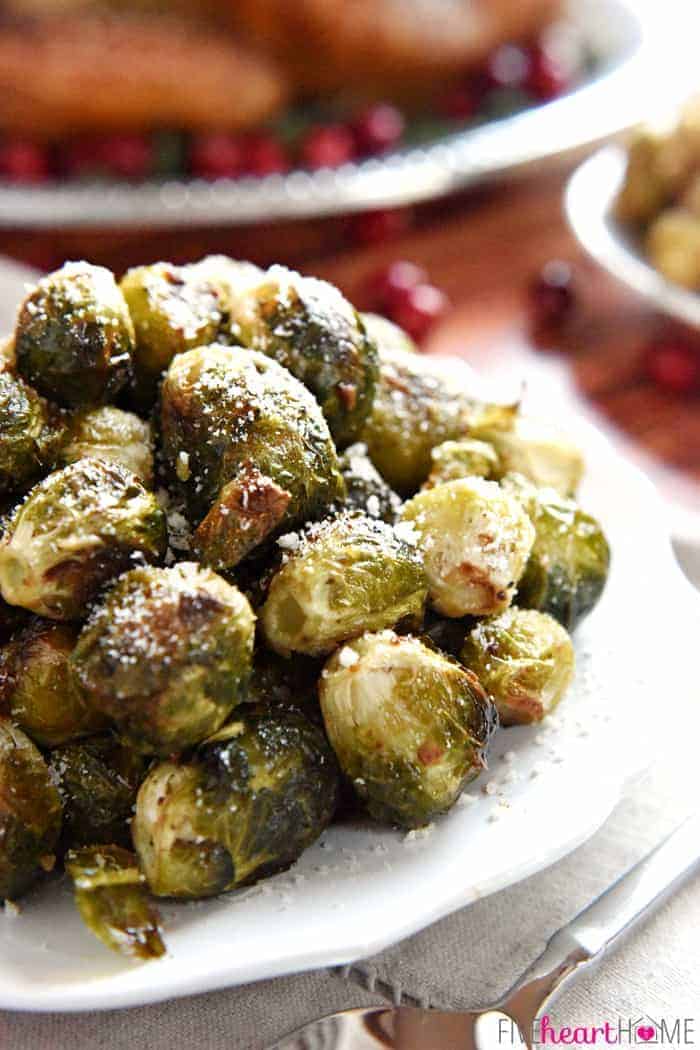 Of course, if you're a purist, the simple seasonings and Parmesan in the original recipe will still have everyone popping these suckers like candy!
Whether you serve these Roasted Brussels Sprouts with Parm at Thanksgiving, Christmas, or for an ordinary Thursday night supper, you might end up converting more than a few Not a Fans to enthusiastic Brussels sprouts eaters! And if not, next time try the bacon version...because sometimes you have to pull out the big guns. 😉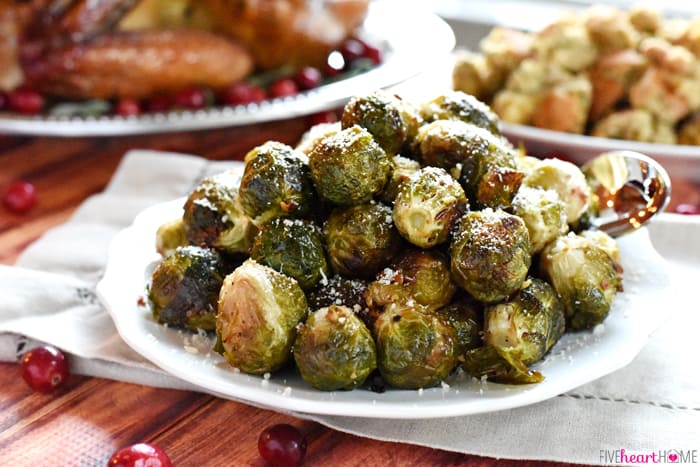 Roasted Brussels Sprouts with Parmesan Recipe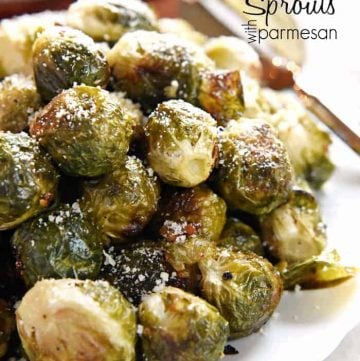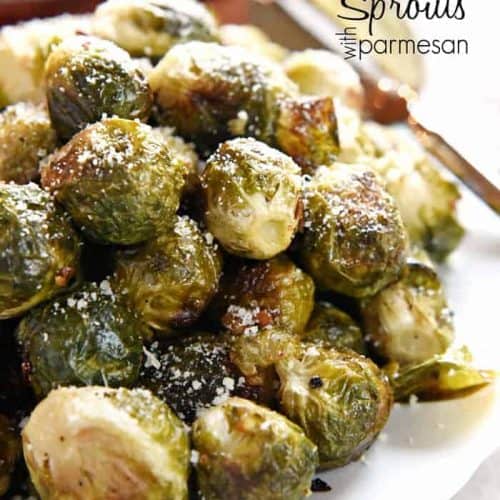 Roasted Brussels Sprouts with Parmesan
Simple seasonings boost flavor and roasting brings out the natural sweetness of these easy-to-prepare Roasted Brussels Sprouts with Parmesan!
Print
Pin
Rate
Servings:
4
to 6 servings
Ingredients
2

pounds

Brussels sprouts

3

tablespoons

extra-virgin olive oil

1

teaspoon

garlic powder

½

teaspoon

salt

Freshly ground black pepper

,

to taste

¼

cup

freshly grated Parmesan cheese
Instructions
Place rack in center position of oven. Preheat oven to 400°F. Trim each Brussels sprout by cutting off a small piece of the end and then cut sprout in half, lengthwise.

Place Brussels sprouts in a large bowl (or a gallon-sized plastic bag). Drizzle with olive oil and sprinkle with garlic powder, salt, and pepper. Gently toss Brussels sprouts (or shake in bag) until evenly coated with oil and seasonings.

Spread out Brussels sprouts in a single layer on a large rimmed baking sheet. Roast for 25 to 35 minutes, flipping every 10 minutes. Watch closely as the end of the cooking time nears. Brussels sprouts are done when they have crispy, golden brown exteriors and tender interiors. Taste (but blow on it first...it will be hot!) and add more salt and pepper, if necessary. Transfer Brussels sprouts to a serving bowl, sprinkle with grated Parmesan, and toss to coat. Serve warm.
Calories:
220
kcal
|
Carbohydrates:
21
g
|
Protein:
10
g
|
Fat:
13
g
|
Saturated Fat:
3
g
|
Cholesterol:
6
mg
|
Sodium:
444
mg
|
Potassium:
891
mg
|
Fiber:
9
g
|
Sugar:
5
g
|
Vitamin A:
1765
IU
|
Vitamin C:
192.8
mg
|
Calcium:
165
mg
|
Iron:
3.3
mg
More Tasty Sides