Roasted Brussels Sprouts with Balsamic, Pistachios, & Cranberries are crispy and addictive, for a special holiday side dish that's also easy enough for everyday!

If you enjoy Brussels sprouts, you'll also love Brussels Sprouts Gratin and Holiday Brussels Sprouts Salad!
Have you ever had a veggie so good that you pop it like candy and, before you know it, you've accidentally polished off the whole pan? Well, here ya go. Say hello to Roasted Brussels Sprouts with Balsamic, Pistachios, & Cranberries!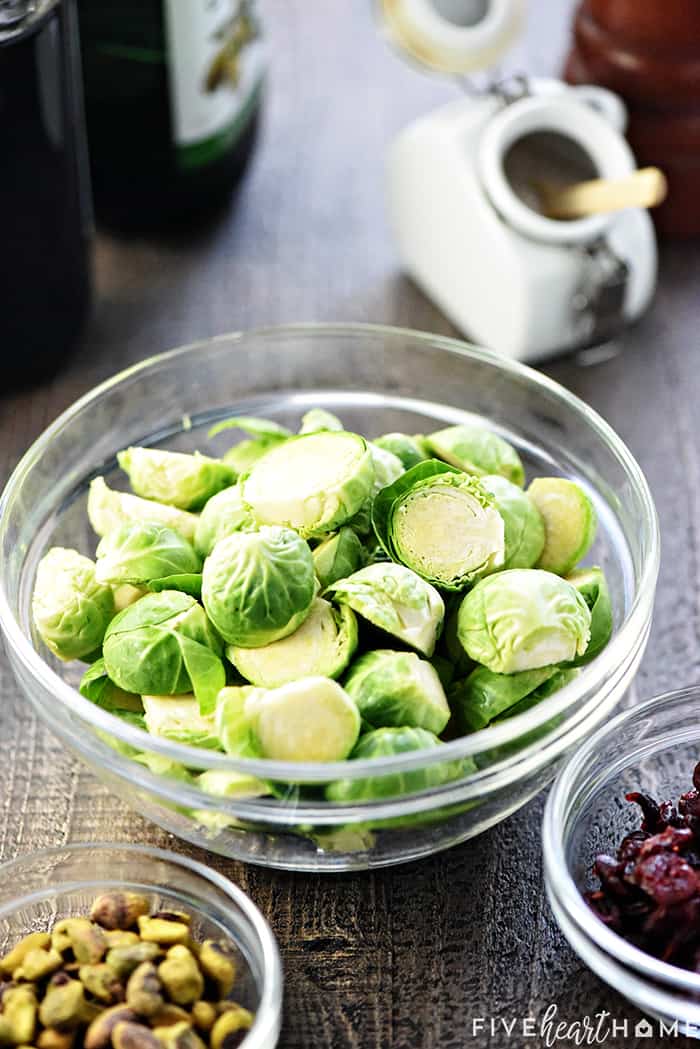 I have to admit that vegetables never constituted my favorite "food group" growing up. Luckily, over the years I've come up with a few methods for cooking veggies that make them so so so good that I just can't get enough. And this gorgeous holiday (or any day!) side dish just shot to the top of the list.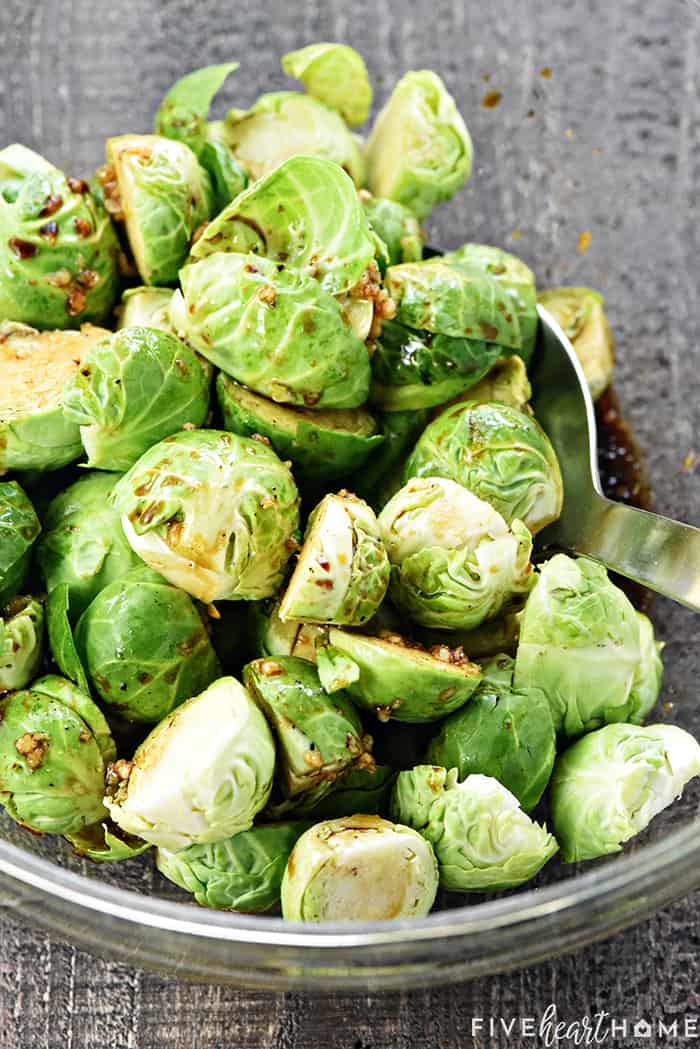 The Beauty of Roasting
If your familiarity with Brussels sprouts extends back to those mushy, putrid globs served on a rectangular plastic cafeteria tray back in your grade school days, well, I implore you to try roasting them. They're not even recognizable as the same vegetable, friends! In fact, I'm of the opinion that roasting is the cooking method most likely to result in the aforementioned "vegetable candy," regardless of the vegetable.
It's certainly the case with Brussels sprouts. Roasting them renders them sweet and tender with plentiful bits of crispy, charred leaves. And with today's recipe, the deliciousness goes even a step further.

Ingredients
These Brussels sprouts are tossed with garlic, olive oil, salt, and pepper -- 'tis true -- but there's one special ingredient that takes them over the top...balsamic vinegar! It's whisked with those other ingredients and the resulting mixture coats the Brussels sprouts as they roast, resulting in a crisp-tender, tangy-sweet side dish that's basically impossible to resist.
The balsamic does this magical thing in the oven where it soaks into the leaves and turns all thick and sweet and syrupy. But don't worry...it's not too sweet! Rather, it's the perfect balance to this mostly savory recipe.
But. BUT! That's not where it ends, y'all. The already-glorious Roasted Brussels Sprouts with Balsamic are thentossed with a combo of crunchy roasted pistachios and chewy dried cranberries. The final contrast of flavors and textures is out of this world.

Perfect Holiday Side Dish
Balsamic Roasted Brussels Sprouts with Pistachios & Cranberries is an indescribably scrumptious side dish that would be the perfect addition to your holiday table. From Thanksgiving (hellooo, next week!) to Christmas (hellooo, red + green color scheme!), it's quick and easy to make, festive to behold, and -- have I mentioned? -- delicious!

Easy Enough for Everyday
And back to that quick and easy thing...it really and truly is, y'all. So easy, in fact, that there's no reason to just relegate this recipe to the holidays. It would be a lovely addition to your menu plan for dinner parties and entertaining. Furthermore, it would be just the culinary treat to make a regular weeknight dinner feel special!
One last final bonus...IT'S HEALTHY, TOO! I'm telling you, vegetable candy is the best kind of candy. When you can't stop eating it, there's no guilt involved. And that's what we call a win-win!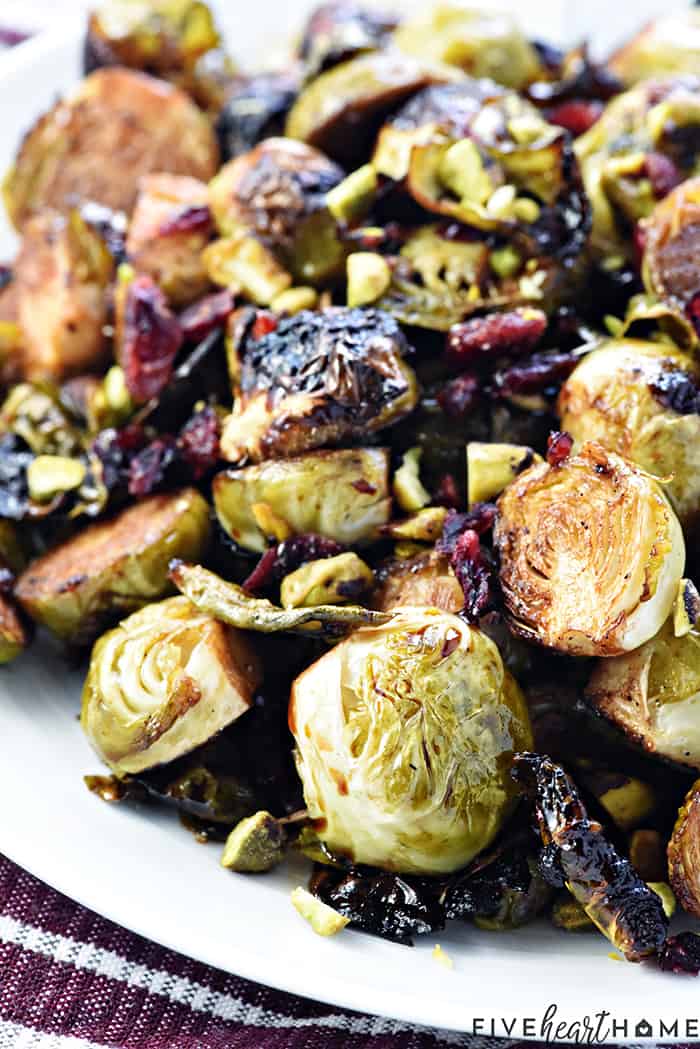 I hope you have a chance try these Roasted Brussels Sprouts with Balsamic, Pistachios, and Cranberries, whether next week for Thanksgiving or next month for Christmas or on some random Tuesday in between.
They're easy to make and yummy to eat and guaranteed to elicit oooos and ahhhs...assuming, of course, you don't devour them all straight off the pan before they can make it to the table.
Don't say I didn't warn you...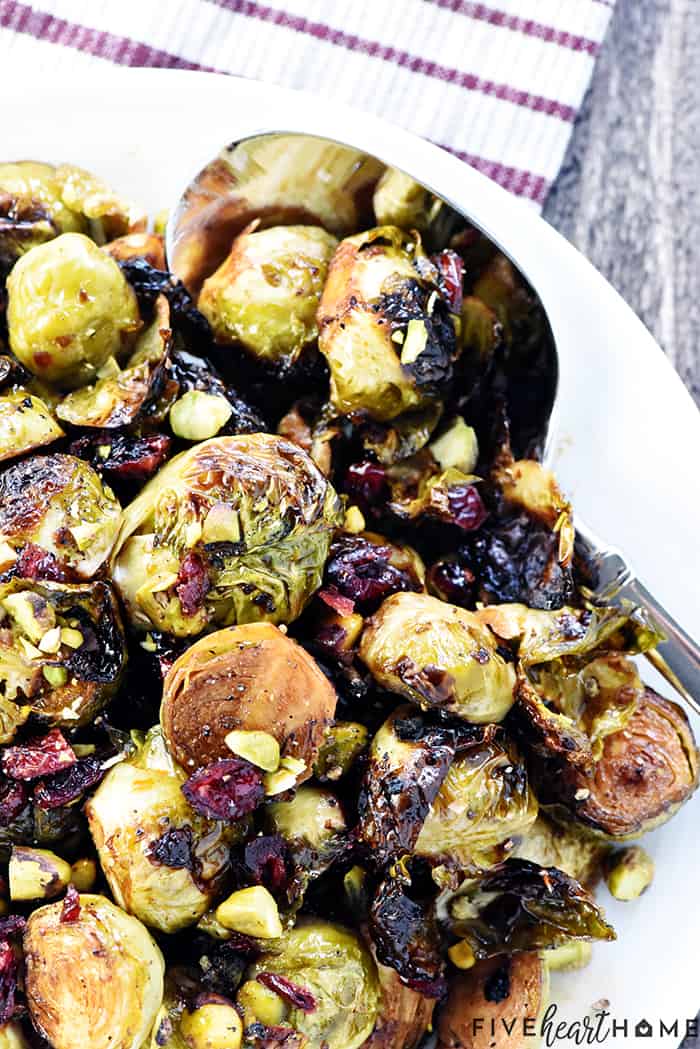 Helpful Tips, Tricks, & Equipment
Cook your Brussels sprouts on a large rimmed half sheet pan. Lining it with foil will make clean-up easier. And if you're worried about sticking, you can lay a sheet of parchment paper on top of the foil.
Medium-sized Brussels sprouts are recommended for this recipe. Very small Brussels sprouts probably won't need to be sliced in half. Very large Brussels sprouts may require a longer cooking time.
If you don't have a garlic press to crush the garlic cloves, you can mince them finely and then carefully smash a bit with the side of the knife.
Feel free to swap out the pistachios for another toasted nut, like chopped walnuts or pecans. Also, you may use dried cherries instead of cranberries, if you wish.

More Holiday Side Dishes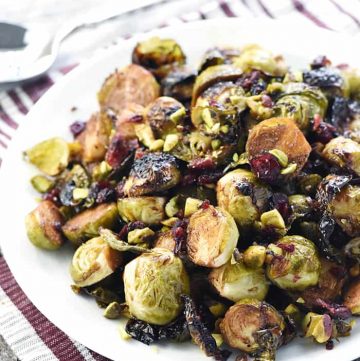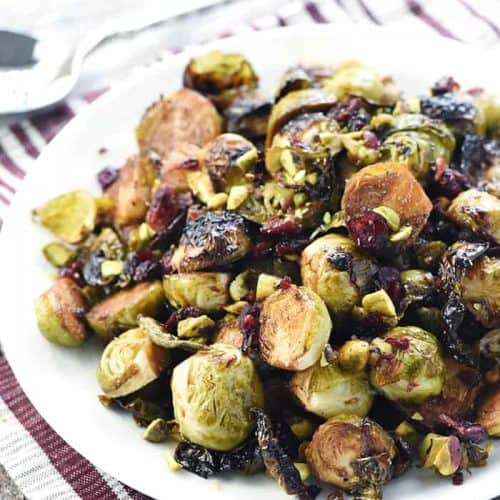 Balsamic Roasted Brussels Sprouts with Pistachios and Cranberries
Balsamic Roasted Brussels Sprouts with Pistachios & Cranberries are crispy and addictive, for a special holiday side dish that's also easy enough for everyday!
Print
Pin
Rate
Servings:
4
to 6 servings
Ingredients
2

pounds

Brussels sprouts

4

tablespoons

balsamic vinegar

,

DIVIDED

3

tablespoons

extra-virgin olive oil

3

cloves

garlic

,

crushed

1

teaspoon

salt

,

plus additional to taste

Freshly ground black pepper

,

to taste

⅓

cup

roasted salted pistachios

,

roughly chopped

⅓

cup

dried cranberries

,

roughly chopped
Instructions
Place rack in center position of oven. Preheat oven to 450°F. Line a rimmed sheet pan with aluminum foil and, if desired, lay a sheet of parchment paper on top; set aside.

Wash the Brussels sprouts and trim each one by cutting off a small piece of the end and discarding any brown leaves; cut each sprout in half, lengthwise (except for tiny sprouts, which you may leave whole).

In a large bowl, whisk together 3 tablespoons of the balsamic vinegar with all of the olive oil, crushed garlic, salt, and pepper. Add the Brussels sprouts to the bowl and gently stir to coat. Dump the Brussels sprouts onto the prepared sheet pan and spread them into a single layer.

Cook for 10 minute, stir and flip over the Brussels sprouts, and then cook for 10 to 15 minutes more or until the sprouts have crispy, golden brown exteriors and tender interiors. Taste (but blow on it first...it will be hot!) and add more salt and pepper, if desired. Drizzle with the remaining 1 tablespoon balsamic vinegar and sprinkle with the chopped pistachios and cranberries; gently toss to combine. Serve immediately.
Calories:
296
kcal
|
Carbohydrates:
35
g
|
Protein:
10
g
|
Fat:
16
g
|
Saturated Fat:
2
g
|
Sodium:
643
mg
|
Potassium:
1014
mg
|
Fiber:
10
g
|
Sugar:
15
g
|
Vitamin A:
1753
IU
|
Vitamin C:
194
mg
|
Calcium:
114
mg
|
Iron:
4
mg