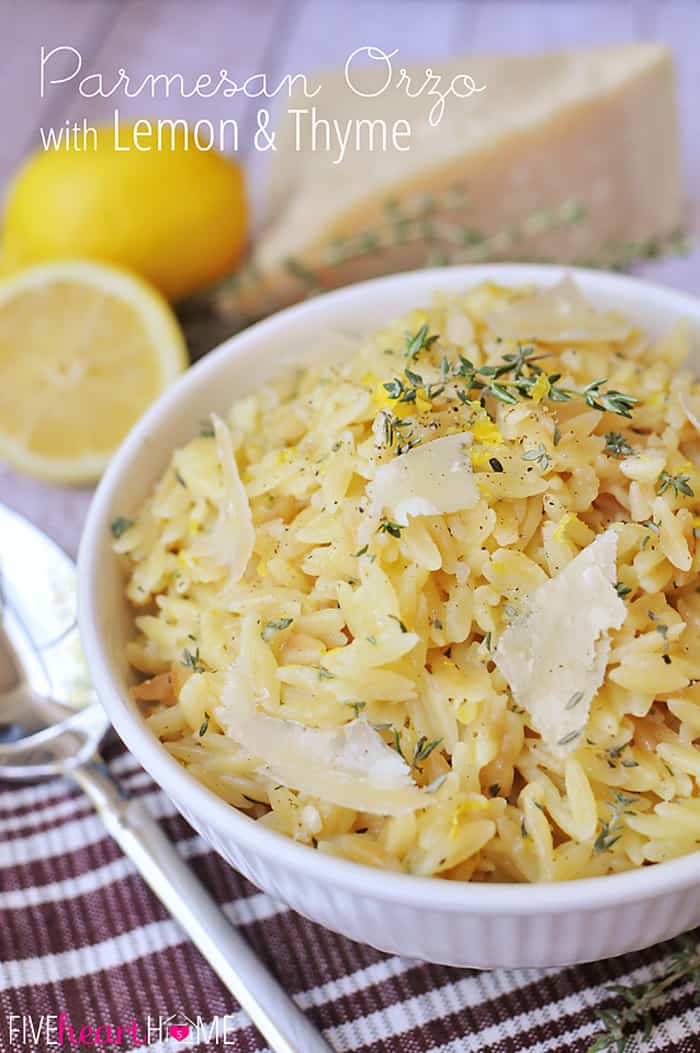 Parmesan Orzo with Lemon & Thyme is a summer side dish showcasing creamy orzo pasta infused with the flavors of Parmesan cheese, lemon zest, and fresh thyme. It perfectly complements a variety of entrees, from baked chicken to steamed fish to grilled steak!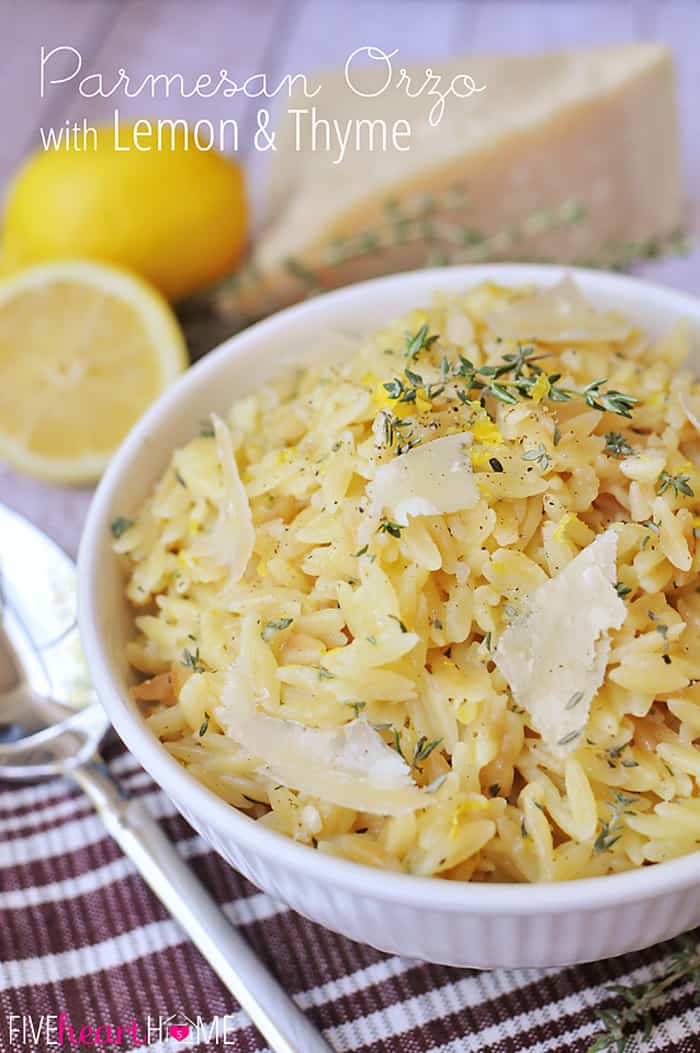 I have a little story for ya, friends. And it's about a pot of orzo that almost resulted in a house fire.
So one fine afternoon last week, I decided to cook up this light, bright, and delicious Parmesan Orzo with Lemon & Thyme side dish. My first grader was at school, and my two younger kids were upstairs playing together. I had just about all of my ingredients prepped, so I put my pot on the burner with a little olive oil and butter, then turned my back to the stove to finish mincing up some garlic. If you are versed in foreshadowing, I'm sure you can predict where this is going next.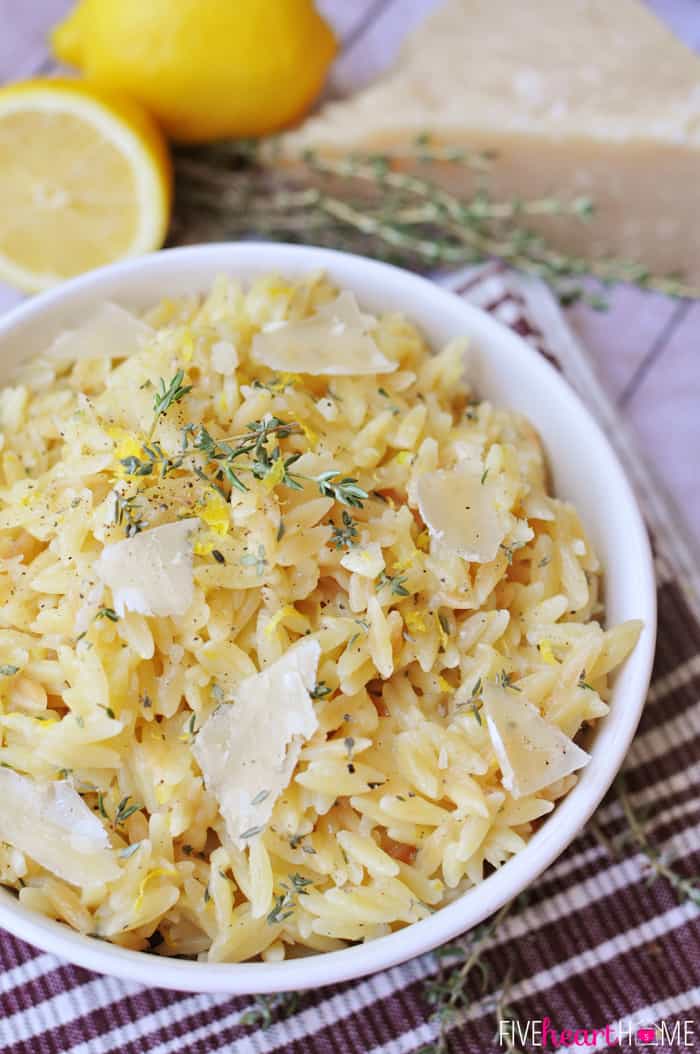 Well, I got a little distracted with my mincing until I started smelling oil. I suddenly remembered that I'd already turned on the stove and spun around just in time to see flames shooting out the top of my pot. I have honestly never set anything in my kitchen on fire like that, and I have to say, I freaked out for just a moment there. Do I go for the fire extinguisher? Do I pull the pot off the burner? Do I attempt dousing it with something (I seemed to remember that water was a no-no). So without really thinking, I turned off the burner, put on an oven mitt, grabbed the pot, and opened the back door, setting it in the middle of the stone patio and screaming at the dogs to stay back. They were more than happy to oblige.
In the meantime, my 4-year-old was standing on the walkway upstairs, looking down at me through the railing.
"What happened, Mama? Did you set the house on fire?"
"No baby...it's okay. The oil in the pot caught on fire. It will finish burning in a minute here."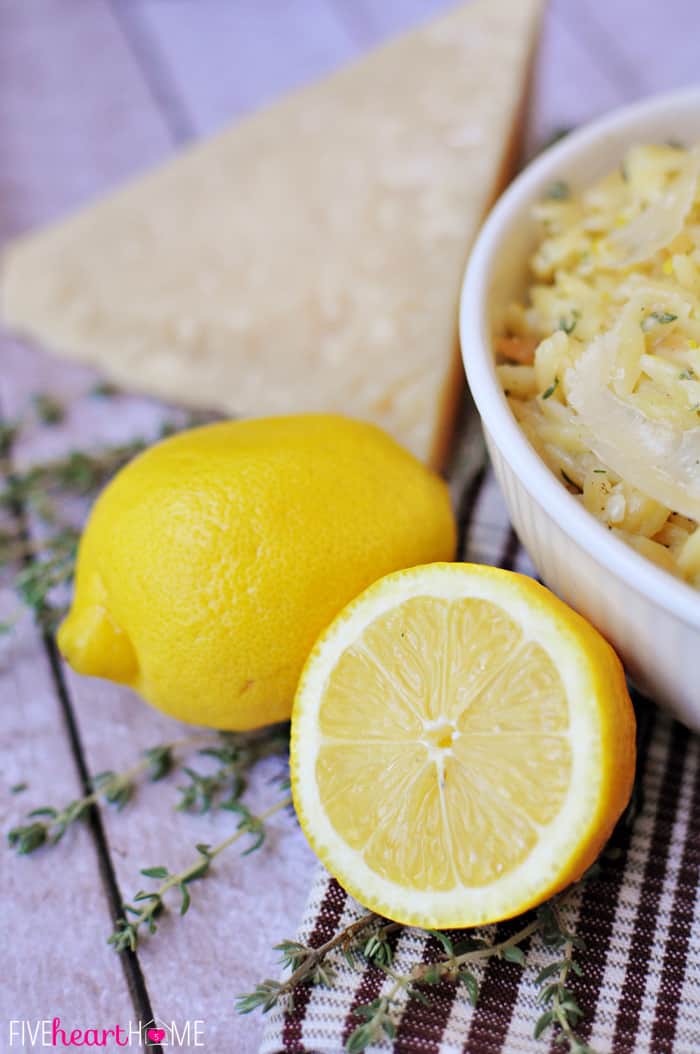 Of course, as I stood there with the back door open to make sure the dogs didn't come too close, the smoke from the burning oil wafted up and tripped the smoke detectors. And to say that my 4-year-old is traumatized by smoke detectors would be the understatement of the year. He started screaming -- blood-curdling SCREAMING -- which of course scared the toddler and she started screaming, too. So I had to run upstairs to grab them and then come back down and try to figure out which smoke detector had been tripped. Let me mention that we have at least 15 smoke detectors throughout our house and some of them are on very high ceilings. Let me also mention that they are interconnected, so when one goes off, they ALL go off, and it is very, very loud. And finally, let me mention that just two nights before, all of the smoke detectors in our house started blaring at 2:00 a.m. because of a faulty detector, so my kids were already more than a little bit traumatized by the sirens.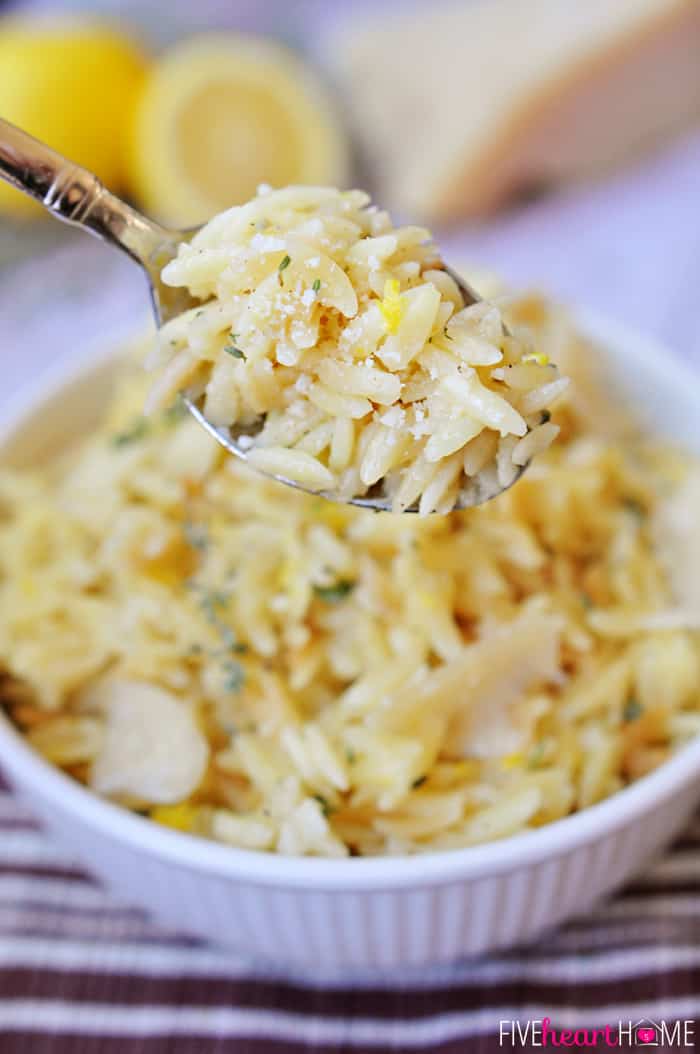 Well, after a very frazzled 15 minutes (seeing as how I was running from room to room and climbing a ladder with two wailing kids attached to me) and a frantic call to my husband, I finally located and reached the responsible detector and pressed the hush button. Silence...finally. The good news is that (after everyone stopped trembling) I scoured the pot and successfully made this recipe on my second attempt, making sure that I wasn't multi-tasking this time around. The bad news is that I had to cook and photograph this orzo while holding a toddler (who, incidentally, also refused to sleep in her crib later that night). And over a week later, my 4-year-old still will not go anywhere in the house by himself. He's been sleeping with big brother until we can convince him that the smoke detectors won't be terrifying him again any time soon.
So that's the story of this yummy, creamy, Parmesan-seasoned, lemon and thyme-infused orzo pasta! I love orzo because, not only is this tiny pasta totally cute, but it's also extremely amenable to infusing with other flavors. The orzo in this recipe is first toasted directly in the pot and then steeped with garlic and chicken broth as it cooks. Finally, it's finished off with fresh thyme, lemon zest, lemon juice, and grated Parmesan cheese, for just a bit of richness and creaminess. You can't get much simpler than that, and with such clean flavors, it's the perfect side dish for just about any entree that comes off the grill or out of the oven, from steak to chicken to pork chops.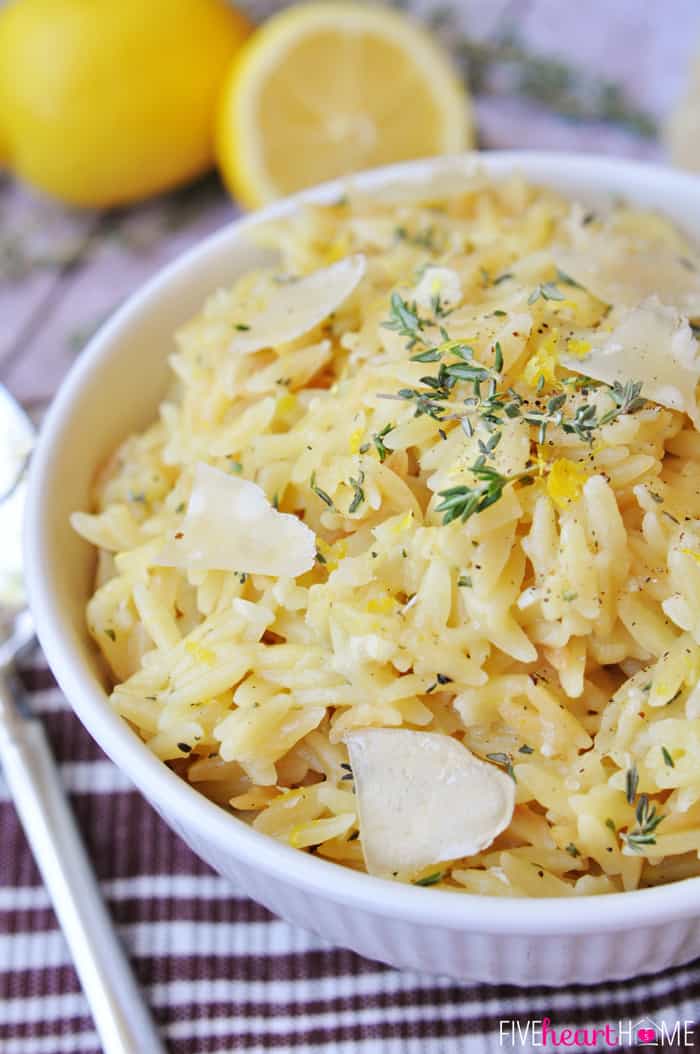 Just take a little tip from me and don't multi-task when you make it! It comes together quickly, so you really shouldn't have to anyway. 😉
More Tasty Side Dishes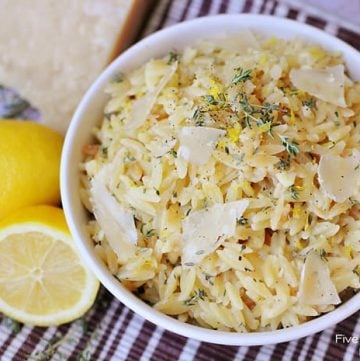 Parmesan Orzo
Parmesan Orzo with Lemon & Thyme is a summer side dish showcasing creamy orzo pasta infused with the flavors of Parmesan cheese, lemon zest, and fresh thyme. It perfectly complements a variety of entrees, from baked chicken to steamed fish to grilled steak!
Print
Pin
Rate
Ingredients
1

tablespoon

extra-virgin olive oil

1

tablespoon

butter

1

cup

orzo pasta

1

large clove garlic

,

minced (about 2 teaspoons)

1¾

cups

chicken broth OR stock

⅓

cup

grated Parmesan cheese

1

tablespoon

fresh thyme leaves

,

minced

1

teaspoon

fresh lemon juice

1

teaspoon

lemon zest

¼

teaspoon

salt

Freshly ground black pepper

,

to taste
Instructions
Melt together oil and butter in a medium pot over medium heat. Pour orzo into pot and cook while stirring until it begins to toast, about two minutes. Clear a spot in the center of the pot, add minced garlic, and stir for 30 seconds before incorporating into orzo.

Stir chicken broth into orzo, increase heat to high, and bring to a boil. Reduce to a low simmer and cook until orzo reaches desired tenderness and most of the liquid has been absorbed, for about 8 to 10 minutes.

Remove pot from heat and stir in Parmesan cheese, fresh thyme, lemon juice, lemon zest, salt, and pepper. Taste and adjust seasonings, as desired. Serve warm.
Calories:
251
kcal
|
Carbohydrates:
30
g
|
Protein:
10
g
|
Fat:
10
g
|
Saturated Fat:
4
g
|
Cholesterol:
15
mg
|
Sodium:
331
mg
|
Potassium:
193
mg
|
Fiber:
1
g
|
Sugar:
1
g
|
Vitamin A:
243
IU
|
Vitamin C:
4
mg
|
Calcium:
112
mg
|
Iron:
1
mg
Adapted from Parade
Originally shared at Love Grows Wild