Creamy, decadent Make-Ahead Mashed Potatoes are loaded with mellow garlic & fresh herbs and topped with a golden Parmesan crust for a perfect holiday side dish!

Thanksgiving is T-minus two weeks away, y'all! Are you busy getting your menu all set? While trying to decide what types of new holiday recipes might be helpful to y'all, I realized that I've never shared my favorite mashed potatoes here. But I wanted to add a twist! A twist that, specifically, would make them easy to prepare for a holiday meal. You know, when you may be simultaneously working on half a dozen different recipes at the same time. So allow me to introduce you to Make-Ahead Garlic & Herb Mashed Potatoes!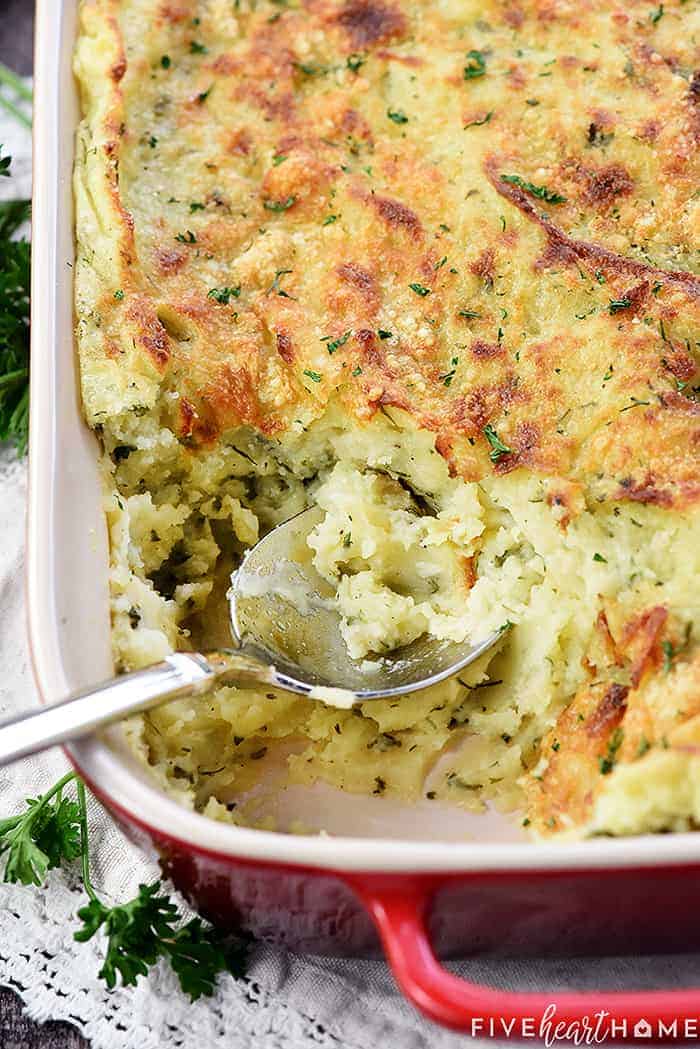 You may have noticed a trend when perusing the holiday recipes on my site...I've got a thing for garlic + herbs! My favorite Thanksgiving stuffing features garlic and herbs. My favorite shortcut dinner rolls are flavored with garlic and herbs. And guess what? My favorite mashed potatoes...are loaded with the same combo!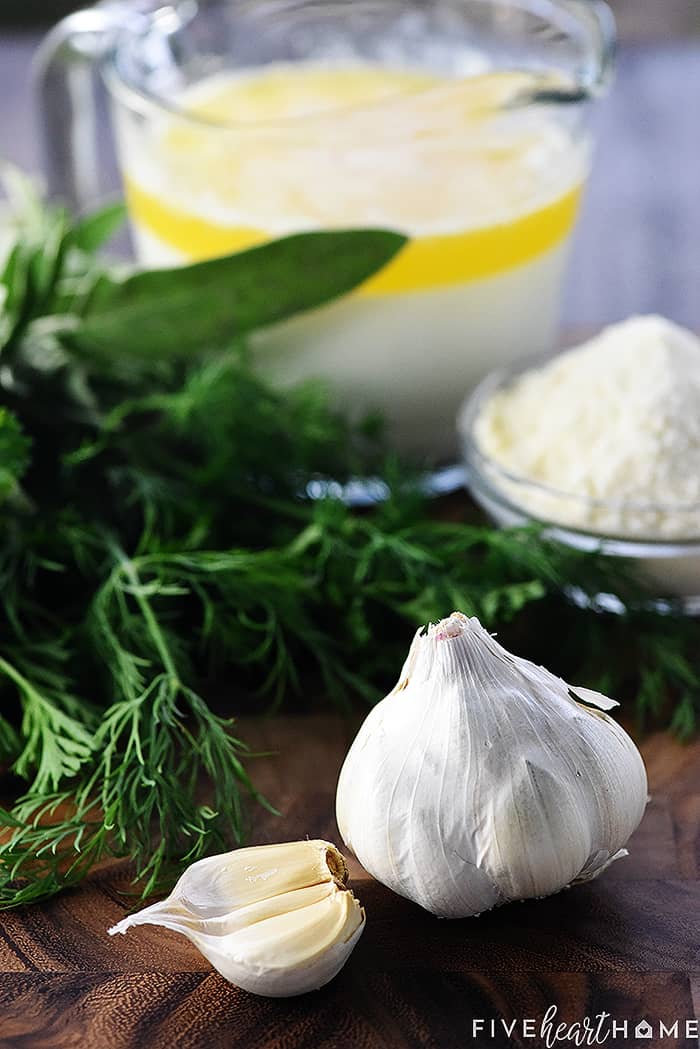 And while I've been making these mashed potatoes for years, I only recently came across a method for making them ahead of time (thank you, Ina!). Because there's real beauty in a recipe that can be prepped up to a few days in advance, stored in the fridge, and then simply popped in the oven before mealtime.
As a result, these Make-Ahead Garlic & Herb Mashed Potatoes would be perfect for Thanksgiving, it's true. But they'd also be ideal for Christmas...or Easter...or really any holiday meal. In addition, they'd also be excellent whether you're entertaining company or hosting a dinner party or you simply need a side dish to go with a meal that you're gifting to a family or friend.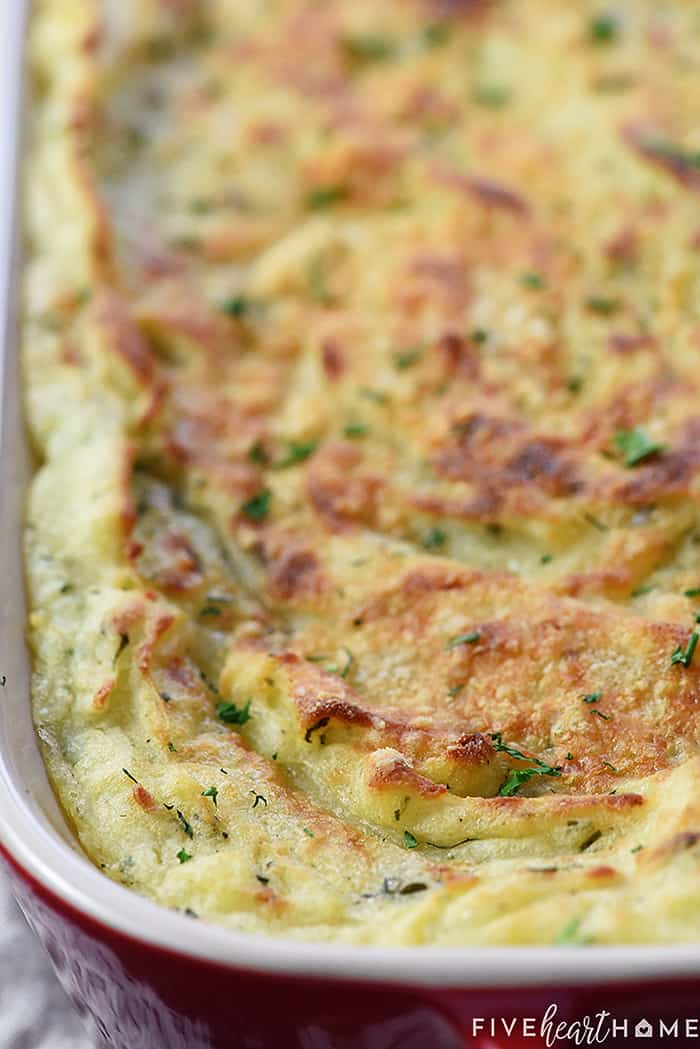 What Potatoes are Best for Mashing?
The beauty of this recipe is that you start out by making mashed potatoes as you usually would. I prefer using Yukon Golds when it comes to mashed potatoes because they have a naturally buttery flavor. They also turn smooth and creamy upon mashing without turning "gluey." To further reduce the odds of overly worked potatoes, I always mash my potatoes with a good ol' potato masher. Plus, I figure that gives it another use in life besides getting stuck in my kitchen drawer. 😉
After you peel your potatoes, it's important to cut them into uniform chunks (think 1 1/2- to 2-inch pieces) so that they cook evenly. Toss them in a pot, cover with cold water, and don't forget to add plenty of salt! Bring the water to a boil before reducing to a simmer and cooking until tender.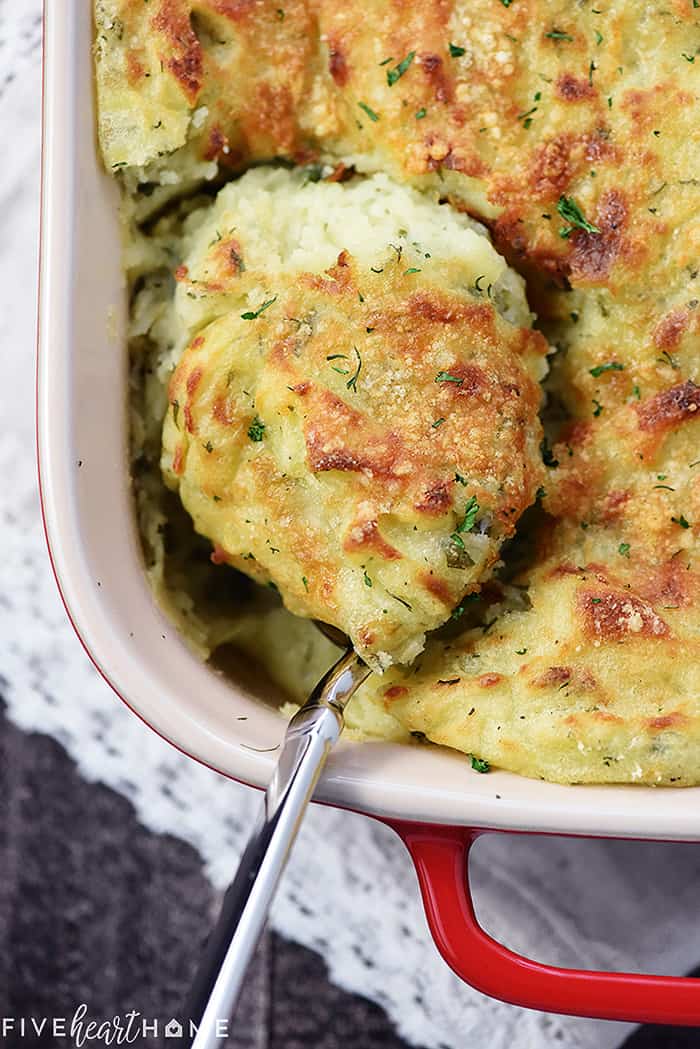 When I cook my potatoes, I typically toss some whole garlic cloves into the water to soften and cook at the same time. The garlic becomes sweet and mellow. In other words, it doesn't end up overpowering the mashed potatoes the way raw garlic sometimes can. For a "normal" batch of potatoes, I use a couple cloves of garlic. But since these Make-Ahead Garlic & Herb Mashed Potatoes are supposed to be, well, garlicky, I went for half a dozen cloves in this recipe. But again, the garlic flavor is there by the end but it's not overwhelming.
I prefer making my mashed potatoes with whole milk and real butter, which makes them creamy and decadent without being overly rich. I heat the milk and melt the butter into it, either in a small pot or the microwave. Then I pour the mixture into the hot potatoes as I'm mashing them.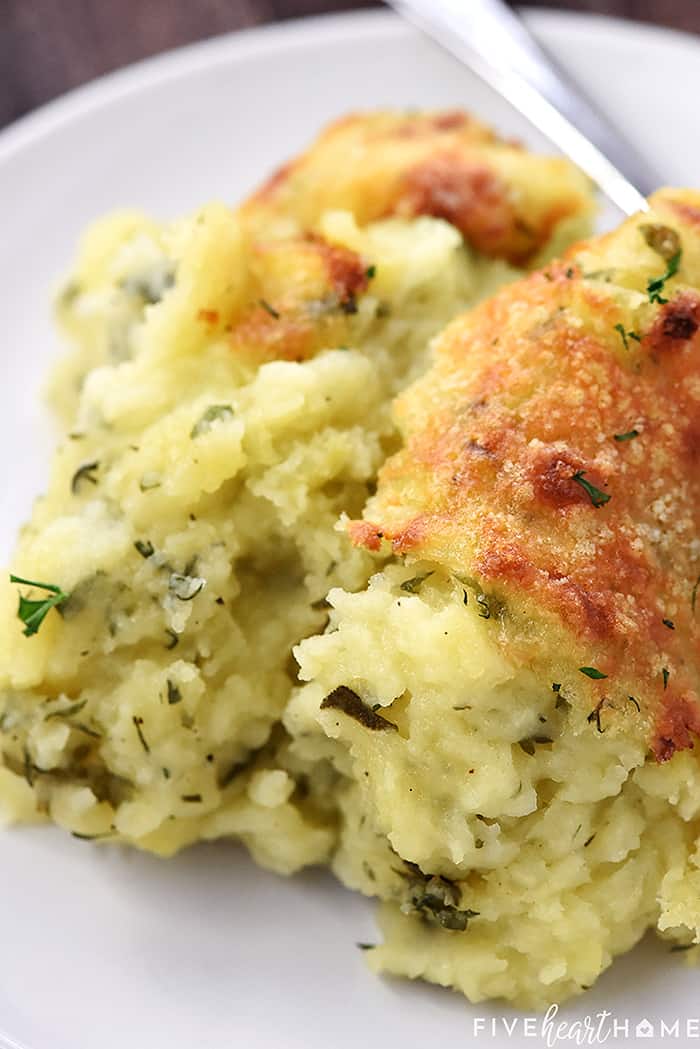 In addition to seasoning well with salt and pepper (A MUST!), I like to stir some fresh grated Parmesan cheese into my mashed potatoes while they're still hot. Parm just adds an extra boost of flavor to make already-yummy mashed potatoes even better, without necessarily being able to pinpoint the secret ingredient.
After your potatoes are all mashed and irresistible, it's time to fold in the herbs. Truly, you can use whichever herbs you like and as much of them as you prefer, but I do have some recommendations.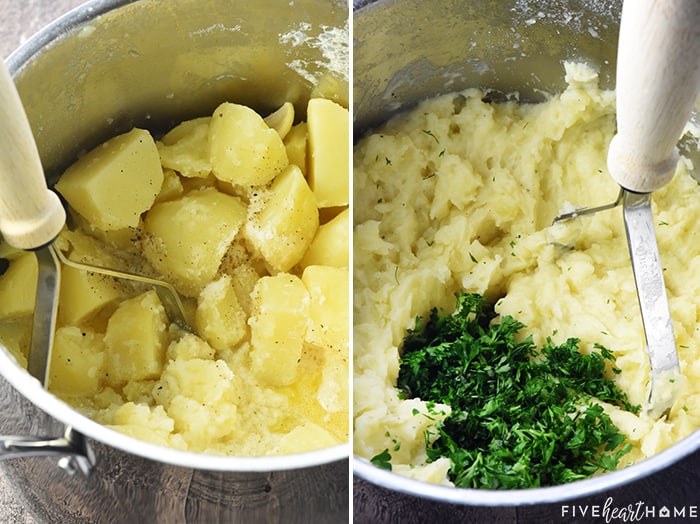 For these very herby mashed potatoes, you'll want to measure your herbs loosely packed, before they are chopped. I recommend making parsley the predominant herb in your mashed potatoes. It's fresh-tasting but also neutral enough to not overpower the other flavors in the mashed potatoes. I measured 2/3 cup parsley leaves (without packing them down) and finely chopped them.
Next add two more tablespoons of other herbs that you enjoy, or even herbs you have leftover from other recipes that you're making at the same time. Chives, dill, thyme, and basil are all lovely in mashed potatoes. Just be careful not to use too much of a strongly flavored herb, such as sage. I added a few leaves of finely chopped sage to my mashed potatoes and that was plenty.
And of course, if parsley is all ya got, just use that exclusively and don't worry about incorporating different types of herbs.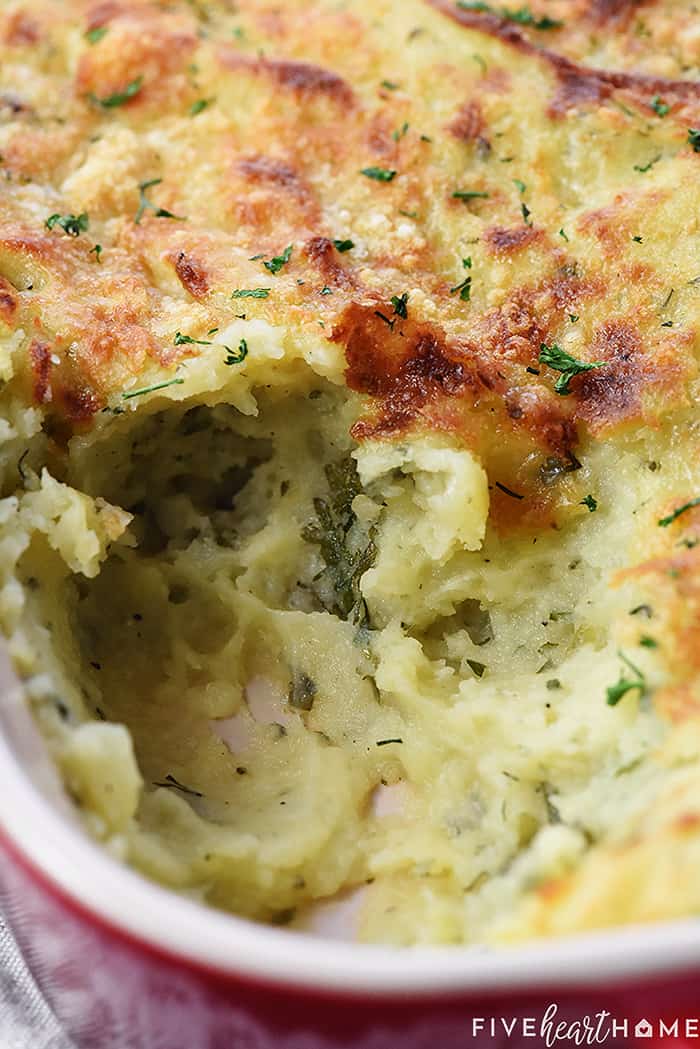 How to Make Mashed Potatoes Ahead of Time
So you've made your mashed potatoes well ahead of the big meal. Now what?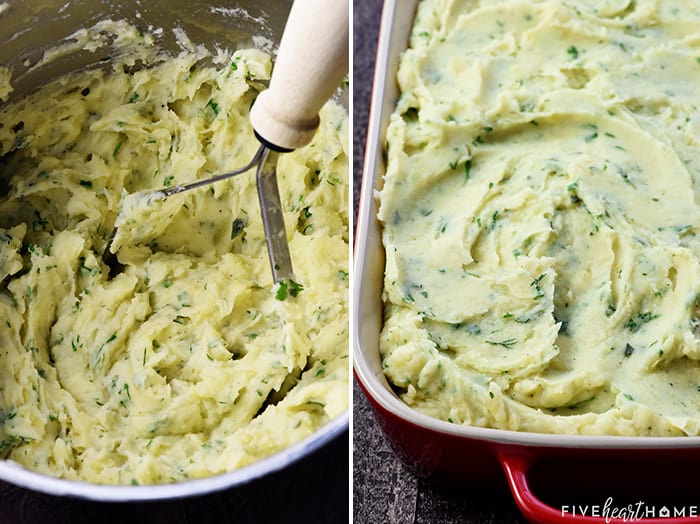 Well, simply spread those warm taters in a baking dish. Top them with more Parmesan cheese. And then cover them and pop them in the fridge for up to three days.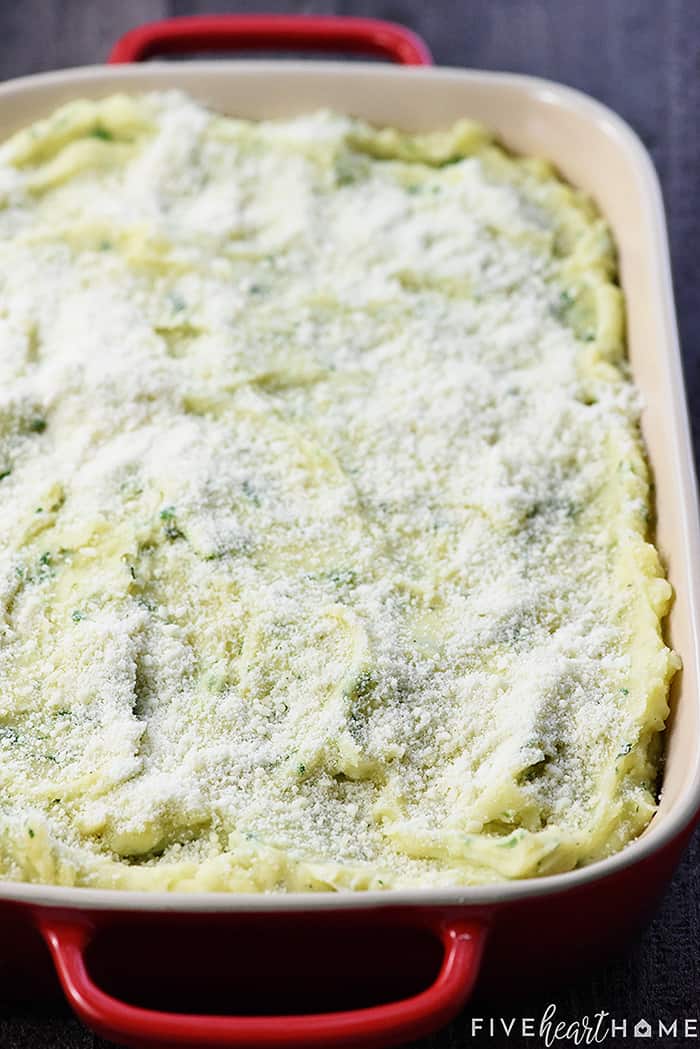 When you're ready to reheat them, let the dish of mashed potatoes come to room temperature while the oven preheats. Then bake (uncovered) for 30 to 45 minutes or until the potatoes are hot and the cheese on top is melted. I actually like to turn on the broiler for the last few minutes to toast the melted Parm into a glorious golden crust. Yum!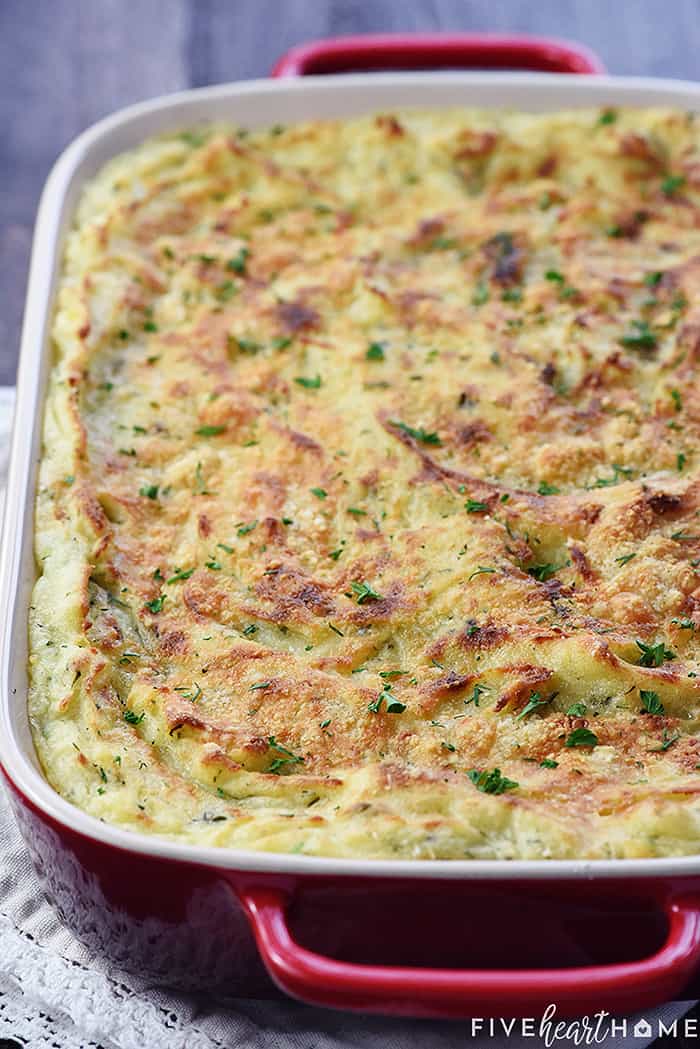 And that's it, y'all! Once out of the oven, these Make-Ahead Garlic & Herb Mashed Potatoes are amazingly creamy and loaded with flavor. And the contrast of that crunchy Parmesan crust on top? Out of this world.
I hope this recipe helps with your holiday menu planning this year to the point that it becomes a new tradition! I mean, how can you beat a holiday side dish that's super easy to make ahead of time? But most importantly, it's definitely delicious enough to warrant making it year after year after year.?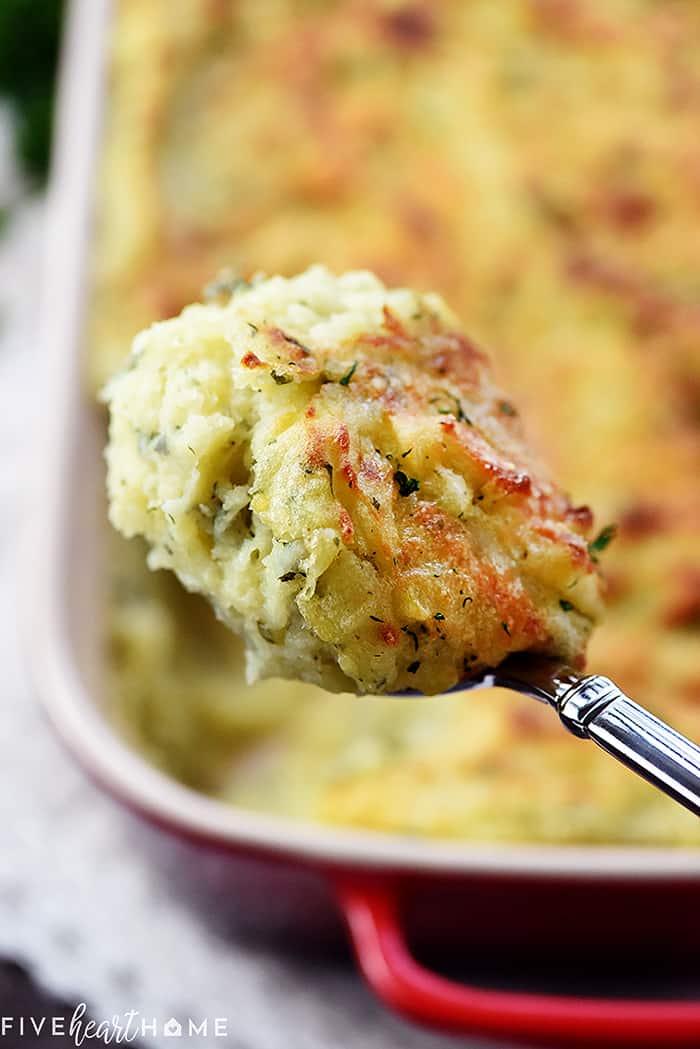 Helpful Tips, Tricks, & Equipment
(some affiliate links below)
I use regular table salt or Kosher salt in the water when I cook the potatoes, but my favorite salt for seasoning the final dish is Redmond RealSalt sea salt.
Speaking of salt, it's important to make sure your mashed potatoes are well-seasoned. The potato chunks will be slightly salty after boiling, but you'll need to add additional salt to taste as you're mashing. I add salt gradually and taste frequently. Remember...you can always add more salt but it's impossible to take it away! Typically, I stir in 1 teaspoon of salt and then add an additional 1/4 teaspoon at a time until I think the mashed potatoes are adequately seasoned. I ended up adding 2 teaspoons of salt total when I made this recipe. And of course, don't skimp on the freshly ground black pepper!
For even richer, more decadent mashed potatoes, feel free to swap half-and-half or heavy cream for all or part of the milk.
You can use either salted or unsalted butter...whatever you have on hand is fine.
Instead of a potato masher, a potato ricer also works great for mashing potatoes if you've got one. However, I don't recommend using an electric mixer. It can easily overbeat the potatoes and result in that gluey texture that we're trying to avoid.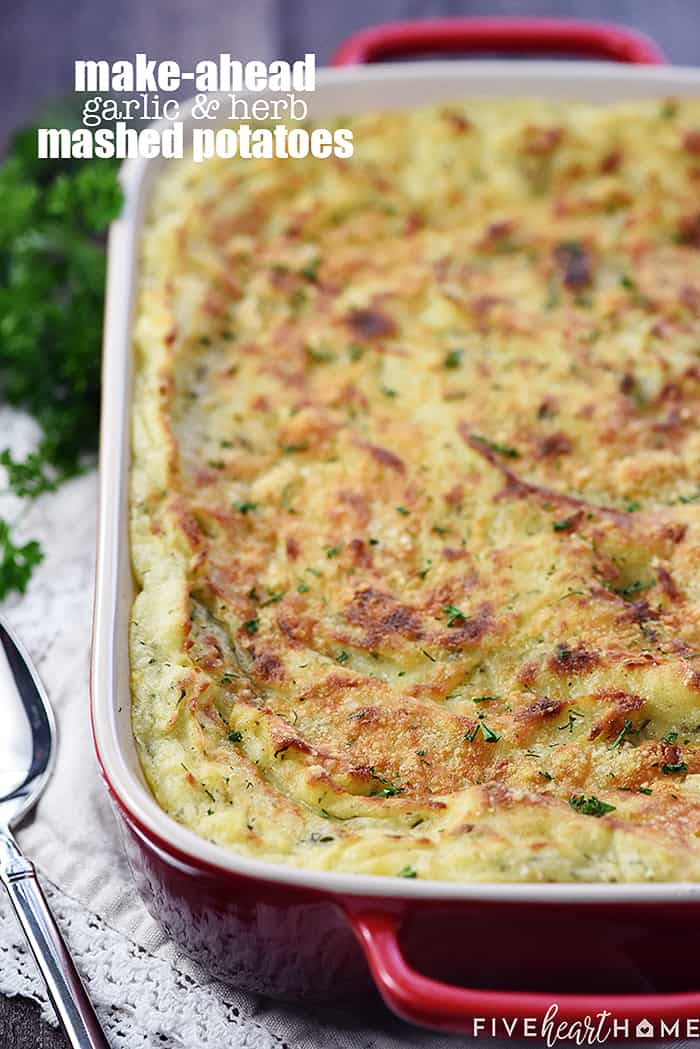 Make-Ahead Mashed Potatoes Recipe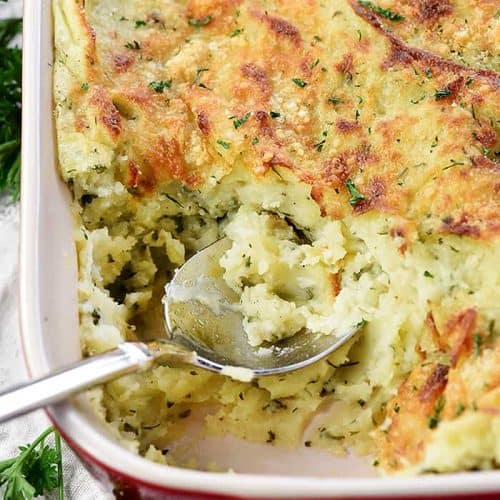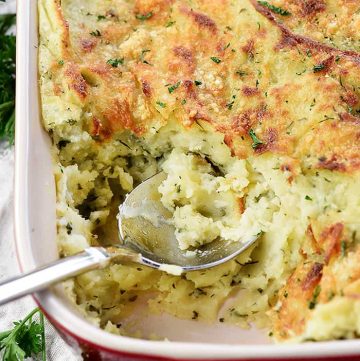 Make-Ahead Garlic & Herb Mashed Potatoes
Creamy, decadent Make-Ahead Mashed Potatoes are loaded with mellow garlic & fresh herbs and topped with a golden Parmesan crust for a perfect holiday side dish!
Print
Pin
Rate
Ingredients
4

pounds

Yukon Gold potatoes

,

scrubbed

6

large cloves of garlic

Salt and freshly ground black pepper

1 1/2

cups

whole milk

1/2

cup

(1 stick) butter

1

cup

freshly grated Parmesan

,

DIVIDED

2/3

cup

loosely packed parsley leaves

,

finely chopped

2

tablespoons

other herbs

,

such as a combination of chives, dill, thyme, basil, etc., finely chopped
Instructions
Peel the potatoes and cut them into equal-sized, 1 1/2-inch chunks. Place the potatoes and the garlic cloves in a large pot and cover with cold water. Bring to a boil and stir in 2 heaping teaspoons of salt. Reduce the heat to a simmer and cook until the potatoes are very tender (but not crumbly) when stabbed with a fork, around 20 minutes.

While the potatoes are cooking, heat together the milk and the butter (in a small pot on the stove or in a large glass measuring cup in the microwave) until warm and melted.

Drain the cooked potatoes and garlic and return to the pot. Pour the milk/butter mixture on top and mash with a potato masher until smooth and creamy. Mix in salt and pepper, to taste, making sure to add enough. Fold in 1/2 cup Parmesan plus all of the chopped herbs until just combined.

Spread the mashed potatoes in a 9- by 13-inch (or equivalently sized) baking dish. Evenly sprinkle the remaining Parmesan over the top. Bake immediately or cover and refrigerate for up to 3 days.

When you're ready to bake, place the uncovered dish in a preheated 375°F oven. Cook for 30 to 45 minutes, or until the mashed potatoes are hot and the Parmesan on top is melted. For a golden crust, turn on the broiler for the last few minutes, watching closely the entire time. Garnish with additional fresh chopped herbs on top, if desired, and serve immediately.
Calories:
256
kcal
|
Carbohydrates:
25
g
|
Protein:
10
g
|
Fat:
13
g
|
Saturated Fat:
8
g
|
Cholesterol:
36
mg
|
Sodium:
270
mg
|
Potassium:
839
mg
|
Fiber:
4
g
|
Sugar:
1
g
|
Vitamin A:
790
IU
|
Vitamin C:
26.6
mg
|
Calcium:
218
mg
|
Iron:
6.2
mg
More Holiday Side Dishes