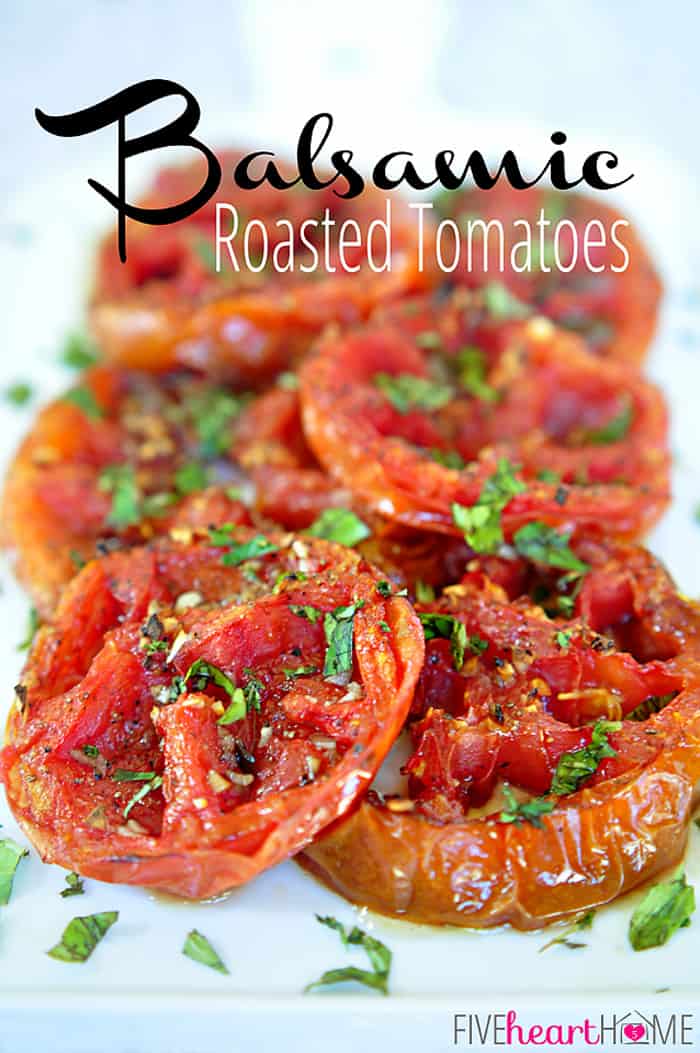 Oven Roasted Tomatoes are a delicious summer side dish featuring garden-fresh tomatoes that have been drizzled with olive oil and balsamic vinegar, seasoned with garlic, salt, and pepper, and roasted to sweet and savory, caramelized perfection!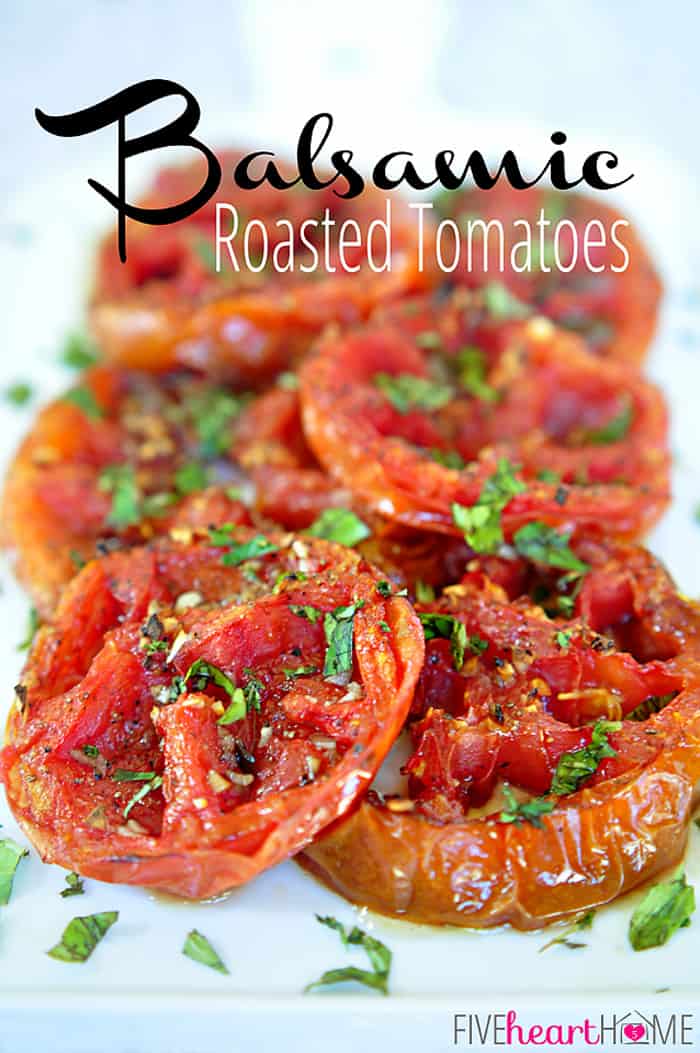 I happen to be a big tomato fan, so one of my favorite things about summertime is enjoying plump, juicy, homegrown tomatoes. Seriously, these bright red beauties make me want to abstain from eating anemic grocery store tomatoes during the rest of the year. If you love tomatoes as much as I do, I implore you to try today's recipe, Oven Roasted Tomatoes, a dish that showcases this star summer produce in the simplest, most delectable way!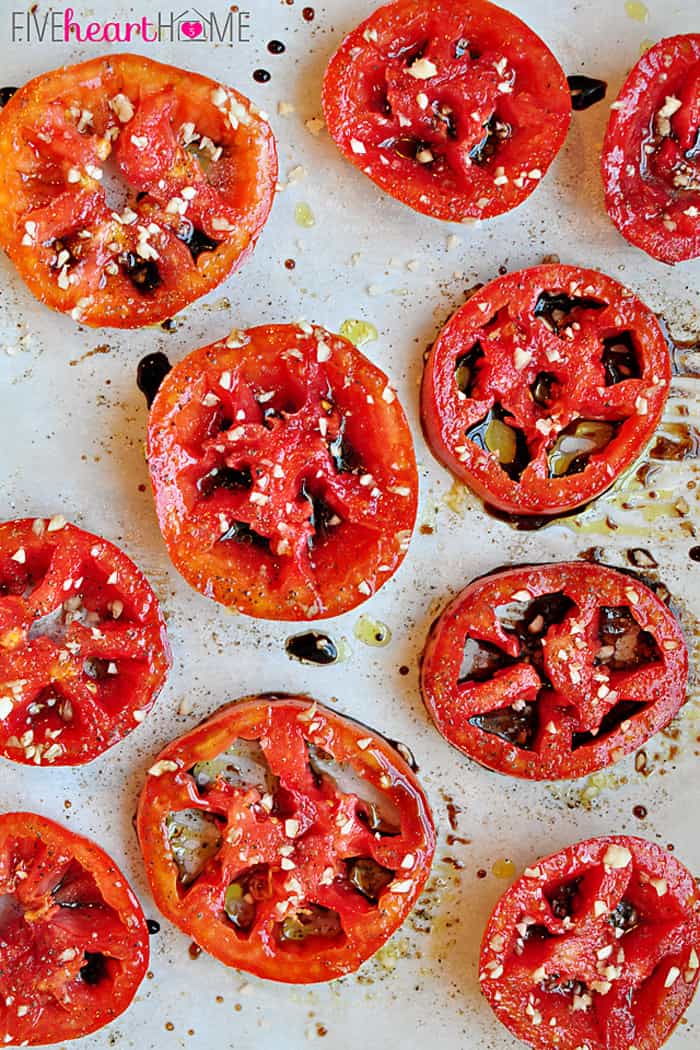 My in-laws have a huge, bountiful garden, so we are the lucky recipients of tons of tomatoes all summer long, of every shape and size.
Most days I find myself eating a big tomato sandwich for lunch, and my kids pop cherry tomatoes like they're candy.
I frequently make fresh salsa.
I keep fresh mozzarella on hand so that I can throw together Caprese-type delicacies on a whim.
I marinate 'em and turn 'em into marinara and incorporate them into scrumptious, loaded salads.
But sometimes I decide to go out on a limb and try something new with some of my excess tomatoes...like oven roasting 'em!
And on this particular occasion, I'm so glad that I did.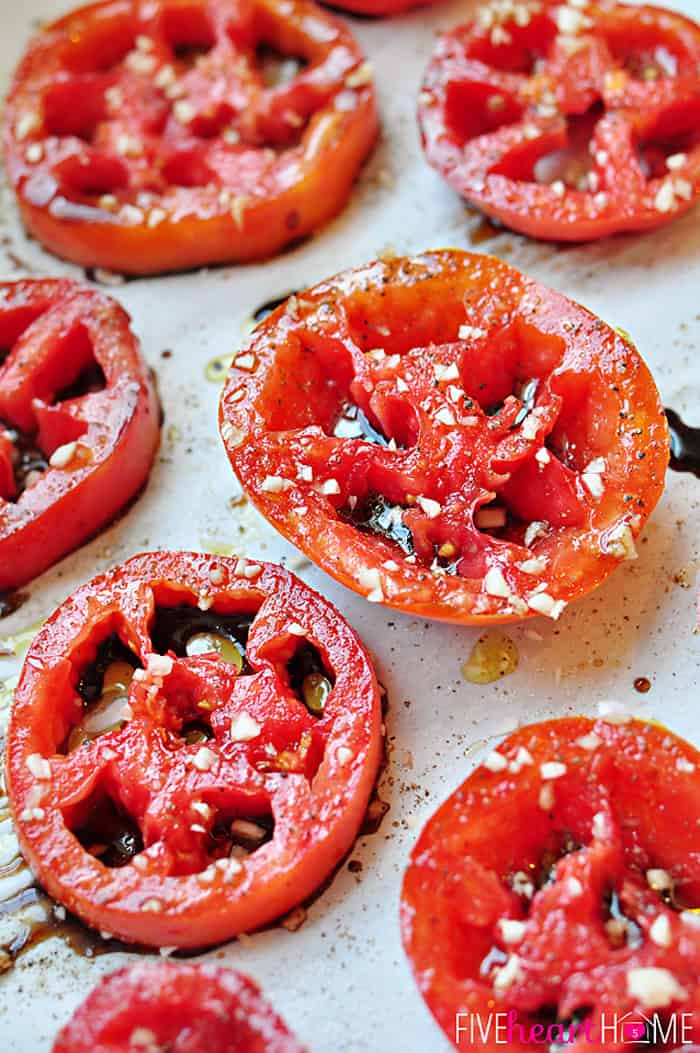 How to Make Oven Roasted Tomatoes
I can't even put into words how divine these roasted tomatoes are, y'all (but you know I'm going to try!).
You know how a simple preparation of fresh ingredients often yields the tastiest results? Well, that is definitely the case with this recipe.
Ripe tomatoes are thickly sliced, seeded, and sprinkled with minced garlic.
Then they're drizzled with extra-virgin olive oil and flavorful balsamic vinegar and sprinkled with sugar, salt, and freshly ground black pepper.
Finally, the tomatoes are roasted at a high temperature until perfectly caramelized.
The resulting Oven Roasted Tomatoes are simultaneously sweet and savory, their tomato flavor concentrated, intensified, and perfectly complemented by the bits of garlic.
How to Enjoy Them
Finish them with a dusting of chopped fresh herbs and you have a delectable side dish, perfect pasta addition, or an amazing topping for everything from salad to pizza to bruschetta!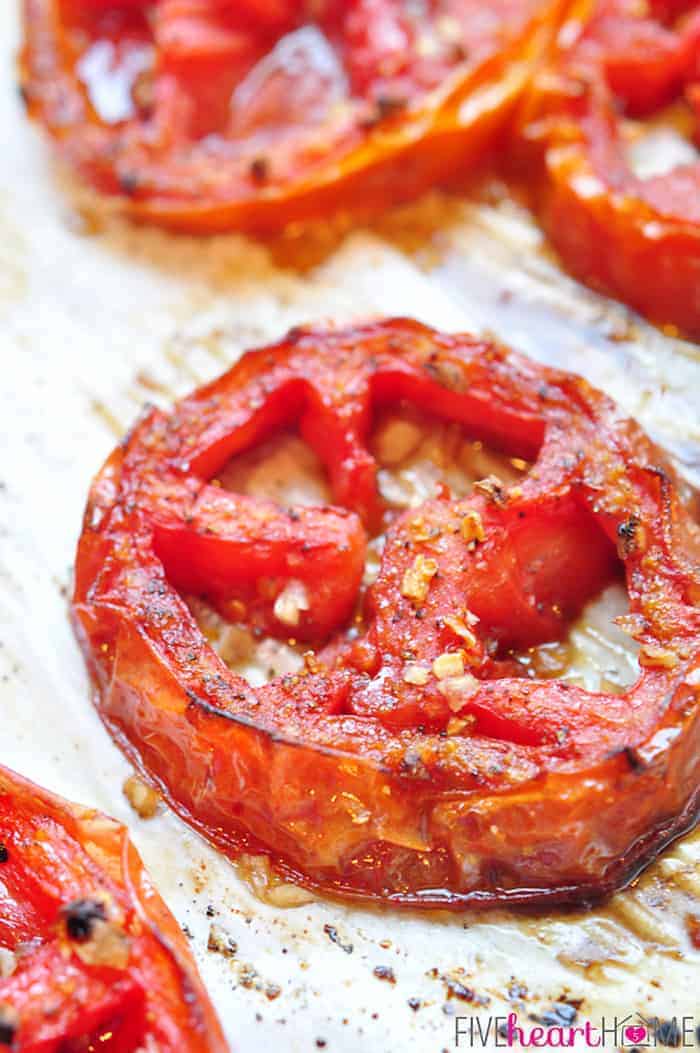 Recipe Notes
These Oven Roasted Tomatoes involve basic ingredients and a straightforward preparation, but there are still a few tricks and tips to make them turn out well.
You can use any type of tomato, but be aware that the thickness may affect the baking time. I had huge garden tomatoes to use up, so I cut them into slices that were at least ¾-inch thick. If you use something like a plum tomato, slicing it in half should suffice.
Regardless of what type of tomato you use, it's important to remove all of the seeds and drain the juices. So if you are using the end piece of a tomato (that forms a little bowl), poke a few holes in the bottom so that liquid doesn't pool in the tomato as it bakes, or else you may end up with steamed tomatoes instead of roasted ones.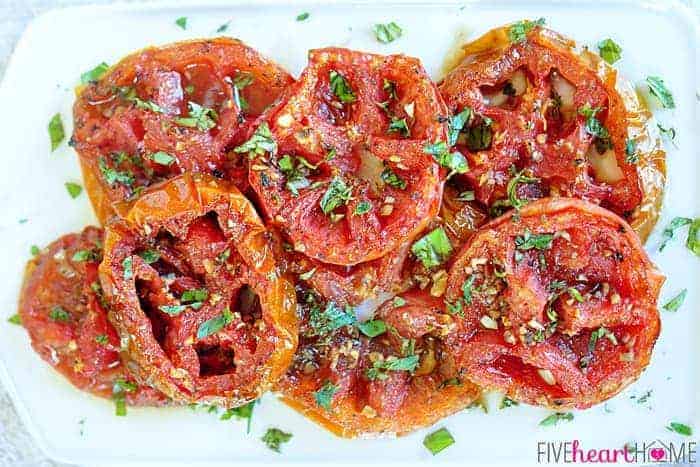 I'm a parchment paper addict, so I lined my rimmed baking sheet with that and it worked well. The caramelization that occurs during baking can cause sticking and make a mess of your pan, so I think parchment paper is a safe bet for easy clean-up. At the very least, line your pan with foil so that you're not scrubbing up a huge mess!
I mentioned earlier, watch your tomatoes closely, particularly the first time you make them, because their cooking time may vary depending on the size/thickness of your tomato slices/halves. My big, thick tomato slices were perfect at 25 minutes, but thinner tomatoes would have been done sooner. You want your tomatoes to be dark and caramelized. If you cook them too long they will start to char (as will your garlic), but if you don't cook them long enough, they won't develop their optimal flavor.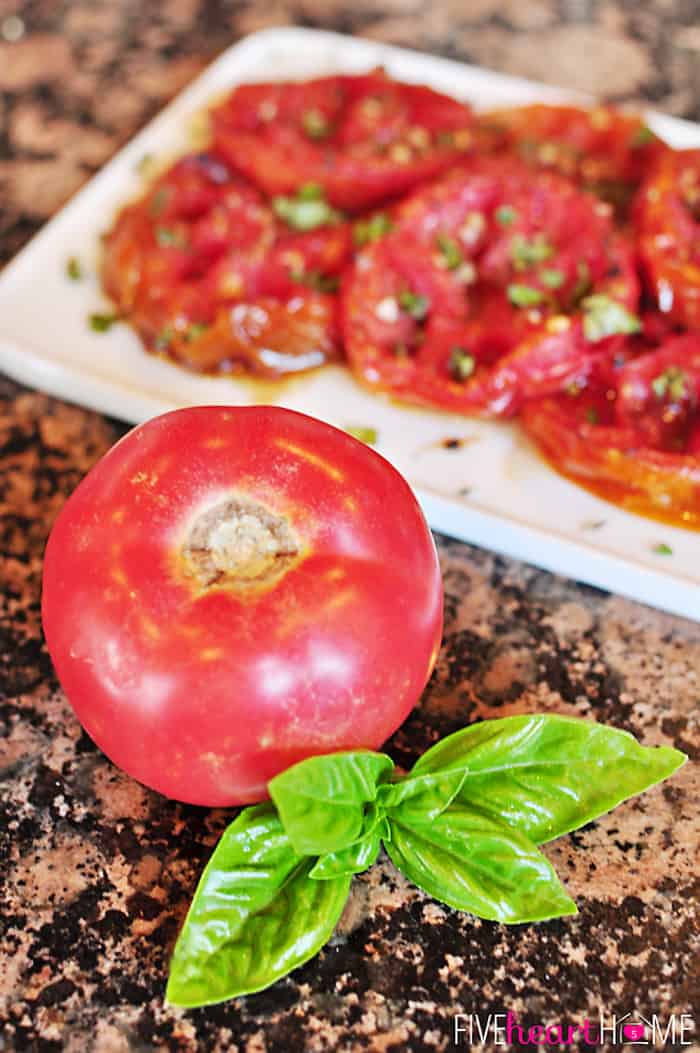 So are you ready to experience tomato heaven? This recipe is the ticket, folks! If you are already a tomato aficionado like myself, these Oven Roasted Tomatoes will only deepen your love.
And if you're not? Well, I'm willing to bet that they'll convert you. 😉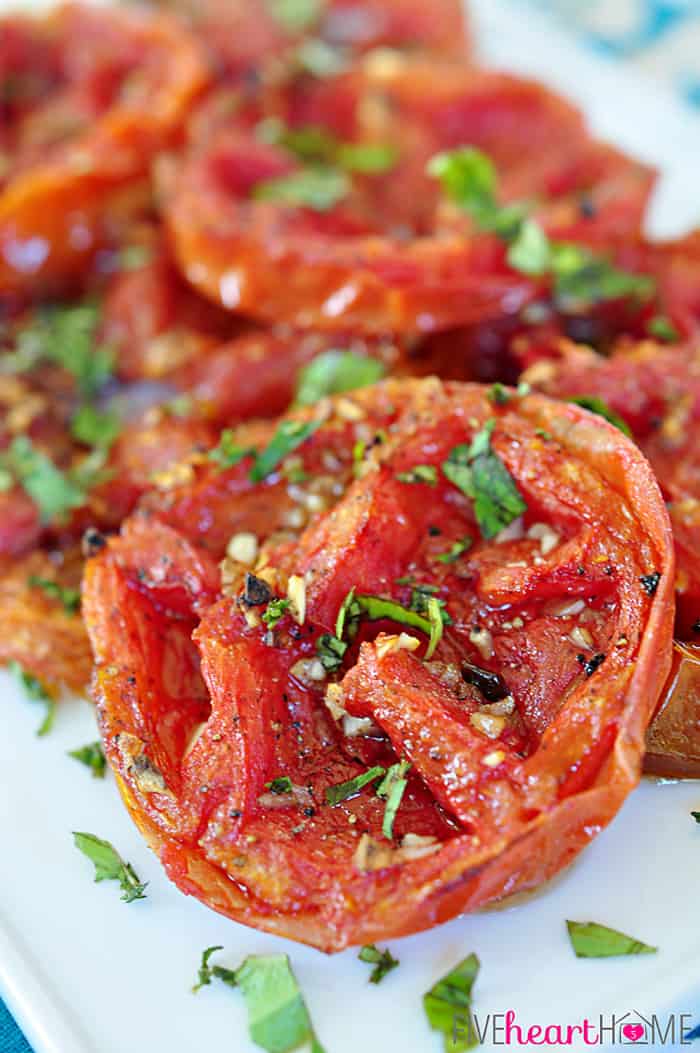 More Fresh Summer Produce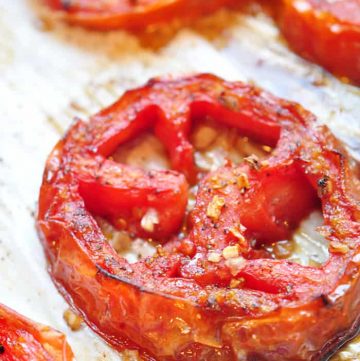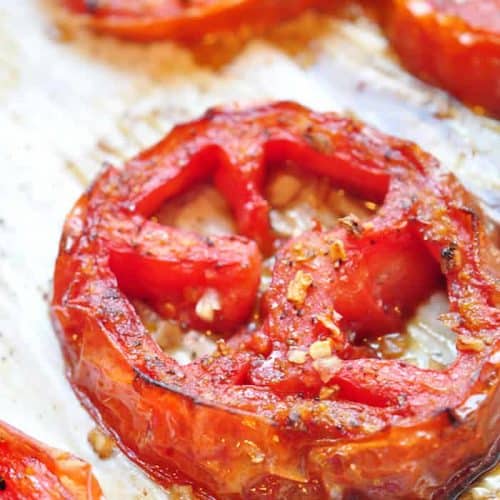 Oven Roasted Tomatoes
Oven Roasted Tomatoes are a delicious summer side dish featuring garden-fresh tomatoes that have been drizzled with olive oil and balsamic vinegar, seasoned with garlic, salt, and pepper, and roasted to sweet and savory, caramelized perfection!
Print
Pin
Rate
Ingredients
5

extra-large tomatoes

,

OR an equivalent amount of smaller tomatoes

2

large garlic cloves

,

minced

4

tablespoons

extra-virgin olive oil

1 ½

tablespoons

balsamic vinegar

2

teaspoons

sugar

1

teaspoon

salt

Freshly ground black pepper

2

tablespoons

chopped fresh herbs

,

see NOTES
Instructions
Preheat oven to 450°F. Wrap a rimmed baking sheet with aluminum foil, and lay a sheet of parchment paper on top.

Cut tomatoes into ¾-inch slices. (I got about 3 slices out of each jumbo tomato. If using smaller tomatoes, like plum tomatoes, just cut them in half.) Remove all seeds and juices and poke a few holes in the bottom of any tomato end-pieces. Drain, cut side down, on a paper towel for a few minutes.

Arrange tomato slices on prepared baking sheet. Sprinkle tomatoes with minced garlic and drizzle with olive oil and balsamic vinegar (I use a small spoon to sprinkle them so I don't end up dousing too much). Sprinkle tomatoes with sugar, salt, and freshly ground pepper, to taste. Roast for 25 to 30 minutes (check at 15 minutes the first time you make them) or until tomatoes are soft, dark, and caramelized. Sprinkle with chopped fresh herbs and serve hot or at room temperature.
Notes
Using foil on your pan will make clean-up easier, and parchment paper will prevent your tomatoes from sticking. Be sure to use a rimmed baking sheet to catch any juices.
If the end-pieces of your tomatoes end up forming bowls, liquid will accumulate in them during the cooking process and cause them to steam rather than roast. Poking a few holes in the bottom eliminates this problem.
These tomatoes are delicious sprinkled with chopped fresh basil. Parsley is tasty as well, or you can use a combo of basil/parsley/oregano/thyme.
The first time you make these, and particularly if you are using smaller tomatoes, really watch the cooking time...especially towards the end, as they can go from done to burnt quickly.
This amount of olive oil and balsamic vinegar is appropriate for a 18x13x1" sheet pan full of tomatoes, regardless of the size/types of tomatoes that you start with. If you use less tomatoes, be sure to cut back on the oil, vinegar, and seasonings.
Calories:
154
kcal
|
Carbohydrates:
20
g
|
Protein:
4
g
|
Fat:
8
g
|
Saturated Fat:
1
g
|
Sodium:
604
mg
|
Potassium:
1007
mg
|
Fiber:
5
g
|
Sugar:
14
g
|
Vitamin A:
3593
IU
|
Vitamin C:
59
mg
|
Calcium:
45
mg
|
Iron:
1
mg
Adapted from The Food Network.
Recipe originally posted at Or So She Says on July 15, 2014, and published here on August 3, 2014.