Bacon Green Bean Casserole is a delicious holiday or everyday side dish recipe, with fresh green beans and crispy bacon in a sweet & savory brown sugar glaze!

Thanksgiving may feel like it happened yesterday, but get ready, y'all…it's already time to start planning Christmas dinner! And one of the dishes I made for Turkey Day last month was such a hit that I can't wait to make it again in a few short weeks.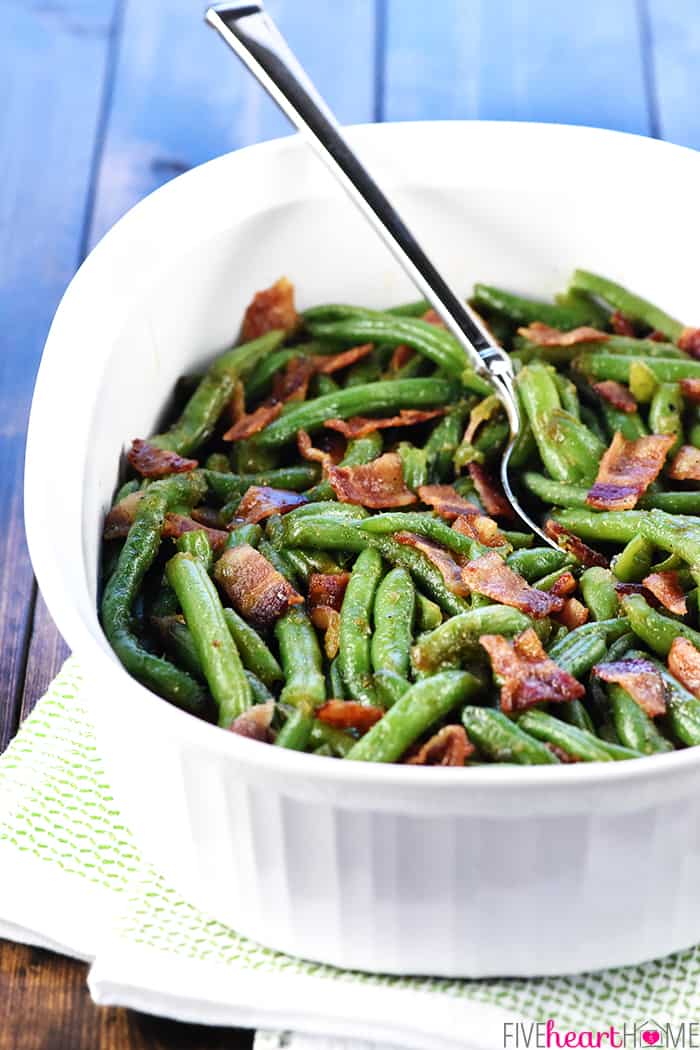 Bacon Green Bean Casserole is what happens when one decides she's too lazy to make the Bacon Green Bean Bundles with Brown Sugar Glaze that she traditionally makes for holiday meals. In case you're wondering, "she" is me. And when plans changed last month and I found myself preparing an entire Thanksgiving feast all by my lonesome on rather short notice, I wanted to keep our traditional favorites on the menu but cut corners wherever possible.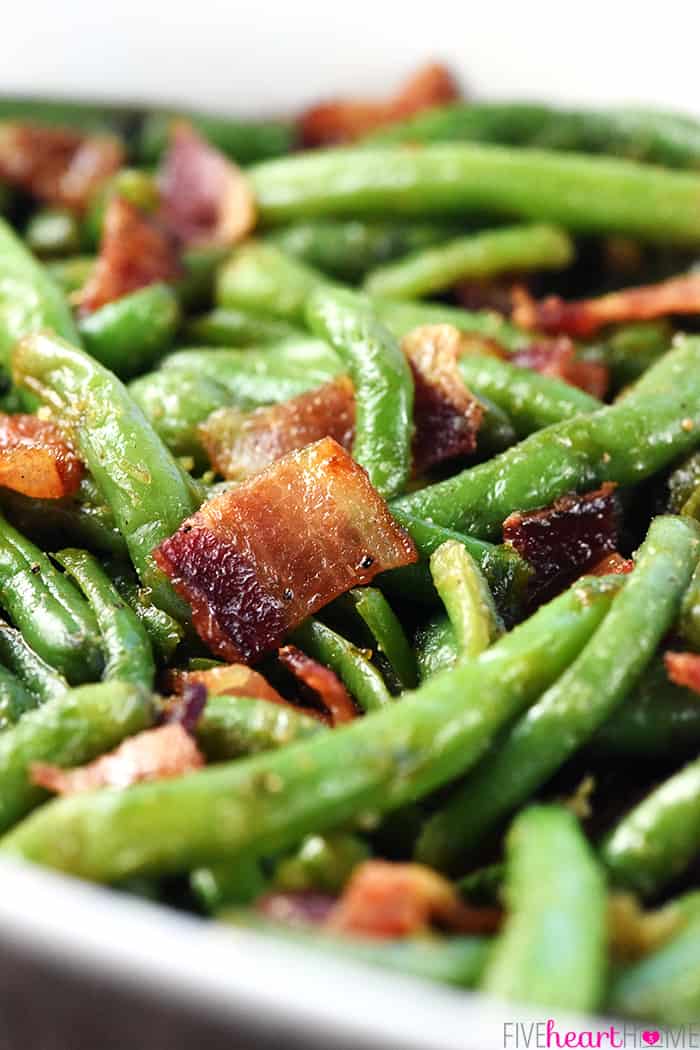 That's when I decided to adapt my beloved, bacon-tied green bean bundles into an easy-peasy casserole instead. The day before our dinner, I boiled a couple pounds of fresh green beans while simultaneously roasting some bacon in the oven. I whipped up a simple, sweet and savory glaze. Then I tossed everything together in a casserole dish, tightly covered it, and refrigerated overnight.
The next day, I gave everything a stir and popped my Bacon Green Bean Casserole into the oven with a variety of other side dishes. Half an hour later, dinner was served!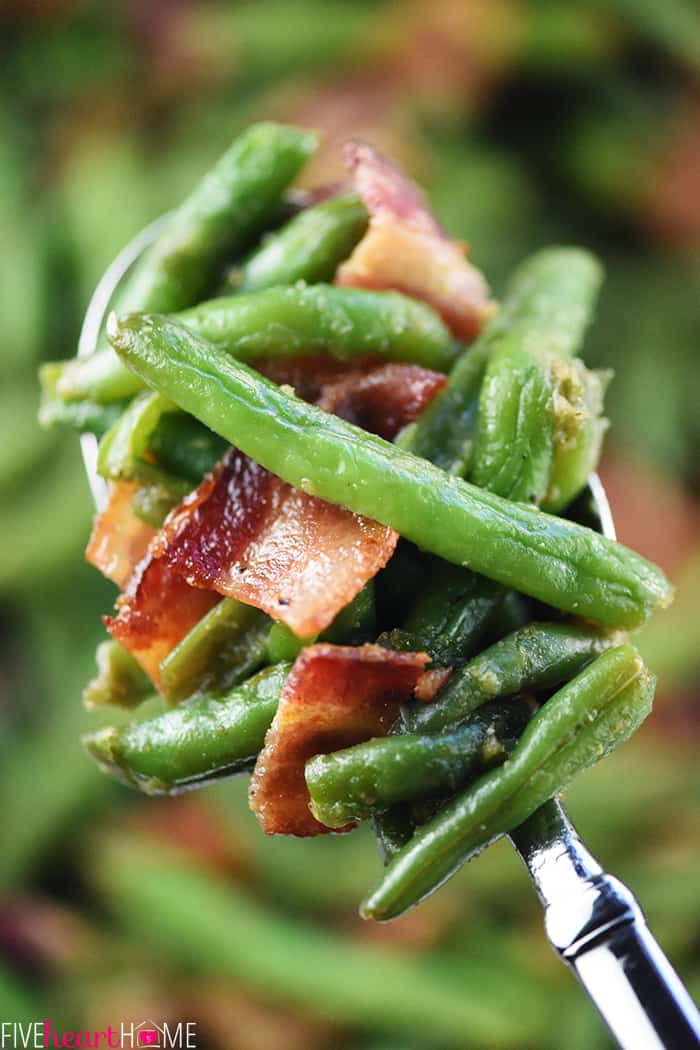 And while everything was positively scrumptious, I have to say that this new green bean side dish was one of my favorite recipes on the table! I had three servings, in fact, and my hubby was just as enamored with it. Everyone in the family was excited when I decided to make it again in order to share with y'all…and hopefully we're not quite tired of it yet because I'll be making again for Christmas!
I mean, it only makes sense with those festive shades of red and green, right? 😉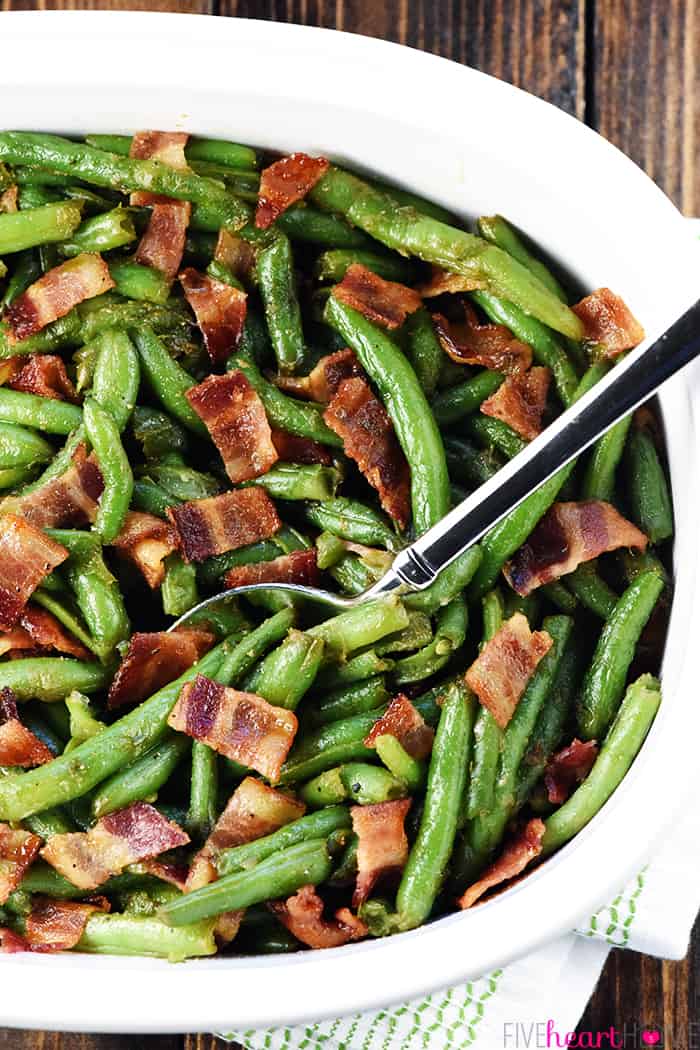 While I'm all about holiday menu traditions — making the same recipes each year in hopes that our kids will fondly recreate them for their own families one day — it's also nice to try new things every so often. And bonus points if one of those new recipes (like this Bacon Green Bean Casserole!!!) is so good that it sticks and becomes a part of the tradition moving forward. 🙂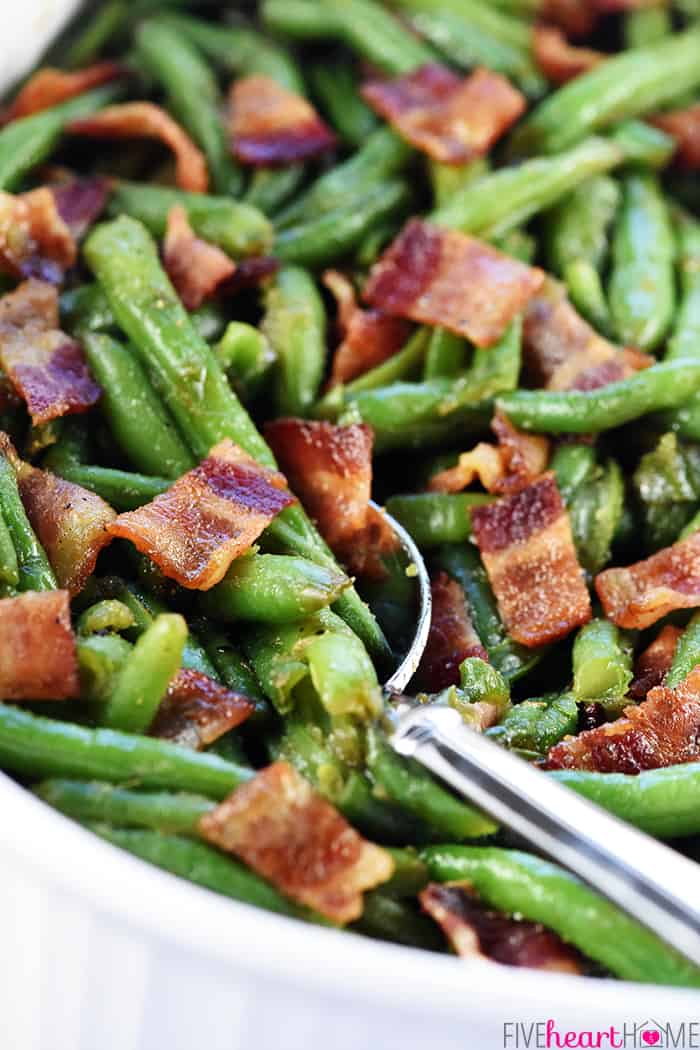 Helpful Tips, Tricks, & Equipment
(some affiliate links below)
By following the cooking times in the recipe, the green beans in this casserole will turn out very soft and tender. For green beans that have a slight bite and a brighter green color, boil for only 5 minutes. The green beans will continue to cook during their stint in the oven.
You may assemble this casserole up to two days ahead of time (boil the green beans, cook the bacon, make the sauce, and mix everything together), then cover and refrigerate. When you're ready to finish cooking it, allow the dish to come to room temperature. Then remove the cover, give it a good stir, and bake in the oven as directed in the recipe.
Boiling the green beans in chicken broth gives them extra flavor. However, since chicken broth is rather expensive to just get thrown away, I like to instead add a spoonful of Organic Better Than Bouillon chicken base to the pot of water in which I cook the green beans.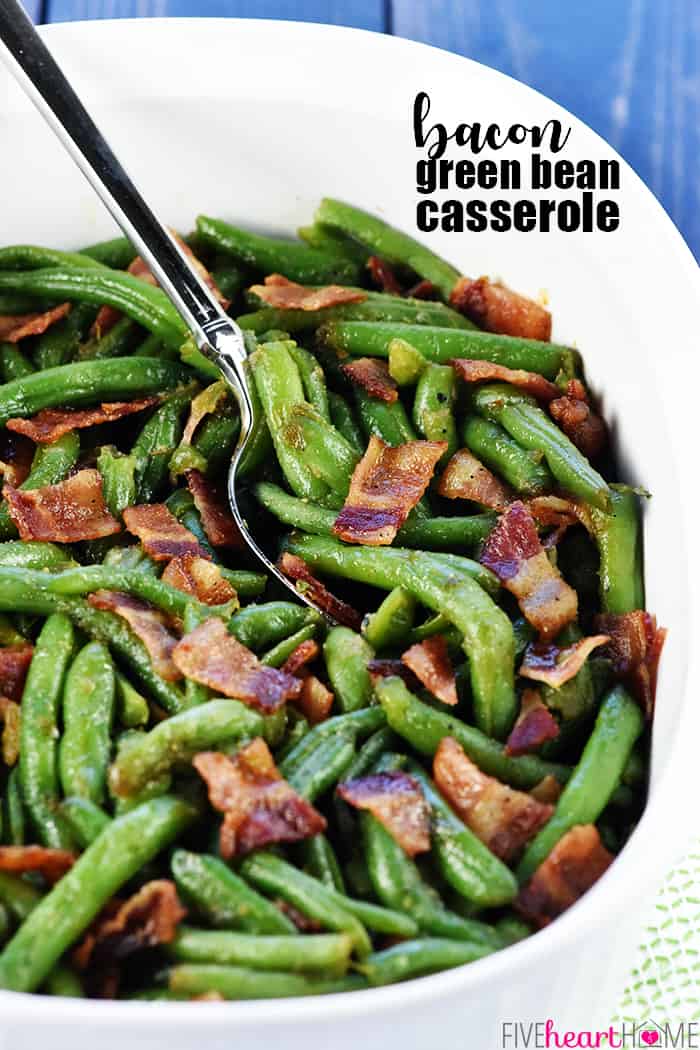 And watch just how easy it is to make this recipe in the below video!
Bacon Green Bean Casserole
Bacon Green Bean Casserole is a delicious holiday or everyday side dish recipe, with fresh green beans and crispy bacon in a sweet & savory brown sugar glaze!
Ingredients
2 pounds fresh green beans, cleaned & trimmed
8 ounces bacon, cooked until crispy & chopped
3 tablespoons butter
3 tablespoons brown sugar
1 1/2 tablespoons soy sauce
1 teaspoon garlic powder
Freshly ground black pepper
Instructions
Place rack in center position of oven and preheat to 350°F.
Bring a large pot of salted water (or chicken broth) to a boil. Add the green beans and simmer for 15 minutes. Drain and transfer to an approximately 2 1/2-quart baking dish.
Sprinkle chopped bacon over the green beans in the baking dish. Melt the butter (in a glass measuring cup in the microwave or in a small saucepan on the stove). Stir in the brown sugar, soy sauce, garlic powder, and pepper until well combined. Pour over the green beans and bacon in the baking dish and toss until all ingredients are coated. Bake for 25 to 30 minutes until tender and heated through. Stir well and serve hot.
Notes
MAKE-AHEAD TIP: Up to two days ahead of time, cook the bacon and boil the green beans as directed. Combine them in the baking dish, cover, and refrigerate. Assemble the sauce in a small glass jar or bowl; cover and refrigerate. When it's time to cook the casserole, remove the baking dish from the refrigerator and allow it to come to room temperature while preheating the oven. Reheat the sauce in the microwave (to melt the butter) and stir well. Pour the sauce over the baking dish of green beans/bacon and toss to combine. Cook as directed.
https://www.fivehearthome.com/bacon-green-bean-casserole/
https://www.fivehearthome.com ~ All recipes and images on Five Heart Home are copyright protected. Please do not use without my permission. If you would like to feature this recipe, please rewrite the directions in your own words and give proper attribution by linking back to this blog.
♥More holiday side dishes…
Holiday Honeycrisp Salad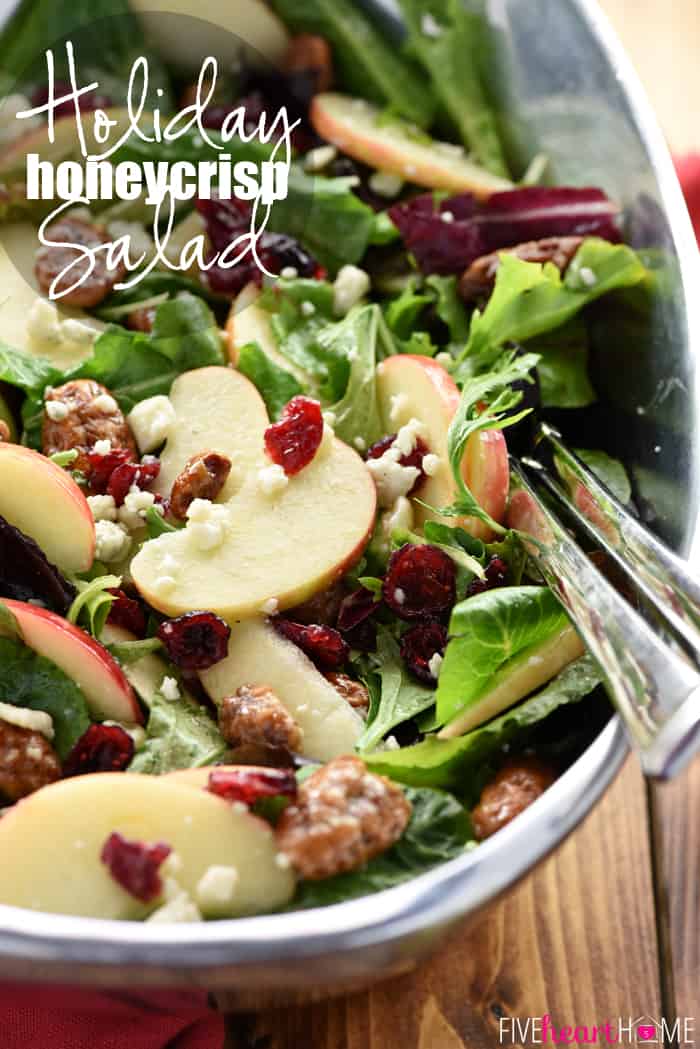 Slow Cooker Honey Cinnamon Carrots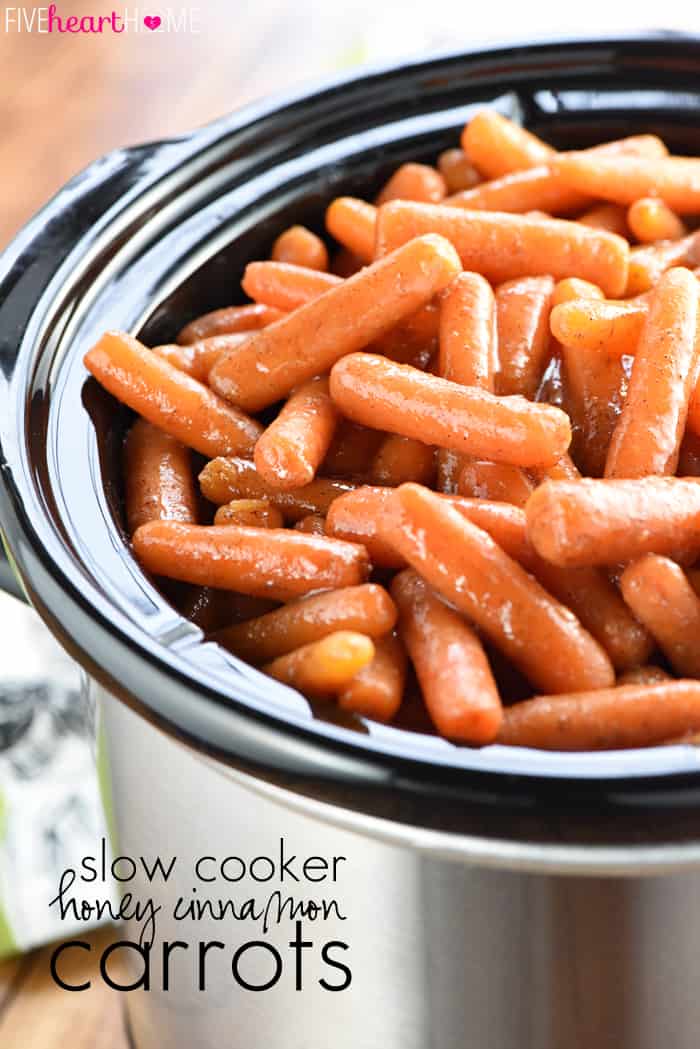 Brussels Sprouts Gratin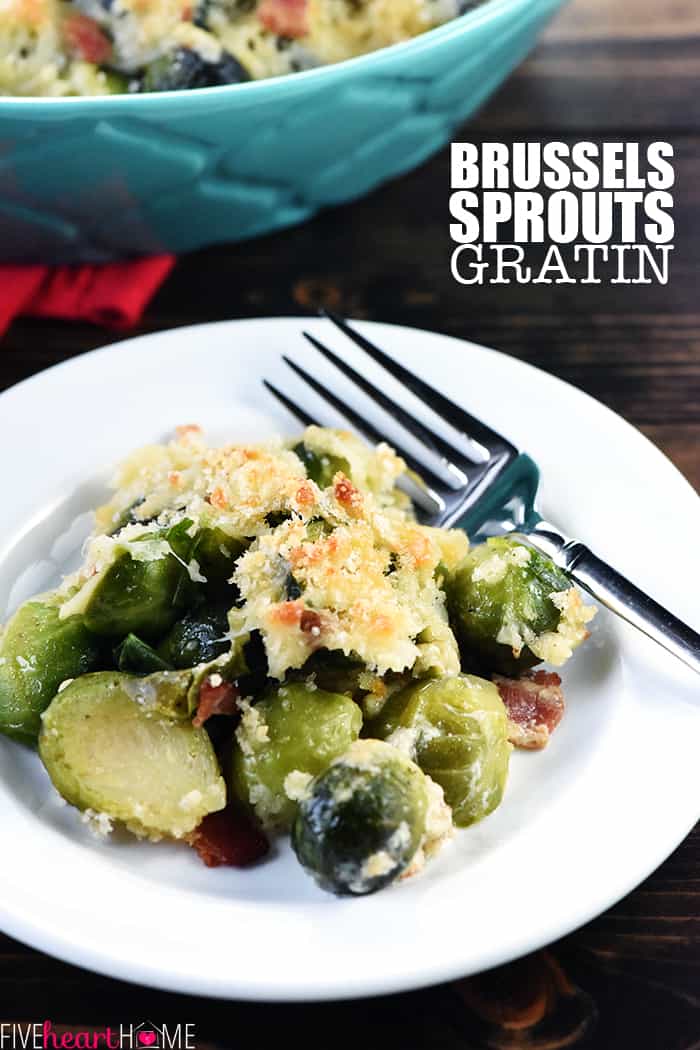 Slow Cooker Cheesy Creamy Corn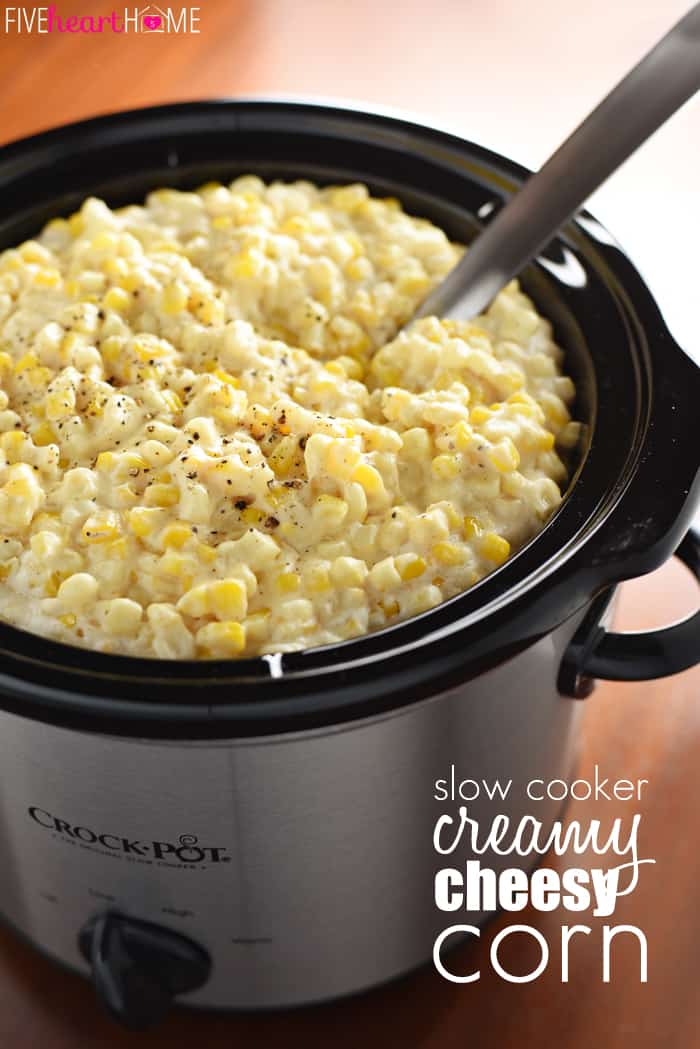 See all of our CHRISTMAS RECIPES <<< here!