Slow Cooker Brown Sugar Ham is flavored with pineapple juice and a brown sugar glaze featuring Dijon, balsamic vinegar, and honey for an easy holiday dinner from the crock pot!

If you're looking for great (non-oven or make-ahead) holiday side dishes to accompany this Crock Pot Ham, I think you'll enjoy Slow Cooker Creamy Cheesy Corn, Instant Pot Honey Cinnamon Carrots, or Make-Ahead Garlic & Herb Mashed Potatoes!
Several years ago, I had the epiphany to cook my Easter ham in the slow cooker. Let me just tell you...it's one of the most brilliant holiday cooking decisions I've ever made! You know how when you're preparing a holiday meal, oven space is at a prime because there are a ton of extra side dishes to cook, not to mention homemade rolls, desserts, etc.? Well, it's always nice to ensure that some of your dishes don't rely on said oven!
This can be the case whether you make them ahead of time, cook them on the stove, or -- better yet -- throw them in the slow cooker. And as you may have already surmised, this ham recipe falls into the latter category. And it's so mouth-watering-ly delicious, you may never want to cook your ham in the oven again!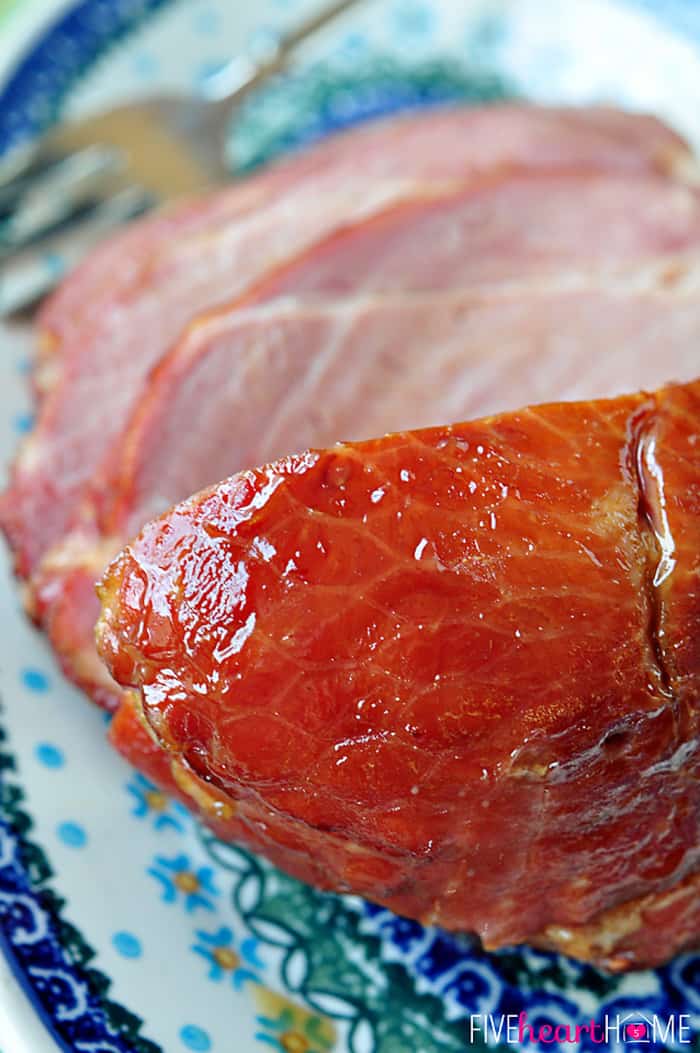 What Kind of Ham Works Best in the Crock Pot?
Here's the thing about this recipe: it's very forgiving. It can be adapted to just about any cut and any size of ham (provided you can fit it in the crock pot), boneless or bone-in, whole or spiral-sliced. But of course, all of those factors are going to dictate the ultimate cooking time.
So let's talk ham. You want to start with a fully cooked ham, and this recipe will simply serve to heat and glaze it. The most standard ham at the grocery store will probably be cured but not smoked, though you can choose cured or uncured, plain or smoked. It's just a matter of personal preference. (The ham in these photos was actually uncured, which is why it's a lighter color than deep pink, cured ham.) And if your ham includes a flavor/glaze packet, or if it has a plastic cap over the end of the bone, be sure to discard those before cooking!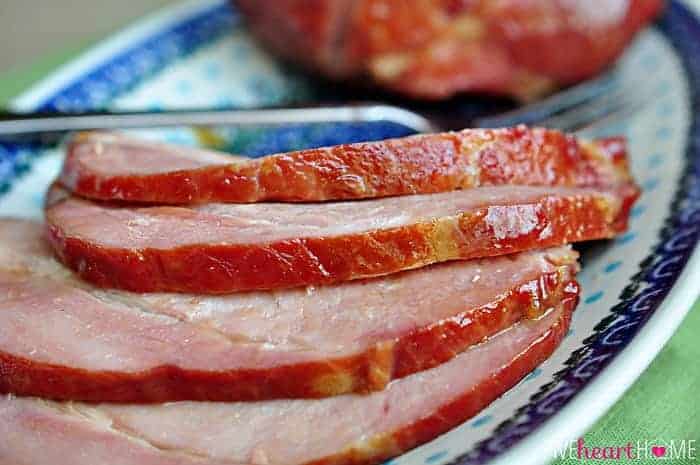 What Size Do I Need?
The size of ham you buy depends on how many people you are going to feed. You can go with a large ham for a big group. Or I've halved this recipe and reduced the cooking time to use as small as a 2-pound petite ham half as an everyday, weeknight meal for my family (of two adults and three young children).
I would recommend up to an 8-pound ham as the size that will most readily fit in a large (7- to 8-quart), oval crock pot. But of course, that also depends on the shape of the ham. If you put your ham in the crock pot and it extends in a way that the lid won't fit snugly, you have two choices. You can either trim off a piece of your ham to make it fit, or use a triple layer of heavy-duty foil to cover the slow cooker with a tight seal (and then I'd still try to lay the lid on top). Just beware of hot steam when you remove the foil!
How Long Does It Take to Bake a Fully Cooked Ham?
The FDA recommends reheating a fully-cooked ham to 140°F. A very small ham may reach that point in a slow cooker set to low within 2 to 3 hours. A large ham should be to that temperature by 4 to 6 hours on low. Just keep in mind that each time you remove the crock pot's lid, you may have to compensate for lost heat with a bit of additional cooking time.
As with most cuts of meat, a bone-in ham is likelier to stay juicy, but boneless will work, too. And while a sprial-cut ham is convenient for serving and certainly adapts to this recipe, beware that it may dry out a bit faster than a whole, uncut ham. You can always baste all over the spiral slices a few times throughout the cooking process. You can also slightly reduce the cooking time as compared to an unsliced ham to ensure a moist final product.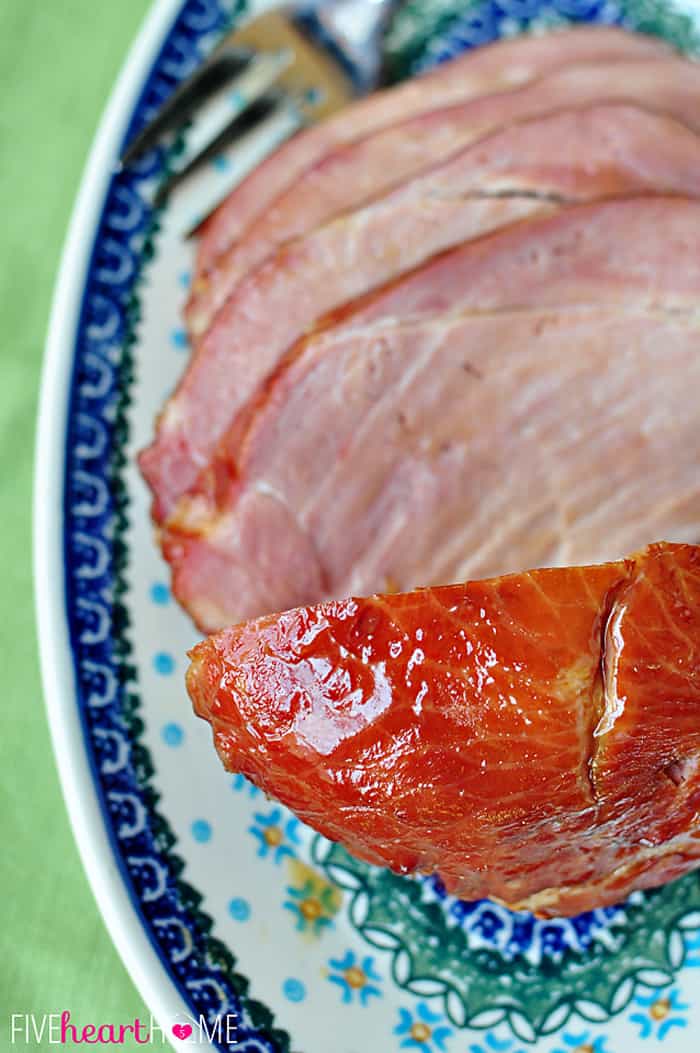 How to Make Crock Pot Ham
Okey-doke...that should pretty much cover the nitty gritty details. Now onto the yummy part of this recipe! I happen to think that the flavors of ham and pineapple are a match made in heaven. But if you don't care for pineapple juice, you can easily sub apple juice or orange juice instead.
After pouring the juice into the bottom of your slow cooker, simply coat your entire ham with a paste made of brown sugar, balsamic vinegar, Dijon mustard, and honey. These ingredients melt down into the most tantalizing glaze, which you later thicken and serve drizzled over the top of the ham. The glaze is honestly my favorite part of this recipe...yum doesn't even begin to describe it. Let's just say I have eaten could eat it with a spoon.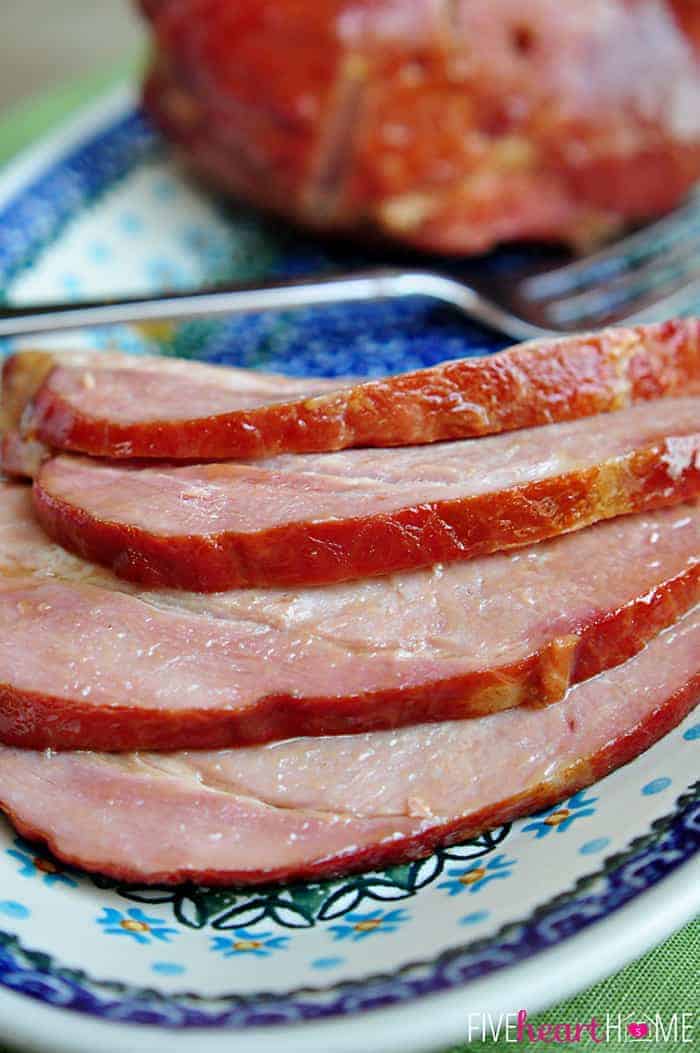 How Do I Make This Crock Pot Ham Without Brown Sugar?
If you like more of a savory ham versus sweet, it's easy to adapt this recipe. Simply drop both the juice and the brown sugar from your ingredients list. Instead, use a chicken or vegetable broth in the bottom of your slow cooker to ensure the ham stays moist while it cooks.
For the rub, double the mustard and add the vinegar and the honey (you can handle a leeetle bit of sweetness, right?). If you like, you can also add crushed black peppercorns, minced garlic, and/or a little white wine to the mix as well. Mix and rub this all over the ham as instructed. Follow the directions for cooking times.

Helpful Tips & Tricks for Slow Cooker Ham
(some affiliate links below)
In case you're in the market for a new slow cooker, here's my favorite one.
Make sure you have a tight seal on that slow cooker. If you let the steam out, while it's cooking, well, there goes your nice, juicy ham. Use the layered foil technique if your lid doesn't fit. As I mentioned, I still add the lid over the foil for what it's worth. At the very least it holds the foil on tightly.
Leftover ham? No problem. Wrap it back up in foil to reheat it in the oven till it hits that magic USDA 140 degree temperature again. Add a couple tablespoons of water or broth to the foil with the ham to keep it from drying out. If you want to microwave it to warm it, place it in a microwave-safe container with a little liquid. Have a loose-fitting lid over the top to keep moisture in but also to vent a little out so that the top doesn't explode on you.
When slicing into your ham, be sure first of all that you have it on a flat surface, flat-side down. You'll want to slice against the grain because it'll be nice and tender and easier to chew that way.
Be sure not to skip the tenting and resting part of this delicious slow cooker ham recipe. You'll want to give the meat time to absorb all the juices. If you cut right into it, you'll lose some of that amazingly moist meat.
Using a slow cooker is truly the easiest, most delicious way to cook a ham. I look forward to making it this way every time Easter and Christmas roll around! I also use this technique with a small ham for an effortless dinner throughout the year. This is a great recipe to have in your arsenal, so I hope you have a chance to try soon. (*cough* like this Easter *cough*) And I hope it's a big hit if you do!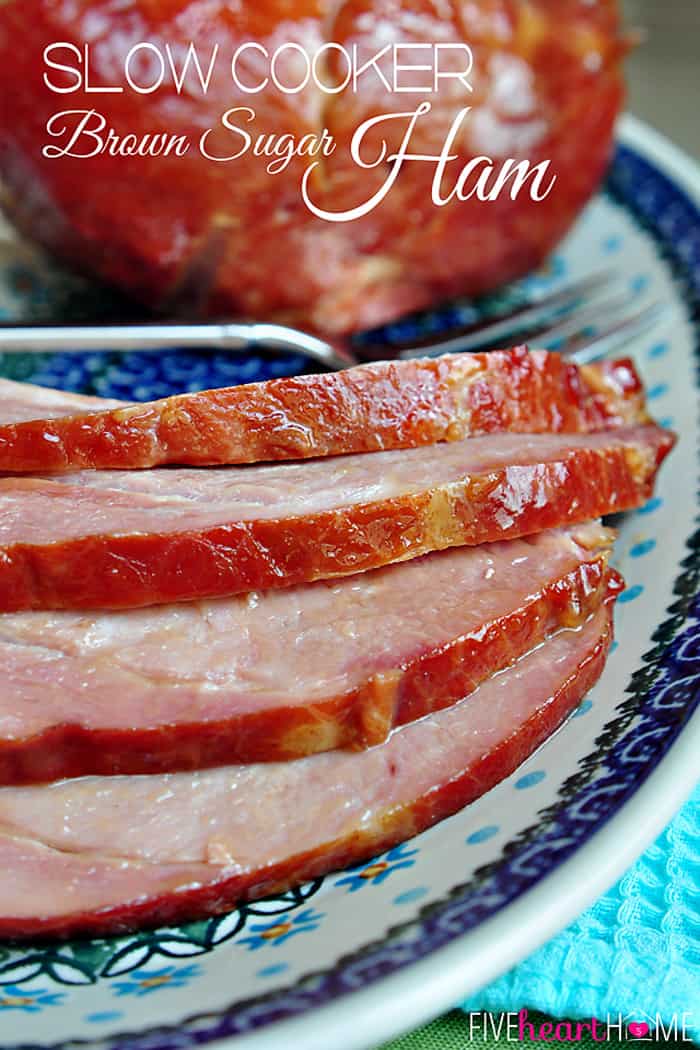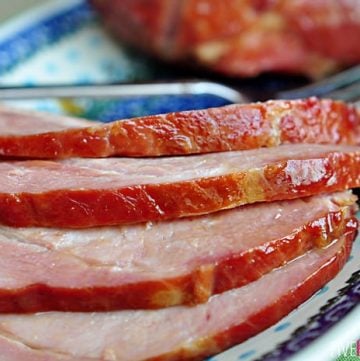 Crock Pot Ham | Slow Cooker Brown Sugar Ham
Make your holiday cooking quick & easy with a crock pot ham! This sweet and savory Slow Cooker Brown Sugar Ham is flavored with pineapple juice and a brown sugar rub featuring Dijon, balsamic vinegar, and honey that melt into an amazing glaze.
Print
Pin
Rate
Servings:
10
servings (approximately, for an 8-pound bone-in ham)
Ingredients
Fully-cooked ham

,

approximately 7 to 8 pounds (*see Notes below)

2

cups

pineapple juice

2

cups

brown sugar

1 ½

tablespoons

Dijon mustard

1 ½

tablespoons

balsamic vinegar

1 ½

tablespoons

honey

2

tablespoons

cornstarch

2

tablespoons

water
Instructions
Remove ham from the packaging and discard any flavoring packet. If using a bone-in ham, check the end of the bone for a plastic cap and, if present, discard.

Pour the pineapple juice in bottom of a large (6.5- to 8-quart), oval slow cooker.

In a medium bowl, mix the brown sugar, Dijon, balsamic vinegar, and honey into a paste. Spread brown sugar mixture all over ham and place, flat side down, in slow cooker.

Cover slow cooker with lid and set to LOW. Cook ham for 4 to 6 hours or until the meat is tender and the internal temperature reaches 140°F. If desired, flip and baste the ham halfway through cooking time and again about an hour before ham is done.

Once ham is done, remove to a platter and tent with foil to keep warm. Skim any fat and strain the juices from the crock pot into a saucepan. Place the pot on the stove over medium heat and bring the juices to a simmer. In a small bowl, use a fork to stir the cornstarch into the water to make a slurry. Slowly pour the slurry into the pot while whisking the ham juices. Allow the mixture to bubble and thicken for a minute or two, stirring occasionally. If you desire a thicker sauce, you may stir in a bit more cornstarch slurry. Do not add straight cornstarch to the hot liquid or it will clump, and do not over stir the sauce once the cornstarch has been added or it may not thicken properly.

Serve the ham warm, with the sauce on the side or drizzled on top. If you prefer an oven-cooked ham effect, you may also glaze the entire ham with thickened sauce and pop it under the broiler for about 5 minutes (watch it closely!) before serving.
Notes
You may use a bone-in ham (recommended) or boneless, whole or spiral cut, cured or uncured, smoked or not, shank, butt, or shoulder.
To determine number of servings, estimate approximately ½ pound of boneless ham per person and ¾ pound of bone-in ham per person.
A ham that's less than 7 or 8 pounds will probably reach 140° sooner than 4 to 6 hours. The ham is already cooked, so all you are doing is heating it through to a safe temperature and allowing it to absorb the flavors of the glaze. For example, a small 3-pound ham will probably be done in 2 ½ to 3 hours. Overcooking will lead to a tough, dry ham, even in the crock pot! You may also want to halve the other recipe ingredients if cooking a ham that's smaller than 4 pounds.
Try to ensure that your ham is going to fit in your crock pot before buying it. However, if your ham is particularly large or of a shape that will not allow the lid of the slow cooker to properly close, trim off a chunk of ham to make it fit. As a last resort, you may cover the slow cooker with a tightly-sealed, triple layer of heavy duty foil instead. Beware of hot steam when you remove the foil!
Calories:
666
kcal
|
Carbohydrates:
29
g
|
Protein:
49
g
|
Fat:
38
g
|
Saturated Fat:
13
g
|
Cholesterol:
140
mg
|
Sodium:
2725
mg
|
Potassium:
708
mg
|
Sugar:
26
g
|
Vitamin C:
2.4
mg
|
Calcium:
39
mg
|
Iron:
2.2
mg
Post originally published on April 4, 2014.
Holiday Side Dishes for Ham