Slow Cooker Chocolate Peanut Butter Fondue is a decadent, glossy, chocolate dip kissed with peanut butter, perfect for your favorite fruit and confections on Valentine's Day or any day!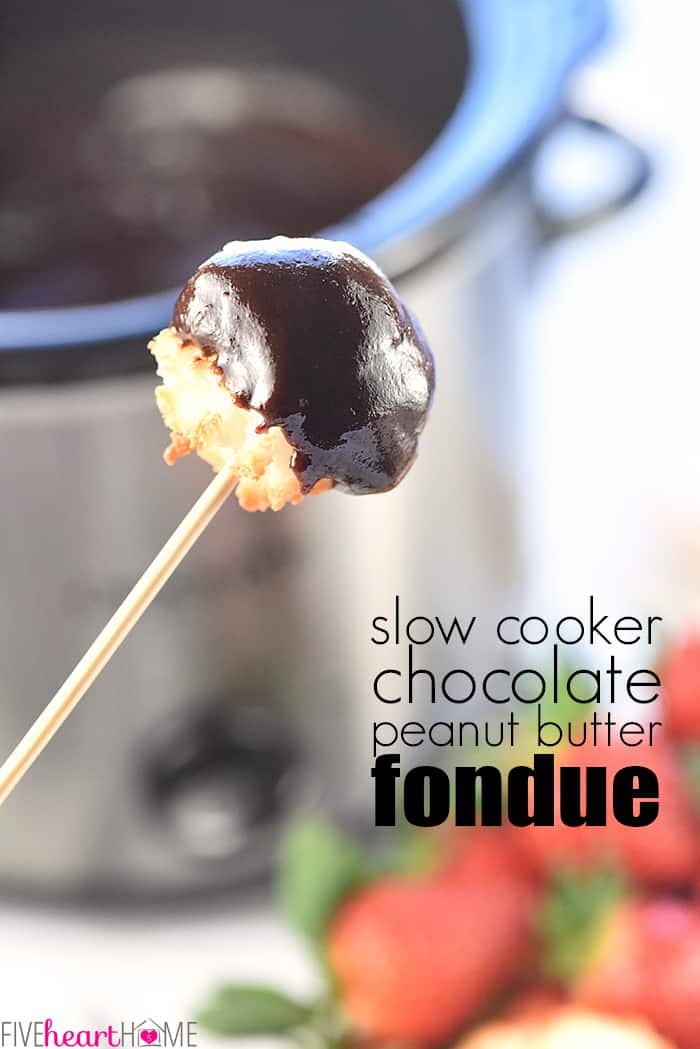 I've got four magical words for y'all today: chocolate peanut butter fondue. Actually, I'm going to add two more of my favorite words to the above: slow cooker. That's right, friends...this delectable dessert can be yours with just a handful of simple ingredients and a short stint in the crock pot!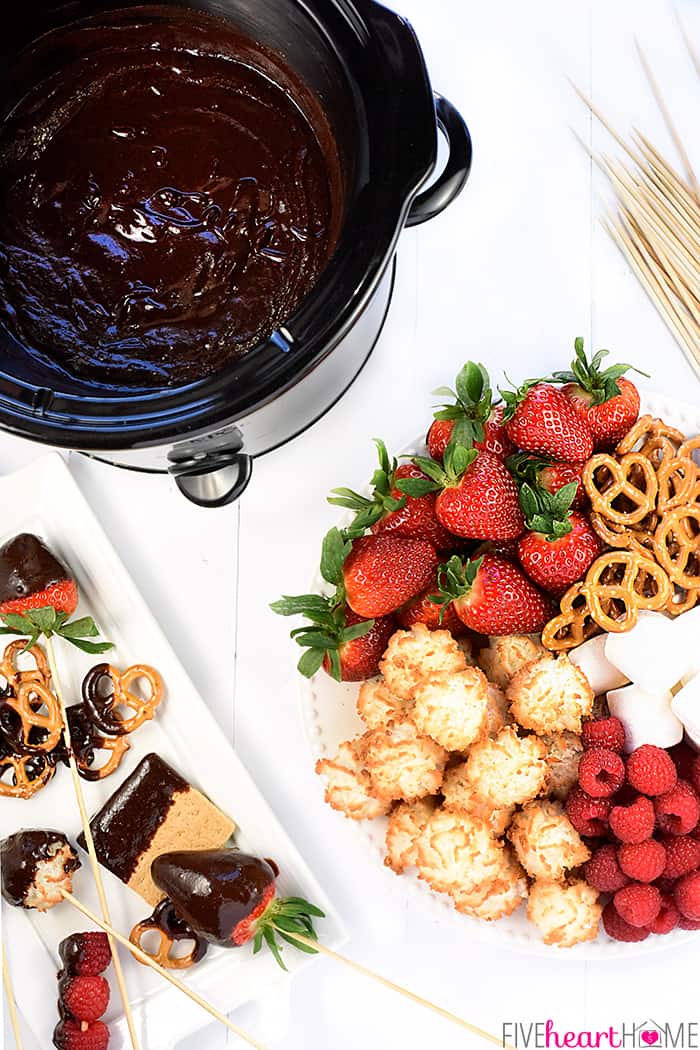 It goes without saying that I'm a big fan of dinner recipes from the slow cooker. But sometimes it's nice to think outside of the box a bit and rely on the ol' crock pot for an overnight breakfast or an effortless side or a party-friendly dip. But I recently realized that I've never shared a slow cooker dessert recipe with y'all and, well, I think it's high time we remedy that today.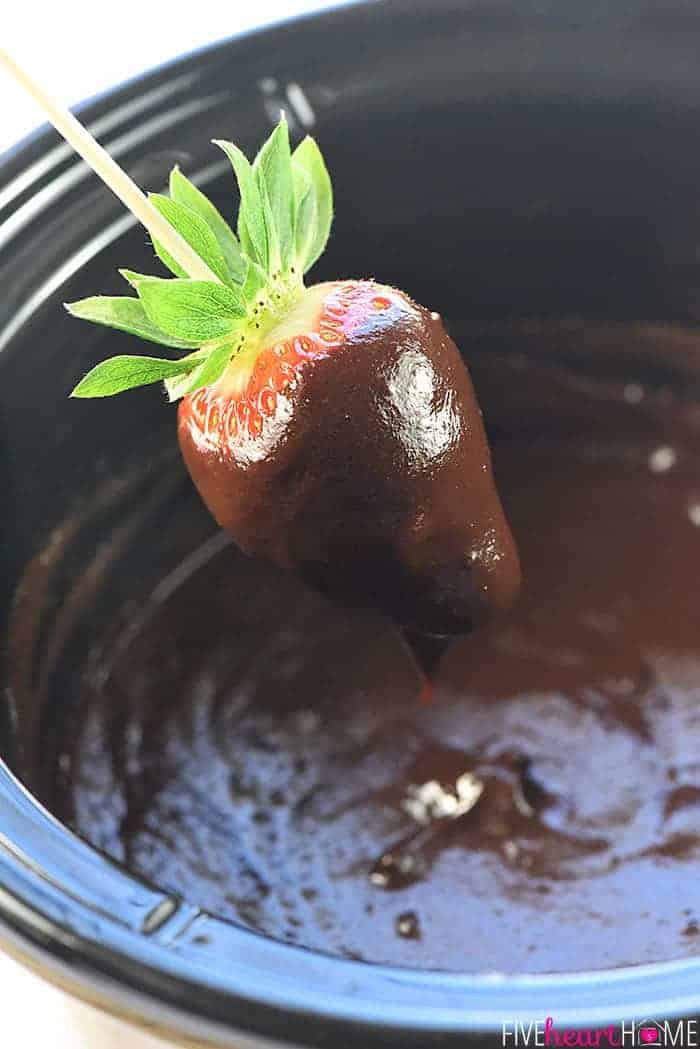 With Valentine's Day coming up, I thought it would be fun to do a slow cooker chocolate fondue. But as yummy and addictive as chocolate fondue is, it's not exactly revolutionary. So I decided to jazz it up just a bit with a generous smattering of peanut butter. The result is a silky river of chocolate peanut butter deliciousness that could easily be kin to a Reese's Peanut Butter Cup!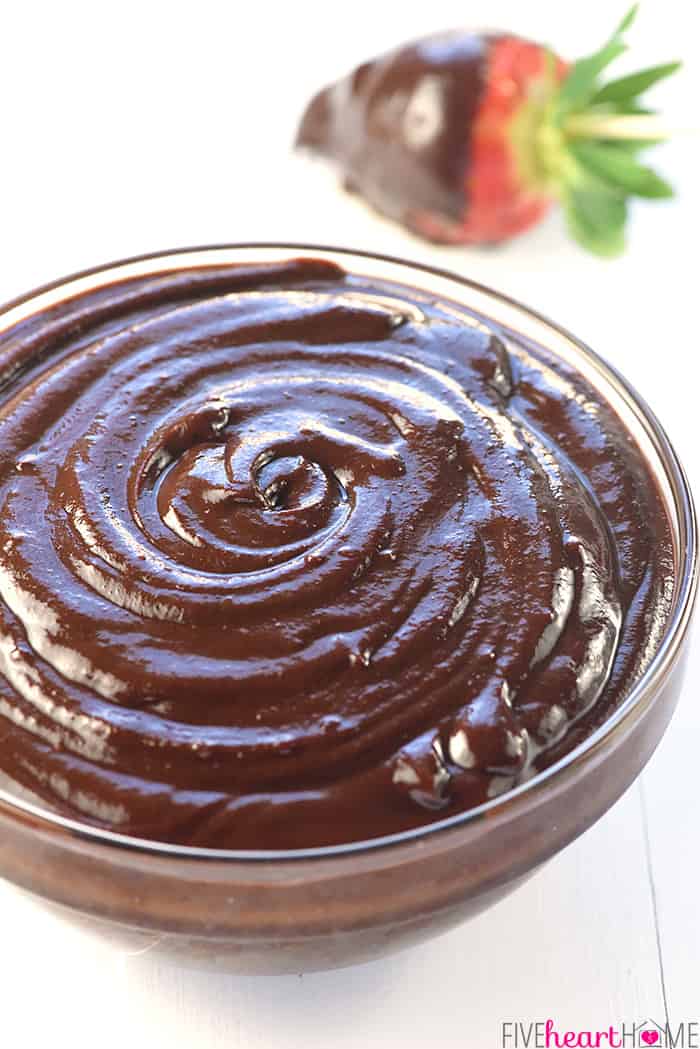 Ingredients
Don't get me wrong...there are no Reese's in this recipe. Rather, I decided to keep things as straightforward as possible with:
good-quality chocolate chips
heavy cream, and
creamy peanut butter!
Then, to add a little depth of flavor, I stirred in a teaspoon of instant espresso powder (one of my favorite tricks for intensifying the flavor of chocolate...thanks, Ina!), a splash of vanilla, and a dash of salt (because a little savory always complements the sweet).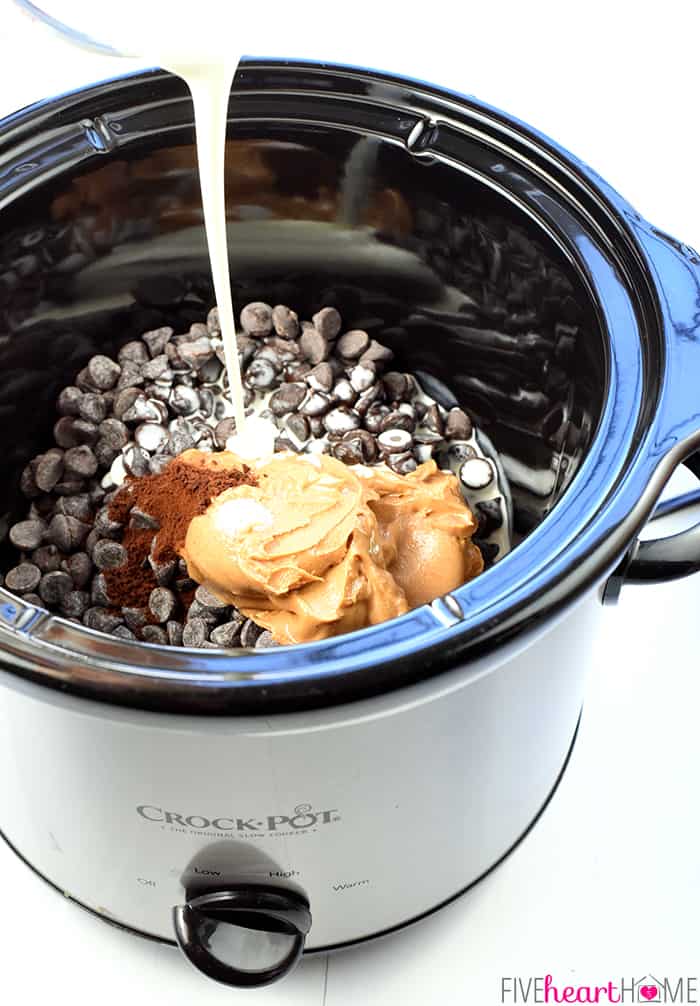 How to Make Chocolate Fondue in the Crockpot
As for the recipe, it's simple!
Combine the ingredients in a smallish slow cooker (I used my 3-quart round crock pot).
Cover and set to LOW.
Stir every 15 to 20 minutes, until the chocolate is completely melted and all of the ingredients have melded into glossy, luxurious, Chocolate Peanut Butter Fondue.
Just be sure you already have your dippers ready, though, because you're going to want to immediately commence with the dunking!
Dipper Ideas
As for the dippers, my motto is to let your conscience be your guide. 😉
I went for strawberries and raspberries, mini coconut macaroons, pretzel twists, marshmallows, and graham crackers.
You could also try apple or banana slices, cubes of pound cake or angel food cake, shortbread, brownie bites, donut holes, Oreos, or -- wait for it -- salty potato chips!
I hesitate to say I would even try bacon. But I adore bacon so...yep, I just might try it. Anything is fair game.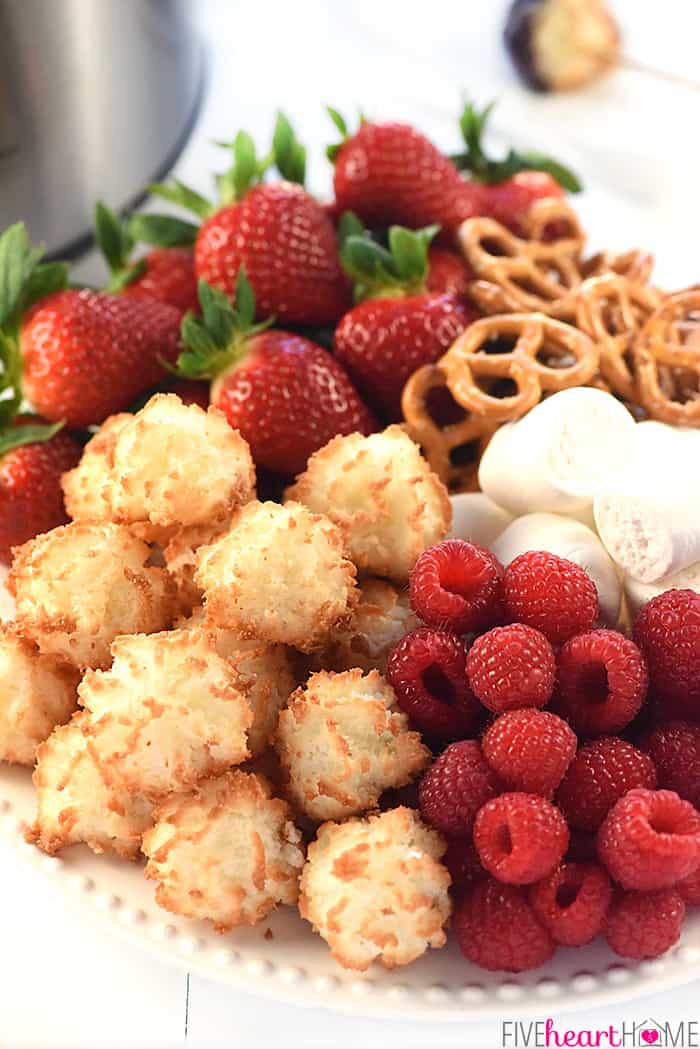 I was initially a bit concerned that the berries might clash with the peanut butter undertone of the chocolate in this recipe, but it didn't end up being a problem at all. The chosen dipper actually seems to bring out different flavors in the fondue. A strawberry made the fondue taste decidedly chocolatey, but with a non-berry dipper, the peanut butter flavor really shone through.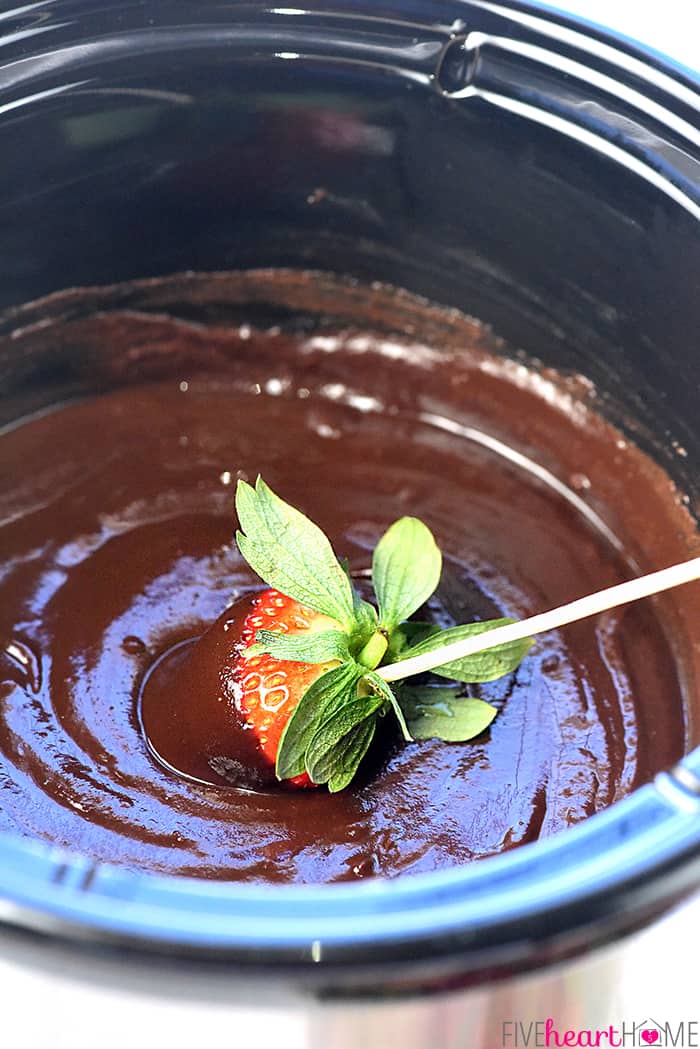 Secrets to Success
In my humble opinion, there are two keys to this recipe.
First off, use good-quality chocolate chips, as chocolate is the primary flavor here. Also, lower-quality chocolate chips may have a higher proportion of additives and it's possible that they won't melt as smoothly. So spring for the good ones! I usually keep Guittard chocolate chips in my pantry, but I also love Ghirardelli.
I developed this recipe with chocolate chips instead of whole chocolate bars because I wanted it to be easy -- simply cut open the bag and dump with no chopping chocolate involved. But I also thought that fine pieces of chopped chocolate might melt too quickly and would have a greater chance of scorching before larger pieces were melted. Chocolate chips are nice and uniform in size with no effort required.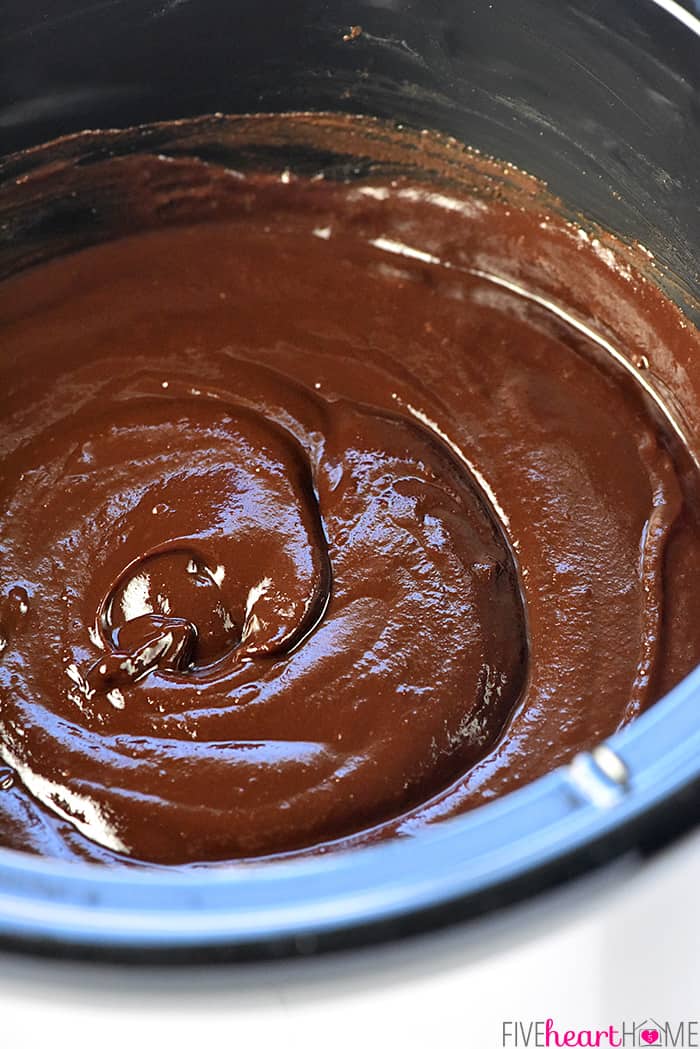 The other key to this recipe is know your slow cooker. If you don't actually know your slow cooker all that well, that's okay...just be prepared to monitor it the first time you make this recipe.
My 3-quart crock pot runs slightly hot, and I wanted to be sure my ingredients didn't burn, so I thoroughly stirred everything every 20 minutes. After the third 20-minute stint (for a total 1-hour cooking time), the chocolate was completely smooth and melted and the ingredients were fully incorporated. At this point, I turned the slow cooker to warm and left the lid off. My Slow Cooker Chocolate Peanut Butter Fondue was ready to serve!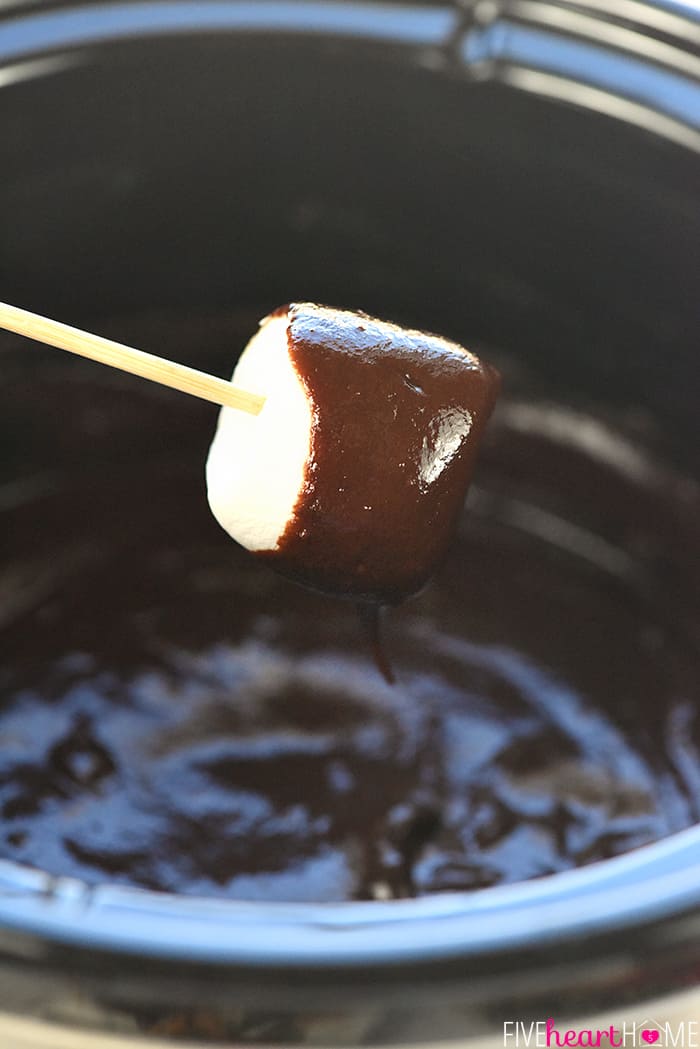 Watch It Carefully
Usually when you make a recipe in a slow cooker, you don't want to lift the lid too often because too much heat will be released. But when making chocolate fondue, that's actually not a bad thing. When you open the lid to stir, it brings down the temperature just a bit and keeps the chocolate from getting too hot too fast. But if you notice bubbling around the edges, you may need to stir your fondue more often.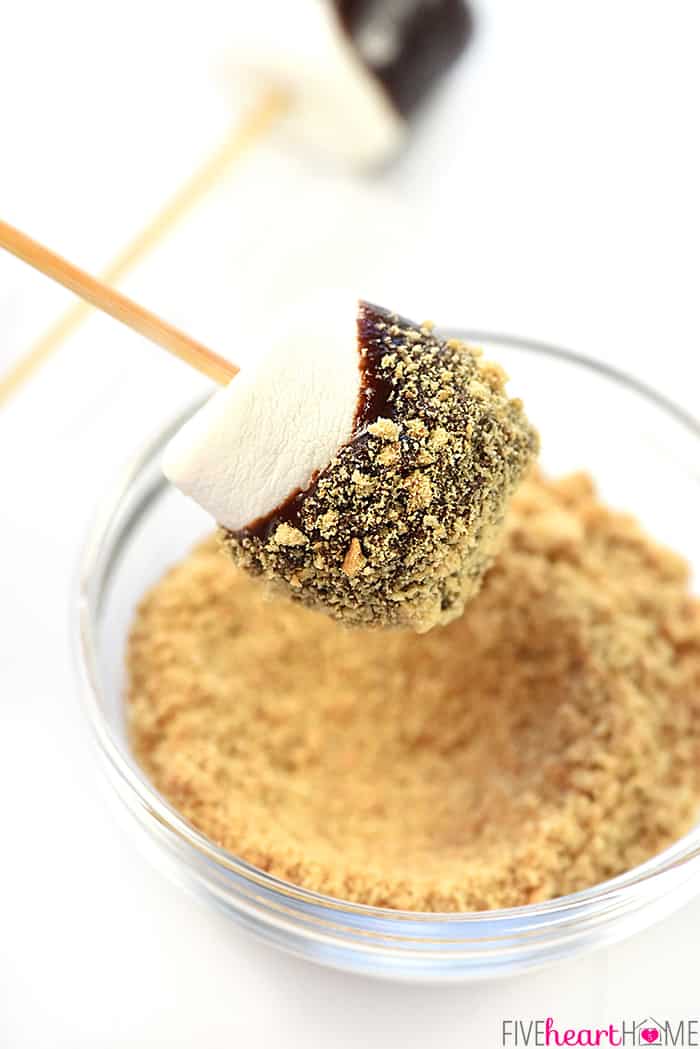 As soon as everything is melted and well combined, turn the slow cooker to warm (or turn it off completely, if it seems too hot). It's best to serve your fondue immediately. You can always temporarily turn the heat back up and give it a good stir if it starts to cool and thicken, but I think it's much more likely that it will disappear completely before that has a chance to happen.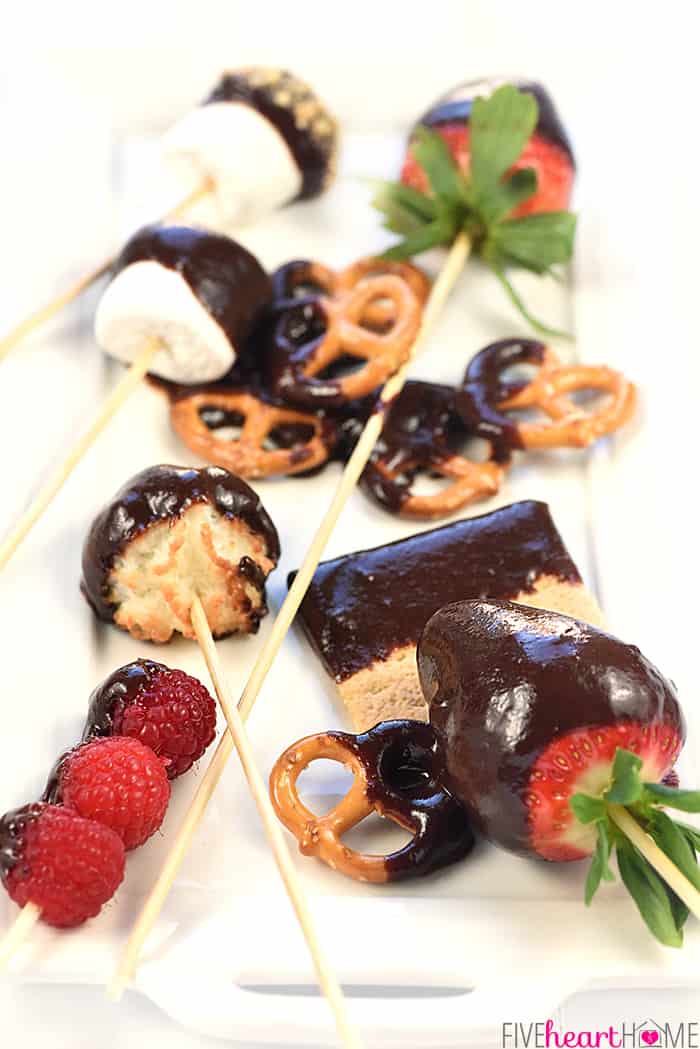 And in the improbable event that you have leftovers, rumor has it that Slow Cooker Chocolate Peanut Butter Fondue can be scooped into a bowl, zapped in the microwave for a few minutes, and stirred to restore it to its former, molten chocolate glory. It's delectable served over ice cream for dessert...or waffles at breakfast. In the spirit of Valentine's Day love, I won't judge. 😉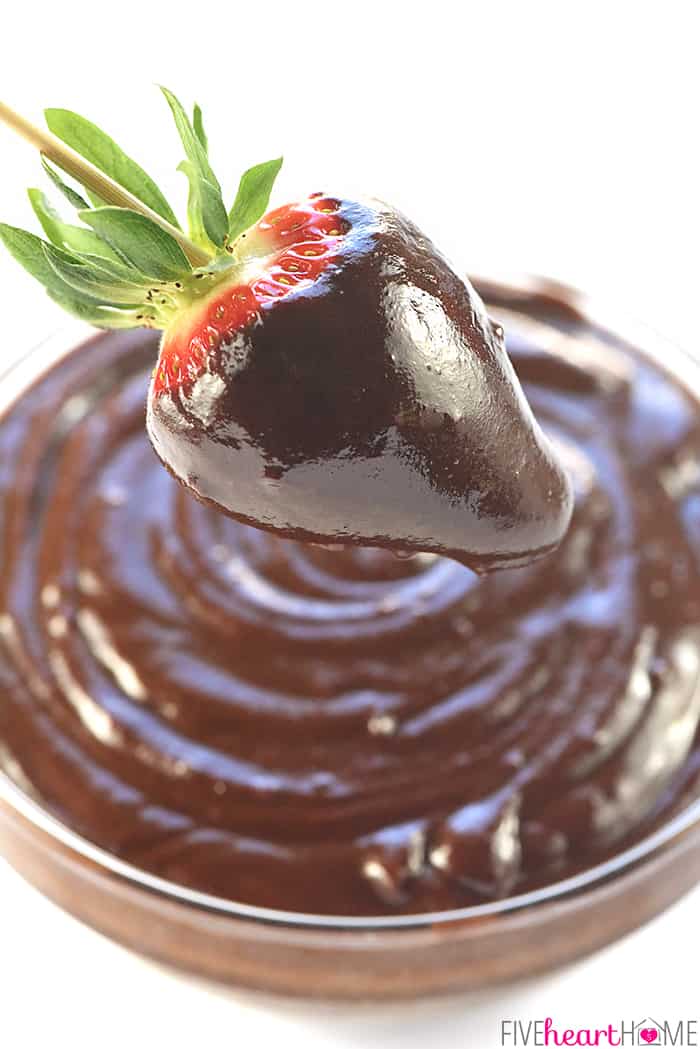 So make it for V-Day, make it for girls' night, make it for a party...I can promise that this recipe will be a welcome addition to any celebration, holiday, or occasion!
More Valentine's Day Treats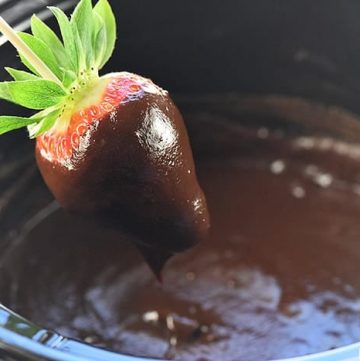 Slow Cooker Chocolate Peanut Butter Fondue
Slow Cooker Chocolate Peanut Butter Fondue is a decadent, glossy, chocolate dip kissed with peanut butter, perfect for your favorite fruit and confections on Valentine's Day or any day!
Print
Pin
Rate
Servings:
6
to 8 servings
Ingredients
12

ounces

(about 2 cups) good-quality semisweet chocolate chips

2

ounces

(about ⅓ cup) good-quality bittersweet chocolate chips

¾

cup

creamy peanut butter

1

teaspoon

instant espresso powder

,

optional

Pinch

of salt

1 ¼

cups

heavy cream

1

teaspoon

pure vanilla extract
Dippers
fresh fruit (banana or apple slices, strawberries, etc.), jumbo marshmallows, cubed pound cake, cubed angel food cake, coconut macaroons, butter cookies, shortbread, graham crackers, Oreos, brownie bites, donut holes, pretzel twists, and/or potato chips
Instructions
Measure chocolate chips, peanut butter, espresso powder, and salt into a small (approximately 3-quart) slow cooker. Pour heavy cream over the top. Cover and cook on LOW for 20 minutes. Stir well, cover again, and cook for 20 minutes. Repeat until the chocolate is smooth and melted and all of the ingredients are fully incorporated. Once the fondue is done, stir in the vanilla, reduce the heat to WARM, and serve immediately with your favorite dippers.
Notes
It's important to use good-quality chocolate chips in chocolate fondue since they taste better and melt smoother. I recommend Guittard or Ghirardelli.
You can use all semi-sweet chocolate chips or a combination of your favorite kinds...semi-sweet, milk chocolate, or bittersweet. The combo listed in this recipe just happens to be my favorite. 😉 However, white chocolate chips, peanut butter chips, or other flavors aren't made from chocolate and contain ingredients that may prevent them from melting as smoothly.
Heavy cream is sometimes called heavy whipping cream.
You may use your favorite type of peanut butter, but don't use a natural variety where the oil separates and has to be stirred back in. I used natural peanut butter but made sure it was the no-stir kind. 😉
I keep a jar of instant espresso powder in my pantry to add to brownies, chocolate cake, chocolate cookies, etc. Adding a small amount of espresso powder lends depth of flavor to chocolate recipes without making them taste like coffee.
I stirred my fondue every 20 minutes and it was finished in exactly 1 hour. If your fondue is bubbling around the edges but not yet fully melted, you may want to stir more frequently (every 10 to 15 minutes).
If your slow cooker runs hot, your fondue will be ready sooner than 1 hour. If your slow cooker runs cool, it may take longer for everything to melt.
This recipe should work just fine in a larger (6-quart or so) slow cooker. Just keep an eye on it in case it cooks more quickly. I prefer using a small slow cooker, however, for more depth when it comes to dipping.
I haven't tried doubling this recipe. If you choose to do so, it will probably take longer for all of the ingredients to fully melt, so you may want to watch it closely and stir frequently to keep it from burning around the edges.
Calories:
78
kcal
|
Carbohydrates:
4
g
|
Protein:
1
g
|
Fat:
6
g
|
Saturated Fat:
2
g
|
Cholesterol:
7
mg
|
Sodium:
23
mg
|
Potassium:
68
mg
|
Sugar:
2
g
|
Vitamin A:
75
IU
|
Calcium:
12
mg
|
Iron:
0.4
mg
Save
Save