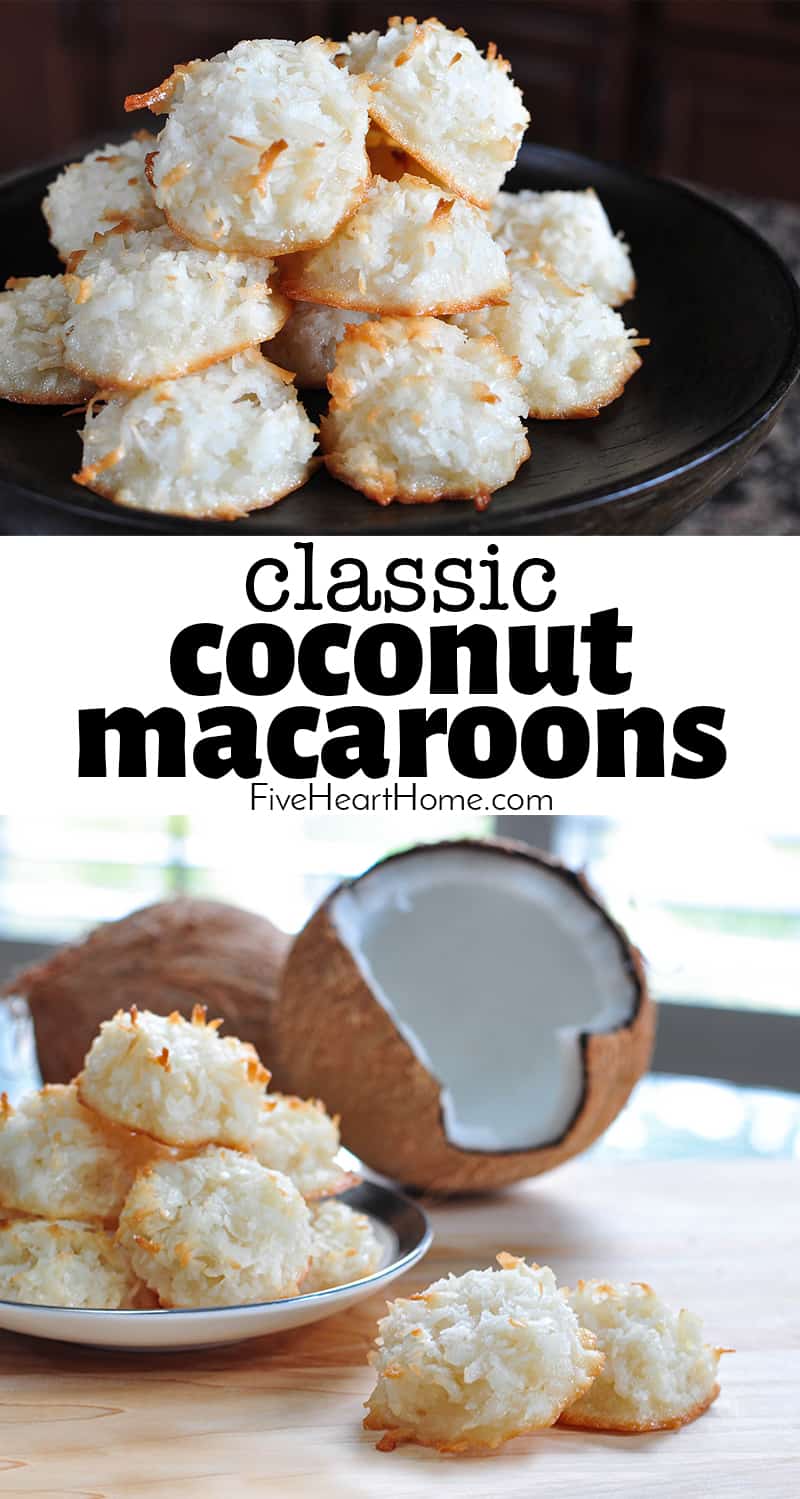 Coconut Macaroons are a chewy, delicious, and easy to make cookie recipe with just six simple ingredients and NO condensed milk!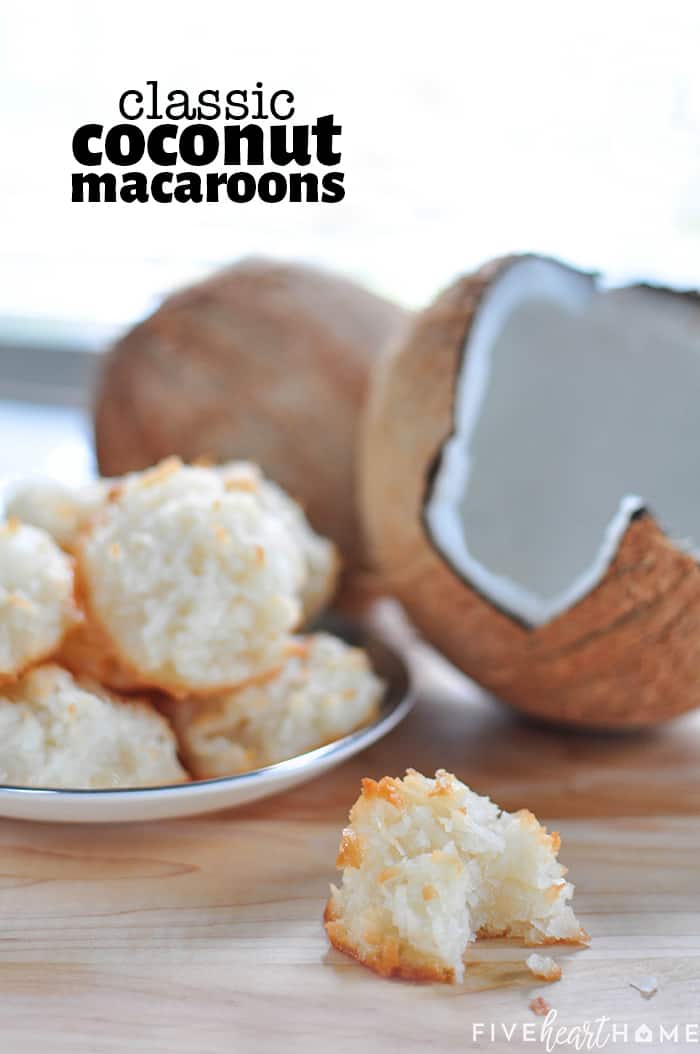 Today I'm sharing with you one of my all-time favorite classic cookie recipes. It's easy to whip up simple, yet scrumptious, Coconut Macaroons!
This recipe is one that my mom always made when I was growing up. Which meant that, soon enough, I learned to make these Coconut Macaroons myself...and I did so frequently.
This is also the recipe that, when I first started dating my hubby, put me in good favor with his sweet granddad. Because, hey...it's always wise to sugar up the family when you deem a boy "husband material." 😉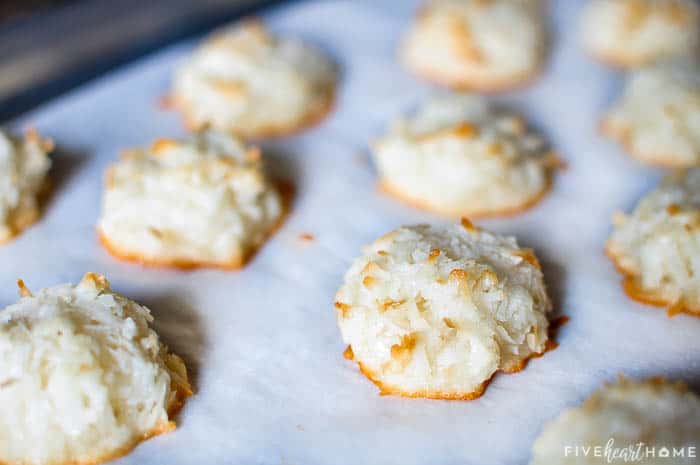 Ingredients for Coconut Macaroons
What I like most about this recipe -- aside from the end result, of course -- is that it only calls for a few basic ingredients. And allow me to point out that sweetened condensed milk ain't one of 'em!
Rather, this recipe includes:
Egg whites. Egg whites are the key to binding the coconut into sweet, chewy, can't-eat-just-one morsels of deliciousness. And since it just so happens that my family's favorite Key Lime Pie calls for the same number of egg yolks, I often find myself baking both of these desserts in short succession. Not once has anyone complained.
Sugar. These cookies aren't overly sweet, as an entire batch only calls for ⅔ cup sugar.
Salt. Just a pinch!
Pure vanilla extract. This ends up being a predominant flavor in such a simple recipe, so make sure it's the good stuff!

All-purpose flour. Like the sugar, it doesn't take much...just ¼ cup for the whole recipe.
Sweetened flaked coconut. The primary ingredient in this recipe by far! I often use unsweetened coconut in other recipes, but I do think sweetened is necessary in this one since there's not a lot of extra sugar in these cookies.
Semisweet chocolate. It's totally optional. HOWEVER, should you want to take these already-delectable cookies to the next level, might I recommend dipping or drizzling them in melted chocolate? Seriously. Decadent. If you happen to like Mounds candy bars (me!me!me!), I can promise you that Chocolate-Dipped Coconut Macaroons are even better.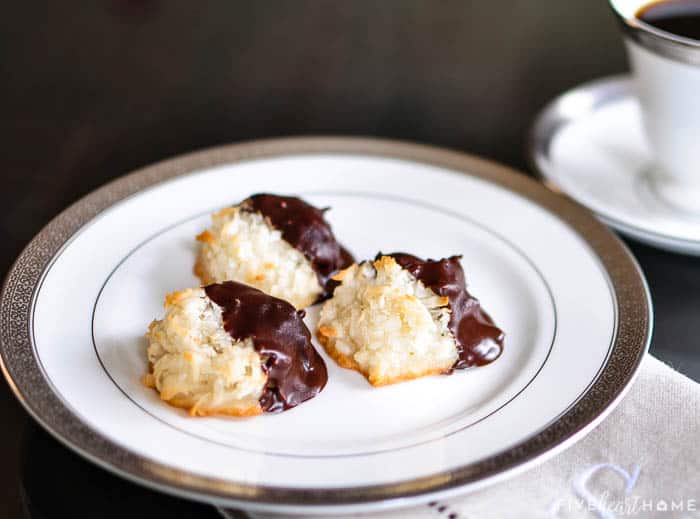 How to Make Coconut Macaroons
This recipe is extremely quick to throw together, but the cookies taste like they took far more effort than they actually did.
Preheat the oven and line two cookie sheets with parchment paper.
Beat the egg whites until frothy. Mix in the sugar, salt, vanilla, and flour until smooth.
Stir in the coconut.
Scoop mounds of batter onto prepared cookie sheets.
Bake until golden, then transfer to a wire rack to cool.
As alluded to in Step #1 up there, the only downside to these cookies is that they do tend to stick to the pan. The best remedy I have found for this problem is to line my cookie sheets with parchment paper or a Silpat. The cookies will glide right off of those surfaces...crisis averted!
Because you may find yourself etching them loose if you try to bake them straight on the pan, regardless of how much you greased it...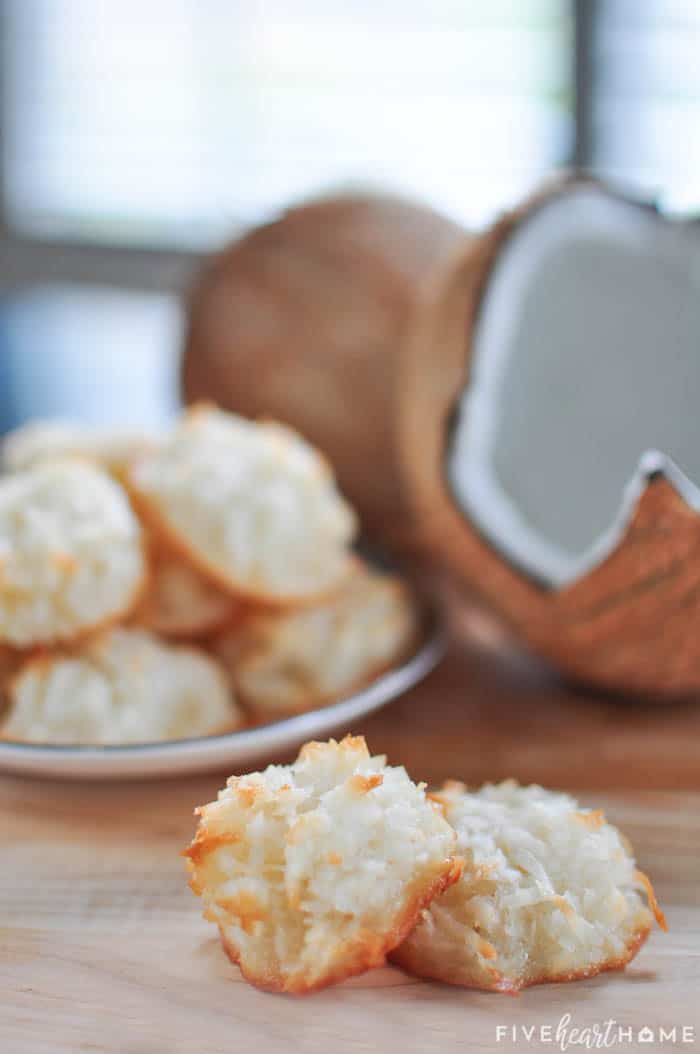 And there you have the tips, tricks, and secrets to the BEST Coconut Macaroon recipe in the whole wide world!
If I'm being completely honest, even Coconut Macaroons from nice bakeries have disappointed me because I've been spoiled by these my whole life.
I hope you'll give them a try and let them start spoiling you, too! 🙂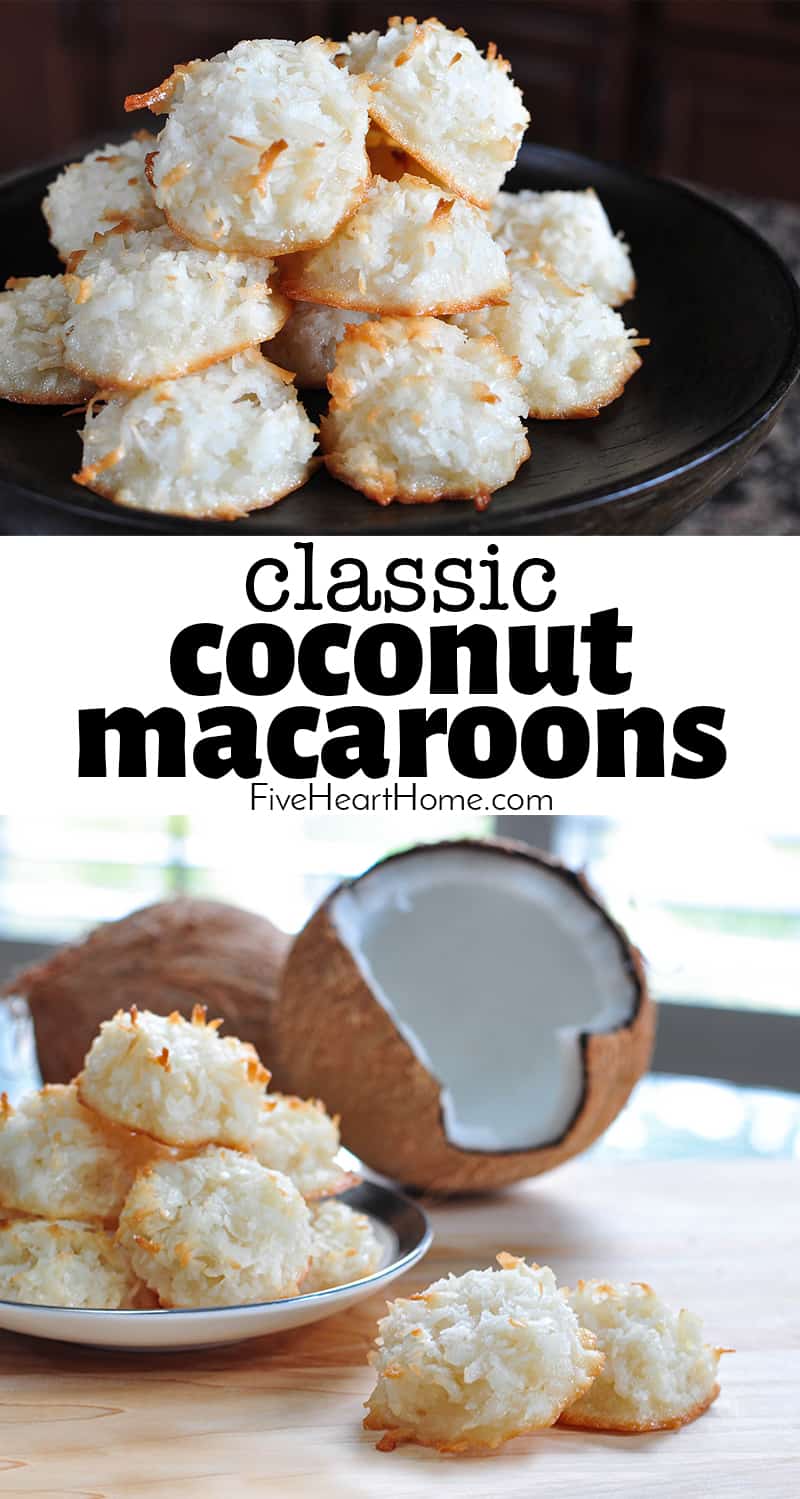 More Yummy Cookies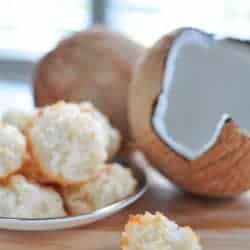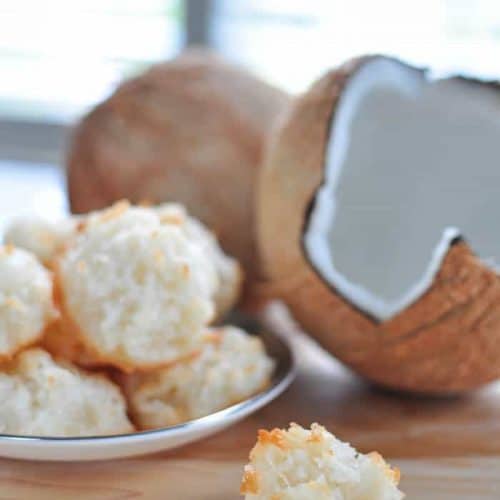 Coconut Macaroons
Coconut Macaroons are a chewy, delicious, and easy to make recipe with just six simple ingredients and NO condensed milk!
Print
Pin
Rate
Ingredients
4

egg whites

⅔

cup

sugar

¼

teaspoon

salt

1

teaspoon

pure vanilla extract

¼

cup

all-purpose flour

3

cups

(packed) sweetened flaked coconut
For Chocolate-Dipped Macaroons
6

ounces

semisweet chocolate

,

chopped (OR semisweet chocolate chips)
Instructions
Preheat oven to 325°F. Prepare two cookie sheets by lining them with parchment paper.

In a large bowl, use an electric hand mixer (or stand mixer) to beat the egg whites until frothy. Mix in sugar, salt, vanilla, and flour and beat another minute until smooth and thickened. Stir in coconut until all ingredients are well combined.

Use a tablespoon or small cookie scoop to drop mounds of batter, 1 inch apart, onto prepared cookie sheets. Bake for 20 to 25 minutes or until cookies are beginning to turn light golden brown on the tips of the coconut flakes and around their bottom edges. Allow to cool for a couple minutes on the cookie sheets before transferring to a wire rack to cool completely.
For Chocolate-Dipped Macaroons
Place chocolate in a heat-proof bowl set over a pot filled with a couple inches of barely simmering water (the water should not touch the bottom of the bowl). Stir chocolate until melted. Alternatively, you may melt chocolate in the microwave by heating it for 1 minute at 50% power, stirring, and then heating and stirring at 30 second intervals until melted.

Halfway dip each cookie in melted chocolate, set it on a wax paper-lined cookie sheet, and allow to cool at room temperature for 30 minutes or until chocolate is set. You may speed up the process by putting dipped cookies in the refrigerator for 15 minutes, but not too long or condensation will start to form. Also, instead of dipping the cookies, you may instead choose to drizzle them with the melted chocolate.
Notes
Be sure to line your baking sheets with parchment paper or Silpats. This is the only option that guarantees these macaroons won't stick to the pans.
Depending on how generous your hand is at chocolate-dipping, you may end up needing more chocolate. I usually like to go with 6 ounces. If I run out, we enjoy the remaining macaroons plain and nobody has ever complained. 😉
Calories:
99
kcal
|
Carbohydrates:
9
g
|
Protein:
1
g
|
Fat:
7
g
|
Saturated Fat:
6
g
|
Sodium:
37
mg
|
Potassium:
66
mg
|
Fiber:
2
g
|
Sugar:
6
g
|
Vitamin C:
1
mg
|
Calcium:
3
mg
|
Iron:
1
mg
Post originally published on July 9, 2013.