These easy-to-make One-Bowl Coconut Cupcakes are extremely moist (thanks to coconut milk) and topped with tangy cream cheese frosting and sweetened coconut flakes.

I really try not to say that every recipe I share here is "the best." But sometimes I just can't help it...because it happens to be true. 😉 And if you like Coconut Cupcakes, the ones I'm bringing you today are, honestly, the best I've ever had. As a bonus, I happened to make them myself! While dirtying just one bowl! And guess what? You can, too!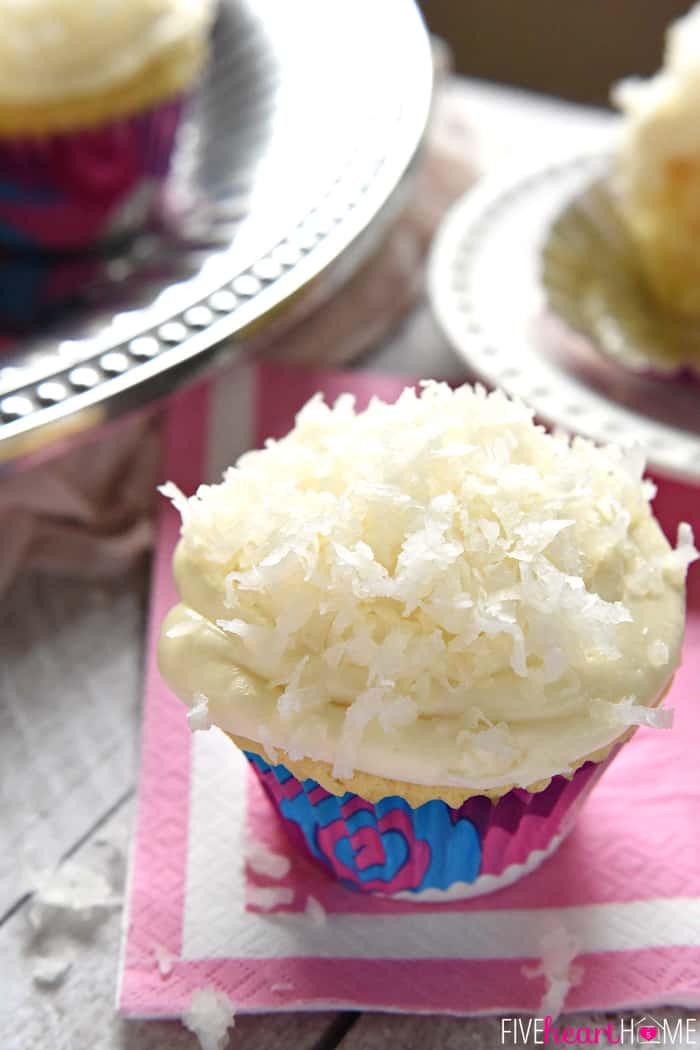 Seriously, though, y'all...these are darn good cupcakes. Everyone who tried them raved about them. Made with rich, canned coconut milk, they are exceedingly moist with a pleasant (but not overbearing) coconut undertone. Coconut flakes in the batter adds texture, and topping them with silky cream cheese frosting balances out the sweetness with a slight tang. Finally, a nice mound of coconut on top perfectly finishes off these lovely coconut confections!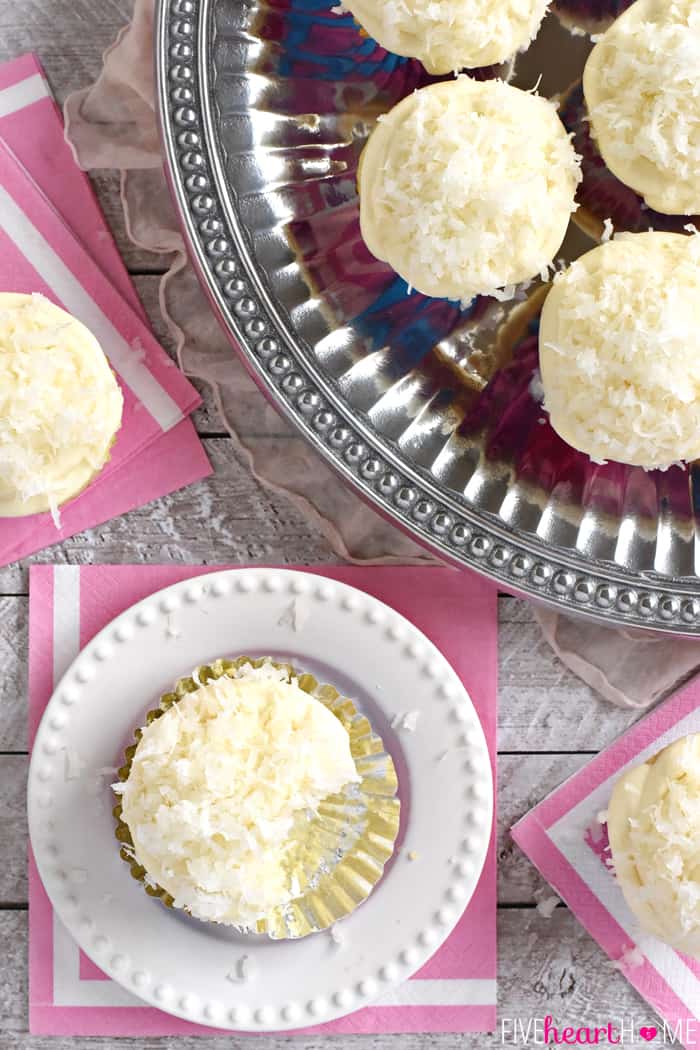 When I decided to bake a batch of Coconut Cupcakes for Easter weekend, I initially thought I'd just look up a recipe on the ol' world wide web with no plans of posting it to Five Heart Home. But then I realized that I could adapt my own One-Bowl Vanilla Cupcakes recipe into a coconut variation, snap a few quick pics, and still use said Coconut Cupcakes to celebrate Easter while simultaneously knocking out one of my blog posts for the following week. Two birds? Meet one stone.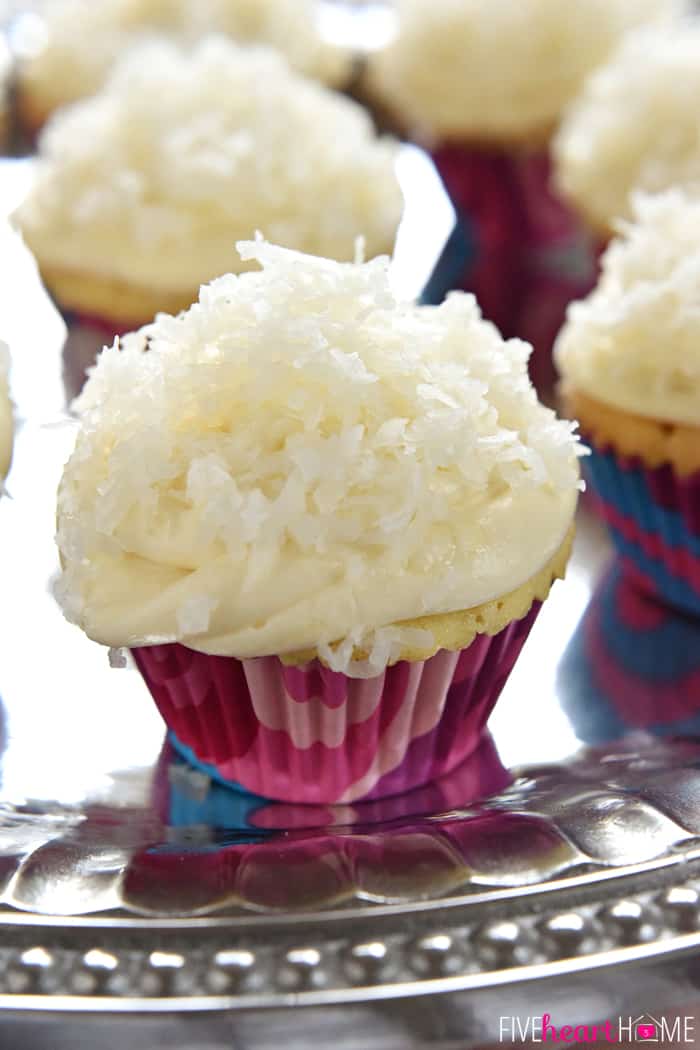 How to Make One-Bowl Coconut Cupcakes
Who knew that making homemade, from-scratch Coconut Cupcakes could be so easy?!
Simply sift the dry ingredients into the bowl of an electric mixer (while making your own version of cake flour by adding a bit of cornstarch to your all-purpose flour).
Add the remaining ingredients.
And mix!
There's no reason to get fussy...these cupcakes turn out great without having to worry about creaming butter or alternating wet and dry ingredients or beating each egg for 17 ½ seconds before incorporating the next one.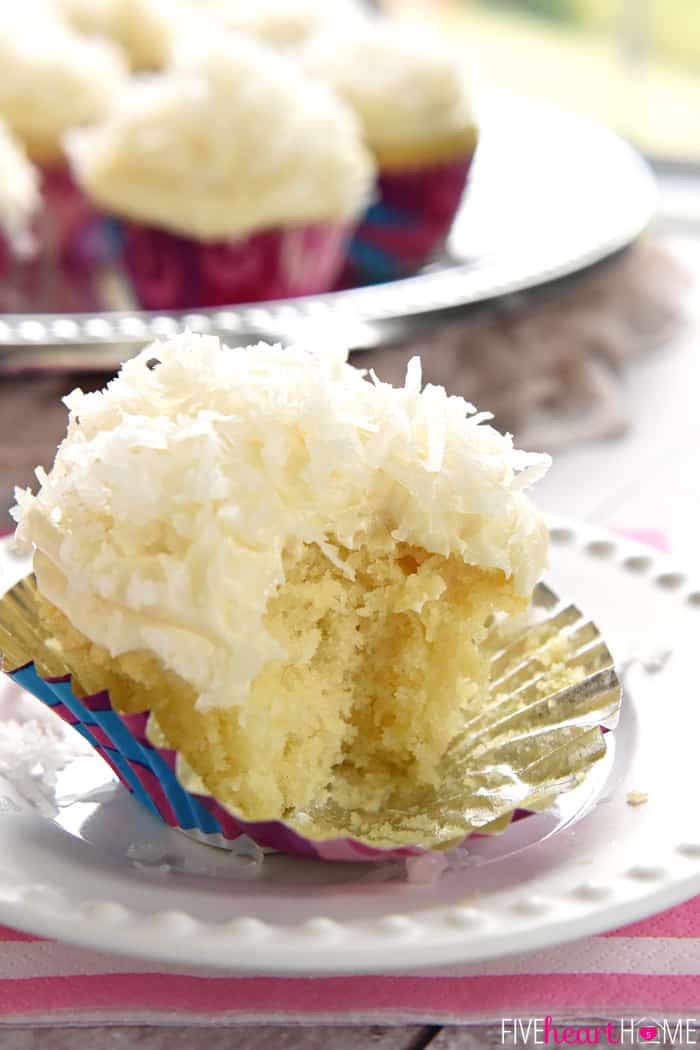 Almond Extract
Aside from the addition of coconut milk and coconut (obviously), the main difference between this Coconut Cupcakes recipe and the vanilla cupcake recipe from whence it came is that some of the pure vanilla extract has been replaced by almond extract.
Almond extract has such a unique flavor, and I feel like it really complements and brings out the flavor of coconut.
That being said, a teensy bit of almond extract goes a looooong way, so be sure to measure carefully.
Another small difference between the two recipes is that, because these cupcakes are so moist and coconut-loaded, they did need to bake for a tad longer than the original vanilla cupcakes.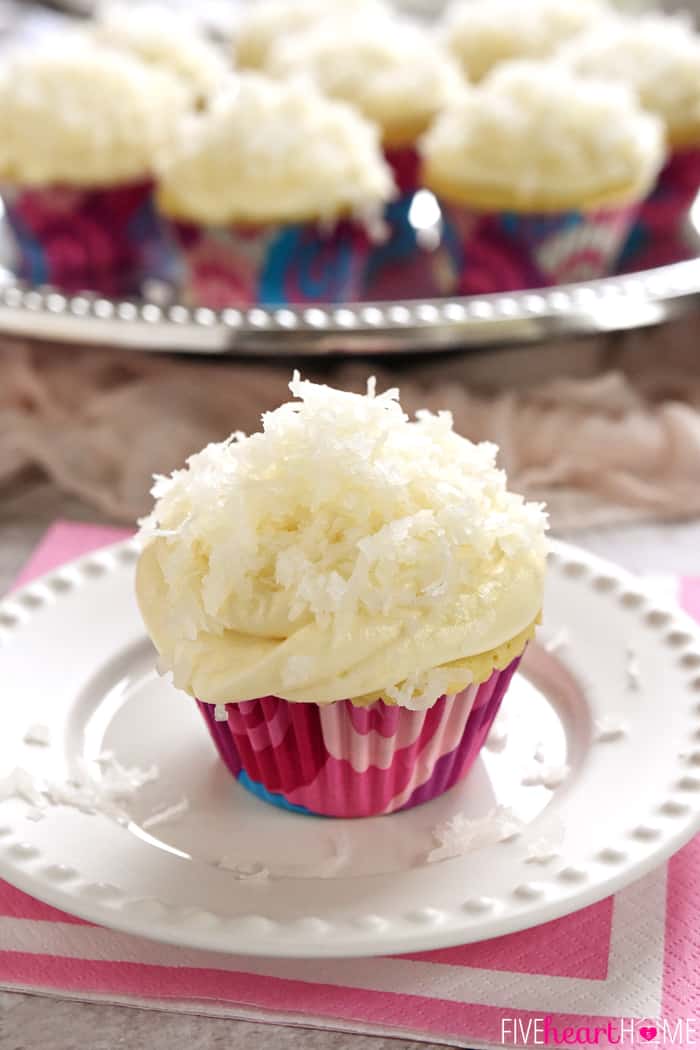 Cream Cheese Frosting
Feel free to use whatever type of frosting floats your boat, but if you don't have a preference, I highly recommend my beloved Classic Cream Cheese Frosting.
It has proven to be amazing on so many different types of cakes and cupcakes, and I found these coconut cupcakes to be no exception.
Perfectly perfect perfection.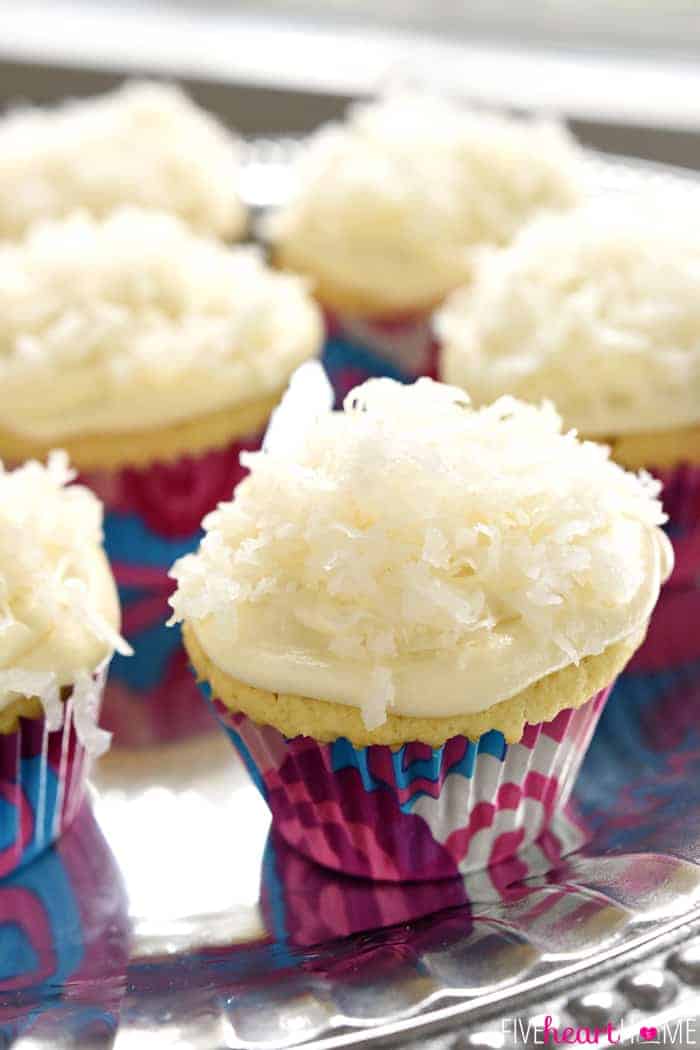 So if you're a fan of coconut and you also appreciate a good cupcake, promise me that you'll set aside a smidgeon of time in the near future to whip up a batch of delectable, betcha-can't-eat-just-one, One-Bowl Coconut Cupcakes! Killing two birds with one stone never tasted so good... 😉
More Coconut Treats and Cupcake Wonders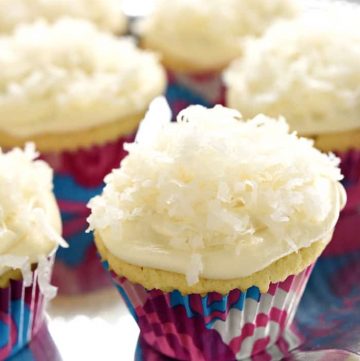 One-Bowl Coconut Cupcakes
These easy-to-make One-Bowl Coconut Cupcakes are extremely moist (thanks to coconut milk) and topped with tangy cream cheese frosting and sweetened coconut flakes.
Print
Pin
Rate
Ingredients
2 ½

cups

all-purpose flour

½

cup

cornstarch

2

cups

sugar

1

tablespoon

baking powder

1

teaspoon

salt

1

cup

(2 sticks) unsalted butter

,

at room temperature

¾

cup

sour cream

½

cup

full-fat canned coconut milk

4

eggs

2 ½

teaspoons

pure vanilla extract

½

teaspoon

pure almond extract

14

ounces

sweetened coconut flakes

,

DIVIDED
Instructions
Adjust rack to center position of oven and preheat oven to 350°F. Line muffin pans with 24 cupcake liners.

Set a large sifter or fine mesh sieve over the large bowl of an electric mixer. Measure flour, cornstarch, sugar, baking powder, and salt into sieve and firmly hit the palm of your hand against its side to sift all of the dry ingredients together into the bowl. (If desired, repeat this process a few more times for fluffier cupcakes.)

To the sifted dry ingredients, add the softened butter, sour cream, coconut milk, eggs, vanilla, almond extract, and half of the coconut flakes (about 2 cups, or 7 ounces). Beat at medium speed for 30 seconds or until smooth. Scrape down the sides of the bowl with a rubber spatula and beat for 15 more seconds.

Evenly divide the batter between the 24 cupcake liners (I find it easiest to do this using a cookie scoop). Bake for 20 to 24 minutes or until cupcakes are light golden and test done with a toothpick inserted in center. Cool the cupcakes for a few minutes in the pans before transferring them to a wire rack to finish cooling completely.

Frost with Classic Cream Cheese Frosting and top with remaining coconut flakes.
Notes
Cornstarch makes the cupcakes fluffy and is added to regular, all-purpose flour in lieu of using cake flour.
Coconut milk comes in different varieties, but for this recipe, I recommend using the full-fat coconut milk that comes in a can (typically sold in the Asian foods section of the store). Since this type of coconut milk separates, with the fat rising to the top, you'll want to vigorously shake the can before opening it. I actually remove the whole top of the can with a can opener (as opposed to poking a hole in it) to make sure that the coconut milk is not separated before pouring it into the measuring cup. If it is separated, I rapidly stir it before measuring it out. Refrigerate unused coconut milk for another use.
When baking, I like to make sure that all of my ingredients are at room temperature. I speed things up when necessary by cutting my butter into small pieces and spreading them out on a plate or cutting board (which softens the butter faster than if the stick was left whole), by very briefly microwaving ingredients like milk or sour cream to take off the chill, and by using a bowl of hot water to warm up the the whole eggs.
Frost your cupcakes using an offset spatula, a knife, or a piping bag. Or, as I did here, scoop the frosting into a gallon-sized plastic baggie, snip off the corner of the bag, and pipe the frosting onto the cupcakes in a spiral, starting from the outside perimeter and working towards the center.
Calories:
301
kcal
|
Carbohydrates:
38
g
|
Protein:
3
g
|
Fat:
16
g
|
Saturated Fat:
11
g
|
Cholesterol:
51
mg
|
Sodium:
163
mg
|
Potassium:
157
mg
|
Fiber:
2
g
|
Sugar:
23
g
|
Vitamin A:
320
IU
|
Vitamin C:
0.1
mg
|
Calcium:
41
mg
|
Iron:
1.2
mg