This Easy One-Bowl Blondie recipe is quick to make and completely customizable, from classic chocolate chips to your favorite candy, nuts, dried fruit, coconut, and more!

I've made this recipe multiple times for various occasions over the past few weeks, so it occurred to me that it's high time I re-share an oldie but a goodie. I first posted a variation of today's Easy One-Bowl Blondie recipe when Five Heart Home was but a newbie blog only a few months old. As a result, that recipe is buried in the archives and, most likely, has not been seen or enjoyed by most of y'all. So I decided an updated post and some shiny new photos were in order, since this recipe is just too good to miss!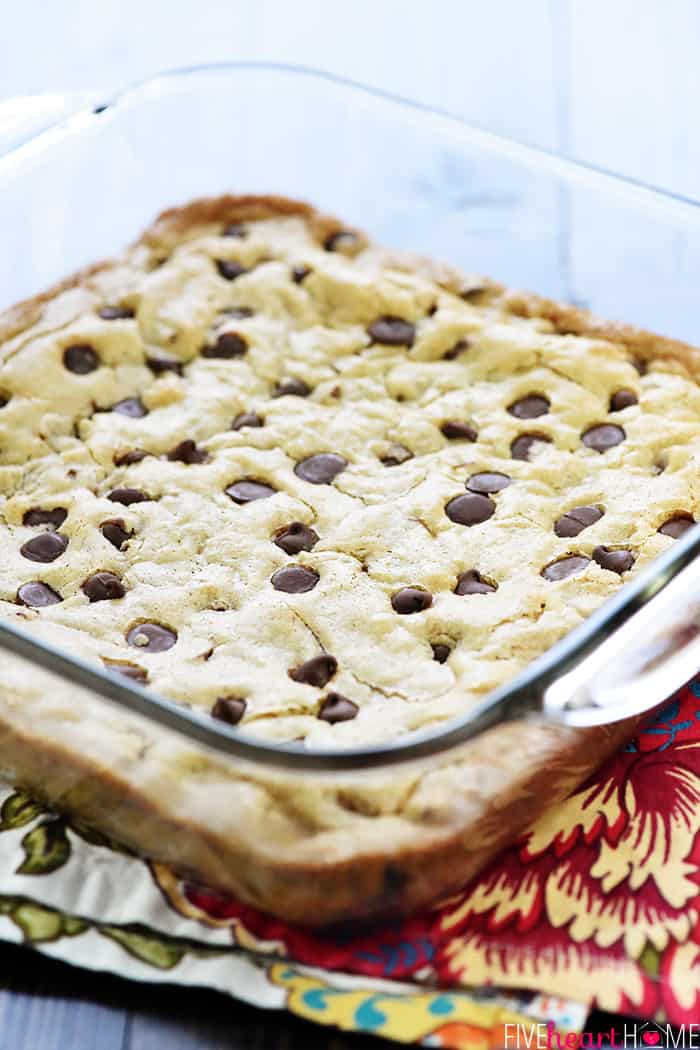 This Blondie recipe is fantastic because, not only is it quick and effortless to make, but the blondies are flat-out scrumptious and supremely easy to customize. All of those factors result in a few truths:
This recipe is great when you want to whip up a speedy sweet treat for your family.
This recipe is perfect when you need to make a quick dessert to share with friends, neighbors, teachers, or really, just about anyone.
This recipe is a scrumptious vehicle for using up leftover holiday candy, from Valentine M&Ms to chocolate bunnies at Easter to mini candy bars at Halloween to peppermint bark at Christmas. And last, but certainly not least...
This recipe will always be a hit...because who doesn't like butter and sugar and chocolate?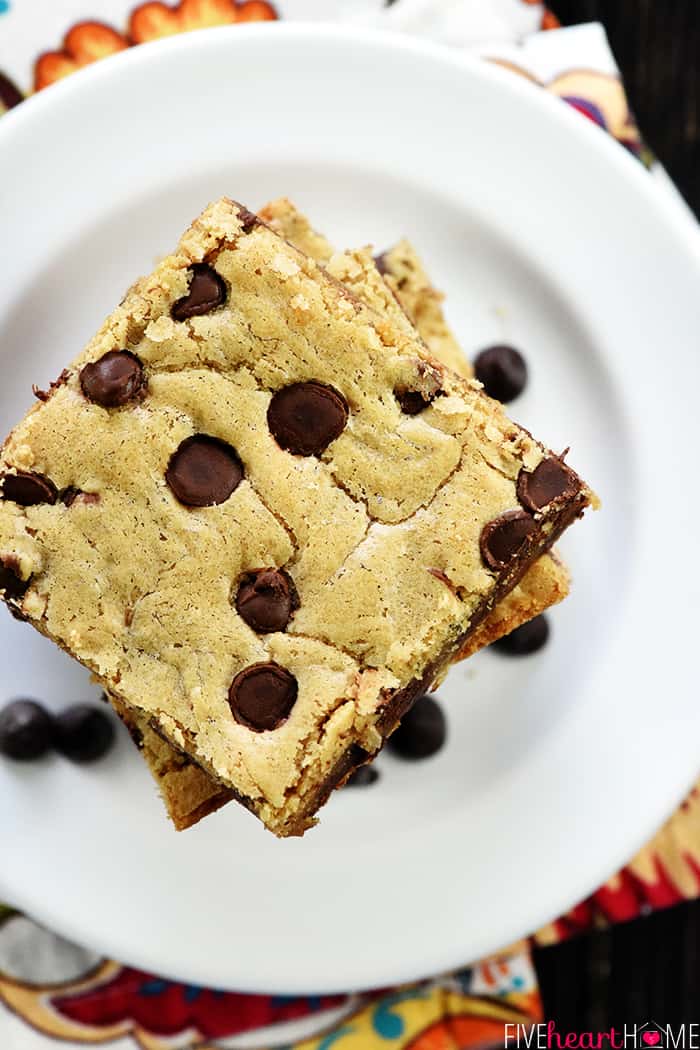 Seriously, the batter comes together in ONE BOWL in less time than it takes to preheat your oven! You don't even have to wait for any butter to soften.
Simply melt the butter in a microwave safe bowl and add the brown sugar.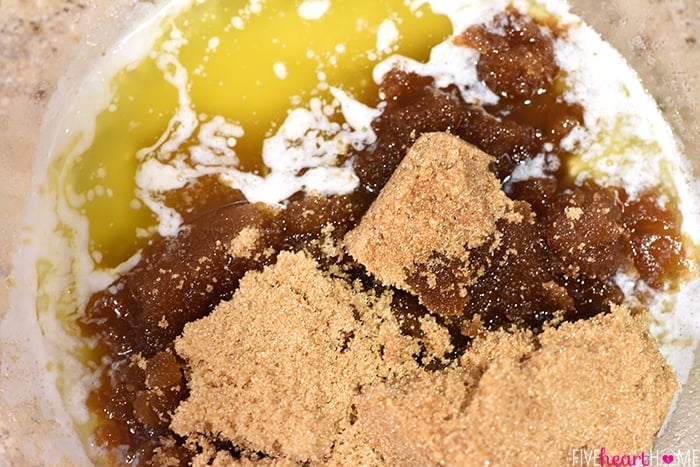 Whisk together until combined and add the egg and vanilla.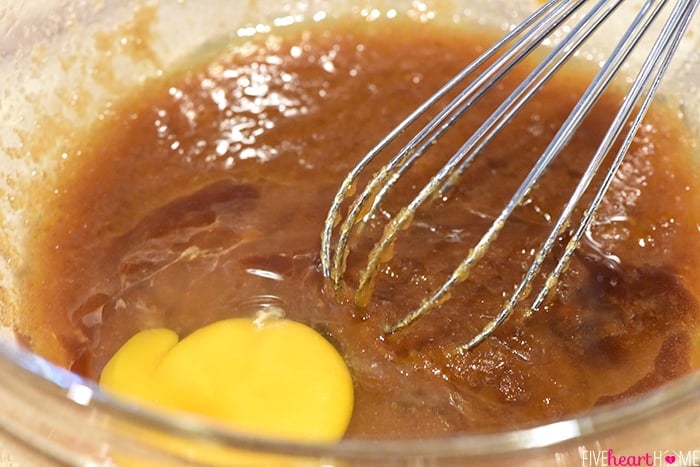 Whisk again until smooth...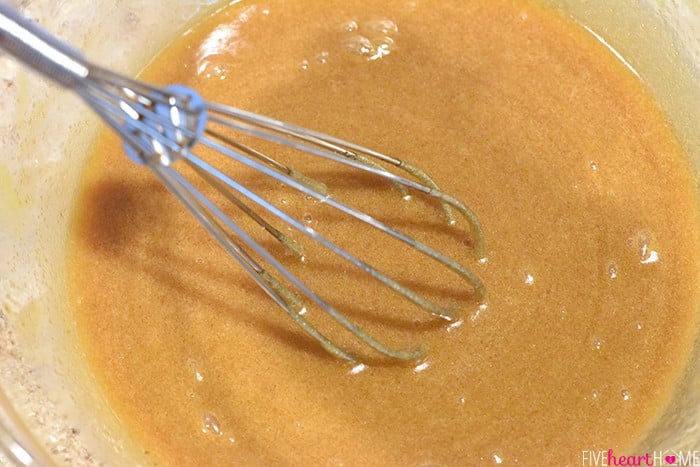 ...then stir in the flour.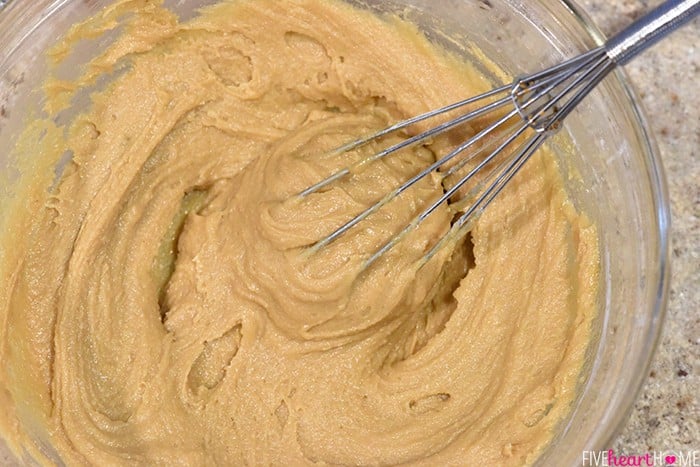 And finally, mix in half of your chocolate chips (or other add-ins).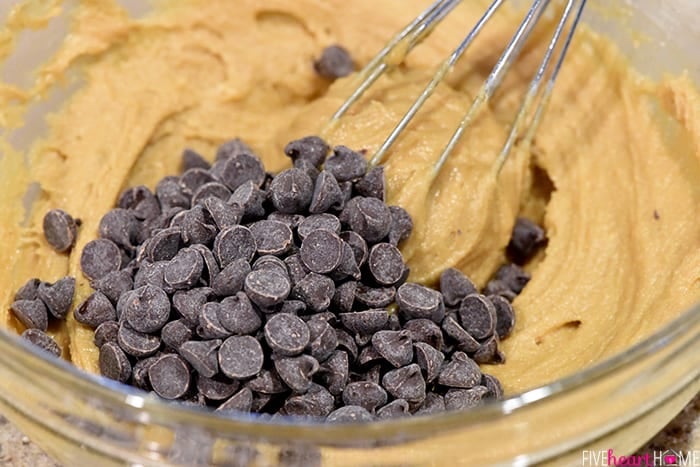 Scrape the batter into your pan, smooth the top, and sprinkle with the remaining chocolate chips.
By now your oven should be preheated, so just pop in the pan and -- less than half an hour later -- you'll have a dish of dense, chewy, chocolate-studded blondies ideal for satisfying any sweet tooth or spreading a little joy (and sugar) to others!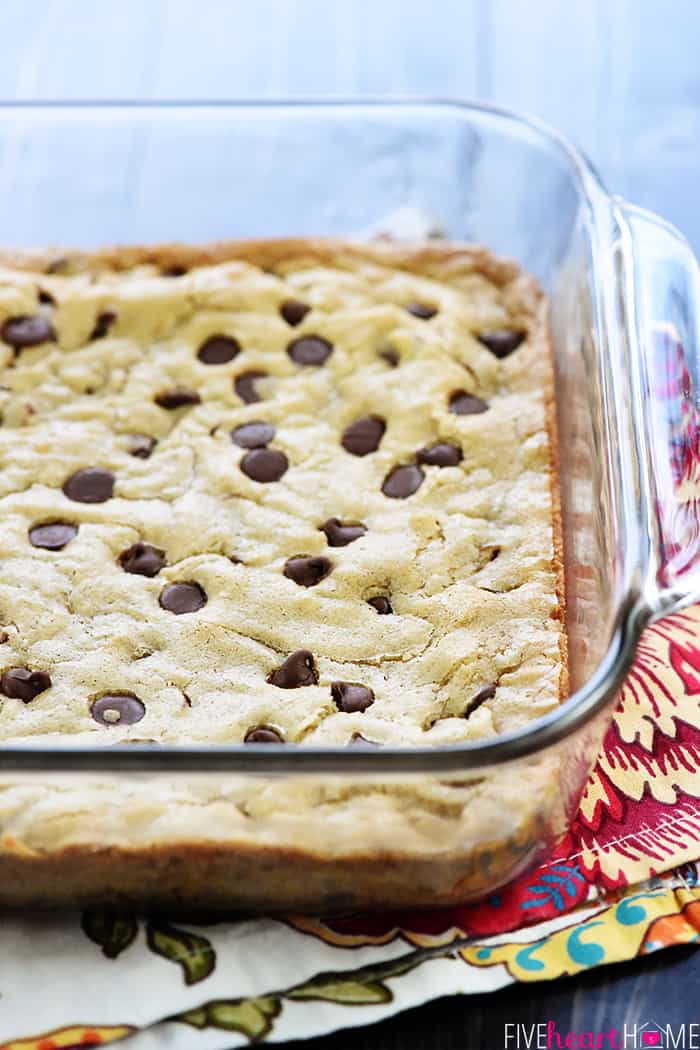 And now to get your creative juices flowing, allow me to suggest some customization inspiration, which you can stir into the Blondie recipe batter and sprinkle on top!
First we have ubiquitous M&Ms of any variety...regular, mini, peanut, peanut butter, holiday color combos, etc...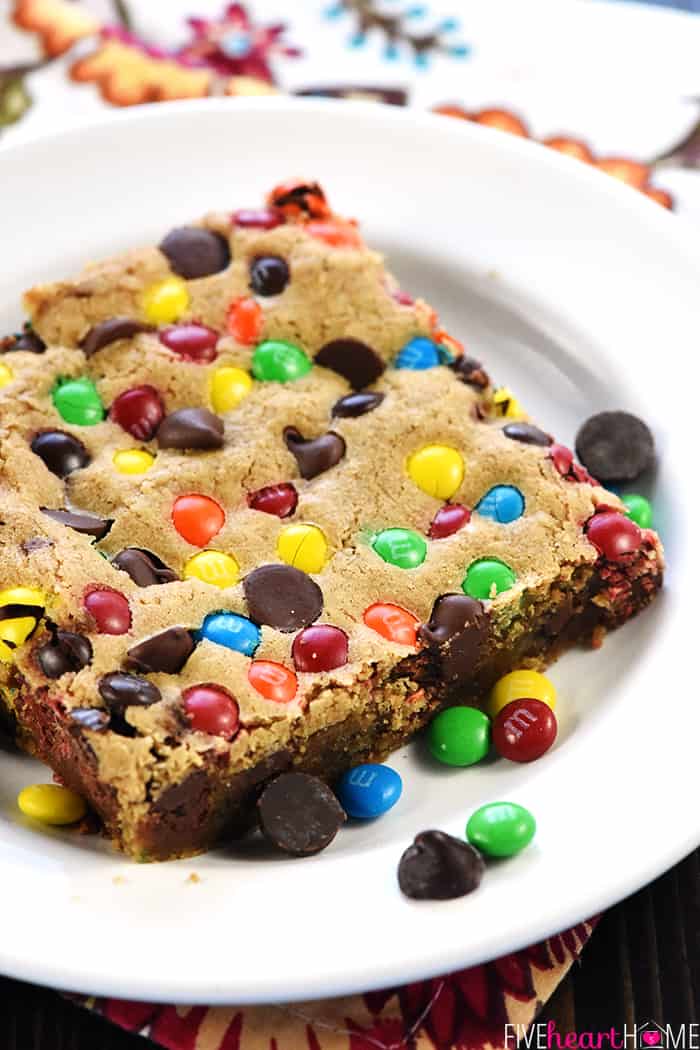 Chocolate chunk and shredded coconut...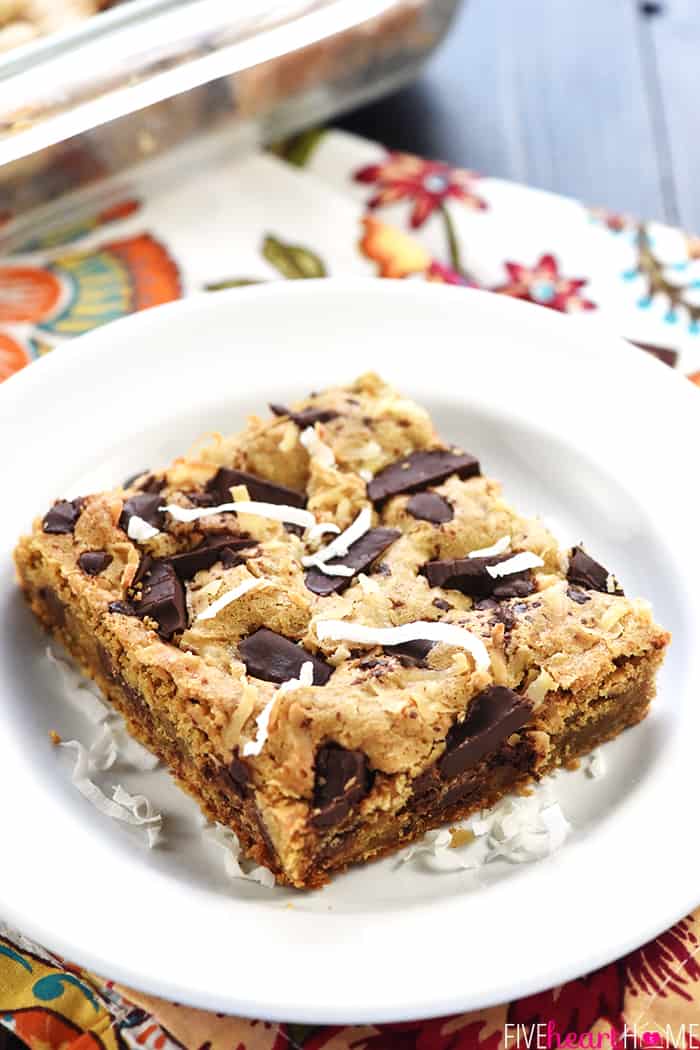 Peanuts and white chocolate chips (or peanut butter chips...I just didn't have any on hand)...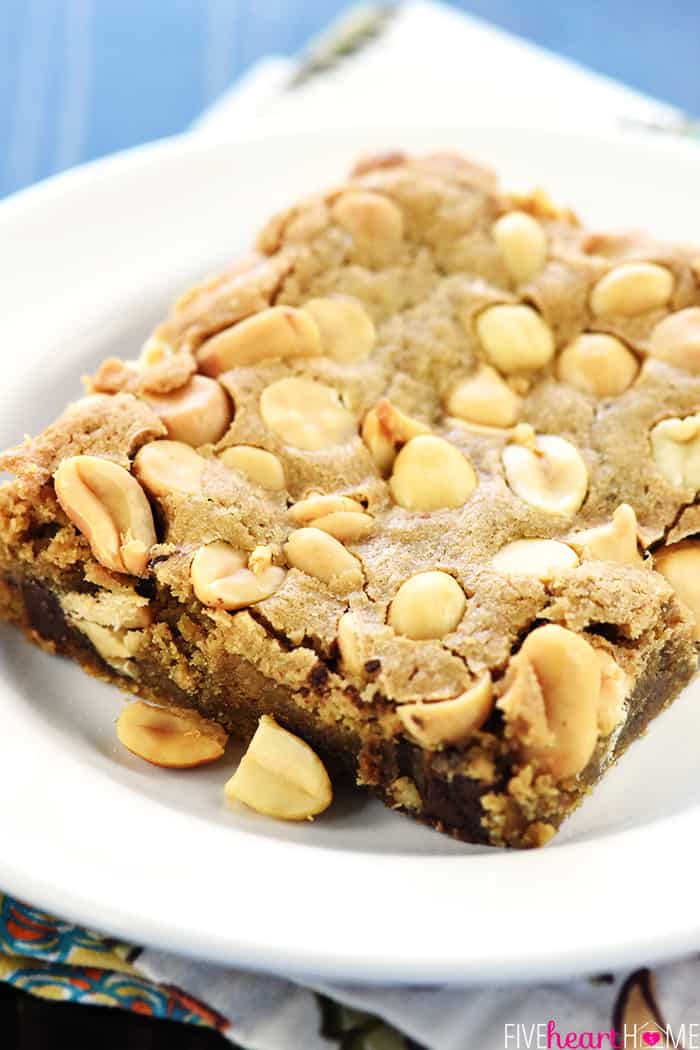 Milk chocolate chips and toasted pecans...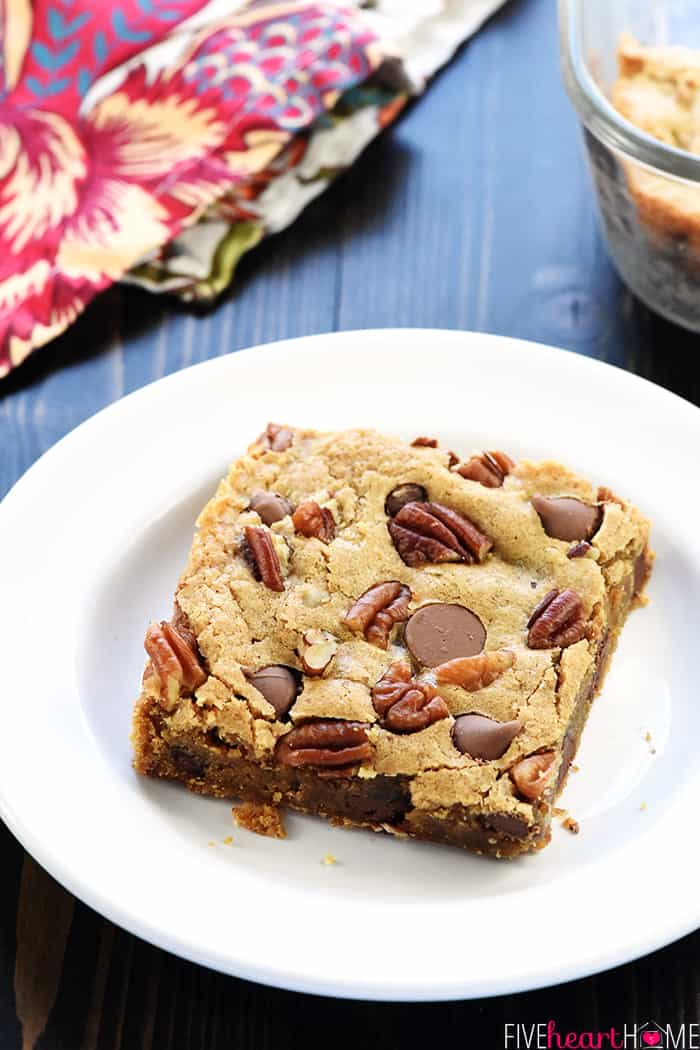 Just a few more ideas that I didn't actually make and photograph...Reese pieces, chopped up candy bars, malted milk balls, chewy caramels, crushed Oreos, colorful sprinkles, dried cranberries, pretzels, potato chips, a sprinkle of sea salt...the list goes on and on!
Yep, these Easy One-Bowl Blondies can accommodate just about any of your favorite mix-ins and toppings, from leftover candy to different types of chocolate chips to a variety of nuts (I recommend toasted) and so much more. What other add-ins can you think of?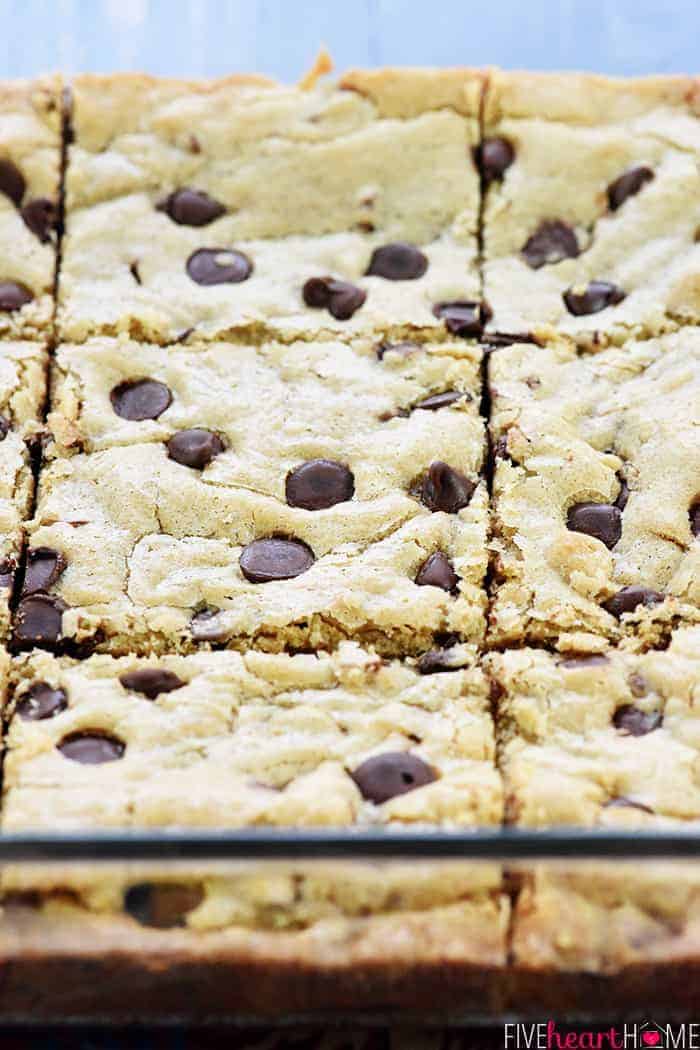 I'm telling y'all, these blondies are so good, they've even been known to attract whatever riff-raff happens to be playing outside when you set them in front of a sunny window to photograph them.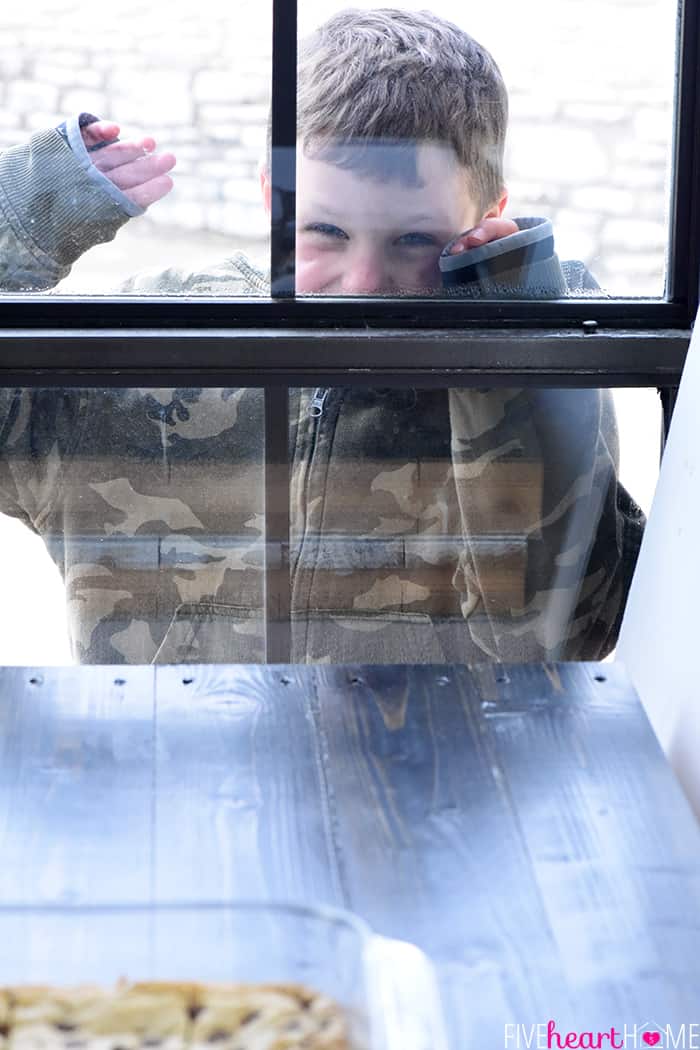 So the next time you need a sweet treat but you're short on time or energy, I hope you'll give this super quick and simple Blondie recipe a go! Better yet, I hope these treats land a permanent spot in your recipe files. 😉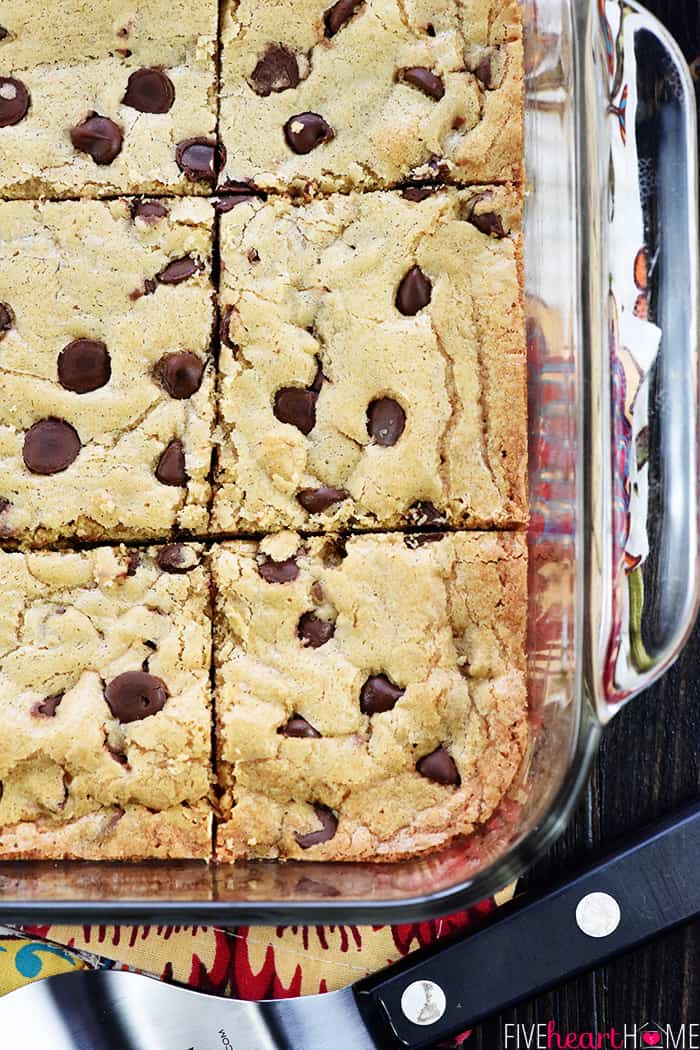 Helpful Tips, Tricks, & Equipment
(some affiliate links below)
As a shortcut, I save the wrapper when I unwrap the stick of butter. After melting the butter in my glass mixing bowl, I quickly dip the inside of wrapper into the melted butter and use it to grease the baking dish. Since it only takes a teensy bit of melted butter, the missing butter doesn't adversely affect the recipe.
You can make this recipe with light or dark brown sugar. The final blondies will be slightly lighter or darker as a result, but the flavor and texture will be good either way.
You can definitely make this recipe in a baking pan instead of a dish, if you like. I typically use a baking dish since I can use a knife or metal spatula to slice the blondies without worrying about scratching the bottom. Keep in mind that your baking time might need to be on the slightly shorter side if you bake these in a dark pan instead of a dish.
This certainly isn't a healthy recipe, but if you wish to make it on the more wholesome side, you can use whole wheat pastry flour (instead of all-purpose flour) and an unrefined sugar (in place of the brown sugar), such as coconut sugar or sucanat.
These are very dense, moist bars that may look a tad underdone when you pull them out of the oven, but they will continue to firm up as they cool. I prefer their texture when baked for closer to 25 minutes, but you may like them more or less done. After you bake them the first time, you'll have a better sense of how long to bake them in order to achieve your desired outcome.
If you'd like to double this Blondie recipe and bake it in a 9- by 13-inch pan, start checking for doneness at 25 minutes. The center pieces of this recipe always turn out softer/gooier than the edge pieces, so a doubled batch baked in a larger pan is going to result in more center pieces. If you prefer firmer edge pieces over gooey center pieces, simply divide your doubled batter between two 8- by 8-inch pans instead.
These blondies will stay fresh in an air-tight container at room temperature for a few days. After that, I'd recommend storing them in the fridge...though they never seem to last that long around here. 😉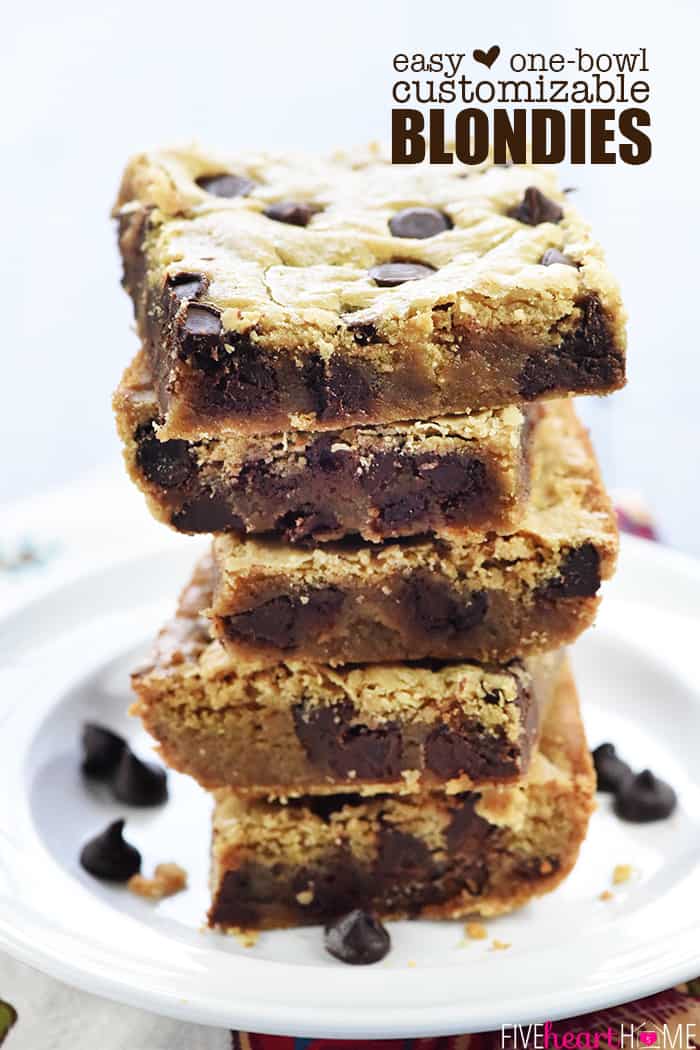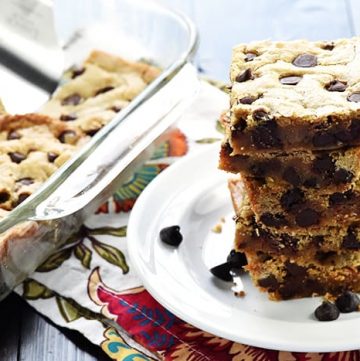 Blondie Recipe
This Easy One-Bowl Blondie Recipe is quick to make and completely customizable, from classic chocolate chips to your favorite candy, nuts, coconut, dried fruit, and more!
Print
Pin
Rate
Ingredients
½

cup

(1 stick) butter

,

melted & cooled

1

cup

light or dark brown sugar

1

egg

1

teaspoon

vanilla extract

1

cup

all-purpose flour

½

teaspoon

salt

1

cup

chocolate chips OR other mix-ins

,

DIVIDED
Instructions
Preheat oven to 350°F. Grease an 8 by 8-inch baking dish or pan and set aside.

Melt the butter in a large, microwave-safe bowl. Use a whisk to stir in the brown sugar until well-combined. Beat in the egg and vanilla until completely incorporated. Blend in the flour and salt until fully blended. Fold in half of the chocolate chips.

Scrape the batter into the prepared dish or pan, smooth the top, and sprinkle with the remaining chocolate chips. Bake for 20 to 25 minutes or until center is set. Set the pan on a wire rack to cool before slicing.
Calories:
256
kcal
|
Carbohydrates:
36
g
|
Protein:
2
g
|
Fat:
11
g
|
Saturated Fat:
7
g
|
Cholesterol:
36
mg
|
Sodium:
185
mg
|
Potassium:
40
mg
|
Sugar:
27
g
|
Vitamin A:
290
IU
|
Vitamin C:
0.1
mg
|
Calcium:
39
mg
|
Iron:
0.9
mg
Adapted from How to Cook Everything
More Easy Sweet Treats