Lime Coconut Snowballs are tender shortbread-like cookies studded with lime zest & toasted coconut and generously rolled in powdered sugar for yummy year-round treats…from the lazy days of summer to a Christmas cookie platter!

Yippeeee! It's time for my first holiday cookie recipe of the season! But guess what? As part of today's post, I'm actually participating in a Christmas Cookie Blog Hop with a bunch of my other bloggy friends! That basically means that after I share my recipe down below, there's a BIG gallery of Christmas and holiday cookies (OVER 100!) for you to peruse…and I do believe that makes this your one-stop shop for December baking! I hope you have fun looking around…there are some awesome cookies in the collection. 🙂
But FIRST. First we must give proper attention to these lovely, delectable Lime Coconut Snowballs! Everyone knows what a regular Snowball Cookie is, right? It's a simple buttery cookie with a texture akin to shortbread that's rolled in obscene amounts of powdered sugar, resulting in something that looks like, well, a snowball. Snowballs are pretty standard fixtures on Christmas cookie platters, so I thought it would be fun to contribute my adaptation to the ol' Christmas Cookie Blog Hop.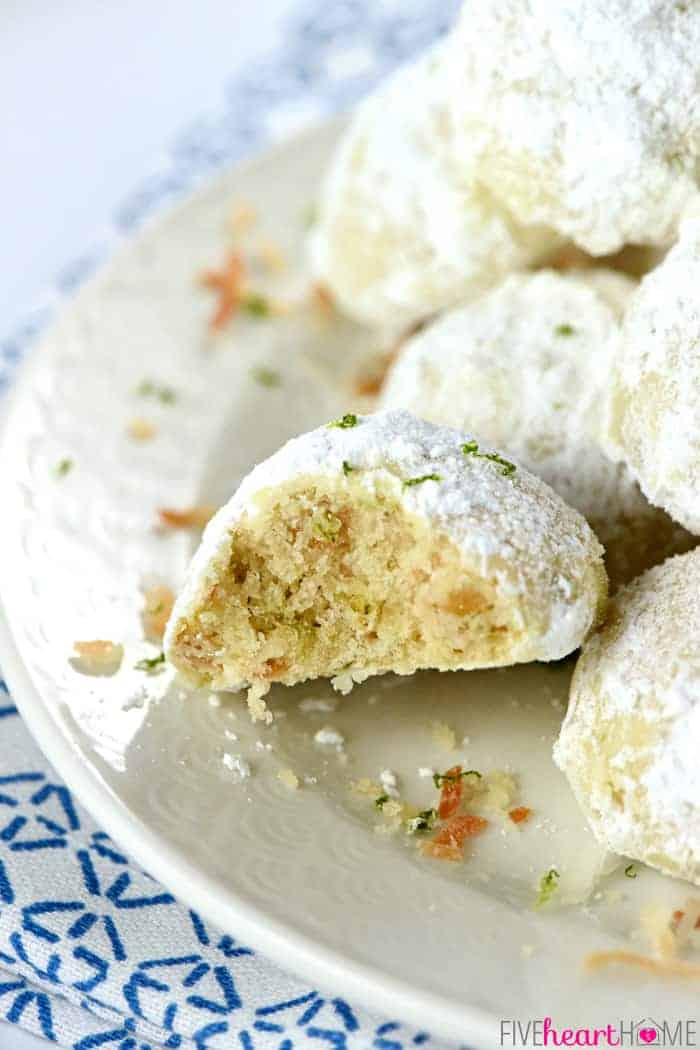 And that adaptation is (drumroll, please)…Lime Coconut Snowballs! Because in the dead of winter, nothing is better than a little flashback to summer! In fact, I like to think of these as cookies that Olaf (why yes, I do have a 3-year-old daughter…why do you ask?) would appreciate…wintry little snowballs with a distinctively summery vibe. They have the dough and powdered sugar coating of traditional Snowball Cookies, with toasted coconut mixed into the dough for sweetness and texture, and lime zest and lime juice lending pucker and pizzazz. Can't you just taste them now??? (insert all of the heart-eyed emojis HERE)
If you wanted an even stronger kick of lime, you could add extra lime zest to the powdered sugar before rolling, which would coat the cookies with little specks of green. But I decided to leave my cookies snowy white. I think it's kind of fun to expect a regular ol' Snowball and then discover a surprise inside!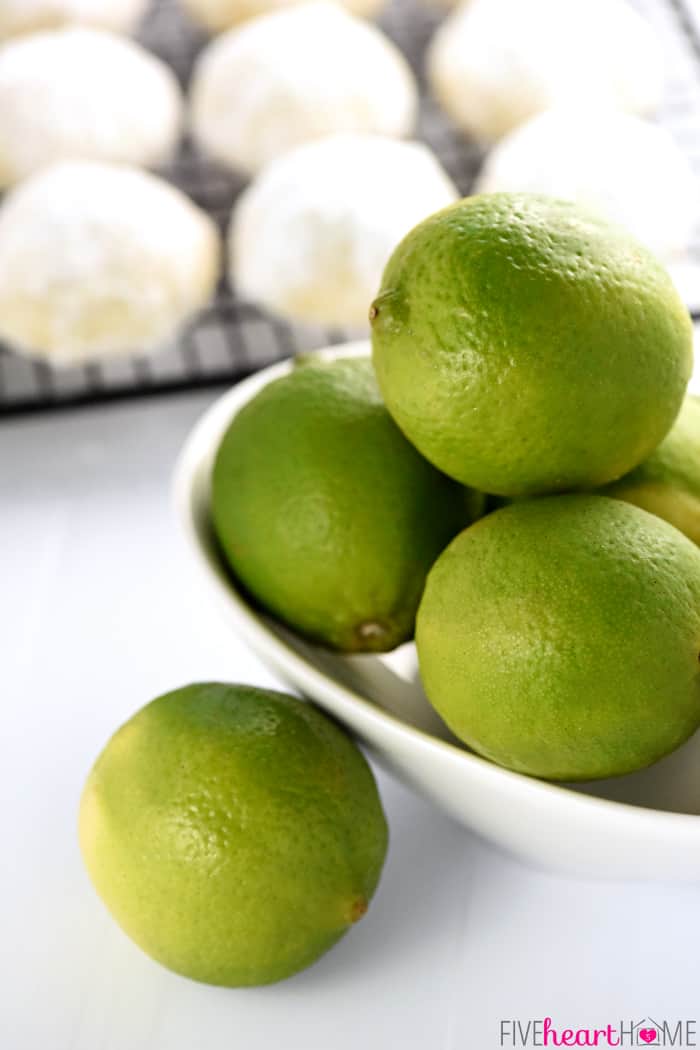 Aside from their flavor and melt-in-your-mouth texture, the other thing I love about these cookies is how simple they are to make. Mix together a basic dough, roll it into balls, bake, and coat with powdered sugar. These cookies come together quickly and easily, and they're perfect for little ones to help make…because you know the kiddos are going to love all of that (albeit messy) powdered sugar rolling! As a bonus, there are no raw eggs to worry about, so everyone (adults included) can sneak cookie dough bites to their hearts' content. 😉
Like all Snowball Cookies, this lime coconut version tends to soak up the powdered sugar as it sits. However, that predicament is easily remedied by rolling each cookie in another layer of powdered sugar, making the cookie grow a teensy bit larger each time (HEYYY…like real snowballs!). Or, if you're feeling lazy (*cough, cough*), you could just do this…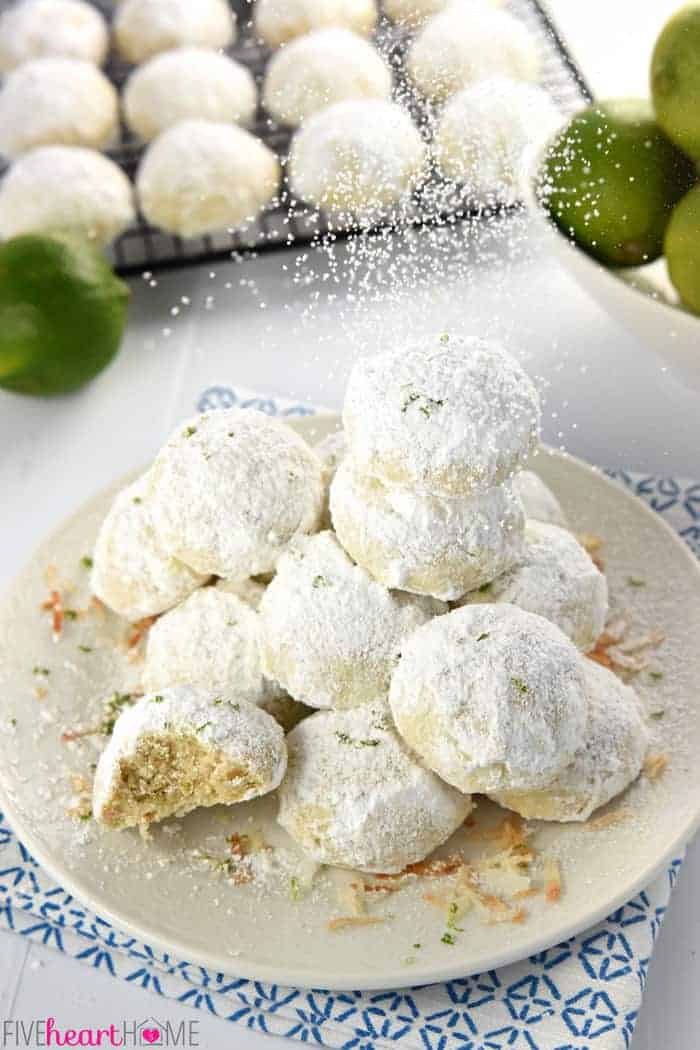 …a veritable snowstorm of powdered sugar!
So who's ready to put the lime in the coconut and snow it ball around? (You had to read that twice, didn't you?) I hope you LOVE these Lime Coconut Snowballs as much as I loved coming up with them for y'all. AND, I hope you'll stick around after the recipe to pop in on some of the other amazing holiday cookie recipes in our Christmas Cookie Blog Hop. Happy drooling, y'all! 🙂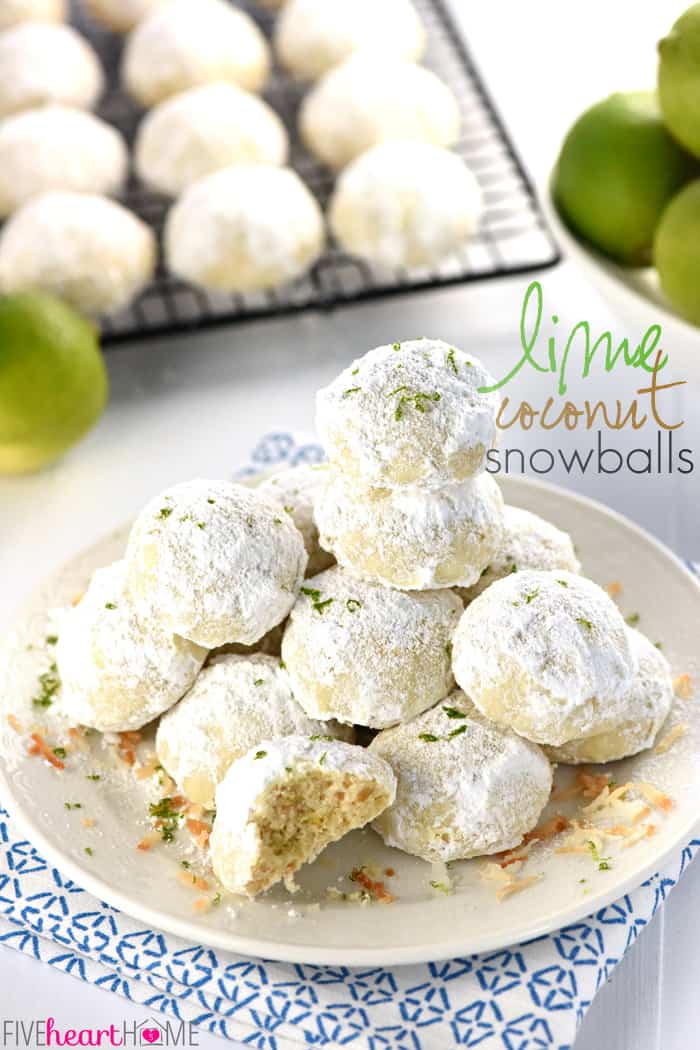 Lime Coconut Snowball Cookies
Lime Coconut Snowballs are tender shortbread-like cookies studded with lime zest & toasted coconut and generously rolled in powdered sugar for yummy year-round treats...from the lazy days of summer to a Christmas cookie platter!
Ingredients
1 cup unsalted butter, softened
1/2 cup powdered sugar
1 1/2 teaspoon lime juice (juice from about 1 lime)
1 teaspoon pure vanilla extract
2 1/4 cups all-purpose flour
1 1/2 tablespoons grated lime zest (from about 3 limes)
1/2 teaspoon salt
1 cup sweetened, flaked coconut, lightly toasted
1 1/2 cups powdered sugar, for rolling
Instructions
In a large bowl, use an electric mixer to beat sugar until creamy. Gradually mix in 1/2 cup powdered sugar, lime juice, and vanilla; beat well. Slowly blend in flour, lime zest, and salt; mix until just combined. Stir in toasted coconut. Cover and chill dough for 30 minutes.
Position rack in center of oven and preheat oven to 350°F. Line a large baking sheet with parchment paper. Scoop out dough and roll into generous 1-inch balls. Place balls 1 inch apart on prepared baking sheet. Bake for 14 to 18 minutes or until cookies are pale on top but golden brown on the bottom.
Transfer cookies to a wire rack and cool for 5 minutes. Pour 1 1/2 cups powdered sugar into a bowl and roll warm cookies in the powdered sugar to coat. Cool cookies completely on a rack and then roll in powdered sugar again. Store in an airtight container.
Notes
To toast coconut, preheat oven to 350°F. Spread coconut in a thin, even layer on a baking sheet. Bake for 5 to 10 minutes until it turns a light golden brown, watching closely since coconut can go from perfectly toasted to burnt in a matter of seconds. For more evenly toasted coconut, you may stir it every few minutes.
https://www.fivehearthome.com/lime-coconut-snowball-cookies/
https://www.fivehearthome.com ~ All recipes and images on Five Heart Home are copyright protected. Please do not use without my permission. If you would like to feature this recipe, please rewrite the directions in your own words and give proper attribution by linking back to this blog.
Adapted from Southern Living Christmas cookbook.
And now, who's ready for MORE COOKIES???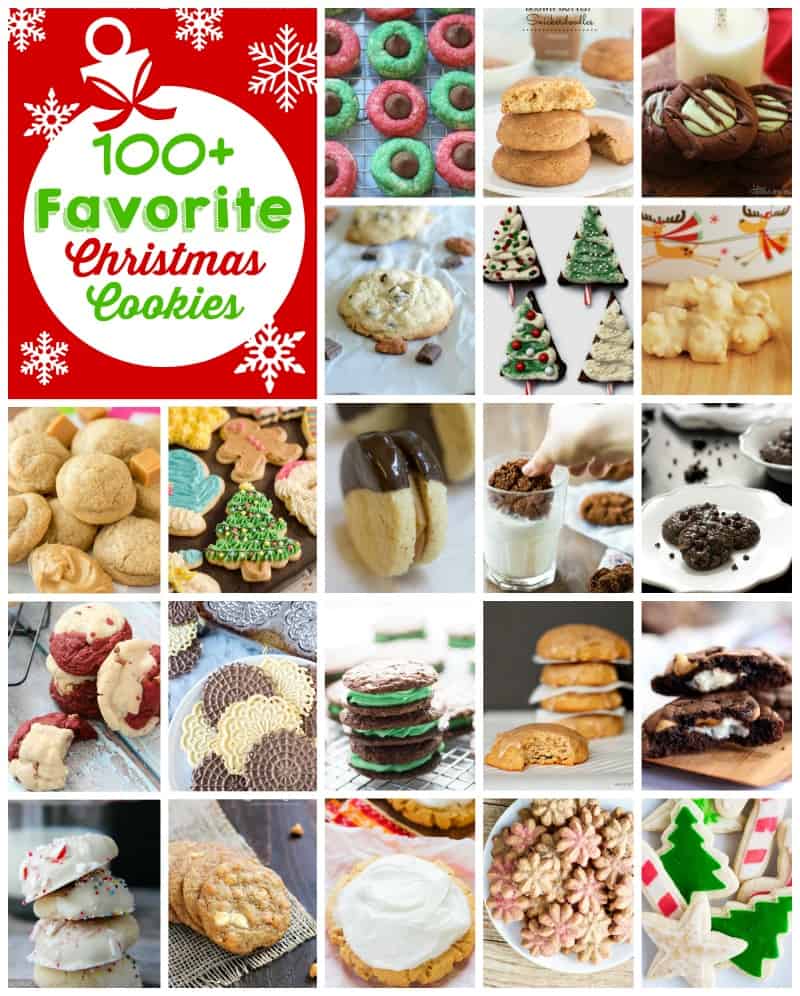 Make your Christmas and holiday baking lists right here and right now, folks. 😉 Have fun and ENJOY!
Click on individual cookie photos to be taken to particular recipes…
These 100+ amazing Christmas Cookies have been brought to you by these amazing bloggers!
Jaren at Diary of a Recipe Collector | Mandy at Mandy's Recipe Box | Kelley at The Grant Life
Danielle at The Creative Bite | Nicole at Or Whatever You Do | Julie at Julie's Eats & Treats
Megan at With Salt & Wit | Jen at Yummy Healthy Easy | Justine at Cooking & Beer
Sara at Bitz & Giggles | Chelsea at Chelsea's Messy Apron | Samantha at Five Heart Home
Tanya at Lemons for Lulu | Andi at The Weary Chef | Melanie at Melanie Makes
Danae at The Recipe Runner | Amanda at Fake Ginger | Serene at House of Yumm
Cate at Chez Catey Lou | Ashley at Spoonful of Flavor | Jessica at Sprinkle Some Sugar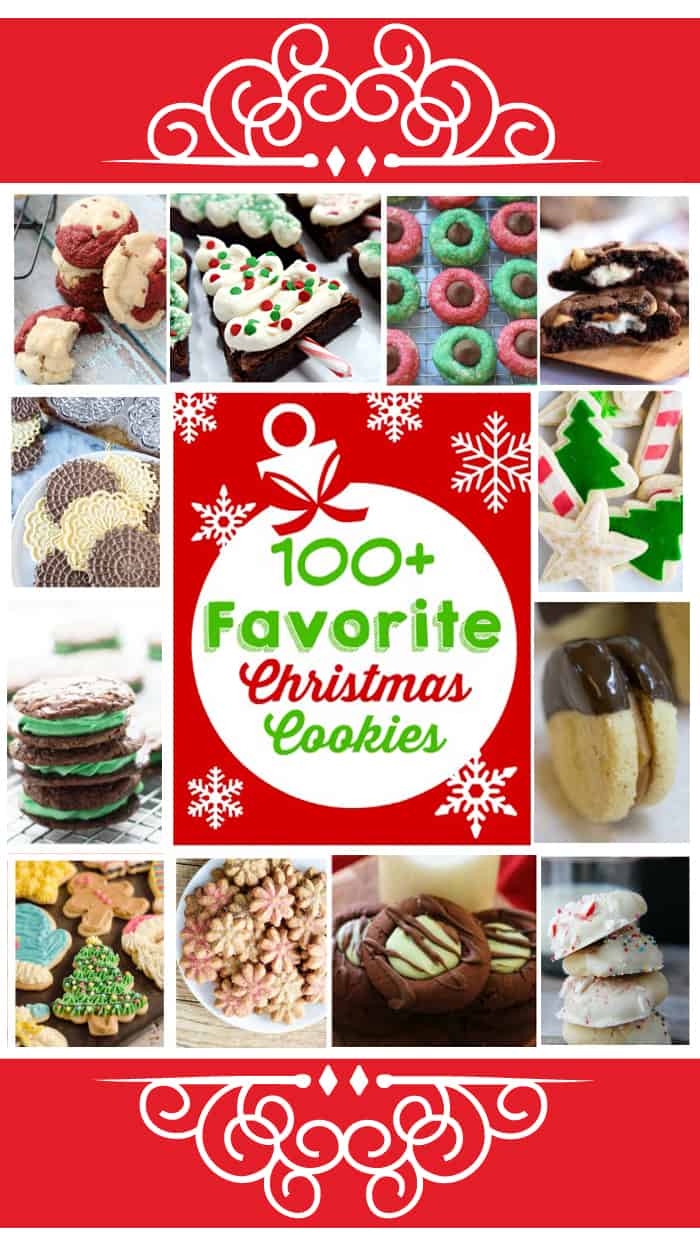 * * * * * * * * * *
10