Easy Christmas Shortbread Cookies are simple to make and loaded with festive sprinkles, making this recipe the perfect addition to your holiday cookie platter!

So who's already been baking Christmas cookies? Eating Christmas cookies is one of my very favorite holiday pastimes, and baking them is a close second. These Easy Christmas Shortbread Cookies are a family favorite that's always on my December baking list, and I'm excited to be sharing them with you today!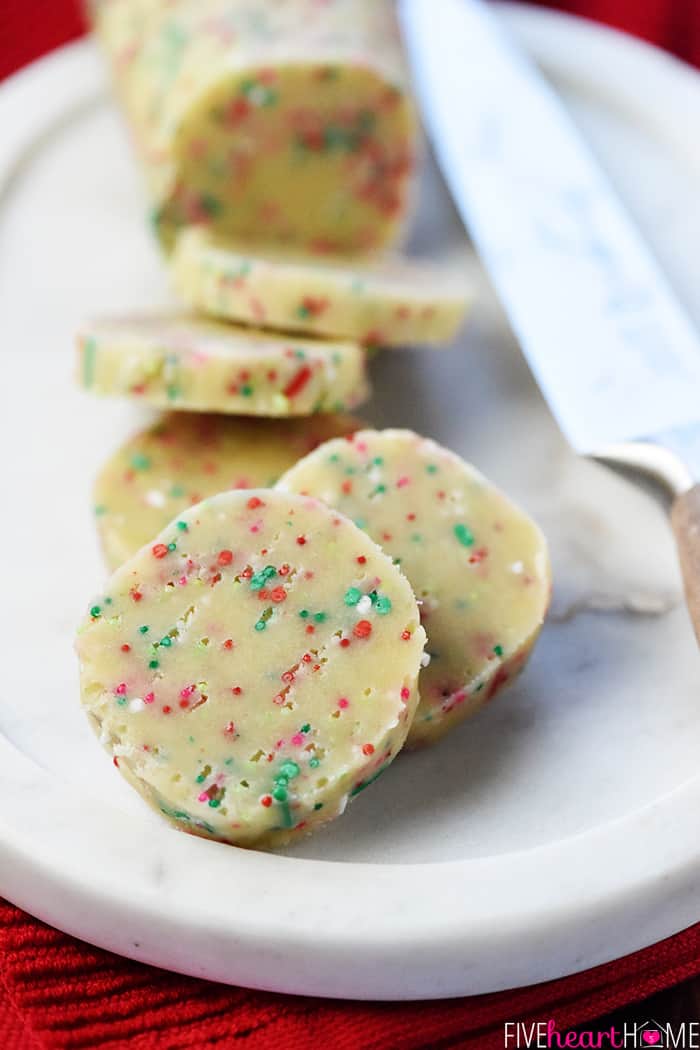 First off, shortbread is deliciously addictive, seeing as how the predominant ingredients are butter and sugar. Can I get an amen? Seriously, I find it impossible to eat just one…or seven.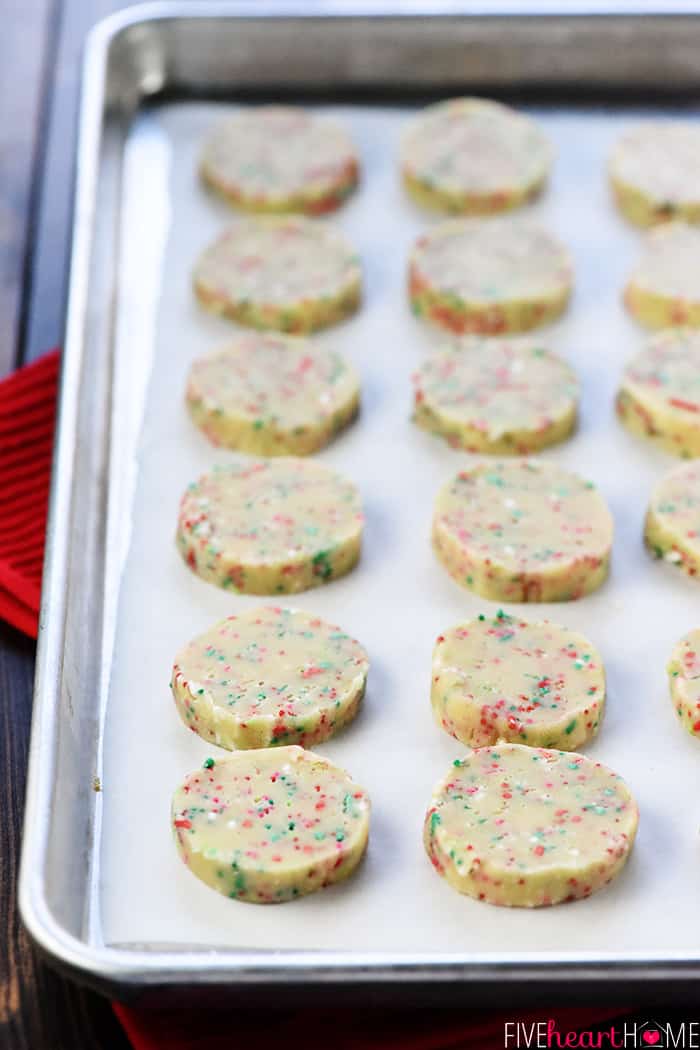 Secondly, shortbread is very easy to make, particularly this recipe, which assembles the cookie dough in a food processor. The ingredients are basic staples that you most likely already have in your refrigerator and pantry. There's some chilling time and baking time to these Easy Shortbread Christmas Cookies, of course, but the hands-on time is extremely quick and effortless. In fact, this is a great cookie to bake with little ones who have short attention spans…not that I have any experience with such. 😉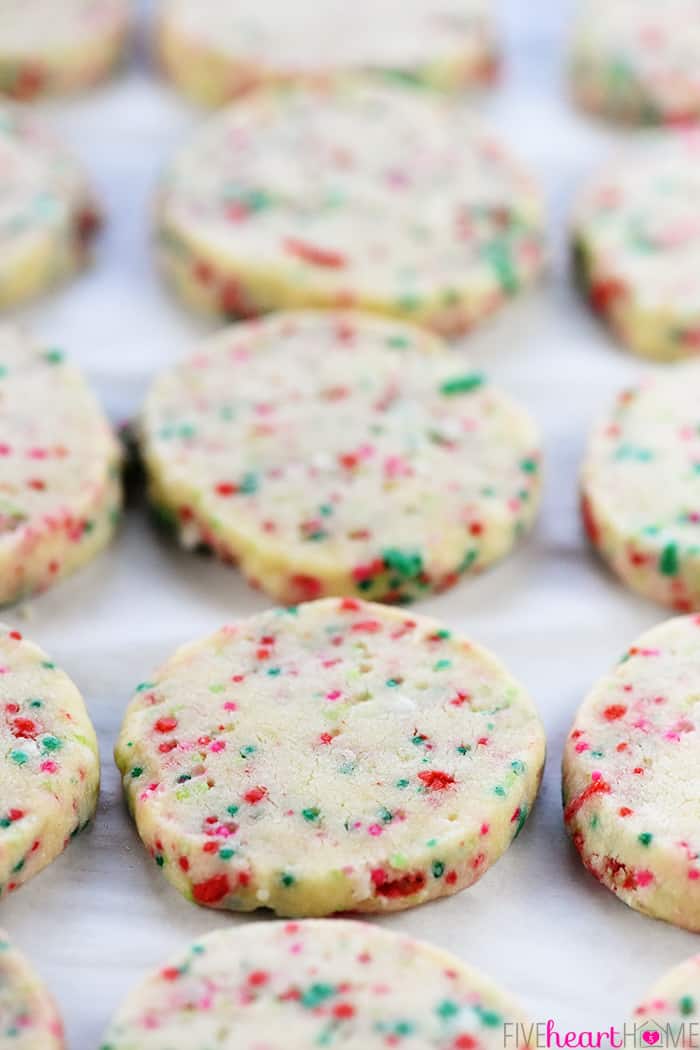 Finally, these simple shortbread cookies are positively bursting with festive holiday sprinkles. Sprinkles make everything more fun, am I right? And sprinkles add both color and texture. You'll love the crunch of the sprinkles in the tender, velvety shortbread…YUM.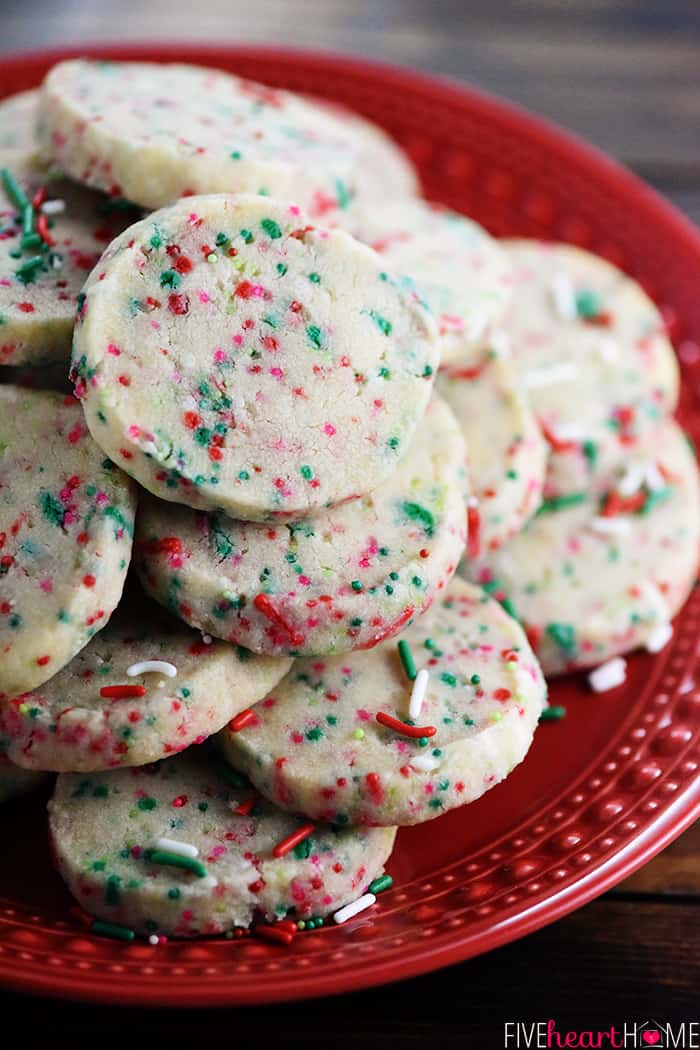 I'm all about variety when it comes to holiday baking. It's fun to make some impressive and even frou-frou treats for the cookie platter, but I really strive to balance out those time- and labor-intensive recipes with other cookies that are quick and easy to make while still being tasty and cute. And even better if those simple recipes simultaneously cover the classics, like ginger cookies and snowball cookies and thumbprint cookies…and good ol' shortbread!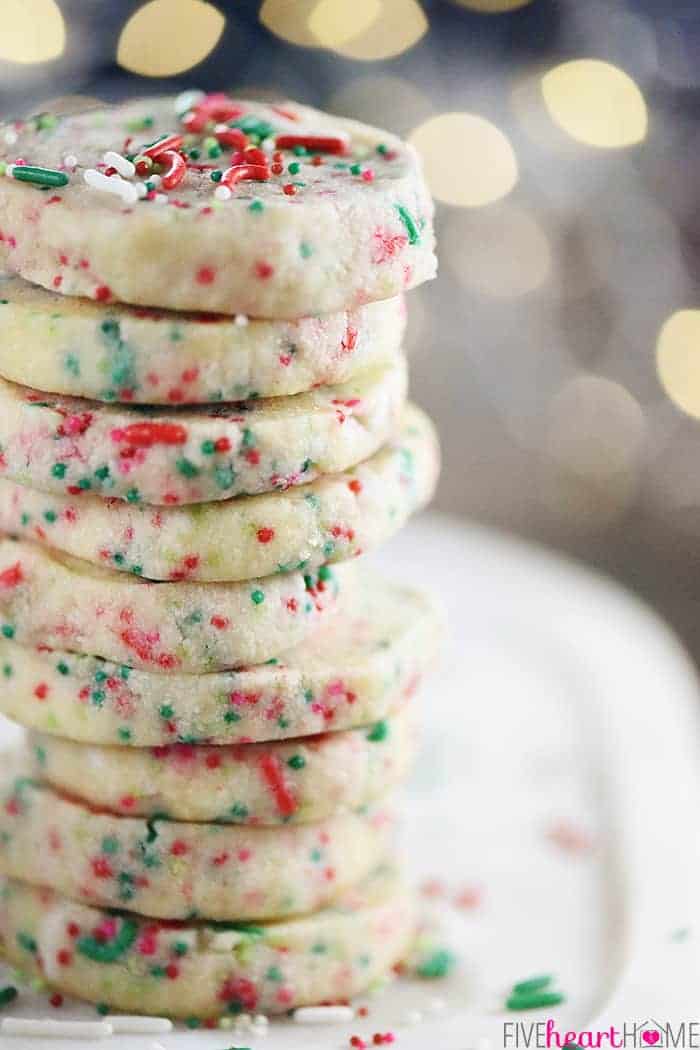 Easy Christmas Shortbread Cookies may not be the fanciest treats in the Santa Claus cookie jar, but they're pretty darn effortless to whip up and they're deceptively delicious. Happy holiday baking!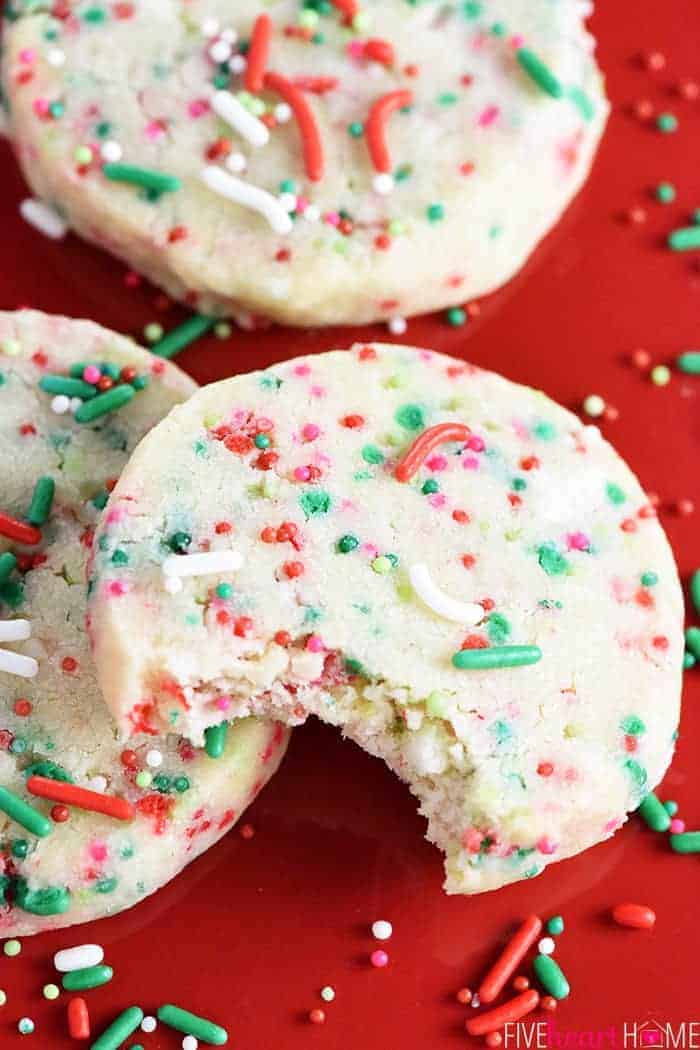 Helpful Tips, Tricks, & Equipment
(some affiliate links below)
For the sprinkles in these cookies, I used a combination of nonpareils and jimmies in shades of red, green, and white. Feel free to change up the color of the sprinkles to celebrate other holidays or occasions, however. You can also use different shapes of sprinkles. Just keep in mind that if you use flat sprinkles that have been cut into shapes (like little green Christmas trees and yellow stars, for example), the shapes are going to get buried in the dough and sliced at weird angles and you won't be able to tell what they are anyway.
To achieve round logs of dough, I shape them the best I can and then lightly roll them on the counter like a rolling pin after they're wrapped in plastic wrap.
While the first sheet of cookies is baking, take the second log of cookie dough out of the freezer, slice it, and arrange cookies on second cookie sheet so that it's ready to pop in the oven as soon as the first sheet comes out.
I've shared it before and I'll share it again…this is my favorite large rimmed baking sheet. I have a bunch of 'em and I use them for different reasons just about every single day.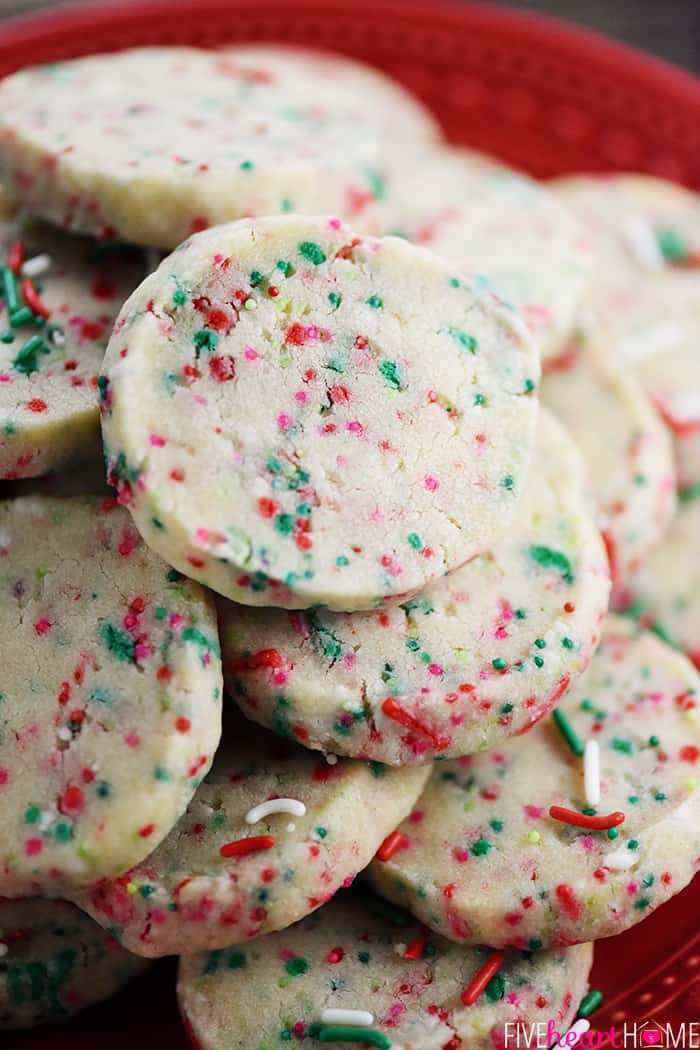 This recipe is great for make-ahead treats. The cookie dough can be whipped up ahead of time and then sliced and baked when you're ready. Since this dough is formed into logs, wrapped in plastic wrap, and chilled before baking, you can refrigerate it for up to a week or freeze it for even longer (although I'd recommend sticking the wrapped logs in a freezer-thickness gallon-sized baggie for extra protection from freezer burn).
If you freeze your shortbread logs long enough to freeze solid, you'll need to let them thaw in the fridge (like, overnight) before slicing and baking.
For a special touch, you can drizzle or dip these cookies in melted white, dark, or milk chocolate, similar to these Coconut Shortbread Cookies.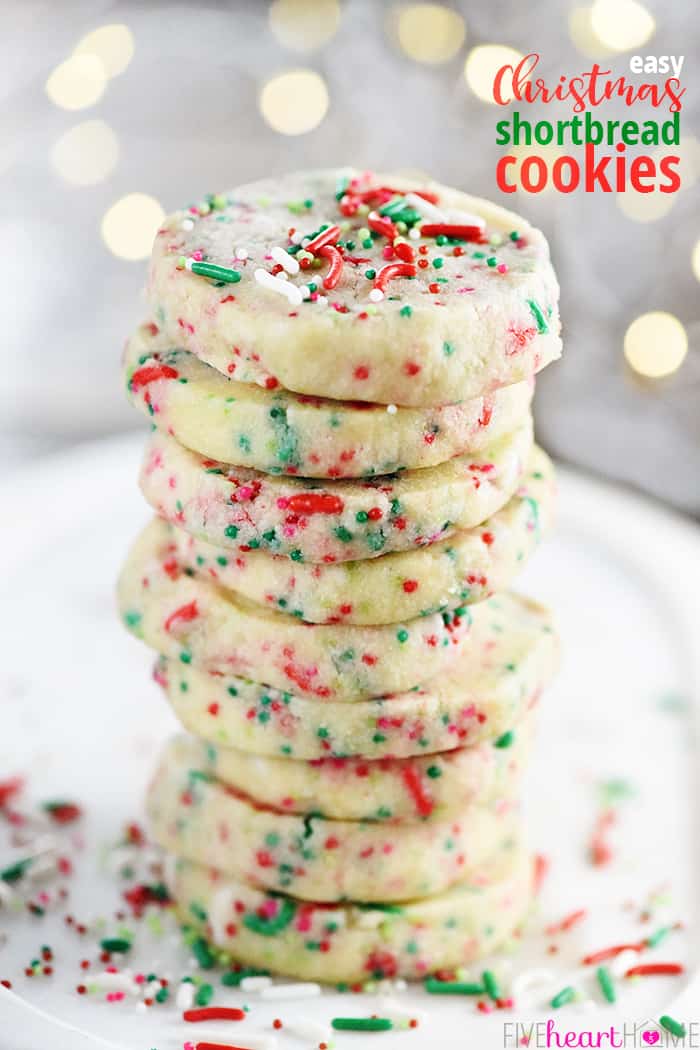 Easy Christmas Shortbread Cookies
Easy Christmas Shortbread Cookies are simple to make and loaded with festive sprinkles, making this recipe the perfect addition to your holiday cookie platter!
Ingredients
1 cup (2 sticks) unsalted butter, at room temperature
3/4 cup powdered sugar
1/2 teaspoon salt
1/4 teaspoon pure vanilla extract
1/4 teaspoon pure almond extract
2 1/3 cups all-purpose flour
1/2 cup sprinkles
Instructions
Add butter, powdered sugar, salt, vanilla extract, and almond extract to the bowl of a large food processor. Process until smooth (about eight 1-second pulses). Add flour and pulse until mixture looks crumbly and chunky (about six 1-second pulses). Add sprinkles and quickly pulse several more times, until the sprinkles are just evenly incorporated.
Turn the dough out onto a work surface and shape into a rough ball. Cut ball in half and form each piece of dough into an 8-inch long log. Tightly wrap each log in plastic wrap and freeze for 30 minutes (or refrigerate for at least 4 hours and up to a week).
Place rack in center position of oven. Preheat oven to 350°F. Line two baking sheets with parchment paper. Remove one log of dough from the freezer (or refrigerator). Cut dough into 1/4-inch thick slices, rolling log every few slices to maintain the round shape of the cookies. Arrange cookies on lined baking sheet. Bake until cookies just barely turn a light golden color around the edges, between 10 and 15 minutes. Allow to cool on baking sheets.
Repeat steps with the second log of cookie dough. Once cookies are completely cool, store in an airtight container.
https://www.fivehearthome.com/easy-christmas-shortbread-cookies-recipe/
https://fivehearthome.com ~ All recipes and images on Five Heart Home are copyright protected. Please do not use without my permission. If you would like to feature this recipe, please rewrite the directions in your own words and give proper attribution by linking back to this blog.
Adapted from Pistachio Shortbread Cookies
♥More festive & sweet Christmas treats…
Christmas Tree Brownie Pops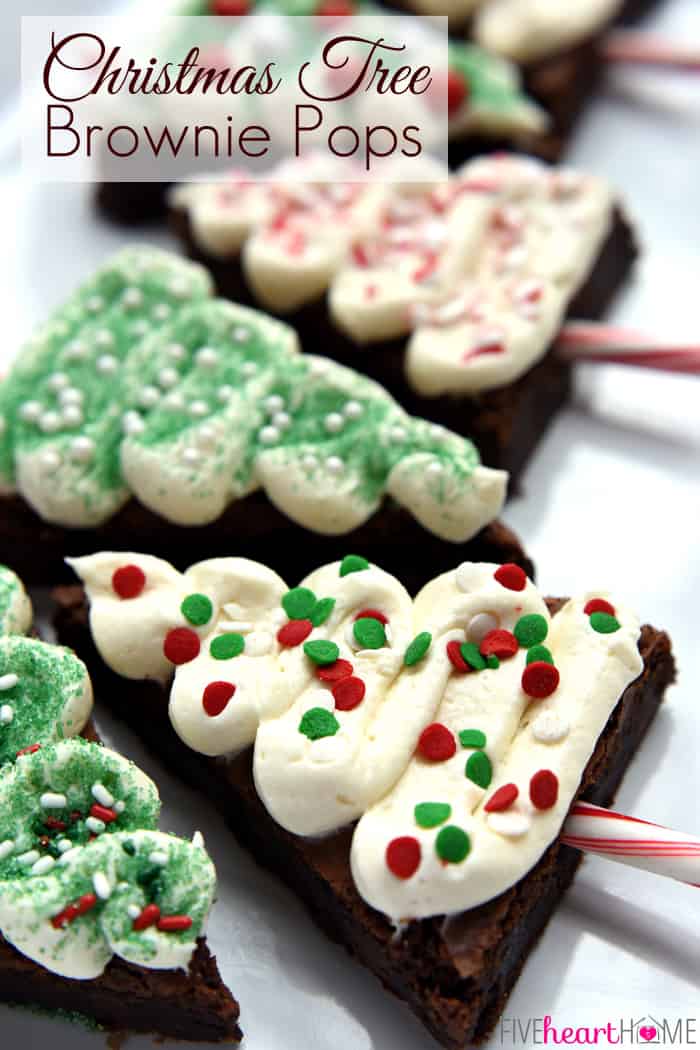 Chocolate Peppermint Baked Donuts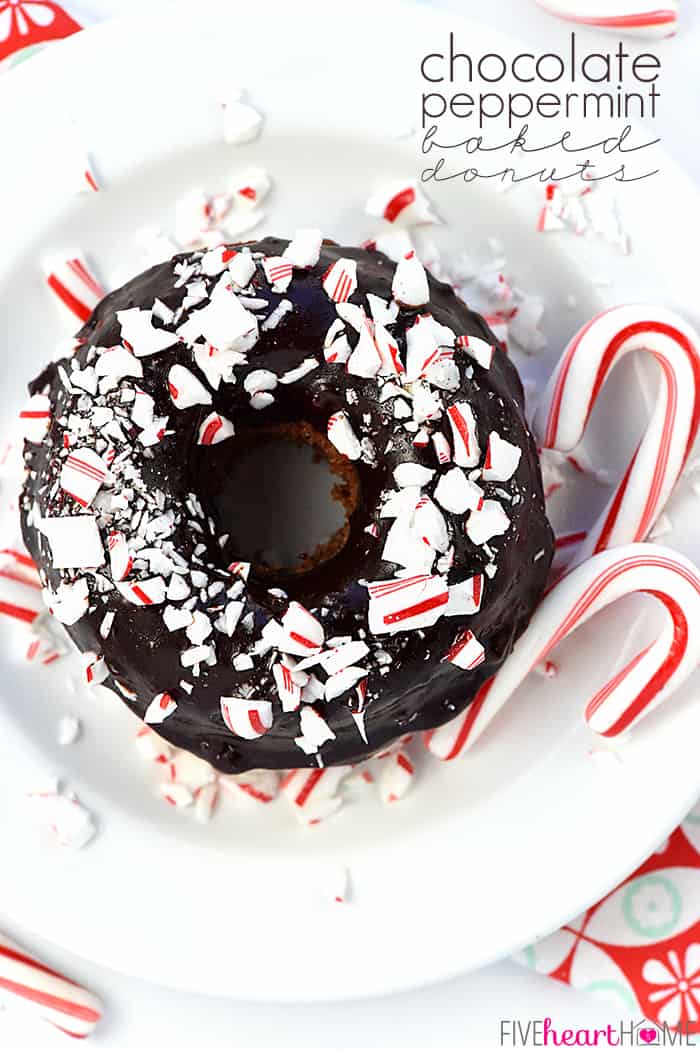 Christmas Tree Sheet Cake Pops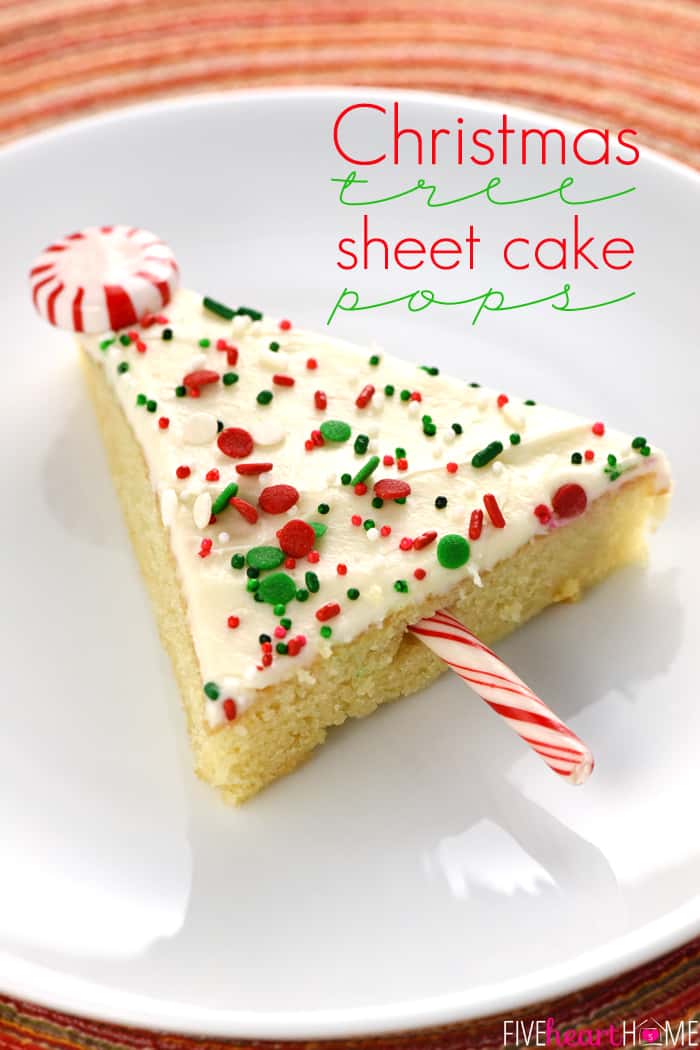 Christmas Cupcake Toppers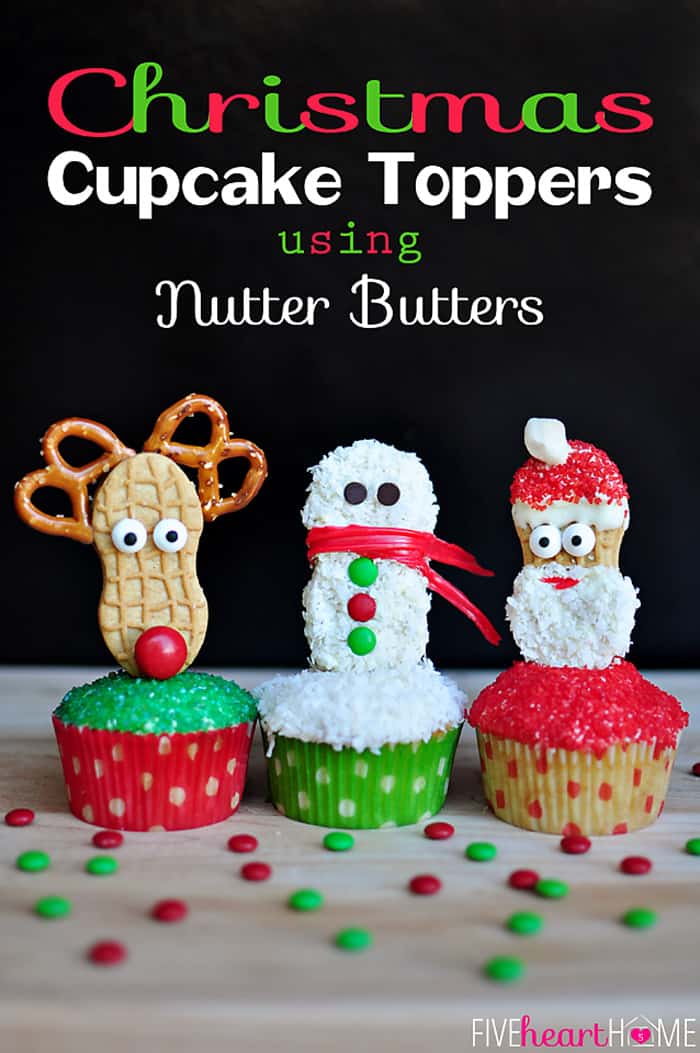 See our CHRISTMAS RECIPES <<< here!
1